EVENT: Prodrift Rd 3 Punchestown Arena 2011
Ok, where do I start? Such a packed weekend of thrills, spills and utter carnage as we attended Round 3 of the Prodrift Ireland campaign earlier this month, held at the Punchestown Arena in Co.Kildare.
Apart from Mondello Park, the Punchestown venue has probably been the fastest circuit ever produced for an event to date, add walls to the equation coupled with the unpredictable Irish weather and there could only be one outcome; "Carnage".  In terms of entertainment value there is such a vast field of entrants on the opening day of competition. It  is proving to be a serious days events. So much eager talent and fresh blood all battling to be the next big star, I suppose that is one of the reason's why we love drifting so much. Any driver on any given day can be the next big drifter and make a name for themselves. Excuse the cliche but it's both true and proven.
Barry Leonard takes his car for a test drive after unloading. He seems to have made suitable changes for the demanding circuit to his front end with some tasty fabrication from Roco Performance.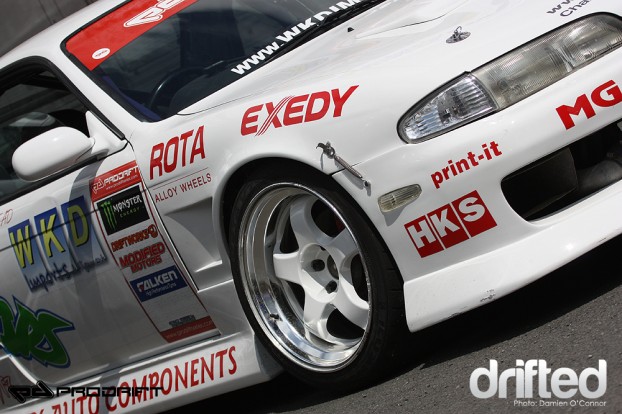 Mark Gaffney and "MG Crash repairs" have imploded onto the Prodrift scene this year, Dan Moorehead the driver of this ever impeccably turned out S14 Silvia.
Andrew Kenna looked happy to get some competitive seat time in.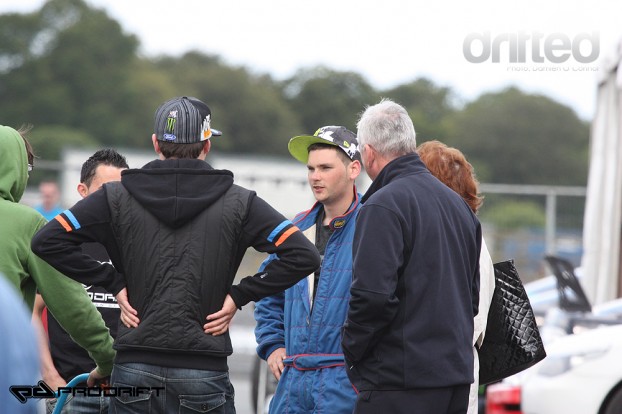 Brian Egan possibly discussing some tactics with his brother and Prodift commentator, David Egan.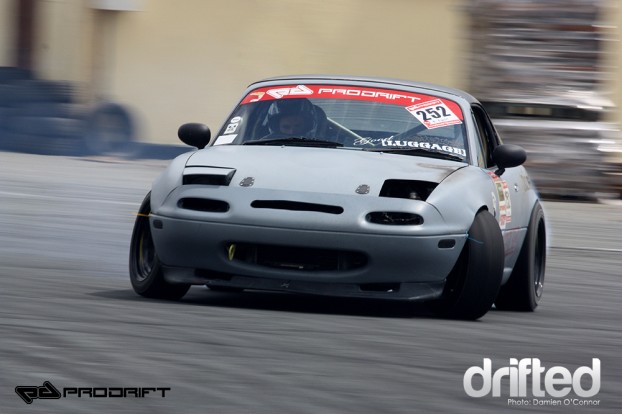 Whatever was discussed above certainly worked for Brian as he put in some great displays pushing Duane McKeever to the wire in their twin Top 16 battle. Despite this, the monster power of young teen McKeever's impressive RB powered 180sx saw through on this occasion.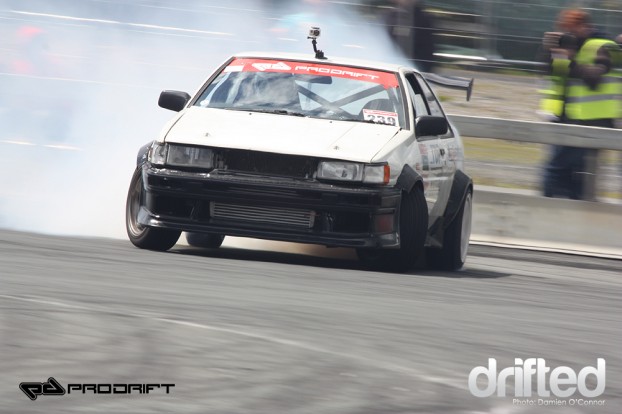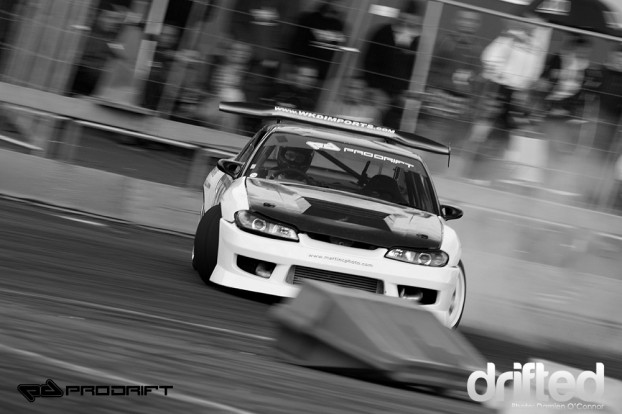 Mark Willis flew the flag for the "DriftIreland" crew in his SR powered AE86 Corolla. His day was cut somewhat short however in his Top 32 battle with Wesley Keating after a heavy impact to the wall. Mark was uninjured thankfully.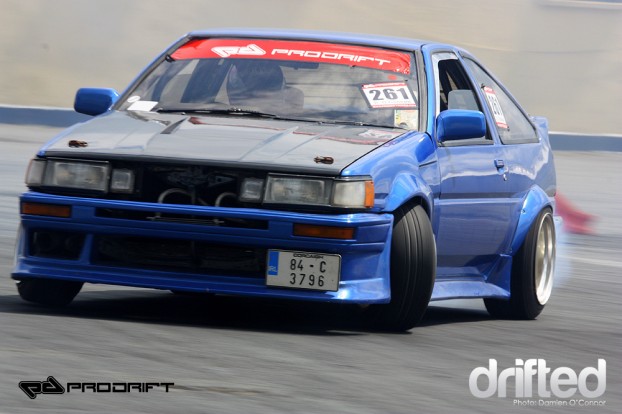 Diarmuid O'Connell was a huge hit with fans at the weekend, running a N/A 4AGE motor with some tweaks. He caused absolute havoc amongst the circuit showing that it's not always about big power despite the  size of the track.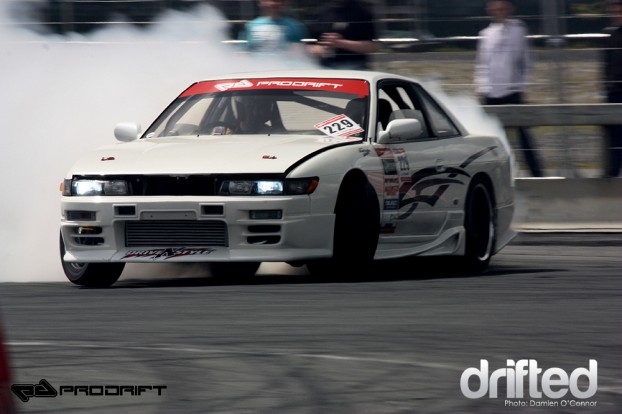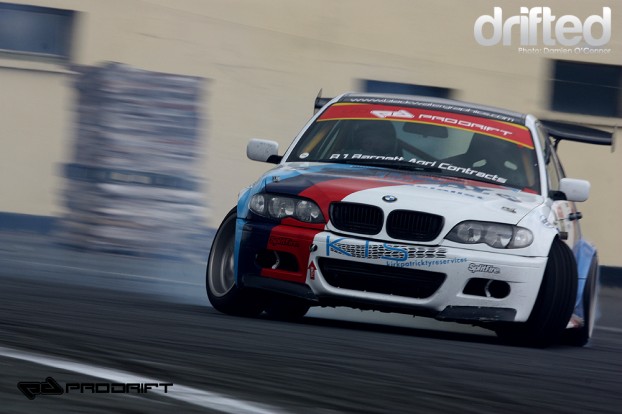 Someone mentioned to me at the weekend that Alan Farrell has only competed at two events prior to this. He looked super impressive in his s13 and qualified for the Top 32 where he came up against the RB powered E46 BMW of Robert Barnett, who already has a Non-Seeded Pro win under his belt this season. Barnett progressed only to be knocked out by Nick Quealy in the Top 8.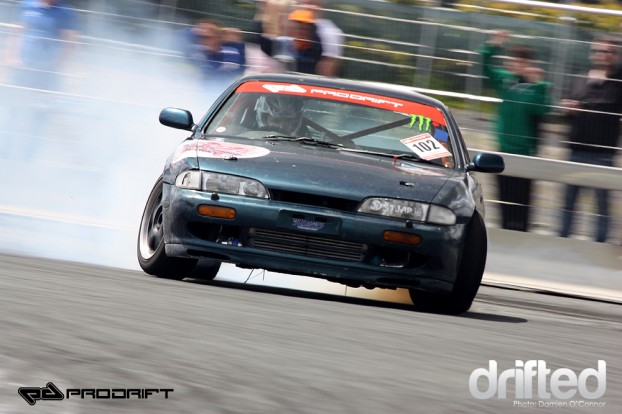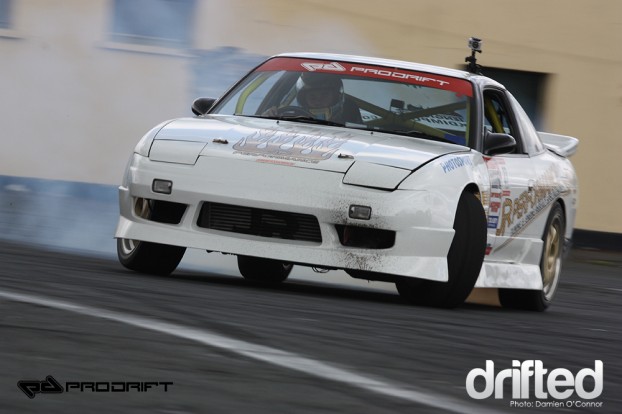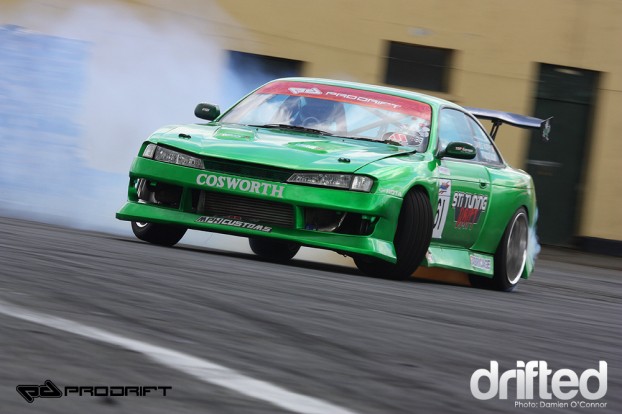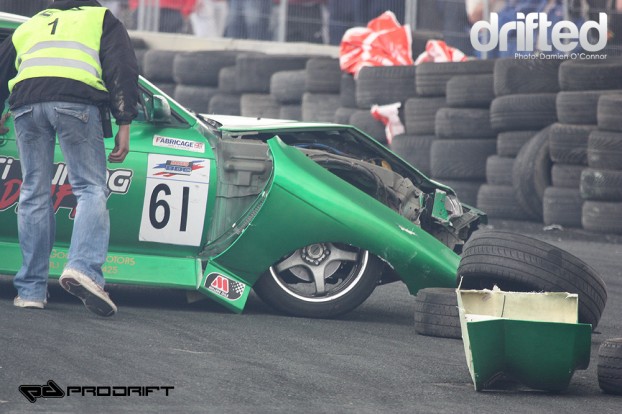 John Boost Hickey, Jamie Russell and Danni Murphy all looked impressive with super big entries, Danni showing us (bottom) however of the courses unforgiving nature.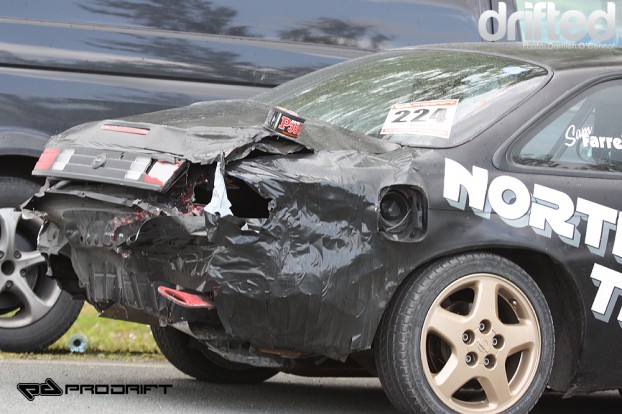 Some more signs of the "Carnage", I'm sure this one will polish out right ?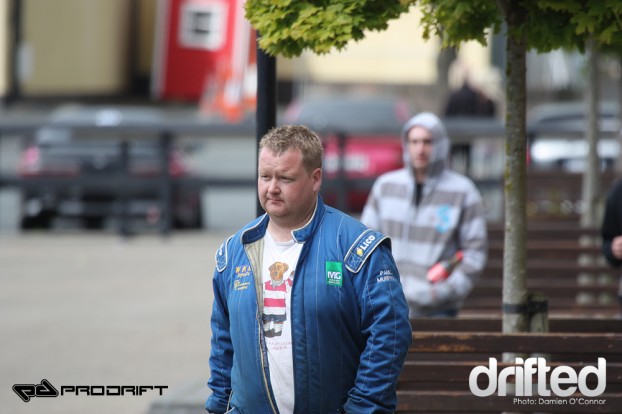 While we are on the subject of breaking stuff, it would be unfair of me not to give a shout out to Paul Murphy. Paul's moto is "If you're not hitting something, you're not trying hard enough", and nobody can say Paul wasn't trying hard enough as he gave the crowds loads to cheer about. Don't let the teddy bear tee-shirt fool you folks.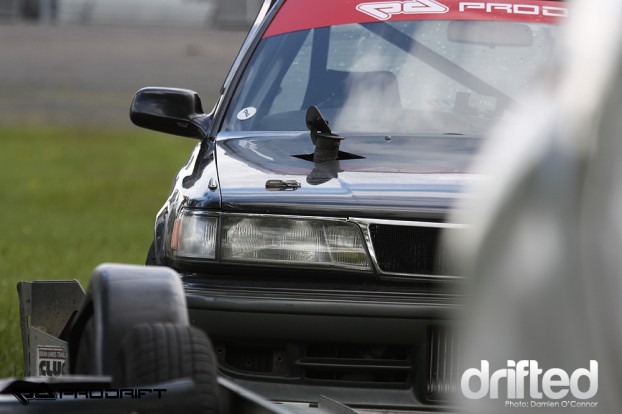 Old skool with some custom fabrication in the bonnet, we like.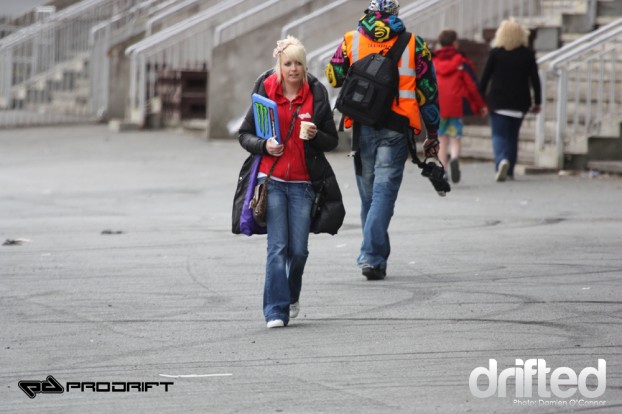 Prodrift's Sarah Hegarty keeps the show on the road. I suppose we take for granted how seamlessly the events move, this is only because Sarah kick's some mega ass out there.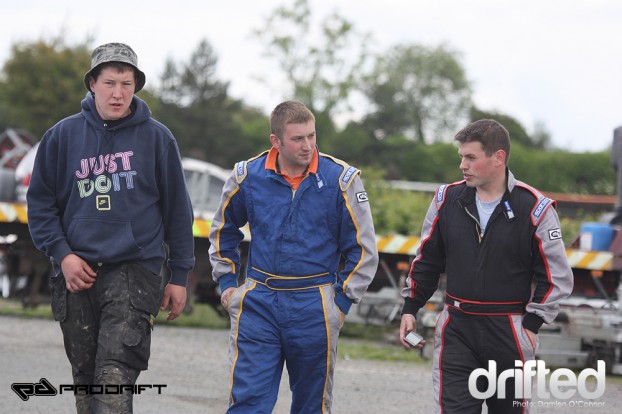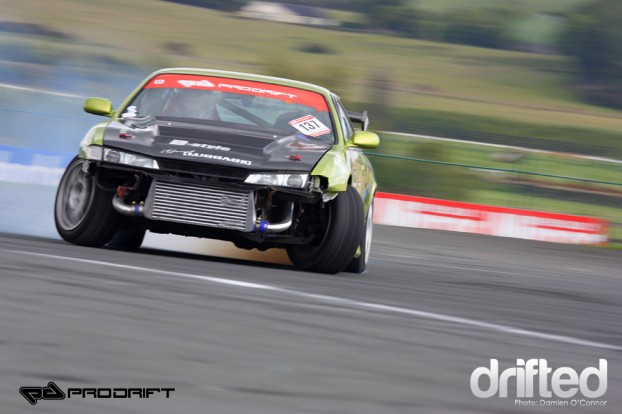 Pat Masterson and Sean Manning above with team spotter Keith Grogan and below that in action, have come leaps and bounds this season. Both cars are sponsored by carparts.ie. These guys will be fighting towards the higher end of the Non -Seeded Pro Championship table towards the end of the season I feel.
The last two men standing, (actually, I don't know if I'm being premature in my use of the word "men", as the combined age of both finalists is probably less than 35), youngsters Duane McKeever and Paul McCarthy. They thrashed out a thrilling final display, however it was McCarthy who took top honours in his Barry's Motorsport M Powered E36 BMW. McKeever wasn't too dejected as he knew he had another day's competition on Sunday to further prove himself against Ireland's elite, given his second place finish. The pair would be joined on Sunday by 3rd place finisher Nick Quealy and 4th place Brendan Stone.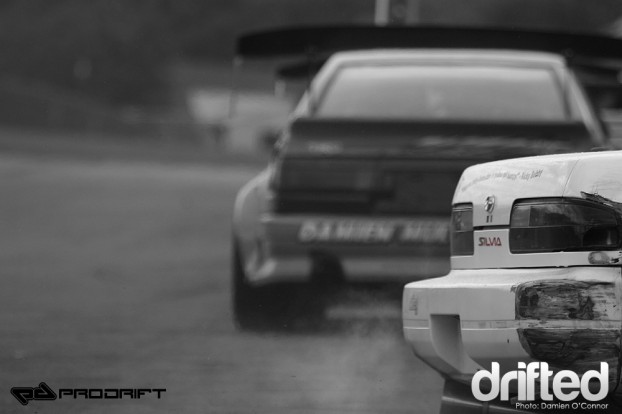 We enter on scene Sunday morning, admittdly a little hazy from the after party proceedings which had gone on beforehand. We were met with what can only be described as a monsoon of treacherous wind and rain; not good for the photographers and not good for the general atmosphere around the camp. Michael Swan, another member of the carparts.ie team however seemed to relish in the conditions, his s13 Silvia above carrying the scars of some wall rubbing. Michael clearly looked a force to be reckoned with early in the day.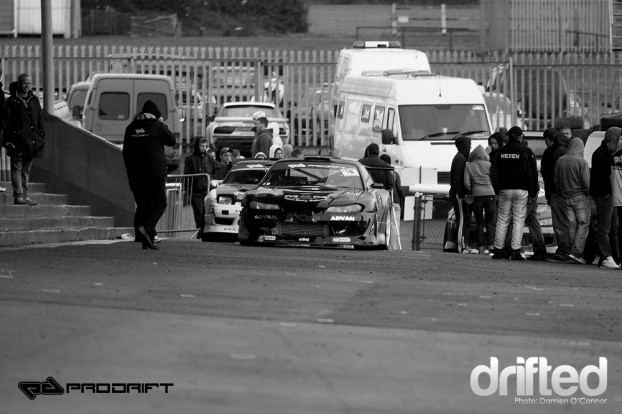 Drivers and Team members congregated to discuss what changes they would make to suit the rain drenched circuit, and with clear skies promised for the afternoon, how they could adapt.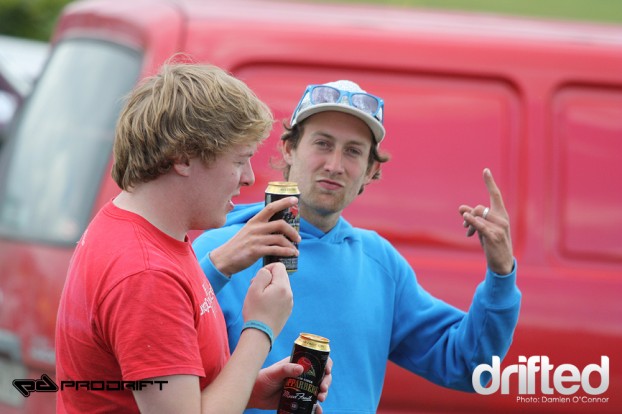 Simon Connaughton and Peter Taylor, clearly engrossed in some serious technical discussion. Yea right lads.
You might remember, only recently we featured these top motors of brothers Rick and Keith Weldon. The guys proving their daily use of their machinces as we catch them entering the show paddock arena.
Donal Garry found himself shy of NOS late on Saturday evening, but his crew pulled an all nighter and made an 8 hour round trip to ensure the Chambers Perfomance 20v powered AE86 was fully equipped for competition on Sunday.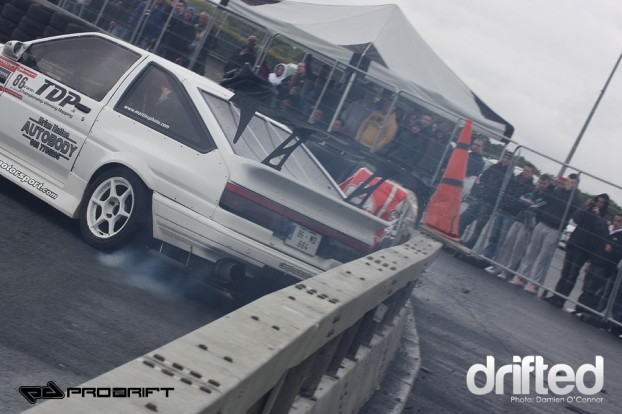 Alan Sinnott giving a lesson on how you "Run the Wall". Another driver to watch.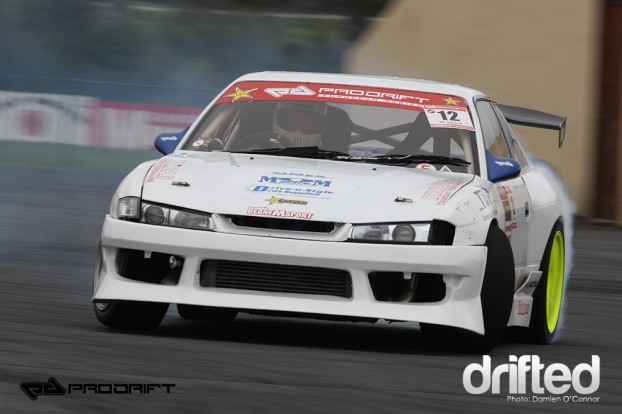 Mike Deane, older brother of James, drew Sinnott. Their first battle of the day respectively, Mike could do his absent brother a huge favour by beating Sinnott as it would kerb the amount of points Sinnott could gain in the championship against James. But Sinnott was to be successfull and progressed impressively.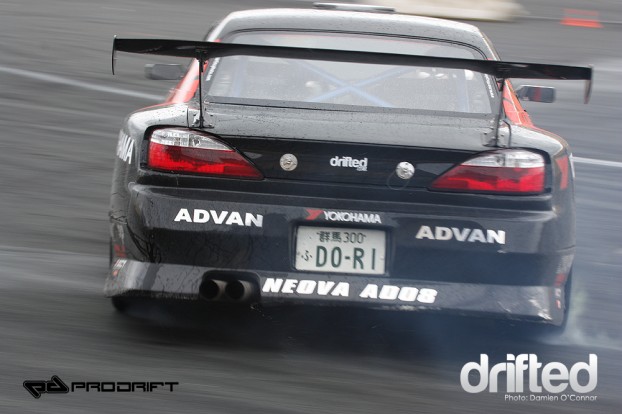 Duane McKeever showing he is more than capable of mixing it up with the big boys. Duane drew Christy Carpenter in his Yokohama ADVAN Neova S15 in his Top 16 battle who progressed, but Duane still a Non-Seeded Pro is constantly proving that he will be at the top level in time to come no doubt.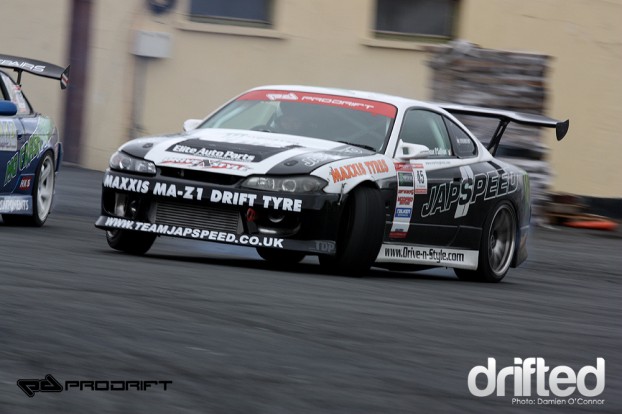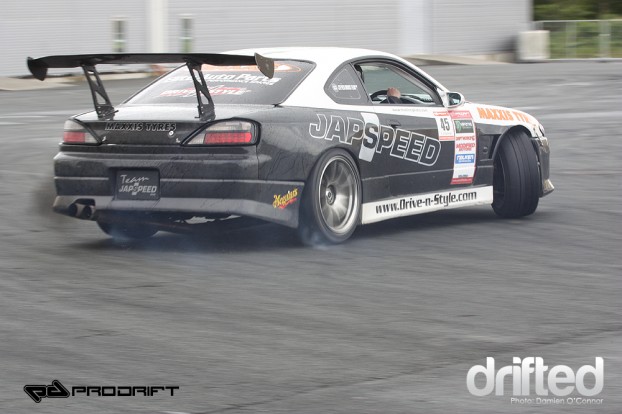 As we saw in Round 2, Shane O'Sullivan is really getting to terms with new Japspeed motor. Shane finished an impressive 4th for the day.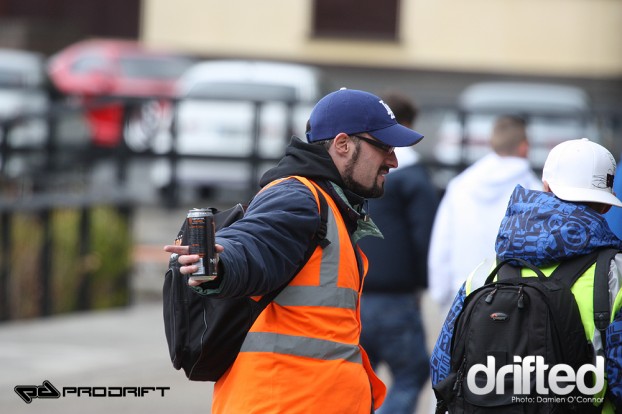 Pat from Cezili production shows Michal Metlicka a fellow photographer the way for some refreshing Monster Energy drink.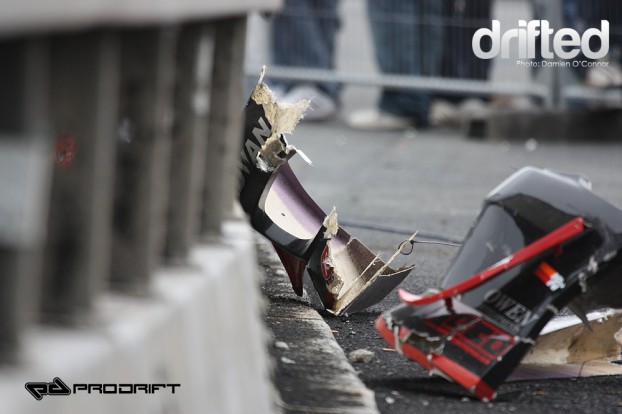 Some more signs of the demanding circuit, this time Christy Carpenters front bumper lies in submission to course.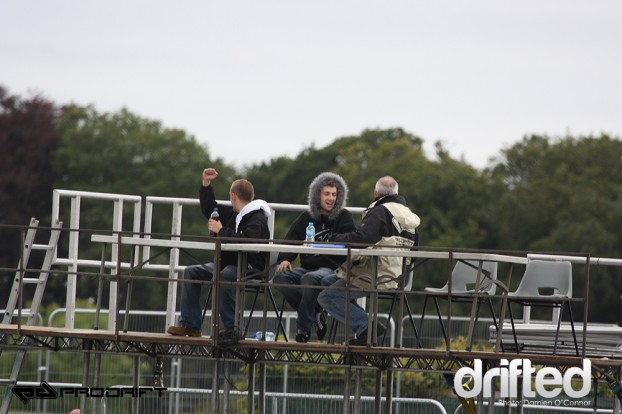 Getting back to action, the Prodrift tower showing the signs of the earlier bad weather as the crew disassembled the judging point due to high winds.
Another driver who seems to be improving in his new car for the season is John Paul McCarthy, he was eager to replicate his brother's success the day before, but Michael Swan defeated him in the last four. John Paul did however defeat Shane O'Sullivan to pick up the last podium spot.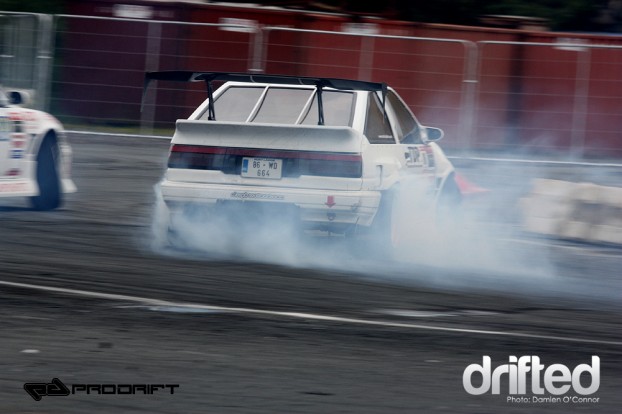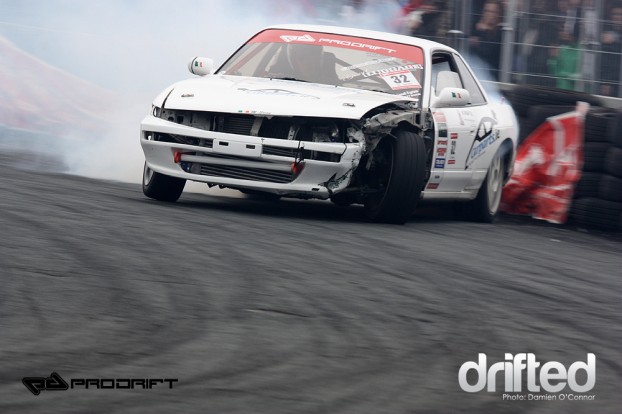 It really is no surprise that Alan Sinnott and Michael Swan met in the final. The pair really looked to have an edge over the field. Right from the beginning of a wet morning, these are the drivers that adapted to the course the better than anyone else, both when it was wet and when it dried out in the afternoon. However, there could only be one winner. Without being unjust to Michael Swan, Sinnott just seemed to have a different level of desire to win in his SR powered AE86. The driver from Ardattin In Co.Carlow made it 2 wins out of 3 for the Championship to date, which sends a clear message to the rest of the field.
Results:
Pro Seeded ;
1.Alan Sinnott
2.Michael Swan
3.John Paul McCarthy
Non Seeded Pro;
1.Paul McCarthy
2.Duane McKeever
3.Nick Queal