EVENT: Drift Allstars Round 3: Punchestown, Ireland
Drift Allstars would come to Ireland for Round 3 of it's 2012 series in search of top quality drivers to challenge the Professional Drivers of the European Drift Allstars series. The driver search on Saturday's competition would give Irish drivers a chance to showcase their talent against some of the top names in Europe for the main event the next day.
An event which brought excitement and anticipation on the ground, some of Europe's top names on Irish soil, new cars and new faces made for a new atmosphere at the Punchestown venue.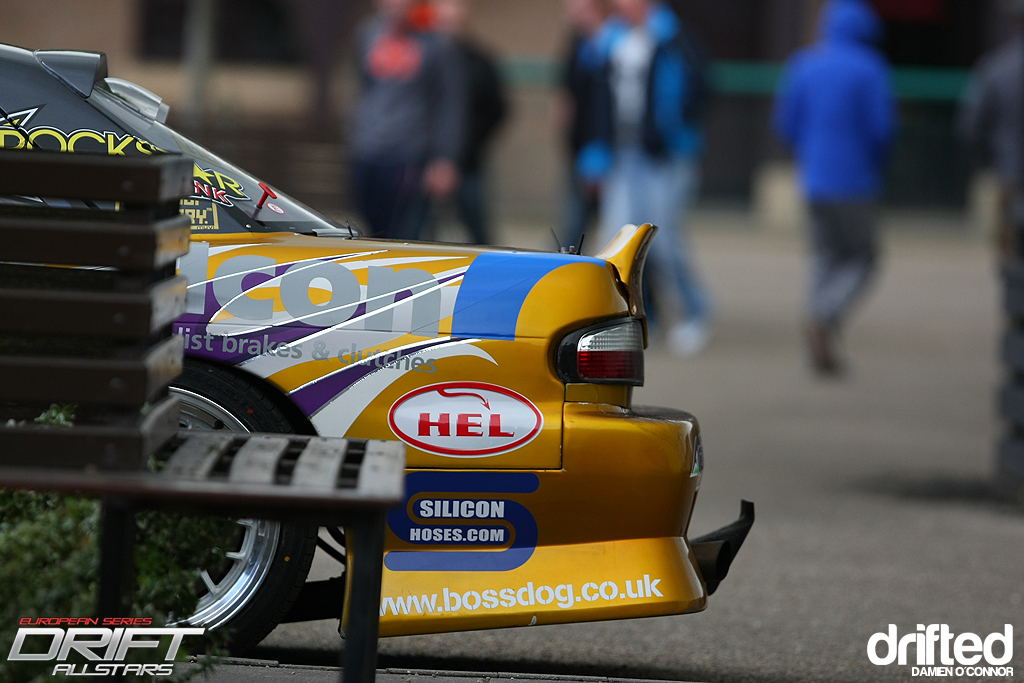 Team Low Brain Drifters s13 got some huge attention in the pits.
Luke Fink advised driver's what he expected from his eagle eyed view as a judge in the Allstars tower.
Jules Chambers dropped in fresh off the trail of Gatebil, one thing they all came to see is some drifting, so let's get to it.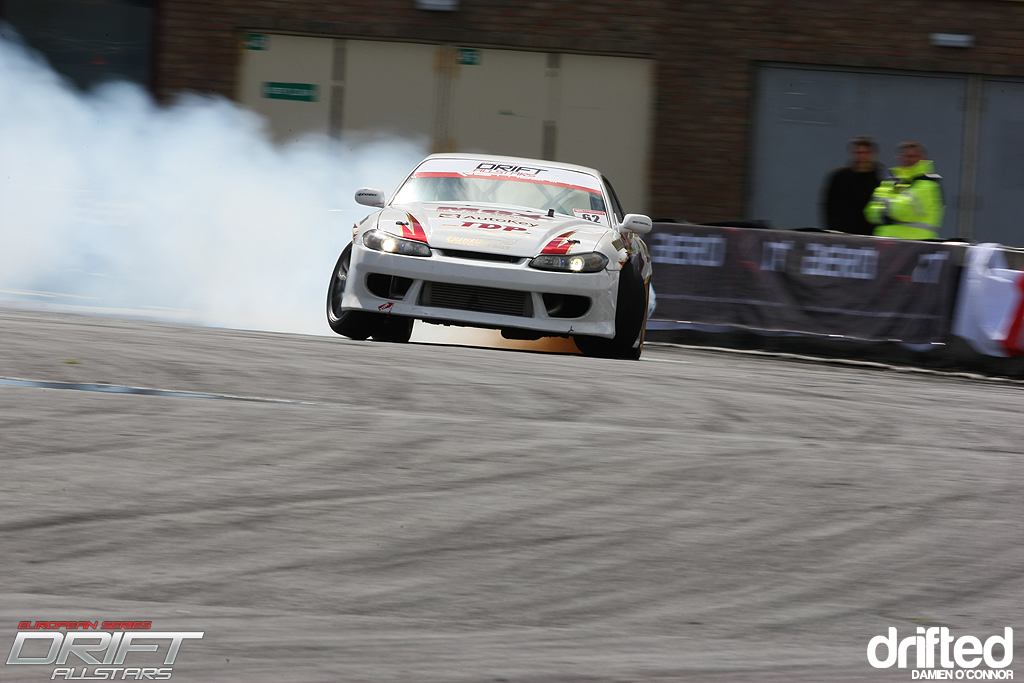 With a previous Allstars Championship win under his belt in Romania, Brendan Stone surely would relish a chance to replicate his previous success on home soil, any chance of this however was quickly dispelled  as Brendan was forced to  retire on Saturday with engine issues. This would mean Damien Mulvey would be flying the Team MG Crash Repairs flag on his own, now with added pressure.
With a big name down, the other drivers would relish their chances of qualification to challenge the best on Sunday, Richard Bradley didn't waste any time in showing us his talent and was noticeably one of the drivers who grasped the track and ran the walls on Saturday during the driver's search.
One of the story's of the weekend was really the effort shown by friends and competitors alike to get Meath native's  Michael Meegan's car back on track for a qualifying after a heavy impact with crash barrier, unfortunately Meegan didn't make the top 16 cut, however a huge piece of experience gained.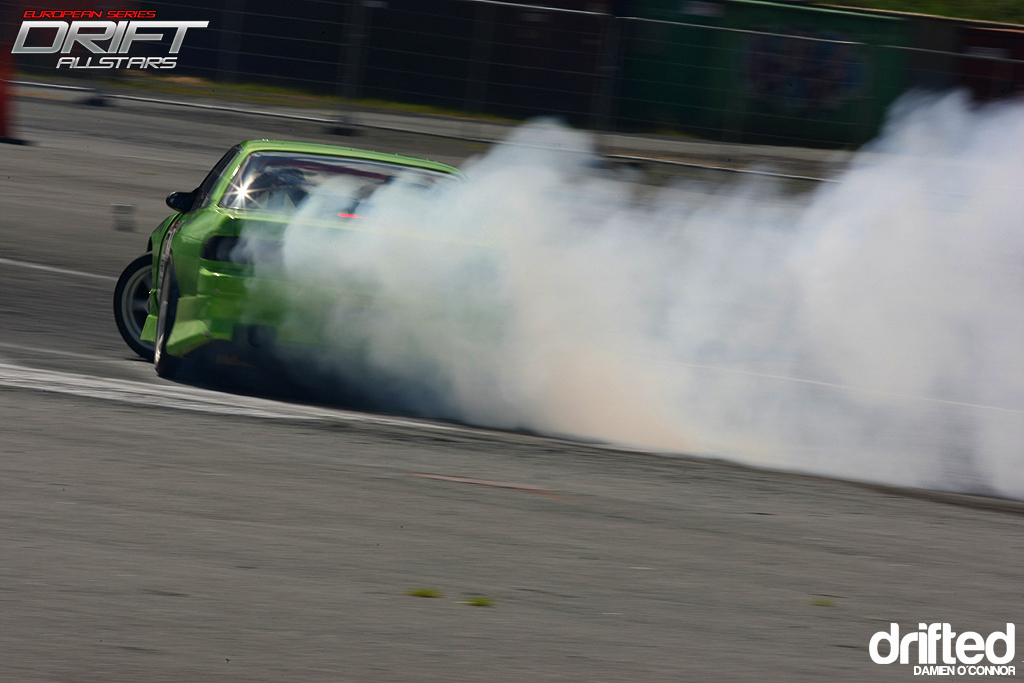 Barry Hennessy and Duane McKeever along with AE86 Driver's Brian Egan and Diarmuid O'Connell all put in great runs to book a place in the elusive Top 16 Sunday battles with top driver's such as James and Mike Deane, Juha Rintanen, Nigel Colfer and Alan Sinnott. Brothers Ciaran and Mark Synnott also would be representing in top 16 battles.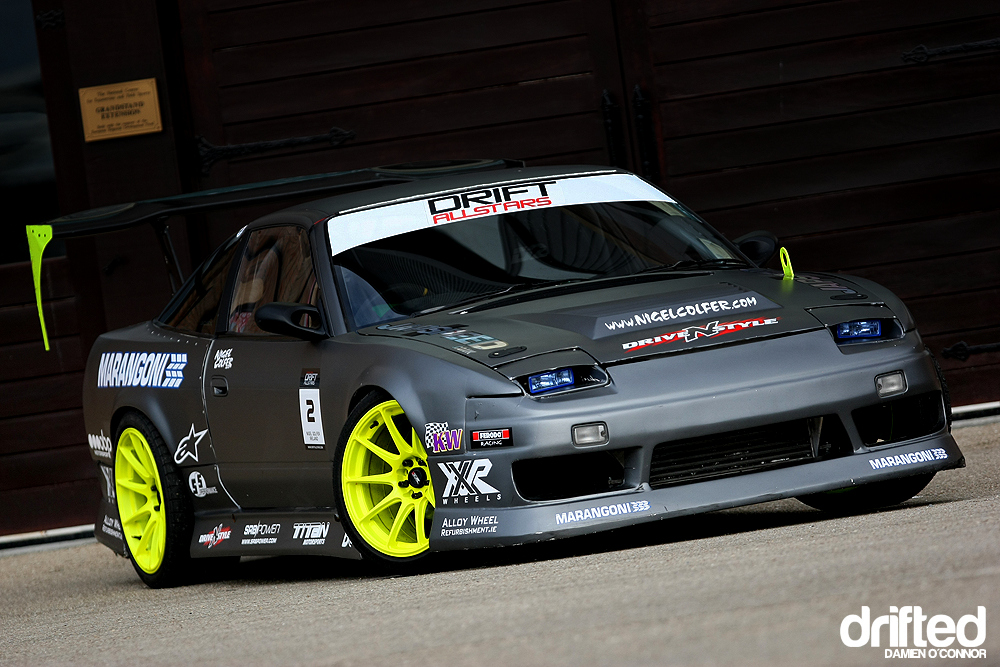 We caught up with Marangoni Driver Nigel Colfer and both Team Nexen drivers Lluis Lopez and Alan Sinnott during some downtime at the event.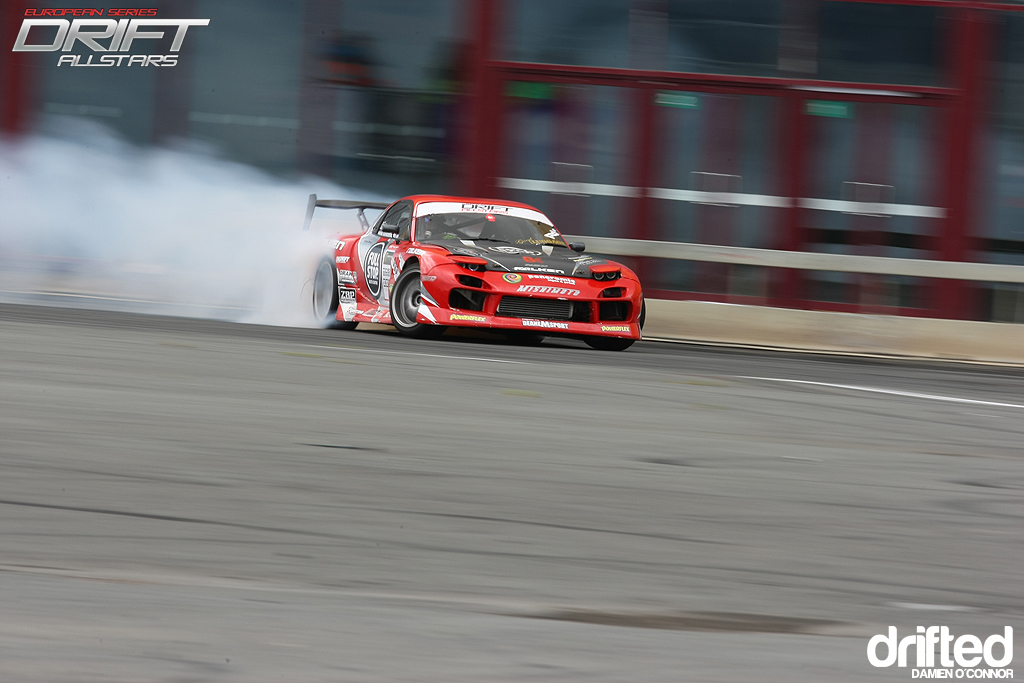 James Deane continued his typically reliable and top form by beating Mark Synott to book his places in the Great 8.
Barry Hennessy qualified in an impressive 6th to earn his place in the Top 16, Alan Sinnott had his new Nexen S14 ready for competition, he qualified 11th but on this occasion had enough experience to fend off Hennessy to book his place in the last 8.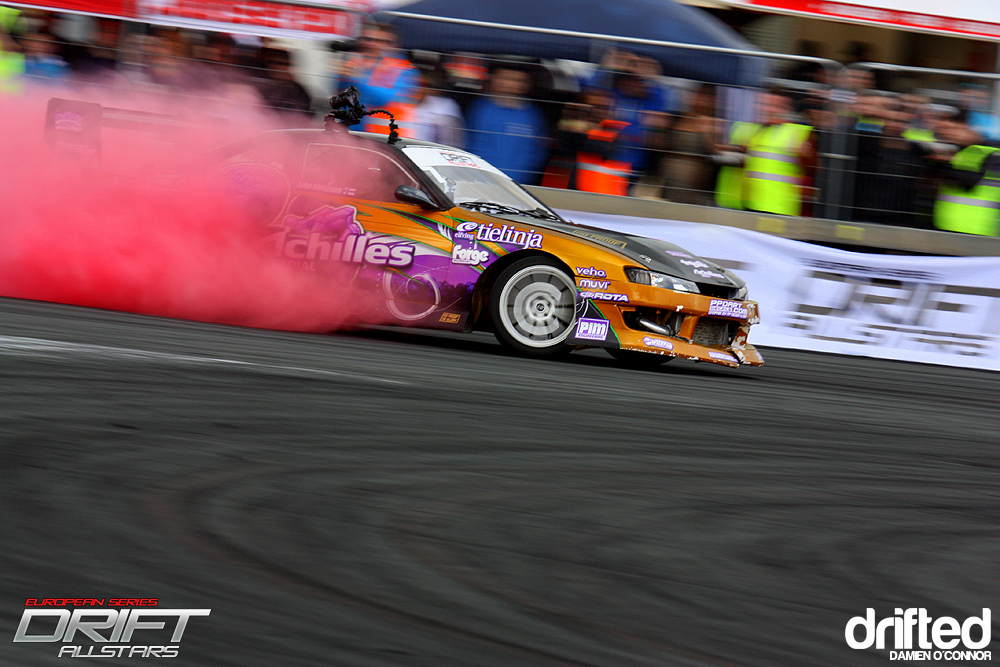 Juha Rintanen from Team Achilles ensured that Team MG Crash Repairs fortune did not change as he knocked out second highest qualifier Damien Mulvey to proceed.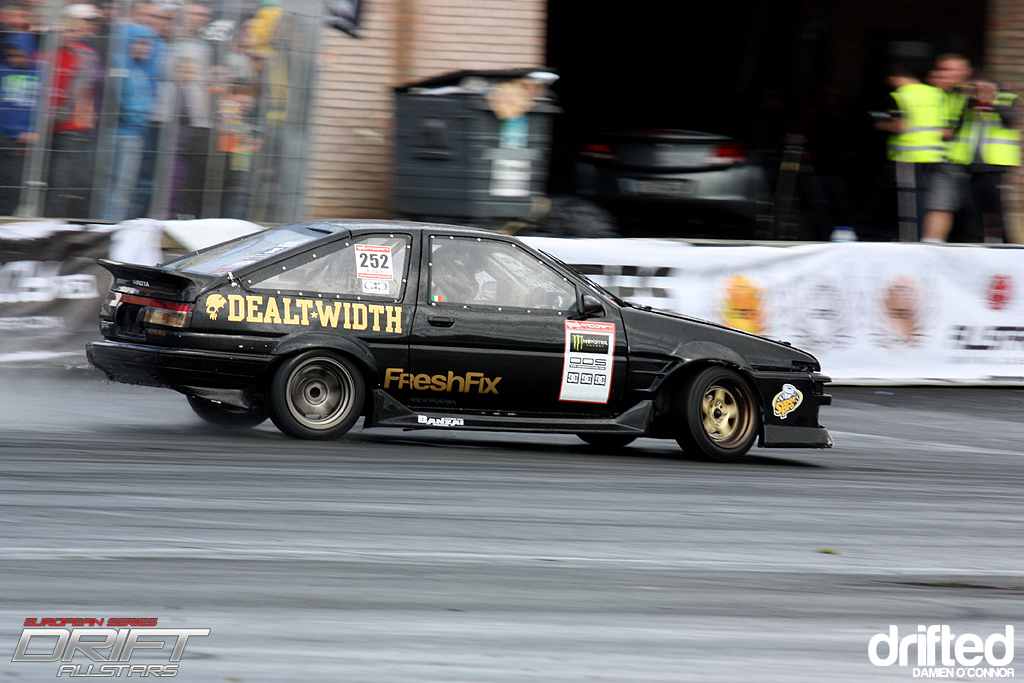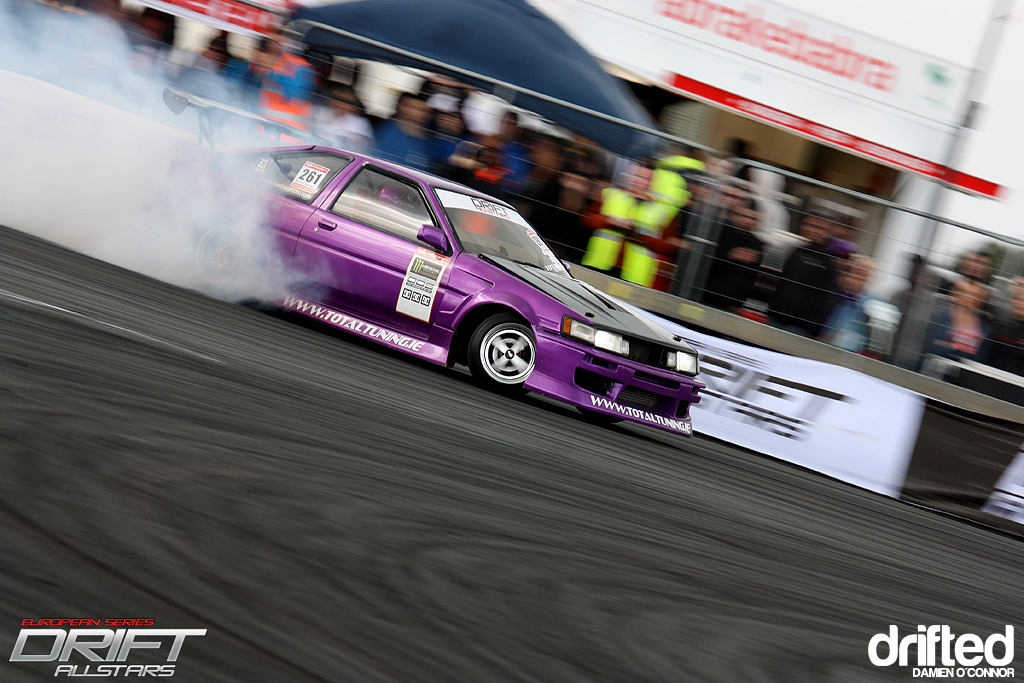 As ever, changing weather conditions are a huge factor for drivers to contend with, we saw Lluis Lopez falling victim to the weather with a huge impact earlier in the event, both AE86 driver's would have to be careful also. Diarmuid O'Connell advancing in his SR20 powered motor over the F20c powered 86 of Brian Egan.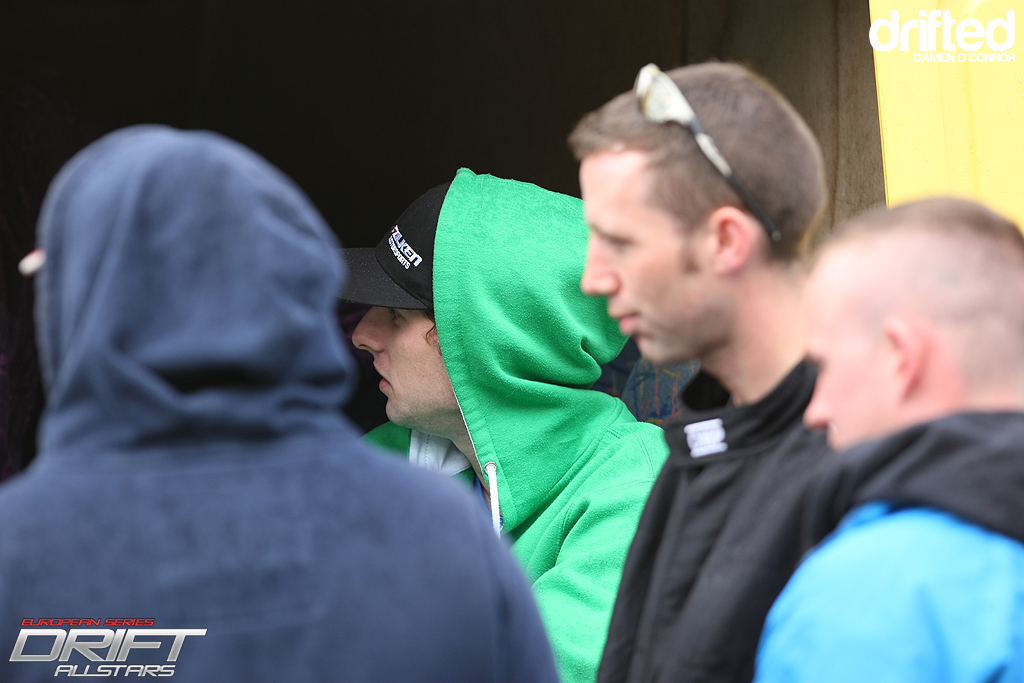 With the Great 8 decided, Formula D driver Darren McNamara talked tactics back at the Deane camp, with both brothers knowing if they proceeded in their respective battles a face off in the   Semi-Final was looming.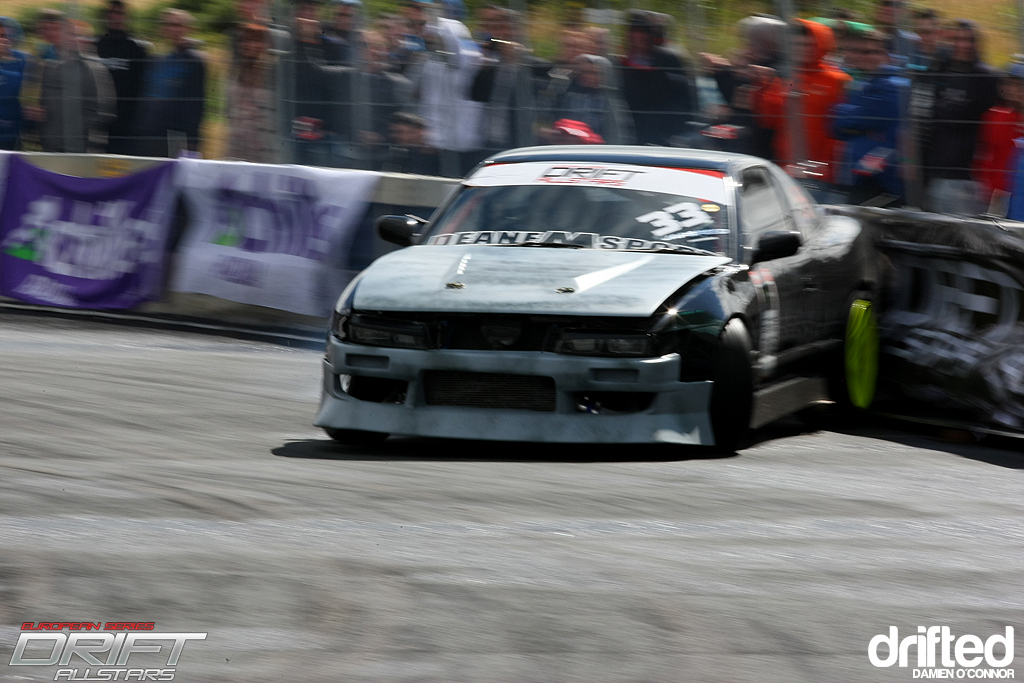 Nigel Colfer faced James Deane in their last 8 battle, and Colfer had different ideas, he pushed hard in a borrowed car after breaking a hub in is RPS13 but it was not to be his day as the younger of the Deane brothers confirmed his place in the final 4.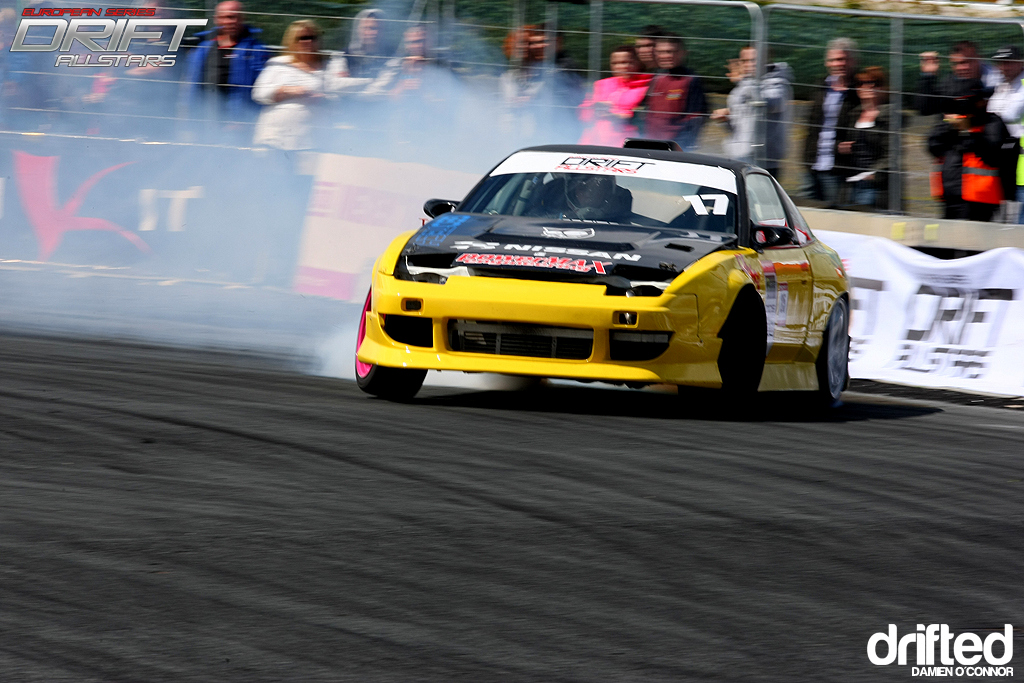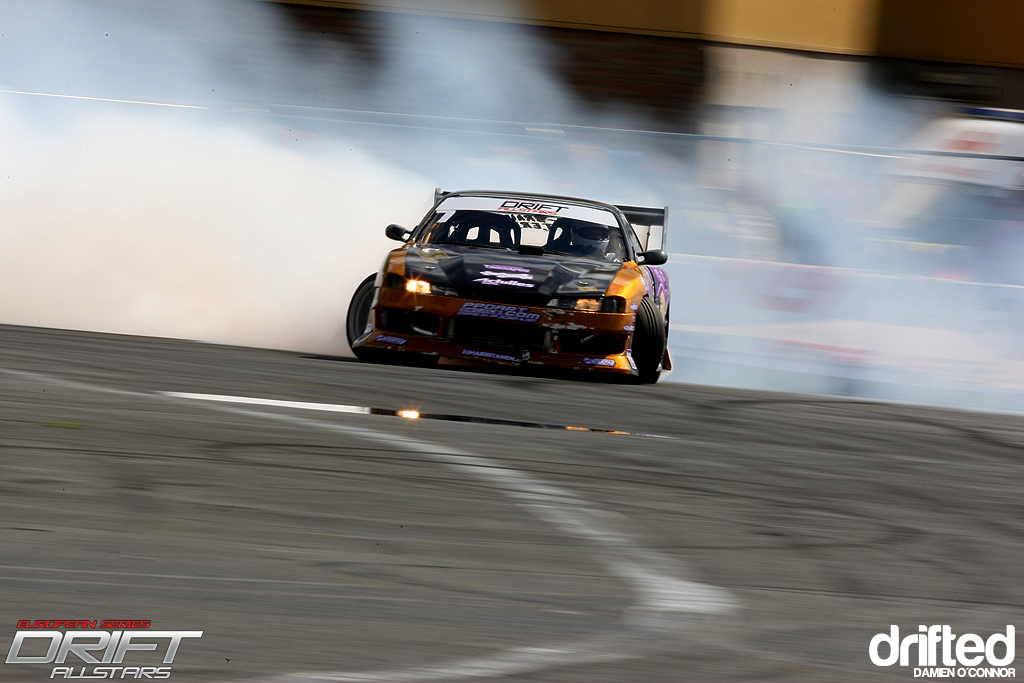 Duane McKeever was going quietly about his business and had a final 4 place of his own in sites, however Juha Rintanen got the nod ahead of the teenager to go through.
Richard Bradley over the weekend was certainly the form driver but Team Nexen's Sinnott drove his lines and booked his place to fight for a podium finish while Mike Deane  in his DEANMSPORT Silvia overcame Diarmuid O'Connell after he had a huge impact with the wall.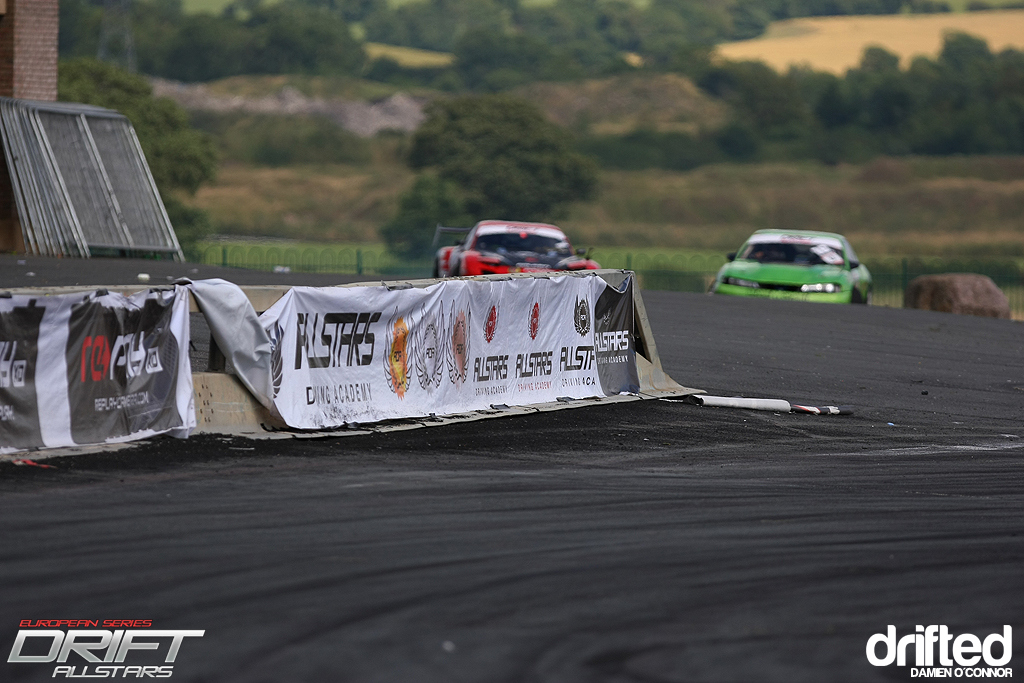 Brotherly love certainly goes out the window at this stage of the competition, both drivers pushing hard with pride and bragging rights at the family table at stake, James Deane overcomes his brother Mike to progress into the final, really James has proven himself at every level, well I personally would love to see him driving in Formula D, hopefully soon we will.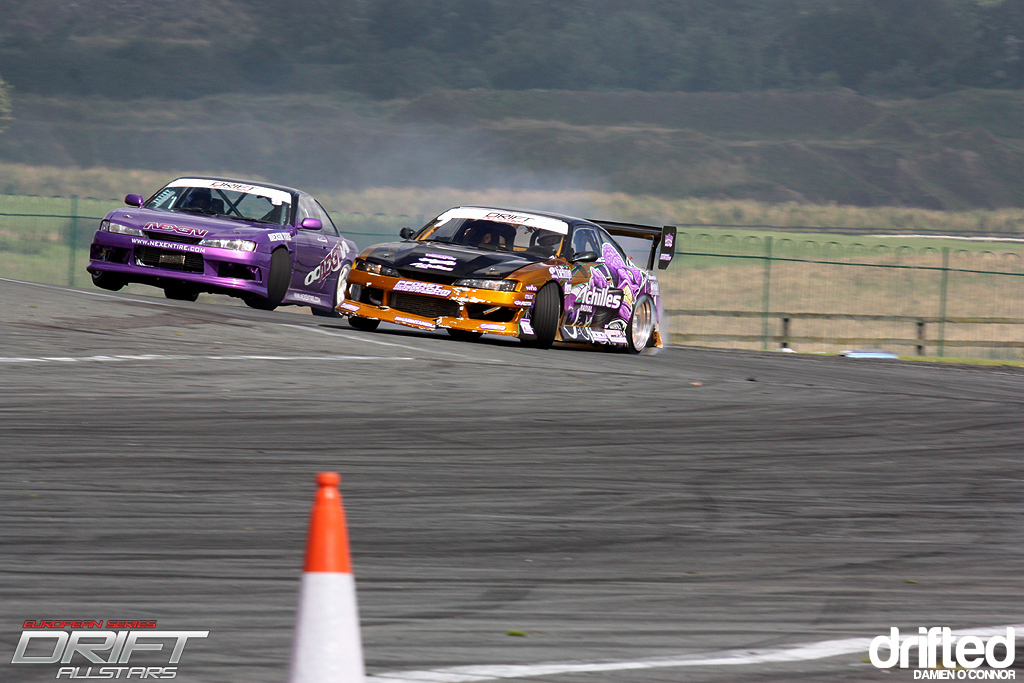 Juha Rintanen certainly gave the fans a lot to cheer about with some huge smoke trails throughout the weekend, he found himself in a semi-final battle against Alan Sinnott, Rintanen seemed to be off the clipping zones and it would be ex Prodrift champions James Deane and Alan Sinnott to contest the Drift Allstars Round 3 Final.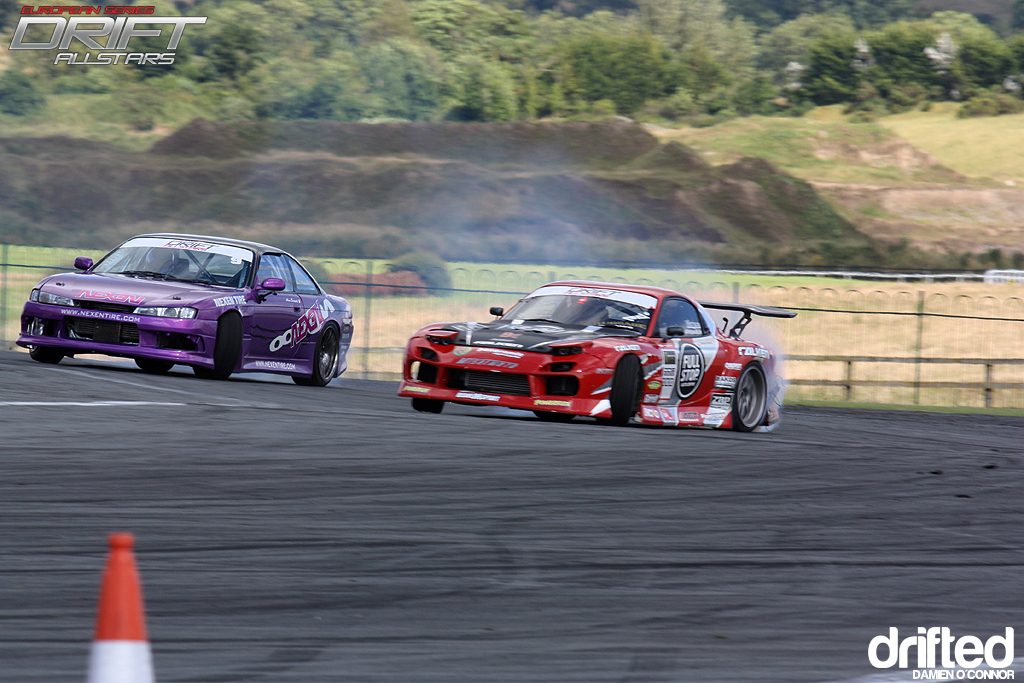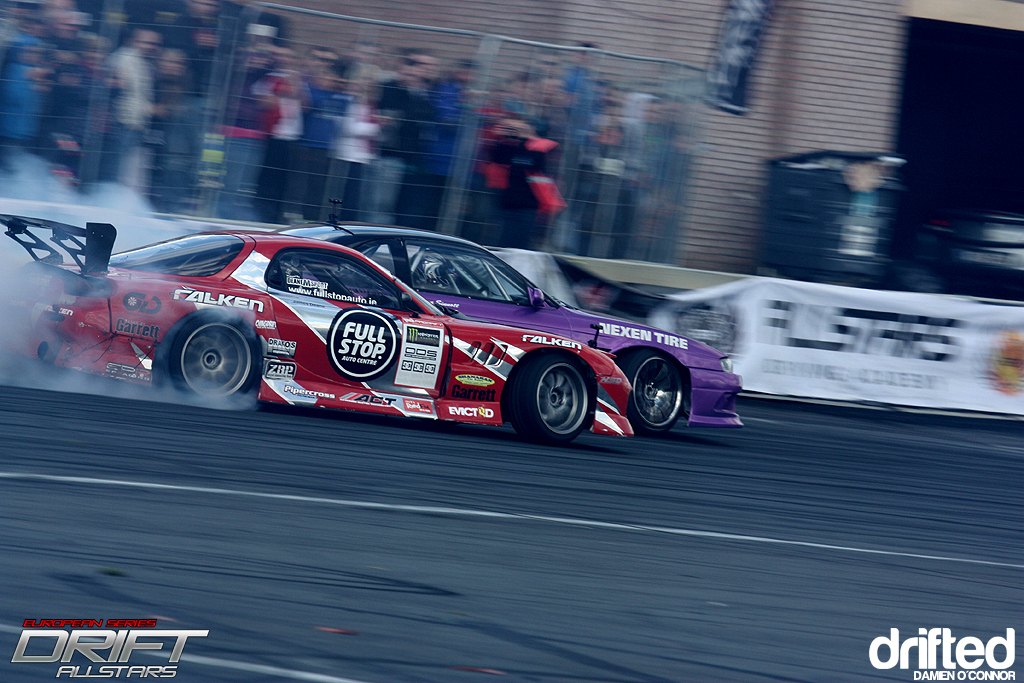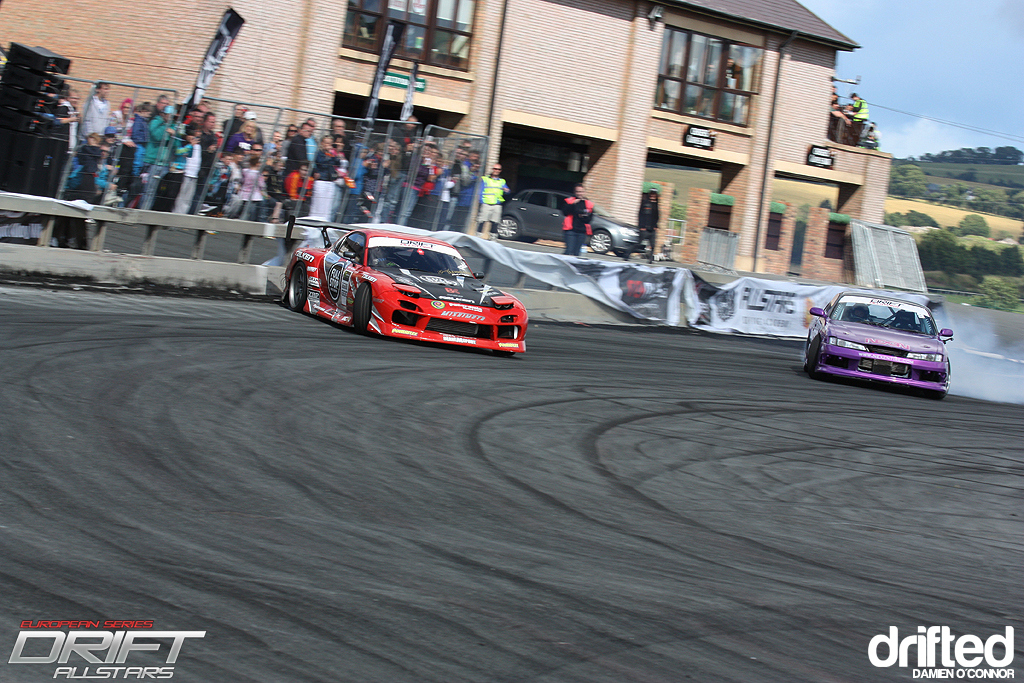 These guys are no strangers to twin battles against each other given their Prodrift battles, really Alan in my opinion did fantastically to be a position where he was challenging a final against Deane by using his experience in his previous battles, literally the first day out for Sinnott in his new car and Deane looked the more comfortable, this was evident in the judges scores as James Deane lifts the Rd 3 title honours to complete the weekend's event.