EVENT: Formula Drift 2012: Throwdown, Day One
Washington is always a mystery when it comes to weather, and even with summer skies being present for week before the lovely Washington rains were also in attendance for the first part of Formula Drift Round 5 at Evergreen Speedway.
It's incredible how large the sport has grown in the past coupe years, and how the cars have changed to quickly. ProAm drivers were moved to their own separate area as the main pit area was filled to the brim with all the Pro drivers. Every year there have been an increase in the amount of drivers competing for that top 32 spot, and its great to see so many new faces and cars out to battle.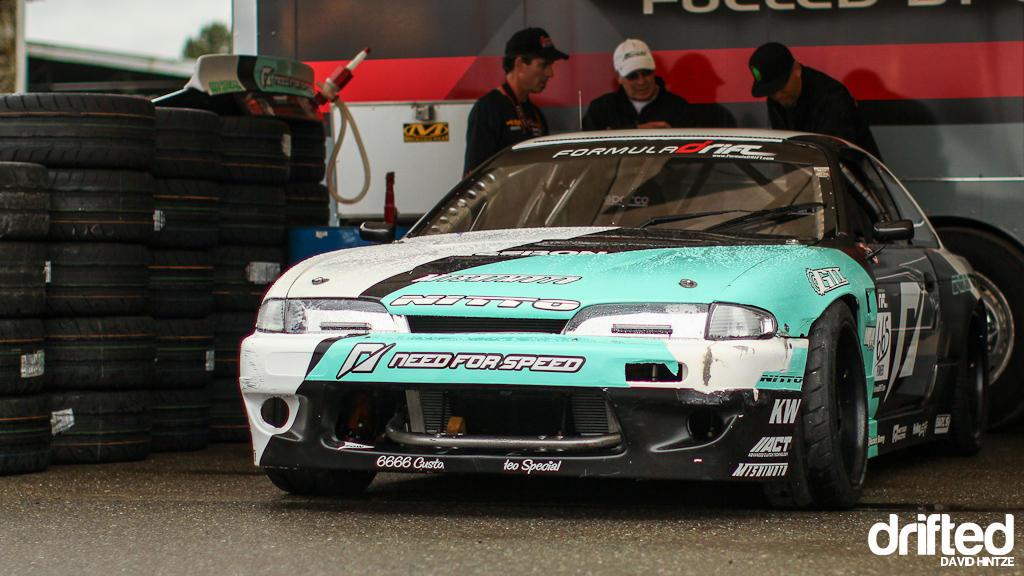 I headed up from a incredibly sunny Seattle toward Evergreen Speedway as increasingly dark clouds began forming, eventually leading to slight rain. Upon arriving at the track I snagged my media access and did a walk around the pits before heading to the media meeting.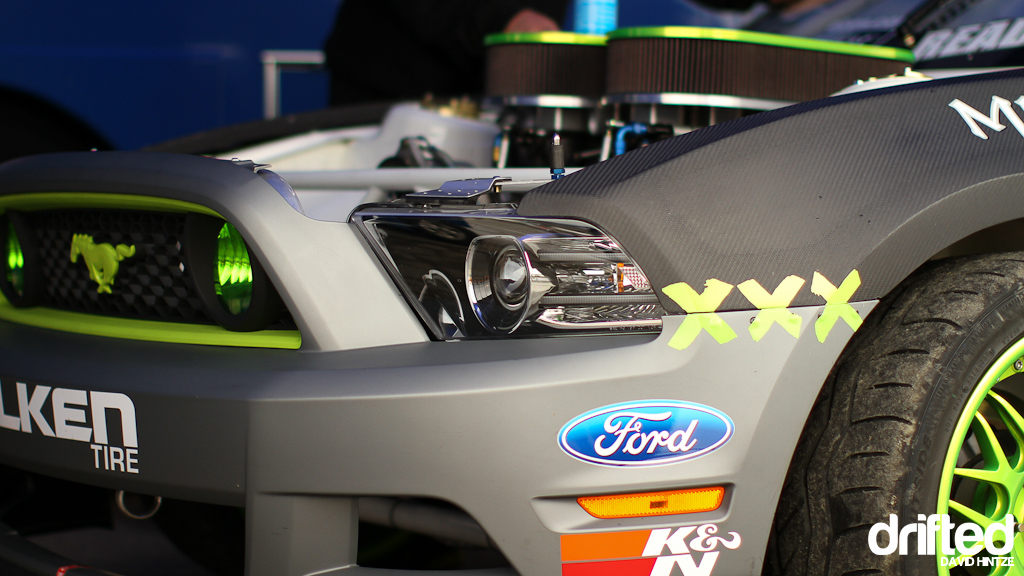 ProAm practice had been cancelled due to the rain and pumping trucks were on site to get rid of the few pools that had formed on track. The sun began coming out mid afternoon thankfully and began drying up the track to regular practice could continue.
Trailers opened up and cars were slowly brought out as it got hotter and drivers began staging up again and getting ready for the days events.
The drivers were just finishing up their meeting as the increasing flog of media gathered around the tent. Surprisingly there seemed to be more media day one vs day two.
A healthy breakfast for us media folk, some heartburn with a side of energy inducing wings. I myself had an even less filling helping of gummy worms and NOS.
The usual gist of where media can and cannot stand took place along with a course layout of the track. I've heard a lot of people saying that this track is their favorite in the series, and aside from it not being over 100 degrees, I can see where their coming from. The evergreen speedway 5/8th bank is a monster waiting to drag your car in, and it took a few drivers with it.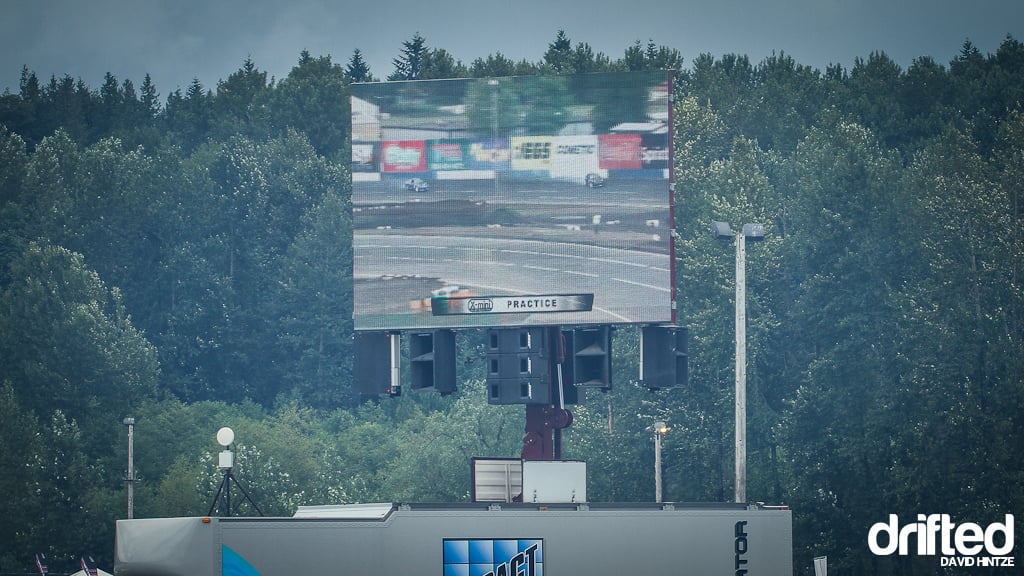 As Formula Drift gets more and more popular, so does the amount of technology, including this huge foldable and portable viewscreen which displayed the Driftstream and replays during the event. It was nice to be able to see the action on the bank when I was in the middle of the track out of view.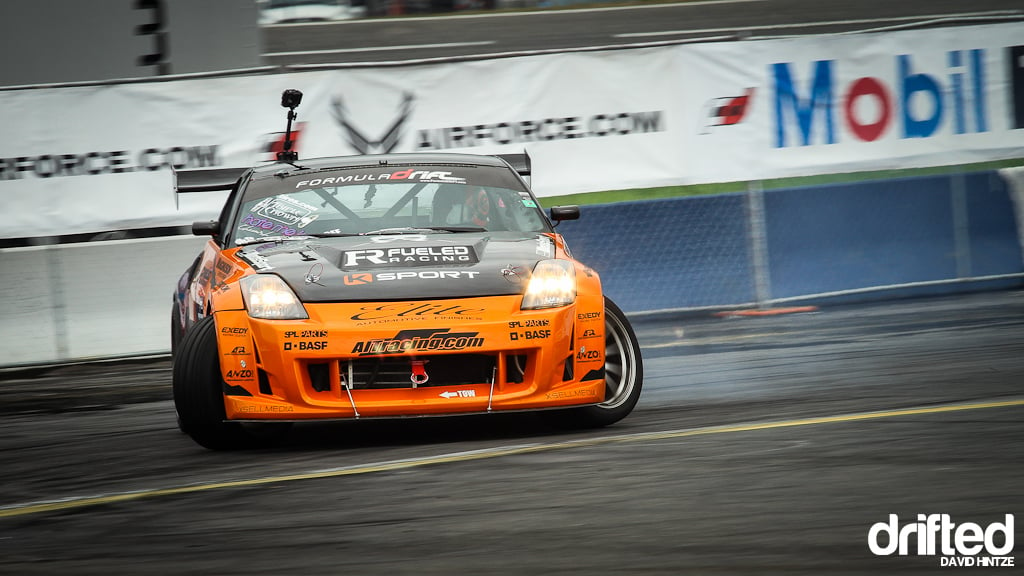 Corey Hosford in his zombiefied K Sport 350z drift machine, was among some of the few who took a slide into the wall.
I've seen less serious crashes in the sport as time has gone on, nothing too major went down at round 5 this year compared to previous years.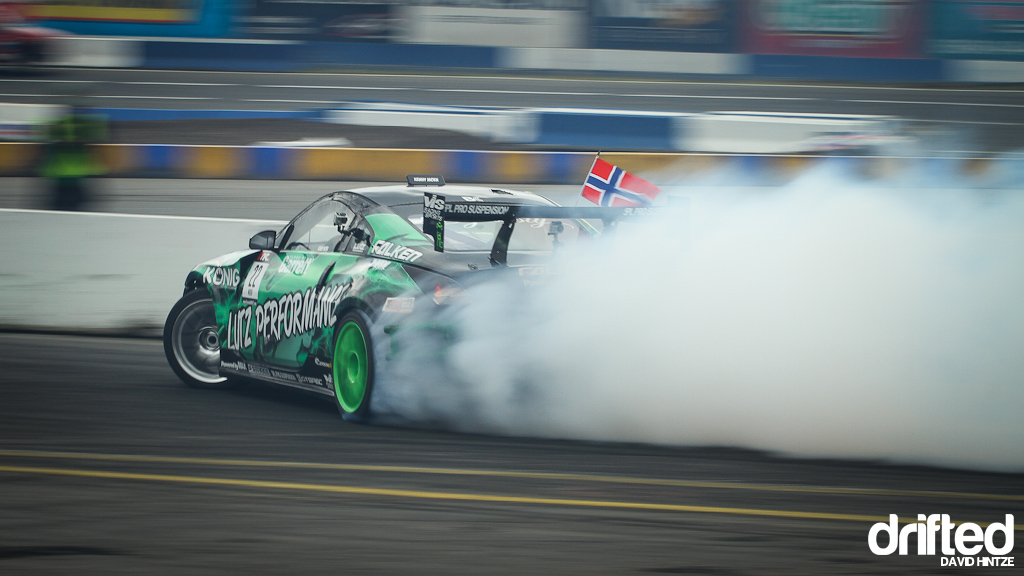 Rhys Millen in his Redbull Racing  Hyundai Genesis putting down some good smoke as he enters the infield.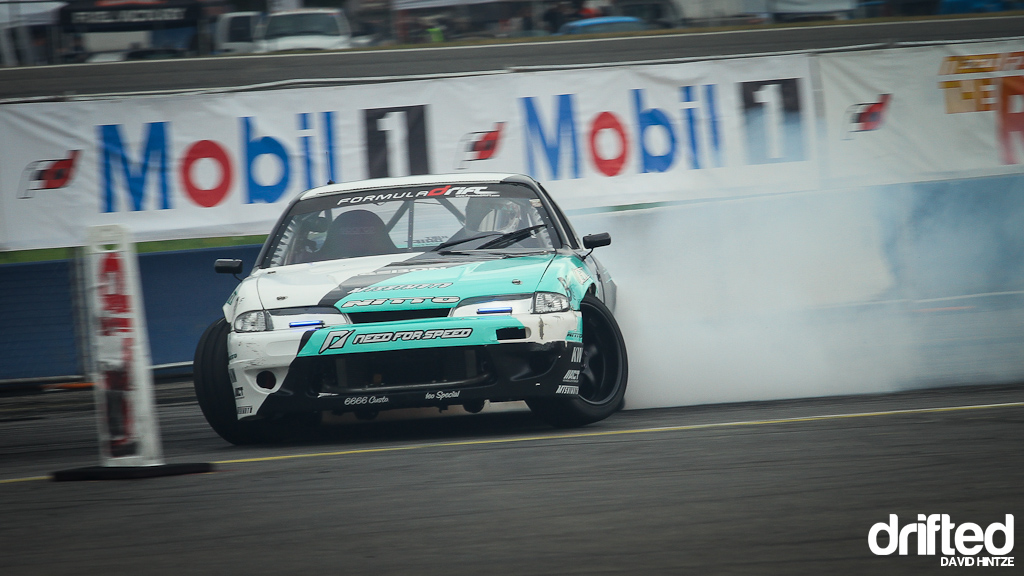 Matt Powers in his Need for Speed Nitto Tires Nissan s14, always a blast to see this wreckless guy tear around the track. Happy 21st birthday man, I bet it was fun having over 5,000 people sing happy birthday to you.
Mike Essa's 2004 GSR Autosport Nitto Tire BMW Z4R is one of my favorite cars both because his driving style is fun to watch and its not the typical drift car you see on track.
Local driver Walker Wilkerson was looking great all day, I'm always rooting for him at every event and its been fun watching him grow as a driver. Consistently getting better every round is just a matter of time till he takes a trophy.
Multiple "Proximity Sensor Graveyards" were seen spotted around the track, it seems that they have plenty to spare, I saw the same placement of one get destroyed over 5 times just in the first part of practice.
After the drivers were finished with practice they had a signing session in the pit area down from the grandstands.
It appears that Chris Forsberg needed to redraw part of his racing suite, good thing he had a sharpie.
Following the signing table drivers returned to their cars and as the sun began to fall practice took place and went on till the lights went out
As the sun started to set, the light was perfect, this was the best time to be on the track. Another local driver Kyle Pollard in his red Nissan Silvia K's can be seen above.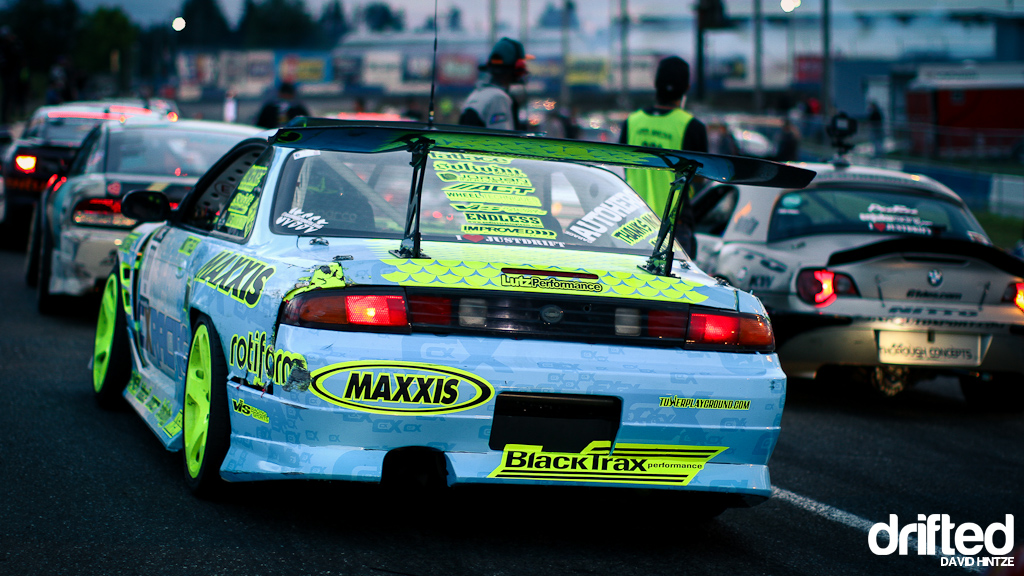 Stay tuned to my photo selection from Day 2, You can check out the rest of the photos from Day 1 over at my website by clicking Here
::Dave