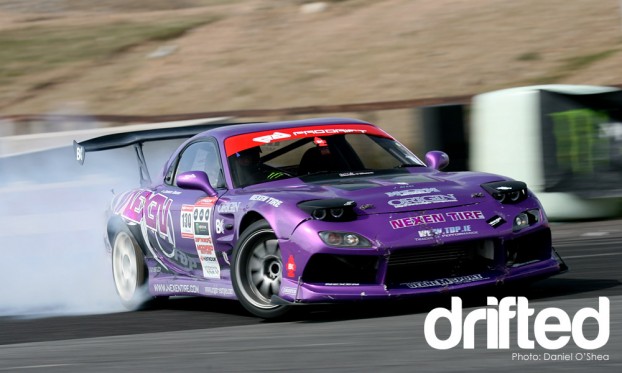 I will introduce myself first, I'm Daniel O'Shea and I hope to bring you the latest news and photos from Irish Drift events. I have always been interested in motorsports and photography, and back in 2006 went along to Rosegreen to see my first drift Prodrift Event and I was hooked. I have been to almost every event since!
Last year's Prodrift Championship was won by Mike Deane in his Silverstone tires S13 Silvia, followed in Second place by the 2008 Champ and also Mike's younger brother James. The 2010 Prodrift Championship began in Fermoy in Cork, which was the venue of the Final round in 2009, which saw James Deane take the inaugural win.
During the off season a number of changes took place to machinery and also to competing teams, most notability to Christy Carpenter's amazing Blister Kitted S15 Silvia. The car was just ready in time for the event, after undergoing an engine conversion. The car now sports a 620bhp 1JZ mated to a Getrag 6 speed box. Christy is also after joining team Nexen. For round two this car will be sprayed purple to match team mate James Deane's SR20 powered RX7.
Team Hankook also has a new driver, Alan Sinnott who brings his smoke machine to the team alongside Alan Lenihan in his familiar S13.5 Silvia but now with an extra few horsepower thanks to a newly built engine and larger turbo.
Last year's Non seeded Pro champion Mike Fitz, changed the colour of his 180sx from yellow to red to match his new sponsor Bridgestone as his sets his target on the 2010 Seeded Pro Championship.
This year saw a revised track layout at the Fermoy venue, which increased the length of the track and added a few extra "run the wall" clipping points, which lead to a few incidents. Once such incident happened on Darren McNamara's (D-Mac)  second qualifying run on Saturday evening. Darren crashed into the wall, and was left with heavy front and rear damage to his rotary powered AE86. However Darren had from his previous run managed to qualify in first position, so had to carry out some late night repairs for Sunday.
However the damage was extensive and although the car could drive it was obvious the car was not easy to drift, and lead to a poor super lap performance. Super lap, which is a single qualifying run over the track by each driver in the top 16 to determine their twin battle positions and it also carries some championship points for the best judged runs. Drivers such as Mike Fitz, Shane O'Sullivan and finally James Deane held the position of top superlap as it progressed with James taking first position and maximum superlap points.
The top 16 battles took place in front of a packed Fermoy audience, but there was little surprise with the outcome of the top 16 with most of the higher places qualifiers progressing to the great 8.  Within the great 8, Hankook driver Alan Sinnott eliminated the 2009 Champion Mike Deane after a "one more time" was called.
However Sinnott's team mate Alan Lenihan couldn't make it to the great 8 and was defeated by Nigel Colfer in his 1JZ 180sx. However Alan was happy with his performance, and a great 8 result was impressive as the car was only ready for the event and the engine needed to be ran in. This car will be one to watch in round 2 when running with full power.
In the final 4, Nigel Colfer faced Alan Sinnott with Nigel progressing to the final. In the second semi final Shane O'Sullivan went against last year's winner of Fermoy James Deane, and once again James made it to the final at this venue. After a "one more time" and a small bit of contact between Alan Sinnott and Shane O'Sullivan, Alan took third place.
After a good effort by Nigel Colfer, the win once again at Fermoy went to James Deane, who with his first place superlap and the event win has claimed maximum championship points moving on to Round 2 in Punchestown(May 28th, 29th & 30th).
More photos on my Flickr Photostream