Best RC Monster Trucks For 2021
Are you looking for a taste of the madness that monster trucks have to offer? We're checking out the ultimate RC monster trucks in this guide.
---
In a hurry? Here are our favorite RC Monster Trucks:
| Budget Choice | Drifted Choice | Premium Choice |
| --- | --- | --- |
| | | |
| Traxxas E-Revo | Arrma Big Rock 4X4 V3 3S BLX | Traxxas X-Maxx 8S |
| 🔥🔥🔥🔥🔥 | 🔥🔥🔥🔥🔥 | 🔥🔥🔥🔥🔥 |
| Buy Now | Buy Now | Buy Now |
---
Introduction & RC Monster Truck FAQ
There are few things more enjoyable in life than heading outdoors and cranking up the speed in your RC monster truck before launching it over the most gigantic jump you can find, and we've written this guide to you to find the perfect truck to achieve this!
With the recent pandemic, it's been more crucial than ever to find new hobbies to enjoy within the local area, and RC cars offer the ultimate solution.
Benefits of RC Monster Trucks
While RC drift cars, and their smaller siblings, micro RC cars are heaps of fun on smooth terrain, they're not always easily accessible for everyone, and you may need to look at alternatives.
Or, perhaps you like to spend your time in the local forests, and you've found the perfect former beaten trails of the local mountain bikers where you could push an RC monster truck to its limits.
Some of you may even wish to create a unique obstacle course that'll undoubtedly provide endless possibilities and enjoyment.
While RC cars are great fun, the road-going versions require an ideal surface, where sticks and stones can often ruin the enjoyment, where an RC truck will plow their way over them!
For many situations, especially when it comes to off-roading lunacy, RC monster trucks are likely to provide the perfect answer.
Ready-to-run (RTR) vs Kit - What's The Difference?
When you check out the options in this guide, you'll see both RTR and Kit options, so it's worth considering which one will suit you best.
Ready-to-Run RC Monster Trucks Explained
Ready-to-run is the most self-explanatory method.
Once you've found the monster truck that ticks the right boxes for your needs, an RTR kit is as easy as removing the packaging before being able to test the boundaries of your new monster truck purchase once the batteries are installed and charged.
Ready-to-run kits are the easiest, most convenient, and often the cheapest method if you're just getting started with RC monster trucks and provide an excellent solution for beginners.
The downside of SOME ready-to-run kits is that if you happen to have a high-speed impact and something gets broken, you may struggle to find spares to replace the broken components, which may require an entirely new purchase.
Please note that this isn't always the case, especially for the RC monster trucks in this guide, so it's worth checking out the spare part availability on the model you're considering before purchasing.
RC Monster Truck Kits Explained
With a kit, you would typically receive the truck in many parts, which you then need to assemble yourself. Don't panic - the process isn't as tricky as it sounds, as you'll have clear instructions to guide you.
When choosing a ready-to-run truck, the chances are that if you have a severe impact, you may end up breaking some of the parts on your vehicle.
In this situation, you're most likely going to have to either cut your losses or return your monster truck in the hope that it's repairable, but the chances are that's not very likely or cost-effective.
With a kit, not only do you get to enjoy the pleasure of building the truck, which you could consider making a family affair? You'll also gain an excellent understanding of how the different components of the vehicle work, which also makes this perfect introduction for an aspiring mechanic.
Not only will you gain an understanding of the truck and have the satisfaction of the build process along the way, but if you were to crash your RC monster truck and break one, or more components, you can assess the damage and replace the spare part(s) necessary.
The ability to fix any damage is the main advantage of a kit over a ready-to-run truck.
Once your replacement parts turn up, you'll now know how to replace them with your newfound knowledge from building the truck, and you can then enjoy many more hours of worry-free off-roading (assuming your abilities have improved since the crash, of course!)
Another advantage of buying a kit is that you'll likely want superior upgrades as your skill levels progress.
Whether that's an improved chassis, batteries, motor, or suspension, you name it; you can upgrade everything and build the RC monster truck of your dreams without having to buy EVERY part each time like you would with a ready-to-run alternative.
For the RC monster truck enthusiast, this can make for great Birthday and Christmas present opportunities.
Are you looking to upgrade your suspension? No worries, Grandma's got you covered this year!
We always recommend that you carefully look into the possibility that a kit may need additional components. Most kits don't come with all of the required electrical components, as an example.
Now that you're clued-up with finding the perfect solution for your needs let's take a look at the best RC monster trucks on the market!
---
Ready-to-Run RC Monster Trucks
First up, we're taking a look at the RTR (ready-to-run) RC monster trucks. If you're looking for an RC monster truck kit, you may wish to consider skipping this section.
Alternatively, if you're unsure whether you're looking for an RTR or kit RC monster truck, make sure you check out our "Introduction & RC Monster Truck FAQ" above.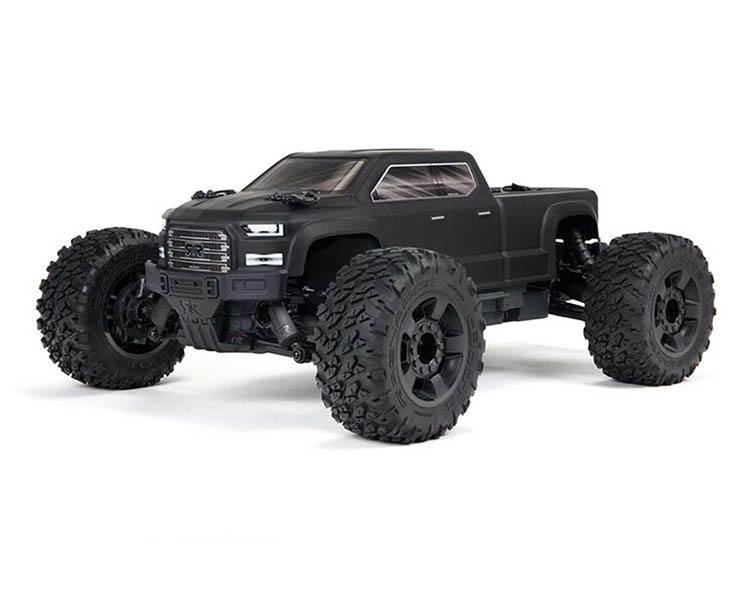 Our comment: First up is one of the most popular offerings on the market, the Arrma Big Rock.
Boasting speeds of more than 50 mph, the Big Rock combines premium aluminium, steel, and composite materials for maximum durability when pushed to its limits.
With the included highly-regarded Spektrum SLT3 transmitter and SLR300 receiver, you'll be ready to hit the trails right away with confidence.
Thankfully Arrma provides spares and upgrades for everything you could ever need for this truck, so you won't need to worry when things don't go entirely to plan!
Our primary consideration would be to ensure you'll feel confident handling an impressive amount of power, in which case, it's an incredible all-rounder and often a perfect choice.
Manufacturer description: "ARRMA now powers the BIG ROCK 4X4 3S BLX with a brushless system featuring its BLX100 ESC and the Spektrum Firma 3200Kv brushless motor. The combination provides incredible torque, acceleration and speed. The transmission and chassis are ruggedly engineered to take full advantage of the power."
"Built for exciting bashing speeds and extreme, all-terrain durability, the Big Rock 4×4 V3 includes features that enhance its unstoppable performance."
Features:
Spektrum™ Firma™ 3660 3200Kv brushless motor with Safe D pinion and ARRMA® heatsink and cooling fan
Spektrum Firma 3660 3200Kv Brushless Motor
BLX100 2S/3S waterproof ESC
Spektrum SPMS651 Waterproof Metal-Geared Digital Servo
Spektrum 2.4GHz SLT3 3-Channel Transmitter
Stronger chassis and retained hinge pin plates
Steering with more clearance for stones
1.1 inch wider stance for better handling and bashing
37T 1.35Mod diffs with silicone O-rings
Oil-filled shocks with silicone O-rings
Wider arms front and rear
Vented multi-terrain dBoots® RAGNAROK™ tires
BLX100 2S/3S waterproof ES
---
Manufacturer: Losi
Configuration: 4WD
Scale ratio: 1/10
Value for money:

🔥🔥🔥

Purchase link: Losi LMT Grave Digger
Our comment: Based on the legendary Grave Digger monster truck, this is another option for those looking for an RTR kit.
Despite this being a popular option with many happy owners, we feel that the Arrma Big Rock above is better value for money. However, for the die-hard Grave Digger fans out there, this may be hard to resist!
With plenty of spares and optional upgrades, the solid-axle LMT platform will undoubtedly serve you well if you're happy to splash the cash.
Manufacturer description: "The Losi LMT Grave Digger RTR 1/10 4WD Solid Axle Monster Truck with DX3 2.4GHz Radio is breaking into the market with an unbeatable combination of all-out performance, impressive scale detail and iconic good-looks."
"Whether you are a scale driver, a basher or a racer, the chassis is designed to accommodate multiple shock setups keeping you tracking straight on any terrain."
Features:
6061-T6 Aluminum Twin Vertical Plates with Removable Shock Towers
DX3 2.4GHz Radio
Solid Axle Monster Truck Roller
Twin Vertical Plate Chassis
Composite Flip Top Cage
Multi Piece Scale Axle Housing
1/8th Scale Diffs
Scale Monster Truck Tire
---
Manufacturer: Traxxas
Configuration: 2WD
Scale ratio: 1/10
Value for money:

🔥🔥🔥🔥

Purchase link: Traxxas "Bigfoot No.1"
Our comment: From Grave Digger to Bigfoot, this officially licensed offering from Traxxas provides the opportunity to get behind the wheel of another legendary monster truck.
With a far more reasonable price tag, Traxxas brings their typical high quality with this offering, with once again comes with a vast selection of spares, repairs, and upgrades should you require them.
With a respectable top speed of 30 mph, this is an excellent option for those of you looking for a reasonably-priced RC monster truck that's not too fast, making it perfect for beginners.
Manufacturer description: "BIGFOOT is the truck that started the monster truck phenomenon and brought car-crushing fun and excitement to fairgrounds and arenas everywhere. Traxxas faithfully captures the spirit and classic look of BIGFOOT No. 1 with a retro inspired paint scheme in amazing detail."
"BIGFOOT is no shelf queen. This monster truck is built to fly through the air over giant jumps and rip epic roosts with its massive tires. Based on the proven strength and reliable performance of the 2WD Stampede, BIGFOOT rides high and runs fast with 30+mph speed and ground-pounding durability."
Features:
Heavy-duty, extra-thick Lexan BIGFOOT No.1 Licensed Monster Truck Body
TQ 2.4GHz radio system
Traxxas 4-amp DC Peak Detecting Fast Charger
Traxxas iD-Equipped 7-cell Power Cell NiMH battery
Waterproof electronics all-weather, all-season R/C excitement
Watertight receiver box and 3 channel TQ receiver
Titan 12-Turn 550 modified motor
Powerful XL-5 waterproof electronic speed control
Included optional 19-tooth pinion gear
Revo-Spec Torque-Control slipper clutch
Authentic "shaved" monster truck tires on chrome rims
---
Manufacturer: Traxxas
Configuration: 4WD
Scale ratio: 1/16
Value for money:

🔥🔥🔥🔥🔥

Purchase link: Traxxas E-Revo
Our comment: For those looking for something a little smaller than the typically-sized 1/10th scale RC monster truck, this "micro" alternative could well provide the perfect answer.
At around half the size of the larger 1/10 scale E-Revo, this miniature hero certainly proves that size doesn't always matter!
Traxxas has designed the E-Revo as a whole new category of RC performance to ensure performance isn't neglected with the impressive Titan 550 motor.
With a top speed of over 20 mph and fantastic acceleration to match, this is certainly no slouch and could be a perfect option for those looking to enjoy off-roading in a smaller area.
With plenty of spares and upgrades available, along with an exceptional price tag, the E-Revo is a real bargain if you're happy to go with a smaller truck.
Manufacturer description: "The included Titan 550 motor gives the E-Revo unstoppable climbing, roosting, and monster performance. This modified motor delivers exciting mod-motor power output with long-lasting performance, with an integrated cooling fan to keep temperatures down by pulling cool air through vent tunnels that are molded into the motor plate."
"The 1/16 E-Revo is fully assembled with TQ 2.4 GHz radio system, Titan 550 motor, XL-2.5 electronic speed control, painted and decaled body, pre-glued tires, and detailed instructions."
Features:
Ready-To-Race® with included 6-cell NiMH Power Cell battery with iD
2-amp DC peak detecting fast charger
Revo suspension technology for superior handling and control
Titan® 550 motor—largest in class
Waterproof electronics
Torque-Control™ slipper clutch
Sealed differentials
Realistic all-terrain tires with foam inserts
Patented Traxxas High-Current Connector
Rubber-sealed ball bearings
---
Manufacturer: Traxxas
Configuration: 4WD
Scale ratio: Custom – Length: 20.24 inches (514mm), Width: 13.10 inches (333mm)
Value for money:

🔥🔥🔥🔥

Purchase link: Traxxas Hoss 4X4 VXL 3S
Our comment: If you're looking for all-out performance, then you'll struggle to beat the incredible 60 mph capabilities of the Traxxas Hoss.
Designed for those looking for rapid acceleration and top speed, the Hoss is a brilliant choice for flatter, high-speed runs and smaller jumps.
While the Hoss is perfect if you're looking to perform wheelie-popping stunts with your RC monster truck, the X-Maxx below provides the ultimate durability in the Traxxas range if you're looking for a more traditional truck.
Manufacturer description: "The Traxxas Hoss 4X4 VXL 3S 4WD Brushless RTR Monster Truck unleashes extreme monster truck fun with the power and speed only Traxxas can deliver. Grab a fistful of throttle and the huge Velineon 540XL motor delivers a massive torque punch to wheelie on command, and then keeps pouring on the thrust for a 60+ MPH top speed."
"The Torque Biasing Center Drive and heavy-duty shaft-driven 4WD system transfers maximum power to the ultra-aggressive Sledgehammer tires. It's built to absolutely shred any terrain, from dirt and sand to mud and snow."
Features:
Velineon 540XL Motor
Extreme Heavy Duty Driveshafts
Steel Gear Differentials
Extruded Aluminum Driveshaft
Sledgehammer Tires & 2.8″ Black Chrome Wheels
Heavy Duty Composite Arms
Ultra Shocks
5-Channel Receiver with Failsafe
Waterproof Receiver Box
VXL-3S ESC with Fan
Chassis Nerf Bar
---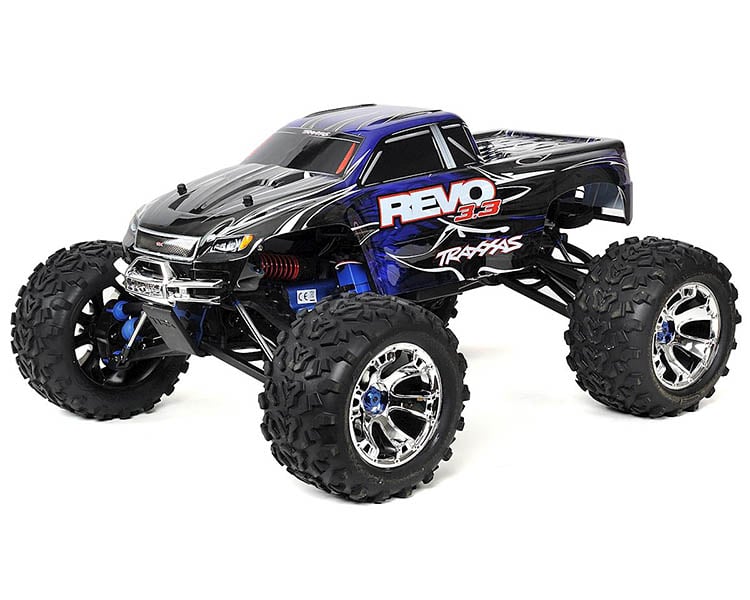 Manufacturer: Traxxas
Configuration: 4WD
Scale ratio: 1/10
Value for money:

🔥🔥🔥🔥

Purchase link: Traxxas Revo 3.3
Our comment: Those of you with a love for engines will want to consider this nitro-powered offering from Traxxas.
One of the most popular nitro choices on the market, the Revo provides an excellent all-around package with a reasonable price tag.
With fantastic handling thanks to the TSM, plenty of spare parts, and a top speed beyond 45 mph, this is an excellent choice for those looking to get started with RC nitro monster trucks.
Manufacturer description: "Monster innovation, monster versatility, and supreme size come together in the one truck that could only come from Traxxas. The Revo 3.3 defines what it means to be the pinnacle of monster truck performance, the standard bearer for cutting edge innovation and boundless capability that all others are measured against."
"The Revo 3.3 is pure monster to its core with its massive presence, meaner gaze, and feature-rich capability. More importantly, Revo's advanced engineering equips it for fun, and the Revo 3.3 delivers even more of it!"
Features:
Ready-To-Drive with included NiMH receiver pack and EZ-Start battery, 2-amp DC Peak Detecting Fast Charger, fuel-filler bottle, spare glow plug, precision tools, and more!
TQi 2.4GHz Transmitter with Traxxas Link Wireless Module and Receiver
Traxxas Stability Management (TSM)
Factory installed telemetry sensors – RPM, speed, temperature, and battery voltage
Wider, taller stance with Geode wheels and 6.3″ Maxx-sized tires
Sinister body with ferocious graphics
Heavy-duty reversing transmission with exclusive OptiDrive Electronic Shift Module
Dual digital waterproof ball-bearing servos with 250 oz.-in. combined torque
---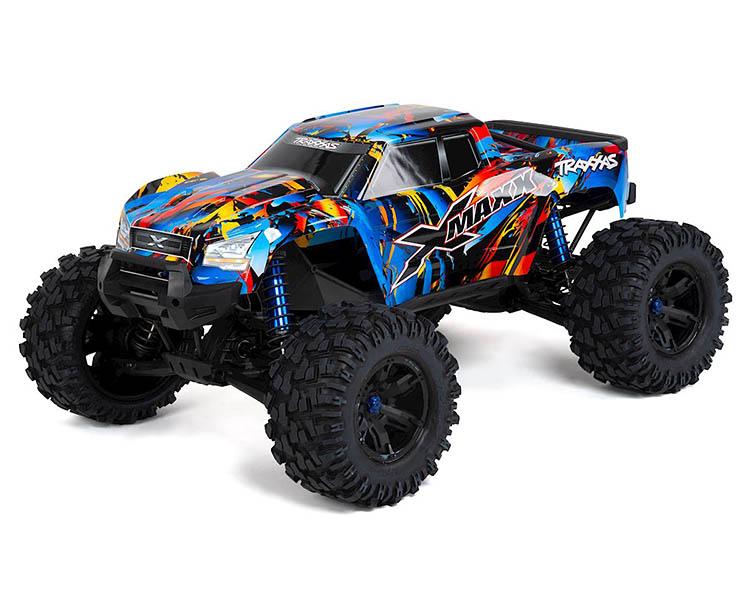 Manufacturer: Traxxas
Configuration: 4WD
Scale ratio: Custom – Length: 30.67 inches (779mm), Front Track: 22.26 inches (540mm), Rear Track: 20.66 inches (525mm)
Value for money:

🔥🔥🔥🔥🔥

Purchase link: Traxxas X-Maxx 8S
Our comment: For those that don't mind forking out for the ultimate RTR package, look no further than the Traxxas X-Maxx 8S, the big daddy of the Traxxas range.
With over 30 volts of power, this absolute weapon of an RC monster truck produces insane acceleration before reaching speeds over 50 mph.
Alongside the incredible speed is the ultimate quality components that Traxxas offers, which you can be assured will provide the ultimate durability to withstand the harshest of situations.
Although it's far from cheap, the X-Maxx is an incredible offering with plenty of spares and upgrades to consider.
Manufacturer description: "The Traxxas X-Maxx 8S 4WD Brushless RTR Monster Truck brings the same unrelenting 4X4 power, mammoth size and award-winning innovation to the game that make X-Maxx the ultimate monster truck."
"When you add 30+ volts of extreme 8s power, X-Maxx 8S defies physics, unleashing jaw-dropping acceleration and 50+mph speeds. Engineered to conquer the most extreme terrain and take brutal real-world punishment in stride, X-Maxx is the definition of Traxxas Tough™."
Features:
30+ Volts of Extreme 8S Power
Maxx Duty Drivetrain
Torque-Biasing Center Drive
50+ MPH Out of the Box
---
RC Monster Truck Kits
If you're not sure whether an RTR or kit option will be the best choice, then we recommend reading the "Introduction & FAQ" at the beginning of this guide.
Where RTR RC monster trucks are ready to go out of the box, these kits will require varying assembly levels.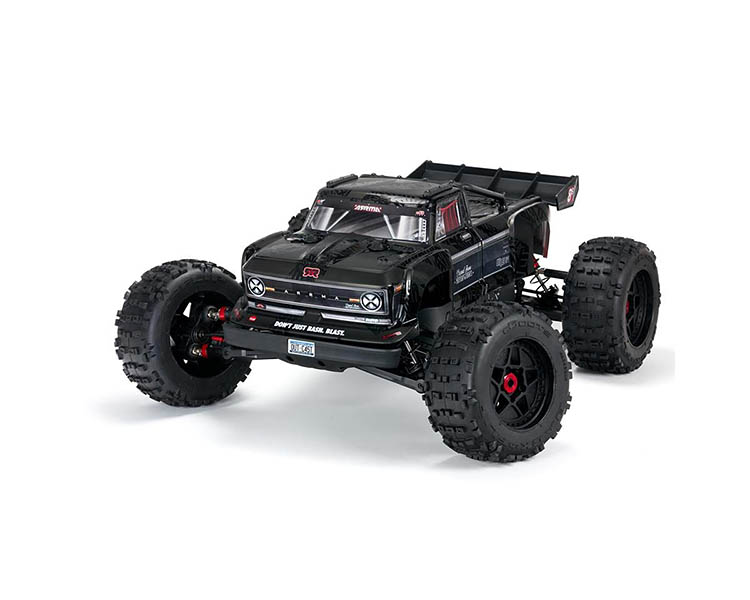 Our comment: If you're looking for a gigantic RC monster truck, look no further than this 1/5th scale offering from Arrma.
Although most of the truck comes pre-assembled, you'll need to purchase all of the electrical components separately, which will also need considering when it comes to your budget.
While you get an incredible platform to get you started, the beauty of buying your preferred electronics is that you get to choose just how crazy you wish to make the Outcast.
It might not be cheap, but you can guarantee that this will look incredible when you're pushing it to its limits and undoubtedly earn you a fan club, as these things are HUGE!
Manufacturer description: "The Arrma Outcast 1/5 EXB EXtreme Bash Roller 4WD Monster Stunt Truck comes out of the box packed with EXtreme Bash parts and options."
"A 5mm thick EXB 7075 T6 CNC aluminum laser-etched chassis plate, EXB red-anodized CNC aluminum front brace mount and exclusive EXB matte and gloss effect finished body give this truck a look unlike any other while giving you the gear you need to create the ultimate large-scale experience."
Features:
EXB 7075 T6 5mm thick CNC aluminum laser-etched chassis plate
EXB Red-anodized CNC aluminum front brace mount
Heavy-duty 8mm thick steel rear turnbuckles
Heavy-duty 7mm thick steel steering turnbuckles
Oil-filled adjustable 20mm bore shocks with 6mm thick shock shafts and new plush shock tuning
47T and optional 39T Spur Gear
Wheelie bar
Easy-access 3-bolt sliding motor mount for quick motor removal
Heavy-duty drivetrain
Durable steel driveshafts
Durable wheel hubs for increased strength
Easy-access waterproof electronics module
---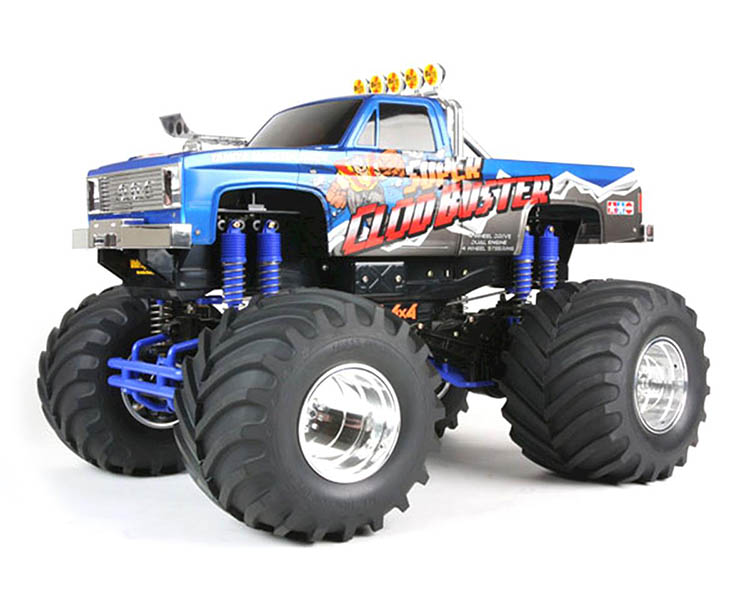 Our comment: Based on the legendary monster trucks of the 80s, the Super Clod Buster is a DIY self-assembly kit.
Once constructed, the highly durable bathtub-type monocoque chassis frame provides great durability. However, owners have mentioned that the steering links on these kits are a weak point, which we recommend upgrading during the initial build, as they're a pain to swap out afterward.
All in all, this is a solid option, but since you still need the radio system and battery to complete the kit, it may be worth considering some of the modern RTR options instead at a similar budget.
Manufacturer description: "The truck features a twin-motor dual gearbox 4WD drivetrain, 8 coil spring dampers and massive 165mm diameter tires, as well as a 4-wheel drive steering system to help the model navigate tight corners."
Features:
1/10 scale R/C assembly kit
Optional 4-wheel steering (3-channel radio recommended for 4-wheel steering)
The Super Clod Buster body has been reproduced in injection-molded plastic
Highly-durable bathtub type monocoque chassis frame
Front/rear trailing arm suspension with 8 coil spring dampers
Front/rear sealed gearboxes are equipped with differential gears
Includes TEU-103BK ESC (Original kit included a mechanical speed controller)
Two 540 motors included
Sticker sheet included
---
Our comment: We love these awesome 6X6 kits, and there's no questioning that they bring something unique to the market.
Although they're not going to be the ideal high-speed choice for flying off huge jumps, they're excellent for racing and navigating their way across rugged and technical terrain.
As this is a kit, it'll require the standard electronic components, which you'll need to budget for, as well as construction before use.
Manufacturer description: "The fun G6-01 chassis is based around a tough, slimline monocoque frame and offers excellent off-road performance thanks to a 6-wheel drive system."
"Power is provided by a motor behind the front wheels, and transmitted to front, center and rear wheels via gears."
Features:
R/C model assembly kit
The 6WD chassis employs 3 differential gears to transmit power from the front-center-mounted motor to all of the model's wheels
6-wheel independent double-wishbone suspension is paired with friction dampers
The kit manual build creates a front wheel-steering model
It also includes instructions to re-assemble it into a 4WS model with steerable rear wheels – Separately-sold 4WS function transmitter and R/C equipment are required
Compatible with many GF-01 chassis Hop Up Option and spare parts
---
Our comment: The Lunch Box kit from Tamiya is a re-issue of one of their legendary old-school-cool OG 1/12 scale Lunch Box van, first released in 1987.
For those looking for a vintage-style RC monster truck, this could be an excellent option. However, if you're looking for top-of-the-range performance, then we'd recommend heading to the RTR kits above.
As this is a kit, it'll require the standard electronic components, which you'll need to budget for, as well as construction before use.
Manufacturer description: "The Tamiya Lunch Box "Black Edition" 2WD Electric Monster Truck Kit is a black variant of the ever popular 1/12 scale R/C Lunch Box van. This model features a stylish combination of a Black ABS molded body and chrome-plated wheels."
"The R/C Lunch Box (first released in 1987) was loved for its camp appearance as much as for its R/C performance. The boxy minivan body is raised up over the monster truck wheels to ensure that this R/C van will get attention anywhere you choose to drive it."
Features:
ABS Box Type Frame
Rear-wheel 2WD
F/R Friction Dampers
3-Bevel Differentials
Type 540 Motor
Electronic Speed Controller (Included)
---
Our winners
---
Our Drifted Choice goes to the Arrma Big Rock
Our RC monster truck winner is the Arrma Big Rock 4X4 V3 3S BLX.
Capable of achieving speeds of over 50 mph, the Big Rock brings the ultimate package of performance, durability, and price point to the market with this incredible offering.
With plenty of spares and upgrades available, we do not doubt that this monster truck will serve you well, even when pushed to its limits.
Ready to tear up the trails and launch over jumps straight out of the box, you're going to struggle to get a better package for the price.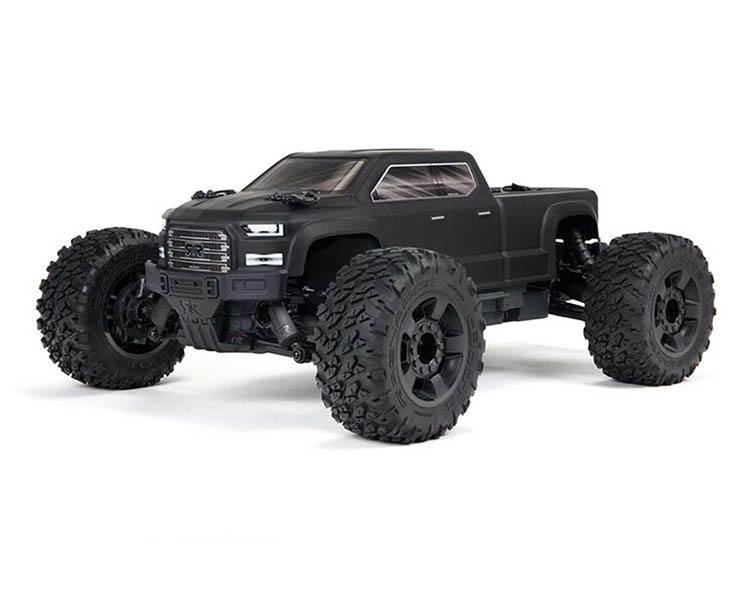 ---
Our Premium RC Monster Truck Choice
Our Premium Choice is the Traxxas X-Maxx 8S.
Although it may not be the fastest truck on our guide, we feel that the X-Maxx is the perfect all-around package combining speed and durability in a traditional RC monster truck design.
Sure, it's not the cheapest option, but if you're looking for speeds of 50+ mph and unrivaled durability, then you'll realize that there's a reason that many RC truck enthusiasts regard the 8S as the "basher king."
With its hugely impressive performance and handling, the 30+ volts of extreme 8S power helps the X-Maxx deservedly take the crown.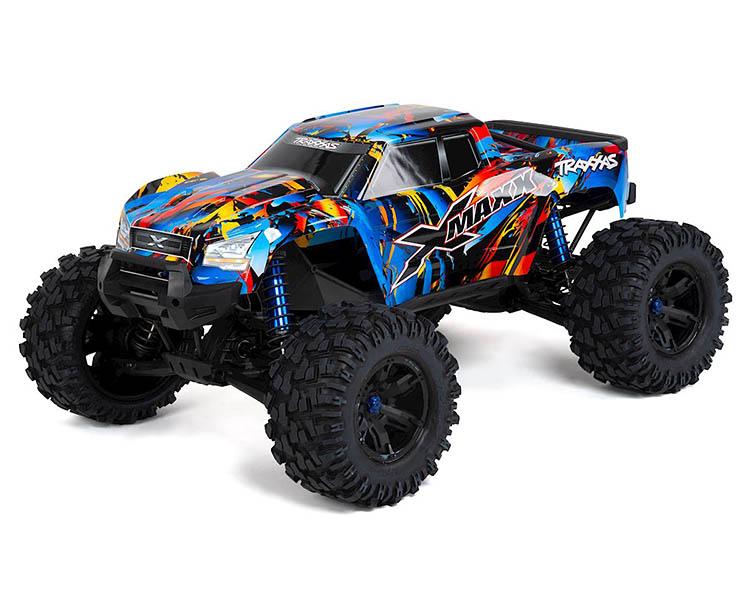 ---
Our Budget RC Monster Truck Choice
Our Budget Choice is the Traxxas E-Revo.
Although this smaller RC monster truck may not be to everyone's taste, it provides plenty of punch in a small package with an impressive price tag to match.
If you're getting started with RC monster trucks, this will make a perfect, budget-friendly introduction.
Thank you for reading our RC monster truck guide.
We hope that we've provided a solution to fulfill every need for every RC enthusiast, whether you're on a tight budget or looking for the ultimate RC monster truck.
---
Photography credits
We would like to thank the following sources for the use of their images:
If you enjoyed this article, please share it with the buttons at the side and bottom of your screen. Find this information useful? Please share it with your friends and family. We appreciate your support.