PS4 Dirt Bike Games – Our Top Picks
We're taking an in-depth look at the ultimate dirt bike games for PS4 gamers to allow you to get stuck into the two-wheeled chaos right away.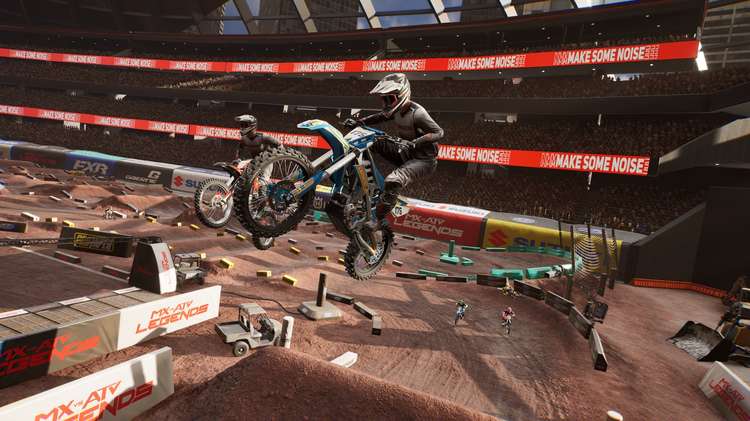 Introduction
The dirt bike sport feels more like a niche between real-life and video games.
Even though it has many upsides and is "easy" to set up, there are not many famous professional events.
Without a doubt, this type of driving isn't just a bunch of dirt in an area for a couple of bikes.
Thanks to the freedom you have in shaping the terrain, many courses seem to become attractive.
Add excellent drivers, and you'll see multiple dirt bikes flying around sooner than later.

In the virtual world, the "feeling" seems the same. Seeing a racing video game that focuses on this niche alone feels sporadic.
Even though the developers have more freedom to make physic-defying tracks, the audience isn't there.
Although, when one video game seems to defy the norm and go for something unique, it is worth noting.
But before we show you some examples, let us talk about the different gaming mechanics that any dirt bike game gets (or should have).
Standard Dirt Bike Game Features
The focus is to find a middle ground that everyone seems to enjoy while playing these racing video games.
Even though these are needed, not all games you'll see later come with these features.
Hopefully, someday in the future, the developers will learn from the community, and we'll get better options.
You'll probably agree with these elements if you're a dirt bike game fan.
Without further ado, here you have the standard dirt bike game Features.
Bike Selection
Instead of having similar models with different colors or decals, any PS4 dirt bike game should have a decent number of unique options.
Even though we're focusing on the "off-road" or Dirt Bike, the developers have enough material to make a proper list.
Between selections, the big difference between each Dirt Bike comes with unique stats.
From the start, we usually get something that gets low speed and handling.
After some progression, we could opt for other Dirt Bikes with numbers that follow our playstyle.
Even though Japan seems to dominate this area, there are many models (old and new) to grab and use in these games.
Furthermore, there's always a chance to add something different, as the developers might take inspiration from popular models (like Rockstar and GTA).
Speaking about Rockstar, why not check out the Fastest Car in GTA Online?
Driving Physics
The single element that moves/removes any driving video game into the "epic" status is physics.
When we get experienced developers in this area, we discover how fun handling a Dirt Bike becomes.
Indeed, getting the right formula is probably tricky with these types of racing video games.
Instead of having a straight road, we discover different obstacles made of Dirt.
Furthermore, the significant part of moving around these tracks is seeing a Dirt Bike flying around.
As a result, there's always a good mixture of off-road handling between curves and jumping as we take some obstacles at full speed.
Without a doubt, we need new skills with these racing video games as we learn how to maneuver in the air.
Nice Off-road Effects
Since we're not driving around the pavement, there are many ways to make these dirt bike games more realistic and impressive.
When we cruise and accelerate around the mud, particles flying around should appear.
In recent racing video games, we tend to see significant off-road effects as we drive around uncharted parts of the racing event.
Although it is almost the same as the two Dirt Bike tires, the pilot doesn't have the same protection.
Furthermore, as we experience in many rally video games, there are many ways to use the terrain as a season change.
Instead of just Dirt, we can also travel across the ice, grass, or between flooded roads.
Above all, if you enjoy the rally parts of any racing video game, you might want to try these dirt bike options.

Multiple Competitions
There are many ways to use that combination of dirt and light bikes and still feel entertained.
For example, one of the well-known competitions, Motocross, sets rules about remarkable ways of getting the best of both worlds.
Furthermore, besides the accustomed racing events, there are unique ways to give control to any player.
For example, you could add those "parkour" like maneuvers that some pilots use when they move in one-of-a-kind obstacles.
In other words, some difficult Moto Trials with unique control layouts. As a result, new players wanting to try these dirt bike games might find something driving-related special.
Customization Options
Unlocking some of the Dirt Bikes might feel similar to any driving video game with a car list. Still, the fun doesn't stop there.
It is always welcome to see more ways to customize your favorite vehicle/Dirt Bike when you're progressing in the single-player mode or within multiplayer events. Therefore, you can add better parts to your ride with a few extra in-game credits.
Also, besides changing the engine, it is always great to allow players to express themselves.
Instead of just adding/removing vinyl, you could add tools to change the color or accessories to the Dirt Bike.
Many racing video games like Forza Horizon 5 or Gran Turismo 7 already give us many ways to modify all vehicles, making this a must.
Check how Forza does this with the Forza Horizon 5 Drift Tune guide.
Sponsor Offers
Some video games from this genre tend to spice things up with the "Sponsor" mechanic.
In short, you pick a brand that enhances your rewards and gives you unique items (like vehicles/bikes).
At the same time, they give you extra tasks which appear when you're in a race. For example, they might require that you complete a "clean" lap and win.
Although these requirements might need a few more steps in a race event, they offer significant challenges.
Adding this feature shouldn't take too much effort from a developer's point of view.
Also, some players already know the Sponsor stuff and won't take long to accommodate.
Common Bike Game Modes
The important thing about the previous features is knowing how to use them properly. This article will focus on how developers let you play their PS4 dirt bike games.
Career Mode
Starting in a single-player mode will help us understand the game mechanics and keep us busy unlocking multiple in-game items.
Sometimes, the developers integrate something similar to any Dirt Bike Professional journey.
Therefore, when we finish the career mode, we'll end up as the best driver in the world.
First, the "usual way" with any racing video game is to reward the player after they win a couple of events.
When you know the drill, the next thing is to look for better rewards with the upcoming race tracks.
Second, as we move forward and experience all the race events from the video game, we learn how everything goes. In other words, the developers give us a tutorial on all the gaming mechanics and prepare us for significant events (multiplayer).
Online Matches
Undoubtedly, we face enormous challenges when we race against other players.
Sometimes, when we practice the single-player mode too often, we tend to analyze the AI (Artificial Intelligence) movements and outsmart them.
We know that depending on the difficulty, they will slow down before the race ends (giving us more chances to win).
At the same time, the AI gains a boost when we leave them so far behind (the rubberband mechanic).
But when we jump into some of the multiplayer events, everything changes.
At first, we might see veteran players that leave us behind with ease, and we often fail to catch up.
Later on, we discover the shortcuts, learn the META, and we are the ones leaving everyone behind.
Read about immersion in the VR Racing Games article.
Best PS4 Dirt Bike Games
Here are some of the best PS4 birt bike games that we highly recommend checking out.
Monster Energy Supercross 5
Milestone (the developers) seems to keep learning after each version and focus on improving the flaws with their new iteration.
Monster Energy Supercross 5 seems to follow some of the game features we discussed and adds a couple more.
The customization isn't there yet on the Dirt Bikes, you "change" the one you want depending on the sponsor.
Still, you have ways to change the helmet, and you get ways to modify your avatar.
Also, the terrain physics inside the console isn't that impressive due to hardware limitations.
Monster Energy Supercross 5 adds unique ways to the player's progression. In this racing video game, you earn different "skills" (much like RolePlaying Games) that improve various aspects.
For example, you can improve your handling in the air or add better braking to your Dirt Bike.
MXGP 2021
Again, Milestone dominates the Dirt Bike niche with this amazing racing video game.
From the start, you'll notice that it follows a "bike" design when you're in a racing event.
In other words, you'll fall too often trying to handle yourself on the ground or in the air.
One of the innovative game features in MXGP 2021 is the "sandbox" mode.
When you play inside this option, you'll have the entire map to explore, similar to Forza Horizon 5 (minus the events and multiplayer stuff).
Furthermore, before you start a race, you get a different option to tune your dirt bike, which adds more depth to the game.
Sadly, not everything goes well with MXGP 2021. The element that is lacking is the overall visualization.
Some terrain textures look too simple, and the drivers also seem plain.
Moto Racer 4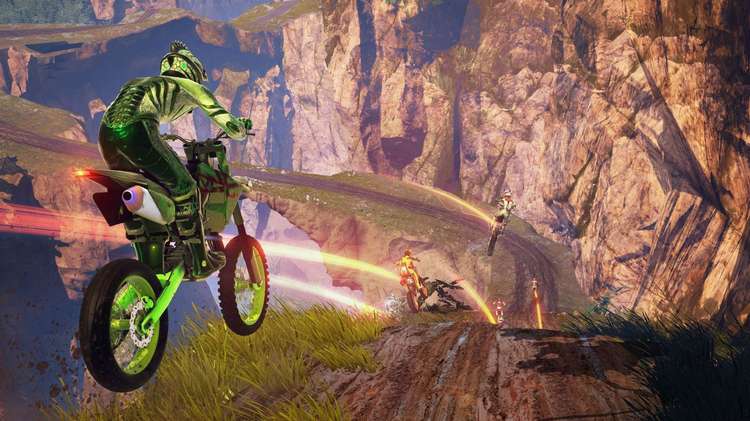 "Half" is the common word that fits this entire racing video game for this article.
First, MotorRacer 4 is half a PS4 dirt bike game because it allows you to play between Dirt or Asphalt. Therefore, there are fewer race tracks on the ground.
Second, Moto Racer 4 comes with half customization options. All available pilots come with their bikes; you can only change the colors.
Furthermore, you can change some stats for each prospect, but it lacks depth.
Lastly, the driving, although "arcade-ish" or more superficial, doesn't work correctly. More than often, you'll find troubles with the handling.
Additionally, the "draw distance" is too short, meaning an obstacle might load in front of you.
Furthermore, AI seems to take advantage of your mistakes and leave you behind more than often.
Trials Rising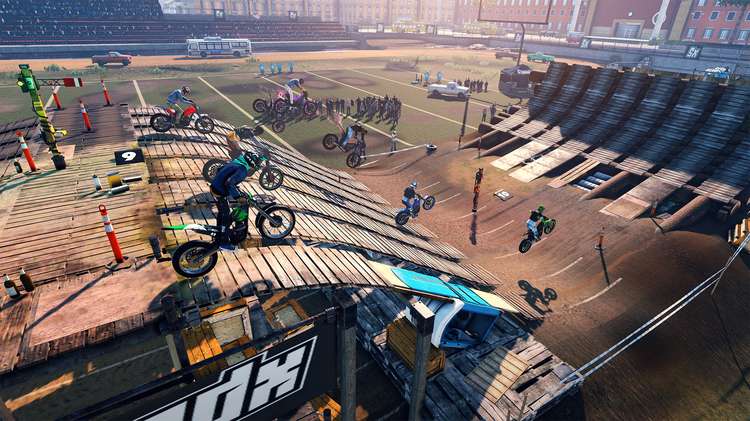 Even though this video game seems to follow all the game features we mentioned, it deviates from the regular racing theme.
Above all, Trials Rising follows a more arcade and less troublesome approach.
Inside this racing video game, you have a 2.5D perspective and see the Dirt Bike sideways.
Therefore, you only need to focus on the speed and maneuver when you're in the air.
Almost all of the races take less than 2 mins to complete, but they appear with more special effects.
Overall it feels like a mobile video game for around 30 mins. Still, you want to see what happens next due to its chaotic gameplay.
MX VS ATV Legends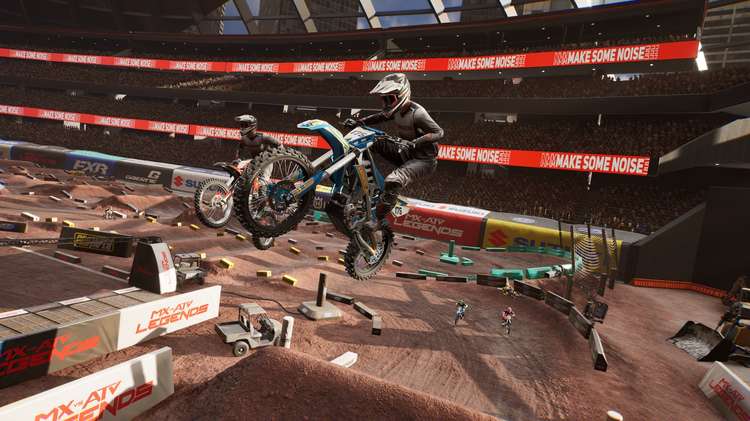 Indeed, this racing video game comes with almost all of the features discussed in this article.
Still, it lacks some gameplay mechanics, making it not that appealing to everyone.
You'll see tons of different terrains and effects as you try to reach the first position.
Although, due to problems with the physics itself, moving around could become tedious, and you might crash too much.
Additionally, you have different button combinations before jumping, which could annoy any casual gamer.
After a while, when you feel like you're mastering it, things randomly change due to physics issues.
Overall a racing video game that isn't easy to learn and even hard to master.
Still, if you're a fan of this theme, you'll have fun exploring the different terrains and racing events.
Learn more about racing video games with the Need for Speed Payback Car List.

PS4 Dirt Bike Game FAQ
Here you have some of the common PS4 dirt bike game questions from the Internet:
What's the Newest Dirt Bike Game on PS4?
At the moment, MX vs. ATV Legends is the latest PS4 dirt bike game.
Can You Play any PS4 Dirt Bike Game with a Controller?
Yes, these games run great with a regular Playstation 4 Controller.
Which is the Best PS4 Dirt Bike Game?
Many players like the gameplay mechanics from Monster Energy Supercross 5.
What is the Most Realistic PS4 Dirt Bike Game?
Due to the tons of customization options, MXGP 2021 looks for more realism.
Photography credits
We thank the following entities for the use of their photography in this article:
Steam