CarX Street – Release Date, Leaks & Rumors
Learn all the latest information about the upcoming racing video game in the CarX franchise. Prepare to master your drifting combos as we present CarX Street.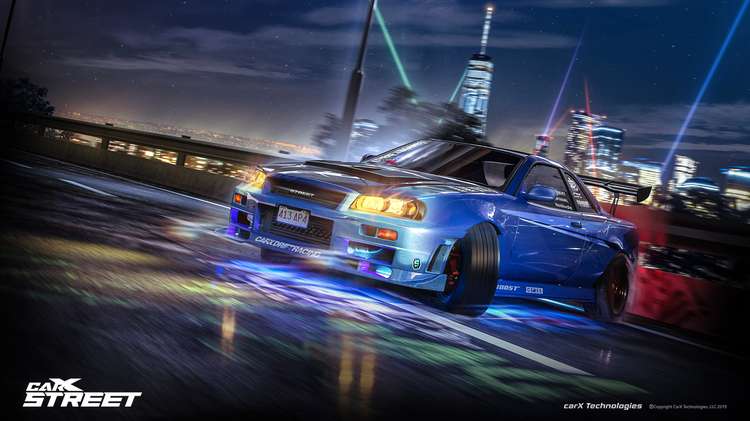 Lets begin by taking a look at the features the latest game in the CarX series has to offer.
CarX Street Features
The same developers aim to keep their community happy with another upcoming racing video game. Even though you might experience the same driving physics, the "outside" world gets a lot of love.
Here you have some of the best characteristics that will undoubtedly make CarX Street a powerful contender.
Open World
From the start, you can get on your vehicle and explore the entire virtual world.
Due to mobile constraints, the map is small but has multiple biomes. For example, you can start by visiting the city and then move to the outskirts.
When you begin the journey, you might see the whole place empty. Still, after a couple of races, you'll suddenly see additional activities and other stuff to explore.
Thanks to this freedom, you might get the opportunity to explore different roads and study the tricky turns.
Furthermore, you can see hidden shortcuts and ways to gain advantages in a race.
Free to Play
It seems that CarX Street wants to make a mobile racing video game first and look for ports later.
Hence, when it finally releases, we could try it without spending any dime.
When you get an option like this, there's nothing to lose. You only need to search CarX Street on your favorite video game marketplace, and wait for the download to finish.
Afterward, keeping it on your hard drive is up to you. If you like how it plays, there's no harm in adding more gaming sessions to CarX Street.
The only important thing is that you're having a great time playing your favorite racing video games.
Most noteworthy, when there's a "free to play" option, there's always a catch (which we'll discuss soon).
As always, we recommend trying everything you can before adding your hard-earned money.
Buying Gas
Without a doubt, this "different" game mechanic seems to limitate open-world exploration.
You'll notice a gas bar next to your speedometer when you start driving.
Like the real world, you must visit a gas station regularly before it runs out. We're sure some of you will agree that in many ways, this is pretty neat, but it may also become a little frustrating!
When you arrive in that particular place, you can use in-game currency or watch some ads for payment.
After filling up, you'll have the gas tank at total capacity.
If you ignore the "you're running out of fuel" signs, you'll soon move around with an empty tank.
Afterward, your vehicle will lose a lot of speed and reduce momentum quickly when you press the accelerator.
The general opinion about this gaming mechanic seems to appear diverse. Some players like this system because it "feels" more realistic.
On the other hand, other community members see the fuel system as somewhat of a predatory mobile scheme.
Houses and Garages
Within CarX Street, you can buy multiple homes inside that tiny virtual space.
Depending on the location, the price to unlock varies. Inside this video game, the more, the merrier.
Furthermore, each new place comes with some space for your future vehicles.
You can expand the garage with in-game currency and add more items to your collection.
As a result, you should focus on getting new places before looking for another vehicle.
After you unlock a new house, you can "teleport" into it without spending resources.
Even though this is a standard way of doing this gaming mechanic, thanks to the fuel system, it helps more.
In-Game Shop
The in-game shop seems to follow whenever you see a free-to-play video game.
Inside these menus, you can find many items that require multiple resources.
It might look tedious, but it is a great way to support the developers for their hard work.
Depending on the item, the requirement changes into playing more or using your wallet.
CarX Street offers new vehicles, upgrades, homes, or garage spaces. Many video games that follow this model tend to add multiple items in the future.
The devs might spend more time here depending on the community reception and support.
Many Types of Vehicles
Following the same concept from previous games, we get to see multiple cars with unique features.
Depending on the starting stat numbers, the vehicle receives a category. You can opt to increase this feature when you add new parts.
Furthermore, we might get different updates that add more vehicles to the game.
If CarX Street receives much support, the developers might reward the community with new options.
The bad part is that the game doesn't have the proper licenses.
As a result, you might see a familiar car in the roster, but it comes with a different name.
Still, they appear identical to their real-life counterparts, and those of you that are fans of CarX will likely be familiar with your favorites already.
Car Customization
Thanks to the many updates and dedication from the development team, the customization options are impressive.
First of all, you have the chance to exchange the vehicle's chassis with complete kits or by changing each piece.
Also, there are many colors and multiple ways to make any car unique.
Secondly, there are many ways to change the interior and improve the statistics.
You can make a car faster or get better handling with suitable modifications.
Each of these options requires some resources. Hence, it would help to think twice before buying something new and installing it in your vehicle.
Check the Forza Horizon 5 Drift Tune and see the similarities between both options.
In-Game Free Currency
Following the same model from previous CarX games, you get virtual money when you gather medals.
Depending on your performance, you can earn more rewards by repeating the shortest tracks.
You'll use this type of resource on almost anything within CarX Street. In other words, you can quickly test all the content without spending anything on the video game.
Still, though, remember that it could take more gaming sessions if you follow this route.
Remember that you'll see something different than the classical CarX ecosystem.
You cannot unlock everything with the in-game free currency.
Premium Currency
Often called "time saviors," this currency lets you skip some elements and go for the best.
Without a doubt, this is an excellent option for those players that lack too much free time but want to keep up.
More often than, you see the need to gain Premium Currency for better cosmetic items.
For example, you could buy different rare colors or unique vinyl. Sadly this isn't the case with CarX Street.
Currently, the optimal elements of the racing video game are behind paywalls. Sometimes, it feels like a "pay to win" game.
For example, you can only buy the ultimate upgrade kit with premium currency.
If something like this practice doesn't concern you, you can enjoy CarX Street without any issues.
Amazing Graphics
Even though we only have the iOS version as an example, there are a lot of improvements to the visuals.
As you move within the open world map, you'll notice a day/night cycle and excellent illumination.
Additionally, we get to see different buildings and more details since we get multiple biomes.
Depending on your device, you might see texture improvements and environmental effects.
Overall, the vehicle models look great as you move around different roads and get to complete challenging tasks.
CarX Street Game Modes
Here are some of the modes you can look forward to enjoying in the game.
Joining a Club
After you buy a new vehicle, you can register it into a club. Depending on your option, you'll need to invest in the initiation and complete a set of events.
Lastly, you'll need to defeat a boss to complete the "quest line."
Being inside a club might help you in the long run. Some of these groups will give you tons of bonuses when you complete any track with that vehicle.
When you reach a higher level, you'll see multiple clubs that only accept vehicles from the highest categories. Hence, you need a powerful car with many upgrades before joining them.
These elements add more replayability and give you more options as you improve your garage.
Drifting
One of the gameplay elements that made CarX famous is the drifting capabilities. The format itself remains much the same.
You must earn points and make impressive combos by showing off your skills, and and shredding your tires.
Try to avoid any upcoming obstacles, or lose your speed. When you're moving slower, it becomes difficult to add more numbers to the combo and earn the gold medal.
Focus on upgrades that improve your handling and add a little more speed. If you're having problems in a single event, you can skip it and try later on with a better car.
You can also learn about the Best Drift Car Forza Horizon 5 and compare both games.
Time Attack
The main goal is to reach the goal before the time runs out. Depending on your performance, you might call it the lowest time and get a gold medal.
It doesn't matter what happens in the middle of the race; you only need to move between the checkpoints. Hence, you could add time by moving between shortcuts.
Without a doubt, we recommend that you use vehicles with high Top Speed and Acceleration.
If you master the heavy turns, you're likely to reach the chequered flag in pole position.
If you're good in this game mode, you should check the Fastest Cars in GTA Online and practice there too.
Single Player and Multiplayer
Since CarX Street isn't officially out yet (hopefully, we'll get it on 15 Dec), the Multiplayer is not "complete."
At the moment, players seem to race against AI (Artificial Intelligence) opponents in all racing activities.
The latest update gave us a glimpse of the Open World multiplayer capabilities as we tend to see players moving on the map.
Within CarX Street, each player has the collision active (unlike Forza Horizon).
As a result, any player could crash your vehicle and send you flying around.
When the release date arrives, we could see more Multiplayer options and probably a way to play with friends.
Only time will tell.
Release Date For CarX Street iOS
Right now, players have a way to install the iOS Russian version (which gets the option to change the language).
Therefore, all of the footage from the Internet comes from this source.
The reception overall is mixed. Some players seem to have a great time playing CarX Street with stunning graphical settings.
Even though we see "Pop-Up" in the Open World, the game looks fantastic on a cellphone/iPad.
On the other hand, many players report awful experiences with their iOS devices. CarX Street appears "laggy" or slow.
Hence, they find it hard to enjoy all the hiccups and bad performances.
Check the requirements before you start downloading CarX Street on your device. Sometimes the only solution is to buy the latest iOS product.
Release Date For CarX Street Android
Players from this platform can only wait for the release date (15 Dec 2022).
Sometimes the developers activate a "Beta" test in the Google Store.
Still, we have no news about any way to experience the racing video game before the release date.
Although we have Android devices equal to or more potent than any iOS devices, we might have the same experience.
Release Date For CarX Street Steam/Windows
Currently, you can find the Steam Store website for CarX Street and add it to your wishlist.
You'll get the news when the game releases (15 Dec 2022) or an important update comes up.
The PC platform might give us better graphical options than mobile devices.
Sadly, we lose the "mobile" part and can only experience the driving video game in our homes.
If this doesn't bother you, enjoy CarX Street with better effects.
Unlike the Apps from the Mobile versions, we have no confirmation that it will appear as "Free to Play."
Considering all the business model options (like the Fuel System), there's a high chance it won't come with a price tag.
Is Forza Horizon 5 Coss Platform as well? Check the details in this link.
CarX Street FAQ
Here you have the popular questions about CarX Street
When is the Release Date for CarX Street?
The planned date for this driving video game is 15 Dec 2022.
Where Can I Play CarX Street?
At the moment, they announced the video game for iOS, Android, and PC.
Is CarX Street Going to Be Free to Play?
Yes, mobile devices (currently only available on iOS for now) allow you to install and play for free.
Photography credits
We thank the following entities for the use of their photography in this article:
Steam