STAFF PROJECT: The Life and Death of the Swagger Wagon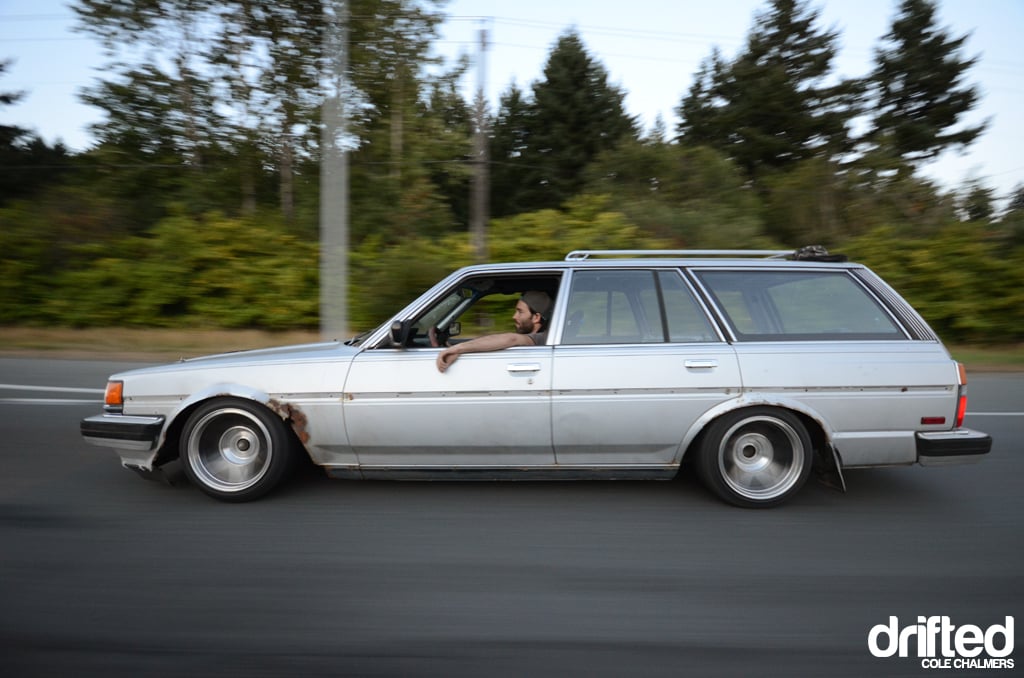 Every auto enthusiast has that one car… for some, it's their first car, for other's it's that old ratty pick-up, or any vehicle inbetween. That one car that stands out in your memory as the all time favourite.
A few are lucky enough to keep the car for life, riding it out until the end of days, but most are forced by circumstance to move on. Gotta pay that rent, got hit by an inattentive driver, fell asleep at the wheel, some theif saw something they liked, got too gnarly at the track, authorities considered it unsafe for the road… common issues that send that prized cruiser to either a new owner or the junkyard and leave an irreplaceable hole in your heart. It sounds a little emotional for an inanimate object but, for true enthusiasts, we know it's true love.
This is my numero uno, my sweetheart, my diamond in the rough, that eventually became my love lost… My Toyota Cressida Wagon…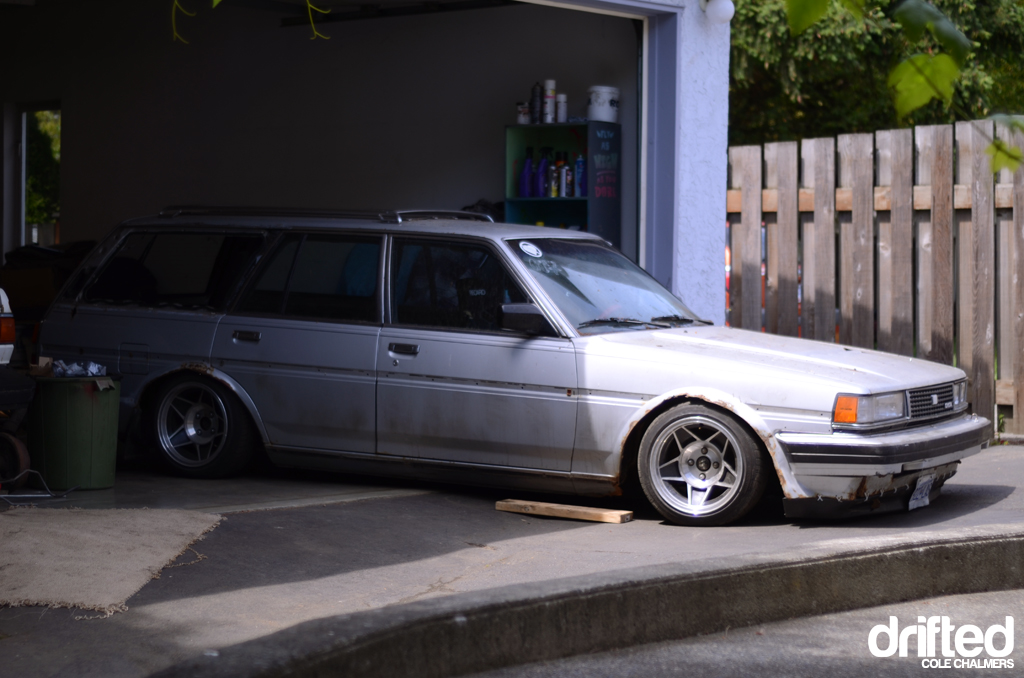 The year before I got my Cressida I would have told you my first generation Mitsubishi Lancer Evo was the most epic car in the world. Just a fresh mind in the car scene, in a town overrun with 4×4's and hot rods, and the tuners that were around seemed stuck in 2001, quality inspiration was few and far between and the few car guys I knew were as green as me. I could barely do an oil change without running into some issue and my knowledge of turbo's wasn't far off of Jeremy Clarkson's explanation " Exhaust gasses go into the turbocharger and spin it, witchcraft happens and you go faster." I didn't gain much from that car other than a lot of seat time being sideways in the snow and a decently sized debt under my name. But the moments in the snow sparked my interest for my healthy obsession with drifting now.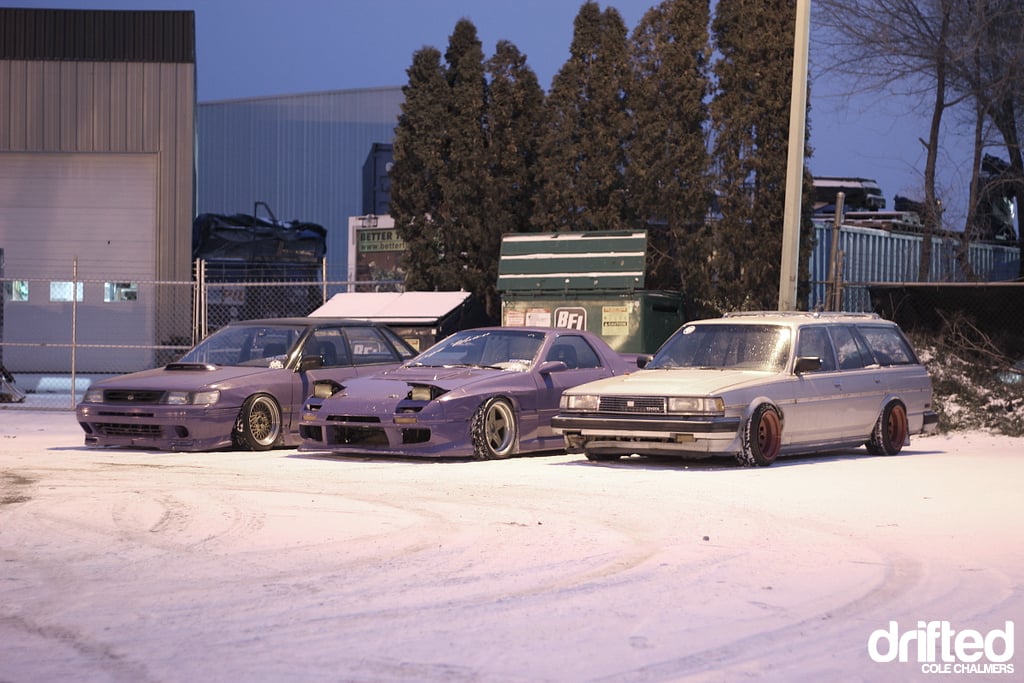 (Photo: Shawn Browne)
When the Evo was passed on because of clutch issues I couldn't afford to fix and still didn't have the know-how to mend myself, my search began for a car that I could drift with. I had recently joined the neighbouring city of Kelowna's car forums for the higher quality of scene it provided and was quickly inspired by a purple RX7 and Legacy you might recognize as Drift Union, though at the time they were flat brown and alpine white respectively. Any drift video I saw was dominated by s-chassis and rotarys, but I wanted something that would stand out. I was making the typical newbie mistake. (Side Note: Remember kids, if you are getting into drifting, just buy an s-chassis. They are popular for a reason, get seat time and build your dream car later.)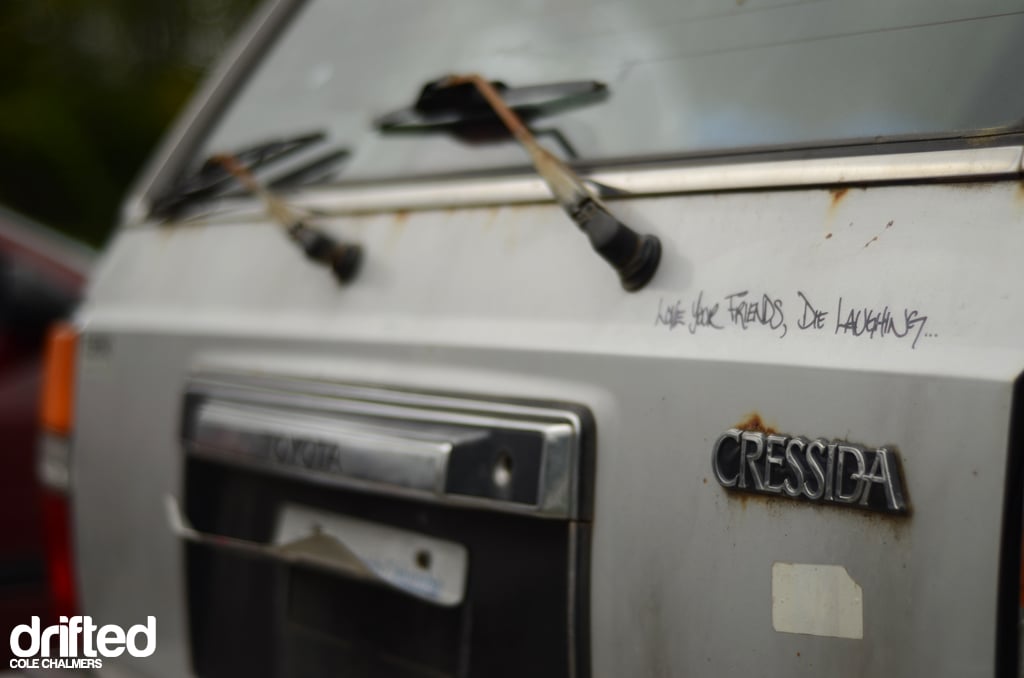 My initial thought was a Volvo 740 station Wagon. They can be had for dirt cheap, they're roomy and practical. I could take it on road trips and fit my friends and our bikes, and it was rear-wheel drive so I could start drifting. As I browsed the classifieds I dreamed of engine swaps and a car full of friends getting sideways on the pavement. A friend, knowing I was looking at wagons, asked if I had looked for Cressida's. I paused for a moment, did he mean like the front-wheel drive sedan that I had refused to buy 2 years prior that my dad had pushed me towards?  
My lack of car knowledge had foiled me once again. I quickly learned that the Cressida was actually rear-wheel drive, came in wagon trim, and was powered by the same motor as a second gen supra. A google image search later I was convinced that a Cressida wagon was going to be my next ride and the search commenced.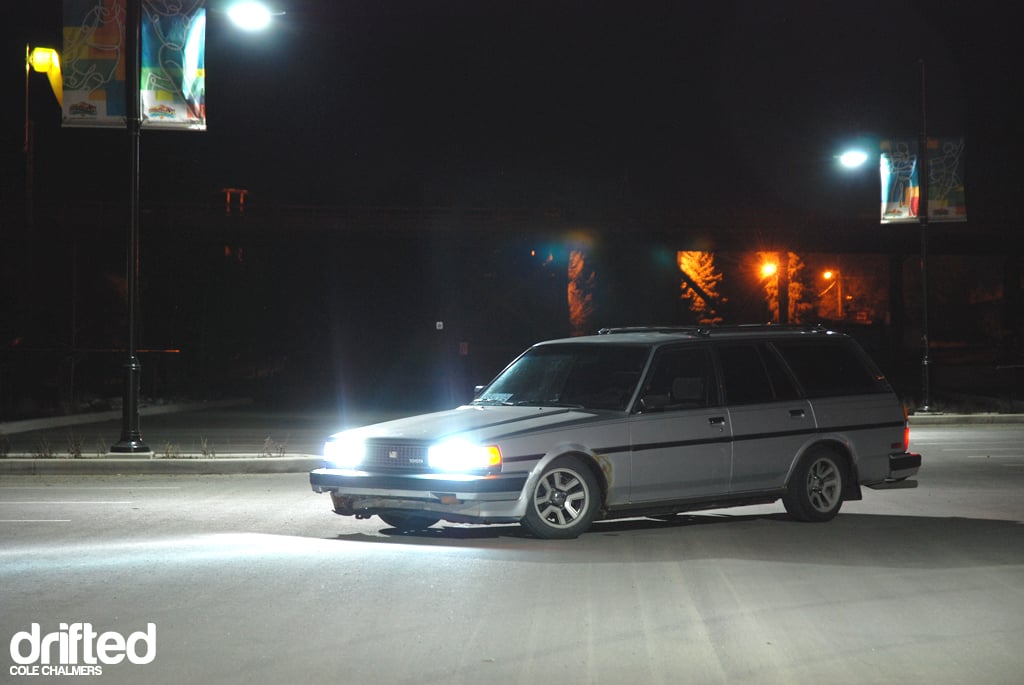 It took 4 months of waiting but, on Valentines day nonetheless, I paid far too much money for a rusty Cressida wagon with 300,000km, on cut springs, blown shocks, and ratty supra wheels. I couldn't have been more stoked. My Facebook status on February 15th was "Hahaha this car is so low! I'm scraping on everything! I love it!" Looking back now this is hilarious because it was only going to get lower in the years to come.
Being a new-used car, I decided "Hey! I'm a car guy, let's do some maintenance!" I quickly learned the pain of having A) A low car B) An old rusty, oil covered Toyota. I think it took me two days of frustration, of struggling to get the car in the air and on jack stands, of fighting with rusty bolts, old filters, and a ground down oil drain plug…. just to change the oil. The fun was only beginning.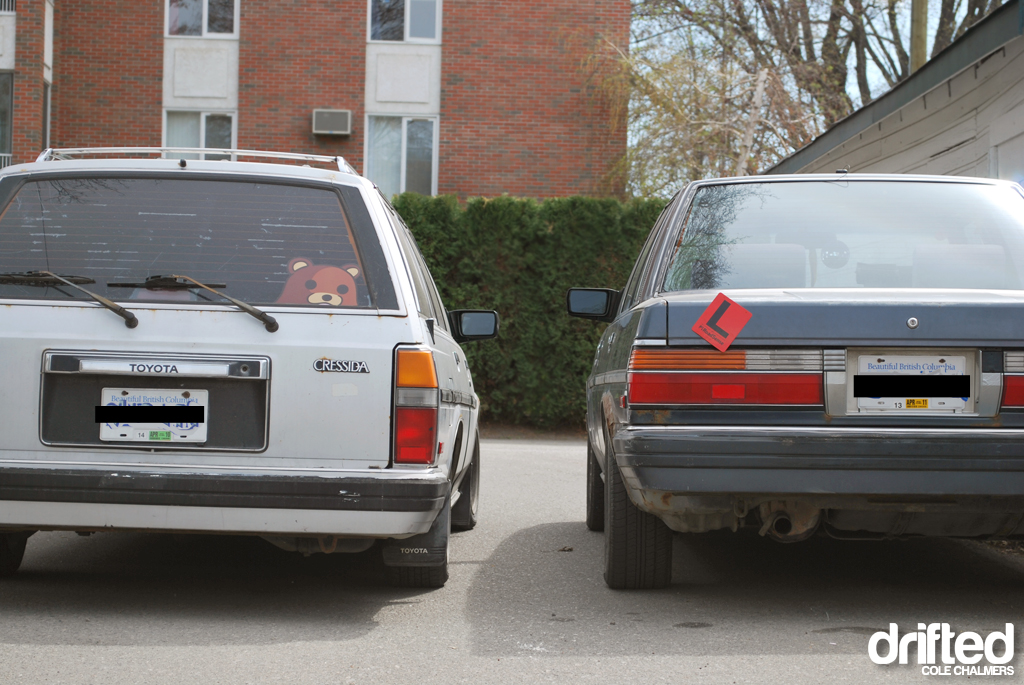 Fast forward half a year, now living in Kelowna and familiar with driving, what I thought was, a low car. Logan Noel had cut my rear springs to get rid of the rake I had going and I had grown accustomed to the phrase "low and slow", not only for the relative safety of my car's underbelly, but the 25+ year old 5MGE was very tired. It fought to run on more than 4 cylinders until it warmed up and almost refused to go up hills. It was time to pick up a new daily driver and start thinking about motor swaps and turning the wagon into a drift car.
A Cressida sedan picked up the duty of delivering pizzas and getting me around town, that car's short lived ownership could be a story of it's own, but I'll save that for another day. At the same time I stumbled across an amazing deal on a mk3 Toyota Supra. If you're familiar with the 7MG(T)E powerplants normally in these cars you can assume why it was so cheap, but it was another step in the learning process for me. A month and a replaced headgasket later, the Supra was sold and I had a wad of money to throw at a motor to put in the wagon.
Following my idea of having a "different" drift car, rather than opting for the obvious choice of a 1 or 2JZ, I opted for the powerplant of an SR20DET out of a late model S14. Not only was this going to annoy a handful of Toyota purists, which I thoroughly enjoyed, but the man behind the swap itself, Shawn Browne was familiar with the motor, having just finished the same swap into an AE86 Corolla. Calle at Four Function Autosport took care of importing the motor for me, also fighting for me to get an uncut harness. The motor was in great shape upon arrival and ready to be beat on.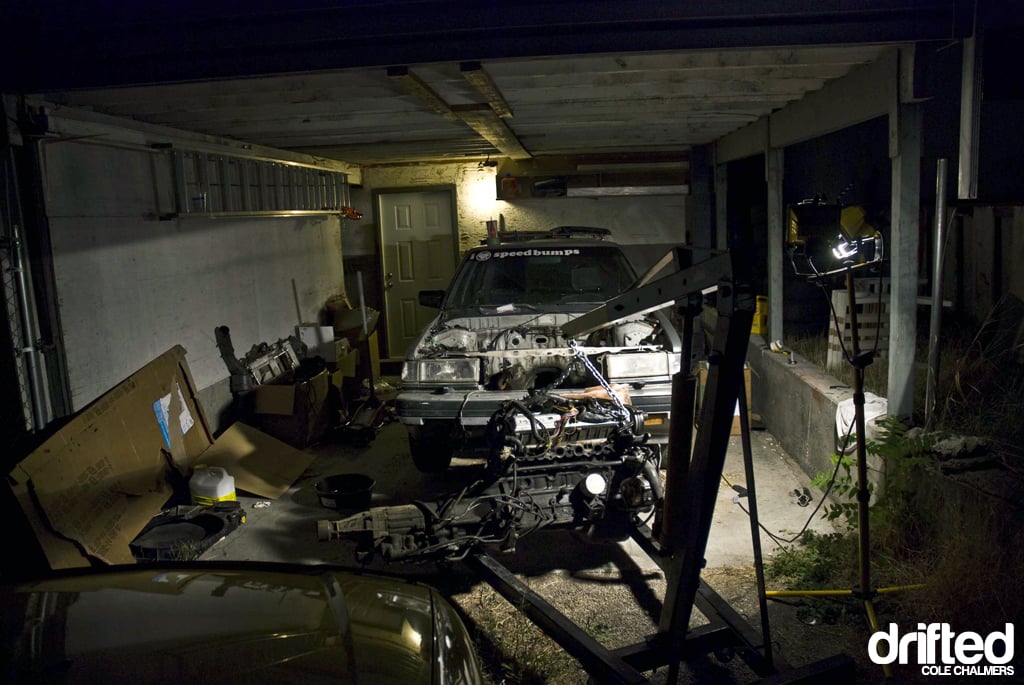 I came home from work one day to find the hood up on the wagon in the carport, engine bay empty and a dirty 5MGE sitting in the dirt. A testament to the amazing friends I have. Ryan, Ian, Tyson, and Greg (forgive me if I have forgotten who was there, I'm still not quite sure who did it) took it upon themselves to pull it for me so I could begin the swap sooner. A deep clean and a trip to the metal recycling later, the shell was towed to Limit Factory for a makeover.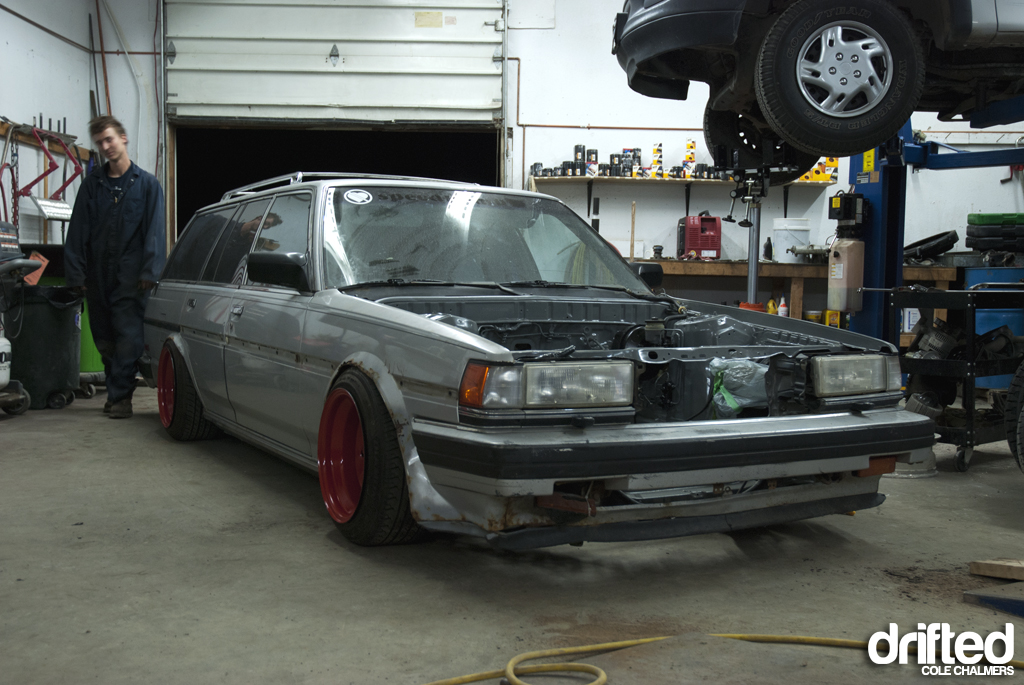 First on Shawn's list, remove tint and stickers. Ask Shawn's stance on stickers, his answer will be something along the lines of: "I f***ing HATE stickers." For anyone who knows Shawn well, the huge DTA POSSE sticker that now graces the side of the Drift Union FC is a big deal. I took care of the weight reductions, stripping out everything but the dash and drivers seat. My thought being: "I only have a 4 banger running this beast." Another hindsight, I wish I had kept the interior, whats the point of having a car with four doors if you only have one seat?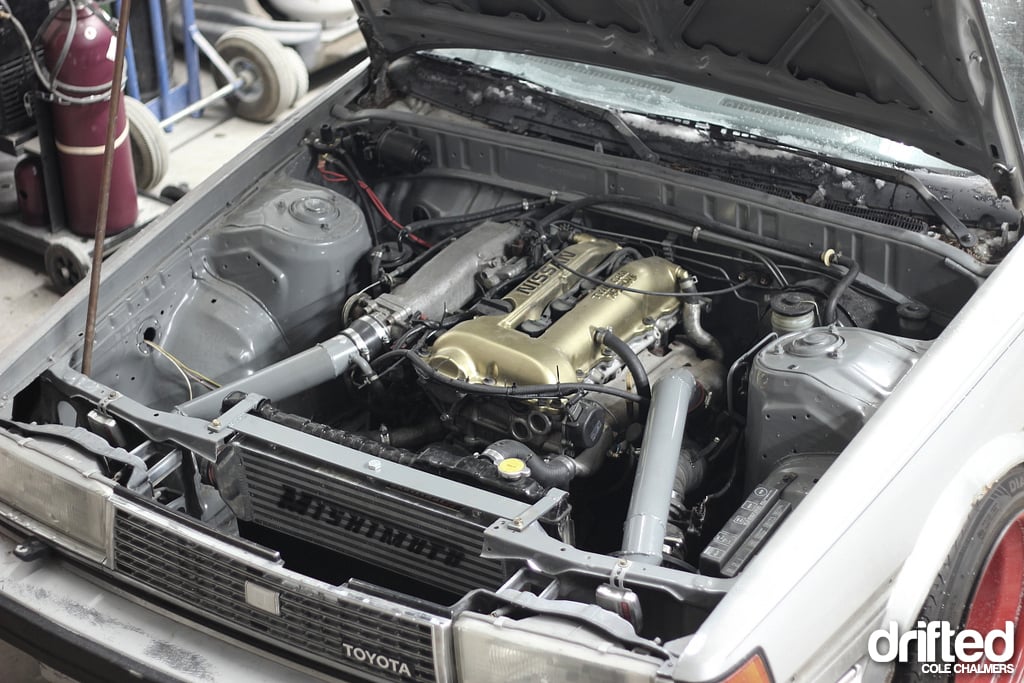 (Photo: Shawn Browne)
After many late nights, flats of beer, distractions by flamethrower, the car was moving under its own power with a custom driveshaft, AE86 clutch pedal, s13 throttle cable, stock Cressida fuel pump, no springs up front, 2 coils and short stroke shocks in the back, and a set of 15×10-25 Diamond Racing steel wheels (another mistake I might add) hammered under the stock fenders. Success! For the next week the car was doing donuts in the snow almost every night, usually not by me haha.
Limit Factory SRX7 snow nuts from Shawn Browne on Vimeo.
At that point, all I needed was suspension and a welded differential to be set, but life had other plans. Plagued by bad decisions and bad luck, the car sat for months awaiting it's needed finishing touches. A falling out with the girl I was living with at the time, prompted a sudden change in scenery and I moved to Victoria, BC… leaving the wagon to sit in storage in Kelowna for 6 months more. Until the universe worked its magic, another project car fell into the laps my roommate Warren and I. Upon fixing and posting for sale, a buyer popped up in Kelowna prompting a roadtrip to retrieve my beloved wagon.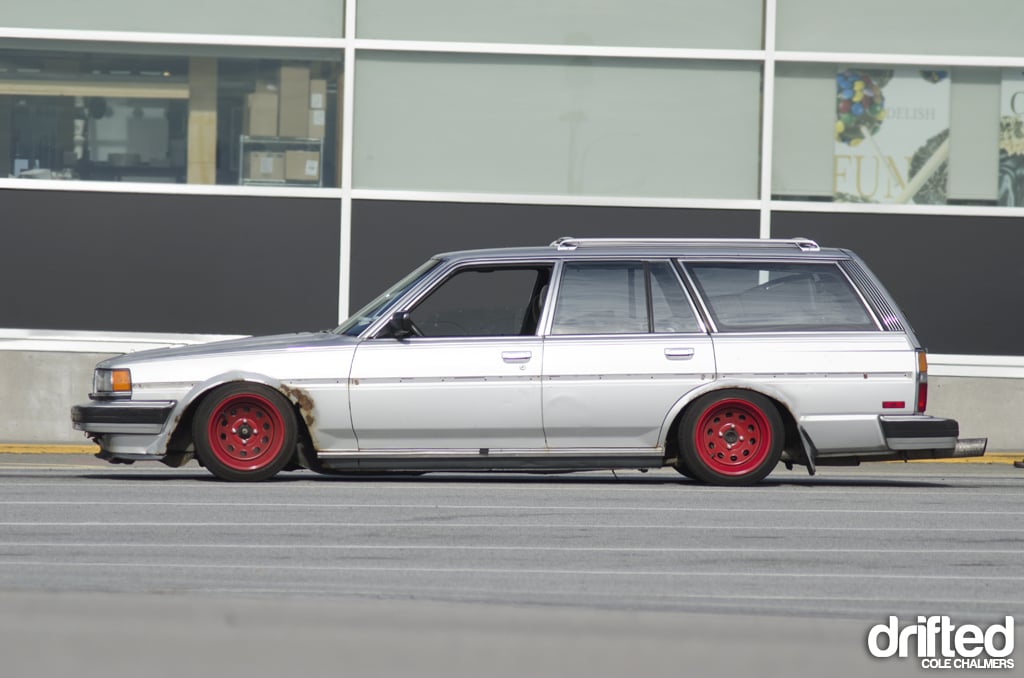 At this point, the swap had seen no more than 100 kilometers of driving, most of that being up and down the cul de sac where Limit Factory resided. I had no idea how or if the car drove properly enough to make the 300km trip from Kelowna to Victoria. On top of that, no heat to defrost the windows if it rained or was cold, no wipers, the car was loaded with all my car parts and tires from living in Kelowna, and the car itself was incredibly heat-score.
If I ran into the strong arm of the law, I knew they would use that strong arm to beat me silly for driving such a ragged piece of metal on public roads. Not only was it basically touching frame on the ground, the three inch straight pipe exhaust (to four inch tip that stuck out half a foot from the bumper I might add) was not quiet, no interior, no suspension… you get the point I'm sure…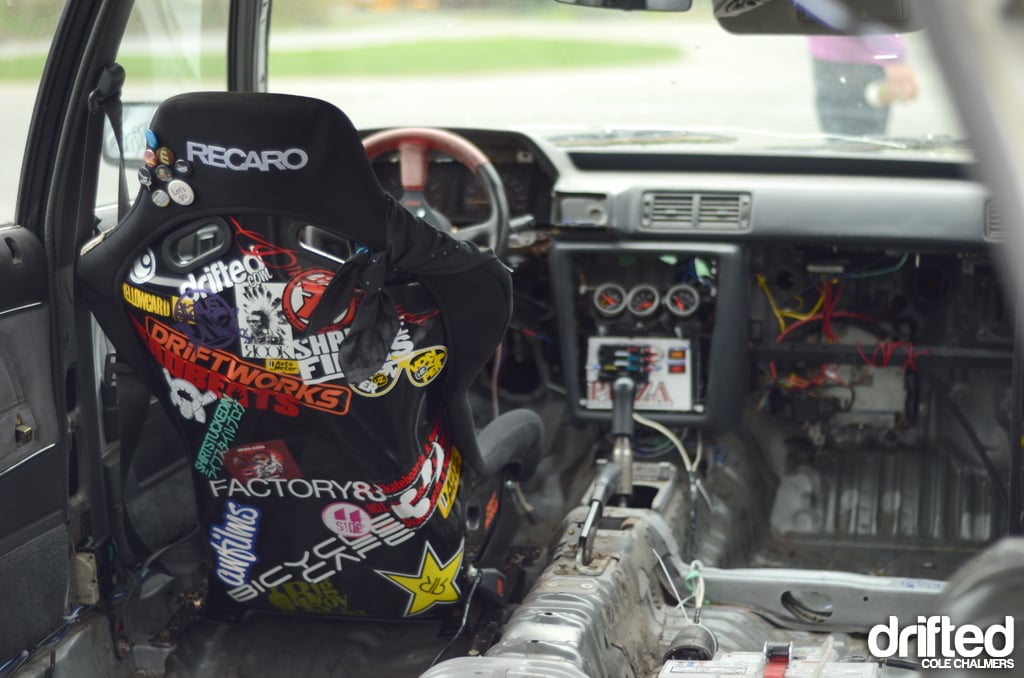 Surprisingly enough, the car made it the entire trip with no hiccups. Getting on and off the ferry to Vancouver Island was hairy, but the swagger wagon soldiered on to it's new home in Victoria. At this time I now owned two Cressida wagons, one for daily and one for drift. I decided to hit the weigh scales to see how much weight I had actually shaved by comparing the two. By ditching the 5MGE for the SR20 and gutting the interior I had lost over 600 pounds. The drift wagon weighed just under 2700lbs, pretty much on par with the S14 Silvia the motor would have come out of.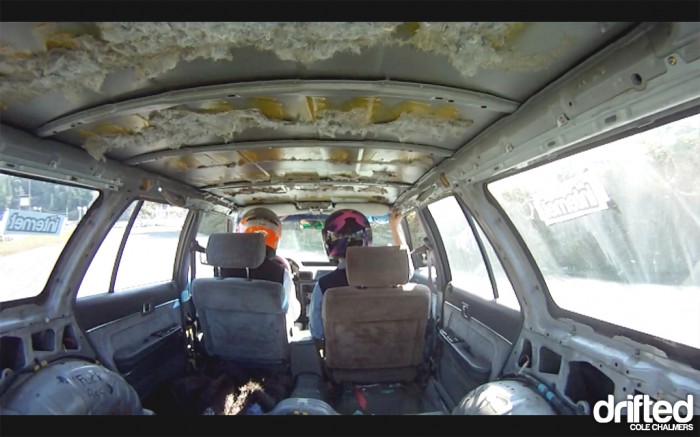 With the car back in my hands, I pulled the differential and Warren locked it up with the welder. Then came the moment of truth, the local Halloween drift event had arrived and it was to be the wagon's maiden voyage. I dressed as the dashing Han Solo, the wagon becoming my Millenium Falcon. "She may not look like much, but she's got it where it counts, kid. I've made some special modifications myself."
It became very quickly apparent to me the mistake I had made. I spent almost 2 years building this car and in the meantime I have gained no seat time. That, coupled with the lack of suspension, a stock seat, and no e-brake made the incredibly difficult and almost disappointing to drift. I knew now though that it had the power, the project could work, it just needed those finishing touches.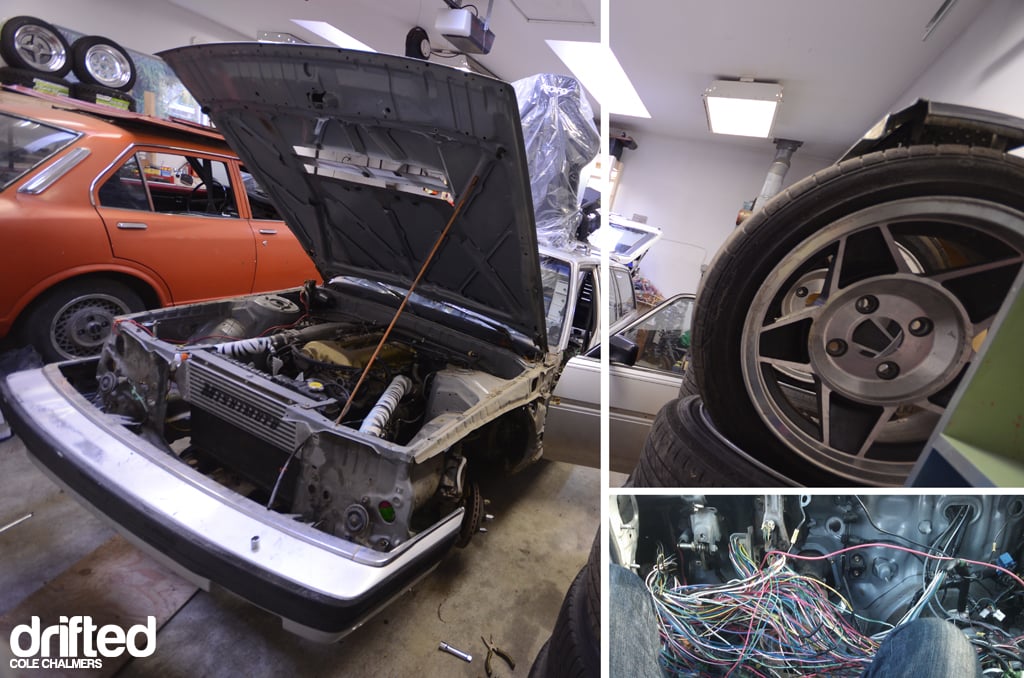 With a new determination, I set out to try and make the car work. I knew it was possible, I just had to put in the time and money. I ditched the heavy steel 15×10's and picked up a set of 15×8 -9 AJPS Challengers. The stock seat was removed in favour of a Recaro bucket seat. Warren used his experience with building Corolla's to help me make front coilovers.
After making a few cosmetic changes (and lighting the car on fire) I started cutting out even more weight, when I realized "Wow, that is a lot of wires that aren't being used that add up to weight." Enter bad decision #239. I started tracing wires and cutting…and cutting… and cutting… and soon I was overwhelmed by the ratsnest I had created. Then I left to work on a fishing boat for a month, coming back to not remembering anything at all about the rainbow of wires littered about the floor.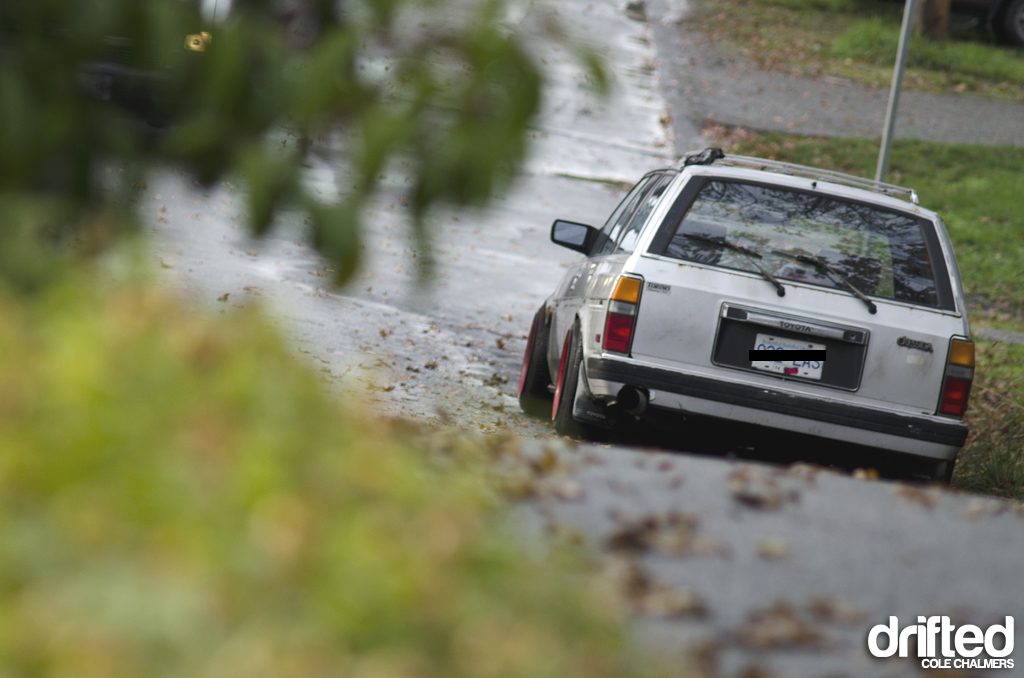 It eventually reached the point where the stock harness couldn't even be used anymore. So, I took this as an opportunity to learn wiring. I bought a few hundred feet of different coloured wiring and dove into it. With the help of Warren and my friend Sean Nesbitt, I managed to re-wire the necessary bits to drive the car. Headlights (high and low beam), signals, running lights, brake lights, power windows. I was extremely proud of how much cleaner the car now looked, in terms of wiring, and I had removed over 20lbs of wires from the car.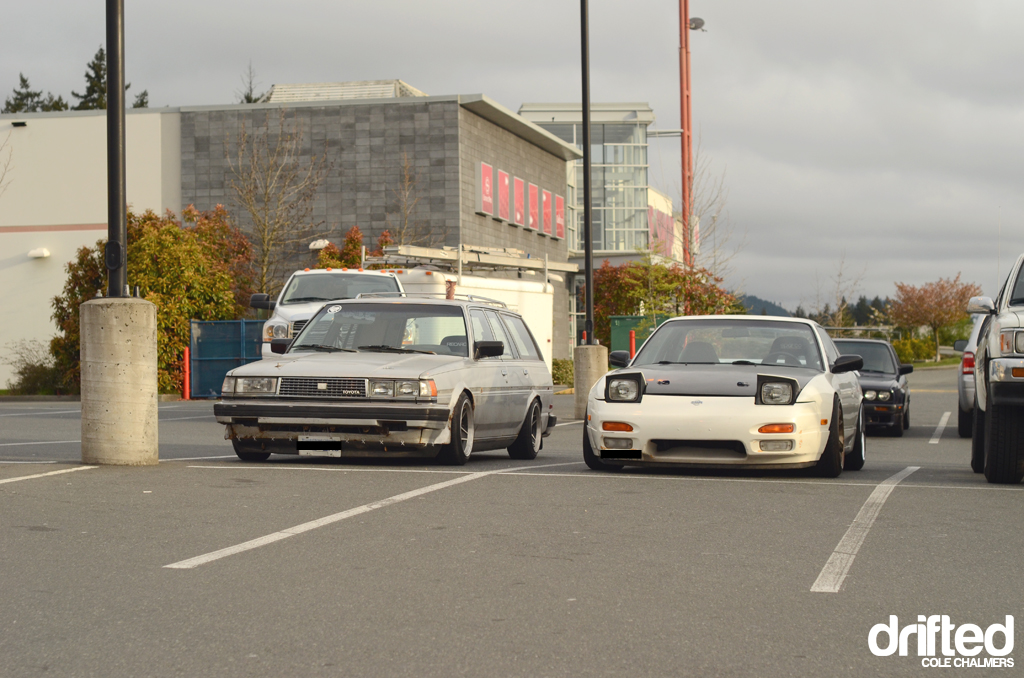 Another drift day arrived and this time, with the upgrades that were made, I was confident the car would perform better. Unbeknownst to me, Cressida wagons come stock with a 7.1 rear end built by Borg Warner, and apparently an SR5 corolla rear end would be considered an upgrade. On my first run out, I popped the clutch to light the tires, it was followed by a loud bang and only a single wheel broke loose. I had snapped an axle. I limped home, already thinking about how I was going to fix the problem that had been raised.
I could replace the axle easy enough, but that would just end the same result. After some research (which was difficult I might add, how many Cressida wagon drift cars did you know of in 2011? And how many have detailed info on the build?) I knew I needed a first generation supra rear-end. It would keep things Toyota and it had been done and documented by one other wagon owner in the states.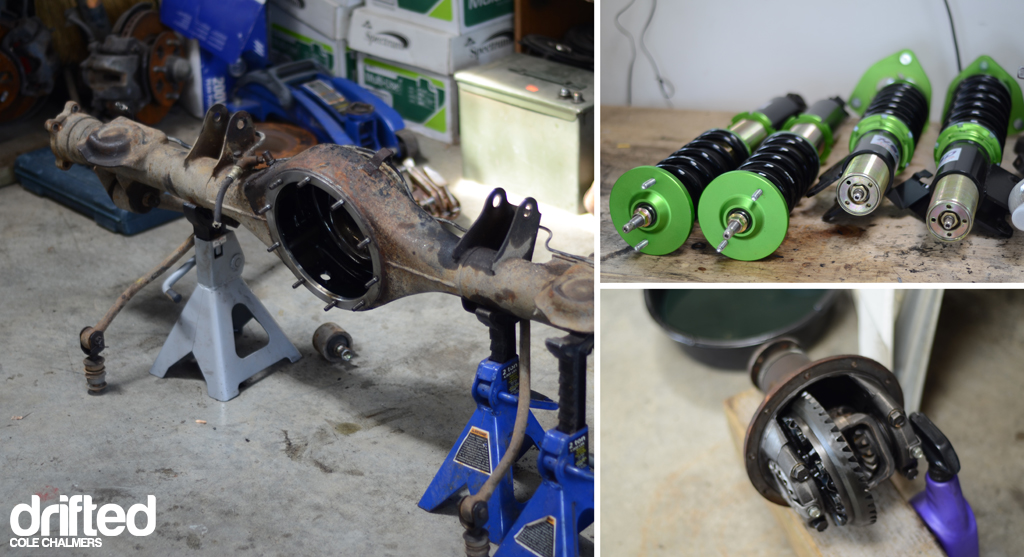 It took a month of searching but I happened upon the rear-end I was looking for, around the same time I bought a pair of s13 coilovers I planned on modifying to replace what I had going on already. The rear end was modified to fit and I began planning out the suspension… that's when the story begins it's sad decline…I won't go into too many details, but long story short I owed a lot of money and my only way out was to sell some things, and unfortunately the only thing I owned of value… were what I had invested in that old Toyota.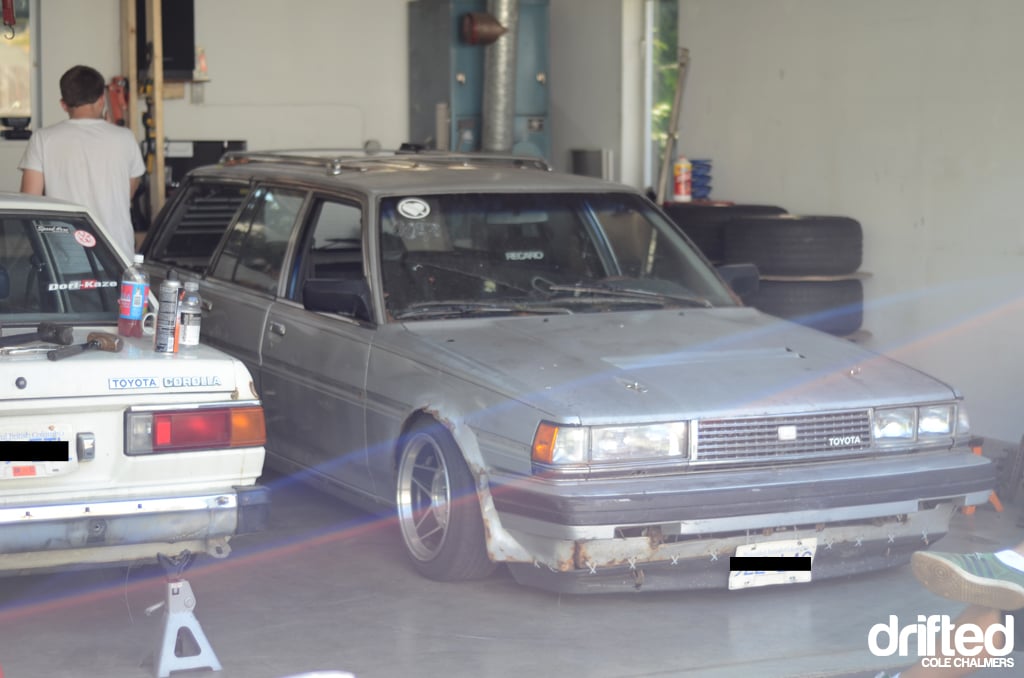 A lot of people were confused about what I did next. This car was far too important to me to watch someone else drive away in it and finish it the way they saw fit, so selling it as a whole was out of the question. On top of that, the only parts worth anything was the motor and my recently purchased mk1 supra rear end, and no one would ever pay whatever dollar amount I would come up with as to what the wagon was worth to me. And beyond all things money, too many friends put too much of their own blood, sweat, time, and hardwork on this car for me to feel ok about selling the car as a whole. I felt like that would be disrespectful to the friendships we had to make money off something that, while it was my car, was in reality a huge group project.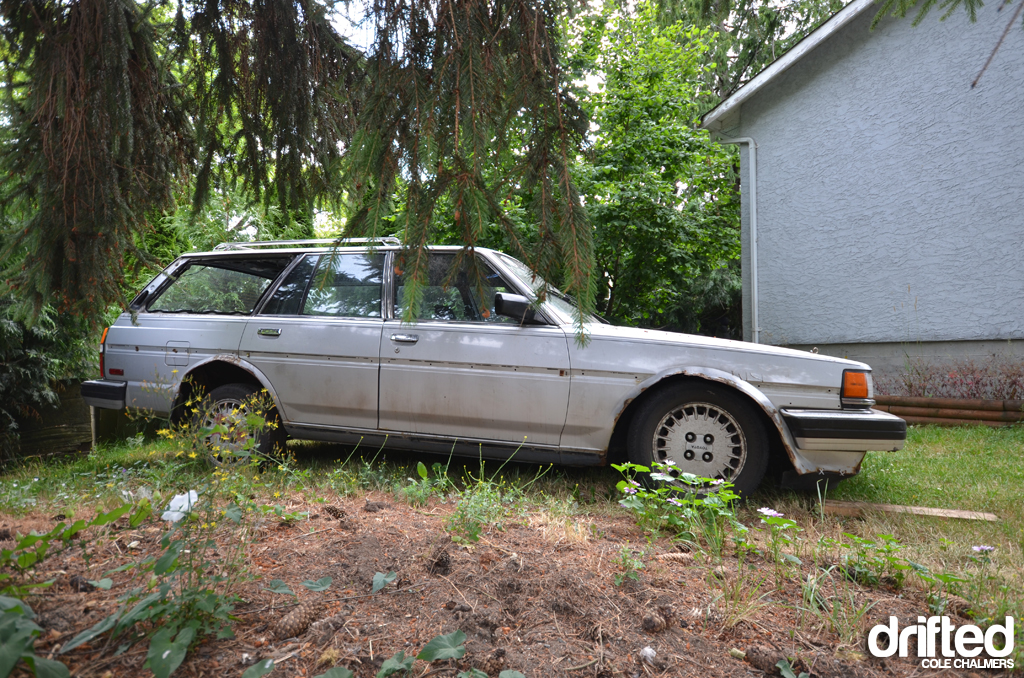 The supra rear-end sold fast, and was replaced with the broken stock unit and stock stuff was thrown up front to keep the chassis roll-able. I wasn't ready to let the car go just yet though, I never even got any rolling photos of it yet! One final cruise was planned, a drive off into the sunset, almost quite literally.
(Photo: Warren Foster)
No exhaust from the downpipe back, once again rolling on no suspension. I figured for sure that the car was going to get pulled over and I could feel good about never being able to drive it again. I was proven wrong though and as I scraped my way into the driveway, for what I thought was supposed to be the last time, a new plan formed. She was going out with a bang.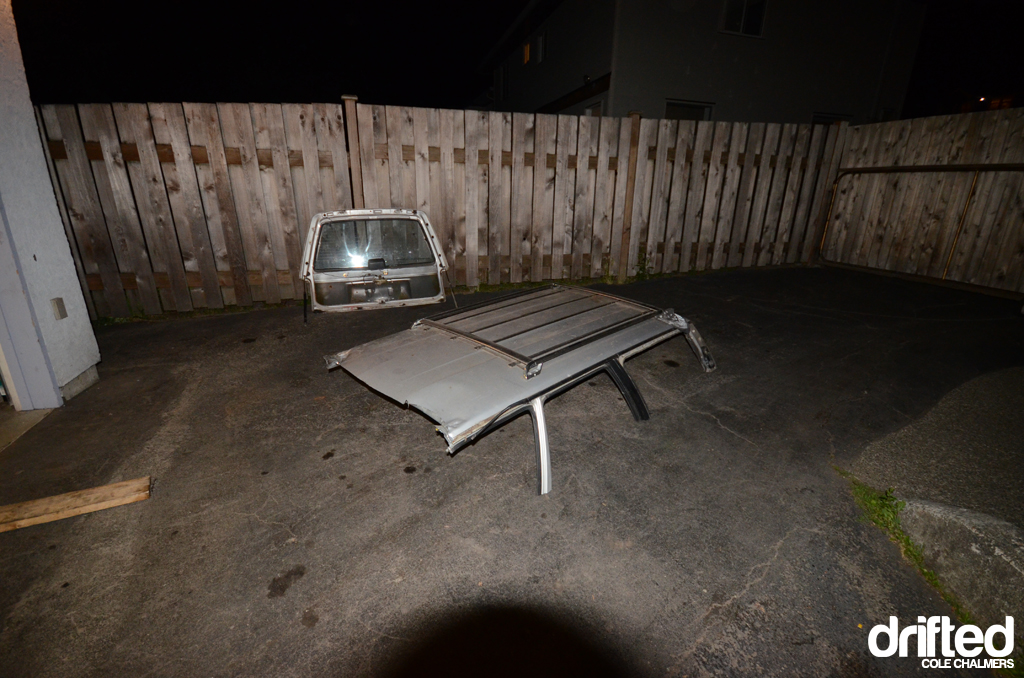 I like to think I had the first Cressida wagon convertible in history, but I'm sure it's been done. First SR20 powered Cressida wagon convertible will have to do, I suppose.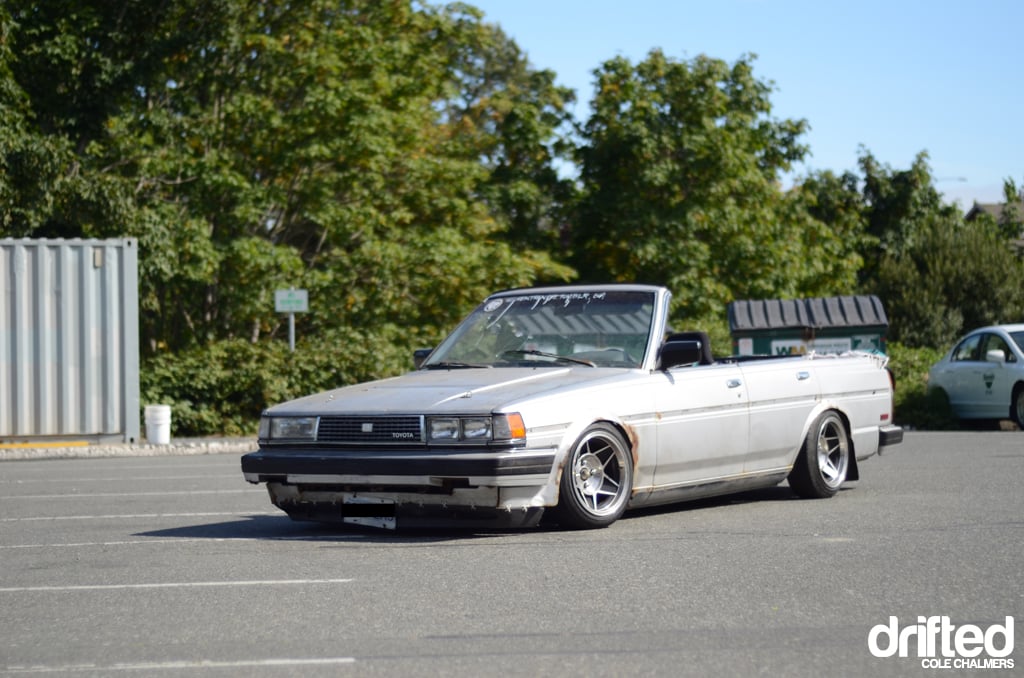 I had a lot of people get incredibly mad when they saw this photo. I realize wagon's are hard to come by, this was the main reason that made cressida enthusiasts mad. "How could you do this?! You idiot! I have been looking for years for one! Why couldn't you give it to me? Why did you have to ruin it?" Well let me start off by saying this car was ruined from the day I got it.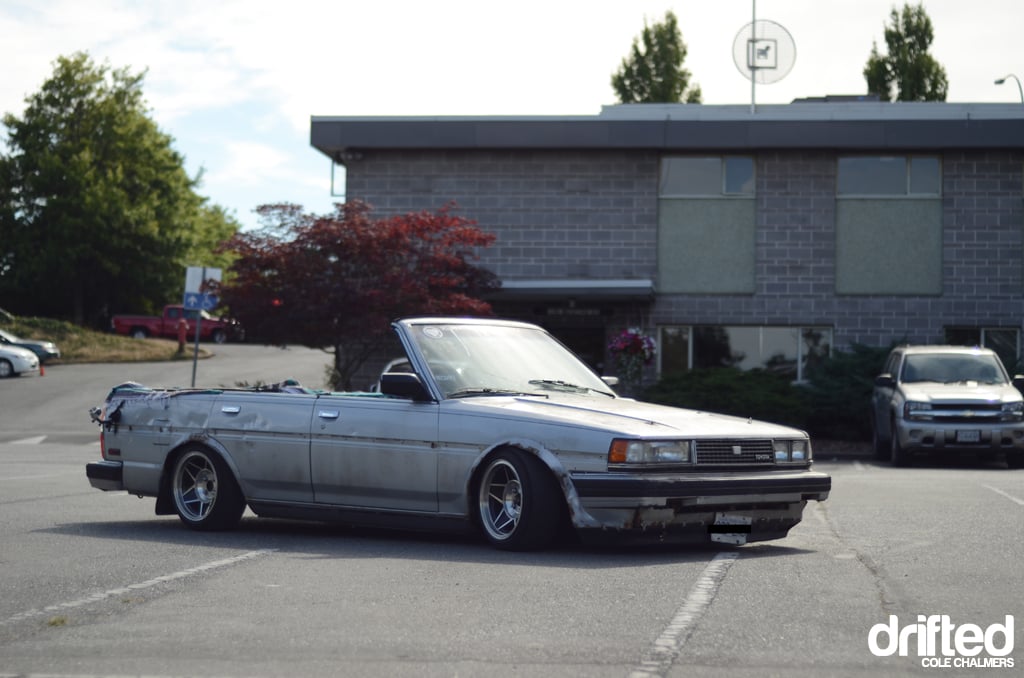 The rust and interior condition was far from ideal. Once I stripped the interior out, the car was no longer able to be a daily driver again, and good luck finding a wagon interior. Then the wiring harness replacement, you could never put another 5MGE or SR20 in after everything came out.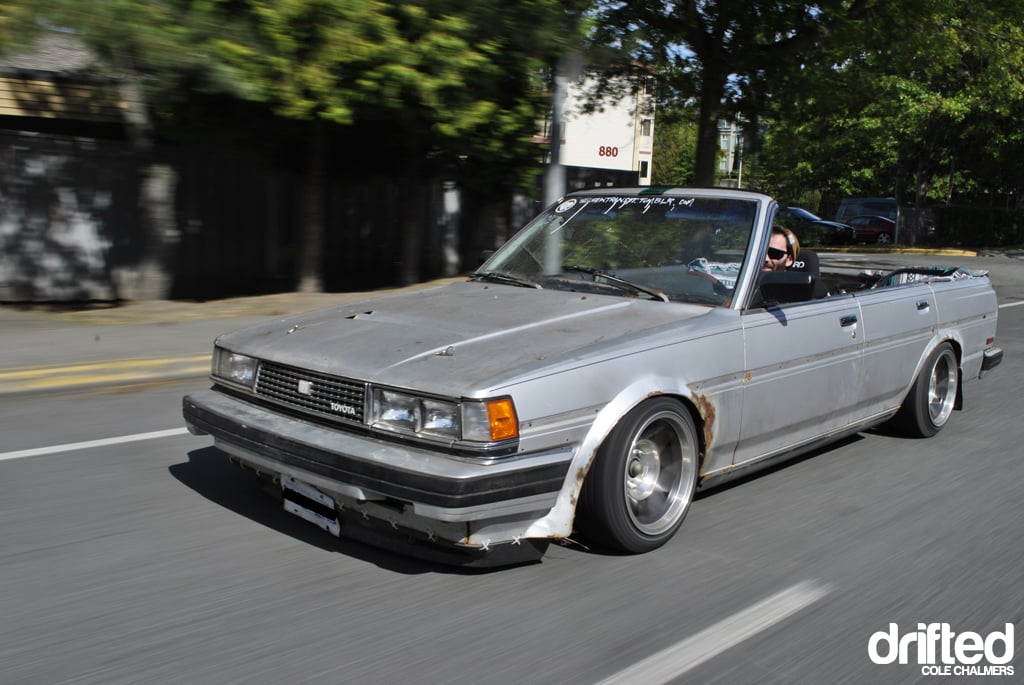 (Photo: Nick Oldford)
Even if someone had everything to make it a car again, I wouldn't have given it to them. This car was my Old Yeller  "There's no hope for him now. He's sufferin'. You know we gotta do it." – "I know Mama… But he was my dog… I'll do it."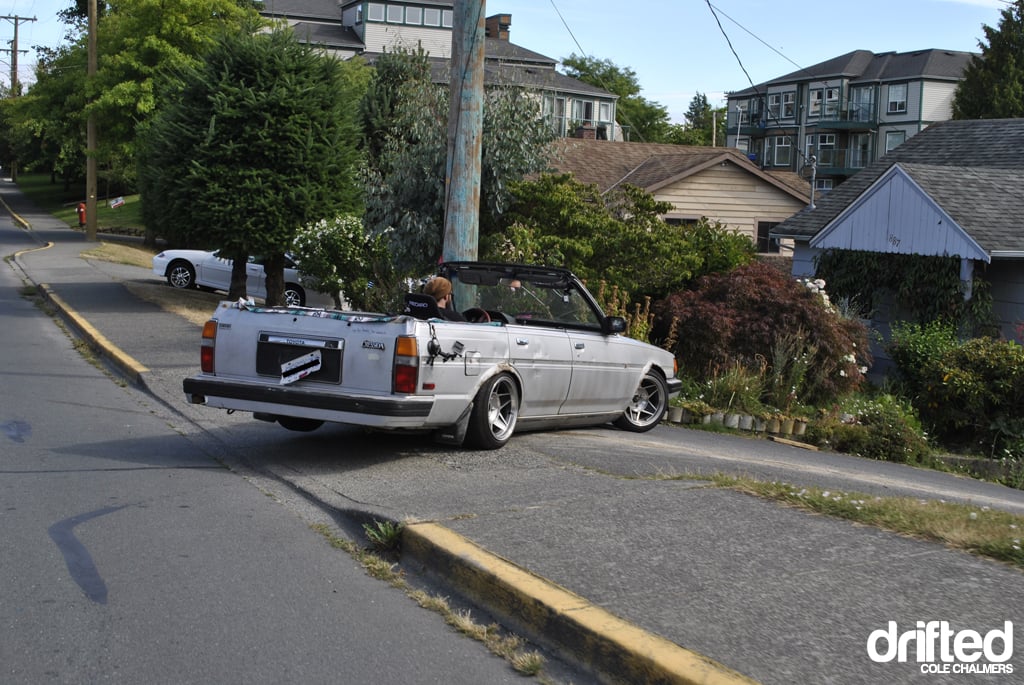 (Photo: Nick Oldford)
A few days later was one of the most painful things I've had to, watch my pride an joy leave on a flat deck trailer to be turned into scrap metal.
(Photo: Acacia Spencer-Hills)
 In the Time I owned the wagon I owned a Nissan 240sx hatch, 240sx Convertible, a VW Jetta, a second cressida wagon, and two cressida sedans. Before the SR wagon, too many to list. I'm sure I'll own quite a few in the future. Everyone has that one car that stands out. The one that will always mean the most to that individual. This was mine, and I don't think that will ever change.
I have a new car now, I've never really been big on s-chassis but the car is starting to grow on me. I'm looking to get seat time, build more skills rather than build a car. One day though, I'll get behind the wheel of another cressida wagon. I think this time though, I'll use it for what it was intended. Nobody is interested in a drift car that doesn't get drifted. To end it off, here is a video of all the dumb footage I have of this dumb drift car that never really got drifted.
First photo credit: Warren Foster
-Cole