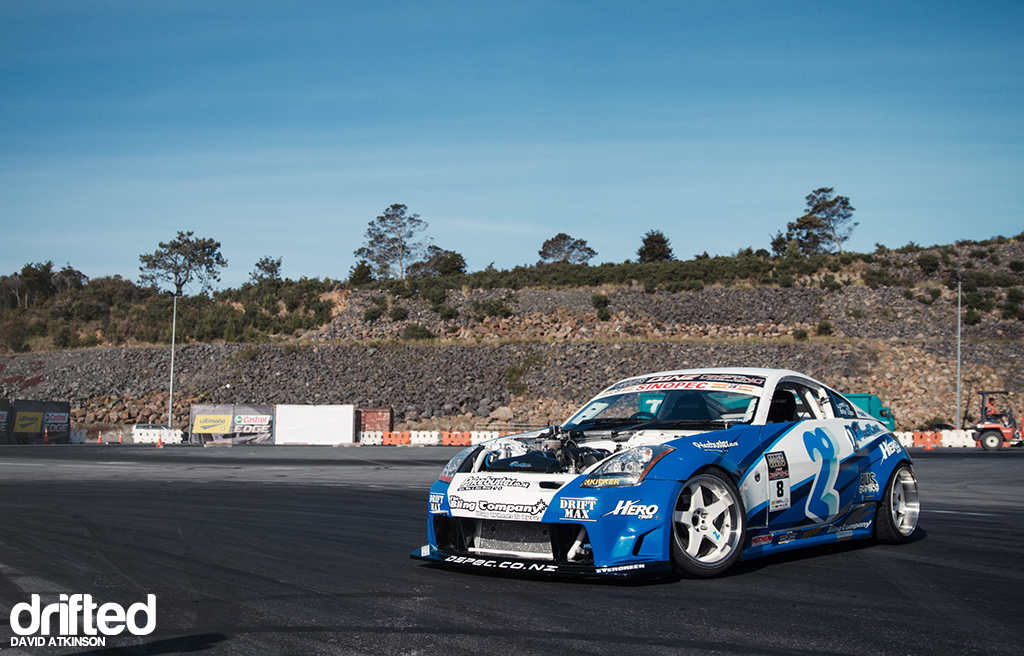 When Sky Zhao announced early last year that he was building a 350z for the 2013 season of D1NZ, I couldn't really hide my excitement. Nicknamed the 570z after the choice of engine conversion – the Nissan is now running a 5.7L LS1 along with tons of parts shipped over from the US.
Another V8 joining the D1NZ field was awesome news. Not only is it a more competitive platform for Sky than his S15, but who doesn't love the roar of a big V8 shredding some tires?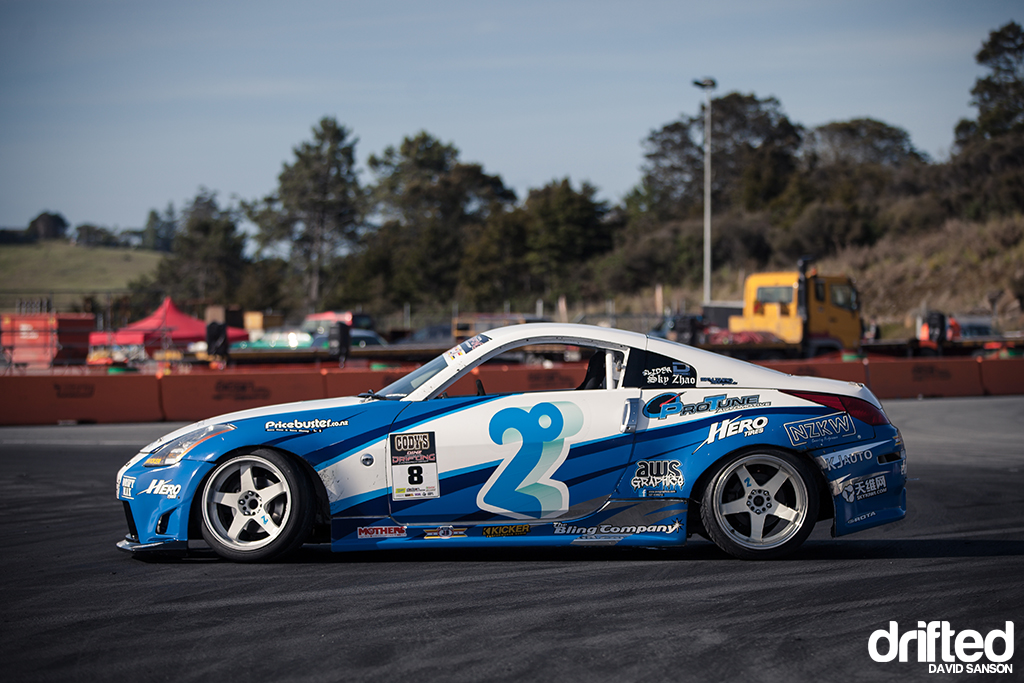 The US style is continued onto the exterior of the car, sitting super low on Tein coilovers with electronic damping. Rota GTR-D's in 18×9 and 18×12 fill out the custom widebody quite nicely, giving the car that aggressive look.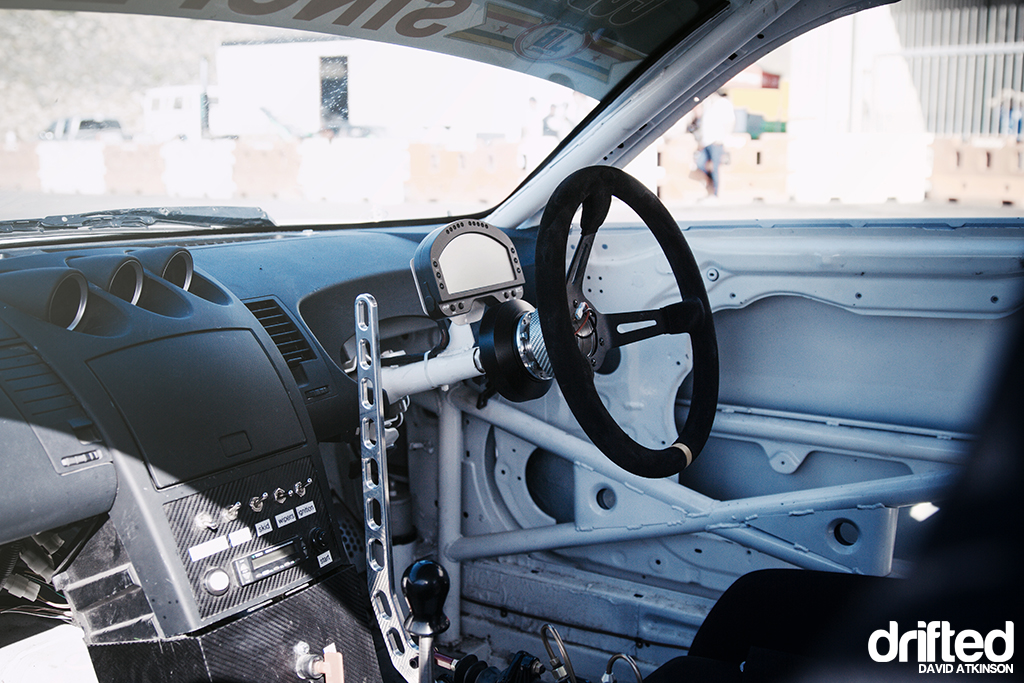 With sponsor 2 Degrees mobile on board, Sky Zhao and his team have paid great attention to detail with this build.  The front and rear of the car have been tube framed along with fitting an eight point roll cage and gussets. The Z33 is running a six-speed Tremec T56 gearbox and SIKKY short shift kit. An AiM digital dash is tucked away behind the Momo wheel providing all the necessary readouts.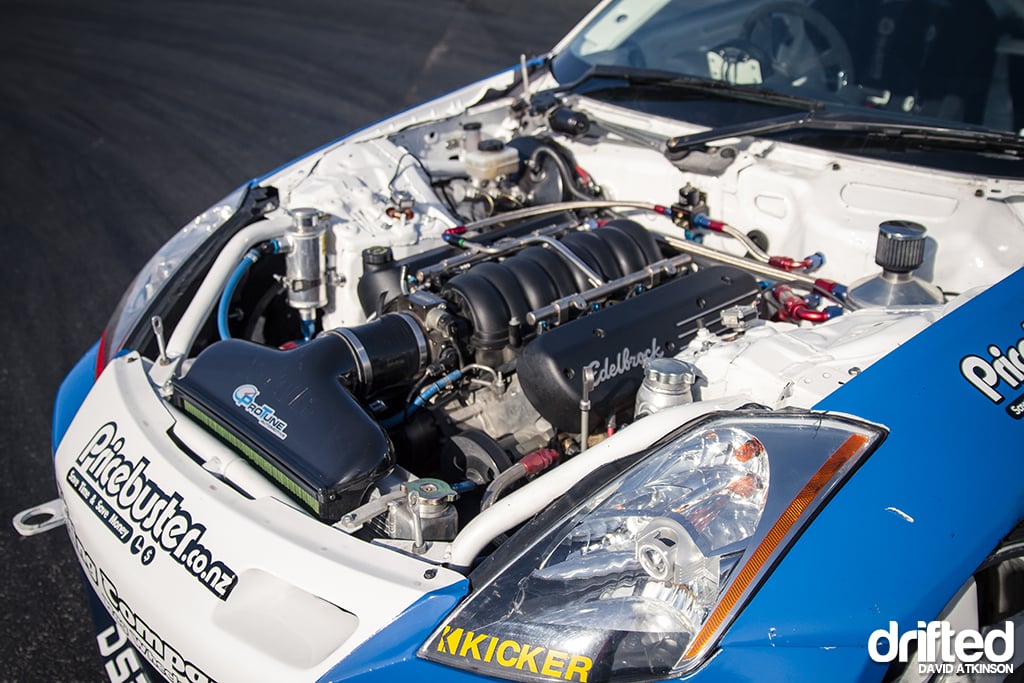 Auckland tuning shop ProTune built and tuned the engine, making a host of improvements including VCM sweep cams, Lunati double valve springs and an LS2 intake manifold just to name a few. The engine is putting out 490hp at the wheels and 597Nm of torque – more than enough for Sky to quickly burn a set of tyres.
Due to the low ride height the D-Spec team have fitted air jacks to speed up tyre changes during battles.
It was awesome to finally see the 570z in action at Round 2 of D1NZ in Whangarei. The car can achieve some impressive steering lock thanks to a Part Shop MAX extreme angle kit.
Nissan Silvias and Skylines are plentiful in the D1NZ field so the big blue and white Z really stands out from the crowd. AWS Graphics has done a great job with the livery too.
Sky Zhao and the D-Spec team have really put together an exceptional drift machine. The Chevy LS1 is proven as a reliable and powerful engine and with V8s almost taking over the Formula D series – it's a recipe for success. The 570z is definitely one competitive machine to look out for and I wish Sky all the best for the rest of the D1NZ season.
Want to get your own 350z sitting right? Try our 350z coilover guide. Want to let that VQ35DE sing? You'll be needing our 350z exhaust guide. NA power not enough for you? Try our 350z turbo kit guide and 350z supercharger guide.
Words – David Atkinson