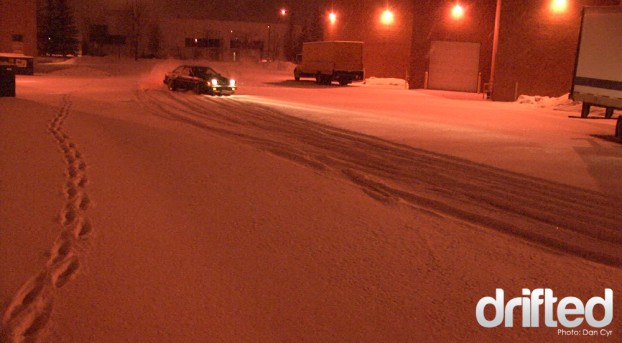 'Sup Drifted.
My name is Dan Cyr, and I'm the guy in charge of the Drift Posse video department, Cyrious Productions.
In case you don't know who Drift Posse is, they just happen to be the drifting crew local to where I live here in Mississauga, Ontario, Canada. In fact, one of the guys in the crew is so local to me that we live in the same house. My brother Pat Cyr has been driving in the Canadian professional drifting series Drift Mania Canadian Championships (DMCC) for a number of years in his AE86 Corolla but this year in the 2011 season, Pat will be stepping up to drive on the big stage known as Formula Drift, and you can bet that I'll be there to capture as much of it as my tapes and memory cards will allow.
For myself, a lot of things have changed since I started filming drifting three or so years ago at a Drift Free Friday event held at…Kawartha Downs? Something like that.  Anyway, the event was the last one of the year (and, as it would turn out, the last Drift Free Friday ever), so it was my last chance that year to get a taste of this drifting stuff that my brother had become so obsessed with a few years before. The event was pretty much just a mess around day that consisted of a big parking lot where drivers could pick their own lines around lamp posts and barrels, or do donuts; as well as a small, but high banked oval track for the guys that were able to handle such a beast. To make a long story short I couldn't get enough of the stuff, and I was instantly hooked on making drift videos. If you search hard enough for my early videos on Streetfire you can even see the original video from that day. Looking back it seems so small compared to where drifting is at for us right now. What really sealed the deal for me though, was the winter drifting that followed soon after.
Even now, every year the pro drifting season ends, the big scary race cars go back in to their little garages; and our country (for the most part) gets blanketed with wonderful white stuff called snow. Every year, just like the year before, the local drift crew dusts off their trusty old 'winter beater' drift cars and waits patiently for the right conditions to get out and practice.  Our winters have been pretty sporadic lately, where one day we see snow coming down in blizzard-like fashion, and the next day we can see the grass coming up from underneath. With that being said, it's been getting harder and harder to get out and film the drifting as much as I want to, because the snow has been so finicky. We were fortunate enough to get a really good consistent snowfall recently, and Pat happened across an amazing location to shoot at, so out came the cameras and we got to work!!
To be honest I can't think of a better way to introduce myself and the Drift Posse crew, than to do it with our most recent winter drifting video featuring Pat Cyr. Winter drifting is something we've always done as a crew, and will continue to do as long as we've got rear wheel drive cars to abuse, and snow to abuse them in. So welcome Drifted.com readers, to Drift Posse 101. Get yourself a seat near the front of the class, and no talking during the lesson.
Class dismissed! Get out there and drive!