VIDEO: Road To Formula Drift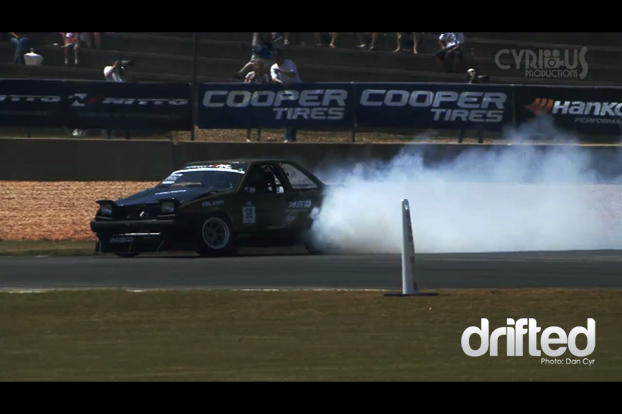 Man, and I thought it was hard to describe my very first Formula D event, which was Irwindale last year. But honestly, I don't think you can actually truly grasp the energy of an event like Formula Drift at Road Atlanta without being there. I heard people say it was the best. I heard it was tough on the drivers and their cars. I saw both of these things proven before my eyes, in spades.
We showed up to the track on Thursday and apart from the Mazda Formula 2000 cars zipping around the track, things were getting set up around the paddocks in a fairly quiet and orderly fashion. Kinda like a calm-before-the-storm type deal. The public isn't allowed through the gates on the first day, so you get a chance to really cruise around the paddock and see the different drivers and teams in their "natural habitat" so to speak. I think that is the part of the weekend where you can really tell that these are all a bunch of dudes going out to have fun with cars. In a few hours these guys would be in search and destroy mode, but for the moment everybody was on the same level: setting stuff up and ready to have fun. If I were a photographer, I probably would've been snapping cool photos and thinking of something philosophical to write about later on, but instead I cruised around on a golf cart with the newest judge at Formula Drift, Ryan Lanteigne, while we checked out Pro-am cars and talked smack about the not-so-cold cold morning.
I can't say I wasn't at all nervous to see my brother Pat Cyr out in his freshly set up F20 powered AE86. We could tell just from watching videos that Road Atlanta was a tough track and that it'd be a bit different from what we'd driven before. That said, my nerves quickly began to relax as Pat warmed up through Thursday and Friday. It was super cool to watch Pat lining up against dudes who just a few weeks before we were watching on livestream just like any other fan.
Pat qualified with a 20th place, which was good, but could definitely be improved upon. Nonetheless, the team was in high spirits moving into the top 32 with Pat matching up against Team NFS driver Fredric Aasbo. Pat was unable to make it through the battle, but definitely walked away with a ton of experience, and a new found confidence to go out and keep trying to win against the "corporate giants".
As I wrote at the top there, there's really no describing the crowd and atmosphere at this event. Just imagine a whooole lot of people in one place, getting really drunk because they could bring their own beer into the event. Totally nuts doesn't even begin to describe it!
Anyway, here's my coverage of the event!! I hope you like it!! Florida's coming soon, so keep your eyes and ears glued to DRIFTED.COM for piles more awesome.