DRIVER BLOG: Beginning of a New Adventure for DriftSquid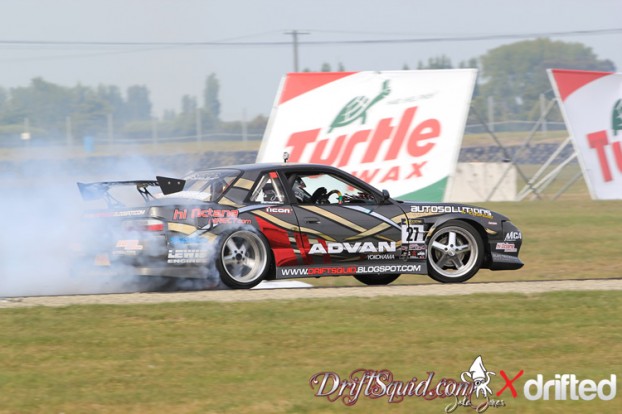 Gday all!!!
Jake Jones (AKA DRIFTSQUID) here, some of you may know me but for those that don't. I'm a Professional Drifter from Australia, 21 years of age and am currently competing in the D1NZ Rockstar drifting championship in New Zealand. I have been competing now for just over 3 years and am not looking at stopping anytime soon 😛
I'm basically going to give you the run down of how my first experience went down in New Zealand for the First round of the D1NZ series. Over time I will go through exactly who I am and what I've done in my Drifting career so far.
So i made the decision to ship my Drift car over to NZ for the main reason that Australian Drifting was coming to a halt and I had always wanted to compete against the guys I've looked up to in drifting since I was a kid. Drifting with the likes of Mike Whiddett, Fanga Dan and Gaz Whitter is like a dream come true!!
Before I knew it i had my car loaded into a container and on its way to hit the D1NZ series. To say I was excited was a understatement haha. I seriously couldn't wait!
With the car on its way it was now time to get myself organised and over to NZ. Round 1 was coming up sooner then we thought and from getting time of work to organising everything is was full on. Thankfully with the help of my Ex kiwi Fabricator Craig Helps of HELPSMETALWORKS I had a few hook ups in NZ to get things rolling.
My good mate Lee (L Whip) came with me to NZ to help out where he could. Our flight to NZ was an early one and we had some insane views on the way over 🙂 Planes really amuse me haha!
Craig headed over a few days earlier then Myself to get a few things done to the car to comply with the D1NZ rules. The car was not allowed to run a Screamer pipe and it had to be run back into the exhaust.  So Craig's brother was kind enough for him to get the work done needed to plumb it back into the exhaust.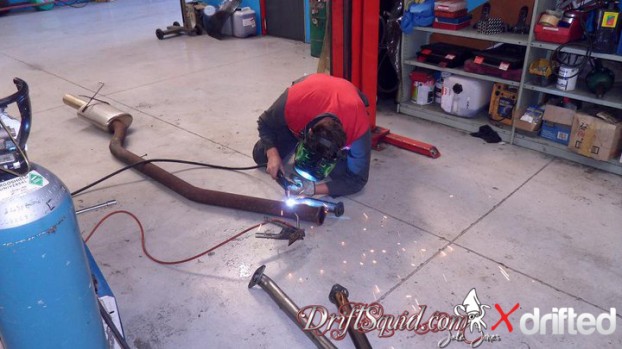 As you can see I was flat out helping Craig get that done haha!
I was not happy with the new Quiet Sound of the car 🙁
Now that the exhaust and a few other things were done I now needed to check it out on the Dyno to make sure the mixtures were fine. Another mate of Craigs 'Tommo' hooked us up with SPEC performance who ran the car up on their Dyno.
Lucky we had it checked on the Dyno as the tune must not have saved from the last tune we did before we left Oz. Even though I was told the BP fuel was the same in NZ as OZ I decided to empty the tank and put in NZ fuel. Went for a quick stroll down to the local BP and the price had me a little shocked!
Jon from SPEC Performance had the car tuned and ready to rumble not long after so now we took the chance to go over the car. L Whip and myself decided to make sure the new ADVAN AD-08's on the front would have enough room to move. Out comes the grinder 😛
While we were at it we asked for a 'Shifter'. Avon the fabricator at Spec Performance looked stunned and then said "you mean a Crescent". After awhile we got out 'Shifters" haha!
Now the car is ready and it was time to get some sleep and be at the track at the crack of dawn the next morning. Big thanks to Spec Performance and everyone who helped getting the car ready.
Ian From Hi Octane Direct played a big part in helping me get over to NZ and was also coming over for Round 1 to check out the NZ scene. My mate L Whip came over also for full support. Here is a pic of L Whip on the left and Ian on the right giving us a kiss haha!
The next morning was just unreal, rolling into a whole new ball game, meeting Mad Mike for the first time and all the other kiwi drifters. It was just awesome to be in the middle of it all!
Thanks to ICON I now have a new helmet with ADVAN decal over the visor. Its easy to see through but hard to concentrate…
Here is one last pic of the lunch pit break were all the fans can come in and meet the drivers. Ive never seen anything like this is OZ. I was busy signing posters and all sorts the whole time, it was unreal!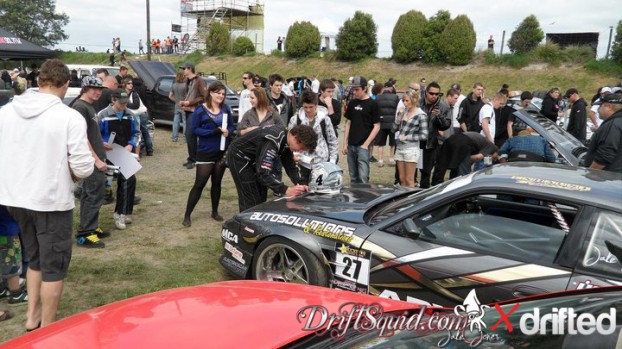 Hope you enjoyed my first post on Drifted.com. I will be posting alot more so stay tuned for more in the future.
Im heading back to NZ in a few days to do ROUND 2 of the D1NZ series. I wont give anyway too much but Spec Performance have gone nuts on the car and its going to be so different its not funny 🙂 I also have to give thanks to ADVAN Australia for all their help so far!
Stay tuned
-Squid 🙂
Photo Credits: Mark Boxer
If you want to learn more about the engine that powers the DriftSquid's drift car then check out our RB26 Vs 2JZ feature.