GRASSROOTS: Never-Lift at Birmingham Wheels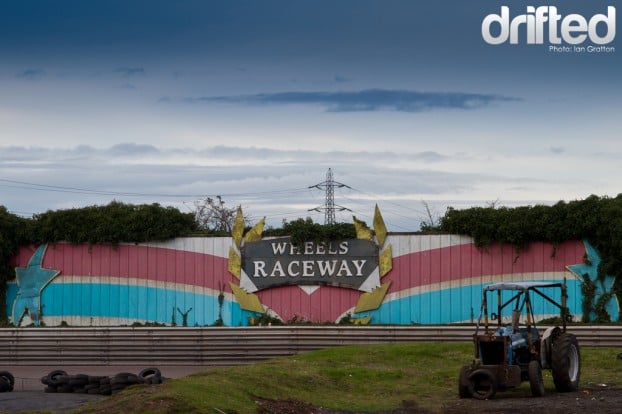 Right back in my very first post on Drifted.com I mentioned one of my most memorable moments of the UK drifting scene in its infancy was watching Ken Nomura drift a borrowed car smoking around Birmingham Wheels oval circuit. Its been almost been 5 years since I was at Wheels so I figured I'd go take another look.  The Never-Lift drift practice day that took place on 14th November served as an ideal opportunity.  Five years on I didn't know quite what to expect.
A lot of good friendships were formed here back in the early days and the venue is deeply rooted in the minds of many.  Driftworks themselves have recently mentioned the raceway in the first of a series of articles looking back on the origins of their R32 Skyline.  They have also helped out with the motorsport engineering courses at Birmingham University and run a few days here for students to come and get a first-hand experience of drifting as a professional motor sport.
The UK is now officially dirty – there is no more summer sun and roads are starting to get filthy.  It won't be long now before they start to apply salt to make sure the undersides of our cars are helped along enormously in their rusting process.   I left the Aston expressway on the edge of the city and entered Adderley which is an old predominantly industrial/commercial district.  The roads are full of potholes from years of neglect and heavy usage by trucks making the final leg of the journey a bumpy one – knew I was almost there.  One thing that was immediately obvious on arrival was it was cold as hell.  I'm so glad I had prepared and layered up in thermals to help stay not quite frozen.  Wheels didn't have a Cafe open so there was no chance of a warm drink to keep me going – or anywhere to buy hot food.  I'll keep this in mind if I go back and take a jerry-can sized flask.
The circuit is your typical stock car/oval affair – unforgiving high-sided steel armco and a central area that can be used as a crossover to form a large figure of 8.   In today's configuration for the Never Lift day the central area was used to form a tight kidney rather than the typical 8.
The bulk of the cars in attendance on the day were not your usual JDM Nissan-based affairs, the missiles for the day were various flavors of Vauxhalls, BMWs, Fords and Volvos – some daily drivers, some trailer queens.  Trailer queen in the context of the Never-Lift posse means a car that you don't expect to be able to drive home.  The trailer queens here are driven to the point of destruction – if a missile gets to the point of been beyond reasonable repair the owner simply salvages what they can and a new one is found.   Many of these cars served as respectable family cars at some point in their lives before they were dis-guarded.  Every last breath of life is squeezed from these cars before they go to the great car crusher in the sky.  Lets take a look at some of the missiles in action.
First up we have the trusty Ford Sierra – the Mondeo of the 80s.  With a welded diff, drop in ride height and the standard engine with no more than 120bhp they need to be piloted seriously hard.  This car was already supporting a punched rear quarter from numerous rubs along the steel armco at maximum attack.
You don't have to look to closely at this old ford to see spiral scratches and debris from flailing tyre canvas.  All tyres are run to the point of explosion to get absolute most amount of use possible.  There's no sign of any posh plush fitment wheels here to damage and the drivers are quite happy to roll back into the pits on the wheels themselves if need be.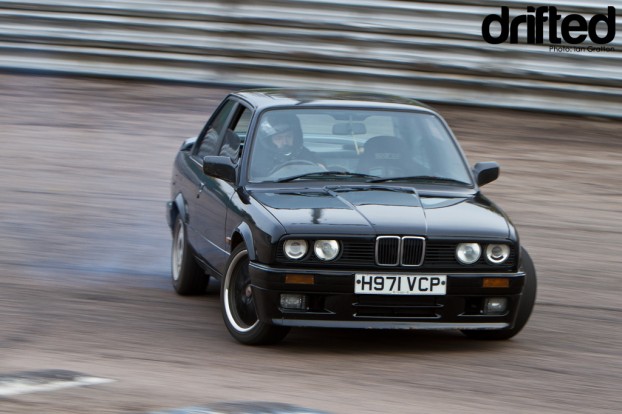 This familiar and tidy E30 320 is a regular up at Buxton Raceway.  Again similar modifications in place – a drop in ride height and a welded diff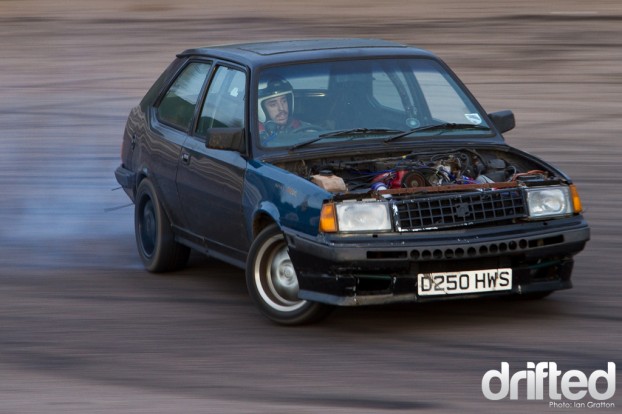 Oscar Gile's Volvo 360 really impressed.  This car has the added punch of a 2.0L engine with a small turbocharger strapped on the side!.  The engine wasn't from a car of turbo origin so its still running with a compression ratio more suited to NA configuration.  Oscar has done all the work himself and got the car up and running on Megasquirt engine management to aid with controlling the boost that now runs through the motor.  From the sidelines the car seems to have plenty of power and never seemed to bog down mid bend.  Unfortunately towards the end of the day the car was having some running issues seemingly caused by electrical faults – hopefully it can be repaired.
The trusty old Vauxhall Omega was responsible for carrying business and sales staff the length and breath of the country in the 90s as a popular company car.  This example was using the 2.0l 16v ECOTEC motor which is not especially potent and matched with a heavy car would prove a challenge.  This didn't stop the owner from putting in consistent smokey laps running right out to the edges of the track and often scrubbing the rear corner on the armco.
Mathew Harvey was making good use of another old Vauxhall – this time a circa '91/92 Carlton GSI 3000 sporting a 6-cylinder engine.  The driver of this car is super consistent and made  good smoke and showed good angle in very close proximity to the unforgiving Wheels armco.  These cars were notoriously bad for rot on the rear wheel arches.  I guess this is why you will notice the rivet-on panels above the rear wheels.  The GSI 3000 was the poor mans Lotus Carlton back in the day and shares many of the same parts.  Its extremely rare to see any form of Carlton on the UK roads let alone one in good condition going sideways.
Old Bavarian tin is always a popular choice amongst grass roots drifters in the UK.  BMW E30 and E36 bodied cars are cheap and plentiful in England – but I'm not sure how long it will remain this way with their new found life in drifting.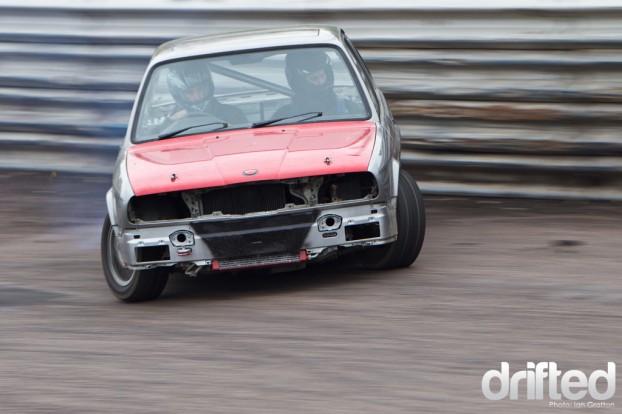 The E30 325i had been stripped bare of anything of value and travelled to the event on a dolly being towed by an E30 Touring.  This car was driven to within inches of the wall at maximum attack for most of the day often tagging the back corner for maximum effect.
Going at maximum attack constantly will almost always result in bent metal.  A gaffa-taped up lower radiator hose and a game of car tug of war with two transporters and the E30 lasted through to the end of the day.
Another E36 4door was having lots of fun linking up laps and making smoke.  I don't unfortunately know the name of the driver but he was really consistent throughout the day.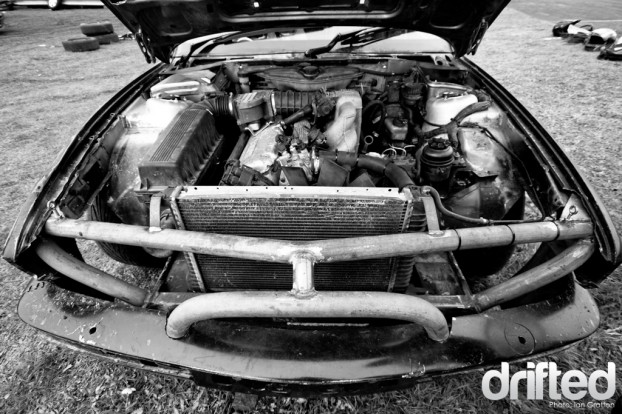 This E34 535i has had a busy life going sideways round both Buxton and Birmingham wheels for the last year or so.  The structural modifications and lack of exterior trim makes it look like something from a Mad Max movie.
Mike Gaynor and Laura Sharratt had been busy helping out with coordinating and marshaling the course and unfortunately today were without their own trusty BMW-shaped projectile.  The owner of the 535 kindly let Mike take it out for a few laps.  One thing that is really evident at this Never-Lift event is the way in which everyone works together – including lending a hand with repairs to help make sure people get the maximum amount of seat time.
The guys who own the Mercedes breakers that regularly attend Buxton were back in another luxury E-class after the demise of their green C28.  Designed for comfort and weighing about as much as a tank they are always a challenge.  The safety systems built into the car were stopping the car from getting sideways – the owners tried to pull out the abs relay which solved the traction control issue but caused the engine to be restricted to 4000rpm.
The only car of Japanese origin present at the day was this JZA70 Toyota Supra.  The car sounded like it was only firing on 5 as the revs rose but it still managed to make some smoke before the engine started to give out the sound of death rattle indicating likely big end failure.
As the raceways floodlighting system began to power up I decided it was time to make an exit.  It had been great to re-visit Birmingham Wheels after all this time and see that it still serves its purpose for drifting – i.e. a cost effective place to come and hone your skills and have some fun with friends.  With this being the last Never-Lift event of 2010 the drivers will have a few months off to repair their missiles or hunt down replacements.  We'll pay you another visit in 2011!