VIDEO: Yellow Cab Drift Team
Myself and Ian King from Wreckless Inc. just finished up this promo video for Yellow Cab Drift Team here in the Philippines. Check it out and let me know what you think with a comment.
The video was filmed in Clark Race track, Pampanga. Philippines. Cameras used were a Sony EX1, canon 7d, GOPRO HD's, and for the amazing aerial shots we had a remote control helicopter with a small Sony handy cam attached to it. Tracking shots were done hanging off the back of a chevy suburban with the doors taken off. Ian was in charge of racing the SUV down the track and I pretty much had to point, shoot and hold on!
Special thanks to the Yellow Cab Drift team and all their sponsors + Aeroeye Asia for the awesome aerial footage.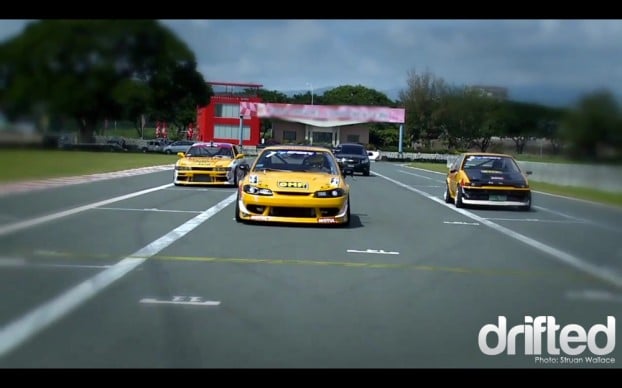 DRIFT PHILIPPINES starring the Yellow Cab Drift Team.
Drivers:
Ryan Agoncillo
Kevin Tayao
Alex Perez
Song: sunnymix by Free Form
Produced by: WRECKESS Inc. – Car Porn Productions
Filmed by:
Ian king
Struan Wallace
Jappy Reyes
Tracking car driver: Ian King
Directed & edited by: Struan Wallace
Struan Wallace
Director / cinematographer
Tags: AE86, aerial, Car Porn Productions, Cefiro, crane, Drift Team, film, Ian King, Philippines, S13, s15, Struan Wallace, Video, Wreckless Inc., Yellow Cab
Subscribe to Drifted
If you like this article why not subscribe to Drifted and we will email you our freshest content for free!