EVENT: Drift Union Invitational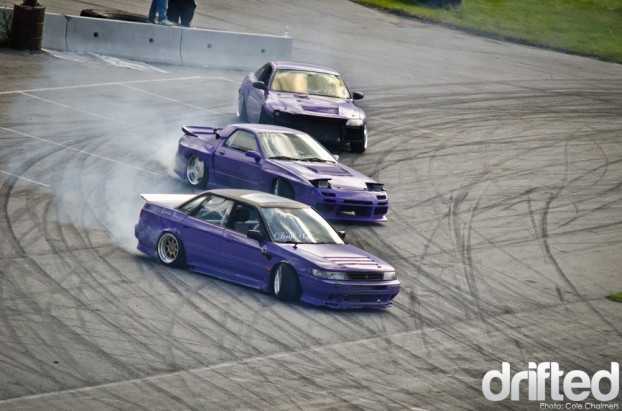 The purple trio, Drift Union, have been causing quite the stir on the web as of late with their colour matched triple tandems. To inspire more people to follow their lead, Shawn Browne held the first annual Drift Union Invitational; Triple Team Tandem Event. True to their Keep Drifting Fun attitude it was structured more as a fun day rather than a competition. I overheard a few people calling it 'Shawn Star Bash', throwing out to Just Drift's All Star Bash. Drivers, looking for a good time, came from near and far to partake in the bro-down.
Midnighters, a team from Vancouver BC only showed up with two drivers for the event. But between Marc-Andre Tatto's  SR20 powered S14.5 and Joey Portelli's mean faced KA-T S14 there was enough smoke for three cars. I heard this was their first time to Penticton's track. It sure didn't show if it was, both drivers were destroying the track as if they had been driving there for years.
Pete Schroeder, Cody Ross (S13 above), Chris Scremin, and Jordan Hall made up 'Team Late Bloomers' and were the only team of four in the event. When Pete showed up in his 7MGTE Cressida he was already having issues. Conversation went a little like this:
Me: "Pete! How's it going man?"
Pete: "Pretty good, car is running a little hot though…"
Peek in at his temp gauge, it's well into the hot zone.
Me: "ohh nooo…"
Pete: "Yeah, pretty sure headgaskets toast."
Me: "So, done before the day even started?"
Pete: "Oh hell no! I'm still gonna drive the piss out of it!"
And did he ever, a little after the above photo with Cody, same corner, opposite direction, came in a little too hot and went into that barrier and the lightpole just to the left of it. More bad luck for the Late Bloomers; Jordan Hall, who trailered his SR20 swapped Mazda Miata all the way from Saskatchewan, got rod knock within his first run. It spent so little time on track that I didn't even get a photo of his car!
The only other team to have matching paint were the boys in the white and black, representing Capital Drift from Victoria. Nick Oldford's S13 coupe has seen Penticton's cement before, but Warren Foster's AE86 and Daniel Cormier's freshly painted (by yours truely I might add) Rb25 powered S12 were new comers to the Okanagan.
After a couple hours of open track shredding, a wall tap competition was held. The goal? Wall tap. Smack that ass. Run the wall. You know the drill. A lot of cars were getting consistently close, like this driver in his Ford Mustang. I overheard he is actually a stunt driver and I think he might have been getting bored of sliding because he managed to get all four wheels off the ground off of the loading ramp after straightening while riding the wall. I didn't catch his name but he was killing it!
While cone taps were common during the competition, only two cars were making contact with the cement barrier. Cody Ross was killing it as per usual in his 240sx and after some minor tweaking Pete was back on track in his now missile status Cressida. Pete got a solid smack that sent him barreling straight into the loading ramp, but at this point Pete didn't have a care in the world and didn't lift. I have the jump on video, it's a solid launch. I might try and upload it at some point.
The wall tap comp was followed by more tandem Drifting. With a handful of cars out with mechanical issues, teams were pretty much forgotten, cars from different teams started lining up to tandem with whoever they wanted. I strapped my camera to the front of, Team Limit Driver, Shane Jensen's EG Civic hatch and tried to get some follow cam shots.
No, this was not a set up. I knew I should have shot a slower shutter speed…
As the day went on, a Big Entry competition was begun.  Driver's were to  grip along the pit-side bank, fly past the grandstands, flick/e-brake as early as possible, come around the infield wall and keep drifting (click the image below to see a split .gif of Shawn Browne and Ramsay Trew).
To get the big entries drivers were flicking incredibly close to the outside wall.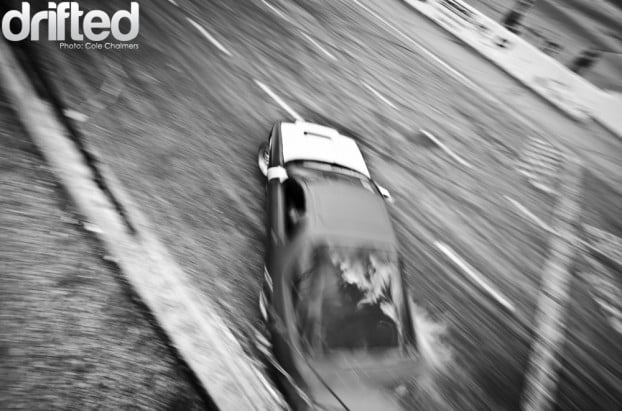 As the sun went down, the lights came on, and drivers finished off their tires into the night.
Then Pete went all out and finished his car. Somehow he rigged this back together for the 4 hour drive back home to Vancouver. Mad props Pete, mad props…