EVENT: FX Open Drift Belarus 2011
Last year the FXOpen drift Belarus made a huge bang in Eastern Europe, bringing in the strongest drifters from neighboring countries, and stars like Tony Angelo and Tengku Djan Ley. For the most part it was the first opportunity for the Eastern European guys to measure their skill against the world famous drivers, but the enormous prize fund of 20K USD was also attractive bait.
The race was epic and was won by Finnish driver Juha Rintanen, and the feeling and atmosphere of drifting in an active airport in front of Belarusian fans (you have to see to believe how responsive and warm they are) has left in a place in my hart for the whole year…
(FX Open Drift Belarus 2010 photos – 1st day, 2nd day)
After a year of anticipation it finally came, and again I had the honor of being one of the three who had to find a champion among champions… talk about pressure…
44 participants among them around 10 champions from 10 countries… so many different styles and drift cultures- it made my head spin!
Saturday - training day , 8 o'clock  in the morning and we are already on the spot after 7 hours in a car and only 300 km – the Belarusian border is the longest 1 kilometer in a world! Then the usual training day morning routine: setting up the track  while participants are equipping the paddock , then pre training briefing and off they go.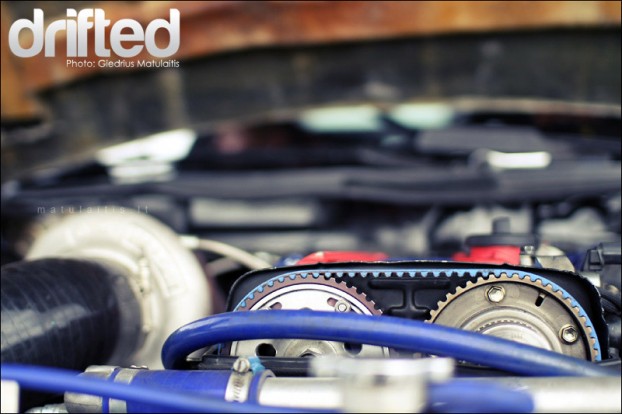 It has been the third drifting event on this Minsk1 airfield, and the layout was kept almost the same so most of the drivers went full power from the very beginning and MAN were they good ! I like drift events with long training sessions and open track configurations because you can never see 7-8 cars drifting at the same time on the 800m track  during the actual race - a real "gangbang" as Tengku Djan called it during mid practice session briefing. What would he say about Finnish practice sessions when 50 or more cars are drifting on the same track?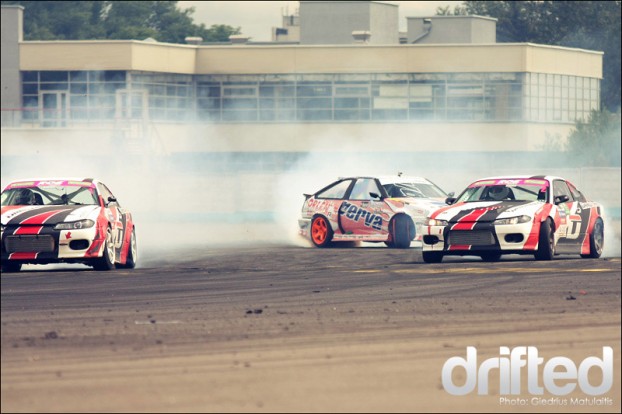 Well training day was lots of fun, haven't seen this much "tire rubber dust" in a while now, especially on an air feel on such a windy day 🙂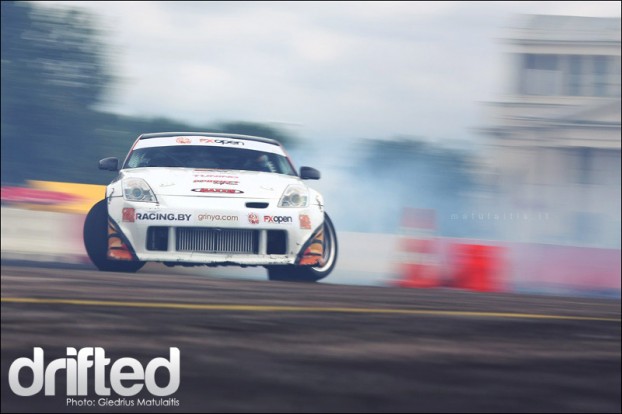 The next morning the sun came from behind the clouds and you could feel that sweet buzz of excitement with the soft flavour of tension in the air. Press people were running around asking : "Who do You think will win?"…. and all I could do was point at the 10 drivers of  which any one could make it to the top…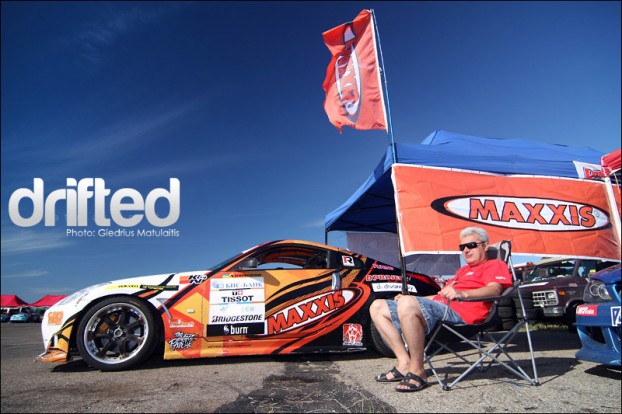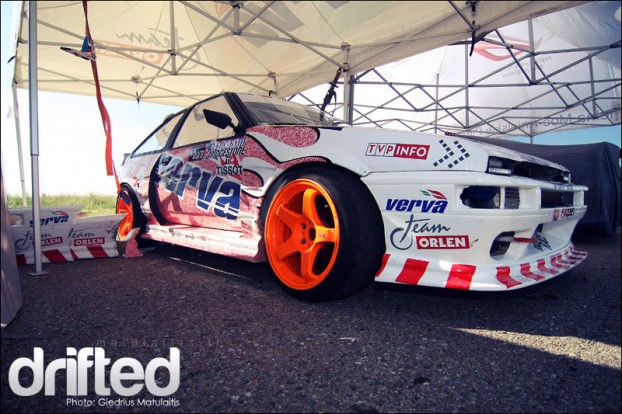 On Sunday before the race there was one more short  (2 hour) practice and every one was in a hurry to try out there last tricks. Spotters were working memorizing the runs of competitor teams, and the relaxed "keep drifting fun" atmosphere was no more… but that's what all the great battles are about : drivers who can handle the stress and perform better.
Watching the last training runs from the judges tower I noticed thousands of people outside the airport gate waiting for them to open up. The sensation of an upcoming festival was back!
While spectators were taking their places, practice time was over and after prequalification briefing teams went on getting ready for the driver/team presentation. It sure deserves a line or two to try and describe how fun it is to watch, especially the Russian teams. I don't know if anywhere else in the world the drift teams do things like that, but these guys came prepared: beautiful girls, stunt bikes, crazy masks, dancing, almost Halloween worthy costumes, flags, tires putting out coloured smoke… Its like watching a world famous rock concert and the crowd here were behaving accordingly!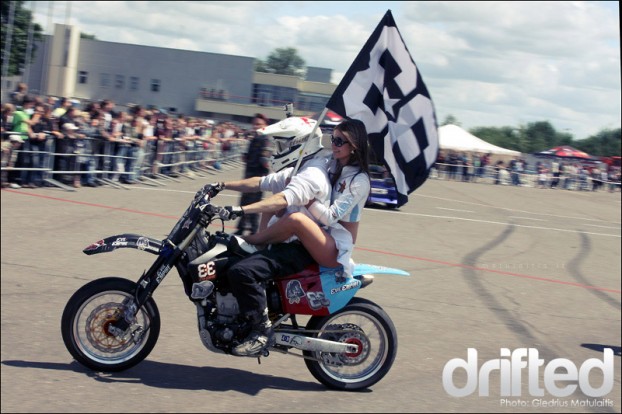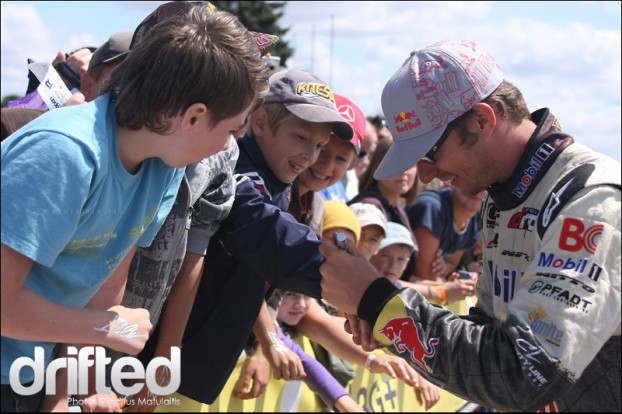 But as usual, after the fun stuff, inevitably comes the "boring" stuff - qualification … and inevitably, a Judge has got to do what a Judge has got to do: write down points run after run (around 130 runs ) … But there was one driver I was waiting for - Gvido Elksnis (a Latvian driver, former Latvian drift champion, a very good circuit racer), because in the past 3-4 years that I've seen him drive, he was very impressive. He came with a new toy; an e36 BMW with a boosted M52 2.8l engine, putting out 550+Hp and 700+Nm , in a light weight chassis with well balanced suspension. The interesting bit here is that Gvido, because of transportation, administrative and technical problems, had to spend all the training time and all 130 qualification runs sitting on the bench and before his judged  run he was allowed to do 3 training runs … and, you have to try to imagine, after so many runs you kind of set your self a base line for what a good run on a particular track should look like. Here you see a guy rocketing of the starting line, coming in to the first corner of the track he hadn't driven on, at a 130km/h corner which is bumpy and half a meter outside the line -slippery as ice, and you can see that he's coming in, obviously too hot, but then suddenly he initiates earlier than anyone else, holds on the very edge of the track  and negotiates the rest of it flawlessly… Now that's what's drifting is all about!!! Gvido Elksnis qualified 1st in a race which might be called "a half world championship" on his first run 😀
With such a high note qualification ended. Top32 tandems went without any big surprises, but the top16 was anyone's guess. I was a bit worried about Ryan Tuerck because he had a few frustrating days: the FXOpen Mazda RX8 that he had to drive in the invent broke down three days in a row, and during the Saturday practice session when it stopped again, for a moment I saw a race driver who had come half across the globe to compete and worked very hard to be able to, and still couldn't. That face was seen only for a brief moment, as one of the local beginner drifters offered his freshly build S14. I knew the car and it had a bunch of badly chosen parts installed in it, which resulted in a very unbalanced chassis and laggy engine, but Ryan quickly decided on the changes that could be made to make the car as user friendly as possible. Within minutes he was laying on the ground under the car removing the stabilizer bar. Mechanics that had to work the FXOpen car were mostly running around and passing tools to Ryan. He finally drove it and after three runs he came back to the pits and said: "It'll do", as simply as that. Sure you could see that he was working very hard behind the wheel, but his ability to adapt and squeeze everything from the machine is very impressive. These skills took him all the way to Top8 (believe me that is quite an achievement with that car).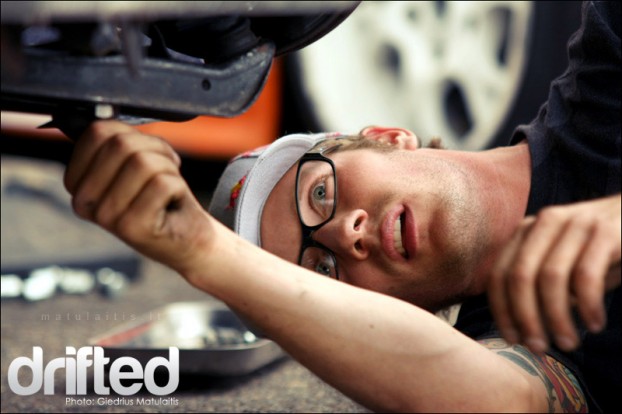 Another master at driving automobiles: Tengku Djan Ley from Malaysia. All weekend he was showing why he is called the "tandem killer". During practice I got lucky enough to sit next to him when he was chasing Ukrainian champion 2010 Alexandr Greenchuck. This single run is worthy of separate story! The car seemed to work perfectly, but unfortunately in the semifinals the 350z's clutch broke and he was left with fourth place.
So The FXOpen Drift Belarus 2011 was won by Latvian driver and winner of EEDC2010, Kristaps Blush. Second - Juha Rintanen, a Finnish drifter with lots of experience and 800 N/m, and the winner of  the FXOpen Drift Belarus 2010. Third: Jakub Przygonski, a Polish drifter with an SR powered AE86.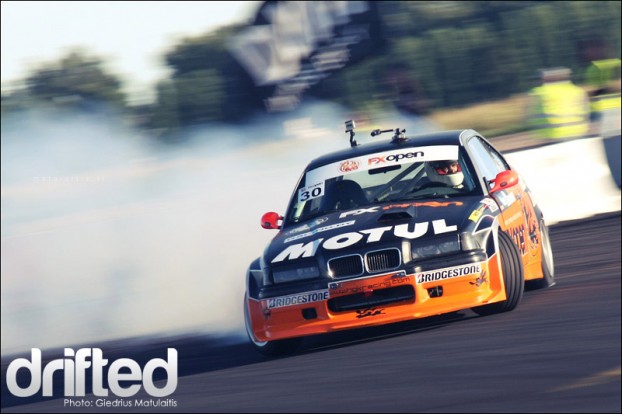 Such a huge event and so hard to pick moments to write about without making it in to a book. It's better to see it with your own eyes… FXOpen Drift Belarus 2012 maybe?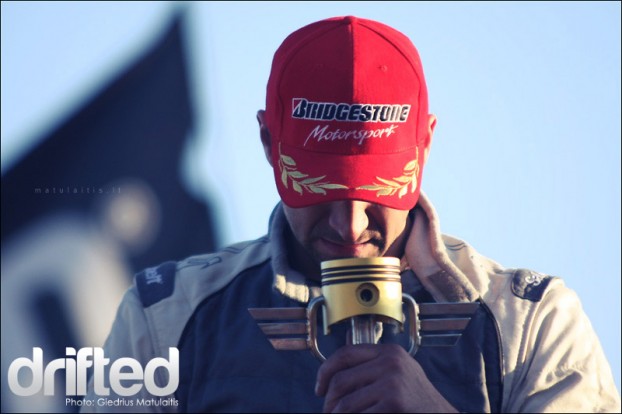 Well  next stop is my home town Kaunas and EEDC 3rd stage in Lithuania.
Cheers
More photos: 1st day (training), 2nd day (race day)
Text: Mantas Kuzmarskis, FX Open Drift Belarus refferee, Lithuania