DRIVER BLOG: David Wheaton's Mustache Machine
I had the opportunity to come out and shoot my buddy David Wheaton's car a few weeks ago and had a blast in the shop shooting the famous "Mustache Mobile". I interviewed him shortly after to get an insight into the back story and history of his latest build.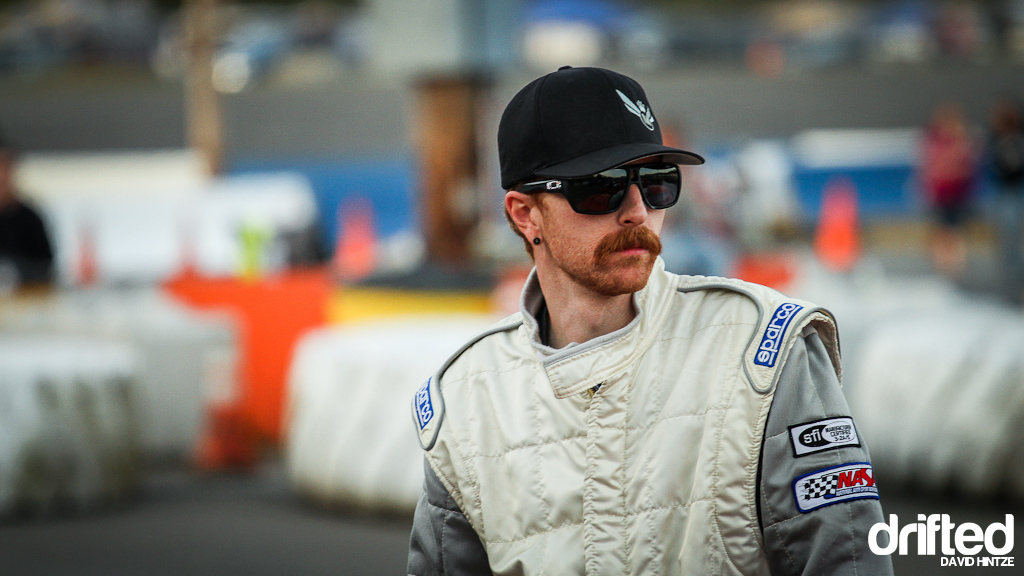 I Grew up in Monterey, California. I started going to races at Laguna Seca when I was 10. That's when the love of cars I received from my father morphed into a passion for racing. After having my heart broken by cars countless times, I moved to Colorado and found a new love of racing downhill bikes.
After a few years of playing in the mountains, it was time to return to racing so I moved to the Bay Area and started working at Sears Point Raceway. There I met my beautiful wife to be, and she convinced me to move to Seattle. Being a smart lad, I followed her up here. We have a great house with two awesome cats (Moose and Draco) and a house plant named Bruce.
I started restoring cars as a kid with my Pops. He was a pilot in the Air Force and would tinker in the garage on nights and weekends. After high school, and a number of cars, a friend of ours told us about this new activity he had been participating in… Open Track.
This was a completely new idea at this time and was very intriguing to both my father and myself. We started open tracking, and then moved to vintage racing as well as trying our hand at karting. Racing started to get serious for me, and I decided to pursue open wheel racing at Jim Russell, and from there I tried Spec Miata, Formula Mazda, Pro Formula Mazda, Time Attack, Touring, and Enduros(including the 25 hours of Thunderhill), as well as instructing and coaching. Eventually, a friend and co-worker suggested I try drifting.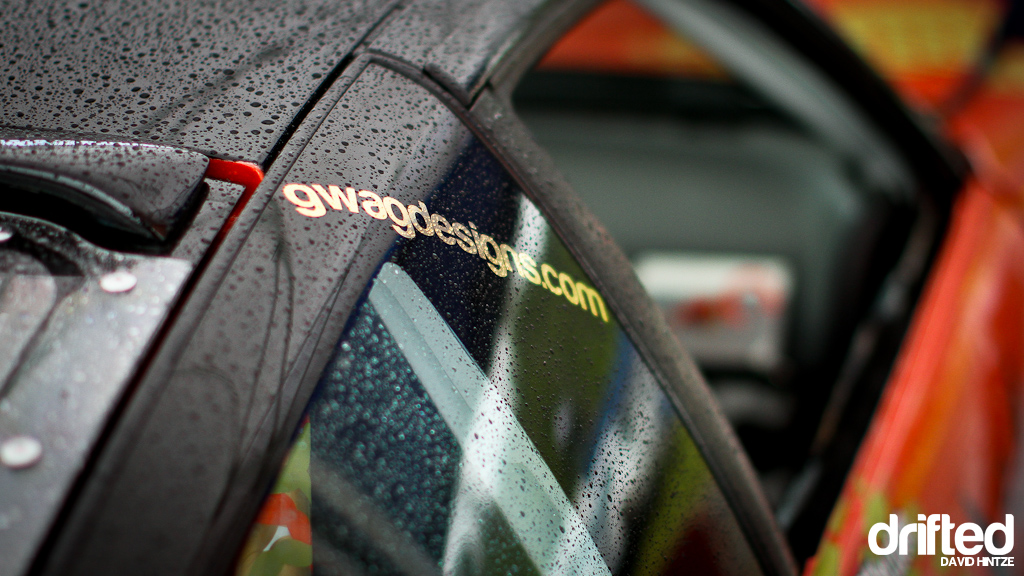 It sounded fun, I did it, and it was. So I bought an SR'd S13, put in a V8 and tried to run Evergreen ProAm my first season of drifting. I wrecked in practice, fixed it by the next round, and I've just kept on trying and learning.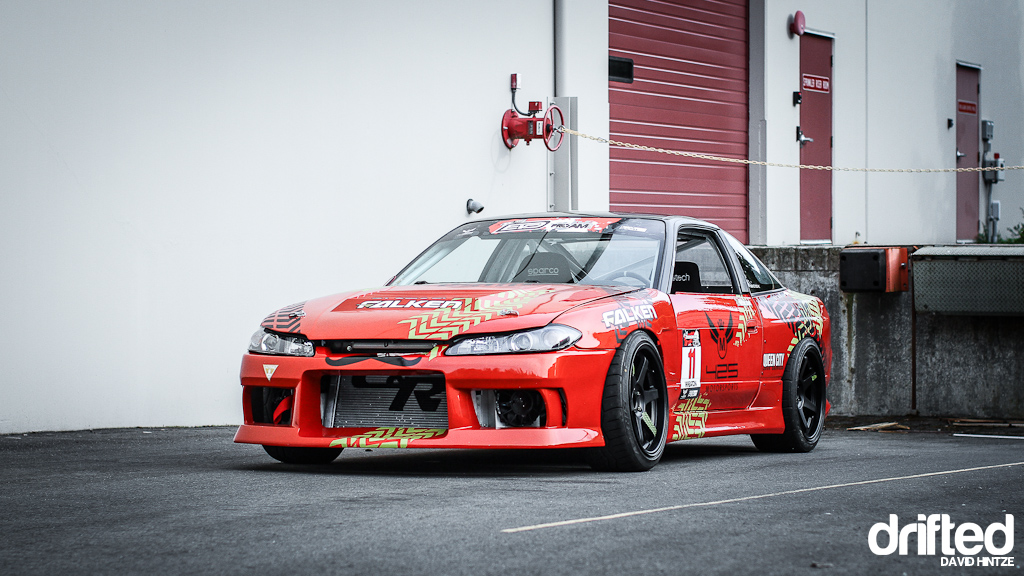 S13.5 Hatch with 30mm front fenders and 50mm rears and tube front end. LS2 mounted with Sikky swap kit. Stance 3-way coilovers, Powered by Max arms and knuckles, SPL rear lca's and custom front lca's. Rotora 6-piston front brakes and 4-piston rear.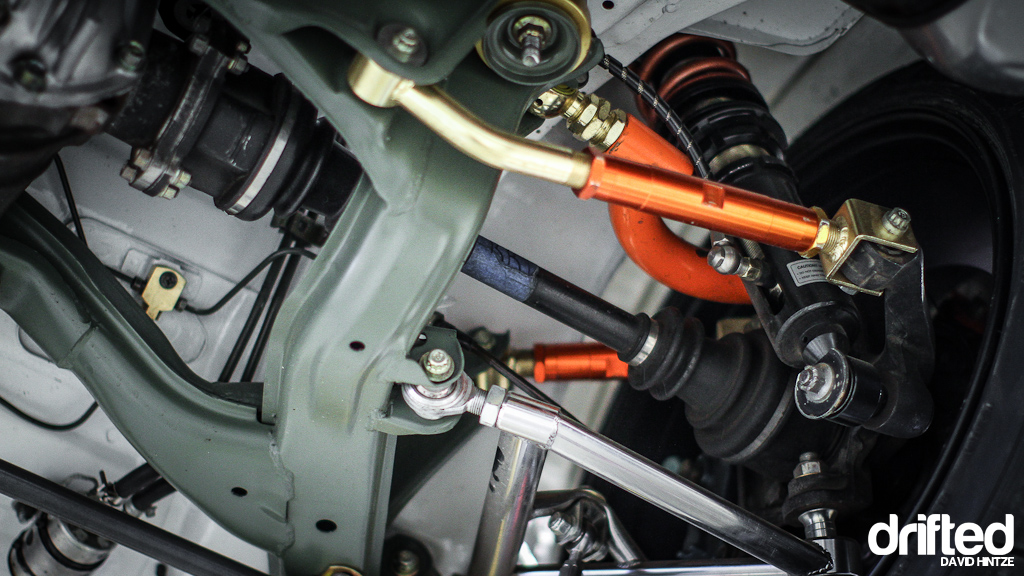 I have a racing background so the setup of the car is all about proper geometry and functionality. Adjustments are abundant throughout the entire car which allow me to really tailor the setup to how I'm feeling/driving and as I progress and learn more not only about driving, but the setup as well. I'm learning to drive, setup and even build the car all at the same time.
So the mustache started out as a joke. I bought this big magnetic mustache to put on the front of the tow rig. Wouldn't fit. So we threw it on the hood of the 240 and it just fit. After the wreck, the whole car went to fiberglass panels, so Dan from 425 Motorsports had a vinyl one made for me as a joke. It's still on the car today. We decided to add a couple mustaches to the rollbar inside to add a little color after paint.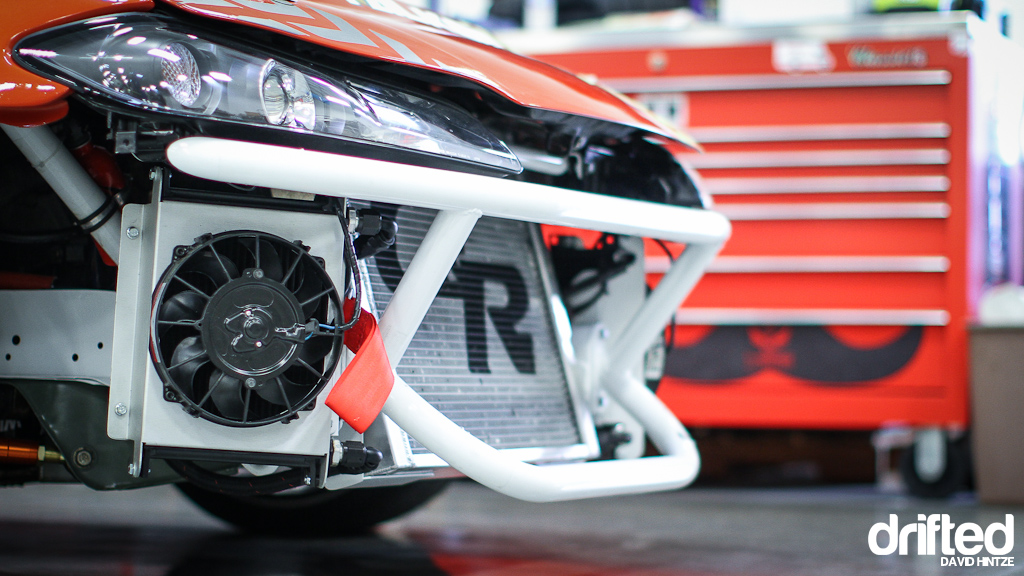 The wheat, well, is supposed to be tank tracks. I thought it would be fun to add a little military action to the car since I grew up as an Air Force brat.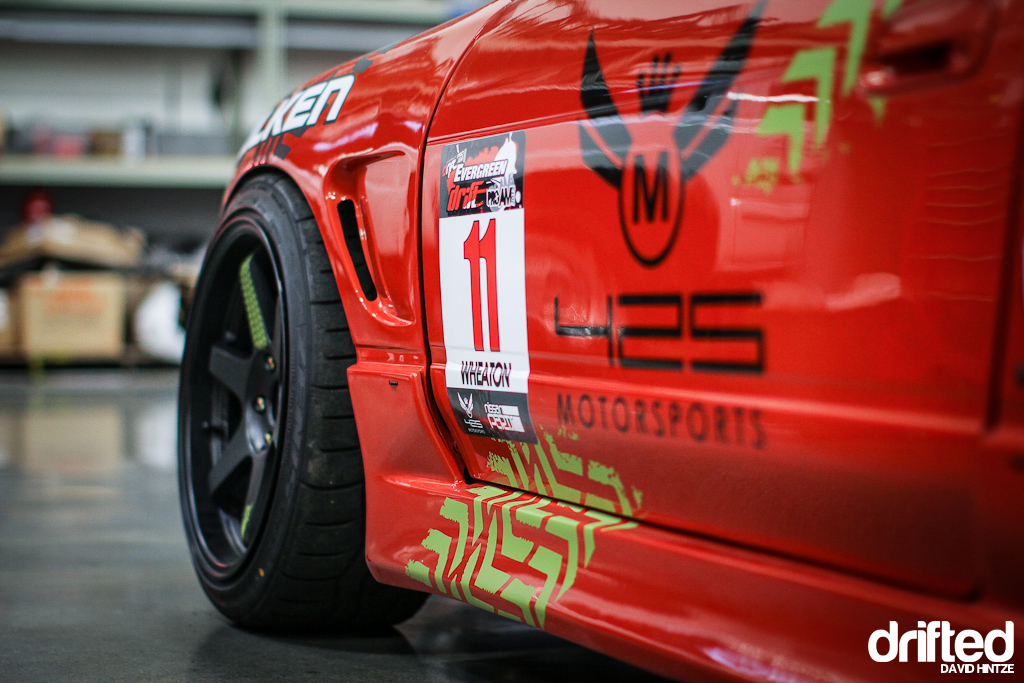 We accented the underside with flat green, gold, bronze and grey, so I thought it would be fitting to do tank treads on the top. Ian Dillon from Factory 83 came to the shop and did a freestyle graphics setup.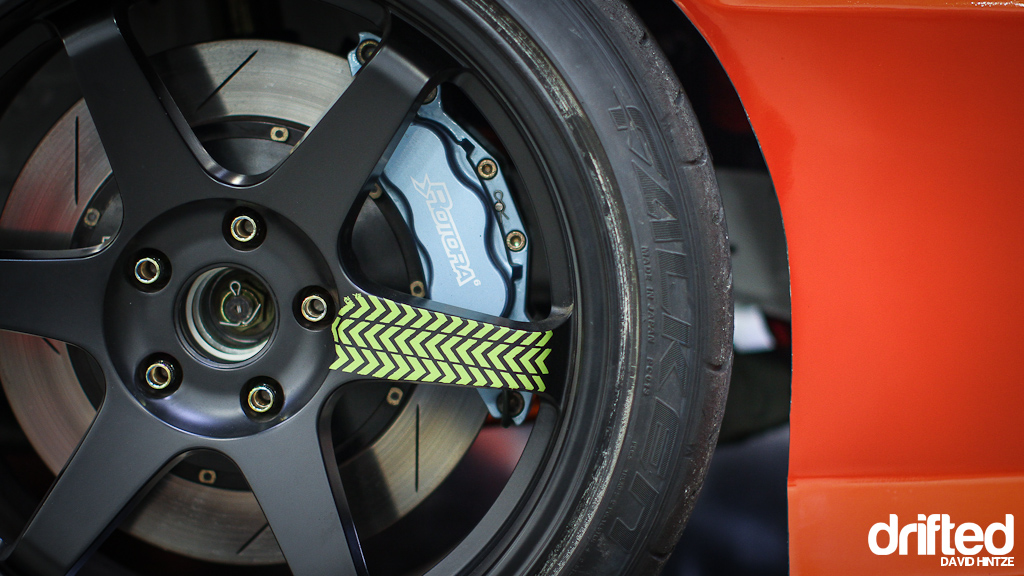 We knew the colors we wanted and the general idea of the car, and he just went for it. It does look like wheat now that you mention it. Uh, we did that on purpose, yeah, that's it. 😉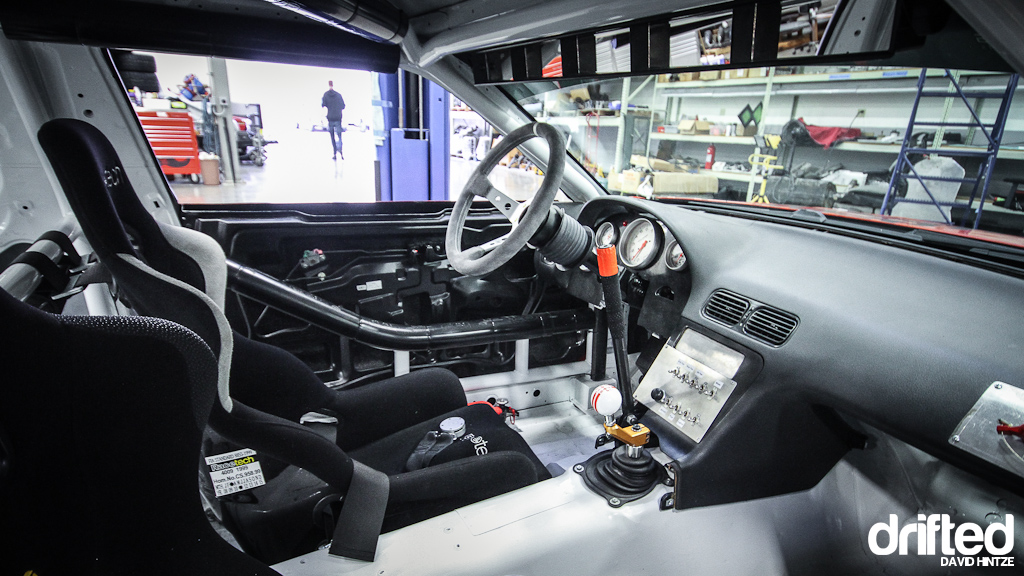 Every single time I take the car to the track, I learn more and more. Hell, I've probably only done 12 open drift/comp days since I started drifting last spring.I've never drifted on the street and have never even driven my drift car other than the events at PGP or Evergreen I just mentioned. I truly enjoy drifting.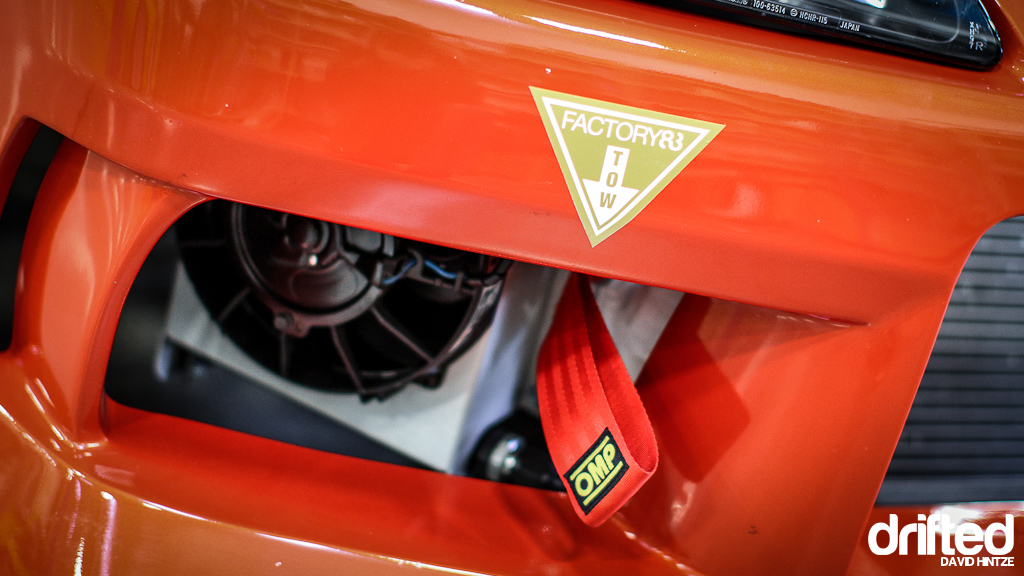 The driving is so free and your personal style just exudes from every part of it. From your tow rig and trailer, all the way down to the color and where you place your stickers. There is an individualism unlike any other motorsport. I would like to be able to continue drifting, but also continue in other aspects of motor racing. I will always be passionate about wheel to wheel racing, especially endurance racing.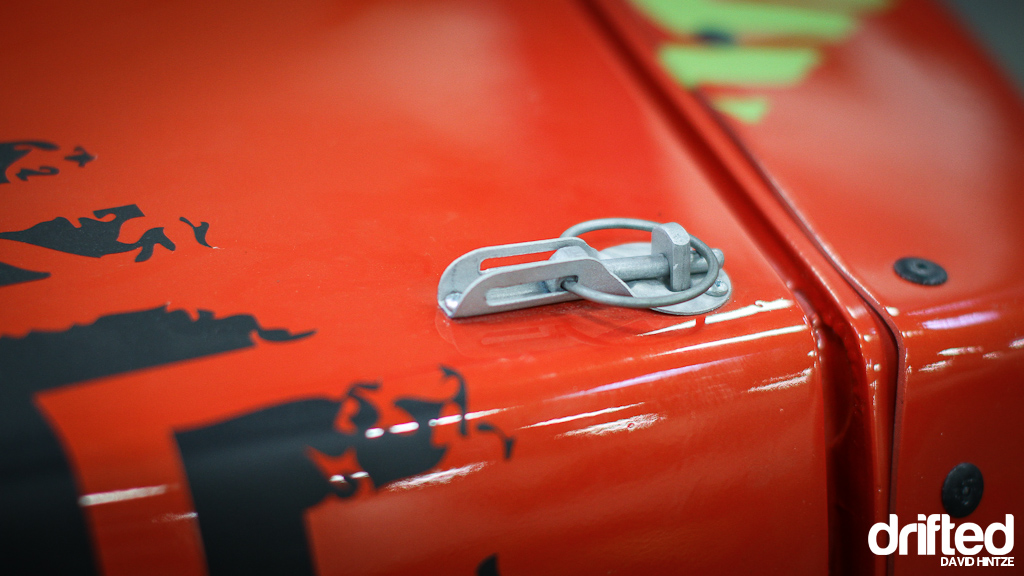 The most important thing I have learned is patience. Whether it is in the car waiting until the perfect moment to turn in, pick up the throttle or pop out for the pass. Or outside the car, even outside the track. Learning to be patient, learning to be able to let things happen as they may and learning when and where to apply pressure.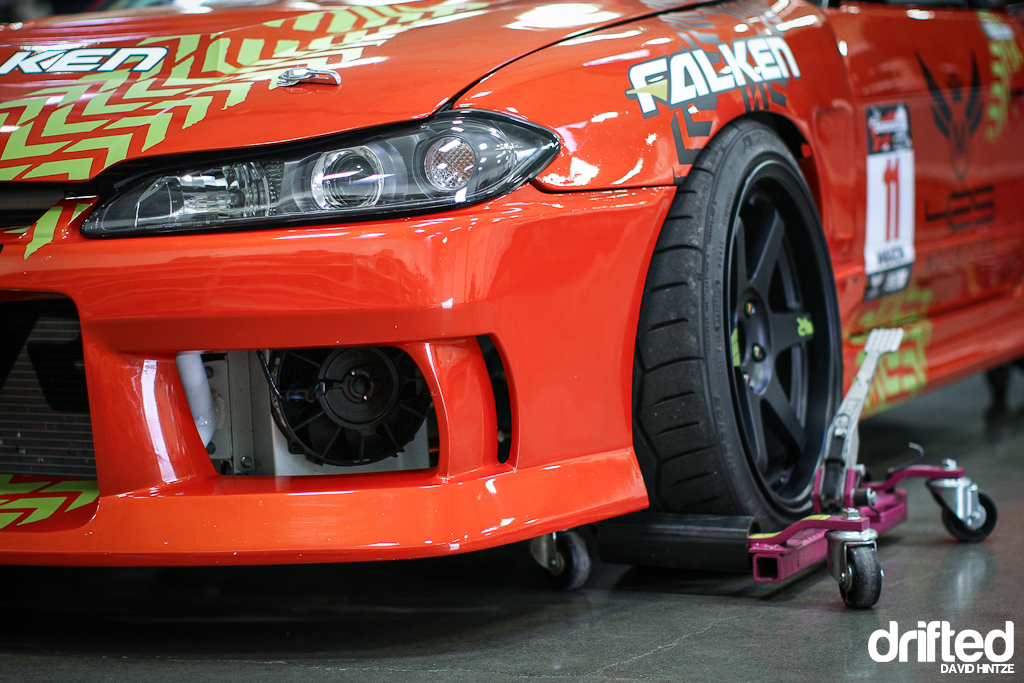 It applies to sponsors, the officials, other drivers, everyone. Finding the proper moment for each and every action we take and perceive. And as always, if you're not smiling, not having fun, you're doing it wrong. Take a step back and make the necessary changes for it to be fun and remember why you started in the first place…Fun. That, and impressing girls.
Shoutout and Sponsors:
First and foremost, my loving Fiancee, Mary Lyford. My good friend and crew chief, Kenneth Pitts. 425 Motorsports, Ian Dillon of Factory 83, Zebra Club, Queen City Auto Rebuild, NissanParts.cc, Falken Tire, T-Zero Racing, David Gwag Hintze of GwagDesigns.com (photos), Huck Gee, and of course, Mom and Dad.
Check out all these photos in HD plus some extras at: www.GwagDesigns.com
-David