DRIVER BLOG: Fredrik Oksnevad – Team DriftMonkey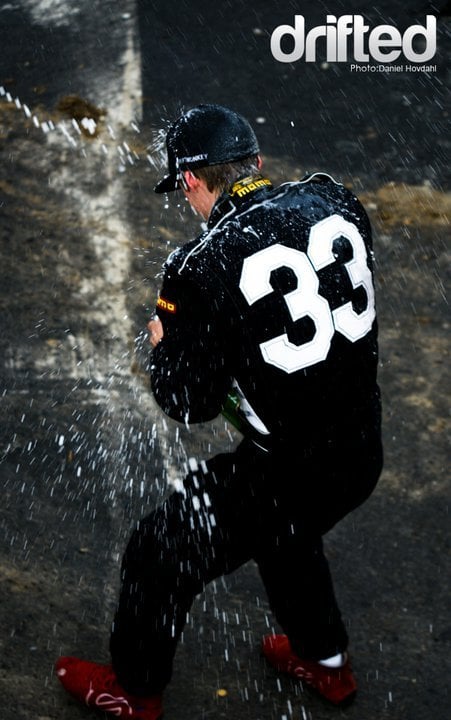 Hello to all the Drifted readers out there!
My name is Fredrik Oksnevad, nicknamed FredOX, and I'm a drifter! First time blogging here and I hope this is something I can continue to do. I am really grateful to be part of the Drifted crew and to be able to bring you my driver blog.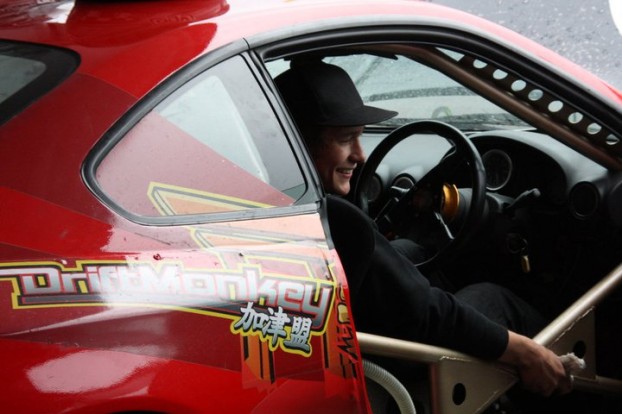 Since this is my first one, I want to introduce myself, tell you guys how I got involved in drifting and what the plans are in the future! I don't think many of you know me as a person, other than I'm driving for, Team DriftMonkey!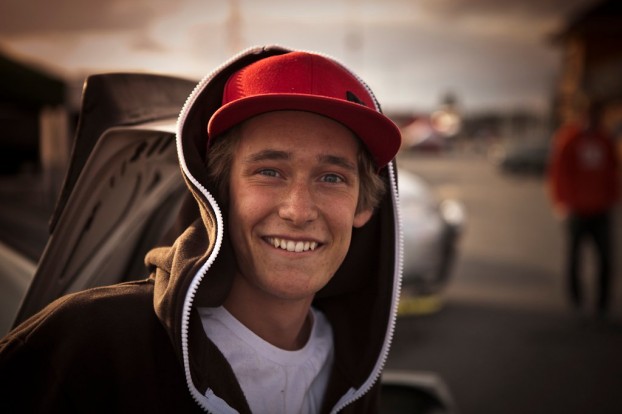 I am 20 years old and live 1 hour south-east of Oslo, Norway. I have just moved over to this side of the country to be a part of the drifting community and also to follow my dream as a drifter running a full series of professional events in other countries world wide! This is just my 3rd year behind a steering wheel, but still I know that this is what I live for!
I bet you guys have heard of Norway's biggest car festival Gatebil. It was in 2007 at a Gatebil event that I for the first time really got my eyes open for drifting! Sliding your car from side to side, while the smoke just pores out from the tires!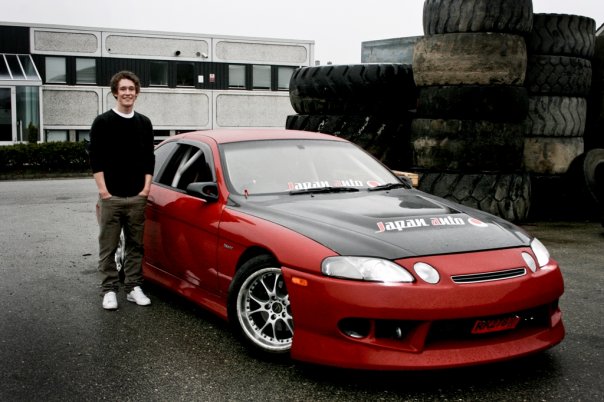 I like to imagine that every little kid in some way find's this interesting. Especially for me and at an age of 17 I bought my first car ever, it was a Japan imported Toyota Soarer 1JZ!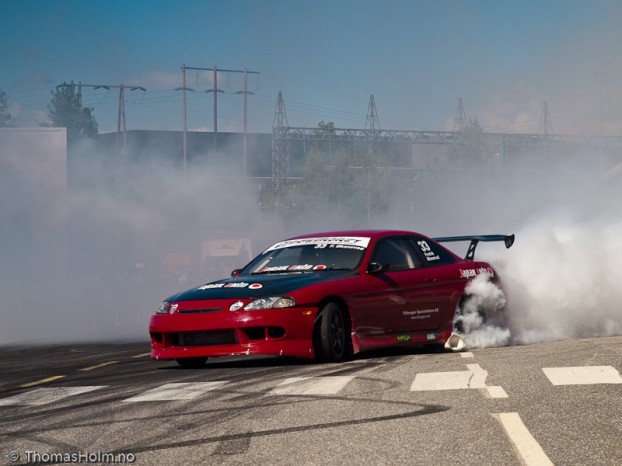 That first winter in 2008-'09 I striped the car and build it up for the regulations here in Norway. For 2009 season it was pretty stock, just a small boost increase, but still it worked out great for me as it was my first year.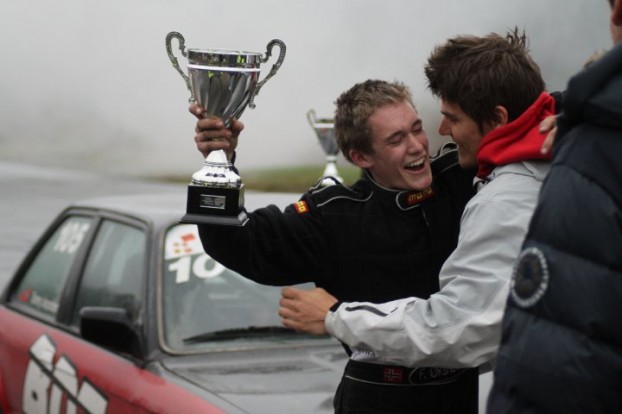 To sum my first year competing, in my first competition I qualified first and ended up second place in pro am group. Total of 4 out of 5 podium finishes landed me to grab second place overall in the series in 2009! I was stoked and could not believe what achievement I had my first year drifting!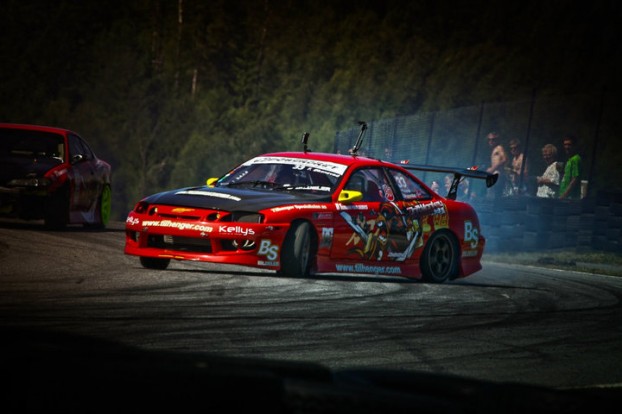 Then the adventure begun! DriftMonkey Clothing came on board as a main sponsor in 2010 and I participated in the Pro class as the youngest driver on the starting grid! First competition that year I had the biggest achievement considered at that time, a bottle of champagne and 1st place trophy.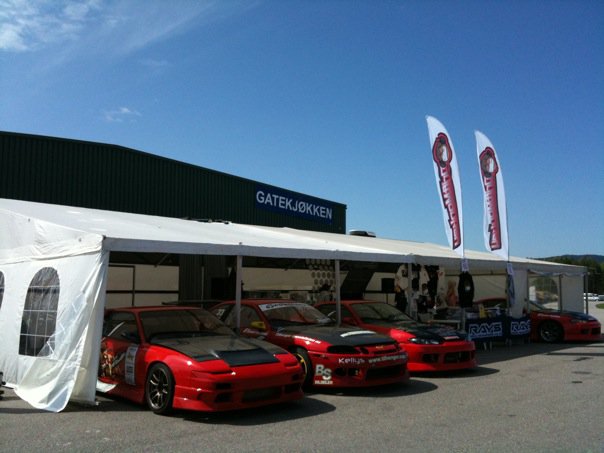 Rest of that year was summed up with 3 out of 4 podium finishes and 4th over all in the series, in my first year running Pro class here in Norway! Along with the great results in the Norwegian drifting series Powerdrift, I also got the opportunity to attend all Gatebil events together with Team DriftMonkey!
At that time I was the first and only Norwegian drifter for the team. Ove Harlem who is the owner of DriftMonkey clothing and also the team, hired in familiar faces from Japan. Murata-san who is the owner of Good-Road shop and also has built all three S15 DriftMonkey cars, was with us for 5 Gatebil events in 2010.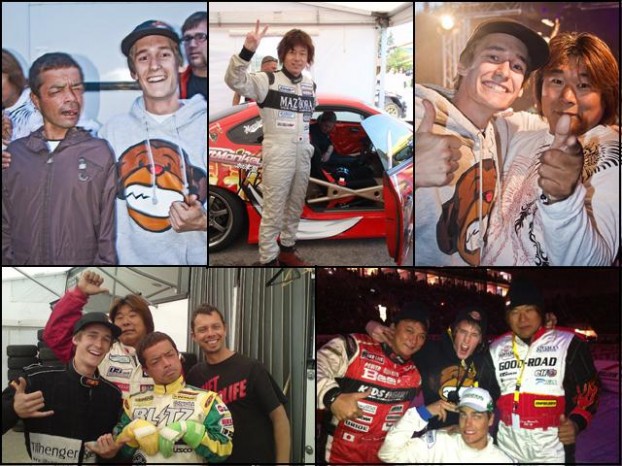 Other great drifters that was with us I 2010 was Kazu Hayashida, former drifter in D1GP and Formula D driving the Signal Auto R34, R.Y.O himself, Tezuka-san ho is the driver of Bee-R Skyline R324 in D1GP and the master himself Ken Nomura, Blitz Skyline driver!
As for me from a driver's perspective you could only in your wildest dreams get the opportunity to drift with so many highly respected drifters through one year! I'm so grateful and it's only Ove Harlem ho shall have the honor for that, THANK YOU!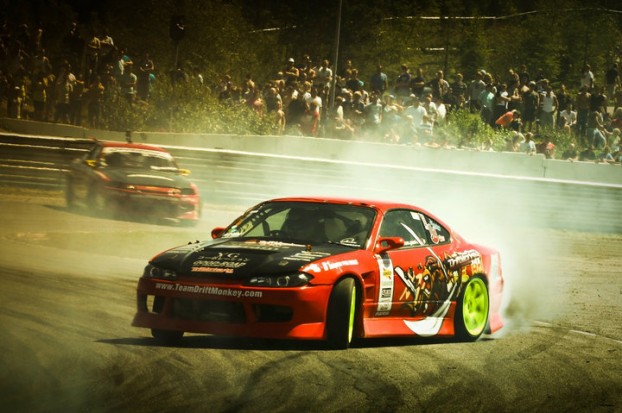 My co-operation with DriftMonkey clothing went as good at it gets! 2010 was a dream year for me and I got the opportunity to experience a lot of things and drift at places that I wouldn't without them!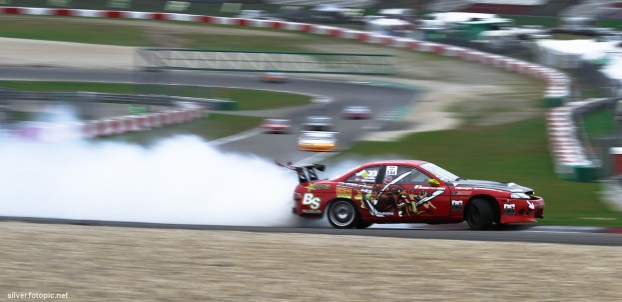 Especially a trip to Nurburgring with 3 other Norwegian drifters to compete at the Falken tire European Championship that IDS organised. The course was Mulherbach-slaifhen that consists well known turns as Michael Schumacher S and Dunlup turn!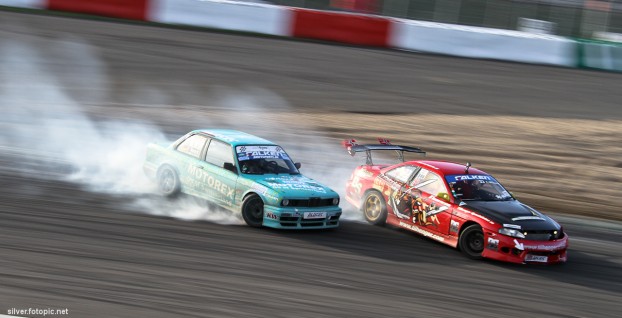 Michael Schumacher S is a very high speed turn, and I was worried that my Soarer wasn't powerful enough. That turned out to not be true, 4th gear clutch-kick and just roll onto the power! We measured speeds up to 93mp/h, slightly uphill. Through that weekend I ended up 7th place out of 52 cars at the qualifying grid! Yet again, I could not believe it! I was so happy and it is because all the help I have been given! Without the help from my sponsors, teammates, friends and fans I would never progressed as much throughout that year!
This year!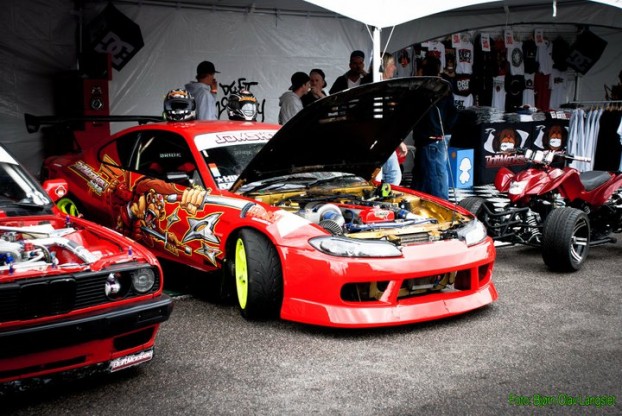 New car, new team drivers, new clothes, new stand, new everything! I have sold my Soarer because DriftMonkey clothing has stepped up there sponsor deal for me as a full driver of the Team DriftMonkey S15 2JZ. This is also the reason that I have moved out and to the other side of the country.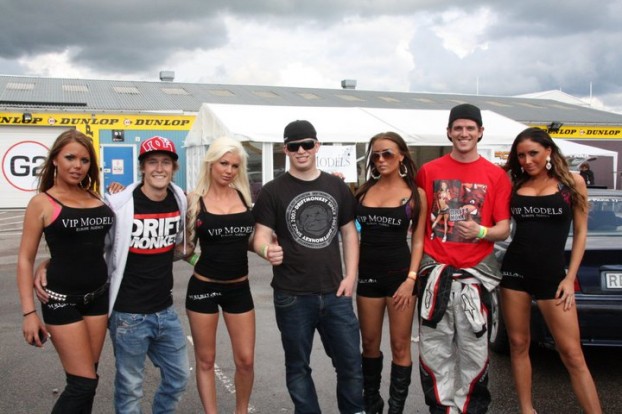 This year I'm not the only Norwegian driver for the team. Ove wanted to be a hundred percent Norwegian team this year, so by my side I have Tor-Anders Ringnes (middle)- driver of the Team DriftMonkey Supra and also Reidar Andresen (right) ho is the driver of the Team DriftMonkey OneVia.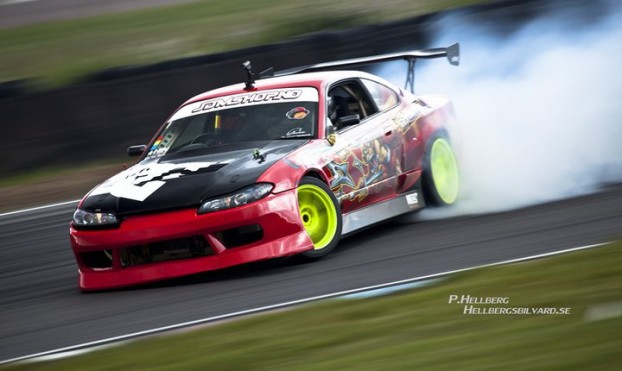 So far this year has been great! I really like the new car, although a Silvia S15 is a big difference from my old, big and heavy Toyota Soarer. The car is more responsive and is super-fast in transitions, which is great for drifting! Also driving a car with doublet amount of the power I am used to makes a big difference!

This is actually my first car I drive with more than 350 bhp at the wheels! And when that big T78 turbo kicks in, it literally hits you hard like a fist in the face! Nonetheless, I kind'a like it!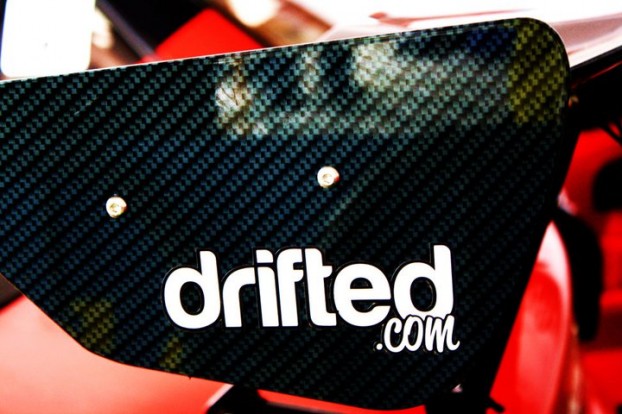 Drifted.com sticker is all ready on there, not on the mirrors tho since they are too small!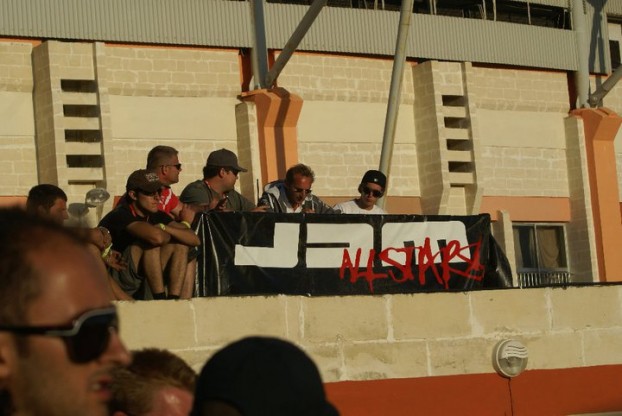 Something totally different and new for me this year is the involvement with JDM/Drift Allstars! I have so far judged three rounds and been helping Niall Gunn and Ove Harlem, how is the owners of the series, out at the events!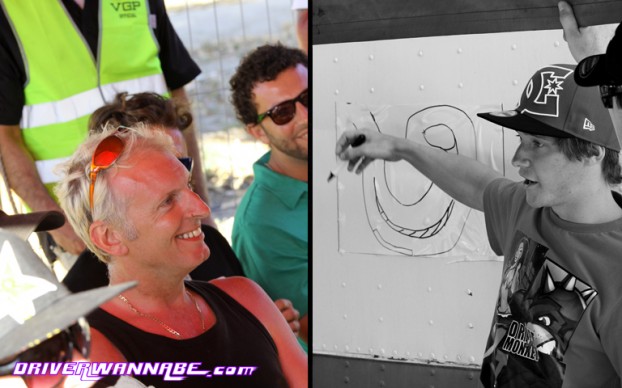 For me it's a blast! I have been given the chance to experience European Drifting on a professionally level and have met a lot of great people! Drivers that have a lot of experience and knowledge have helped me.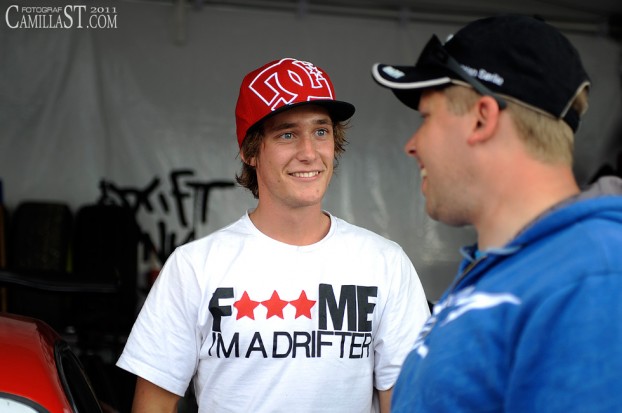 Rest of this season I'll be attending Gatebil's event together with the whole Team of DriftMonkeys!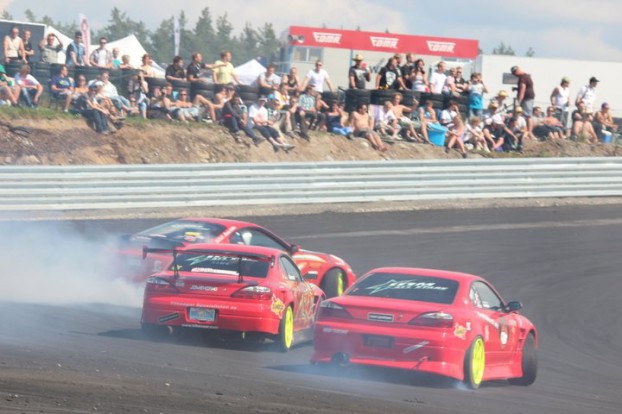 Other than that I will be competing at Wembley the last round of JDM/Drift Allstars 16-17th of September and Battle of Nations in Poland 1-2nd of October!
I'm really looking forward to test myself against European drifters that I have been watching for some time now! It will be more of a learning experience for me than a podium focused attending. Plans are that Ill be running full season in Drift Allstars European Drift Series next year, so this will be a nice test for me to see where I stand compared with the others.
Right now it's just some small events before Gatebil in September! For sure you guys will get updates before then! In the mean time you can check out DriftMonkeyShop.com or our videos that Drifted Daniel Hovdahl has made for us at DriftMonkey TV!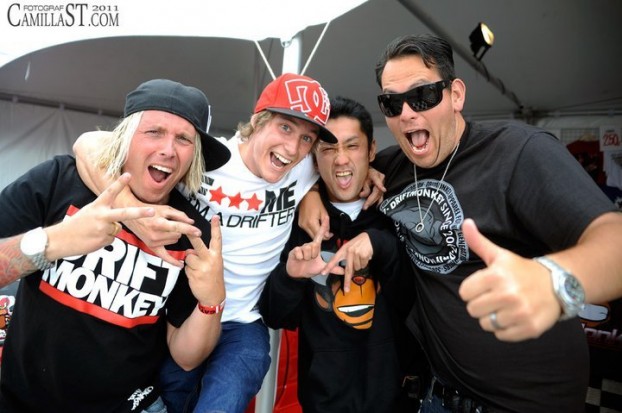 Thank you Drifted and all you readers! Wouldn't be without you!
//FredOX
No Drift No Life
–