EVENT: EEDC 2012, Round 1, Minsk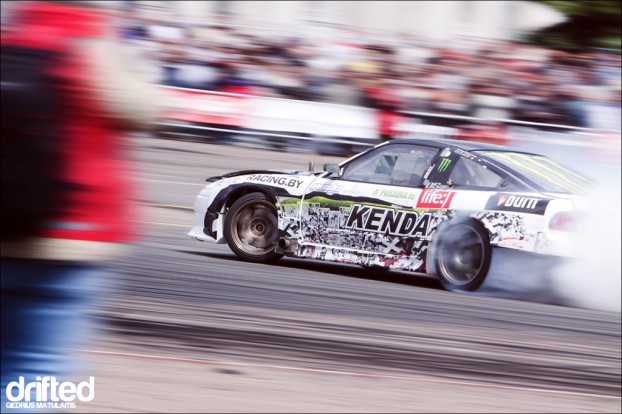 FIINALLYY! EEDC 2012 has started!
And here's a little Drift tourist guide… The weather forecast was not kind at all from the beginning of the week, so I got myself some long rubber boots and a raincoat, but nobody warned me it was going to be soooo cold; temperatures averaged around 7 degrees C (low 5s and high 9s). What a first summer weekend we had!
Got out of Kaunas (Lithuania) at 5 in the morning, straight to the Lithuanian-Belarus border, and met up (totally by accident) with Kastytis Alekna, a Lithuanian drifter with a team. The queue was terrible – people were waiting for 5 hours and we were supposed to be at the track at 9am (a 300 km drive away), so obviously we couldn't wait. After teaming up with some Latvian guys who were going to an international dog show, carrying two Royal Mastiff's (one of them was the World Champion), and armed with all the experience we gathered in 4 years of going to drift events in Belarus, we crossed to the "other" side in an hour and a half. Practice makes perfect! Finally at 10:15am, here we are at the gates of "Minsk1" air port.
I always get this strange sensation when I enter this drift track: you have to get past security; they check your car and luggage; once you're on the field you are constantly surrounded by a bunch of very serious looking men. The planes stand quietly with 50 year old MAZ-543 fire brigade trucks. In the middle of it you have a huge piece of tarmac to play with. You've got to love Racing.by for giving this opportunity, the third year in a row!
Saturday morning to noon, weather check: Dry, but a bit cold.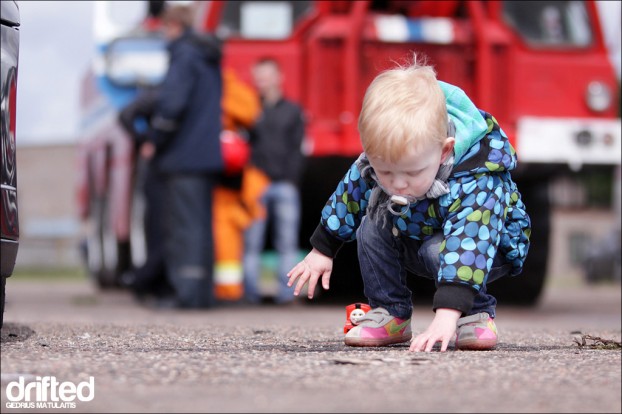 The track is open, but nobody is in a hurry to drive; the practice session lasts from 9 a.m. till 6 p.m. with briefings at 2 p.m. and 6 p.m. It is fine to chill a bit. I don't know how it is where many of our readers are, but in the EEDC we always have a first day like this: a free open track for as long as possible. It allows drivers to test different settings, to calmly gather their focus or just simply have fun without cares for tomorrow's race.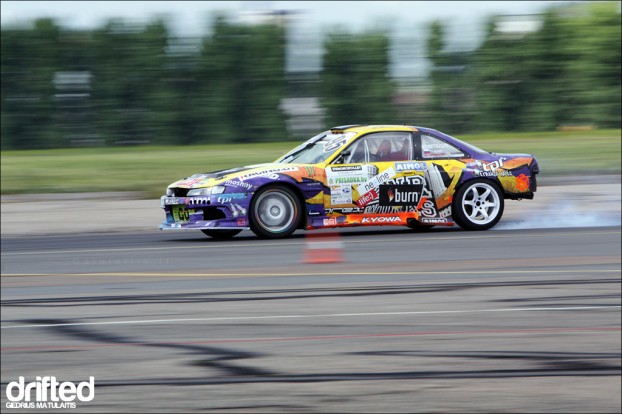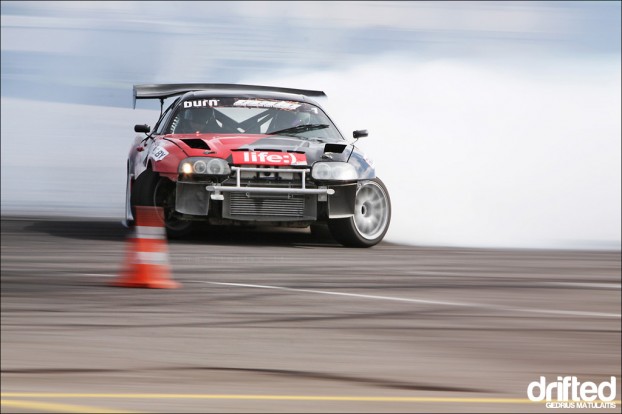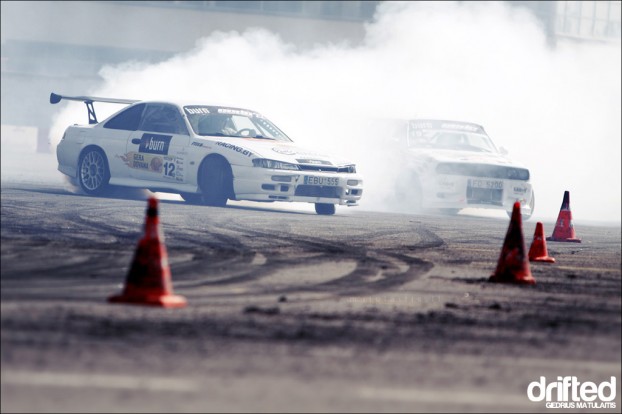 You may know the feeling of being in the paddock of the first race of the season (of any kind of sport) from early in the morning: all those smiling familiar faces; car geeks, car chicks, drift geeks, car chicks… All those fine people you haven't seen during the off season doing something they love. I think it's moments like these that everybody looks 30% younger and 50% happier than they usually do - and that is very cool my friend!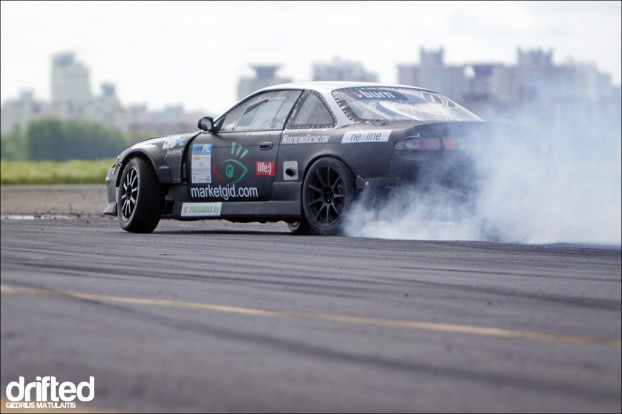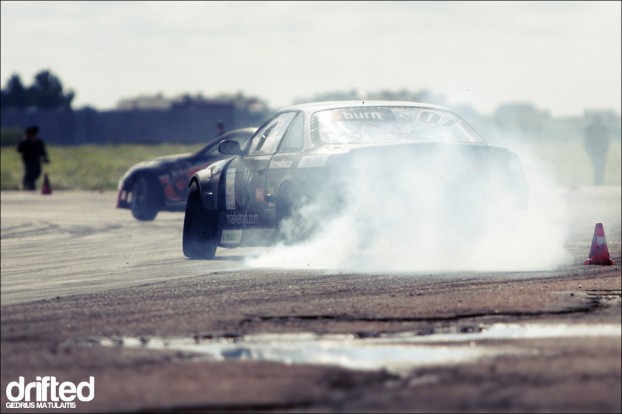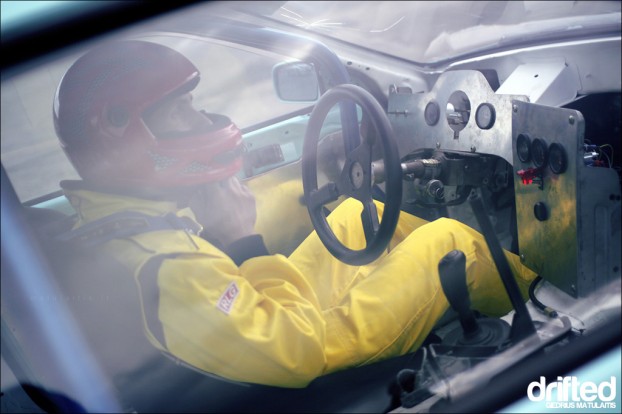 At about noon we finally got our first dose of hail. Even at a time like this, when all the pit crews were holding down their tents, and all the track boys had disappeared, one driver kept on going… Additional track time!
Suddenly it became very wet and slippery, and remained like that all the way til the very evening.
A wet track here at "Minsk1" is very tough. Because the surface changes around 7 times through the judged area, the amount of grip you have varies wildly. Places that are slippery in the dry start to grip, and places that provide grip in the dry become hopelessly slippery. If it decided to keep raining on the Sunday, angle control and throttle control were going to be the key elements for winning.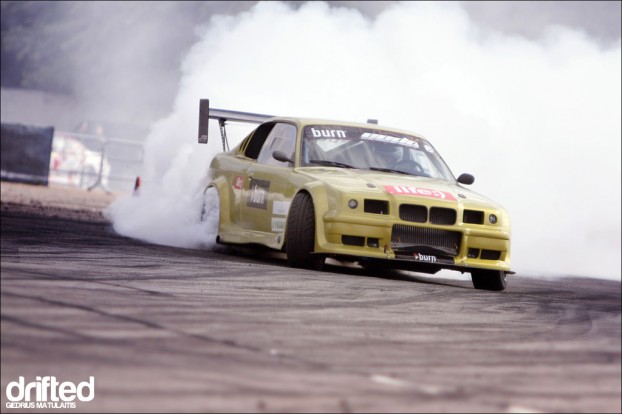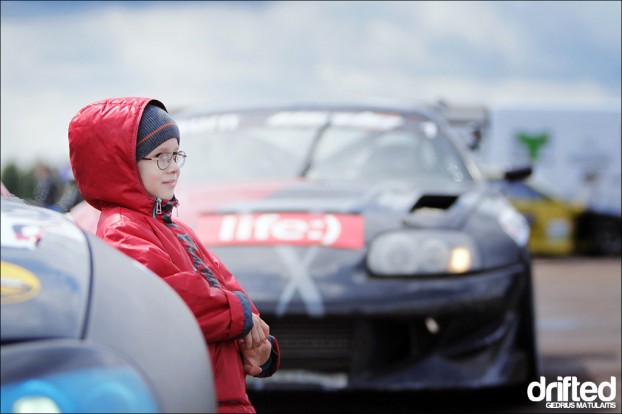 Once again, the EEDC's special gift for fans; the Participants Parade. That is also something you need to see: 20+ drift cars driving on the streets of the city, kids waiting on the side of the road with their cameras out. At the parking lot where all the cars stopped for half an hour, there were probably around 1,000 people waiting (in 7 degree temperatures, whilst raining).
At 9p.m. we finally got something decent to eat, and then a shower and bed. All the signs showed that the heavens hadn't finished with us and will continue testing our resolve to KEEP on DRIFTING and KEEP it FUN.
Sunday morning 09:00, sunny
The mood is completely deferent, its all about business today. A quick driver's meeting and then on to the track for the last training session. Some more drivers came at night and early in the morning - 35 in total. About 20 who would surprise you, and about 10 who can take on anyone in the world on a good day, and about 5 of them, any day.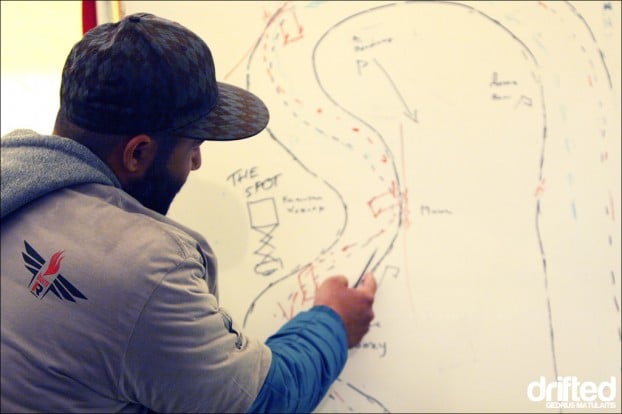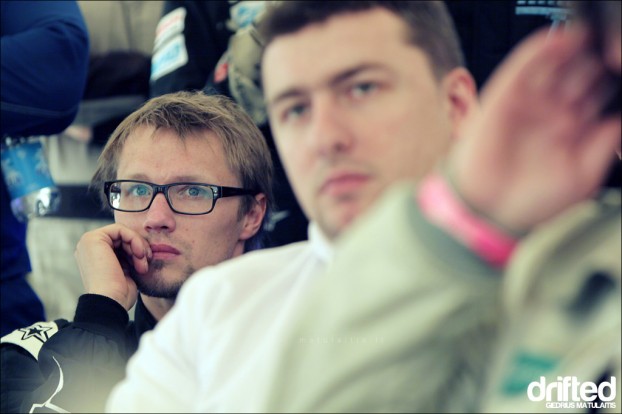 At 12:00 training time was over. The last driver's meeting before qualification and then on to the participants presentation. The part of the race day that I truly like very much and always try not to miss, so this time I decided to pick the best spot to watch; the Judges stand. It's the kind of scissor lift that goes as high as your average 3rd floor, and because it's a smaller one it gets a bit shaky when all the way up. So here we are, me and my pal photographer Giedrius Matulaitis, enjoying the show down below when completely unexpected, here comes more horizontal hail. Of course we immediately decide to go down, but the damn scissor lift refused to, and because nobody could hear us, the only thing we could do was try to balance it with our own weight, and I'm not kidding here.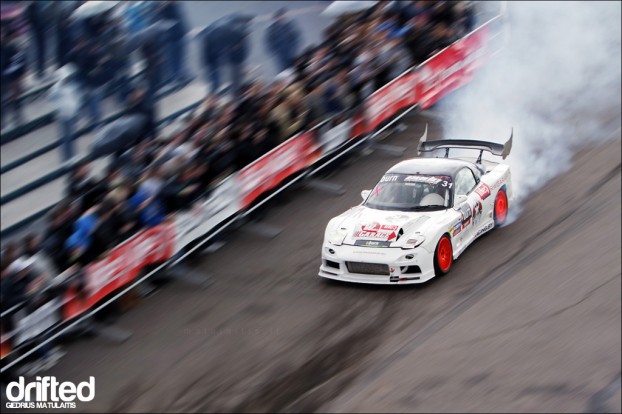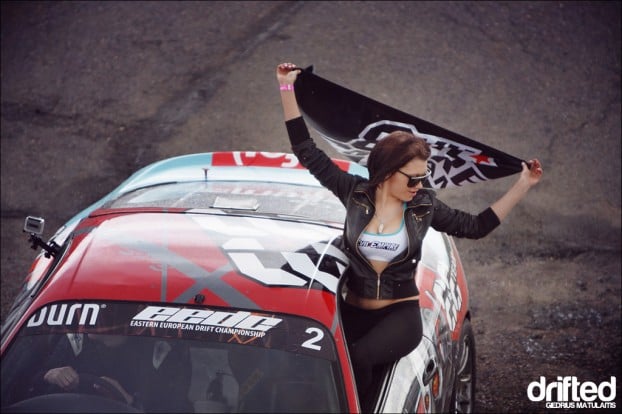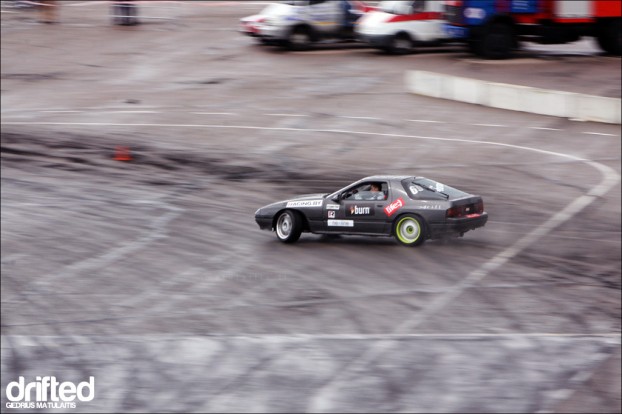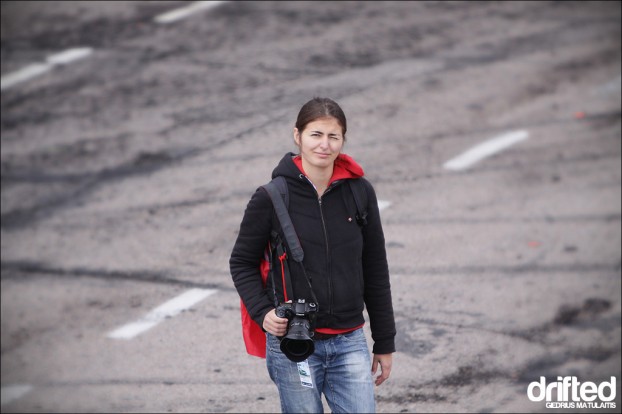 So after about half an hour we were released from the tower, and the event went on to the qualification, which was quite interesting with some unexpected results. A part of it was on the dry surface, and a part on the wet. On occasions like this, as a judge, you have to consider the change in difficulty (wet vs dry) and factor it in your scoring.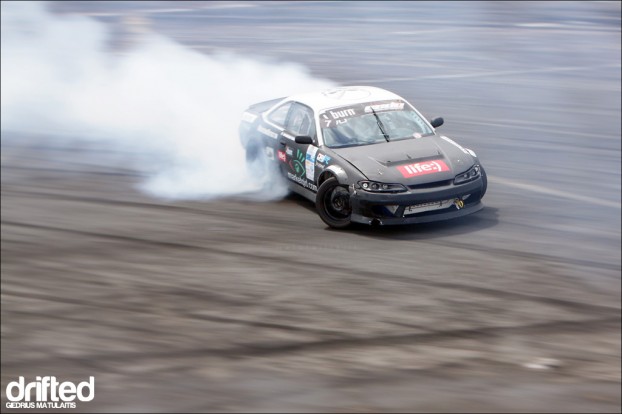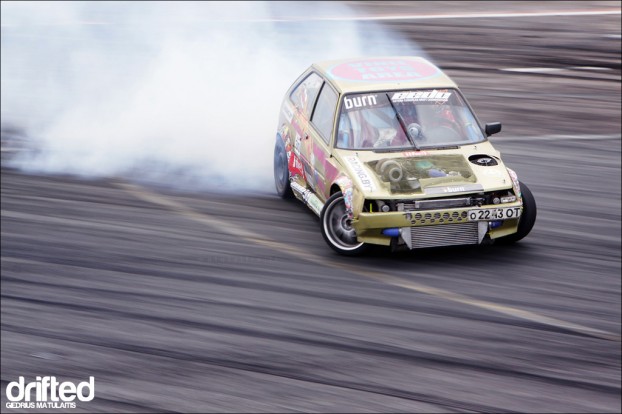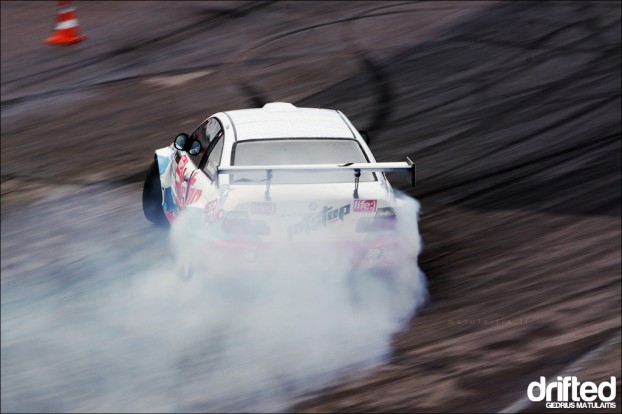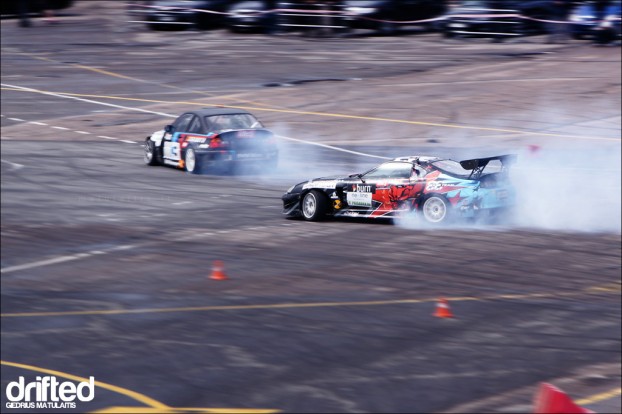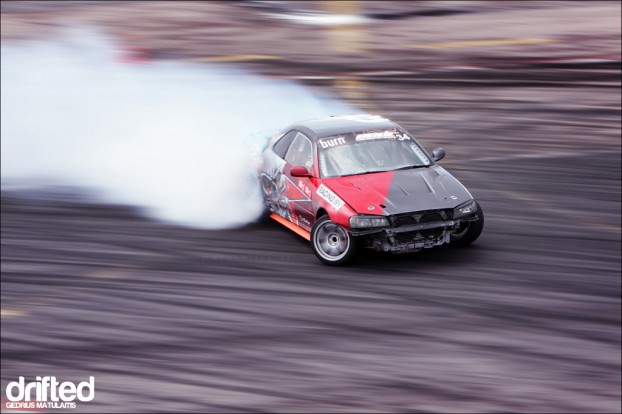 I was especially surprised about the new Belarusian driver, 18 year old  Aleksei Vishnevsky (Алексей Вишневский) with his low powered S14 (if I'm not mistaken - stock engine with boost upgrade, exhaust and FMIC). One of the weakest cars on the grid. His runs were, although a bit low on speed and impact, spot on in terms of line and angle (he was as smooth as it gets, which is very difficult on this layout when wet) and he was the only wildcard in the top 16 drivers.
And now the fun begins
Because of participants technical issues and some drivers being too unstable, we decided for top26 format. 6 top drivers at qualification advanced to top 16 automatically.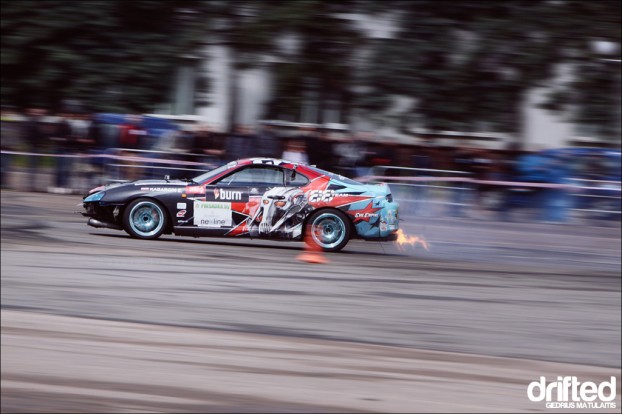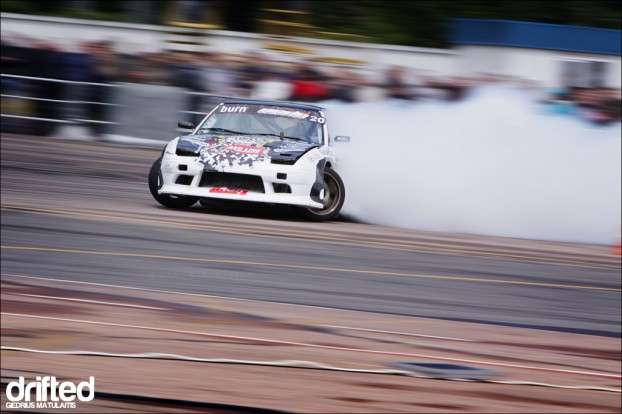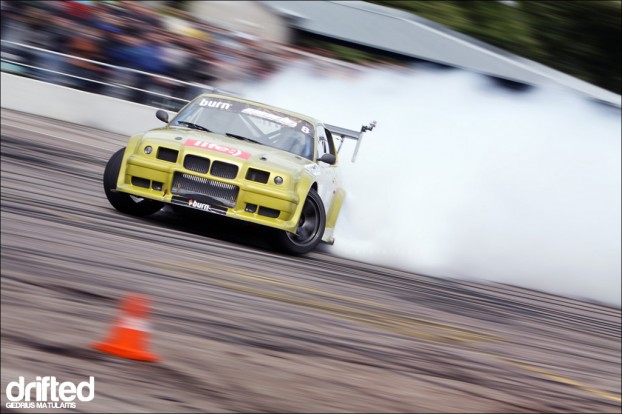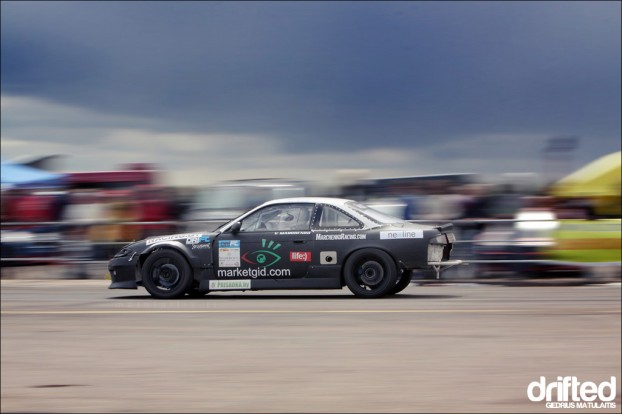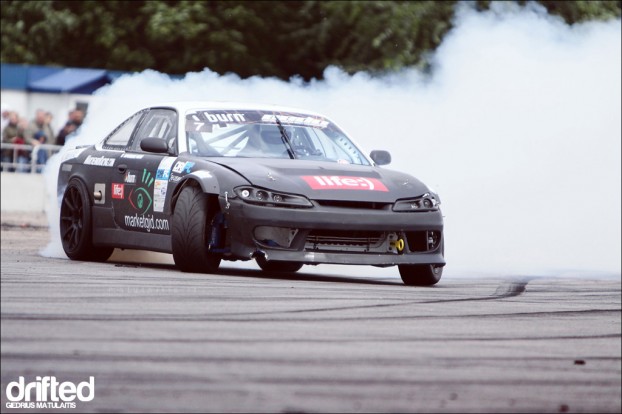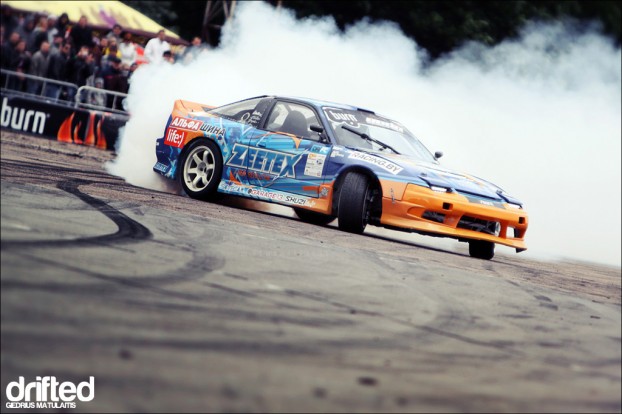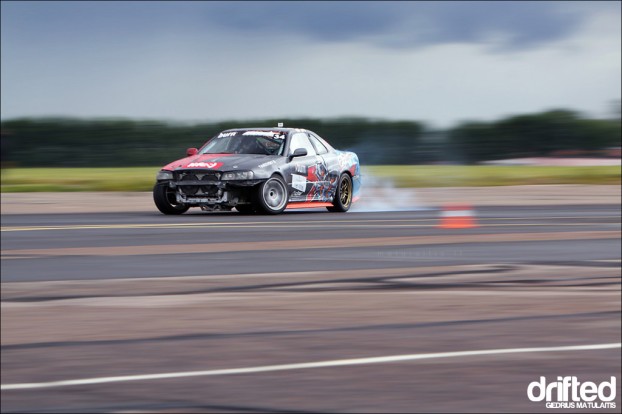 As usual, the first tandems on a first race in the season are always a bit shaky, and again there were quite a few unexpected outcomes. Aleksei Vishnevsky (his qualification runs were in the wet, and during the first tandems it became almost dry), he adapted his driving style to the capabilities of the car. He compromised his line and angle to be able to drift this pretty fast layout and his opponents. That is the skill of a race driver – an ability to use the car's kinetic energy and be stable run after run.
TOP16 battles
The number 1 qualifier made a few silly mistakes and got kicked out. The battle between the weakest car on the field (Aleksei Vishnevsky) and the most powerful (850hp and 1250Nm TTV8 e36 driven by Vents Pecaks from Latvia). The monster looses; Ivo Cirulis (who drove without mistakes both days) made a big mistake…
TOP8
Kastytis Alekna (Lithuania D1Sport) who also was very comfortable in the wet, makes a big mistake on entry when following Ivan Kurenbin "Race Wars" from Russia.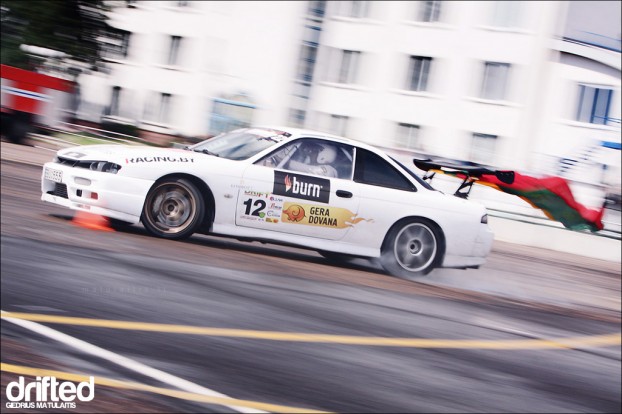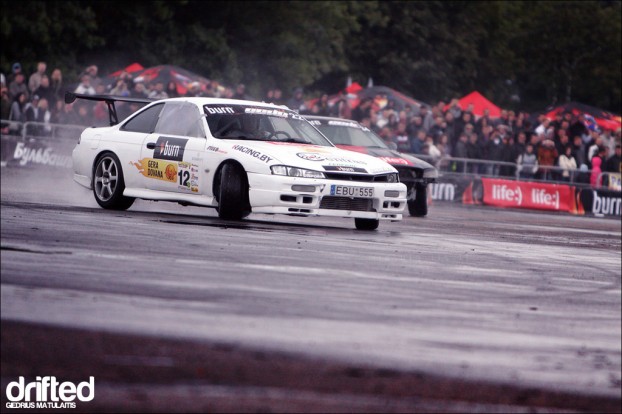 Andrey Bogdanov "Addinol Motorsport" Russia (former champion of Russia), after a few years of misfortunes, finally got in to shape but met up with this time stronger Dimitry Iljuk "SpecR" Ukraine Odessa.
Cergey Kabargin "EvelEmpire" Russia made a mistake and allowed to advance, again, youngster Aleksei Vishnevsky.
And the most impressive top8 battle: Gvido Elksnis ("Race Solutions" Latvia ) vs Aleksei Golovne (Chepa) "Zeetex Tires' Ukraine. Gvido was as impressive as ever on the leading run, but got way too wide on the following one, and Chepa was a little bit less impressive but managed to do both runs equally strong…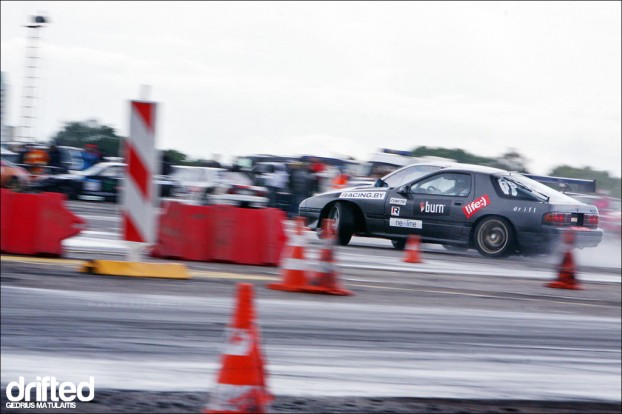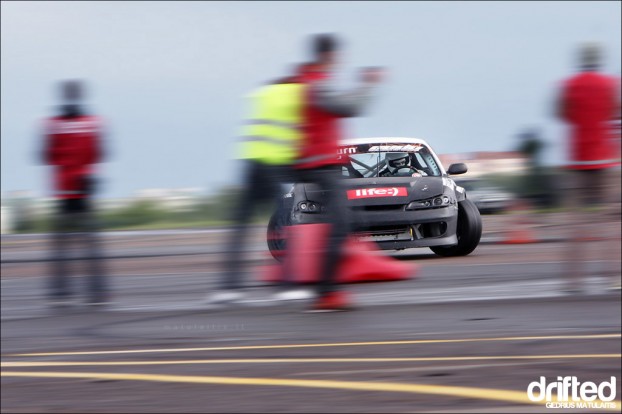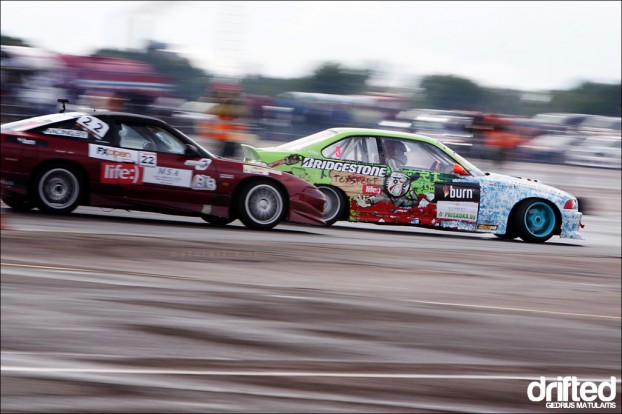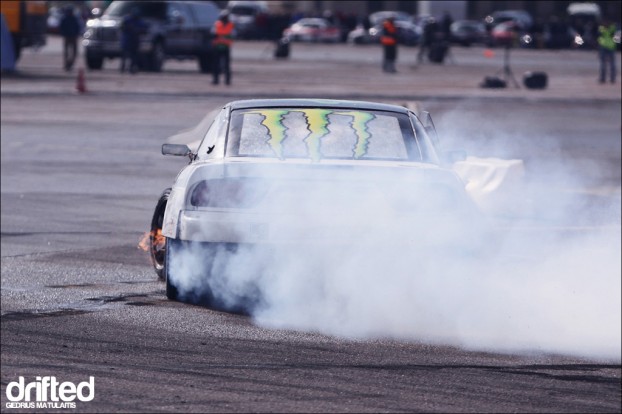 TOP4
SpecR vs Ivan Kurenbin "Race Wars"- well here Dimitry was just way stronger.
And the "wild card" Alexei vs another Aleksei Golovne (Chepa) "Zeetex Tires'. Last year, Chepa was spectacular, but he lacked stability, or should I say, experience. This time, he showed how much he has grown; a very precisely chosen line on the following run, and a completely eyes-shut ears-covered run when leading. Chepa advances to the final.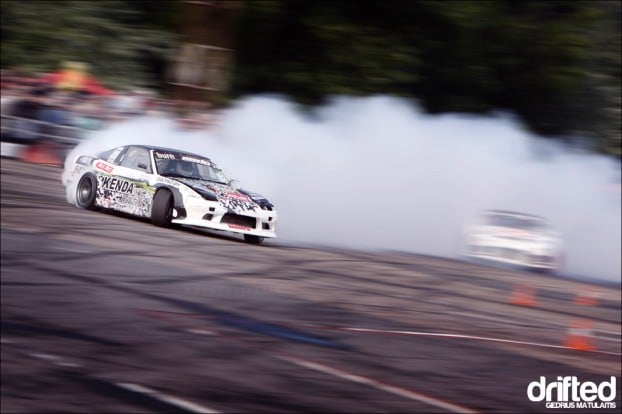 Battle for the third seat.
Aleksei "The wild card" Vishnevki (18 years old, underpowered car, and only his second race) vs Ivan Kurenbin "Race Wars" (2jz powerd FD). Great job by Aleksei - as accurate as a clock only it was not enough; Ivan was just more impressive, more aggressive, and had more angle and more smoke (it was dry again), and for that he gets the win.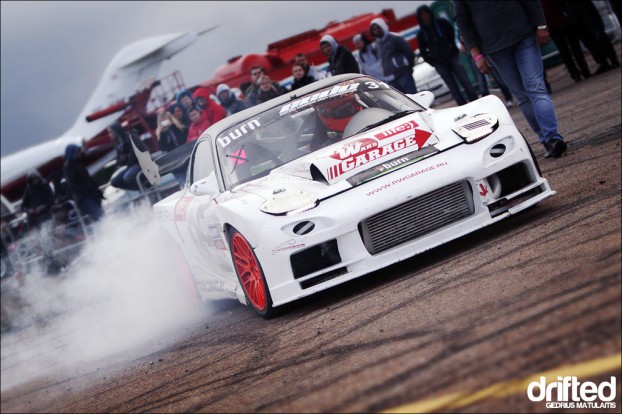 And finally – BATTLE ROYALE
Dimitry Iljuk "SpecR" Ukraine Odessa vs Aleksei Golovne (Chepa) "Zeetex Tires'
Both team mates, both S13s heavily built; SpecR: SR NEO, Chepa: RB26 (almost mid engine), both around 1000kg. This weekend was completely owned by SpecR; Chepa does the same mistake as Gvido when following him, he gets too wide on the first corner.
Big thumbs up for everybody who made it to Minsk, and a huge applause to SpecR; he did not attended Saturday practice at all. At that time he was on another track at another race 800km away in Ukraine, and after winning that event the whole team drove through the night just to get to EEDC 2012 in Belarus, amazing… Congrats SpecR!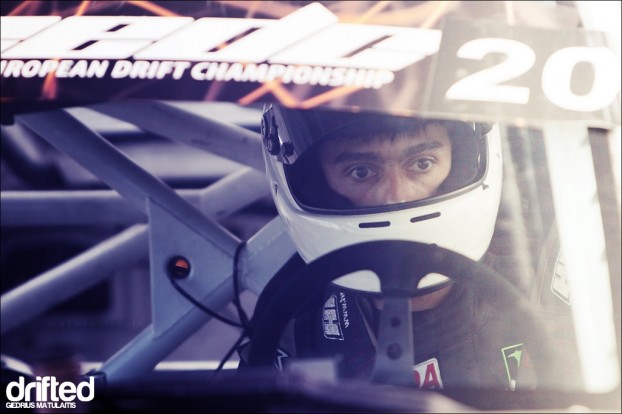 Well the game is on! In this month we have another two stages (every two weeks) Riga - Latvia (06.16) and Kaunas - Lithuania (06.30). Check us out on FACEBOOK for more latest news!
Calendar of EEDC 2012:
1 – Belarus, Minsk 2-3 june,
2 – Latvia, Riga 16-17 june,
3 – Lithuania, Kaunas 29-30 june,
4 – Russia, St. Petersburg 21-22 july,
5 – Ukraine, Odessa 4-5 august,
6 – Hungary, Mariapocs 24-25 august,
7 – Poznan, Poland 22-23 september.