EVENT: Formula Drift – Round 3 – INVASION!
For the second year in a row, Formula Drift makes a stop at Palm Beach International Raceway for Round 3 of the 2012 championship.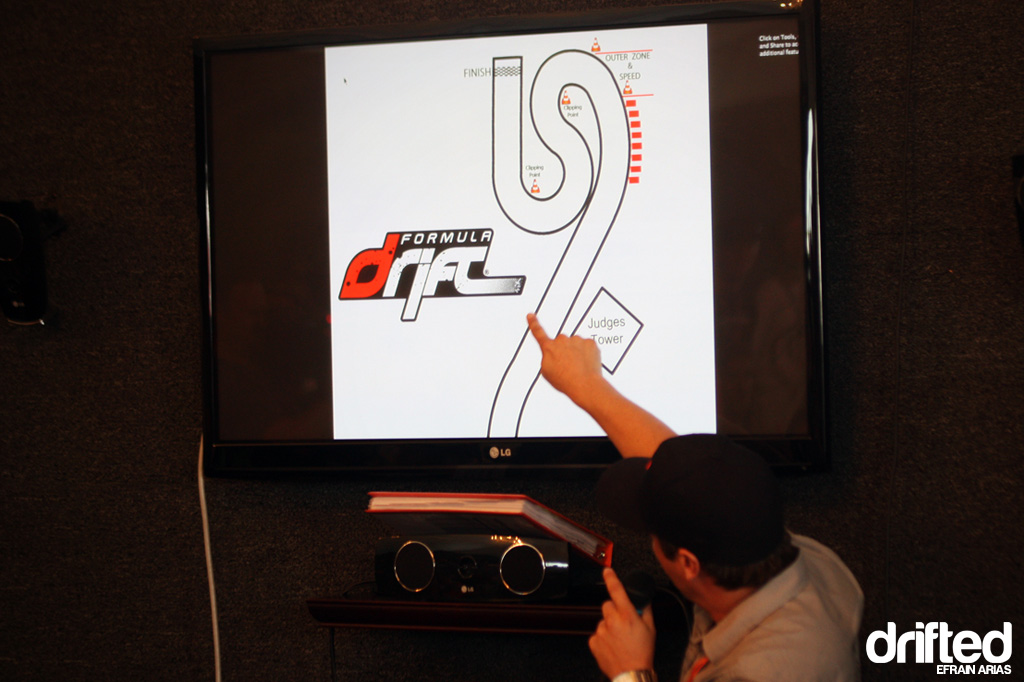 The new layout for this year looked very promising for some exciting battles!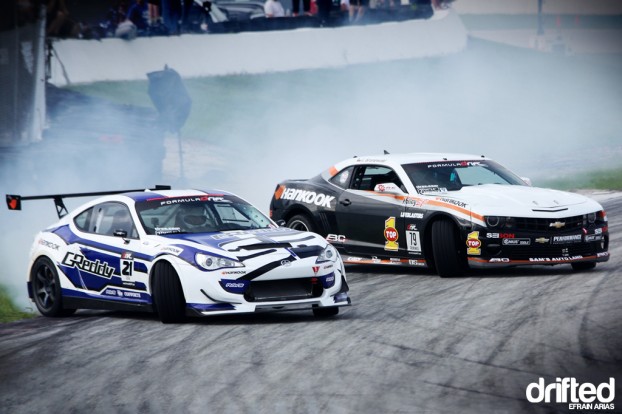 Right off the bat in the first practice session, drivers started to get close to each other in front of the judges tower!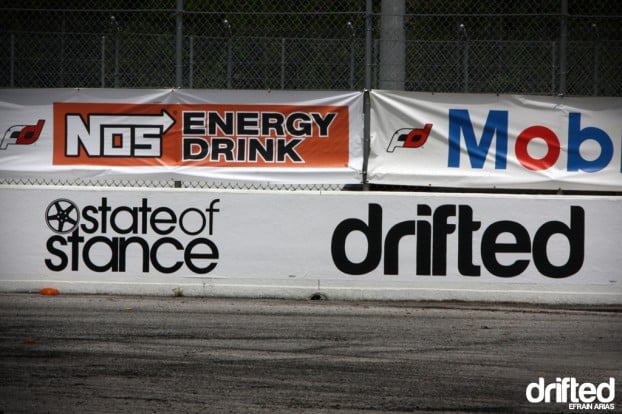 Felt pretty good to see this big Drifted logo at one of the walls of PBIR.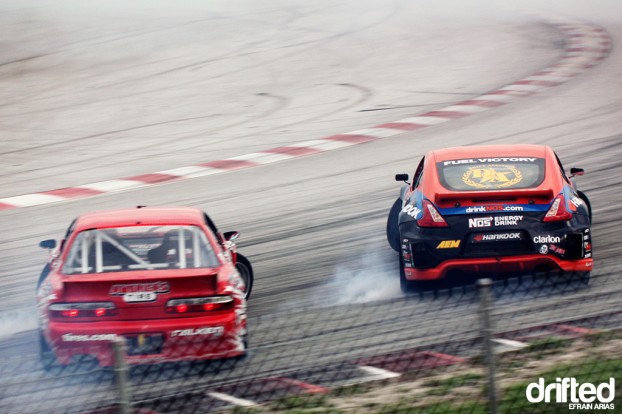 Chris and Dai were doing some practice runs together; I think they knew that they will face each other in the Final 4!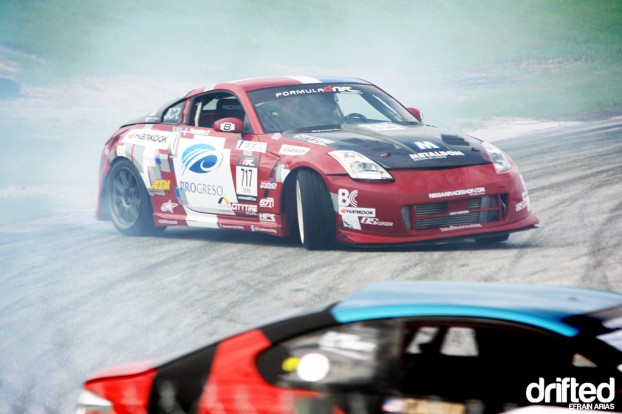 The main reason why I was at Palm Beach, was for Dominican driver Jhonnattan Castro. In only his third FD event, he was just shy by a few points of the Top 32, but again getting a lot of good views from the jugdes and fellow drivers.
Things seem like they will get better for him and the team from now on! Keep it up Jhon!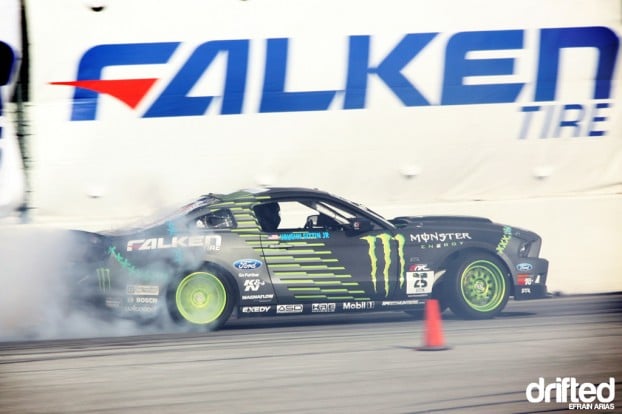 Vaughn Gittin Jr. took first place in qualifying! He was on fire all day!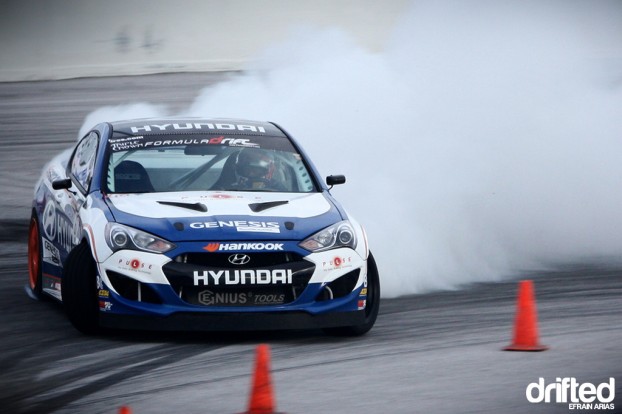 The Hyundai Genesis is one of my favorite FD cars! This thing sounds absolutely amaizing! Generates LOTS of smoke! And Rhys surely makes it all happen behind the wheel.
Another cool thing about this car is that is one of the few cars that still has its "factory engine"! This turbo V6 packs 650 hp/650 lb.ft of torque!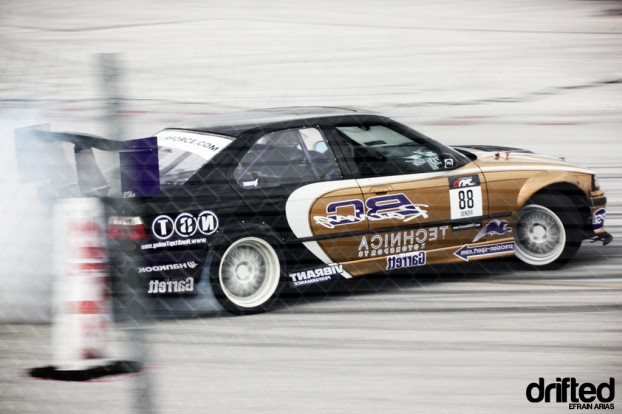 Taking #2 spot in the "Smoke Machine" category is Chelsea DeNofa, this guy shows no fear while following.
He took himself out while making contact with Daigo Saito in the top 8.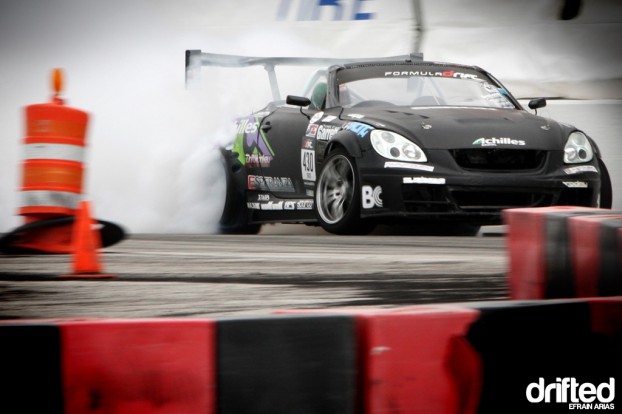 Speaking of Daigo, He and his 1000+hp 2JZ SC usually creates a huge cloud of smoke that will stay there for a couple of minutes.
Saito is definitely hunting for the championship! He shows it in his determination in every run! Especially when chasing!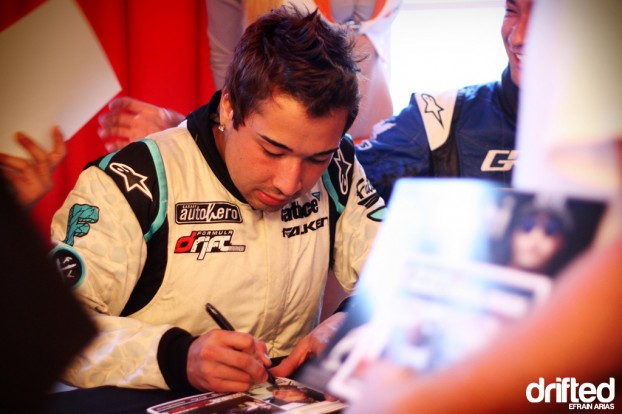 The autograph session was pretty fun! Here fans get the chance to be close to their favorite drivers and its nice to see the drivers also enjoy the moment with their fans.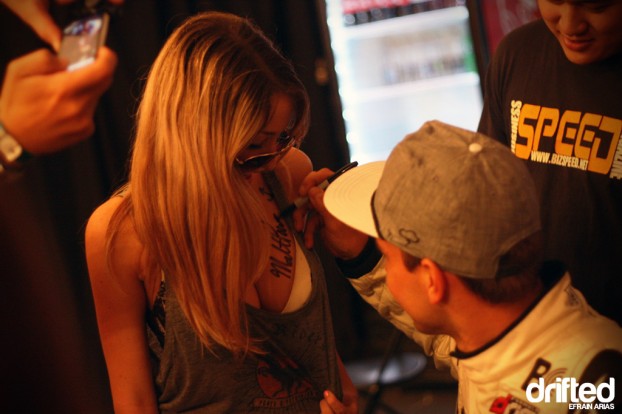 The surprise factor is always there in the drift world, even in the moment you least expect it!
For example this fan makes sure to get the coolest autograph from Matt Powers!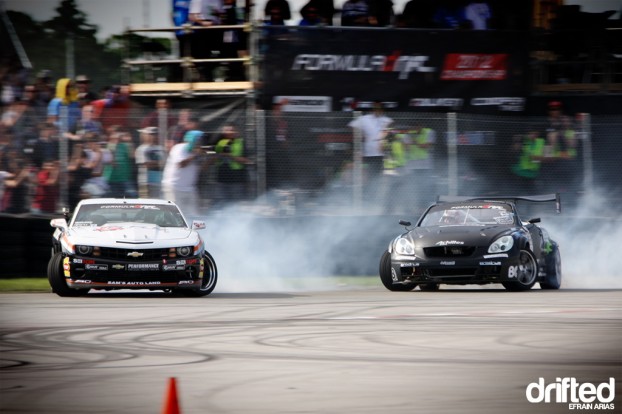 For me, one of the best battles of the event was Saito VS Grunewald.
They did 2 OMTs! Daigo advanced on a close decision.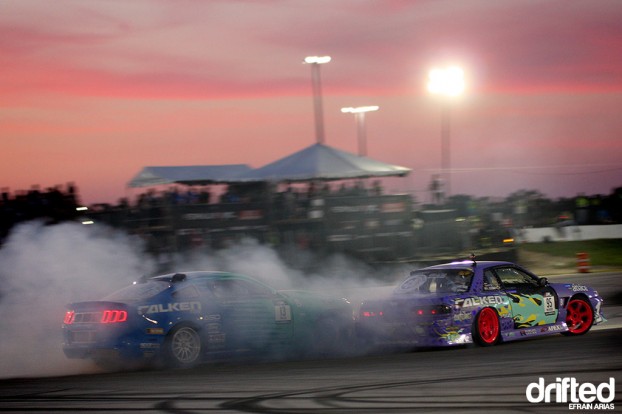 In the Top 16, Walker tried pretty hard to create a gap between him and JTP!
JTP was the winner of the past 2 events for a reason. He advanced to the Top 8.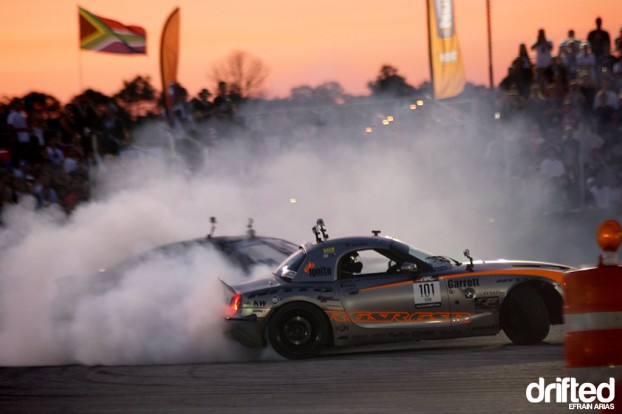 Michael Essa made some awesome entrys all day and even won the "Retaks insane entry award".
He made sure to use this against Vaughn Gittin in the Top 16, but went too hot and spun to hand Jr the win.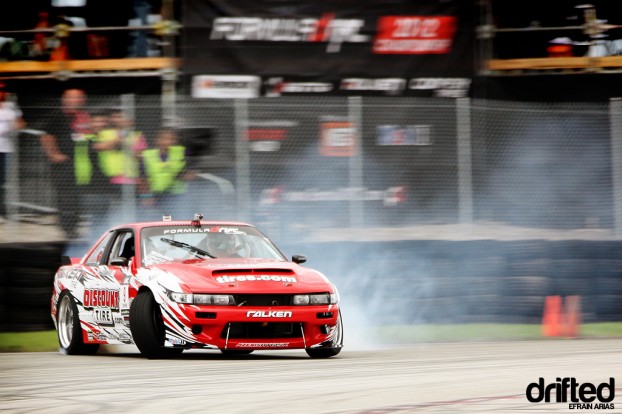 Current champion, Dai Yoshihara, defeated Chris Ward and Robbie Nishida in the first two rounds of eliminations.
In the Top 8 he had a great battle against Ryan Tuerck. Dai advanced to Top 4.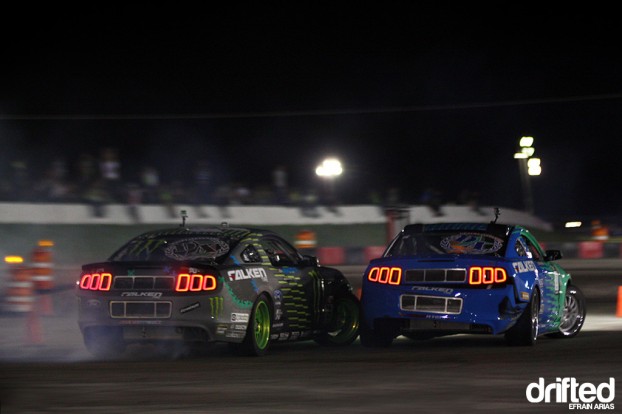 The Mustang brothers, Gittin and Pawlak, had a great battle in top 8 that went into a OMT.
Gittin did a great job chasing JTP.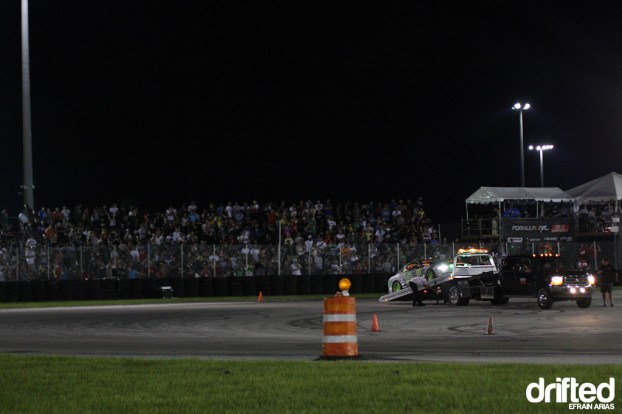 But trying to make an even better chase run, Gittin spun and broke the suspension, handing JTP the win.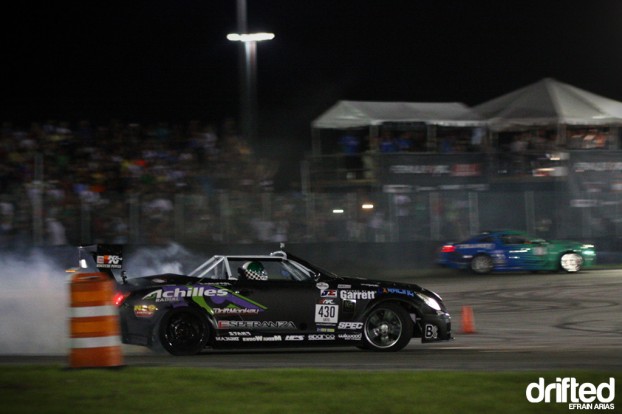 JTP's winning streak came to and end while he also spun chasing but this time against Saito in the Top 4.
Daigo advanced to the finals, but we heard that there was some exchange of words between Daigo and JTP in the pits!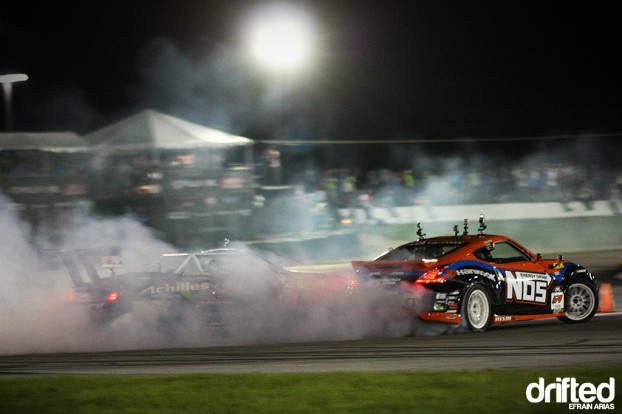 Forsberg was able to beat the current champ Dai in the Top 4, and advance to the finals against Daigo.
They would have a great battle but Daigo's chase run was better than Chris's!
Daigo wins FD Palm Beach!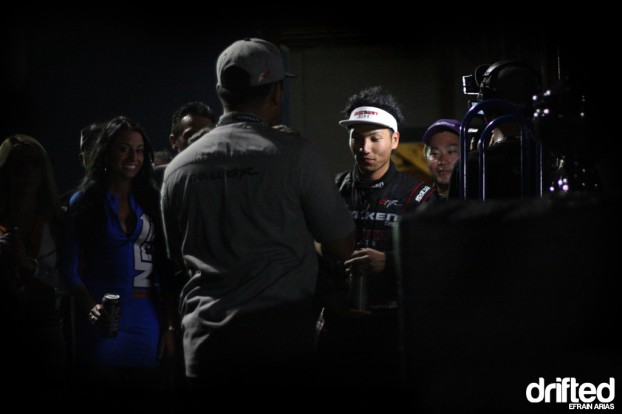 Dai defeated JTP to get the final spot on the podium!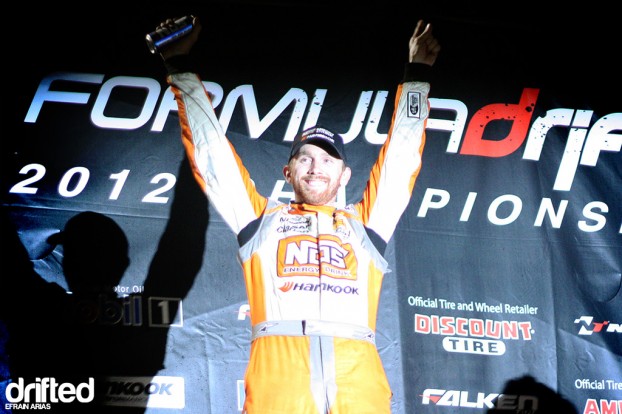 In my view the driver of the day was Chris Forsberg; in practice runs he was having problems dialing-in his 370Z to the new layout of Palm Beach.
And starting the Top 32 the 370z had no e-brake! But that didn't stop him from putting some of the best chase runs of the day and advance all the way to the finals.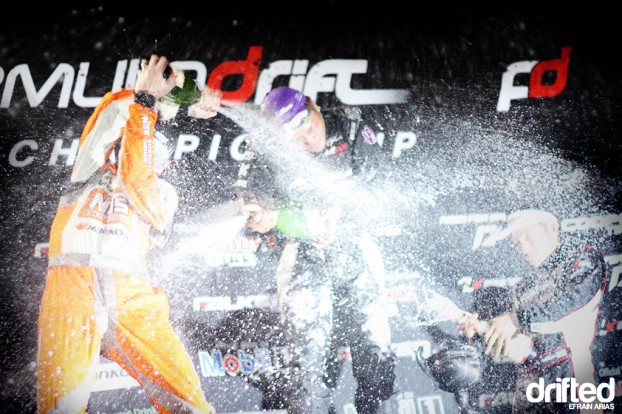 Congratulations to Daigo on a deserved first Formula Drift win!
And with JTP finishing 4th, he closes the gap to 21 points on his hunt for the champion ship!
Results:
1. Daigo SaitoSaito
2. Chris Forsberg
3. Daijiro Yoshihara
4. Justin Pawlak
Championship Standings:
1. Justin Pawlak – Falken Tire Ford Mustang – 280 Points
2. Daigo Saito – Achilles Tire / Bridges Racing Lexus SC430 – 259.50 Points
3. Daijiro Yoshihara – America's Tire / Falken Tire Nissan S13 – 197 Points
Efra
Tags: 2012, 370Z, chris forsberd, Dai Yoshihara, Daigo Saito, Falken Tire, ford, Formula D, Formula Drift, invasion, JTP, justin pawlak, mustang, NOS, Palm Beach, vaughn gittin jr
Subscribe to Drifted
If you like this article why not subscribe to Drifted and we will email you our freshest content for free!