EVENT: British Drift Championship Round 2: Night Fight: Part I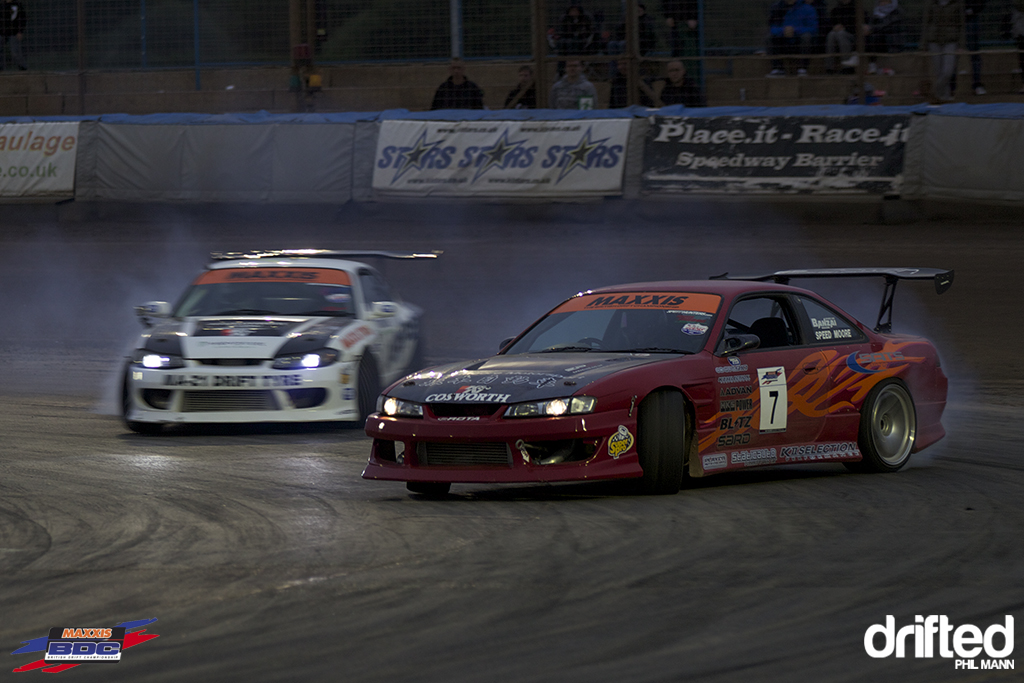 The British Drift Championship made its annual pilgrimage to Norfolk Arena, Kings Lynn. The promise of drifting under the stars always draws the crowds and brings out the best in the drivers.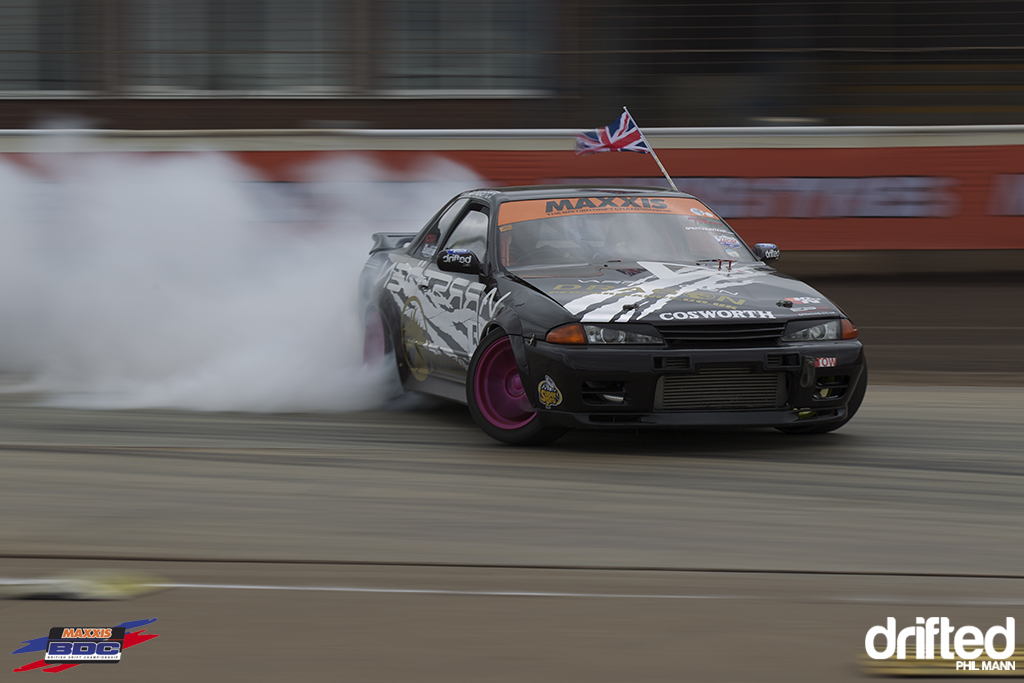 Some lady in London was celebrating being a boss for 60 years on the same weekend so the BDC event was held over the Friday and Saturday rather than the usual Saturday/Sunday. The things we do for her eh?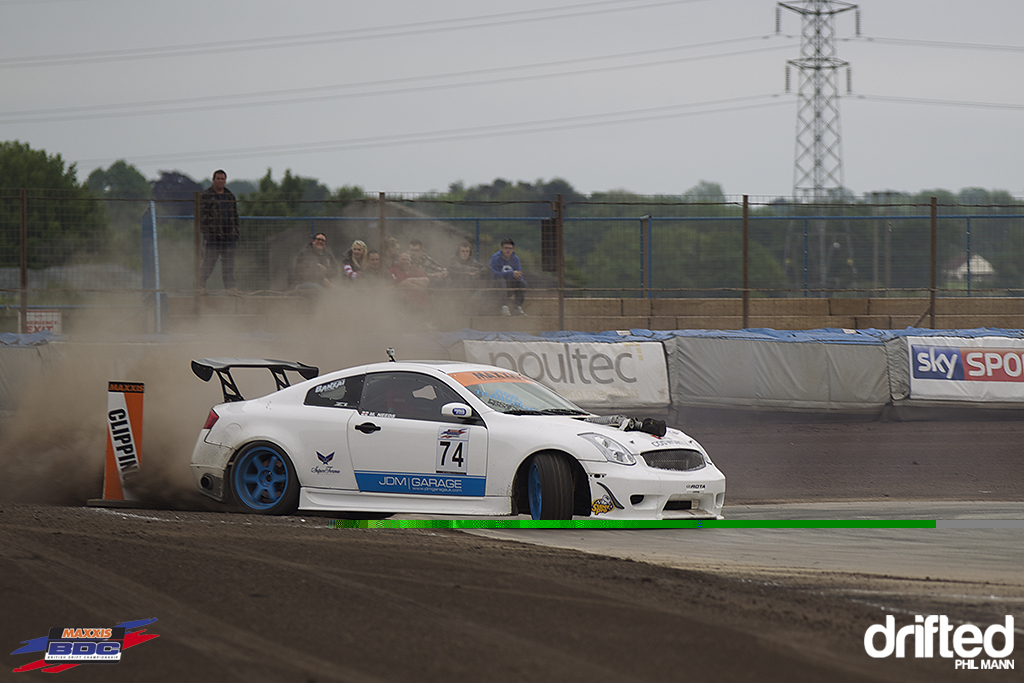 It's a track that draws mixed opinions, some love the small size, others hate it, some love it running into the dark, some hate it. But the one thing that everybody universally agrees on is the infamous Norfolk dust. It gets everywhere.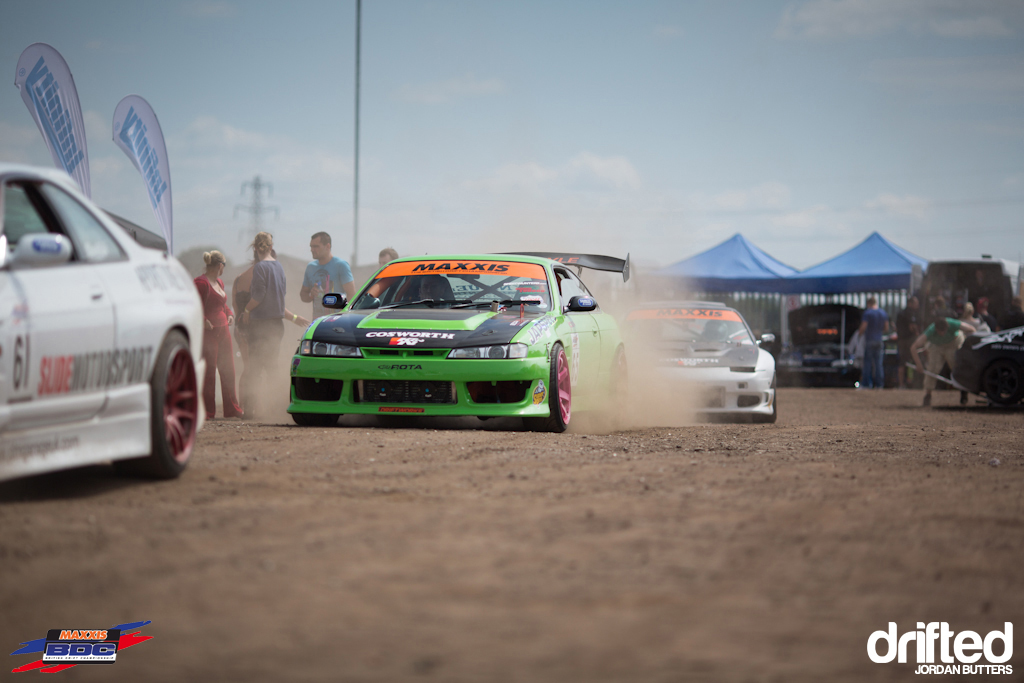 The usually pristinely-prepared cars in a variety of colourways and liveries all end up sharing the same turd-brown matt sheen after Friday practice. Even the most OCD-affected of pit crews gave in, you cannot keep a car clean at Norfolk Arena.
Last year's Super-Pro champion Matt Carter was fresh back from a month of demos in Europe at Bodensee, the Nurburgring and Hockenheim respectively. Sadly Matt's BDC season isn't going as well as his German one. After failing to qualify at the first round Matt arrived at the Arena only to suffer from a bad misfire before a collapsed thrust bearing ended his event. Rumour has it Matt is considering a return trip to Germany very soon, he luck seems to be better out there!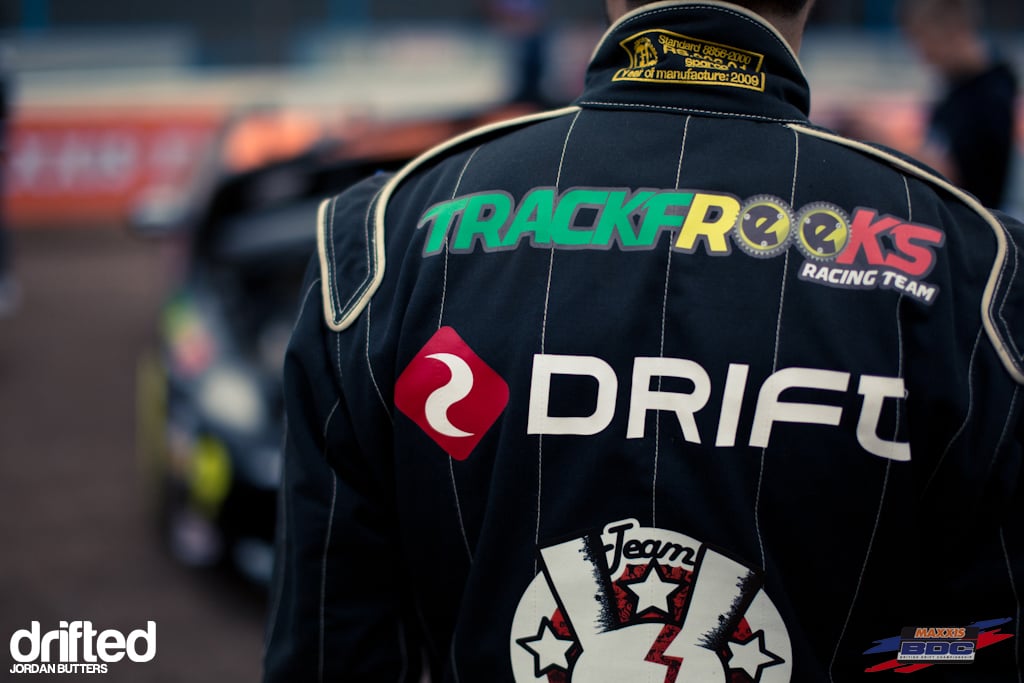 Hugo Fernandes made the long journey over from Portugal for the second round, bringing along the TrackFreeks crowd of Portuguese friends and fans.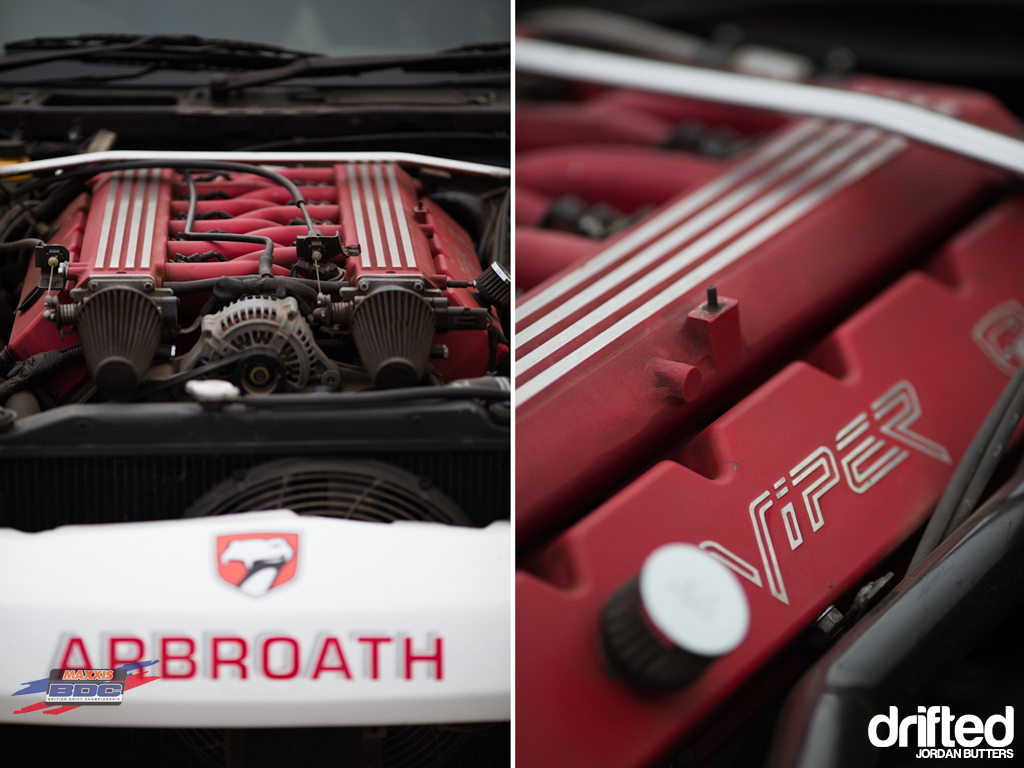 Once car causing quite a stir this year is David Waterworth's Viper V10-powered Nissan S15. It's surprising how neatly that big 8.0 litre engine fits inside the tiny Silvia engine bay. David intentionally wanted the engine to sit in the standard position without modifying the bulkhead or crossmember drastically. The reason being that David has an RB26 which he was prepared to drop in between rounds if the Viper conversion was proving unsuccessful.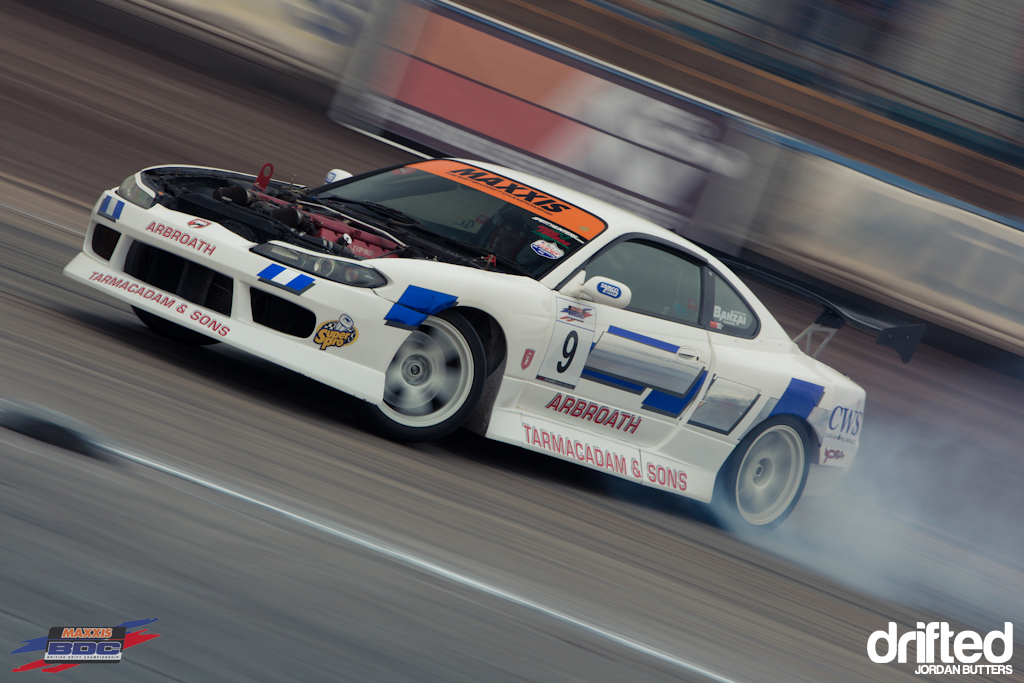 It looks to be working well though and David maintains that the extra weight up front feels good to drive.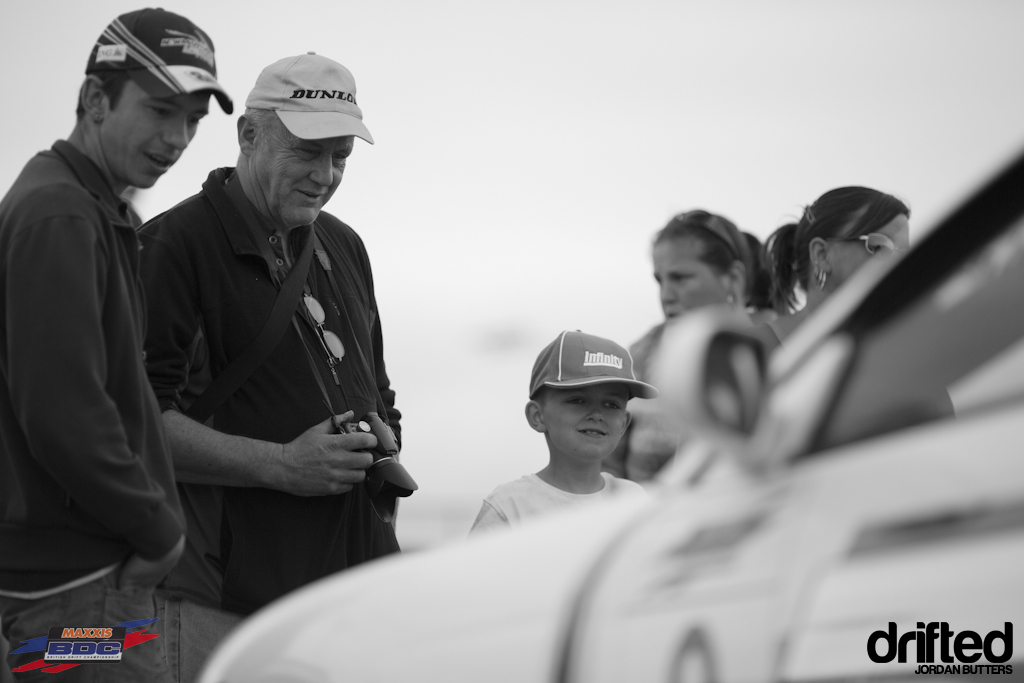 It certainly grabbed attention in the pits and proved a popular attraction for all ages.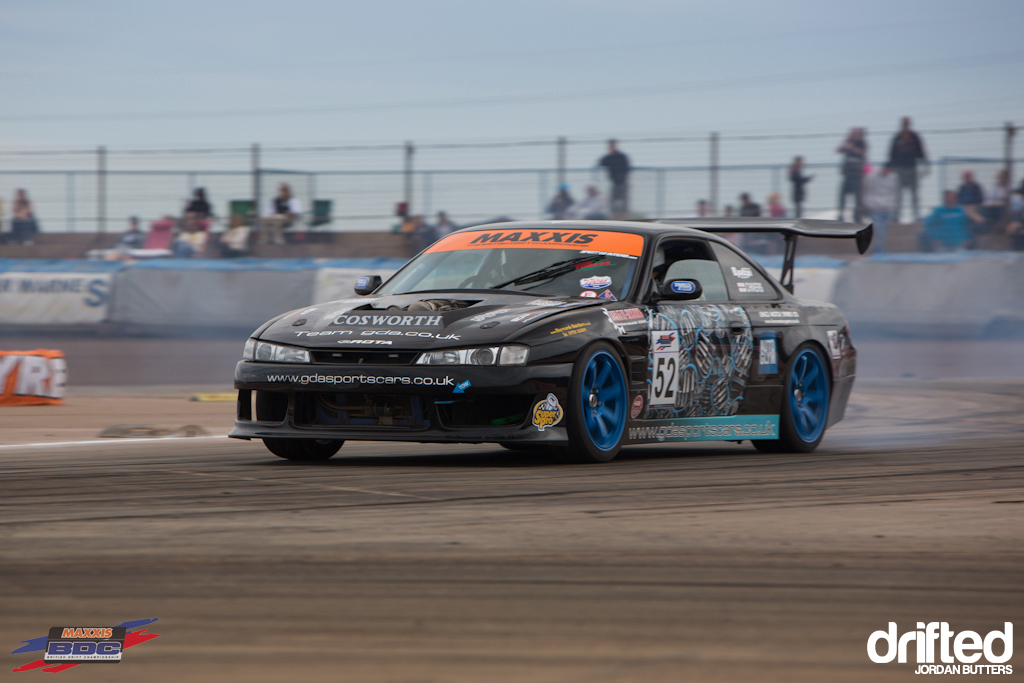 Another big-capacity addition to the BDC roster is Nathan Chiver's now-LS1-powered S14a. It seems drifting worldwide is heading the way of the V-configuration engine. There's no replacement for displacement right?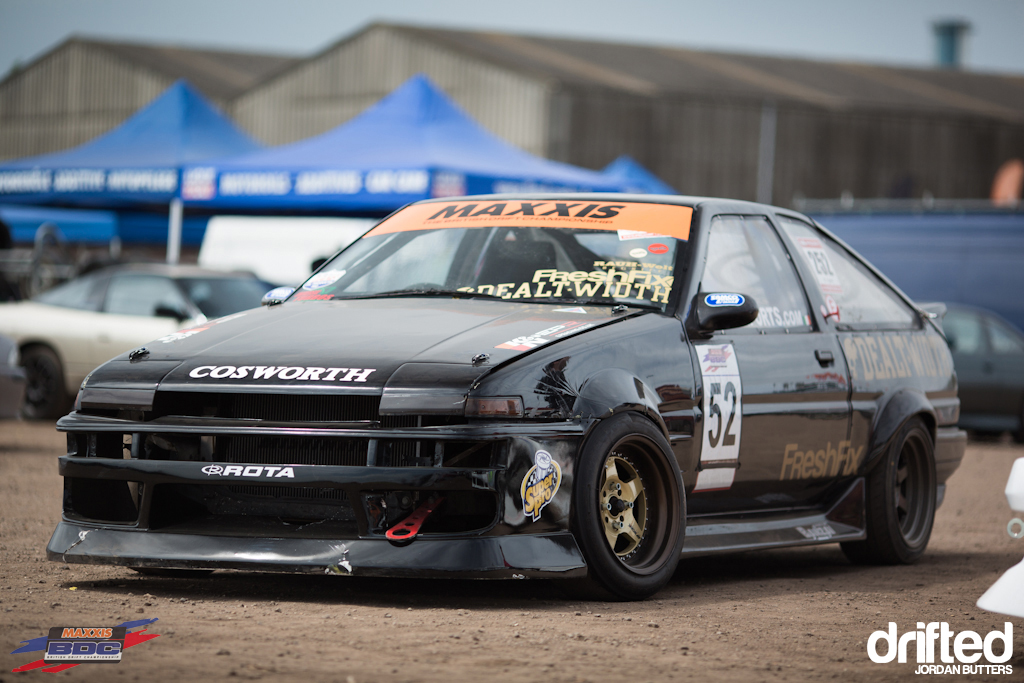 Brian Egan would disagree. Although not sporting the original 4AGE, the bonnet of his AE86 Trueno hides a relatively modest 2.0 litre S2000 motor.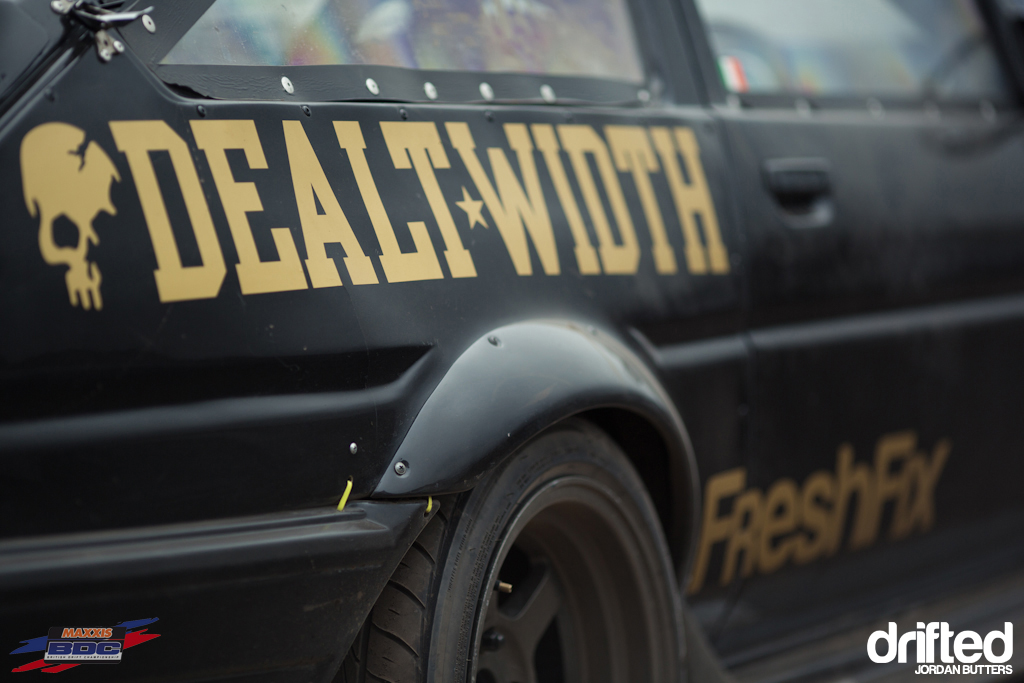 The car almost seemed to suit the Norfolk-look. The combination of black paint, gold decals and a thin coating of dust giving the car a Mad Max-esque look.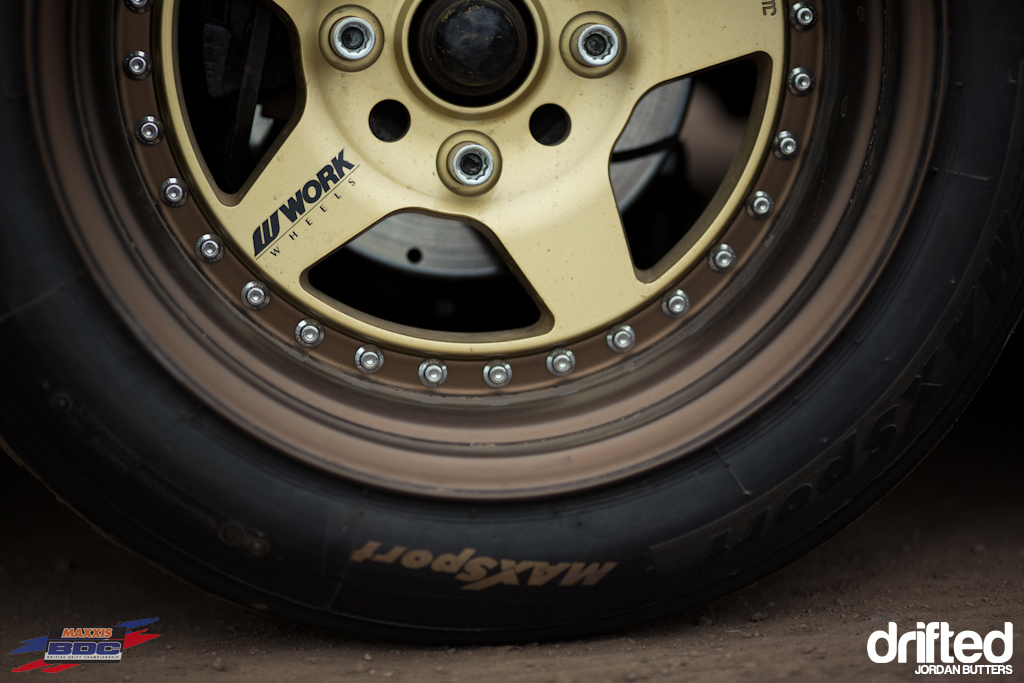 I'm not sure that Brian intended for the Work CR01 barrels to be colour-coded to the terrain but it worked!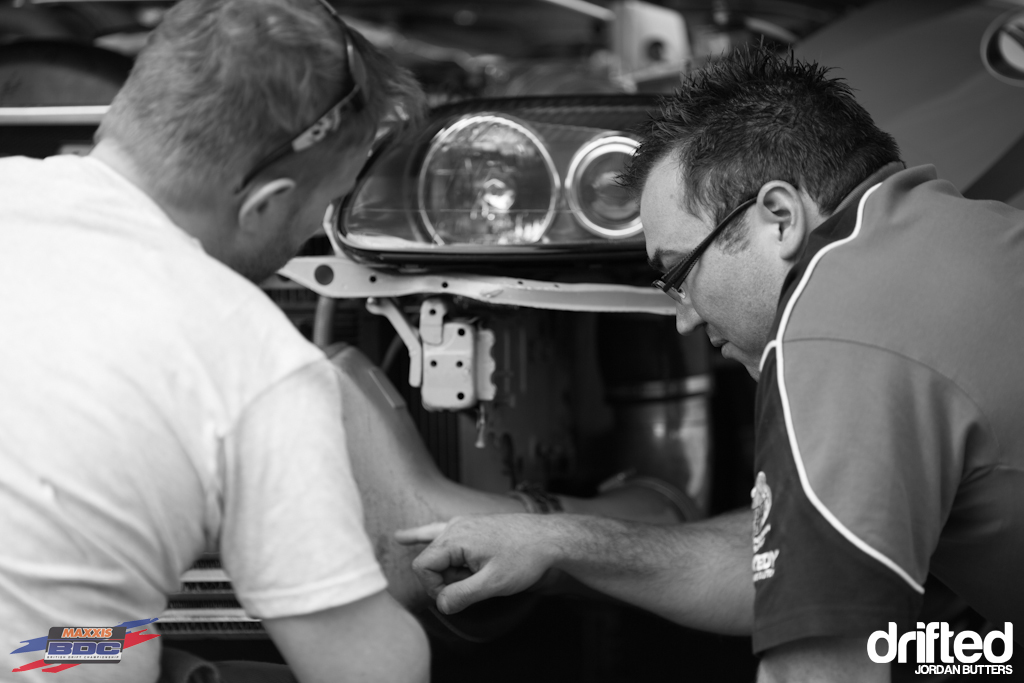 The SATS Drift Team made the most of Friday's late start by passing the time playing 'Name That Ancillary' on their 1000bhp Supra. I think Chris Arthur, on the right, is winning (psssst, Chris, it's 'intercooler').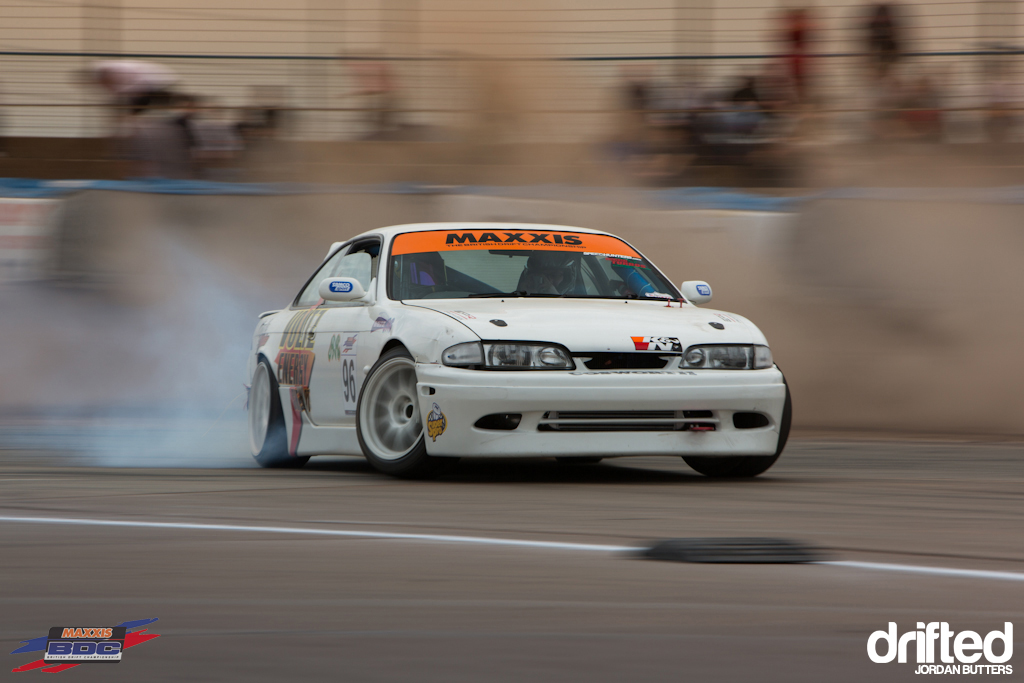 Once practice got underway drivers were keen to get out and master the new layout. The drivers had been given their briefing, the layout it seemed it be slightly longer than previous years and quicker overall.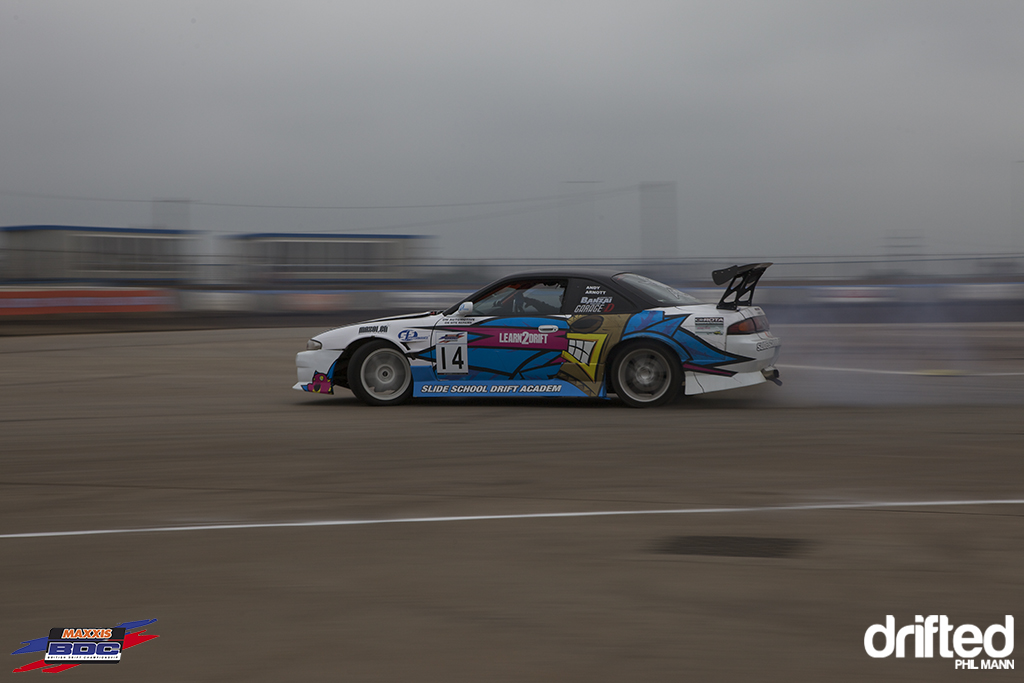 The first few Semi-Pro drivers of the morning were playing road sweeper while some of the Pros and Super-Pros watched and discussed the lines and tactics they would use over the two days.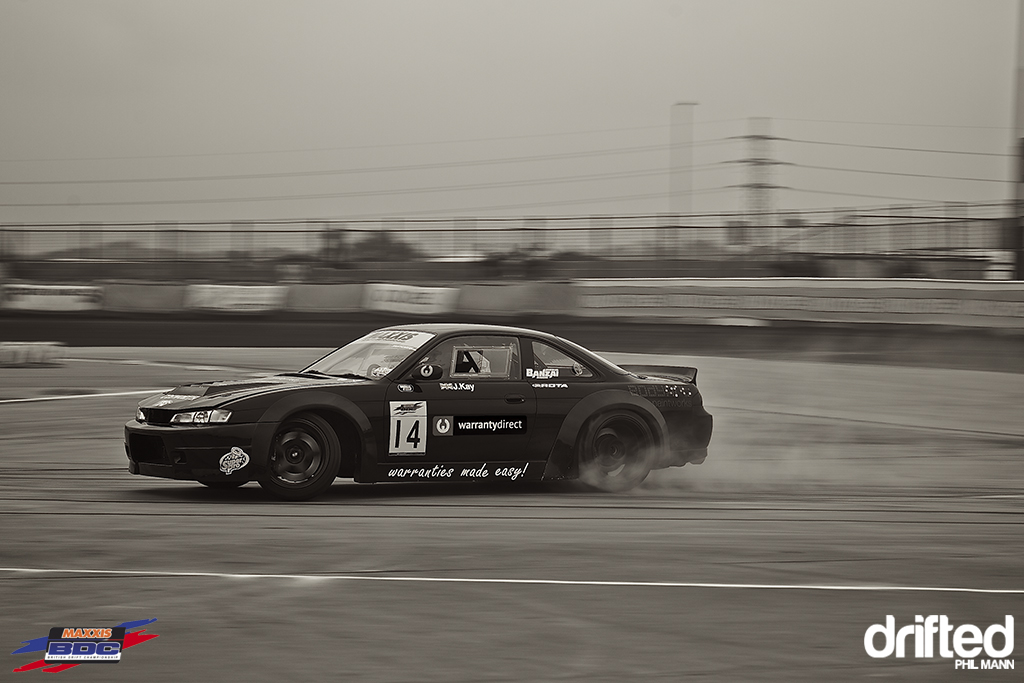 And even thought it was the second round there were still new cars being debuted. Jamie Kay has got rid of the RB powered S14a that he used in the 2011 season and built himself a V8 LS1-powered, Rocket Bunny kitted Nissan for 2012.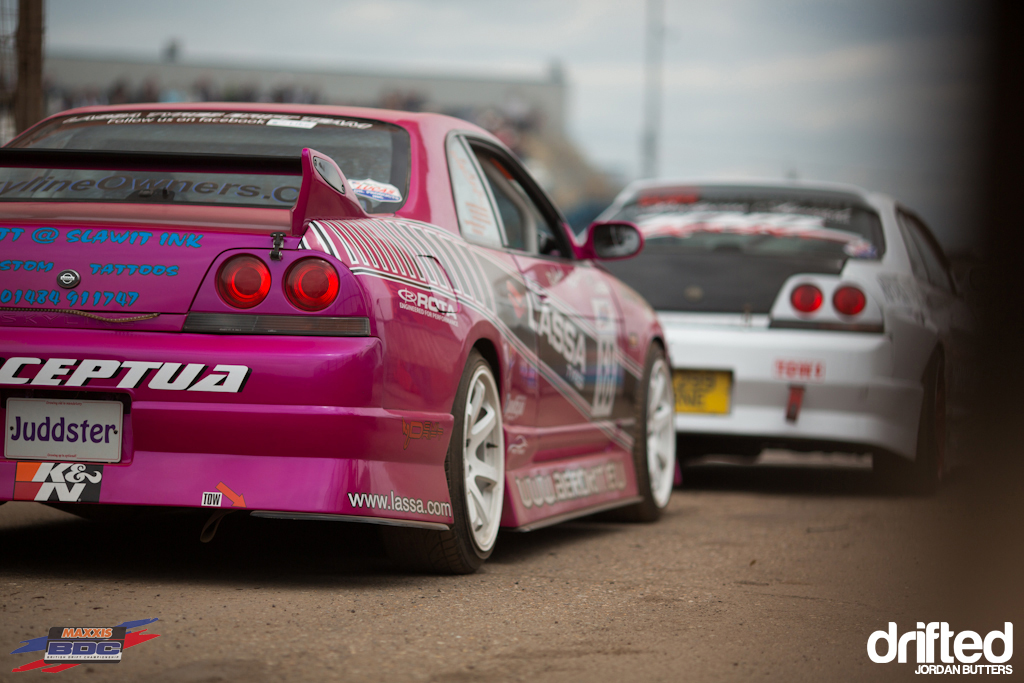 As practice came to a close the drivers queued up to put in their judged qualifying runs.
Visors down and game-face engaged. The atmosphere changes as drivers await their turn; there is a definite tension in the air.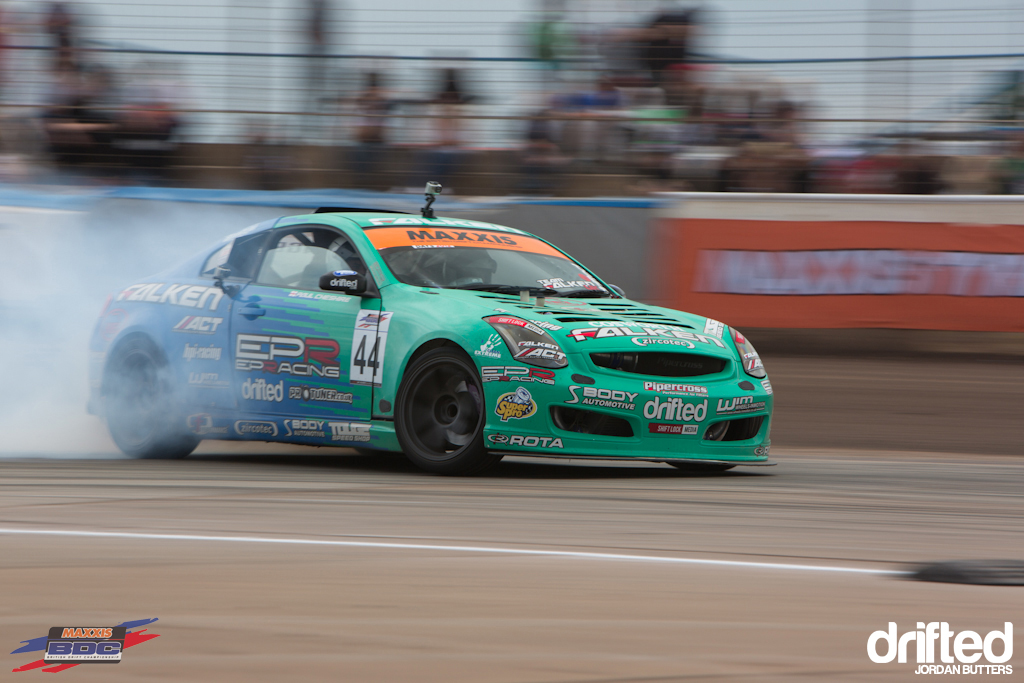 It affects some more than others. Paul Cheshire was ripping it up during practice but failed to impress the judges when it came to qualification unfortunately.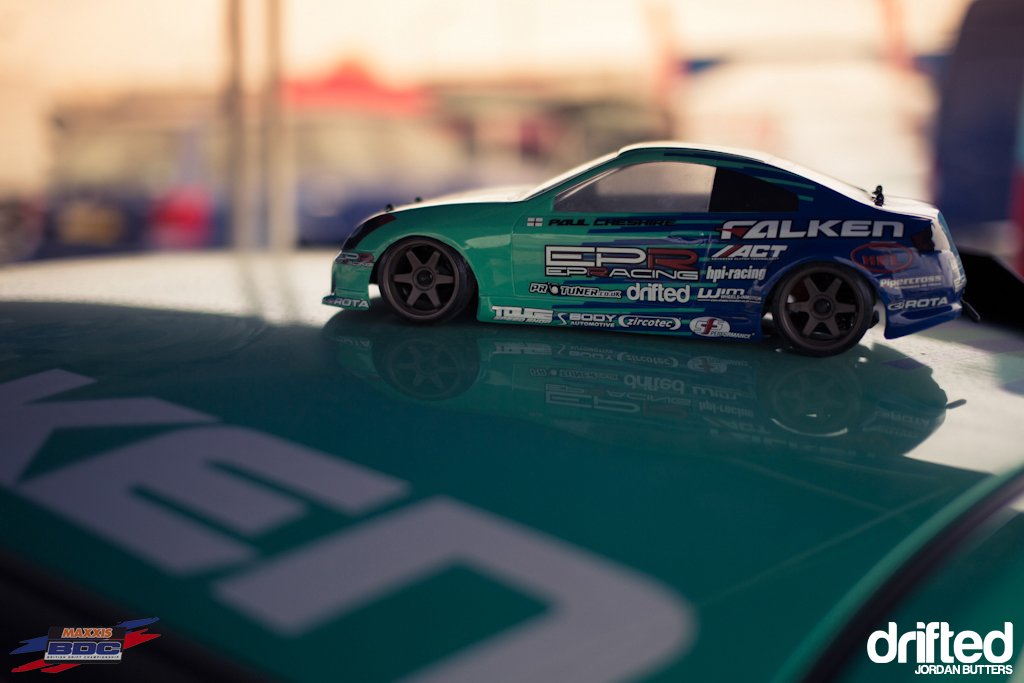 When the real thing doesn't go to plan at least he can continue drifting in 1:10 scale in his HPI Racing mini-Falken G35 replica. I wonder if there's a mini-Paul Cheshire to go in the RC car?
The relief from the success of putting in a solid run on some driver's faces is noticeable though.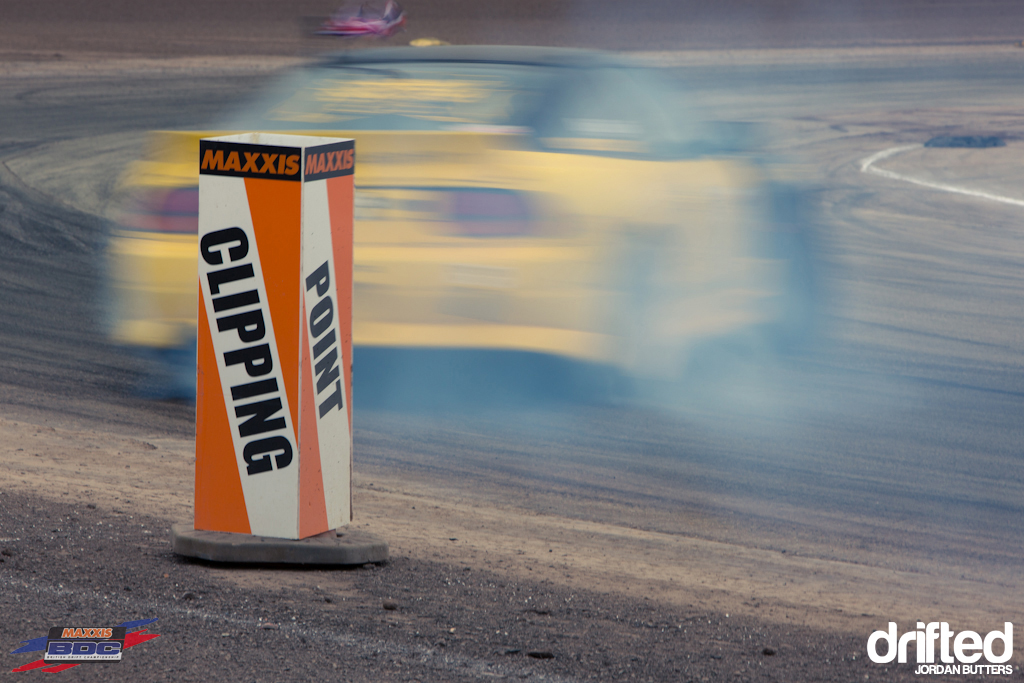 The judges had set out clear clipping points at select points around the egde of the track. The criteria; get close, but don't leave the track, or face a big fat zero. Those drivers pushing wide and getting it right were rewarded with a high score and progression into Saturday's finals. Those going those few feet too far had to enjoy the final proceedings from the grandstands. Here's how the qualifiers shaped up….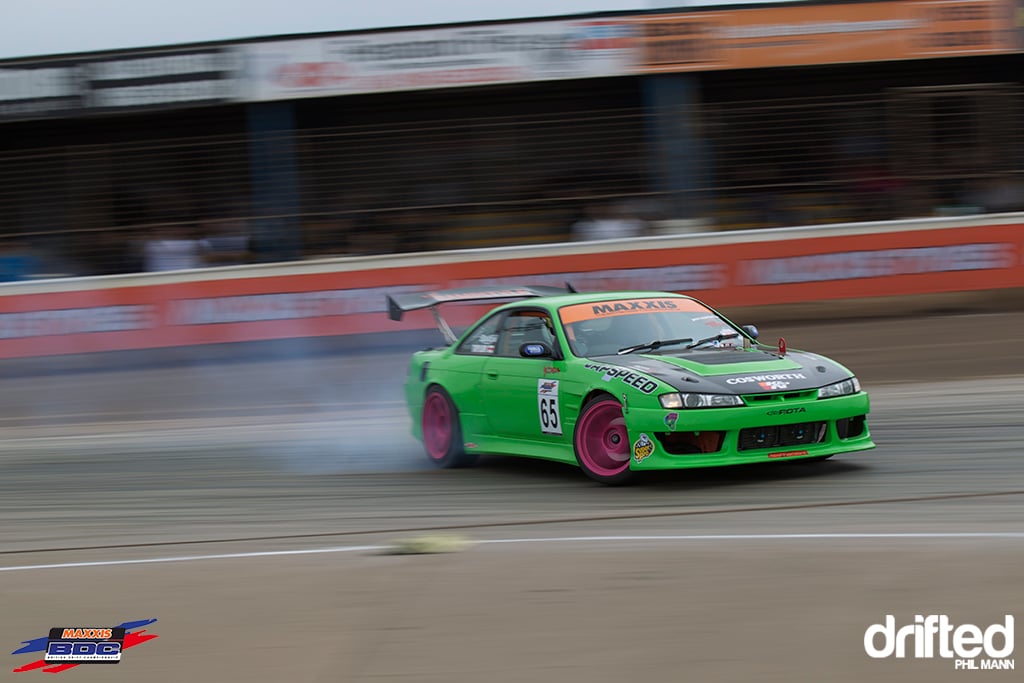 Semi Pro
1. Gareth Taylor
2. Brian Egan
3. Owen taylor
4. Stuart Egdell
5. Bradley Wallbank
6. Noel Phipps
7. Max Marshall
8. Lewis Cracknell
9. Matt Samuel
10. Ian Rutherford
11. Matty Stevenson
12. Jay Green
13. Jake Spiggott
14. Adam Simmons
15. Laura Hinks
16. Ricky Emery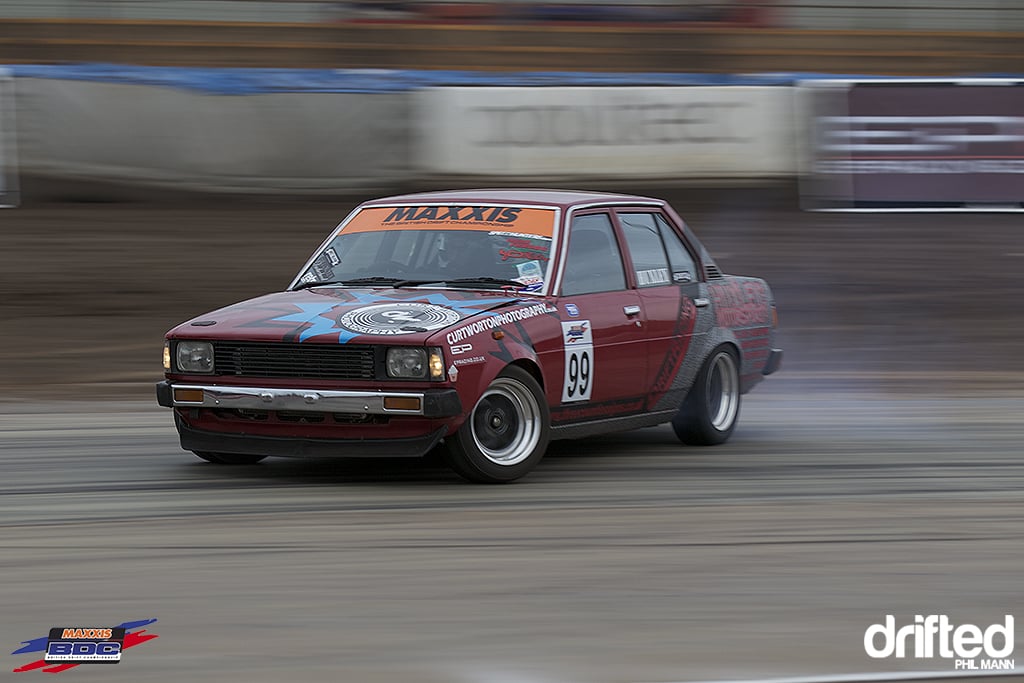 Marc Huxley had looked fantastic at Teesside, so when he came out for his qualifying runs i thought it would be a dead cert that he would be in the top 16. But sometimes people's luck runs out. Marc first 2 runs scored a 0, disappointing but he still had 1 more to go. When Marc scored 0 his third run there was an audible gasp in the arena, and you could see that Marc was not pleased with himself.
Pro
1. Matt Campling
2. Brian Egan
3. Jamie Kenyon
4. Hugo Fernades
5. Jamie Kay
6. James Fuller
7. Paul Murphy
8. Gareth Taylor
9. John Glaister
10. Ross Gregory
11. Anthony Mortley
12. Belinda Challis
13. Christian Lewis
14. Andrew Kenna
15. Justin Clarke
16. Alex Law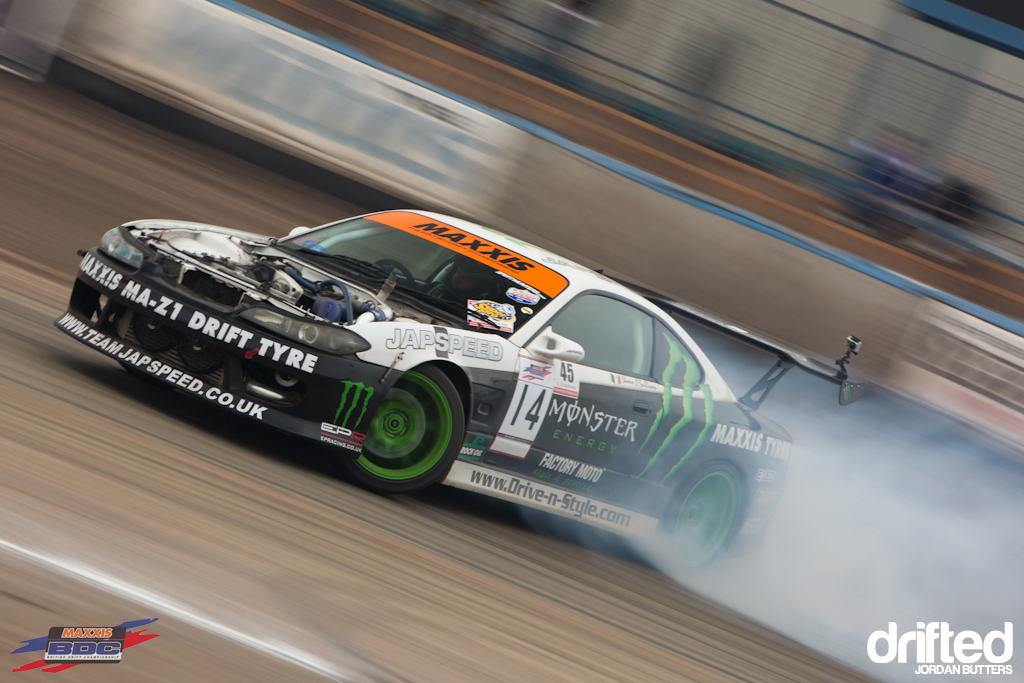 Shane O'Sullivan didn't need the "luck of the irish" at Norfolk. He continued his great from from the first round to grab the number 1 spot.
There was redemption for Marc Huxley. Because of his finishing position at the first round he was eligible to have a go at qualifying for the Super Pro class. After his poor showing in his own class we were shocked, but happy that he managed to get 4th.
Super Pro
1. Shane O'Sullivan
2. Mark Luney
3. Wayne Keeber
4. Marc Huxley
5. Shane Lynch
6. Stephen Biagioni
7. Alan Green
8. Wesley Keating
9. Steve Moore
10. Paul Smith
11. Jody Fletcher
12. Micheal Marshall
13. Barry Leonard
14. David Waterworth
15. Simon Perry
16. Dan O'Brien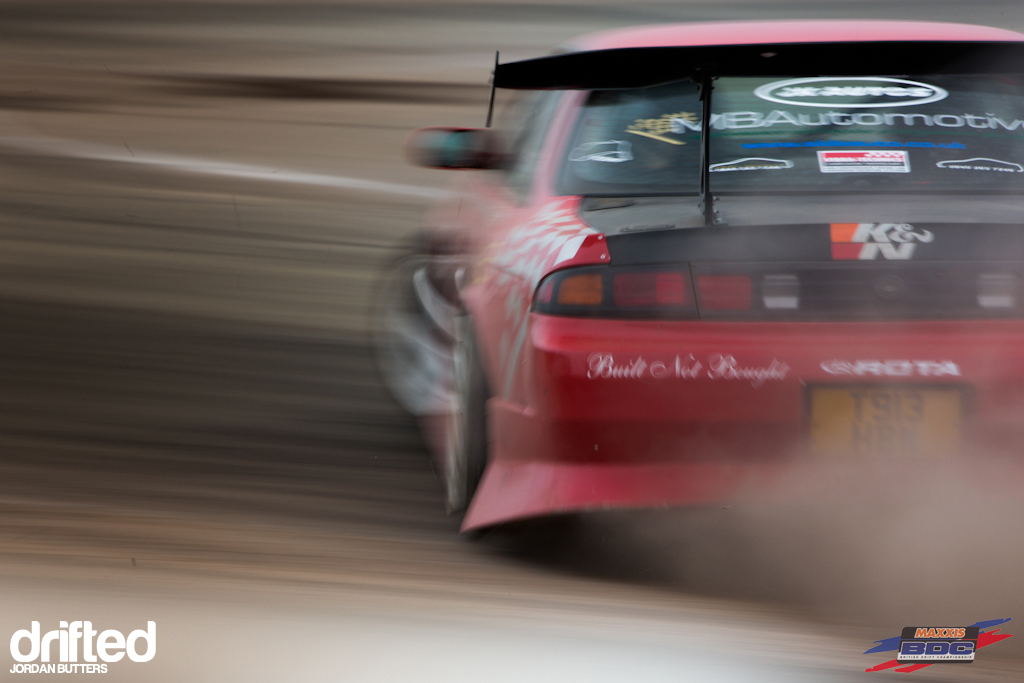 Saturday's Main Event coming soon….