FEATURE: Josh's Deadbeat BMW
When I think of a BMW in North America, the first thing that usually comes to mind is the stance and fitment movement. You know… Stanceworks and Lowly Gentlemen. Classy, well-fitted bimmers scraping at static height or laying frame on bags. While Europe has been at the forefront, for obvious reasons, North America has been a little late to the game when it comes to using them for drift cars.
Josh Whitehead, of Deadbeats Drift Team, saw the success of the platform overseas and picked up an E30 to build a BMW skid rig of his own.
Check out more BMW content on Drifted
Since I've known Josh, I've only really seen him own a Nissan 240sx. A couple hatchbacks, a silvia front coupe, even a convertible s13. So to me this seemed like a strange dive into left field (though that is something I've learned to expect from him). Apparently I was way off and this wasn't his first splash into the world of the gentleman's ride.
"I had that 2 door e30 for a daily driver and started being rude to it a couple days after I got it. It was a really fun chassis!" Josh told me. " Super stable and I liked how the aftermarket capabilities are just as vast and plentiful as an s13. So it wasn't hard to get another one!"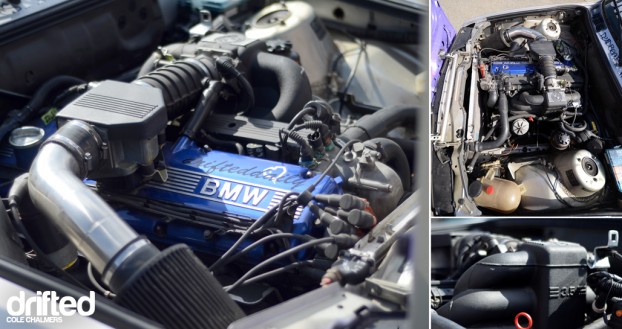 Josh is no stranger to power, so when he first picked up his 4-door E30 he wasted no time searching for a replacement for the stock motor. For that he turned to his friend Jaz at the local BMW dealer, who hooked him up with the 3.5L out of an M30. "Jaz had the swap a long time ago…" Josh explains. "He crashed his car and had the swap in his shop.. I started snowballing the idea of an e30 drift car!"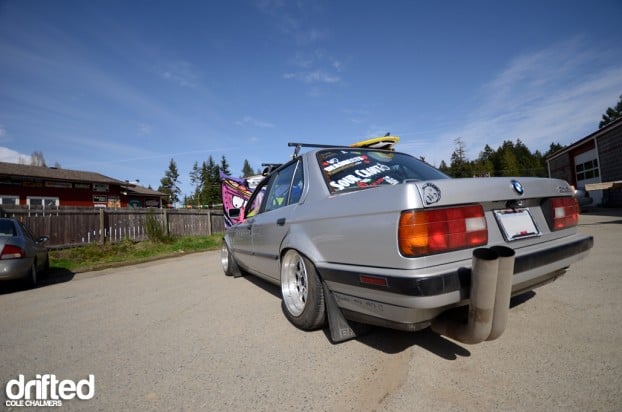 Under the hood the motor looks right at home and, aside from the the aftermarket intake, looks stock. Hidden out of sight though, the motor has been chipped to free a few extra ponies. Even the exhaust is stock… up until the twin boso inspired pipes propped out from the back bumper. Josh's last s13 coupe had well built-up SR20DET, but he feels like this car could have kept up with it no problem.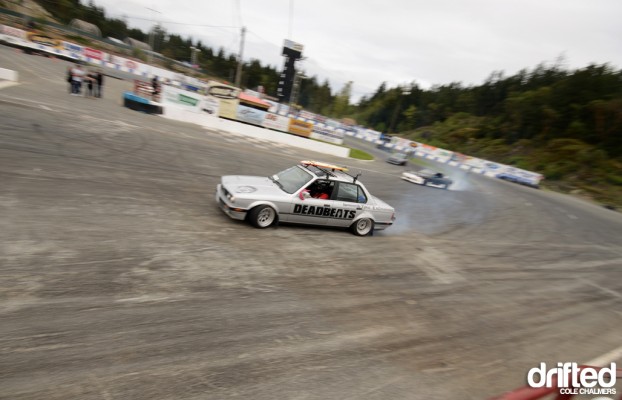 Platform Garage, one of Josh's sponsors, ordered in and installed set of K-Sport Kontrol Pro Coilovers to keep the E30 low and stable. Filling the wheel wells are a set of 16″ XXR 002's wrapped in Achilles rubber from Josh's other sponsor Tire Exchange. A welded differential keeps both wheels spinning the simple way.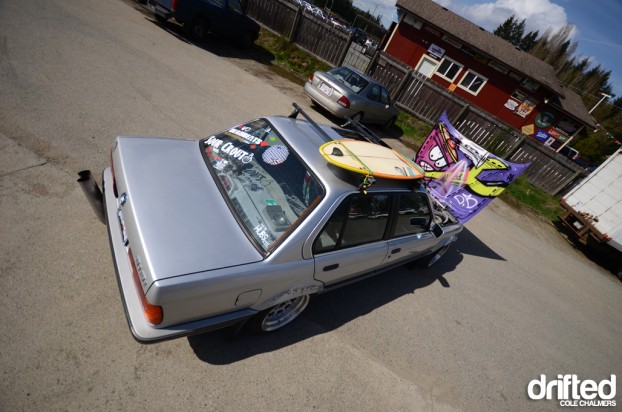 If you've seen any of Josh's previous cars, you'll know he likes to get creative. Take for example his Zebra S13 hatch or his hella sparkle S13 coupe. So it wasn't long before the 4-door recieved some functional bike racks and it's own special treatment of vinyl and spraypaint.
From the disco ball on the back windshield to the stencil of his face on the hood"All vinyl was done by Hubs ENT." Josh tells me, and as for the artwork in the engine bay: "My buddy Jon Redlick did it!"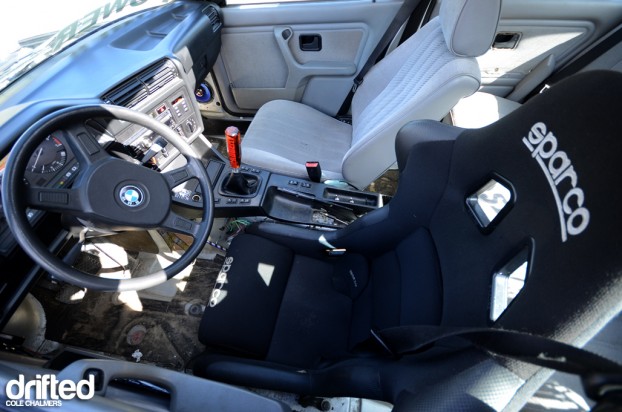 The interior is still looking pretty simple. Aside from the Sparco Fighter and a 9K Racing Shift knob, it's all still stock and intact. It won't stay that way for long though, "I've got Bride's for it as well to go in and an OMP steering wheel." And plans for a cage and weight reduction are in the near future as well.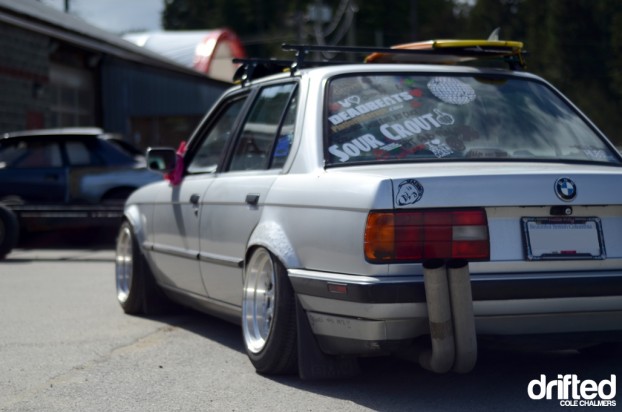 When I asked what other plans he had for the car his answer was "Hydro brake w/ knuckle bracket for a second caliper, turbo, angle, and zebra spirit-infused…" In other words, it's going all out.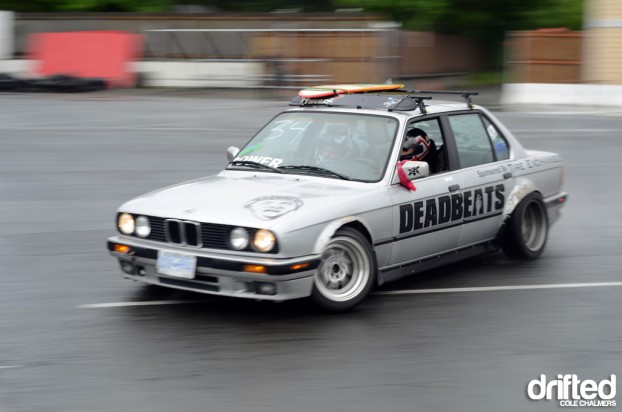 Keep an eye out for Josh around the Pacific Northwest as he's planning on making the rounds this summer. Aside from the local Capital City Drift events, he plans on hitting Penticton Speedway, Pat's Acres, Evergreen Speedway, and Pacific Grand Prix.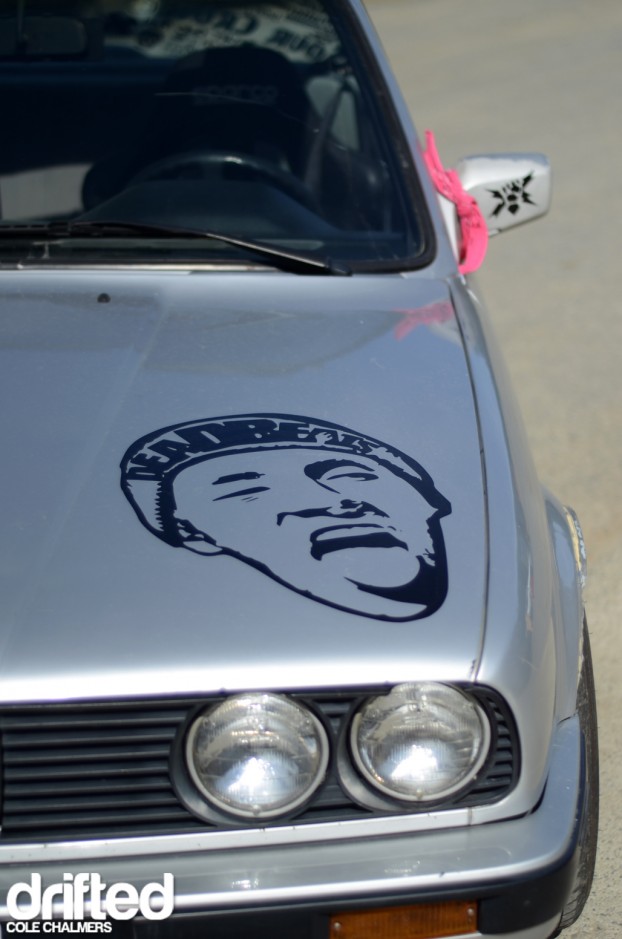 "Oh, and Driveway Drift 4 will be done with the e30." Until that hits, peep the earlier driveway drifts on Platform Media's Youtube Channel (and you thought Ryan Tuerek did it first!).
Side note: Working away from home definitely has it's drawbacks. As I finished writing this article and had it ready to post, I got a Facebook message from Josh saying "Swapped everything into an E30 convertible, way more fun now!" Straight out of left field, why am I not surprised?