The Drifthunter JZ46
When I first met Markus Müller, his E46 Sedan was still street legal and a long way from being a pro drift car. In 2011, when he got more and more in to competition drifting, and after winning the street legal IDS class 2011, he decided to install a 1JZ lump to replace the 3.0 litre engine his BMW came with. From there it didn't take long to get to what you see here today.
Check out more BMW content on Drifted
The 2013 season went very well for Markus, competing at numeours events in Germany, and he won the Drift United Championship, the unofficial German championship. Markus is one of our Featured Drivers for 2014.
This is how it all started: His daily E46 330, slighlty modded and street legal.
The stock front bumper was replaced with the E46 M3 bumper and a lip; the hood is also a lightweight substitute with quick releases.
The Team Rowdy stickers, showing some love to the ATL based Drift team.
The retro OZ Racing wheels he got for a great deal; if you know a potential wheel sponsor, I bet he would be very happy 😉
To provide the extra space for the wider wheels, Markus mounted overfenders to the E46's body.
The rear is almost stock, besides the lightweight trunk with small wing and the quick release bumper.
Tinted rear lights, a wing and the big 5″ exhaust; Markus car is more about the function than getting the looks.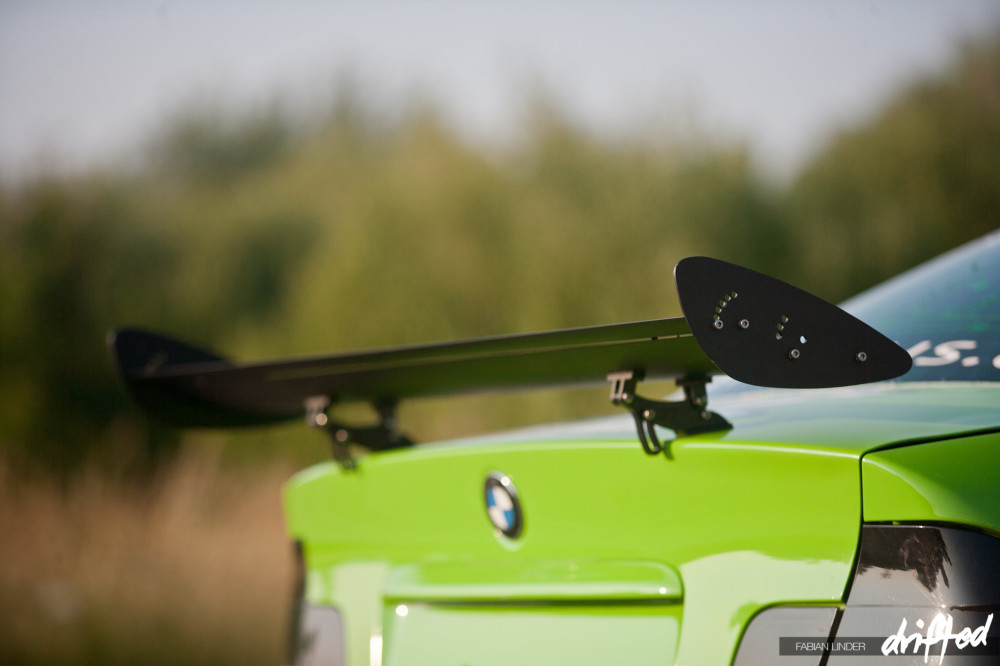 Without a wing the rear looked fairly stock, so Markus installed a provisional alloy wing, which will be replaced during the 2014 season with a larger alternative.
The BMW heart was replaced with a bone stock 1JZ-GTE – 350hp and 492NM with the twin turbo setup. Check the Dynovideo and his supporter Dynoteam: VIDEO
For 2014 he we wants to up his game with a new turbo setup.
The Cockpit.
Everything is within arms' reach: a grippy OMP steering wheel, a fly-off brake and an extended shift knob; not much else needed for a functional drift car.
An armada of gauges and the Apexi AVC-R help to tame the horses.
The extended carbon fiber shift knob; a nice detail.
Safety first: the guys from Stahlus Rennsportzellen did a great job with the rollcage.
The biggest downside to the rollcage: no more girls in the back!
Another crucial part of the safety system: the fire extinguisher, linked to six nozzles in the engine bay and under the dashboard.
Not sure if Antilag or Extinguisher…
Markus doing work.
For 2014 AEM Electronics joined Markus as a sponsor, delivering a brand new ECU unit for the engine upgrade.
Andrew Stewart of AWS Graphics takes care of the new livery. A small teaser:
We are exctied about Markus's 2014 car and will keep you updated on the build. If you want more information on Markus, check him out on his Facebook Page.
Markus wants to thank his supporters & sponsors:
– AEM Electronics
– Stahlus Rennsportzellen
– Sandtler
– Powersprint
– Turbo Total
– AWS Graphics
– KFZ Service Rall
– Autohaus Grossmann
– Dynoteam
If you'd like to learn more about the engine that powers this car then check out our 1JZ Specs article, if you would like to see how this engine fares against it's bigger brother then check out our 1JZ Vs 2JZ feature.
Tags: 1jz, 1jz-gte, 2jz, 330, 330i, 3series, 4dr, Adam Frank, AEM, AEM ECU, AEMElectronics, Andrew Stewart, Anneau du rhin, antilag, AWS, AWSGraphics, Bautzen, Bilstein, bmw, Canon, Champion, Championship, drift, Drift United, drifted, drifted.com, Drifting, Driftunited, Dynoteam, E36, E46, Essen, Essen Motorshow, four door, Garrett, German, Germany, grassroots, Hockenheim, King of Europe, launch control, livery, Markus, Mueller, Müller. Muller, Nurburgring, Oschersleben, photography, Single Turbo, sliding, swap, Toyota, Twinturbo, Wisefab
Subscribe to Drifted
If you like this article why not subscribe to Drifted and we will email you our freshest content for free!