DRIFT CAR: Going Against The Grain
It's pretty difficult to be different these days, even when it comes down to choosing a suitable chariot to turn into a competitive drift machine.
Check out more BMW content on Drifted
The choice of affordable and tuneable RWD chassis is seemingly endless. Heck, even if the car as a package isn't suitable engine and draintrain swaps are more commonplace on your average drift grid than they ever have been before.
Yet people, by nature are creatures of habit. We find safety in numbers. If drifting a Nissan 'S' or 'R' chassis car with a Toyota 1JZ or 2JZ engine is the done thing then that is what I shall do!
This is where Jareck 'Jeek' Frederico and his BMW E39 V8 comes in.
Never one to follow the masses and with a strong history in tuned Bavarian metal it made sense to stay true to his roots and ignore the herd.
Originally purchasing the car with the intention of some light modifications to make it suitable as a drift car, well placed plans soon went straight out of the window and after gaining himself a Pro license for the British Drift Championship the quest was set upon to make bring the car up to a competitive level.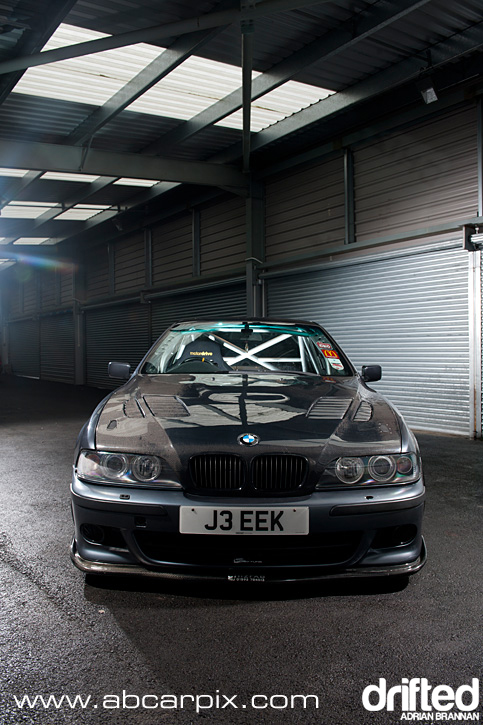 One of the key things added was a Chizfab multi point roll cage to comply with safety regulations.
The cage is a work of art, but long gone are the luxuries that this car was released from the factory with.
A D-Tune dished steering wheel and Motordrive bucket seat make up the majority of the interior as it stands now, the custom vertical hydraulic handbrake sits within reach of Jeek when he is strapped in place.
On the outside it's fair to say that Jeek has a bit of a carbon fetish.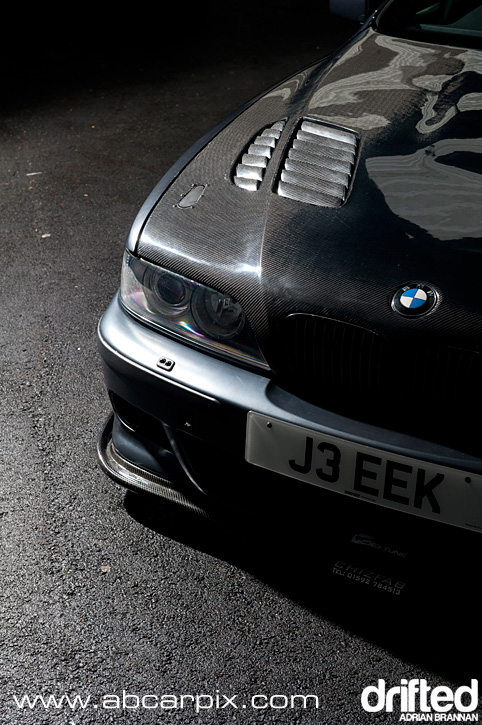 A full carbon bonnet keeps the V8 under wraps and a pair of carbon corner splitters adorn the sport front bumper.
At the back an OEM sport bumper and CSL-style rear spoiler completes the look.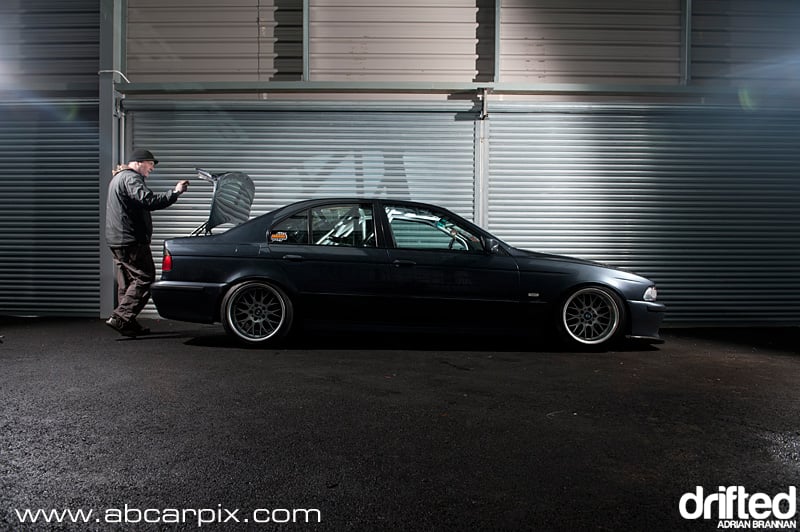 The car sits slammed with BC Coilovers over a set of 17×10 front and 18×10 rear Rondell 058's.
Just the right balance between OEM looks and a purposeful stance is the result.
Under the bonnet sits a BMW 4.4l V8 which has been lightly breathed on with the addition of a Pipercross induction kit and Spal electric fan.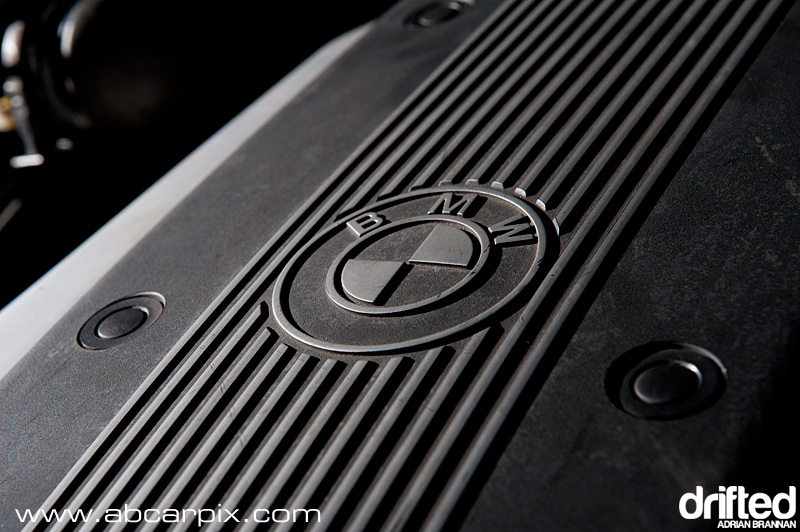 The result is 295bhp and 332 lb/ft of instant torque.
With spare tyres sat there and trapped in a 'strictly no smoking area' there was only one thing to do.
Break it outside for a smoke.
Jeek finished the 2011 BDC season in a respectable 10th place, mid table.
Such a refreshing change to see this car being used in competition. Low, mean and gangster lean!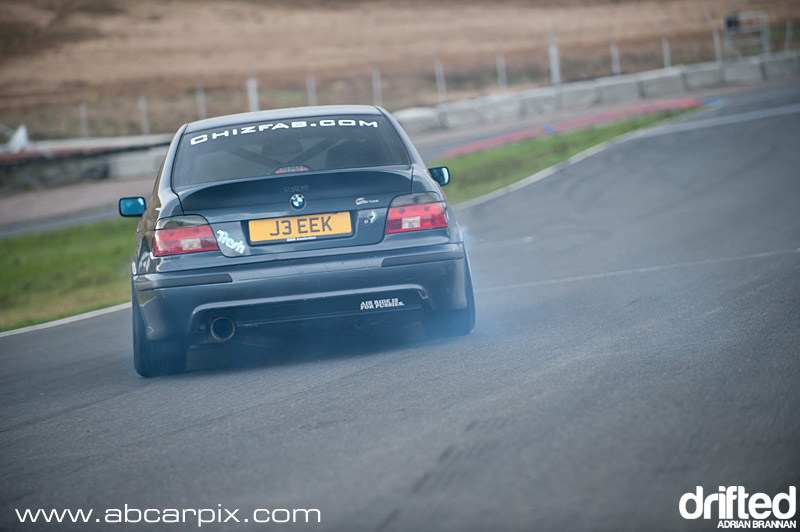 The V8 rumble coming from the Chizfab exhaust on this thing is immense!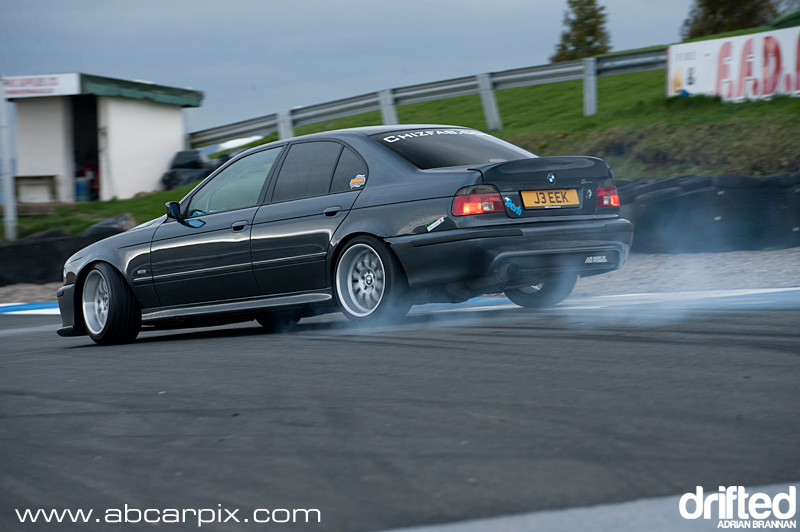 With his first competitive season in the British Drift Championship under his belt we look forward to seeing what winter brings for Jeek and his E39 ready for 2012!
Thanks to Jeek for letting us feature the car and Ade Brannan of www.abcarpix.com for the photos!