Electric Drift Trike – Three-Wheeled Epicness
An electric-powered tricycle with low traction is known as an electric drift trike – is this the ultimate high-adrenaline drifting fix on a budget?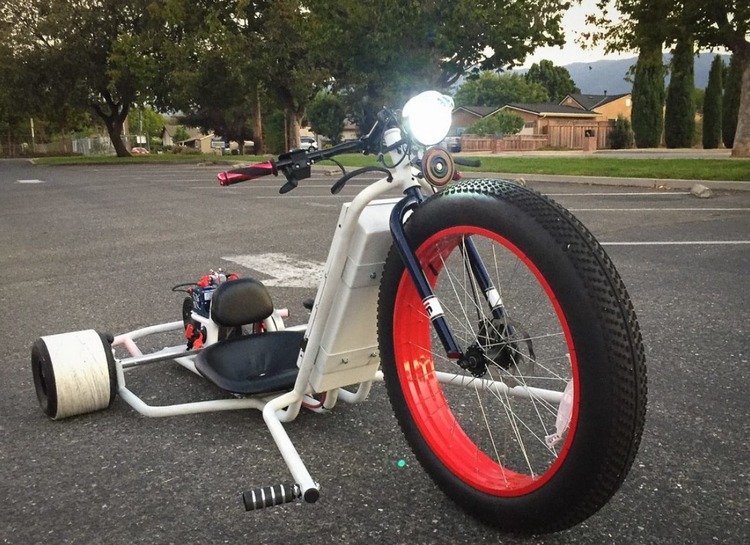 Introduction
A tricycle, often known as a "trike," is a three-wheeled bike powered by humans, gasoline, or electricity. I'm sure we've all seen these; they used to be quite a thing amongst small kids—pedal-powered, fun-filled, and with a lot of pain if someone fell off them.
These pedal-powered trikes were extremely hard to control, maneuver, and stop.
Once they get going, they become quite dangerous, especially if you ever mistakenly take them downhill. I remember reading about this in "Diary of a Wimpy Kid," where Rowley falls off a trike and breaks his arm!
Drift trikes are tricycles with extremely low traction, making the whole drifting idea come to life.
The rear wheels are mostly hard plastic, usually polyvinyl chloride (PVC).
The motorized drift trike already has a devoted fan base, and it is becoming more popular across the globe.
In recent years, the popularity of electric drift trikes has particularly been on the rise down under.
Drift Trike History
The first ever three-wheeled vehicle was manufactured in 1789 by two French inventors; it was powered by pedals, and they called it a tricycle.
However, in 1818, British inventor Denis Johnson patented the design approach for tricycles.
In developing countries, particularly in Africa and Asia, certain tricycles are used for commercial reasons, such as cycle rickshaws for passenger transportation and freight trikes.
Marty Spellman, a Californian hobbyist, built the first Drift Trike, and a group of friends paid him to make their own so that they could race them on the slopes of Laguna Beach, Malibu, Fullerton, and other locations.
Spellman discussed his initial struggles while riding a drift trike in one of his interviews.
He had multiple encounters with cops in his hometown; he was accused of charges like speeding and reckless driving, for which he even had to go to court, only to eventually end up making everyone laugh in the courtroom upon hearing that these charges were just for riding a tricycle.
As seen in the LA Times print story and 8mm film, these trikes and riders are akin to modern-day hobbyists.
Marty is credited with inventing the Drift Trike in Brazil (with the Kamikaze Trikers and Guiguinotrikes), Italy (Drift One), Australia, Argentina, Chile, Mexico, Spain, Columbia, France (Federation France de Drift Trike), and the United States of America.
Drift Trike Factory is one of the first manufacturers and suppliers of electric drift trikes. The company is based in Brisbane, Australia, and was founded in 2015.
The highly detailed drift trike frame designs and all the components required to assemble an electric drift trike are provided by Drift Trike Factory and offer after-sales customer support.
The first adult-sized, fuel-powered drift trike was released by an Australian company, BlackTop Engineering.
The gasoline-powered trike was outfitted with a fully functioning suspension system and G-Force bars.
Triad Drift Trikes, an Australian company that has been producing custom drift trikes for over three years, is one of the most well-known names in the industry.
Electric Drift Trike Specifications and Design
Adult-sized tricycles are largely used for transportation, shopping, and exercise in the West.
Children and older adults prefer tricycles because they are more stable than bicycles. However, the rider must be careful when cornering to prevent tipping since a standard trike has low dynamic lateral stability.
The majority of a rider's motion is generated by gravity, although many trike drifters opt for a freewheeling, pedal-powered front wheel, which results in a more adaptable trike.
The freewheel hub enables coasting when not pedaling while allowing the cyclist to gain forward speed while pedaling.
Standing on the back of the tricycle and using one leg to kick or push backward is another way to acquire initial motion.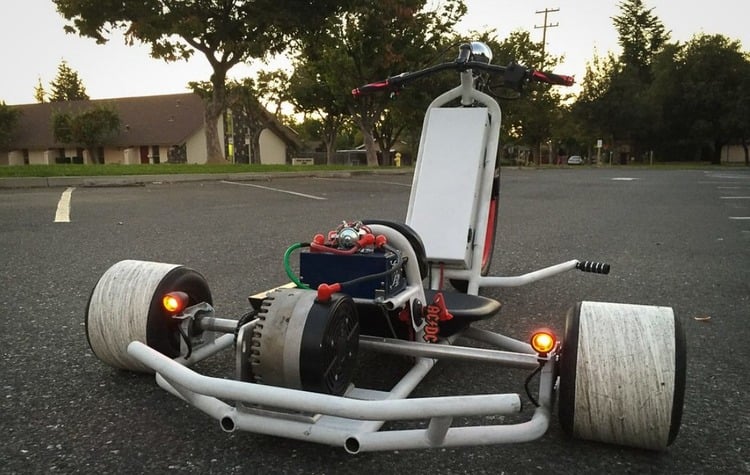 Unusual designs, like recumbent tadpoles, are easy to maintain, and they offer a lower aerodynamic drag and a lower center of gravity because of how they are designed.
Recumbents are also reverse trikes, with two steering wheels at the front and one driving wheel at the back.
One variant also has the front wheels driven while the rear wheel steers, but in the case of a drift trike, the front wheel is steered by a single handlebar attached to the stub axle assembly of the front wheel, and the rear wheels are driven with the axle assemblies joined together by a single tie rod.
Usually, hard plastics like polyvinyl chloride (PVC) are used to create smooth rear wheels. Using hard plastics significantly decreases the traction, making drifting easy for the trike.
PVC or polyethylene pipe can also cover deflated pneumatic wheels and keep them in place while producing proper drift trike wheels.
Electric Drift Trike Major Components
Nowadays, electric drift trikes have a very neat design. Some major components include a drift trike frame build, an axle kit for the rear wheels, and front and rear wheels, which come in different sizes depending on the size of your drift trike.
Both front and rear brakes are hydraulic, and no compromise on the quality of the brakes is recommended.
In the case of an electric drift trike, the motors that power it and its battery pack produce around 7 hp.
Most importantly, you'll have a place to sit and ride the trike! A low-positioned seat according to the size of your trike.
If you do not want to use a prefabricated kit to build your drift trike, you will need some tools, some of which you may not have at home but are very easy to find in your neighborhood or an engineering shop nearby.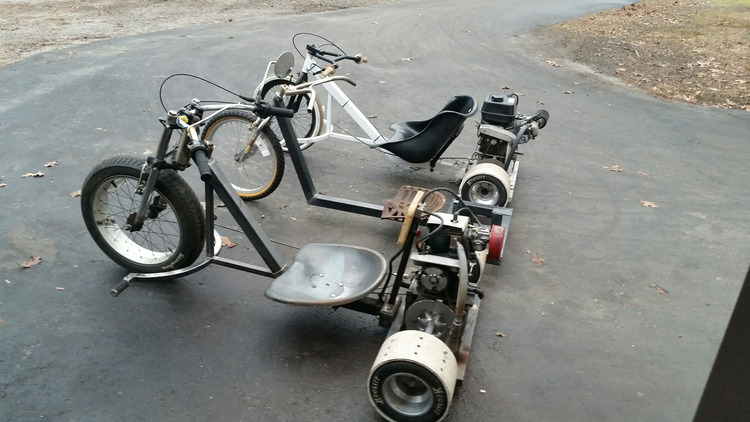 Unfortunately, big machines are required, including a lathe machine, because you will have to have a way to make some shims to make the fit of the axle and bearings tight. You'll also need to bore the disc brake to fit its location.
Many enthusiasts who build their drift trikes themselves from scratch find the testing phase to be the most difficult.
You start having fun as soon as you take the first ride, and then you want to strip it down again to have that geeky temptation of having an unfinished project and the constant learning that comes from it.
Whenever I finish one of my enthusiastic projects, the first thing I do is disassemble the entire assembly.
That makes me aware of any problems with the fitting, highlights any problems with my designing or fabrication approaches, and gives me a chance to improve my initial mistakes.
Renowned Electric Drift Trike Models
Even though many homemade models of electric drift trikes do not receive the attention that their brilliant designs deserve, I have listed some of the most popular electric drift trikes on the market.
These are of different tiers and are manufactured by an American company, eDriftTrikes, which took a humble start in a garage just like any other "very American" start-up!
They have expanded so much that they sell ready-made electric drift trikes and offer after-sales customer support for their products.
The baseline model is for beginners who want to learn how to drift.
It is nimble, quick, and has good handling to offer beginners. A perfect entry-level drift trike, having the same battery technology as Tesla.
The baseline has a front hub motor powered by a 52-volt 14S4P Panasonic/Sanyo 18650GA 3500mah battery with a charge time of 4-6 hours and playtime of 1.5-3 hours. The motor can generate 1560 watts of instant wheel-spinning power.
Talking about the spinning wheels, it comes with a moto-sized 16′′ cast metal alloy rim and 2.25′′ Shinko SR741 4-ply Moped tires.
The entry-level trike comes with a top speed of 25 mph, controlled by an integrated sinewave controller, which, quite frankly, is very decent for a beginner.
TRP Spyke MTB Brakes are used with a 203mm rotor and electric motor cutoff.
The Mid Power is their middle-tier version, designed especially for enthusiasts; it has an age limit of 18+ since a front hub motor capable enough to spin the wheels at 2400 watts does require some serious handling.
The Mid Power has a top speed of 40 mph. The motor is powered by a 60v/16.5″ Panasonic/Sanyo 18650GA 3500mah battery, and the trike is controlled by a Sabvoton 72080 programmable sinewave controller.
It has a 16′′ Excel Takasago motorcycle rim with high-quality 90/80/16 Michelin City Grip motorcycle tires. TRP Spyke MTB Brakes are used with a 180mm rotor and electric motor cutoff.
The range-topping version is known as High Power, and the company claims it is for speed freaks only, featuring a top speed of 50 mph, almost double the entry-level trike's top speed – it's understandable while it's not suitable for everyone!
This again has an age restriction of 18 and up. The motor is laced with 9-gauge steel spokes, powered by a 72v 20s6p 21ah Panasonic/Sanyo 18650GA 3500mah battery, and controlled by a Sabvoton 72150 programmable sinewave controller.
This model is a treat for a true drift trike lover. It has a 16-inch Excel Takasago motorcycle rim and 110/70-16 Shinko motorcycle tires. MTB brakes are used with a 203 mm rotor and electric motor cutoff.
Drift Trikes
With so many prefabricated kits available for electric drift trikes these days, many drift trikes are manufactured at home or specifically for each customer by skilled welders.
However, several bike manufacturers, including Drift Trike Factory, Huffy, Trek, Aldi's brand Crane, Airwalk, Triciclos de la Montaa, and a few other businesses, have commercially launched kid-friendly versions.
Local Motors was the first to release an adult-sized electric version. Many enthusiasts have opted to create their drift trikes rather than purchase name-brand models from manufacturers.
Typically, this entails using a used BMX or kids' bike and modifying the frame to accommodate a seat and axle on the back. This is a low-cost way for folks to give their trikes a distinctive appearance.
Drift trikes often go at speeds of 25 to 50 mph. Trikes are made to drift by purposefully causing the rear wheels to lose traction and counter-steering to navigate through tight curves.
They are typically driven on paved roads with sharp turns, switchbacks, and downhill grades.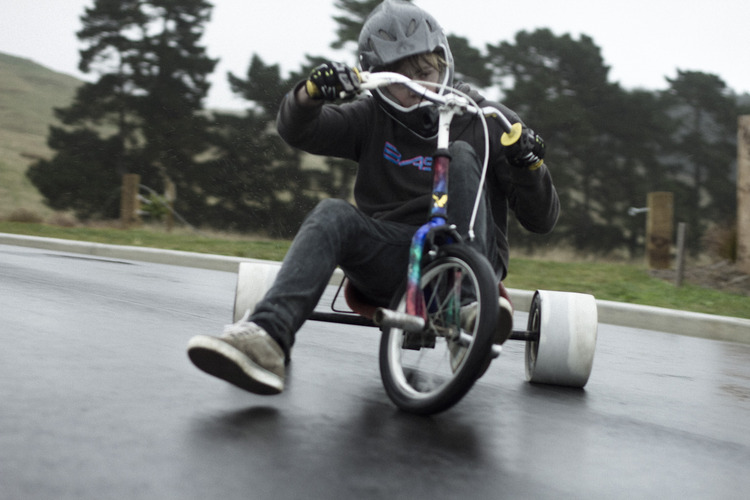 Since uneven surfaces tend to wear out the plastic rear wheels more quickly, generate a harsher ride, and even decrease the drifting ability, smooth roads are preferred over coarsely chip-sealed routes.
Drift trikes are again becoming popular, especially down under, thanks to New Zealand's continuing drift and automotive culture of "boy racers" and automobile enthusiasts.
Drift triking is rapidly expanding to several other countries, including Australia, Colombia, the United States, and many European states, especially in Latvia and other nations.
After four years of rigorous testing and 100,000 runs on a dedicated indoor track for drift trikes, a Latvian company, Wolftrike, introduced rental drift trikes for its customers.
This is further evidence of the growing popularity of electric drift trikes, as there is also a demand for rental trikes.
To promote the sport of drift triking, the American Drift Trike Association, a non-profit organization, was established in the United States in 2011. However, the organization has since been dismantled.
With teams like Drift Trikes Whangarei being sponsored by Red Bull, drift triking has established itself as a legitimate sport. In Latvia, drift trike is recognized as a sport discipline under the same terms as drift motorsports.
Conclusion
After a comprehensive read, the urge to ride one almost instantly grows as a motorsport enthusiast, even if you've never heard of drift trikes.
One thing is safe to establish: this hobby that will be seemingly childish-looking to outsiders means serious business and requires serious handling from the person driving a drift trike.
Electric drift trikes come with many benefits over other variants, including much-improved torque and the ability to use solar power to generate free power in sunnier regions, making them the perfect alternative to paying ever-increasing gas bills!