Mario Kart 8 Deluxe DLC – All You Need To Know
Discover the multiple courses from the first of the eight waves of the Booster Course Pass released so far as we explore the Mario Kart 8 Deluxe DLC content.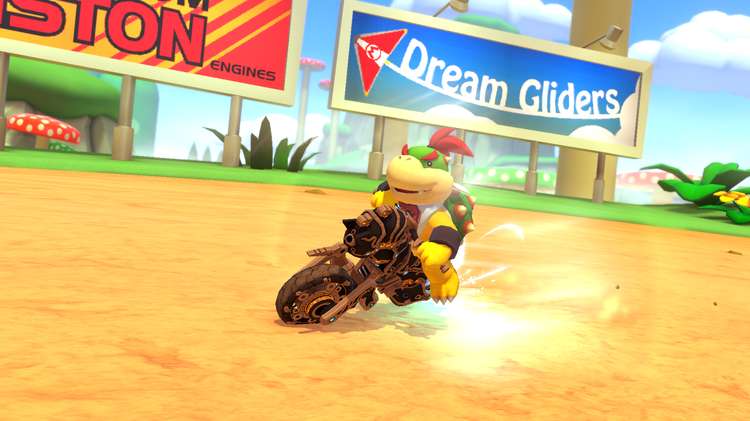 Introduction
Before Gran Turismo and Forza Horizon hit the scene, O.G. gamers often chose Mario Kart as their ultimate racing game.
The first installment of the legendary series came with the SNES an incredible 30 years ago and is still going strong today.
In this much-loved racing game, Nintendo wanted to move their famous "mascot," Mario Bros, and take him for a spin.
As the game suggests, the characters use karts to move around within different parts of the Mushroom Kingdom.
Even though it looks "childish" at first glance, these video games bring tons of fun to all ages.
Furthermore, they can become extremely challenging if you're unlucky. Besides the "arcade-ish" movement, you also deal with random items.
These items could bring you a lot of joy or make your racing events like a nightmare.
For example, the "Star" makes you invulnerable and gives you speed, which helps you reach the top quickly.
At the same time, a "Blue Shell" moves directly to the first spot and destroys all your defenses.
There's no question that a huge part of Mario Kart's appeal is when you gather enough friends to play for some intense gaming sessions.
Mario Kart 8 Deluxe DLC (Booster Course Pass)
Many players thought Mario Kart 8 was leaving the development and potentially hoping for an announcement for the next version sooner or later.
Still, the developers at Nintendo turned things around with unique new content for the current Mario Kart.
Thanks to the outstanding game mechanics and reliable engine, many players felt the potential once it arrived on the Switch.
And now, thanks to the upcoming cups, we might once again challenge our friends and test our Kart skills.
How To Get The Booster Course Pass
To unlock the Booster Course Pass, you can add the Online plus Expansion Pack subscription, which costs $50 per year.
Also, there's an option to Buy the Booster Course Pack for $25. Both options will give you 48 courses by the end of 2023.
New Courses
For the Booster Course Pack, as the name mandates, this DLC will focus on adding tons of "new" tracks to the Mario Kart 8 Deluxe roster. Many of these options (as you'll see here) come from previous games from the same franchise.
Above all, each cup adds more gameplay sessions and tons of fun.
Learn how Forza Horizon 4 DLC works with that racing video game.
Wave 1
Here you have the first two new cups from the Wave 1 DLC:
Golden Dash Cup
Paris Promenade: The first track of the DLC series, one of the most astonishing ways to start. If you played the mobile version of Mario Kart, you probably know a little bit about this course; if not, don't worry. As you progress through the different laps, you'll notice that some parts of the map change. Therefore, stay focused on the directions and let each turn help you get some boosts.
Toad Circuit: This is an impressive classic track from the 3DS and great for beginners. The important thing is to keep your kart on the road and catch as many coins as possible. Indeed, the downside of these tracks is that you're more vulnerable to sudden attacks. Therefore, always keep something to counter any attacks.
Choco Mountain: Now we are on the "ancient" territory with this course. Indeed, there are many changes from the original, but they are all welcome. Keep an eye out from the start and avoid falling into the cliff. Later on, thanks to the sound effects, you'll know if a rock might fall close to you; if you get the chance, drive away. Choco Mountain requires some skill, primarily due to the tight corners and multiple hazards.
Coconut Mall: One of the greatest tracks from Mario Kart Wii. As you might recall, the Nintendo developers added tons of gyro gaming mechanics around this era. Therefore, whenever you see a little obstacle inside the mall, try to use it for one powerful boost. Additionally, check the electric "stairs" and always follow the green parts.
Overall Thoughts
Undoubtedly, each of these tracks forms a great synergy that aims to help you learn the game's mechanics. Between all four options, neither is hard to drive (with a little exception on Choco Mountain), and you can play this cup with everyone.
Lucky Cat Cup
Tokyo Blur: Another great addition to the mobile version of Mario Kart. Still, things change a little bit when you're playing on the console. Overall, the track feels more challenging, and you have more room to maneuver. Similarly to Paris Promenade, things change a little bit each time you complete a lap. This time around, you'll get more obstacles and slight changes.
Shroom Ridge: You'll first notice that this classic course from the DS seems easy, but things start to get rough here. Being a "Toad" related element, we also see traffic and multiple hard turns. Therefore, you'll need to move carefully and use your boost when nothing blocks your path.
Sky Garden: One short track from the GBA era, packed with dangerous roads and hard turns. Indeed, Being one of those courses with a "sky" theme, falling is always the troublesome part. Additionally, you'll always have adversaries near you since it doesn't take too long to complete a lap. Hence, you might lose significant advantages from a single mistake.
Ninja Hideaway: Now we are getting into the "never seen" territory. Ninja Hideaway is a new track packed with complicated obstacles and multiple pathways. Depending on how much you take advantage of the boosts, you could end up between the ceiling or the lower floor. It takes practice to memorize the different routes and check, giving you more advantages.
Overall Thoughts
The whole cup feels between beginner and medium difficulty. It starts easy, but things turn ugly if you have no training with the different Mario Kart driving mechanics. Don't worry if you cannot reach the podium on your first try; after a few attempts, you'll get there.
Most noteworthy, keep the assistant activated on players with no experience with Mario Kart 8 Deluxe DLC.
Why not check the Fastest Cars in GTA Online to know more about topping the leaderboard in GTA V?
Wave 2
Here you have the other two new cups from the Wave 2 DLC:
Turnip Cup
New York Minute: This is another element from the mobile version of Mario Kart. This time around, you'll drive between the streets of New York and learn that all the traffic seems dead. The more you practice on this track, the more you notice a few bugs on the road that might even get you stuck. Great addition, but it seems that it still needs some work.
Mario Circuit 3: Now we are traveling into prehistoric times with this old track from the first Mario Kart. You'll undoubtedly learn in Mario Circuit 3 why they added the "Kart" part from the start. Still, the illusion fades away now that we can pick bikes or sports cars (Mercedes). The track is still tremendous and welcome for any player, in here, you'll learn how to use the boosts (or mushroom) properly.
Kalimari Desert: We still ride the nostalgia train (pun intended) with this course. Coming from the N64, you drive on a deserted road, followed by a dangerous train. Inside this "updated" version, you'll see modifications each time you finish a lap. Kalamari Desert is not challenging, and everyone might find it fun.
Waluigi Pinball: When you see this track for the first time, you might get impressed seeing everyone traveling inside a pinball machine. But after you learn the gimmicks and practice for a better placement, you'll notice how unforgiving Waluigi Pinball becomes. All the additions to the game look fun, but it takes time to learn how to avoid danger.
Overall Thoughts
Everything goes smoothly in this cup until you reach the last part (Waluigi Pinball), and then things go serious. Above all, this cup has everything, and you'll soon discover that each track will challenge you. Keep your friends closer and the Red Shells even closer.
Propeller Cup
Sydney Sprint: Following the same trend from the previous mobile tracks of Mario Kart, you see new things after each lap. You'll travel around different buildings and roads in Sydney, Australia. It's a great addition to the Mario Kart 8 Deluxe roster, but it might confuse new players when they miss the guiding arrows.
Snow Land: Great stage, but it feels too short, like the other GBA options. Here, you'll see different obstacles and how the physics change as you move around the ice. Always try to catch the mystery boxes and keep yourself armed all the time. Since the track is short, you'll become an easy target for your opponents.
Mushroom Gorge: One of the greatest tracks from the Wii version of Mario Kart. Inside this place, you'll jump around more than often, giving you more chances to add some boosts. Avoiding Red Shells or anything similar might be challenging as you move through the air. Once you learn where to move between mushrooms, things will become easier.
Sky-High Sundae: A new element to the big family of outstanding tracks from Mario Kart 8 Deluxe. After playing Sky-High Sundae, you'll notice that this track is the first DLC option that uses all the new gameplay mechanics. Therefore, it feels right at home. Overall, this stage might be too tricky for beginners, but an excellent ride for veterans. Passing through the complex parts becomes easier if you know how to drift.
Overall Thoughts
It seems that Nintendo added a little more difficulty to this cup. Between all four tracks, you'll see that it takes all your Mario Kart knowledge to win the final prize. Furthermore, playing with friends makes every part of the DLC much more fun. This way, all the players learn from their mistakes or your friend's misfortunes.
Speaking about drift, you might want to check How to Drift in GTA5.
Wave 3
We can already tell that Wave 3 is packed with outstanding courses for us to try. Many old elements will bring more challenges to your Mario Kart 8 Deluxe game and increase your gaming sessions.
We recommend that you start practicing by yourself or with your closest friends. Everything will go smoothly after discovering all the obstacles, where to drift, and the shortcuts. Later, you could take your skills into the online mode and battle against different players worldwide.
If you want to play another driving video game while waiting, this link might help you. It is about Best Drift Car in Forza Horizon 5.
Wrapping Up
Now that you know what courses you'll get in the Booster Course Pass, the option to unlock it is up to you. If you buy it by itself ($25), the license will remain on your account, even without the online subscription.
Good luck with the new courses!
Mario Kart 8 Deluxe DLC FAQ
In this part of the article, we'll answer the common questions about the Mario Kart 8 Deluxe DLC.
What Does Mario Kart 8 Deluxe DLC Include?
The Booster Course Pass includes 48 additional tracks to your Mario Kart 8 Deluxe collection. Many of the DLC courses are "remastered" versions of old elements from the Mario Kart franchise.
Is Mario Kart 8 Deluxe DLC Free?
No, you have two options to unlock the Booster Course Pass on your account. First, you have the Online plus Expansion Pack membership which costs $50 per year. Also, you can buy the entire DLC Pass for $25.
What Time Does Mario Kart 8 Deluxe Wave 3 Drop?
Wave 3 is available from December 7, 2022.
Does the Mario Kart 8 Deluxe DLC Include All Waves?
Yes, when you purchase the Booster Course Pass, you'll get all 48 Courses. Remember that not everything is ready yet. The last wave might arrive at the end of 2023.
Will Mario Kart 8 DLC Have New Characters?
There's no sign or announcement of new characters in the Booster Course Pack. Still, we have one year full of updates, and we might get something related to new racers.