Suzuki Cappuccino – Tiny, Yet Built Right
We don't often label cars 'cute,' but the Suzuki Cappuccino gets a pass. It might not look intimidating, but is this tiny sports car a wolf in sheep's clothing?
Introduction
Have you ever wished you could buy a sports car? one that is more compact, lighter, and suitable for parking in the smallest spaces?
This description falls perfectly into the Japanese Kei car category.
Even though Japan has been manufacturing cars like these for decades, and many of the cars produced in Japan comply with the nation's strict standards, they still fall into the Kei car category. However, the Suzuki Cappuccino was one of the cars that did fall into the Kei car category.
Suzuki Cappuccino History
Suzuki aimed to reclaim a sports image in 1987, and two years later, the project car made its debut at the Tokyo Motor Show.
The Suzuki Cappuccino was initially designed for the Japanese Domestic Market, following Japan's strict Kei car rules.
While 1991 saw the start of its short-lived production, it soon ended in 1998.
The literal meaning of "Kei car" is "light automobile." It is the Japanese term for the smallest highway-legal passenger cars with constrained dimensions and a maximum engine capacity of 660 ccs. Globally, Kei cars are known as Japanese city cars or Japanese microcars.
These cars can be considered the Japanese equivalent of the European A-segment sedans or hatchbacks, widely known as city cars.
Microvans, hatchbacks, sports Kei cars, and Kei trucks are all categorized similarly in Japan.
The Japanese government established the Kei automobile category in 1949, and since then, the rules have undergone several amendments.
According to the Japanese automobile policy, a maximum vehicle size, engine size, and power output are established for the Kei cars, incentivizing Japanese nationals with reduced insurance rates and tax rebates.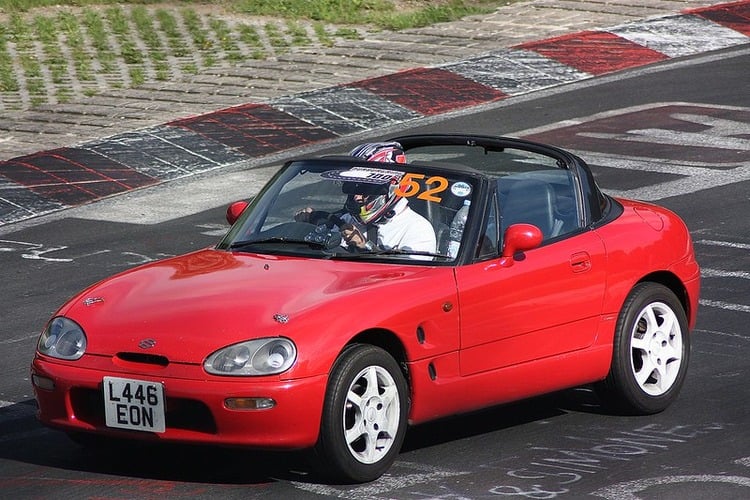 They are also free in most rural areas from the necessity of proving that there is an appropriate parking space for the car.
Many people switch to buying Kei cars, keeping all the benefits in mind.
By Japanese law, it is permissible to have bigger cars, but thanks to all the incentives, around 30% of the cars in Japan are Kei cars.
They started with an engine size of 360 ccs, and that engine size was carried on until 1975.
The Kei cars manufactured between 1976 and 1990 had an engine size of 550 ccs.
The auto policy governing Kei cars was changed in March 1990, allowing engine displacement to be increased by 110 ccs and for the overall length of the car to be 100 mm longer.
The Japanese economic boom of the 1990s brought about these developments, and all manufacturers were quick to adapt.
All the major Kei car models went from 550-cc to 660-cc engines in less than five months.
Because the Kei car market is so competitive, manufacturers are always racing to give improved performance, usefulness, and enjoyment within the Kei car rules, pushing the pace of technical innovation, which extends to the rest of their automotive line.
Consequently, turbocharged engines, automatic gearboxes, continuously variable transmissions, front-wheel drive, rear-wheel drive, four-wheel drive, hybrid drivetrains, air conditioning systems, and navigation systems are all available in Kei cars.
Suzuki's Sports Kei Car
Japan has produced many sports Kei vehicles, such as the Honda Beat and the Autozam AZ-1.
Because of the Mazda AZ-1, Honda Beat, and Suzuki Cappuccino, these sporting Kei vehicles were known as ABC. Newer variants of sports Kei vehicles, such as the Daihatsu Copen and Honda S660.
Suzuki's Cappuccino was the Japanese automaker's take on the sports Kei car category. Its low curb weight and moderate horsepower work together to create a sports car that is surprisingly fun to drive, considering its small size. The Suzuki Cappuccino remains one of the best models in the Kei car category.
Suzuki Cappuccino Specifications
The Suzuki Cappuccino was built to Kei car specifications, with a three-cylinder, 657cc dual-overhead cam turbocharged engine just under the 660cc maximum displacement allowed for a Kei car.
The F6A engine was mounted just behind the front axle, resulting in a front-mid-engine rear-wheel drive car and the only mid-engine sports Kei car of the time. Most of the car's parts, including the hood, roof, roll bar, and lower front guard panels, were made of aluminum. Hence it only weighs 725 kg (1,598 lb), making it extremely fun to drive.
As far as the specific dimensions are concerned, the car is 3,295 mm (129.7 in) in length and 1,395 mm (54.92 in) in width; these dimensions were likewise in compliance with Kei vehicle rules for the maximum length and width. With two passengers seated, the front-to-rear weight distribution is said to be 50/50.
All Cappuccino models come standard with rear-wheel drive and have all-wheel disc brakes. Later models in Japan had double wishbone suspension made of aluminum and electronic power-assisted steering with speed sensing.
The car's electronic power-assisted steering (EPS) system includes an electric motor that controls the steering.
The EPS manages and supports vehicle steering via an electric motor, providing the driver with a satisfying and ideal steering experience by making them feel in control.
The Speed Sense Steering System performs as its name suggests. It detects how fast your vehicle moves and adjusts the electric motor's assistance, so you feel in control while steering.
There's an interesting situation with the car's detachable roof; it comes in three parts, primarily to fit in the car's tiny trunk.
This three-part split makes the roof exceptionally quirky as the car can be used as a closed coupe, a T-top Targa, or a full convertible once the back window and roll bar are fully retracted.
The rear window/roll cage unit retracts manually into the body behind the seats using a latch. Once the roof panels pack into the trunk, they take up practically all the available luggage space.
Unlike many convertibles of the time, the back window is glass and wraparound, with demisting components.
Suzuki Cappuccino Powertrain
Earlier models of the Cappuccino came with Suzuki's F6A engine, a dual overhead cam turbocharged three-cylinder engine.
Later production models got the F6A engine replaced with the K6A engine, governed by the same regulations as the one used today in the Caterham Seven 160, which has just 657 ccs of displacement and is powered by a turbocharger.
Though it only produces 63 horsepower, performance is nonetheless brisk despite the low power output for multiple reasons, including its lightweight and rear-wheel drive. The car came with a 5-speed manual and a 3-speed automatic transmission to choose from.
Suzuki claims an eight-second 0-60 mph time; while this claim may be exaggerated, the Cappuccino has more than enough power to feel genuinely thrilling, especially when you're sitting just inches off the ground while driving.
The later models that came with a K6A engine made the car even lighter, as the K6A engine had camshafts operated by a chain rather than a belt and had more torque.
Both engines are DOHC 12-valve inline 3-cylinders with turbocharging and intercooling.
The claimed power output was 64 PS (47 kW; 63 hp) at 6500 rpm, below the maximum power permitted for Kei cars.
If you're looking for other engine guides, we have a whole catalog of engines and engine specifications for all motorheads out there!
F6A
This engine was launched in 1990 with a total displacement of 657 ccs, based on the older 550 cc F5B engine.
The maximum power generated is 36-64 PS (26-47 kW; 36-63 hp) at 6000 to 7000 rpm, and the maximum torque is 50-90 Nm (5-9 kg-m; 37-66 lb-ft) at 3500 to 4000 rpm.
K6A
K6A was the first K engine to be produced; it debuted in 1994 and was phased out in 2018.
This was the first K engine to have VVT in various configurations, including lean burn, turbocharged, naturally aspirated, CNG, and hybrid.
The hybrid variant, which was only available for the Suzuki Twin, was also the first hybrid engine in a Kei vehicle.
Maximum power output is 60-64 PS (44-47 kW; 59-63 hp) at 6000-6500 rpm, and the maximum torque is 83-108 Nm (8-11 kg-m; 61-80 lb-ft) at 3000-3500 rpm for the turbocharged K6A engine.
Suzuki Cappuccino Variants
The Suzuki Cappuccino was originally designed for the Japanese market. However, it gained a lot of popularity in Hong Kong, where people were known to be fond of funky Japanese cars.
Very few of these cars were produced for the United Kingdom and the European market.
The 1995 model year of the Cappuccino saw some upgrades, including the new, lightweight K6A engine, which had chain-driven camshafts and a slight increase in the torque figures. This revised model of the Suzuki Cappuccino was known as the EA21R.
The upgrades also included lighter wheels and an option for a 3-speed automatic transmission with power steering instead of the older 5-speed manual transmission models.
The car has been dropping in numbers globally.
Suzuki Cappuccino Mods, Upgrades, and Tuning
The amount of equipment available will astonish those eager to tweak and customize their cars.
Cappuccino's forced induction arrangement makes modifications to it rather simple. Power may be increased to about 100 horsepower with a remap, new air filter, and exhaust system.
To increase the power and torque, Superchips are the best for ECU upgrades; these cost around $500.
A strut bar may also be added to make the suspension feel sportier.
There are other methods for transforming your Suzuki Cappuccino into a mini monster.
All options are available for the rather easy-to-modify sports Kei car, including a larger turbo, racing cams, and stronger engine internals.
There is also an extremely exciting engine swap option for the Cappuccino, replacing the F6A or K6A engine with one from a different Suzuki, specifically one from a Hayabusa sports bike. Making a distinctive little roadster is as simple as clicking a few buttons.
This little roadster offers several interior, and exterior customization choices, much like the limitless engine and other drivetrain modifications. Toyoshima Craft offers a carbon fiber hood, roof, and other body pieces for the exterior.
Additional modifications are available for sporty alloy wheels, tires with a broader and lower profile, spoilers, splitters, and widebody kits. The interior modifications include a roll cage, sporty steering wheels, aluminum pedals, suede accents, carbon fiber inserts, bucket seats, and newer infotainment systems.
Suzuki Cappuccino Reliability
In its stock form, the Cappuccino has trouble-free internals, making it an extremely reliable car.
The small engine, stress-free in its factory configuration, will comfortably produce large odometer readings if it receives routine maintenance.
Some have a history of rusting, but this is usually fixable. Generally, it is a reliable offering in the Kei car category, and many users have few complaints about it.
The turbocharged three-cylinder engine has an outstanding reliability record.
Although gearboxes can develop synchro problems, fixing them is typically not a problem.
The mechanical parts of the suspension and other parts are likewise resistant to damage.
However, you would need to make a few replacements because the vehicle has been on the road for over 20 years.
A lot of owners have complained about coolant hose failure, which is primarily due to aging.
Conclusion
The Suzuki Cappuccino is an extremely impressive sports Kei car. With its unique quirks, the car still has a bold presence. Over the past few years, the Suzuki Cappuccino's price has been progressively rising.
In 2019, you could have purchased the Cappuccino for as little as $10,000.
You'd have to pay a few thousand dollars more to get the same car in the same condition today.
FAQ
In this section, we'll answer some commonly asked Suzuki Cappuccino questions.
Is the Suzuki Cappuccino a rare car?
Yes, only 183 cars will be licensed in 2022.
Are all Suzuki Cappuccino models RWD?
Yes, the Suzuki Cappuccino came with rear-wheel drive as standard.
Are RWD cars safer?
Most automobiles perform better with FWD, to sum it up. They are easier to control, generally making them safer whilst often being more spacious and affordable. They also get higher gas mileage.
RWD cars, however, continue to be the standard for powerful sports vehicles, especially when it comes to drifting.