EVENT: 2012 European Drift Allstars Round 2: The Big Smoke London
As a greyhound track, Wimbledon Stadium was a surprise location for Drift Allstars round 2 this year, but a great turnout and lots of action made it one of the better tracks I've covered. With a 32 hour day for myself (and Anthony 'Scotty' Scott as I travelled down with him), there was lots of noise and smoke, not to mention girls, bikes, fire and the odd crash. The Drift Allstars guys certainly know how to put on a good show. It looks like I went a bit OTT with the pictures, there's ALOT but I want to give you guys a real feel for the event, so I hope you enjoy.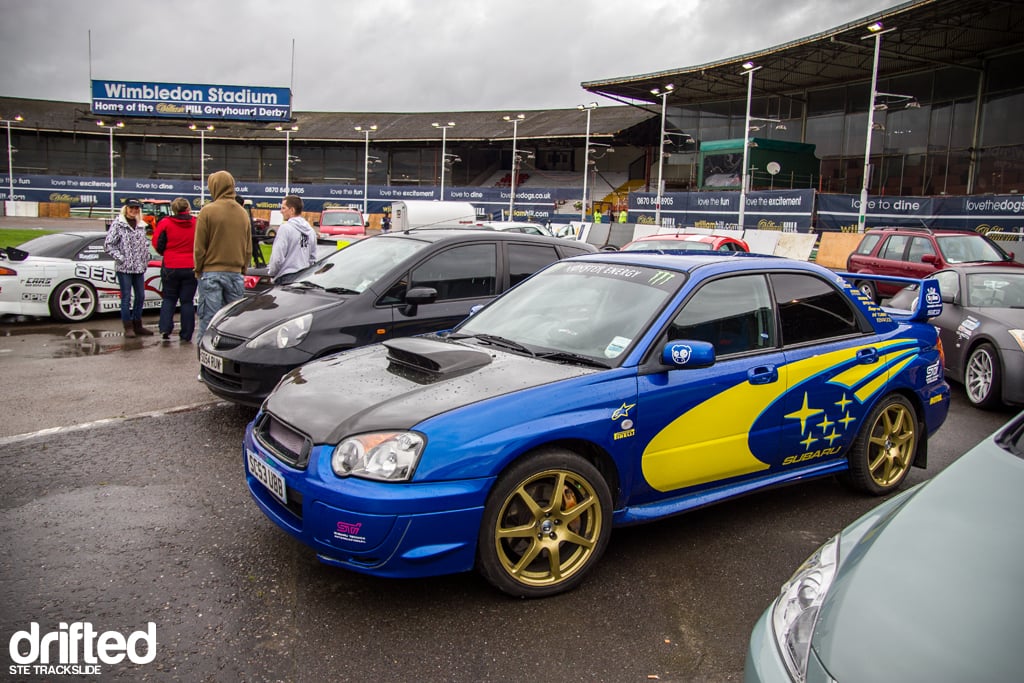 As people arrived we were sent onto the track to wait for the Sunday market in the car park outside to be cleared so the pits could be setup. I used this time to wonder round, chat to some people, check out some of the cars and grab a few pictures.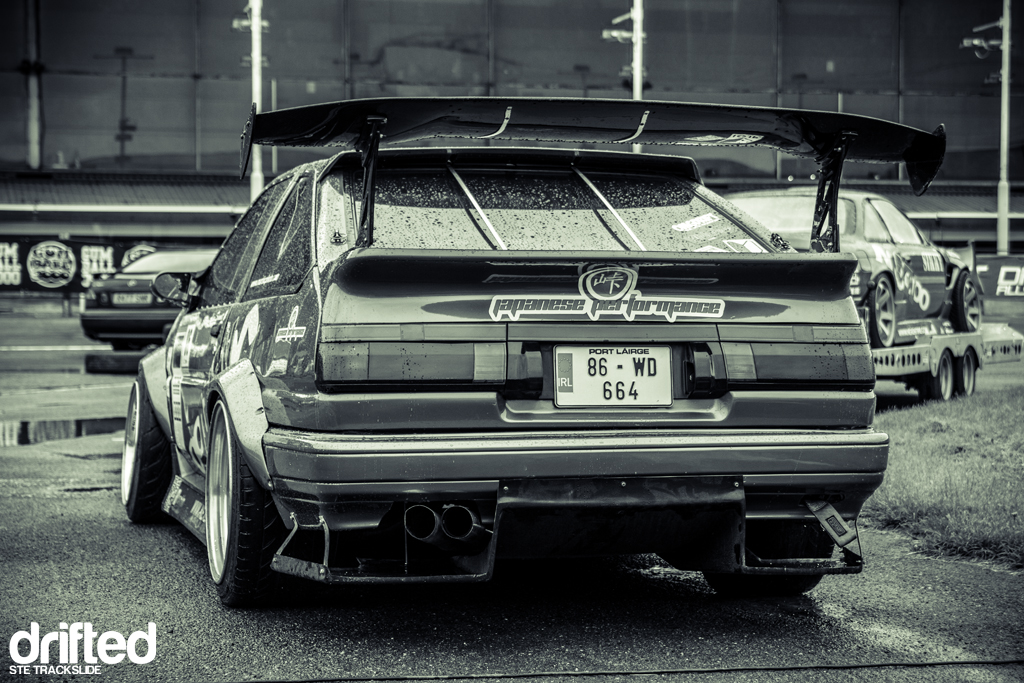 As a big Levin fan I was quite happy to see this there.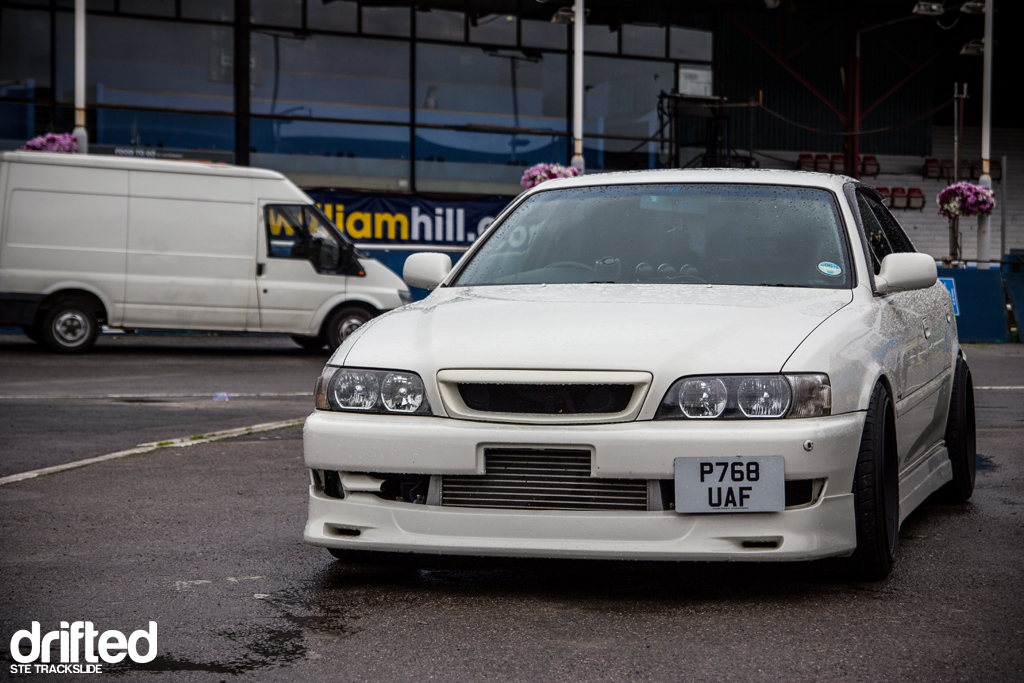 I spotted some JZX goodness hiding behind a van at the rear of the track, I was rather hoping it was competing but it disappeared never to be seen again.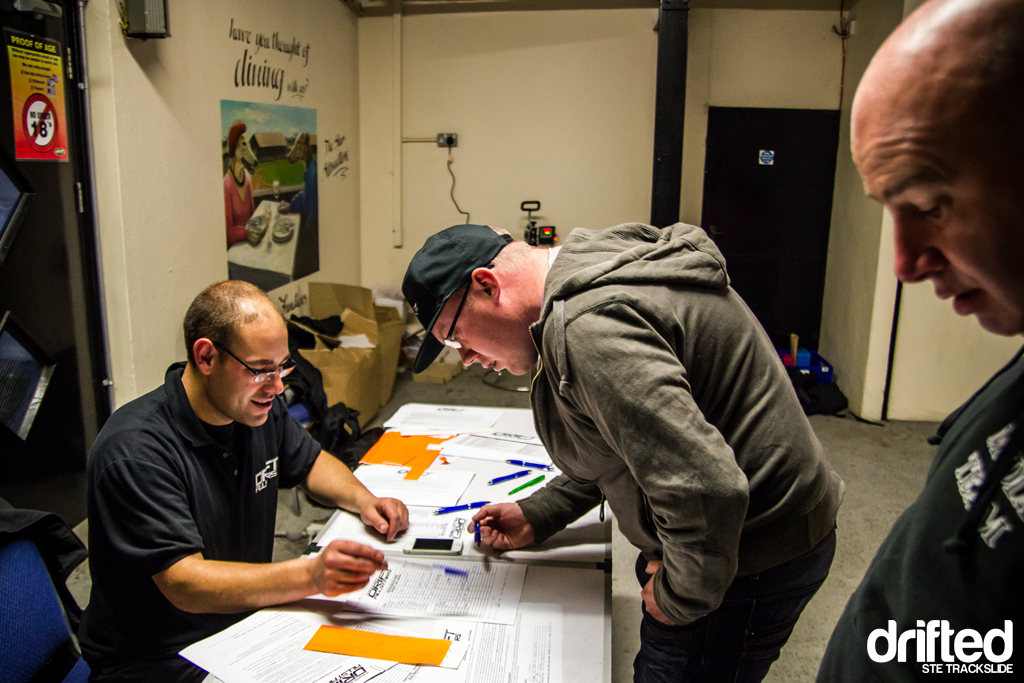 Mr Daniel O'Brien signing on fairly early, very keen.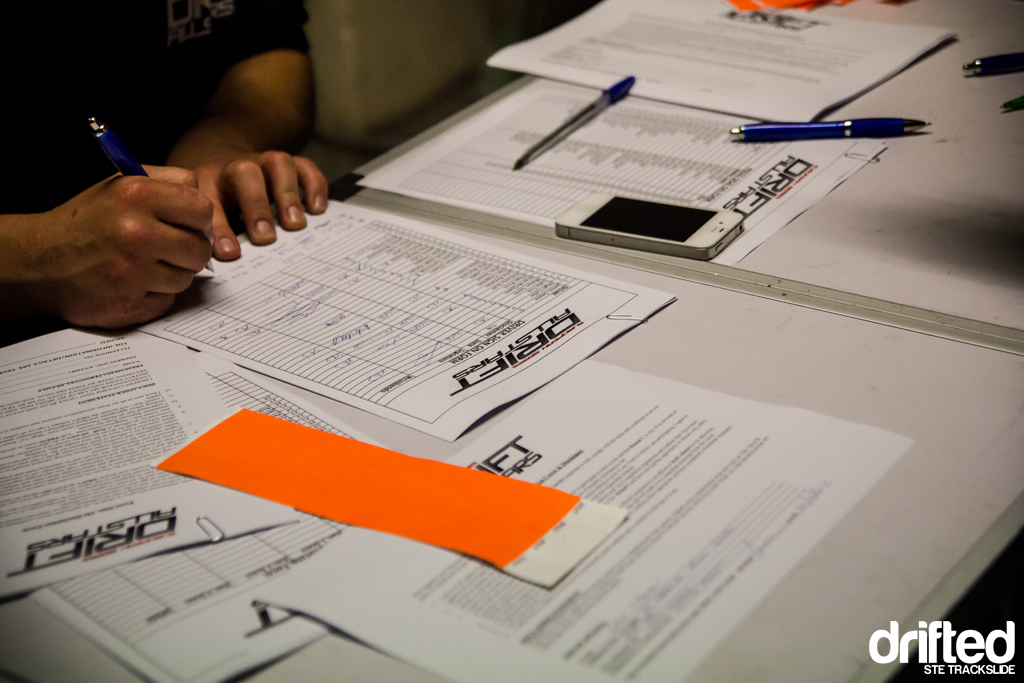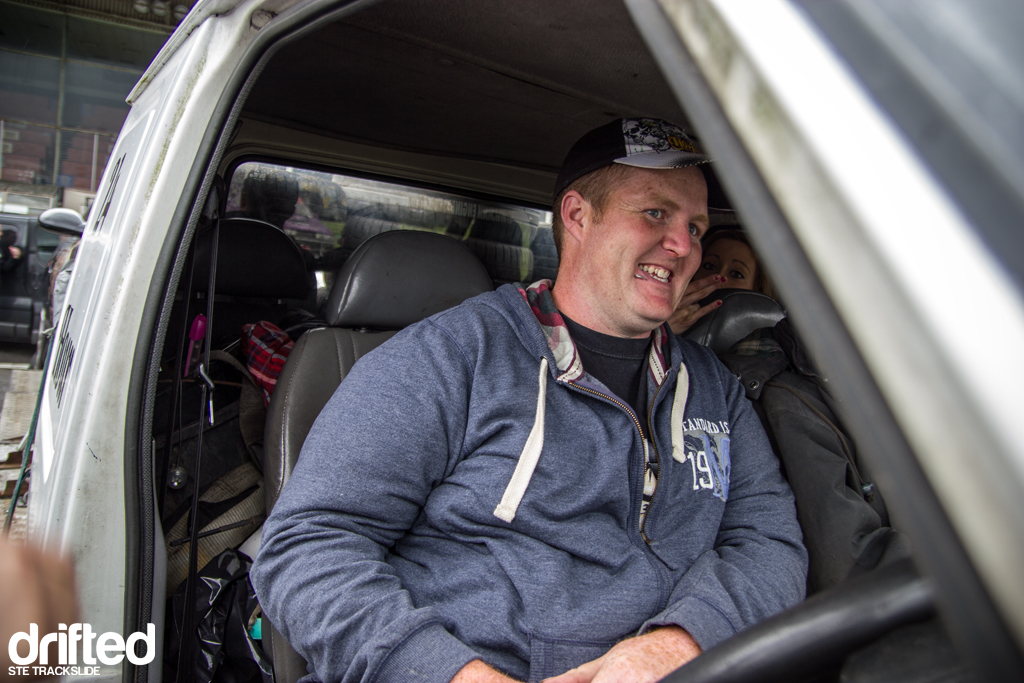 Tom Yates looking abit nervous as this was his first outing in his new Vauxhall 'Money' Monaro.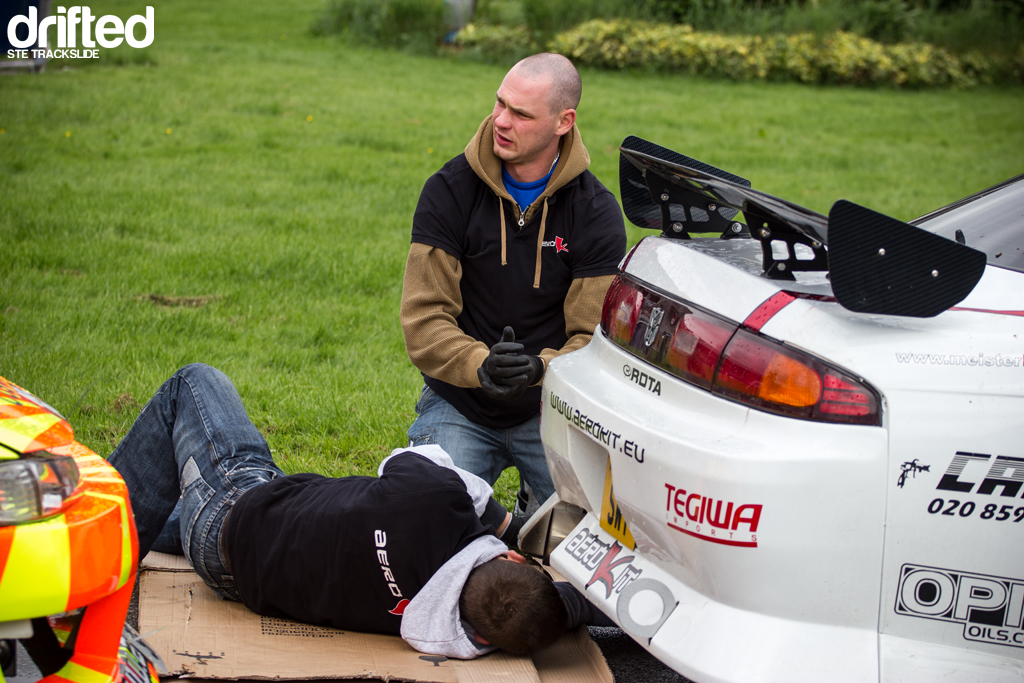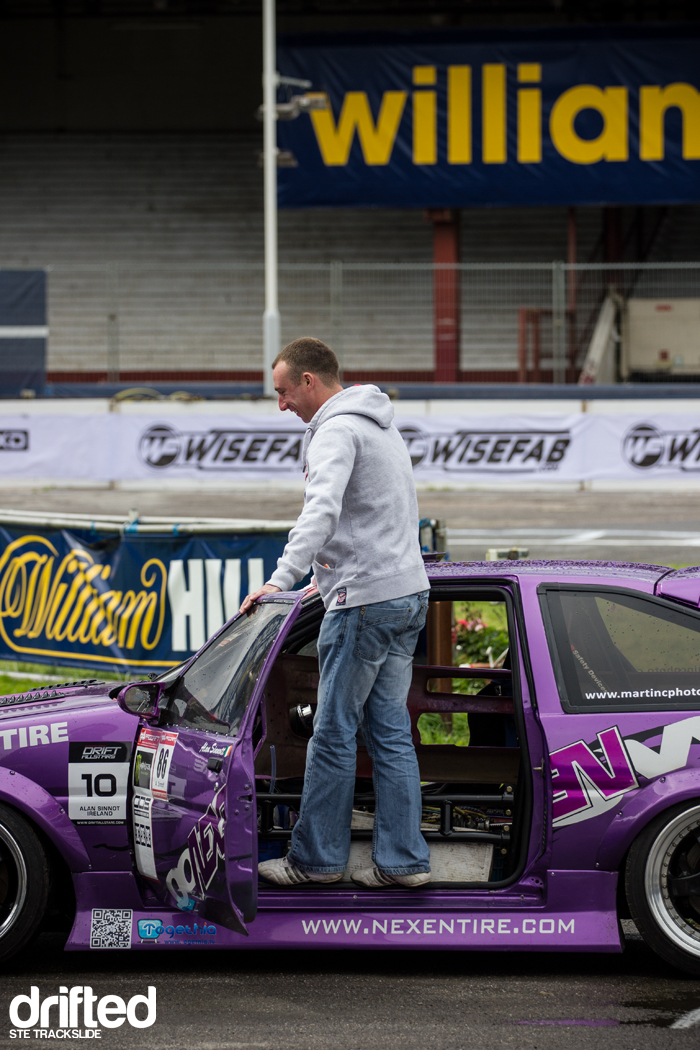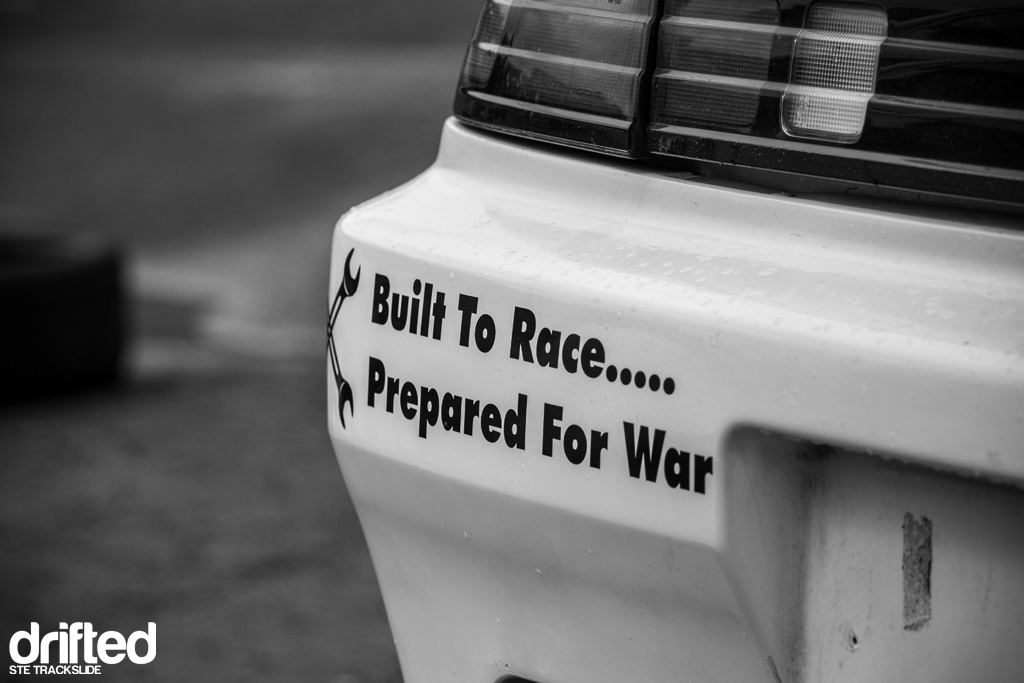 A nice slogan on the rear bumper of John Fuller's S14.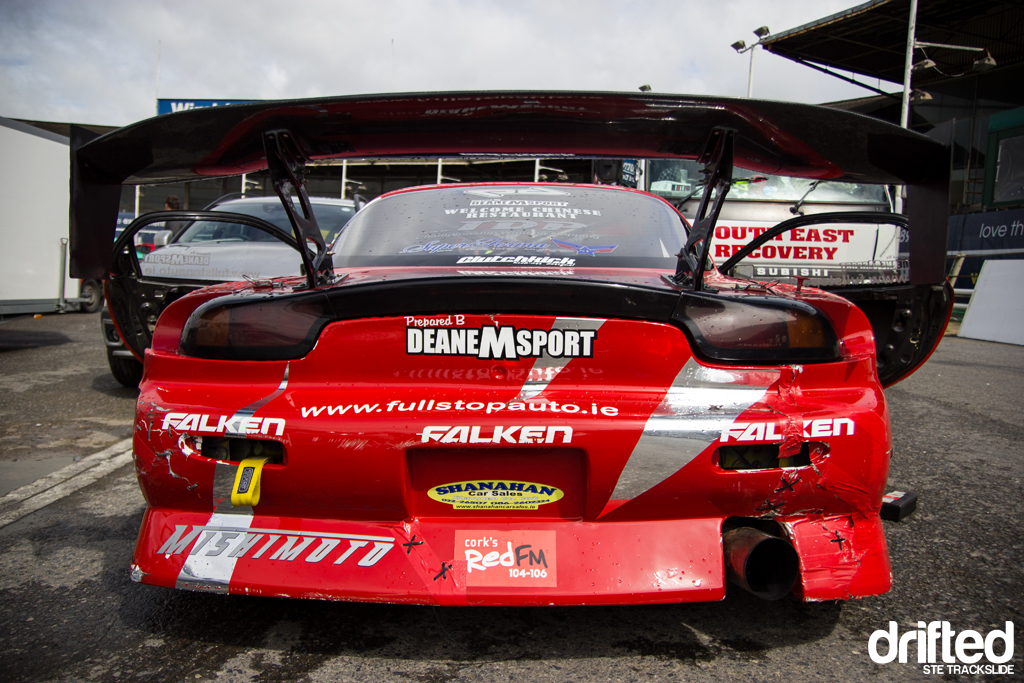 James Deane's FD RX7 is looking brutal this year. A very, very wide body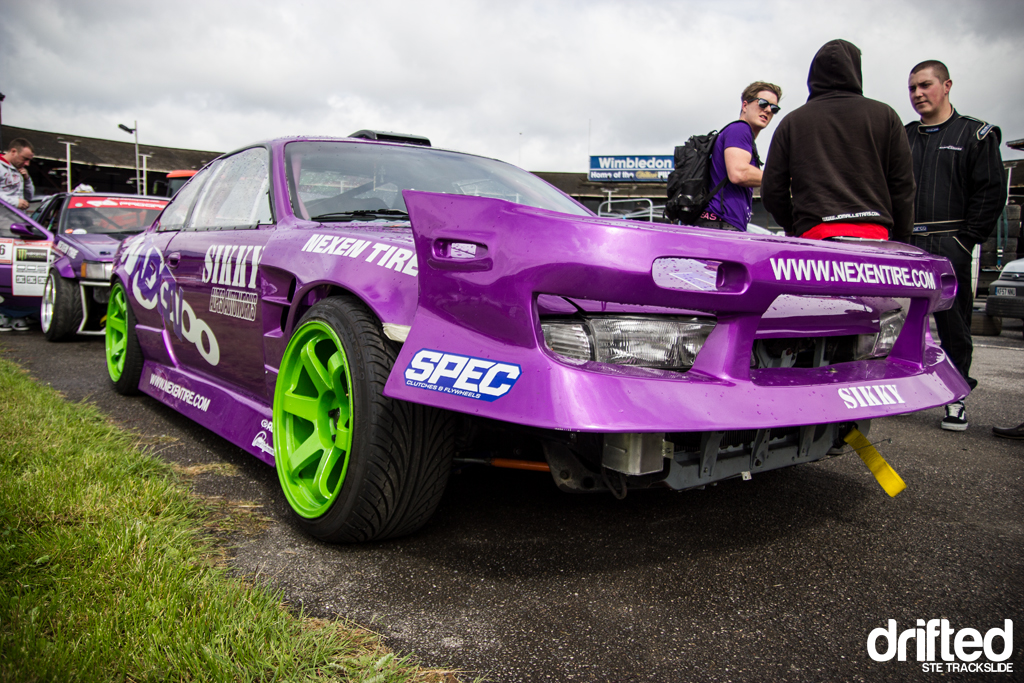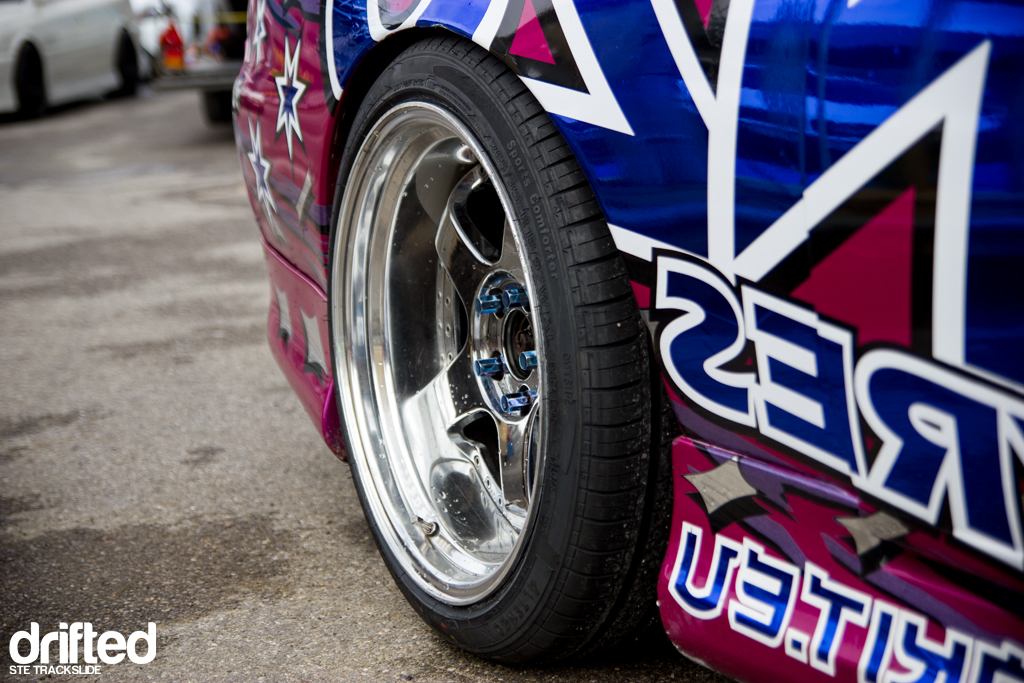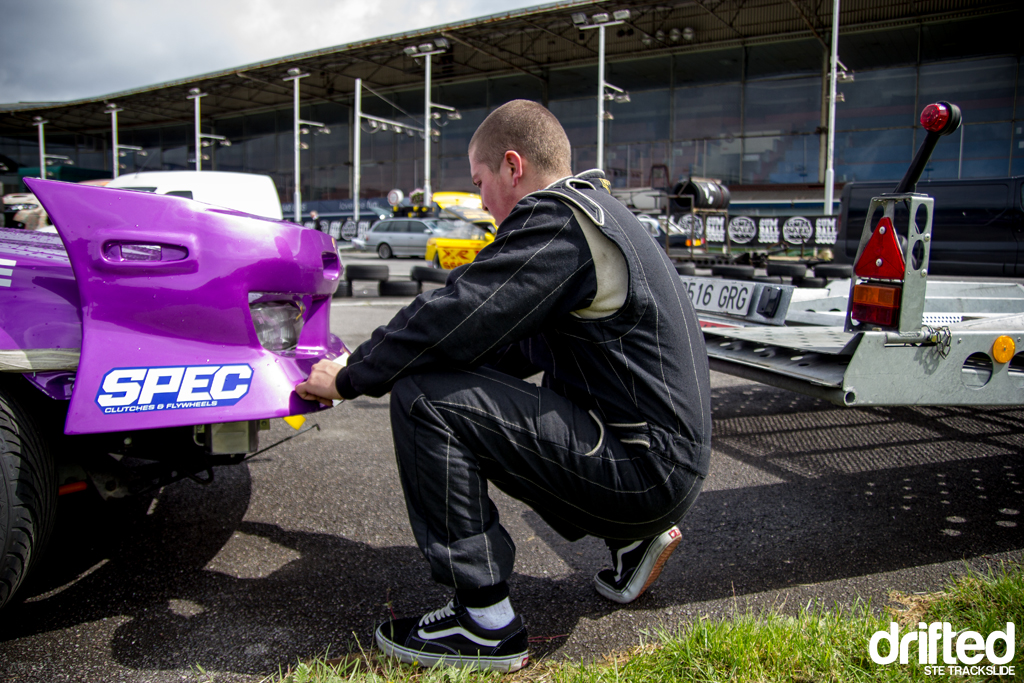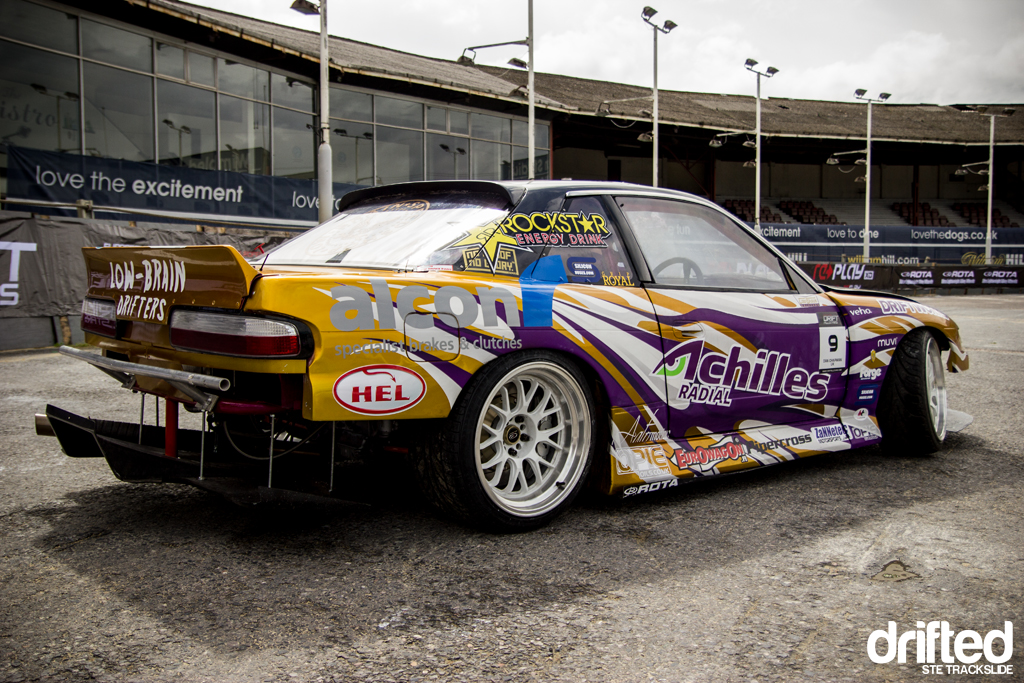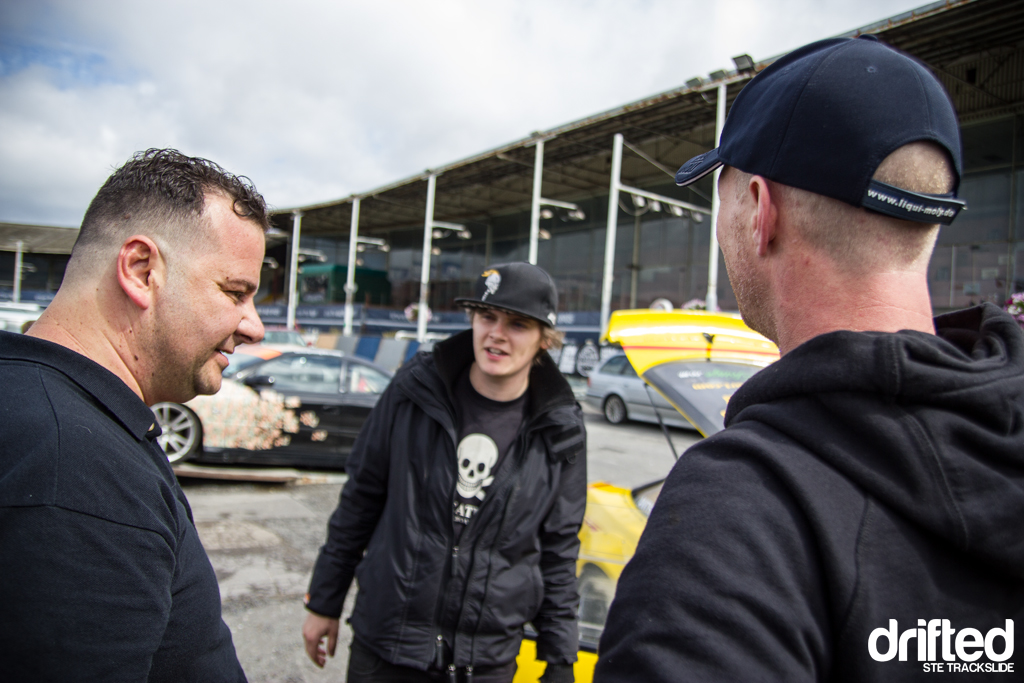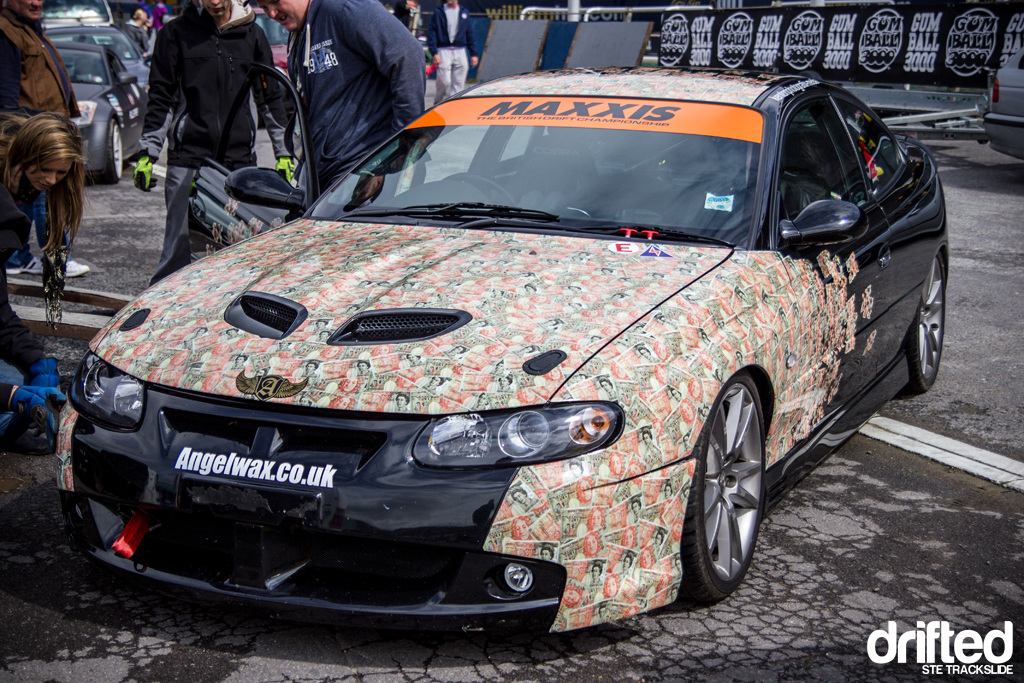 The 'Money' Monaro, sporting a vinyl wrap and rollcage made of fifty pound notes.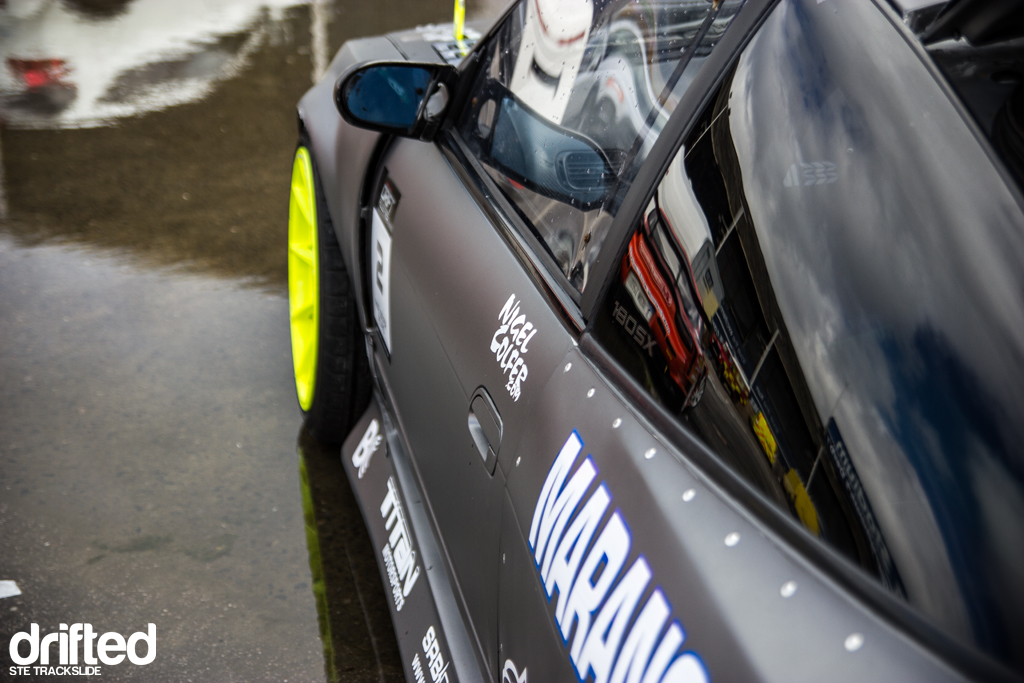 An awesome vinyl wrap on Nigel Colfer's 180SX, very nice matt grey, I spent a bit of time looking round this and speaking to Nigel, nice car, nice bloke.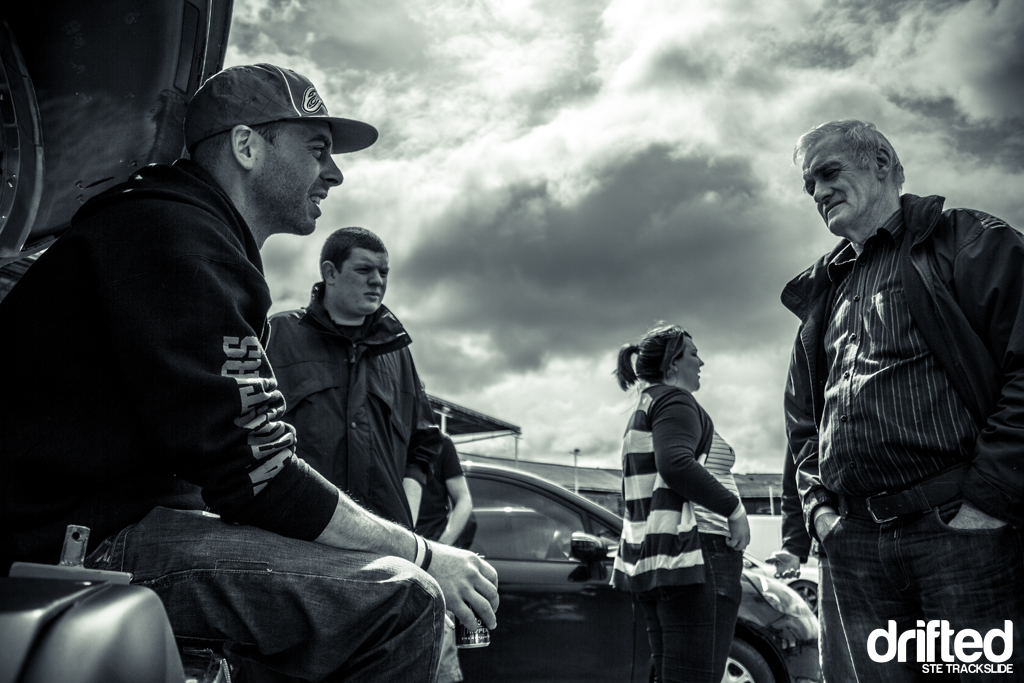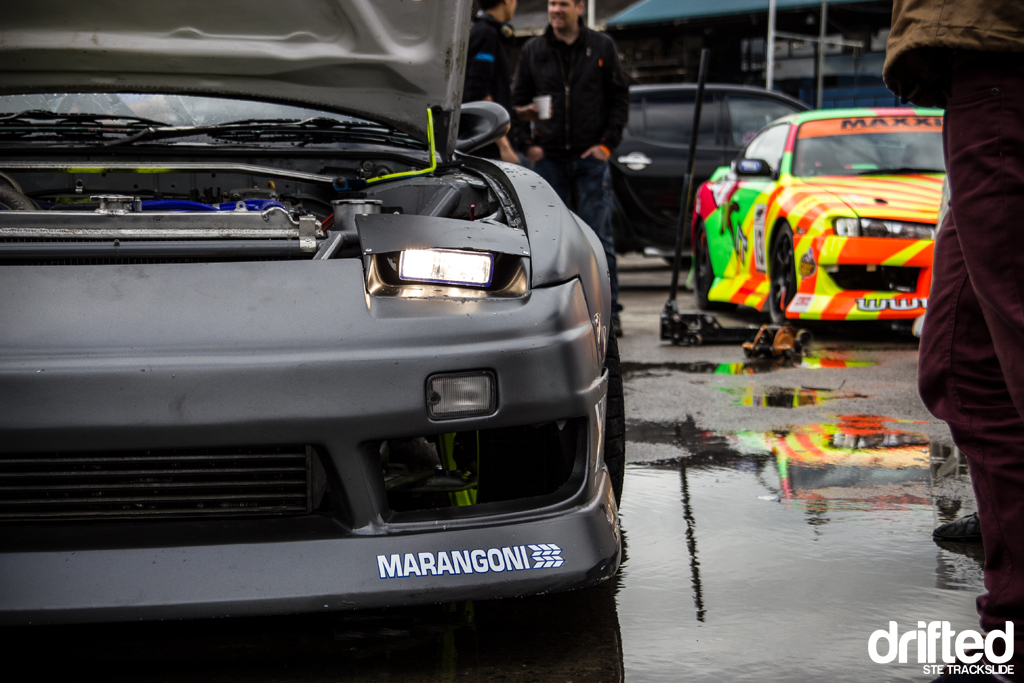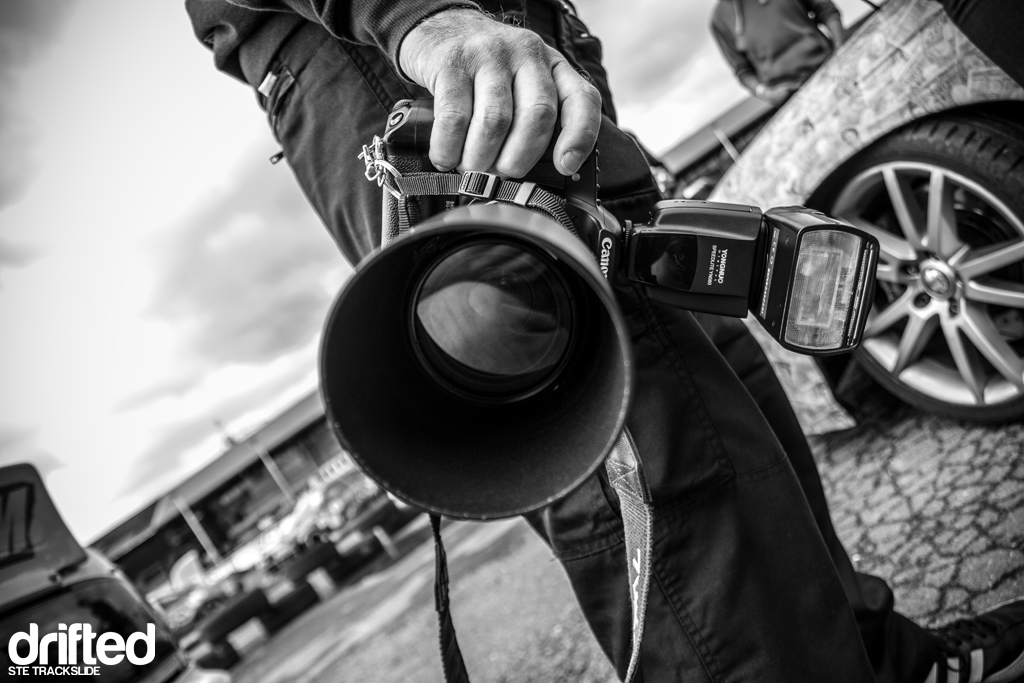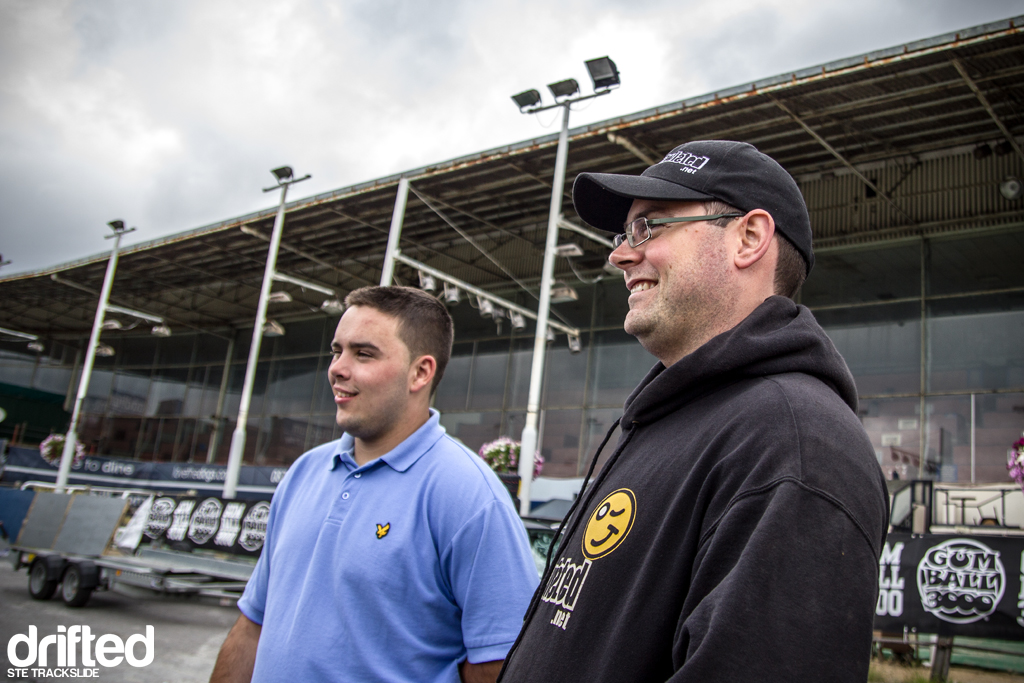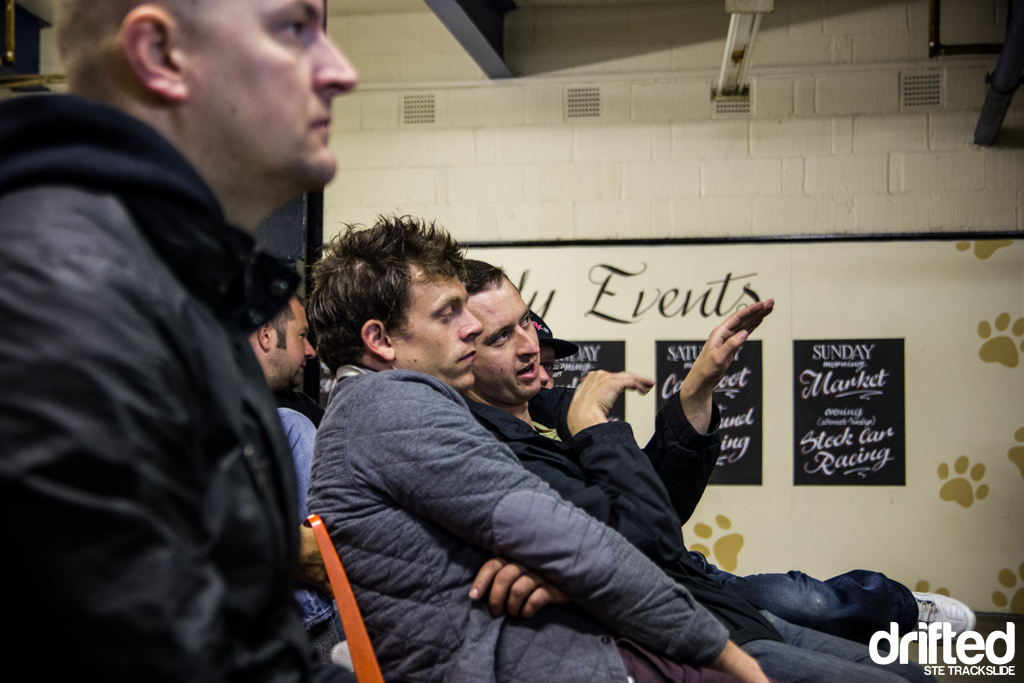 In the drivers briefing, the drivers chatted among themselves waiting to be told the track layout and plan for the day.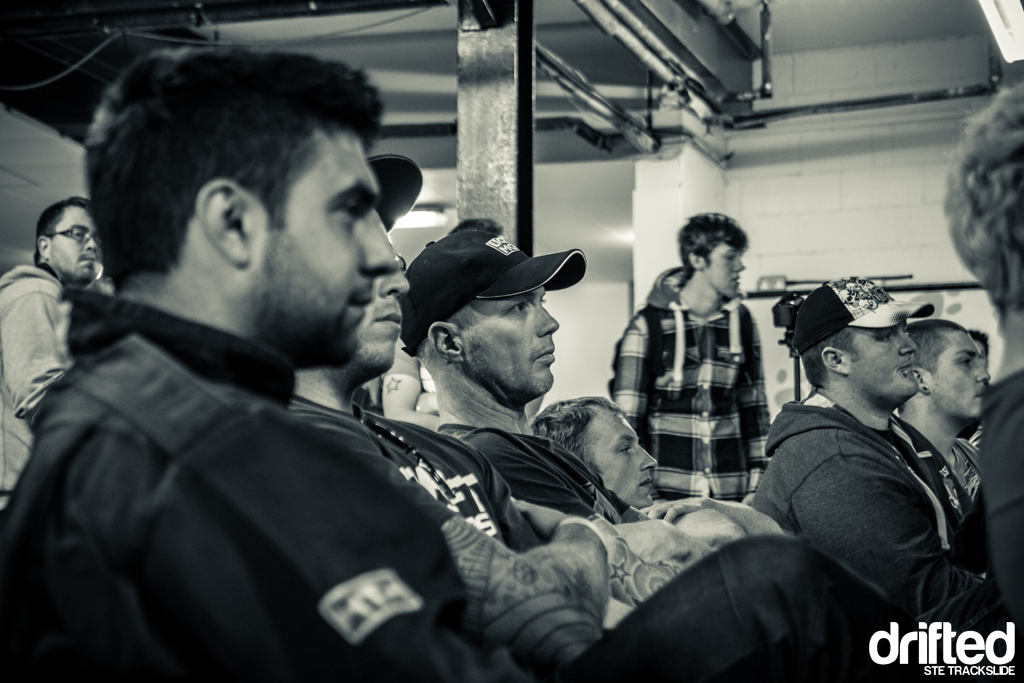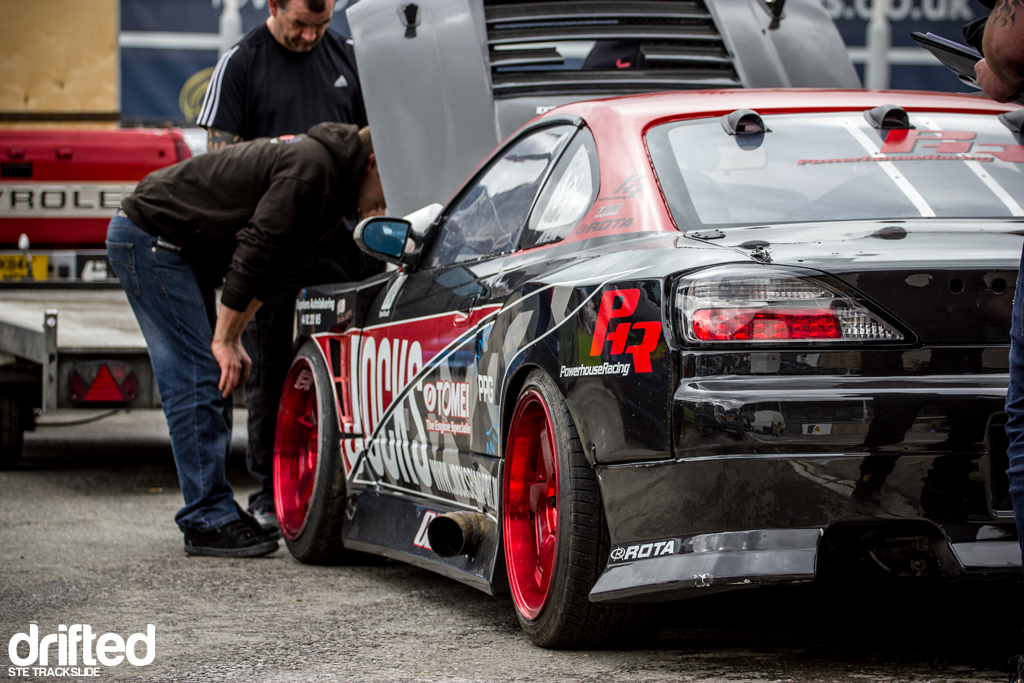 I spent quite a while looking at this engine, but only noticed the piston oil cap when I was writing this.
Walton Smith's Impreza is seriously wide, this car has a lot of presence.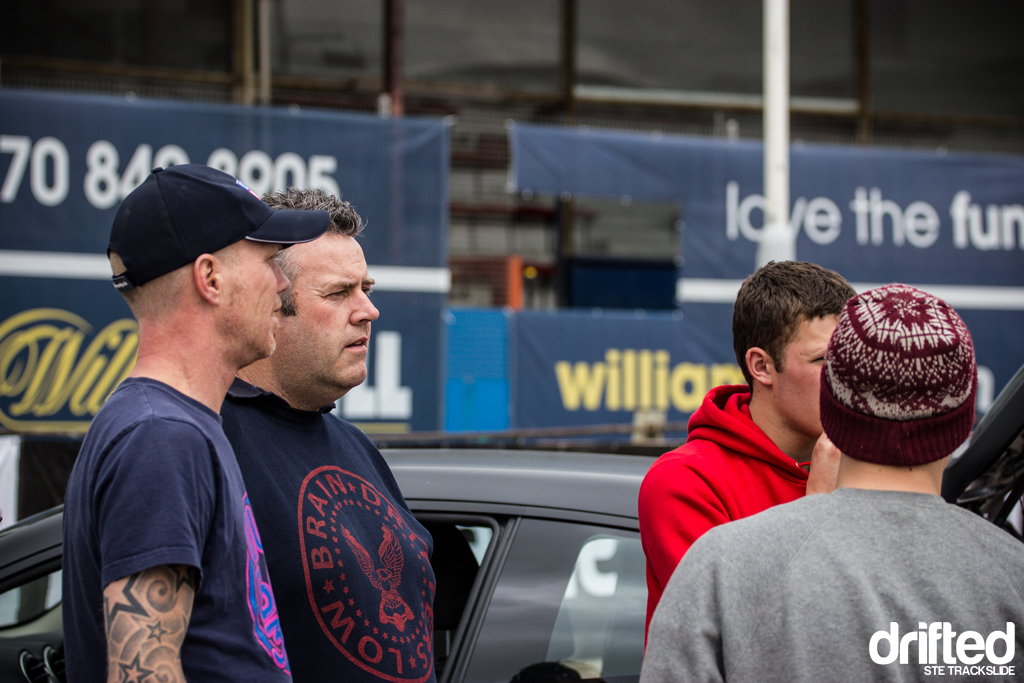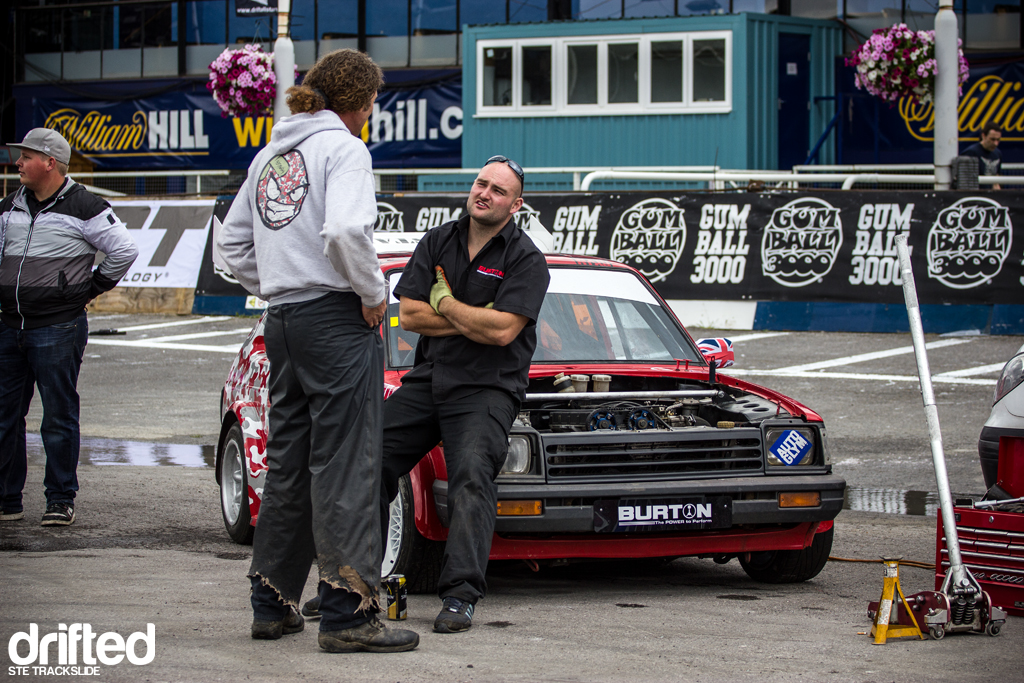 Steve 'Stiggy' Evans Toyota Starlet is very well known, a lot of people were talking about this amazing little car which packs a serious punch.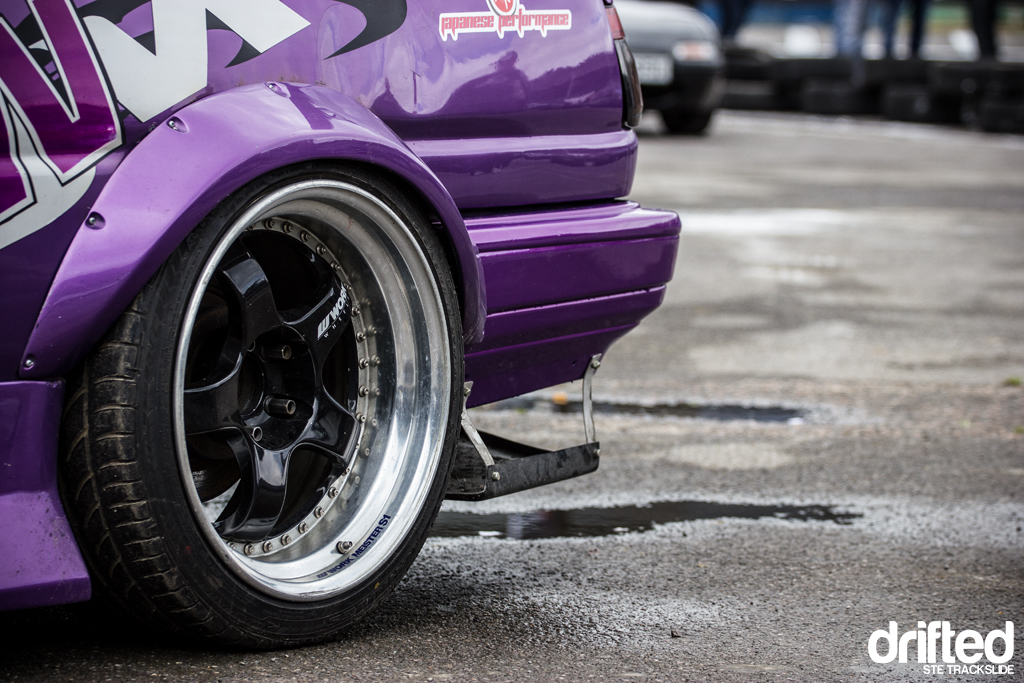 Always a pleasure to see Works Meister S1's at an event.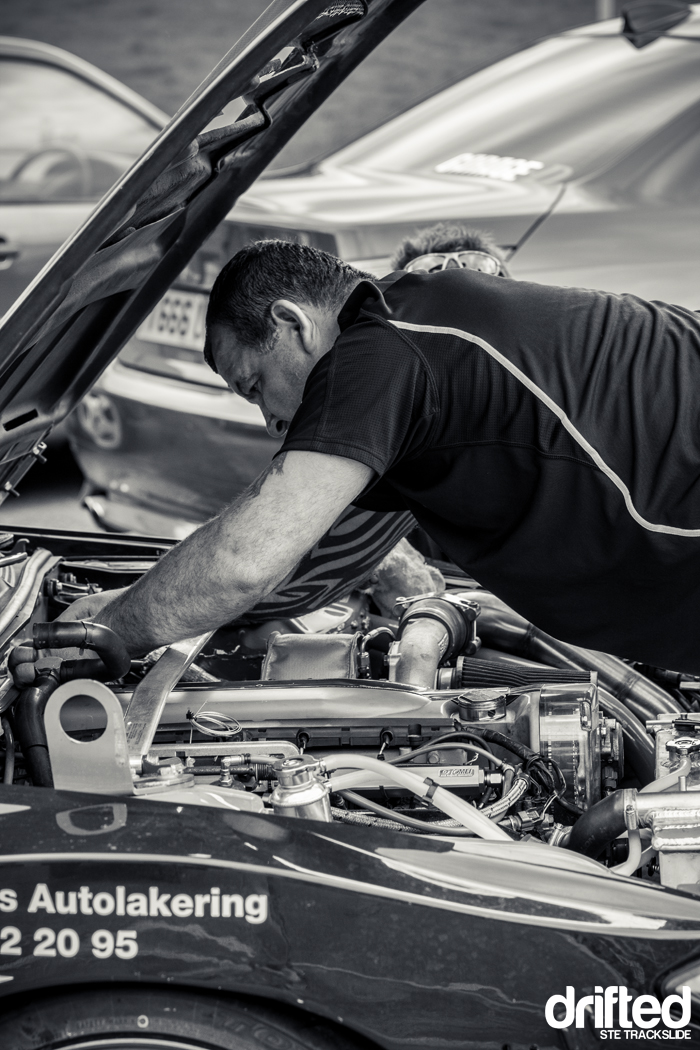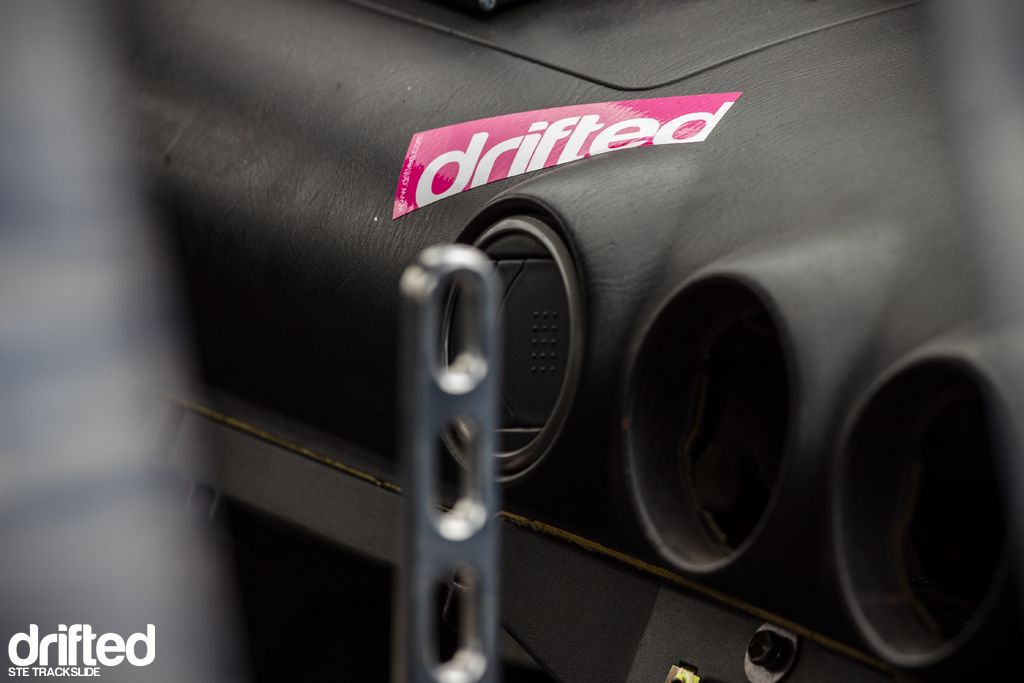 Reppin…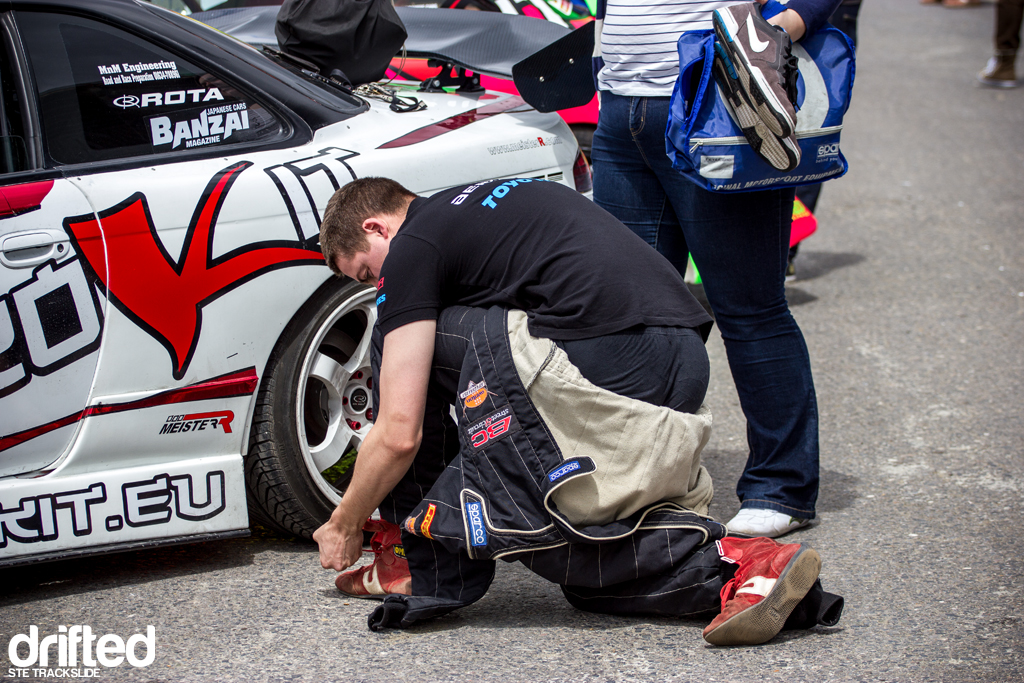 Drivers start gearing up as the morning progresses.
I wonder if the scrutineers marked down Daniel O'Brien's paint as a distraction to other drivers?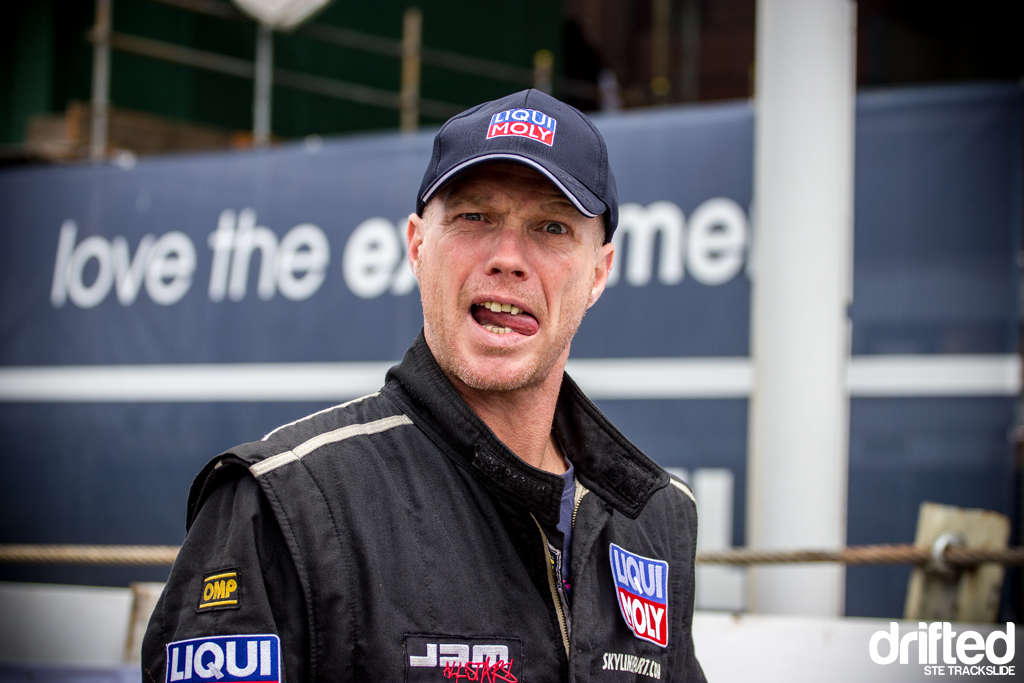 Anthony 'Scotty' Scott of Skylinepart.com was in the world famous Rocket Bunny, He's a handsome devil isn't he…
Sometimes bonnet catches can lock too well…
Once the market place had vacated the vicinity, the cars and crews move off the track to get the pits organised.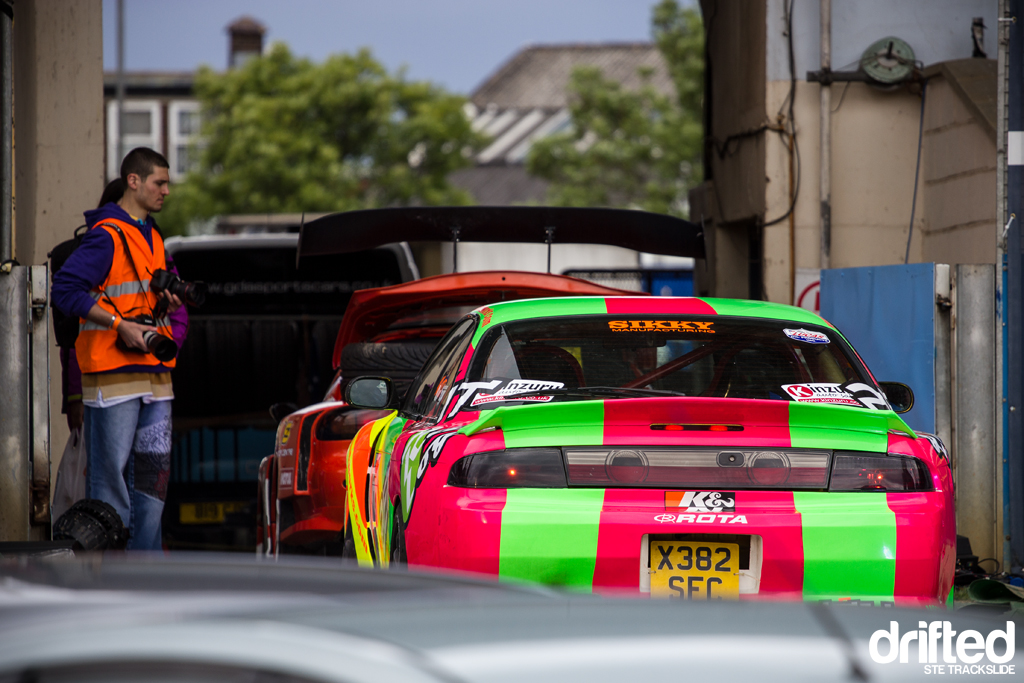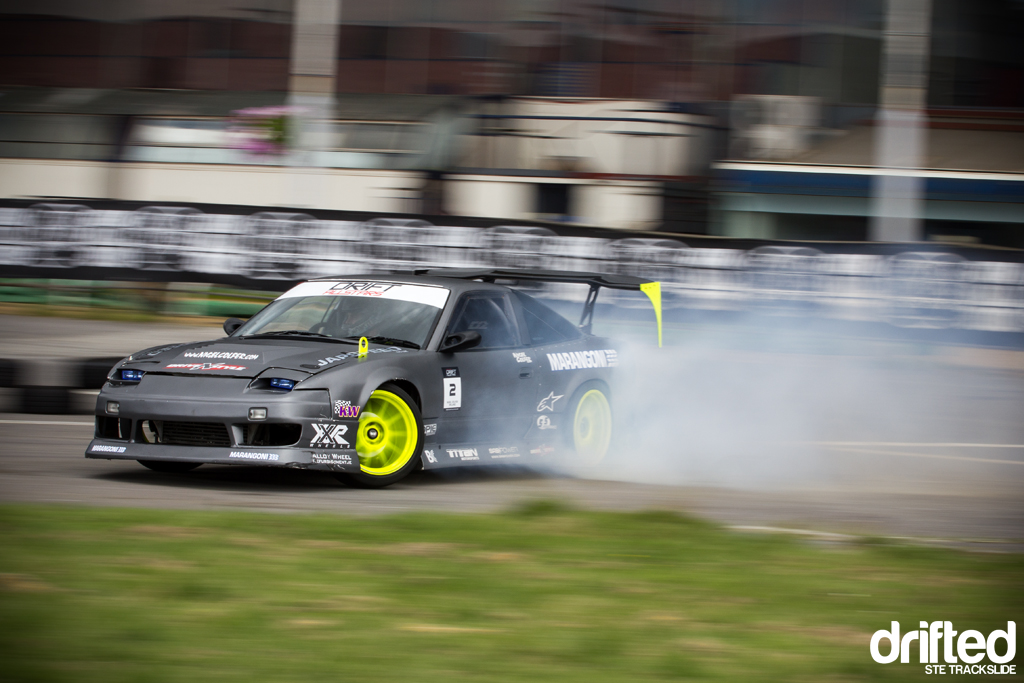 Practice starts and Nigel Colfer is first out.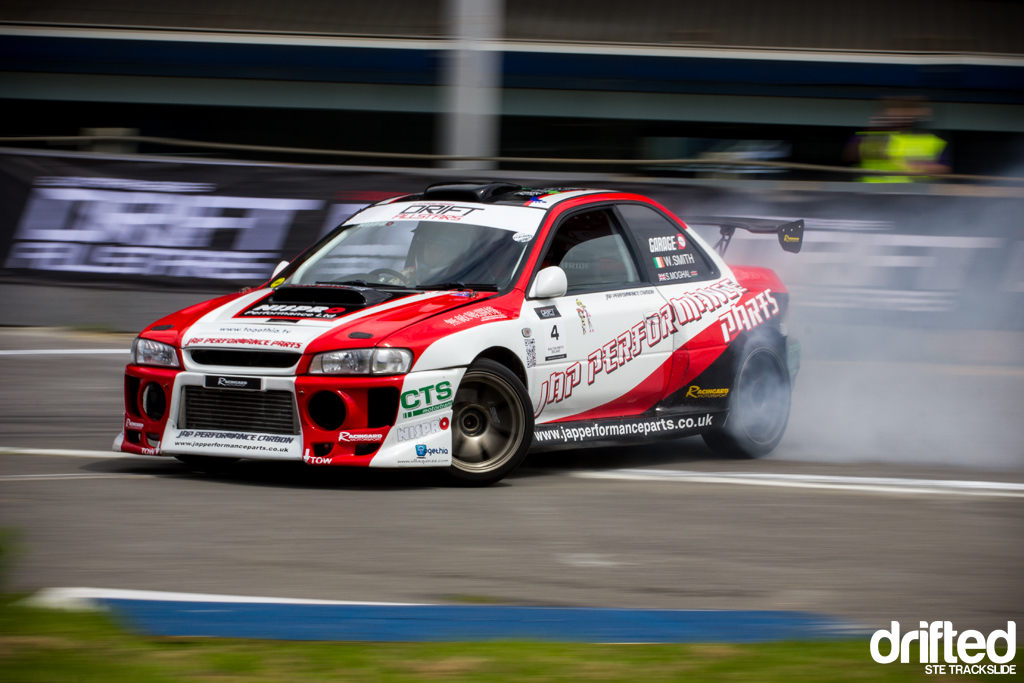 Walton's Impreza went out fairly early on as the Quaife gearbox in his car unfortunately died.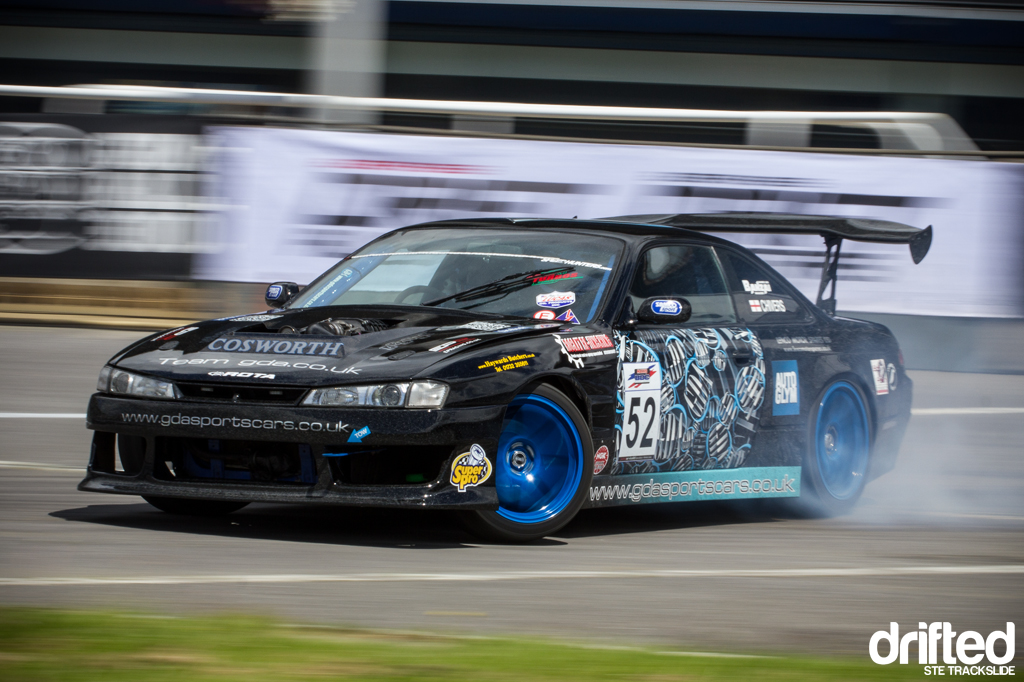 Nathan Chivers supercharged S14a is a serious car, although nobody was expecting see what we would get from him today.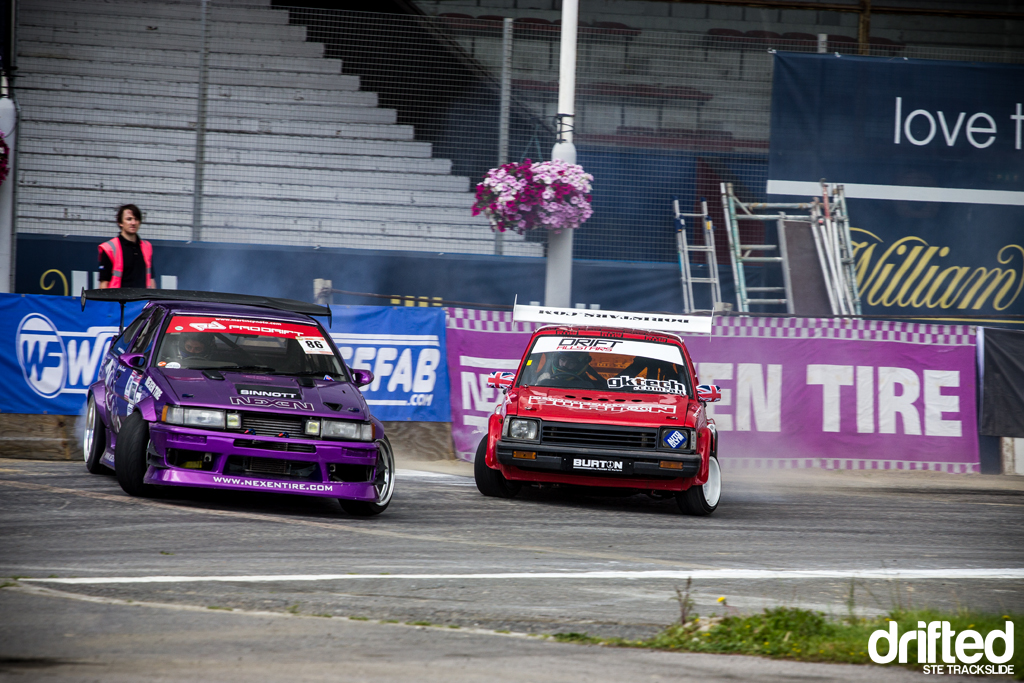 Alan Sinnot in the SR20 powered AE86 Levin and Luke Fink in the 'Stiggy' Starlet, that little starlet really was setting the standard as it was so controlled, very quick and right up to the walls on each run.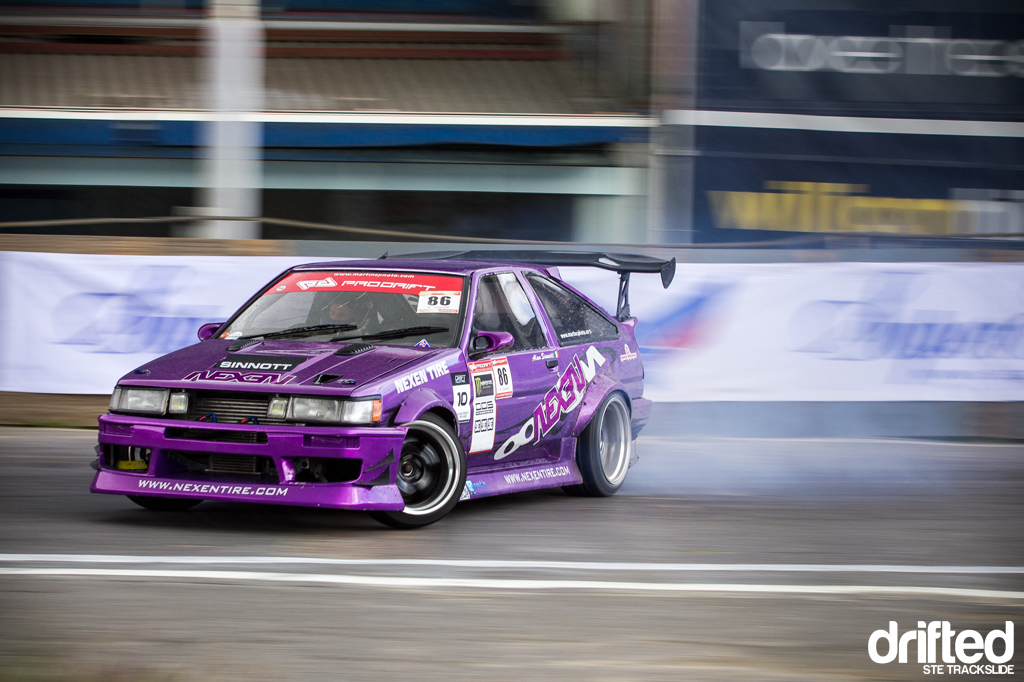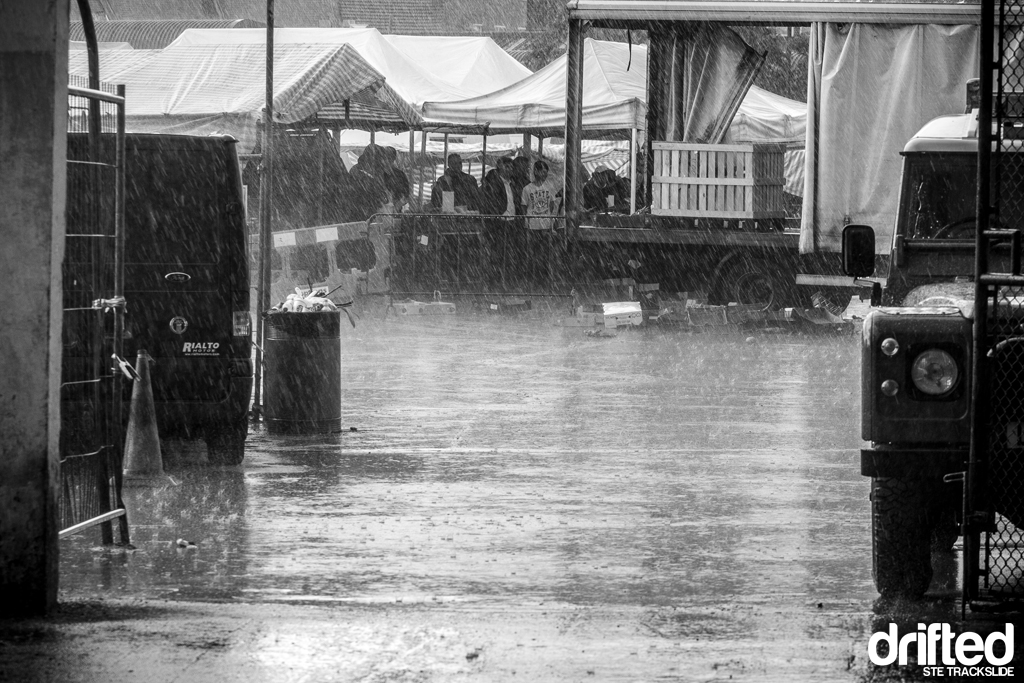 I suppose it wouldn't be Britain without a spot of rain.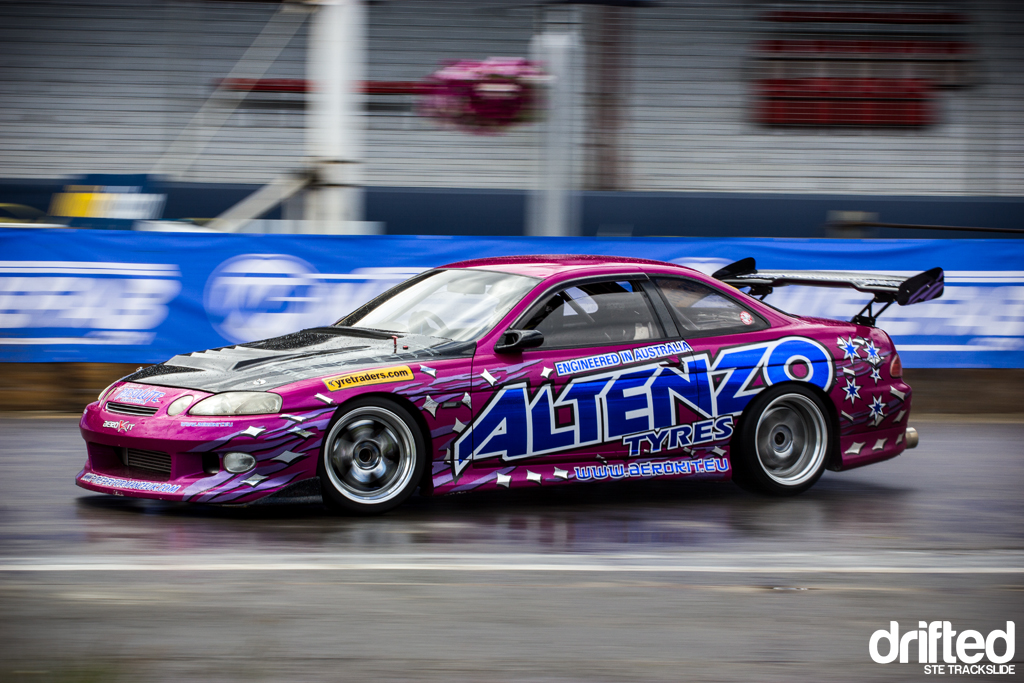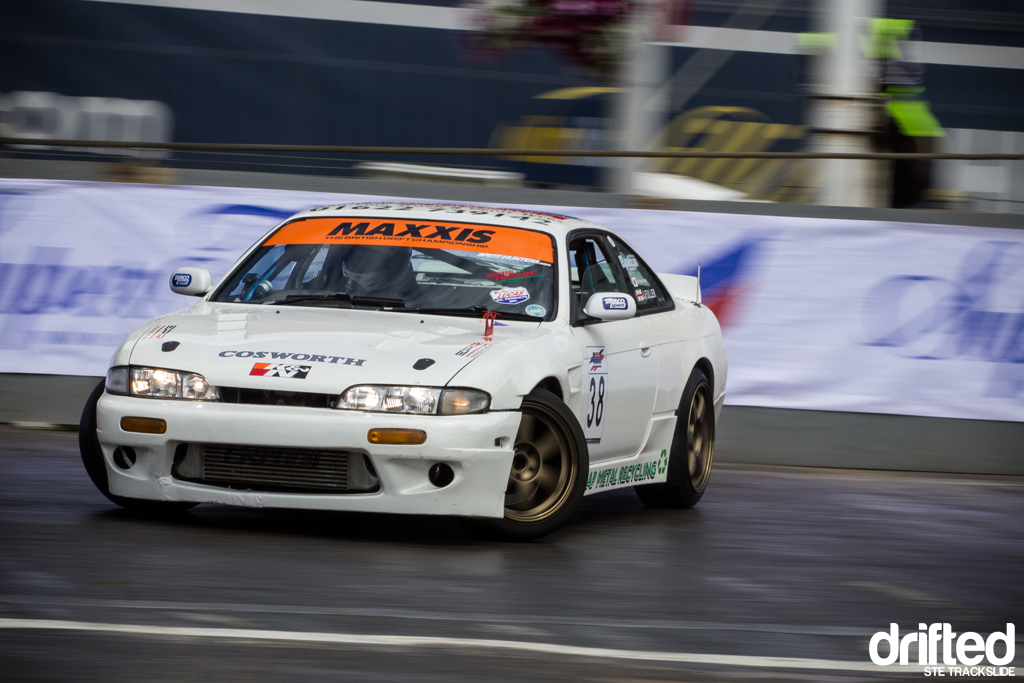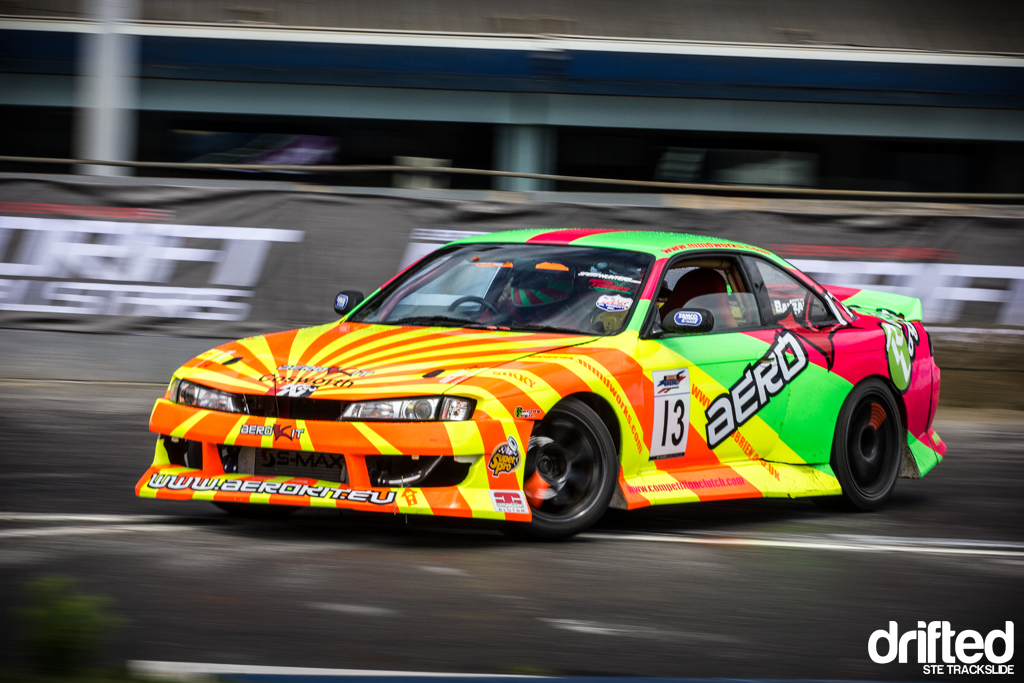 Its hard to miss Daniel O'Brien's Aerokit S14a, Seriously bright paint dude.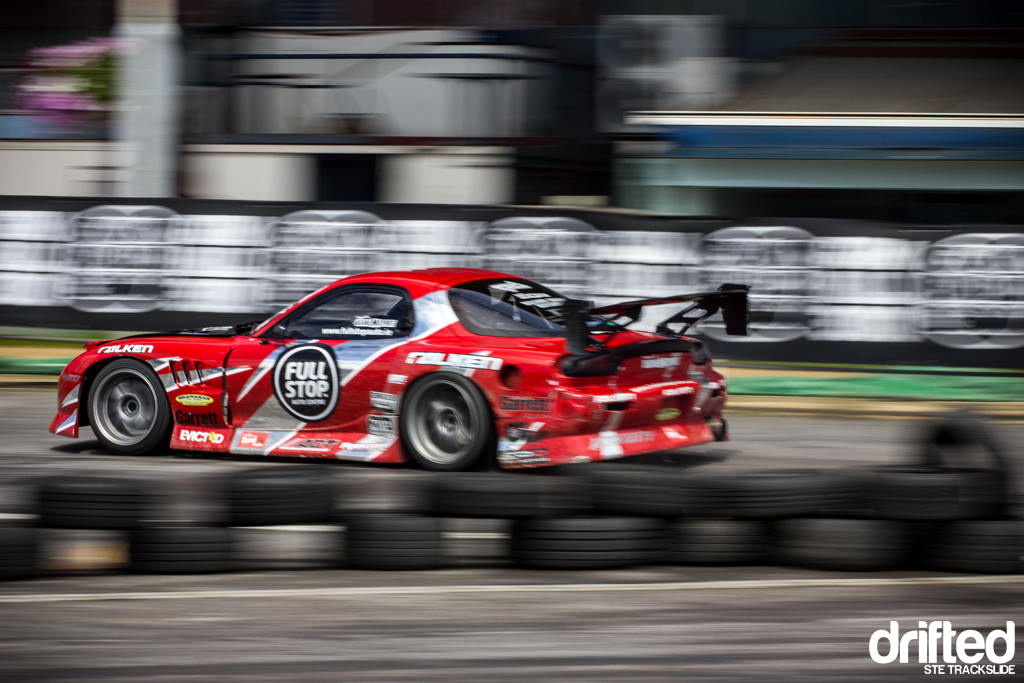 Juha Rintanen's S14a is a serious bit of kit, He was very consistent all day with massive speed and huge grip.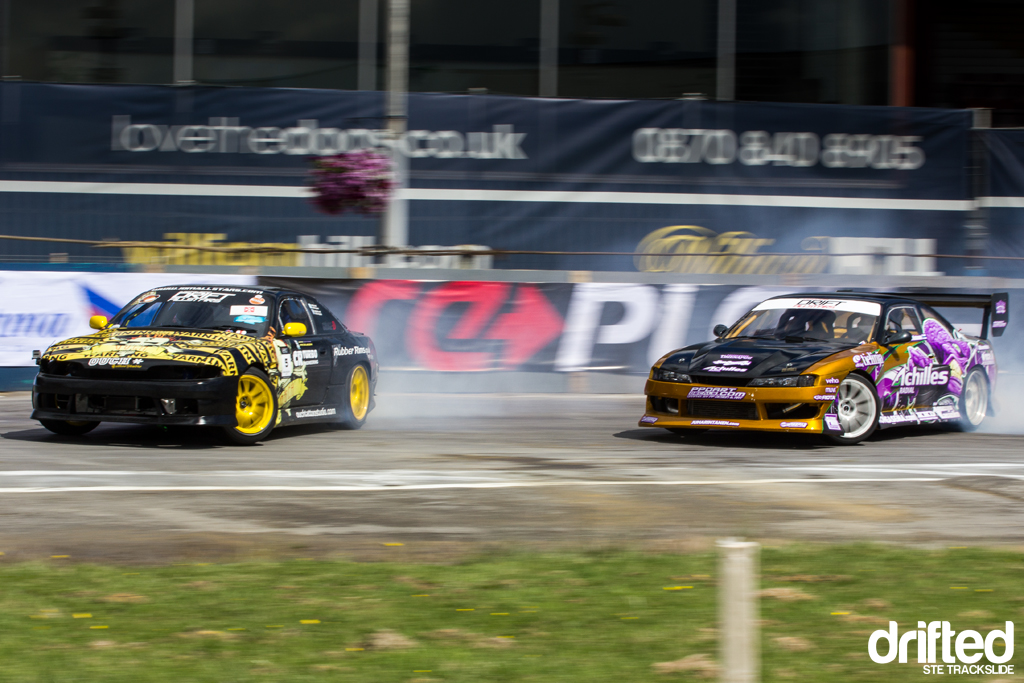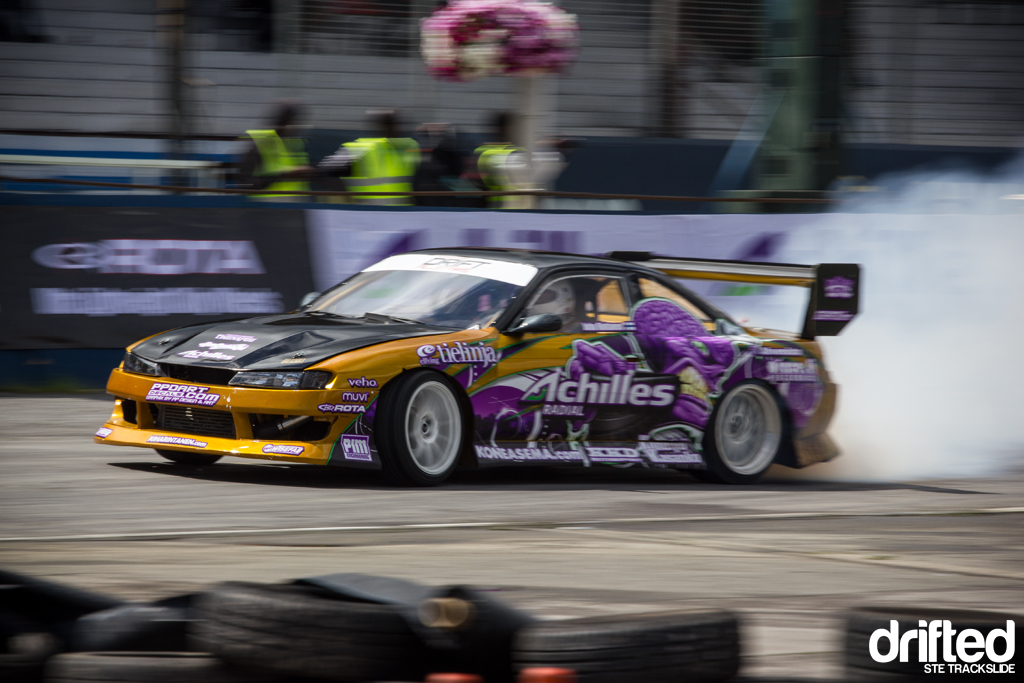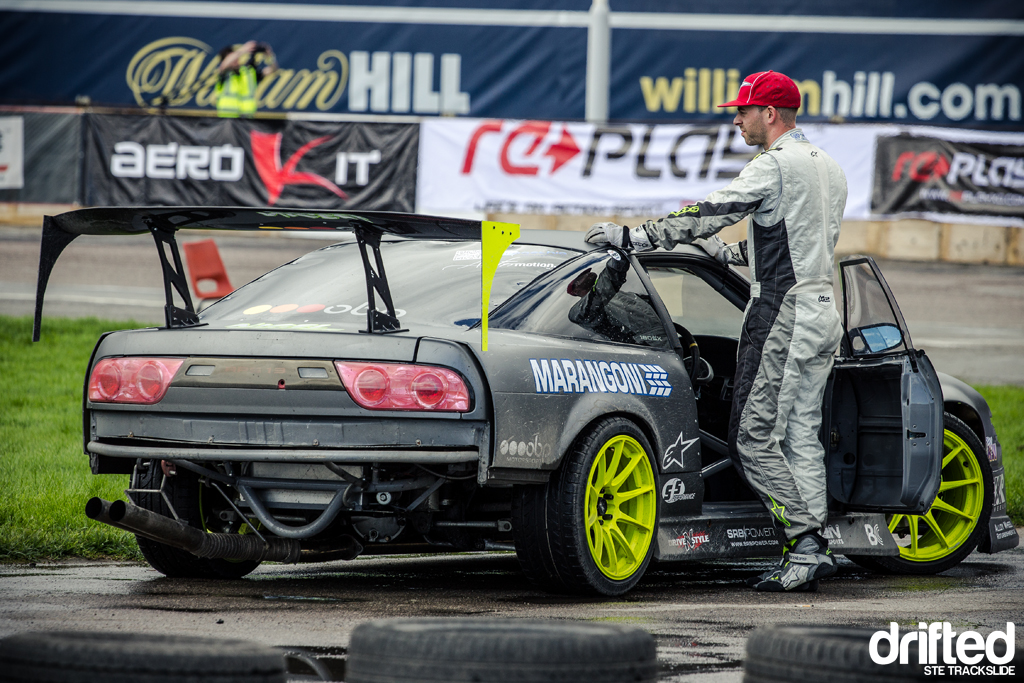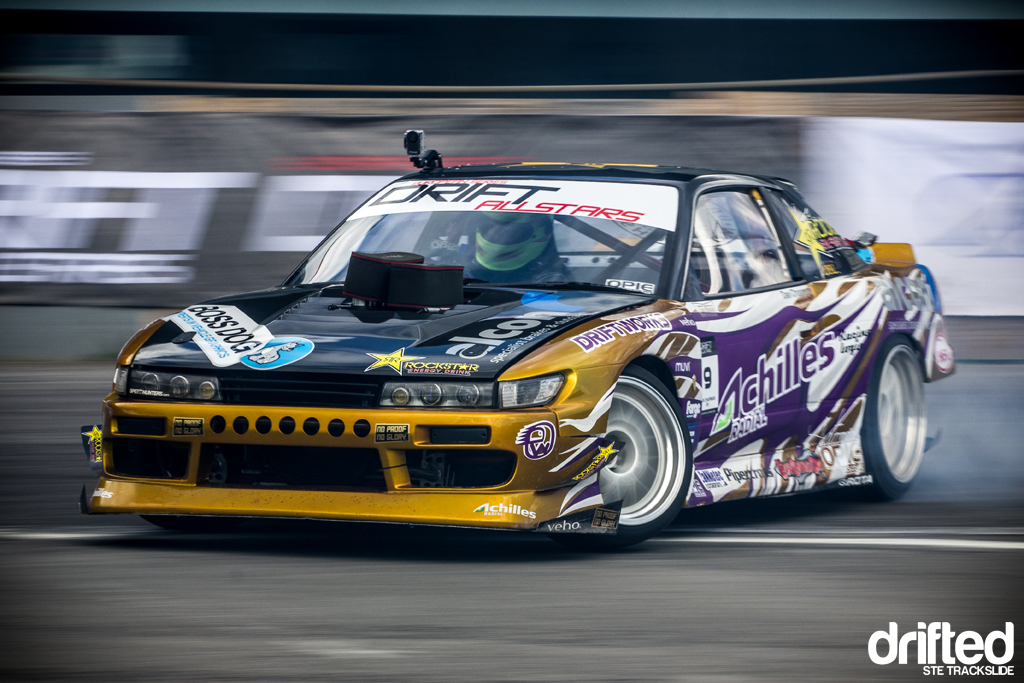 Dan Chapman made his first runs in the newly rebuilt Low Brain Drifter's PS13 this weekend, a huge V8 and throttle bodies sounded superb.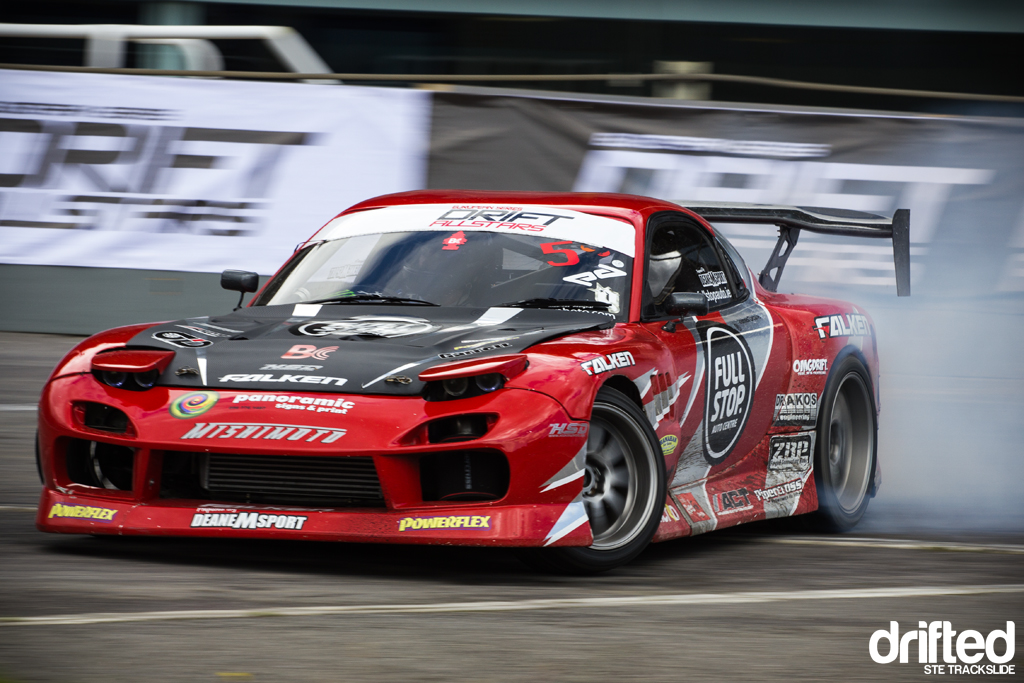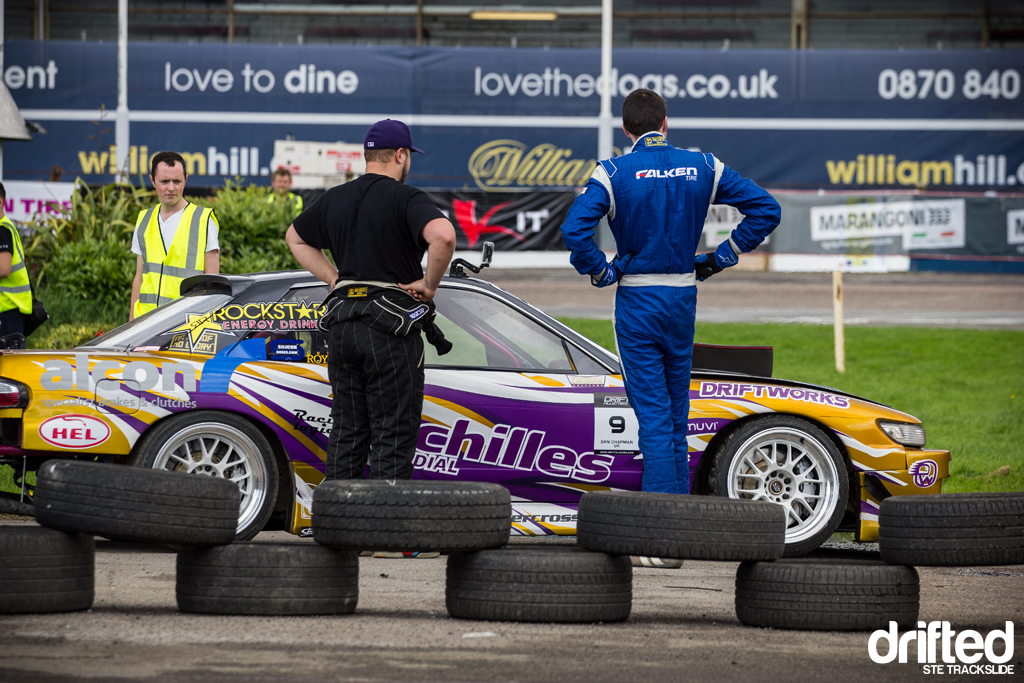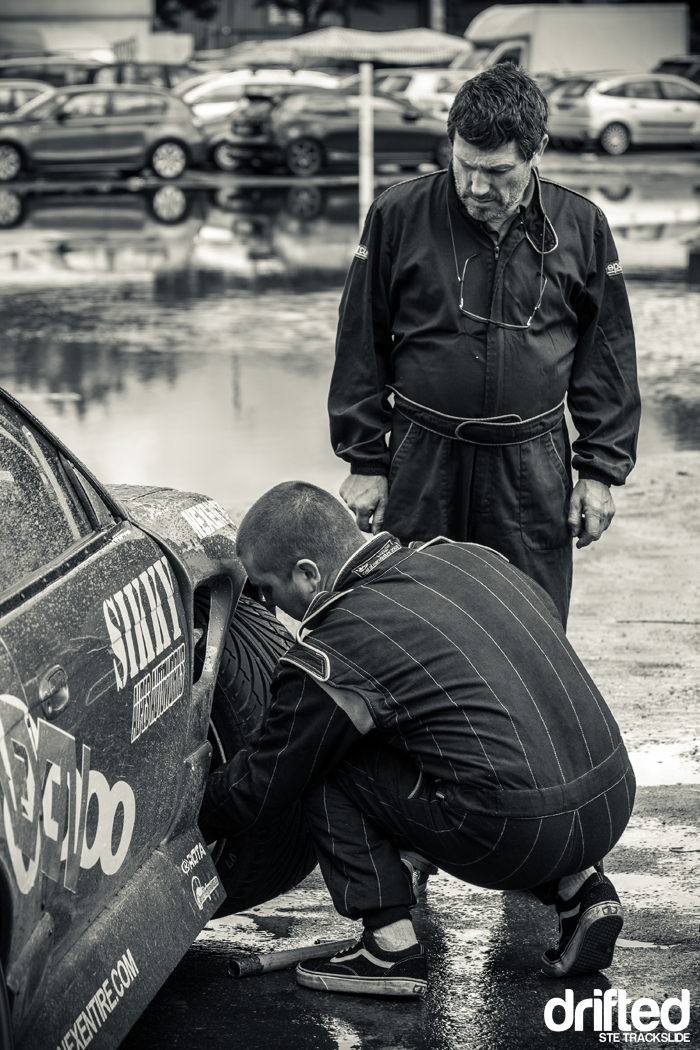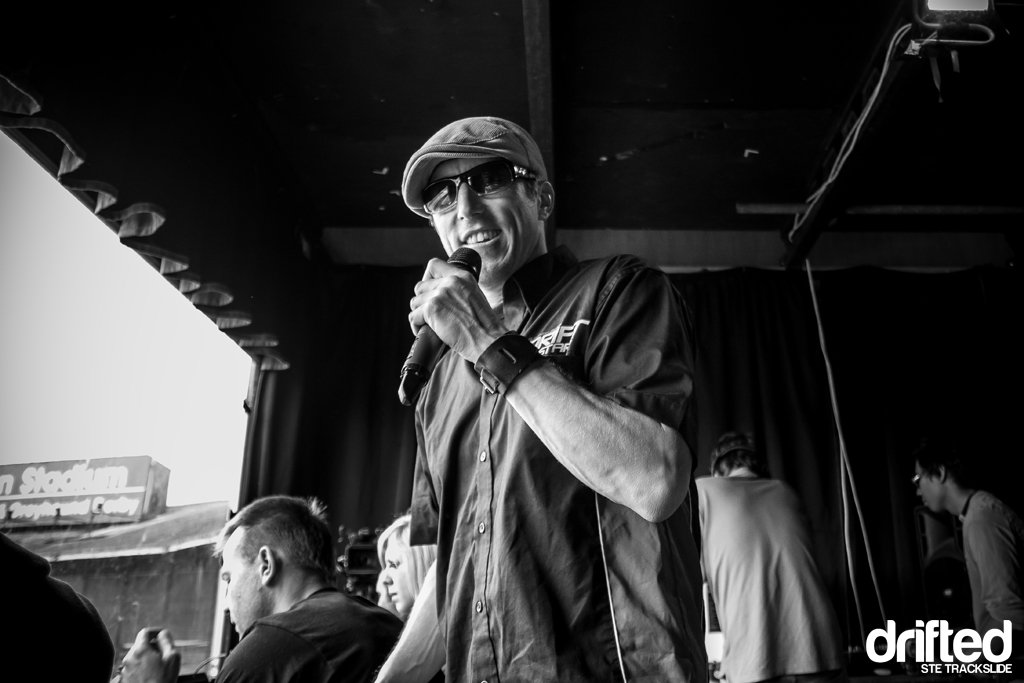 I managed to sneak into the judges booth for a few pictures to give you an idea of what's happening behind the scenes.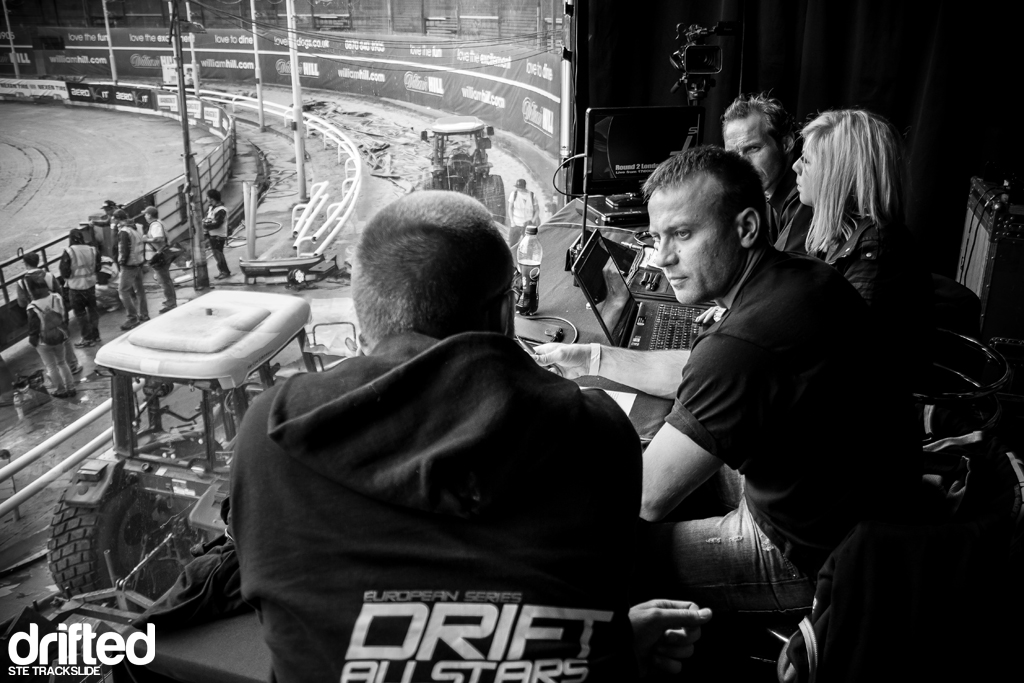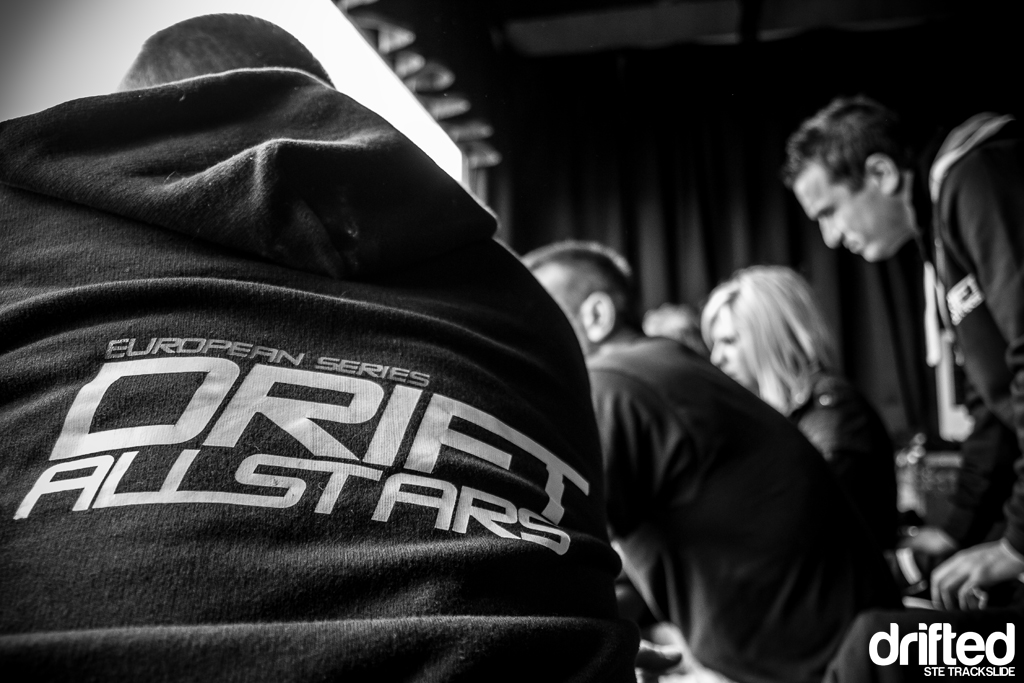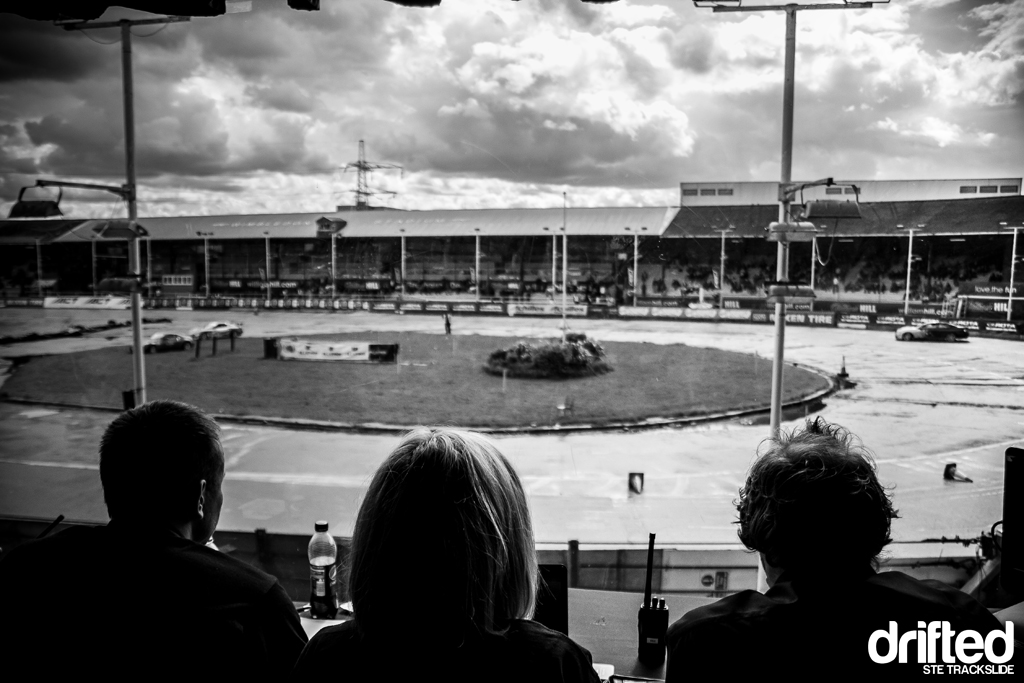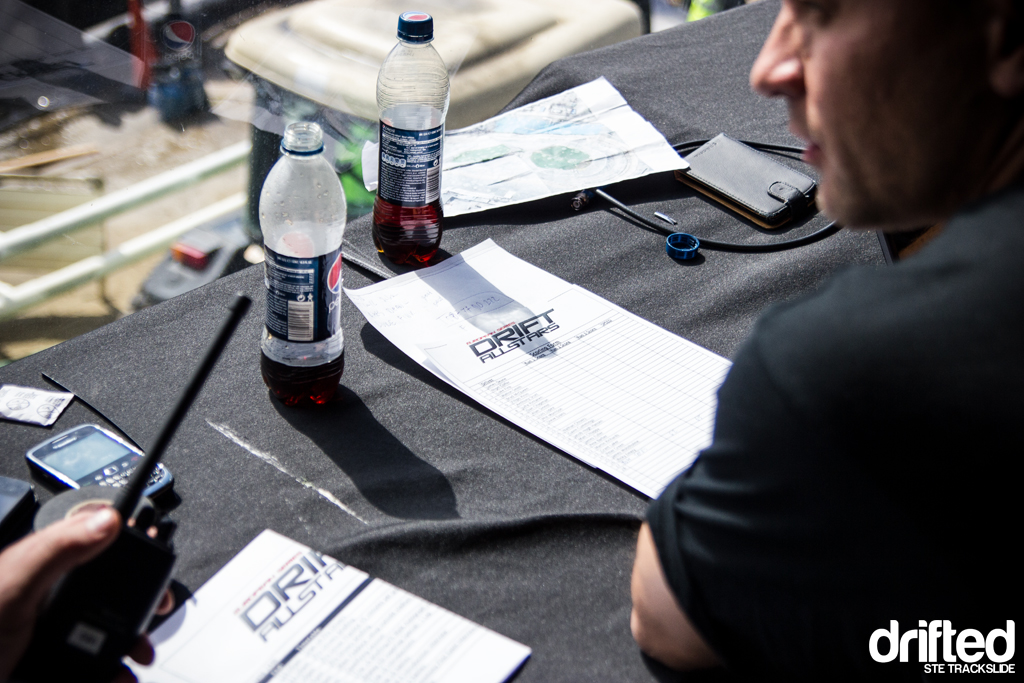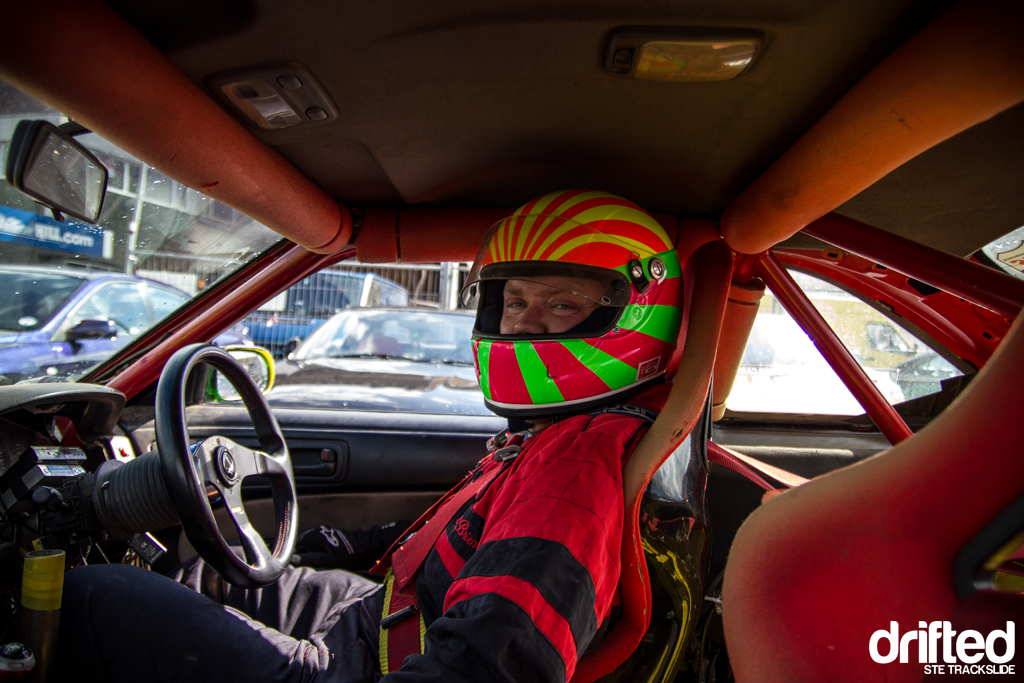 I stuck my head (and camera) in quite a few cars, I got chatting with a few guys and have to say their all very friendly and happy to talk to, well, anybody so don't be shy at any events, go and say hello.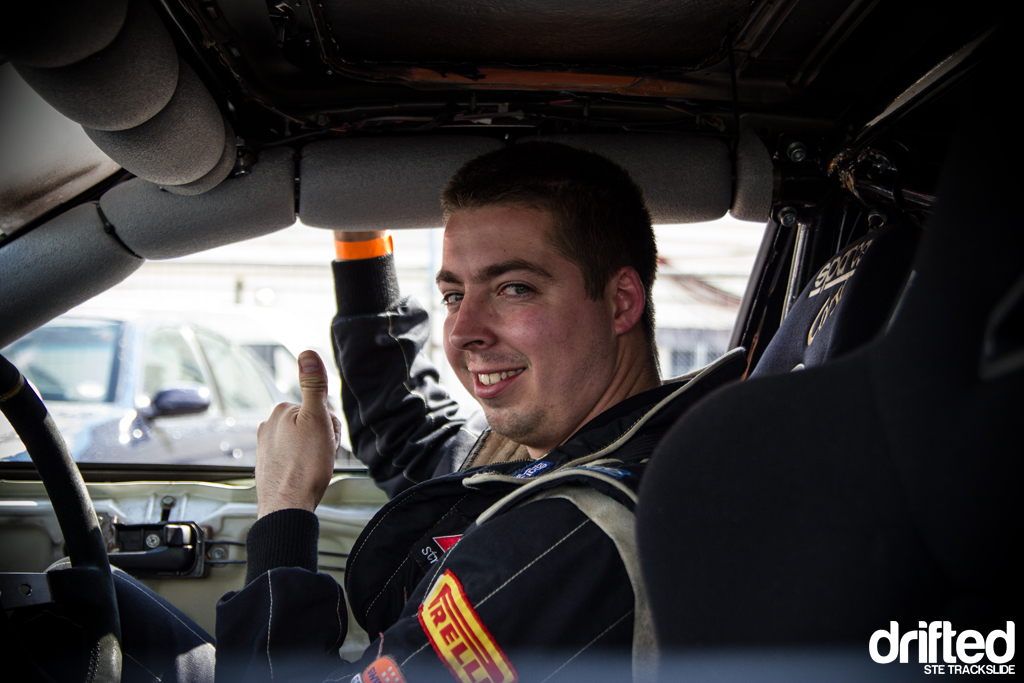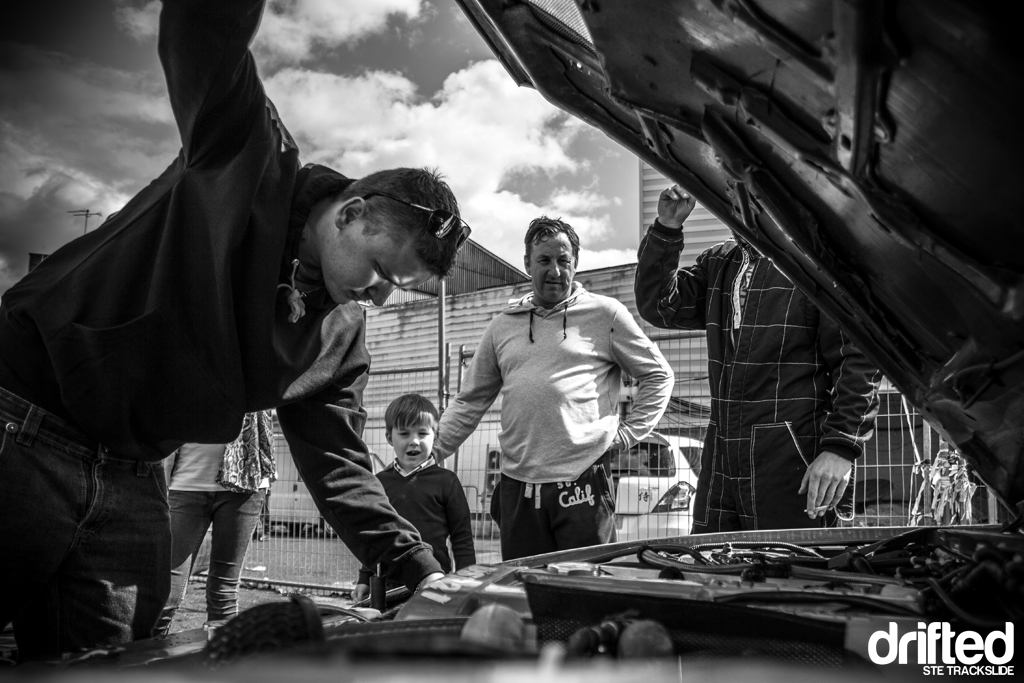 I loved shooting this moment, a father and son both staring in awe at just how much work goes into these cars to keep them sideways.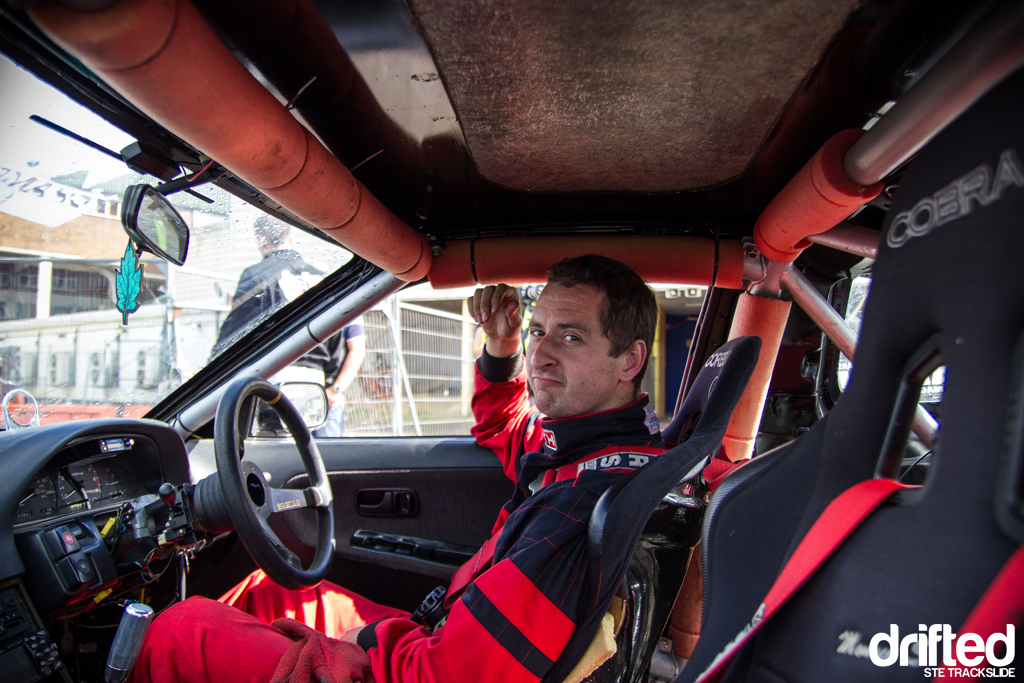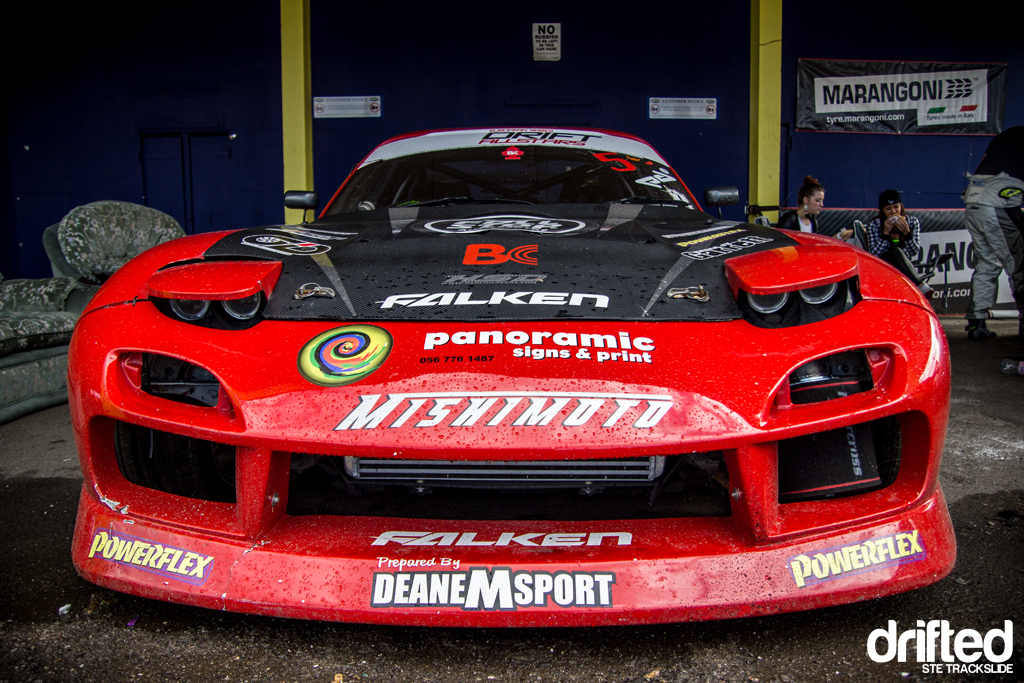 Scotty well and truly destroyed one of his GoPro's when he put it between a wall and his car.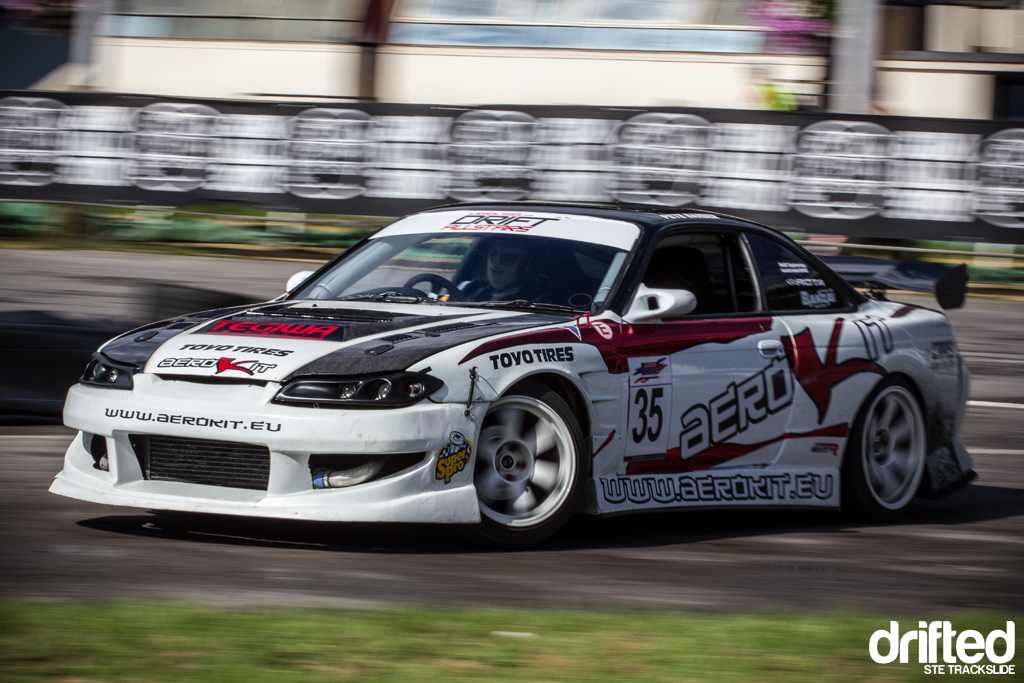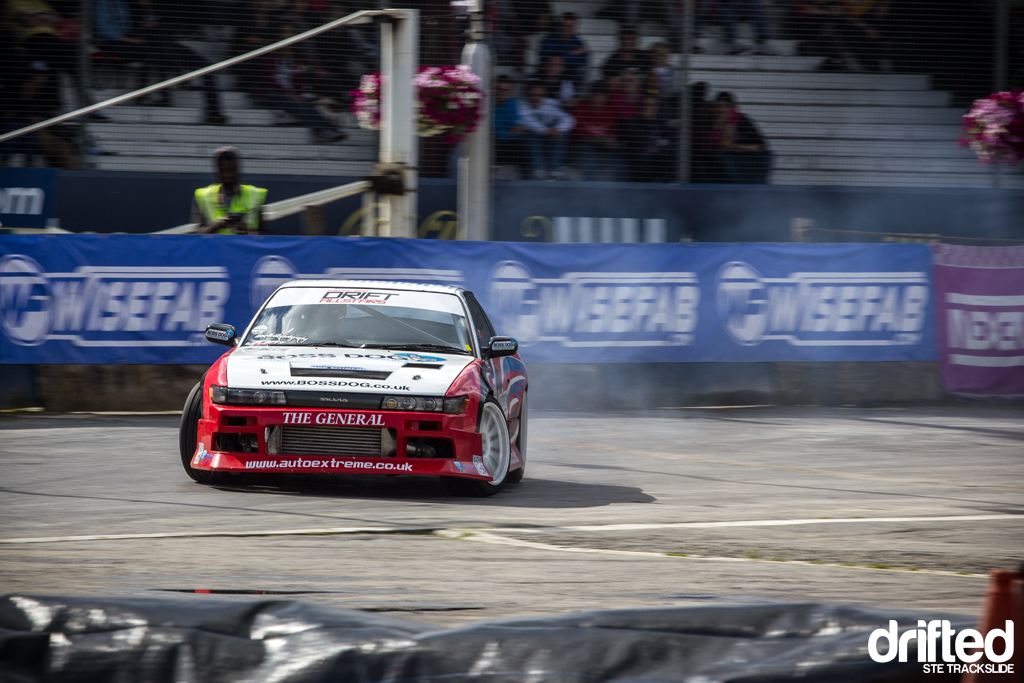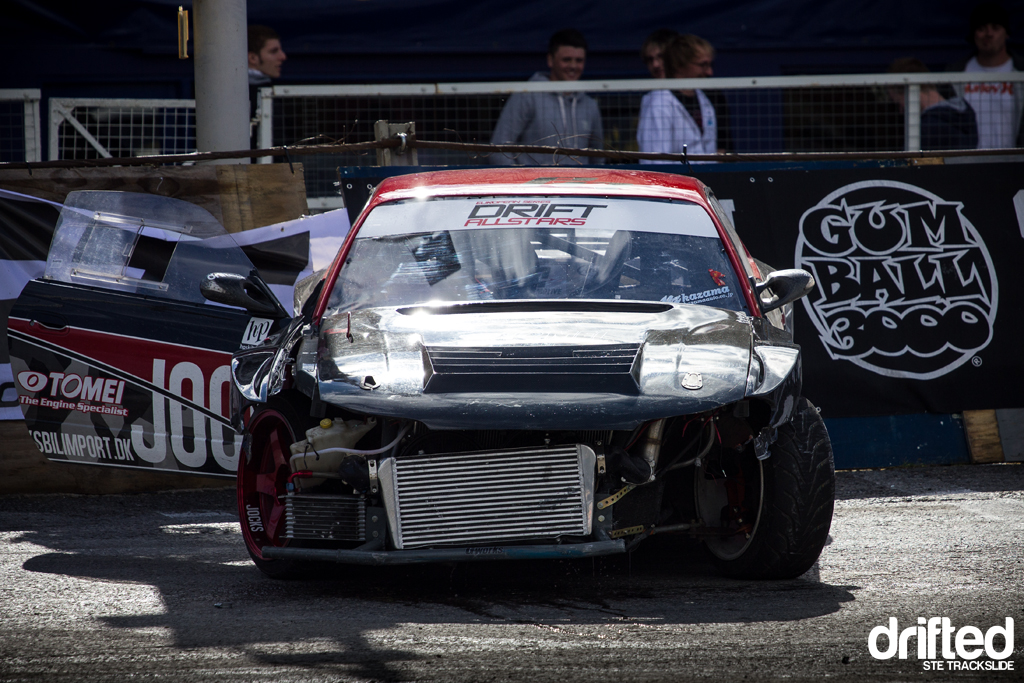 The first victim of the day, while transitioning out of the first corner Jacob Høgh Hansen lost the rear of his S15 and caught the unforgiving outer wall putting him out of the event.

A puddle on the track from the rain made for some nice effects.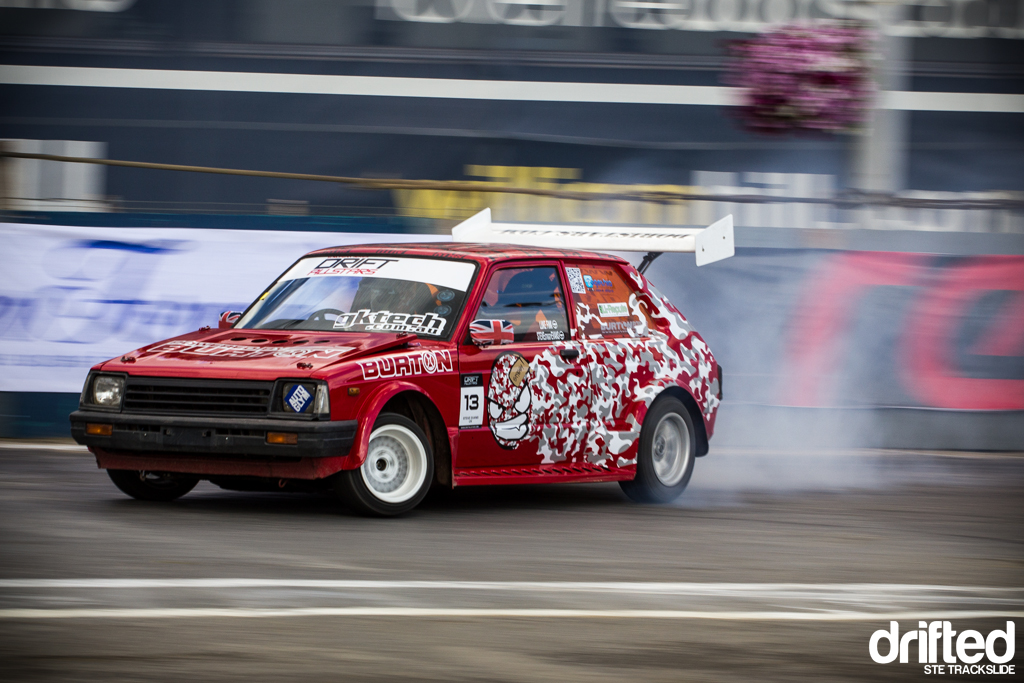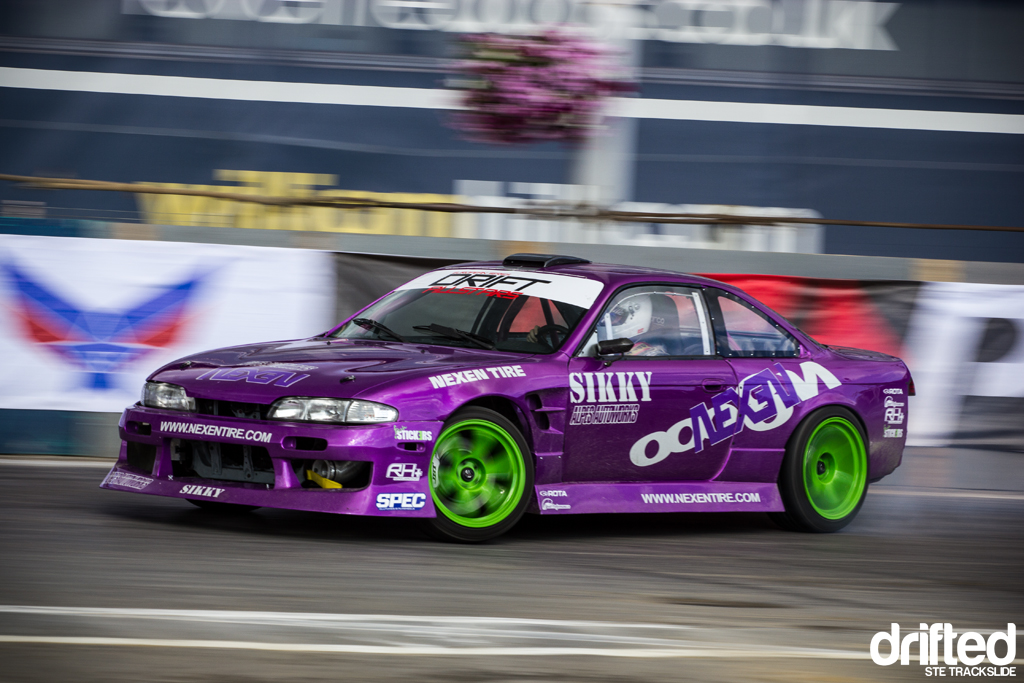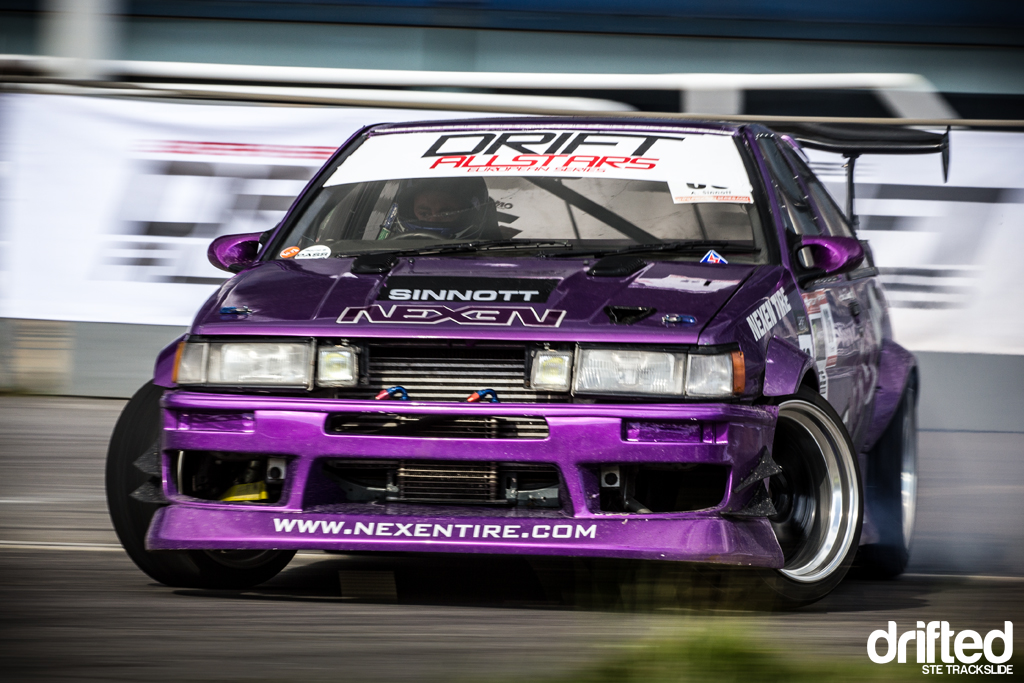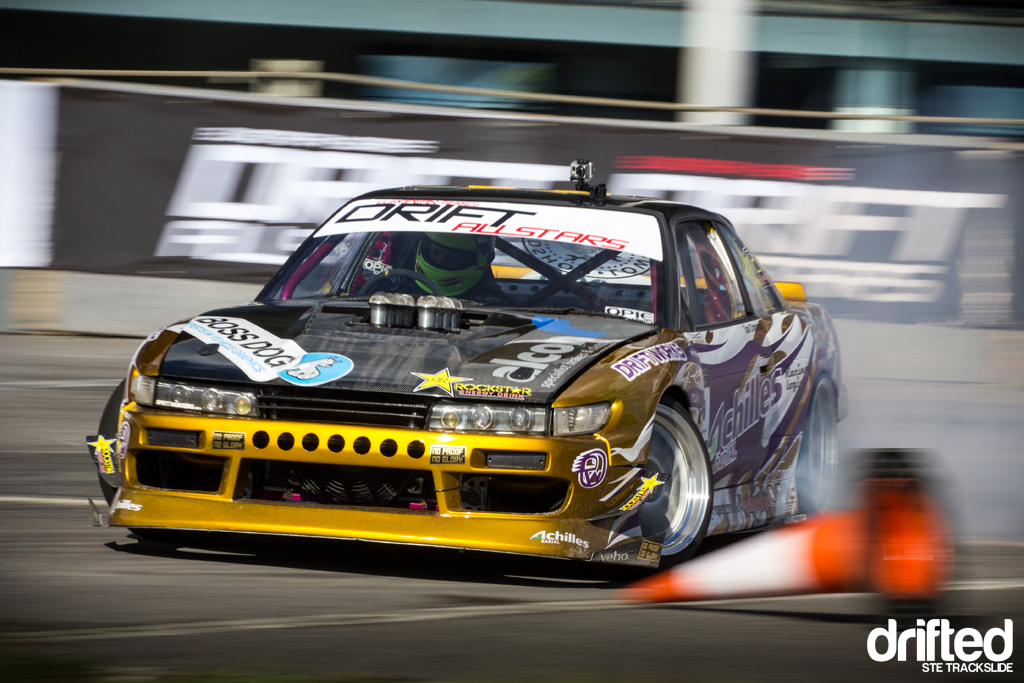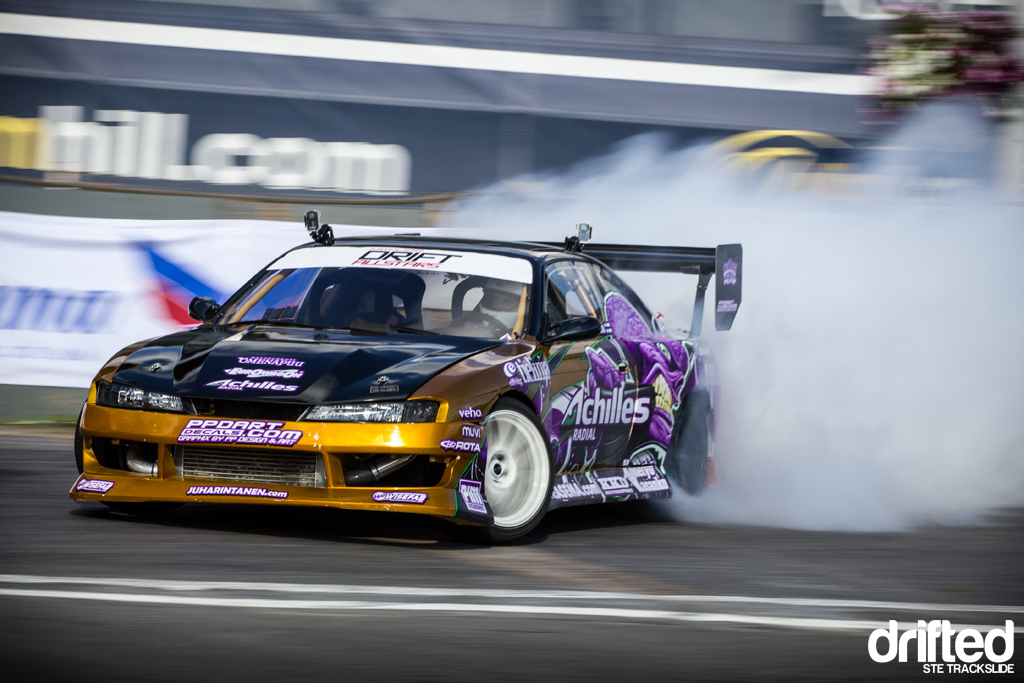 Unfortunately Scotty was having problems with the rocket bunny SIL80, it was badly misfiring and even after fitting another air flow meter kindly donated by Walton Smith, Scotty was out of it.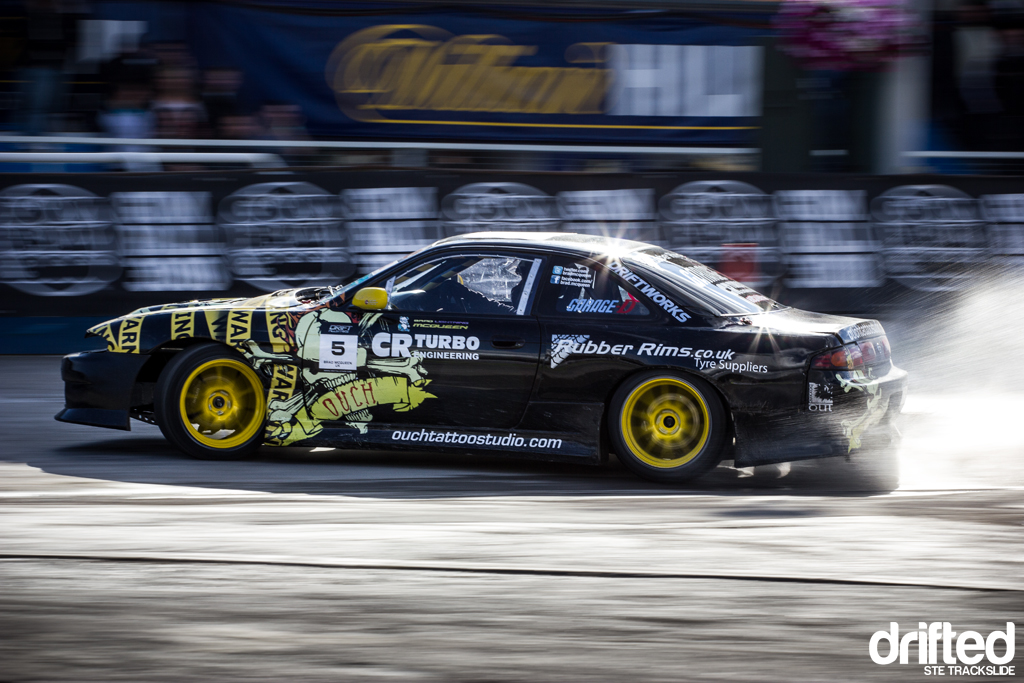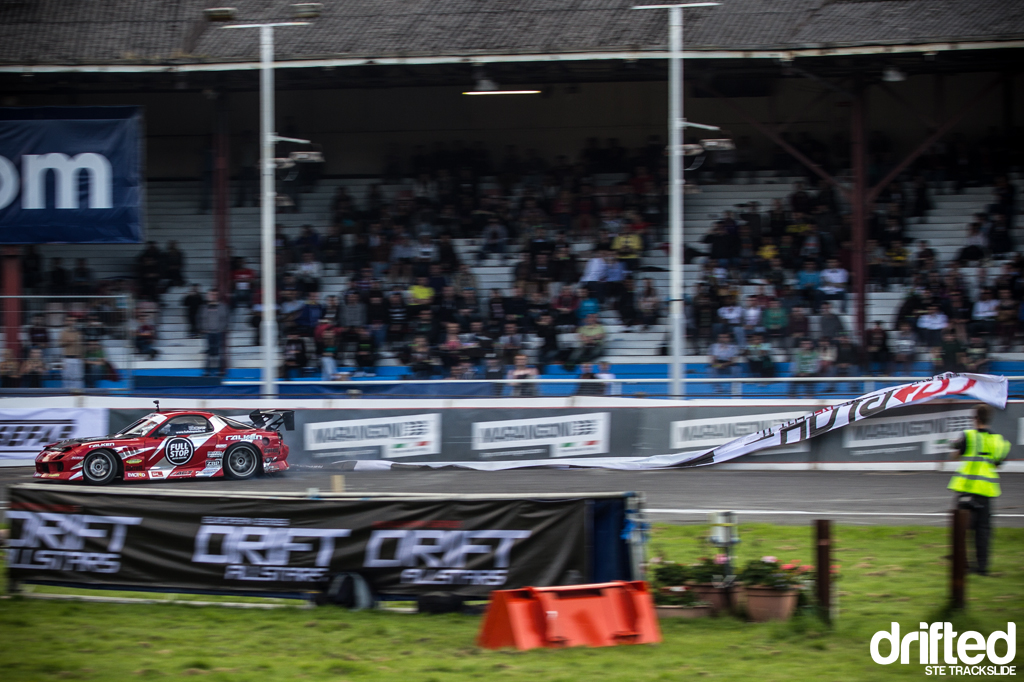 I could hear the laughing and cheering all around the stadium on this run, as James Deane made an epic 3 runs catching a banner on each one. What a guy.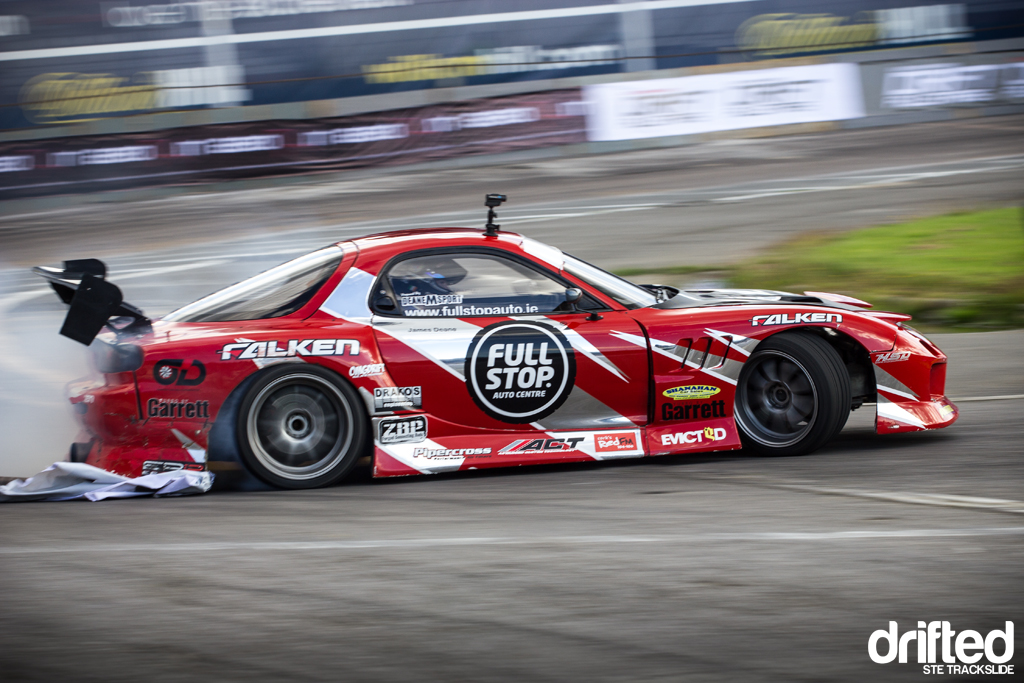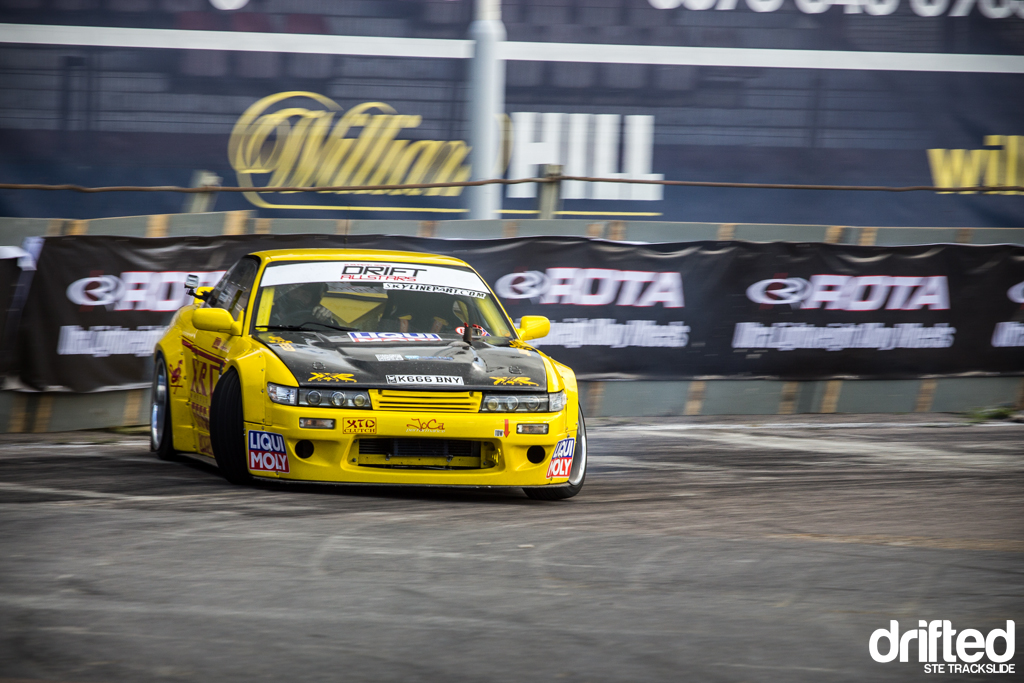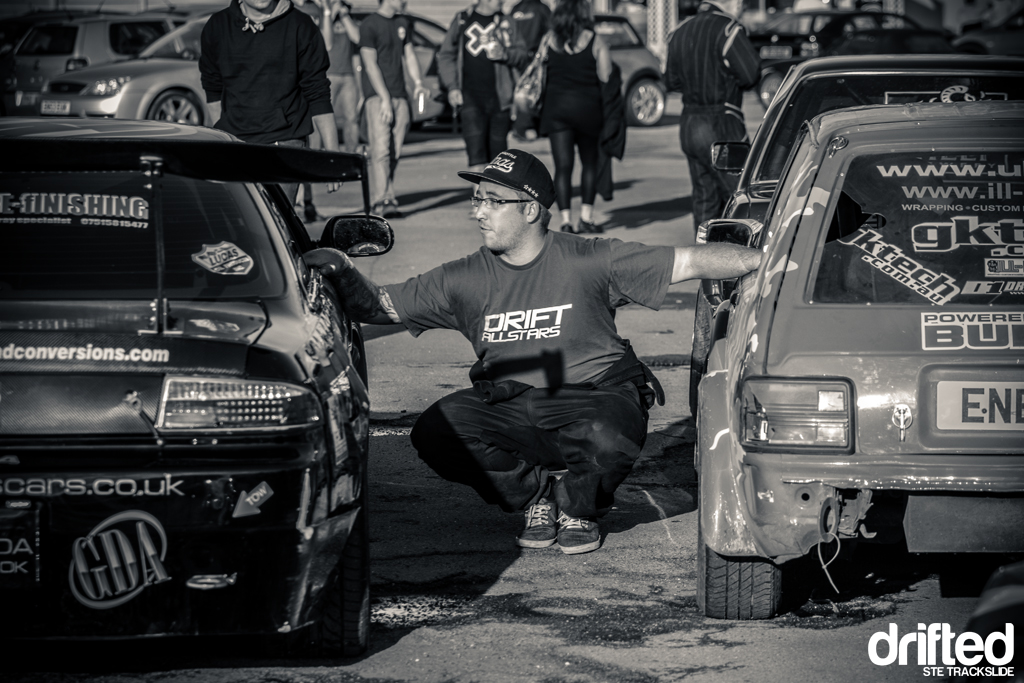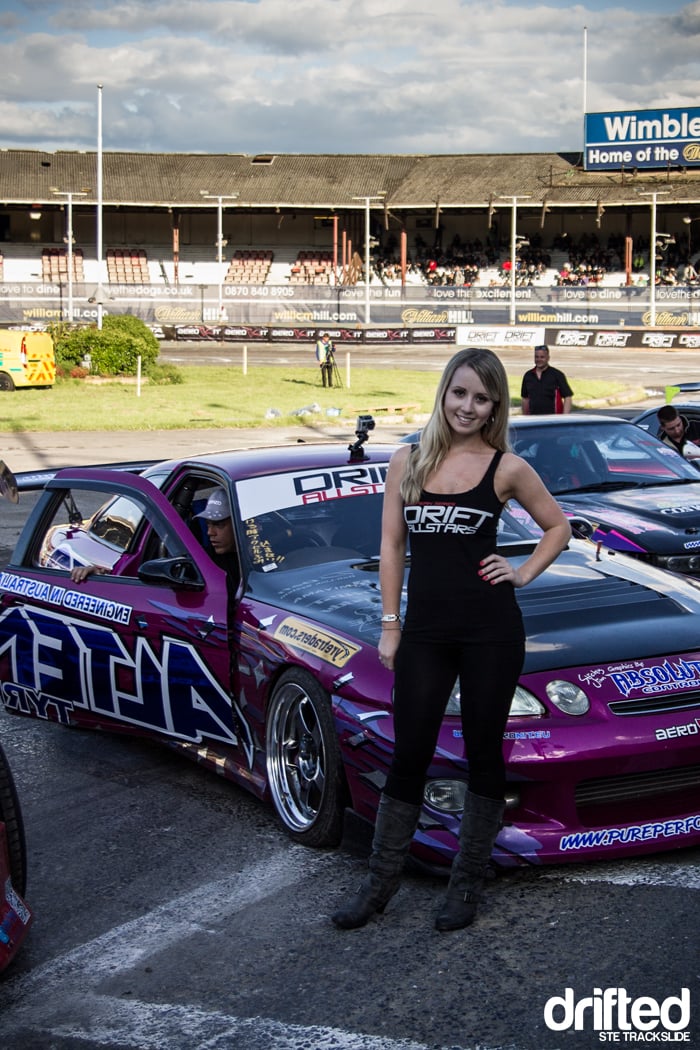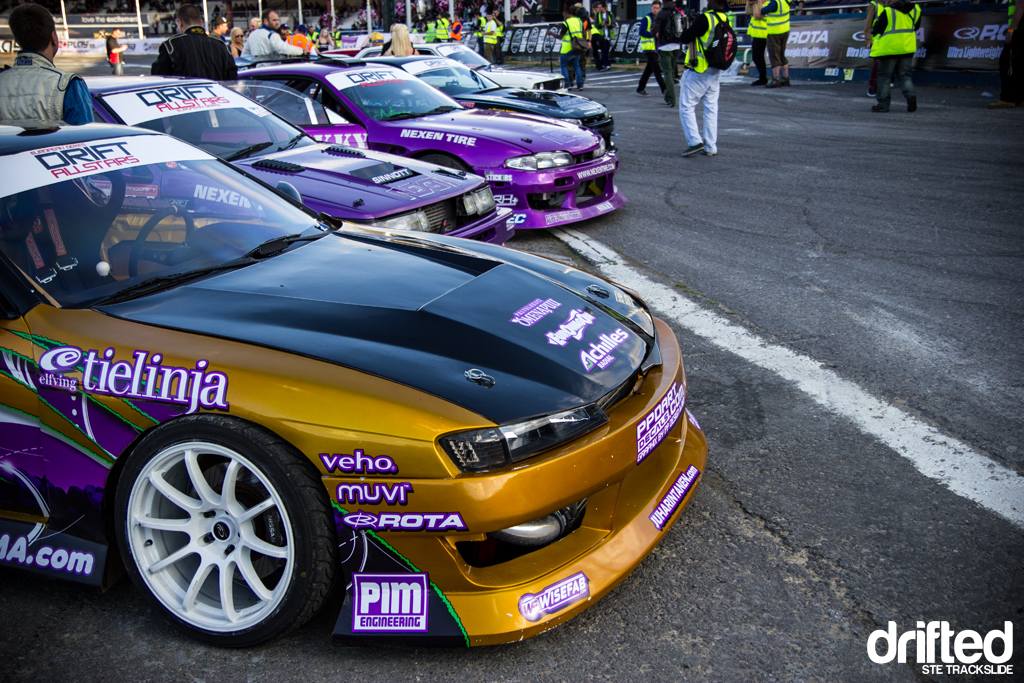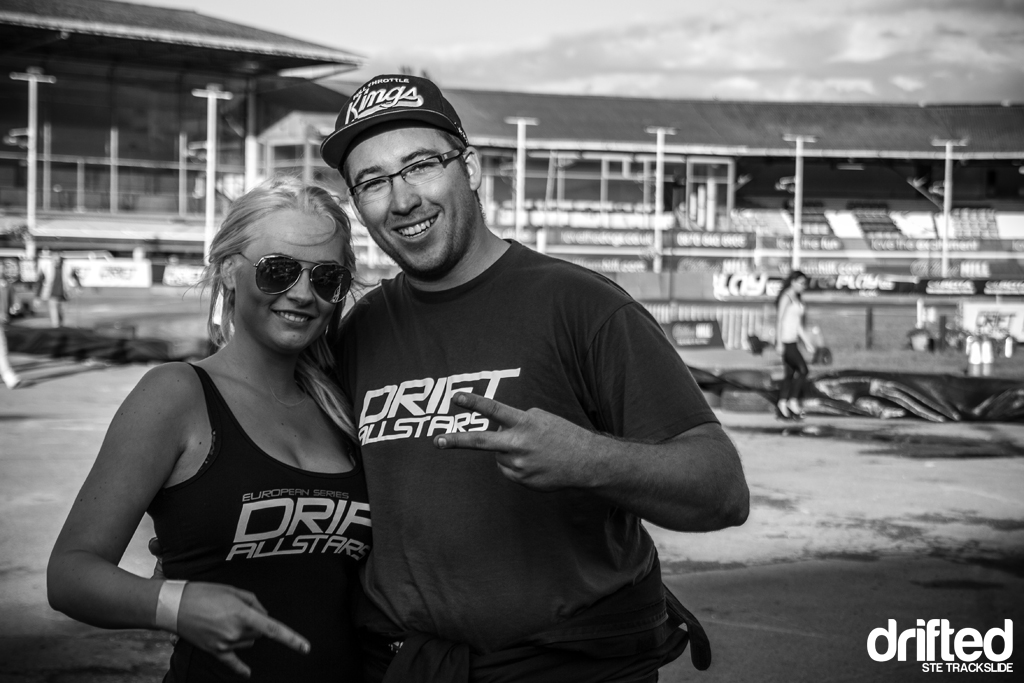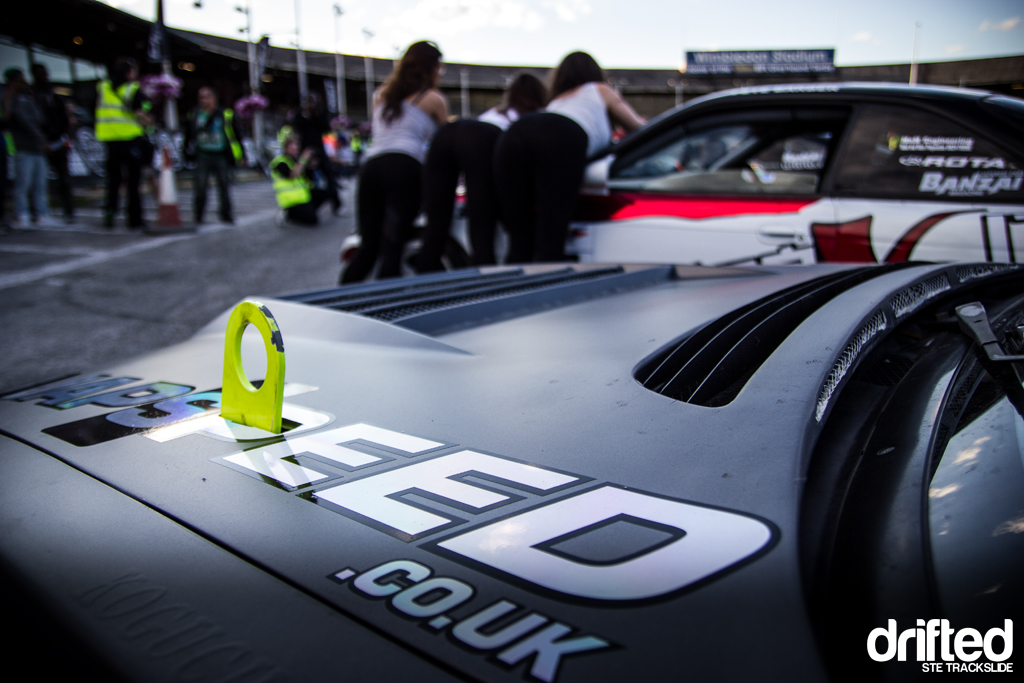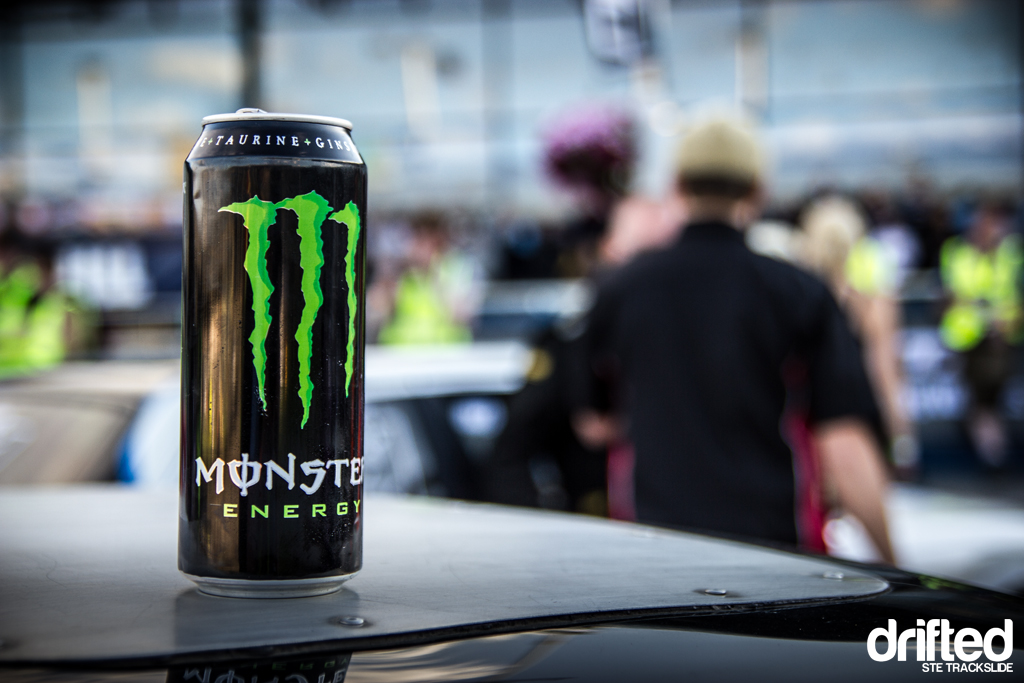 I always seem to get a can shot…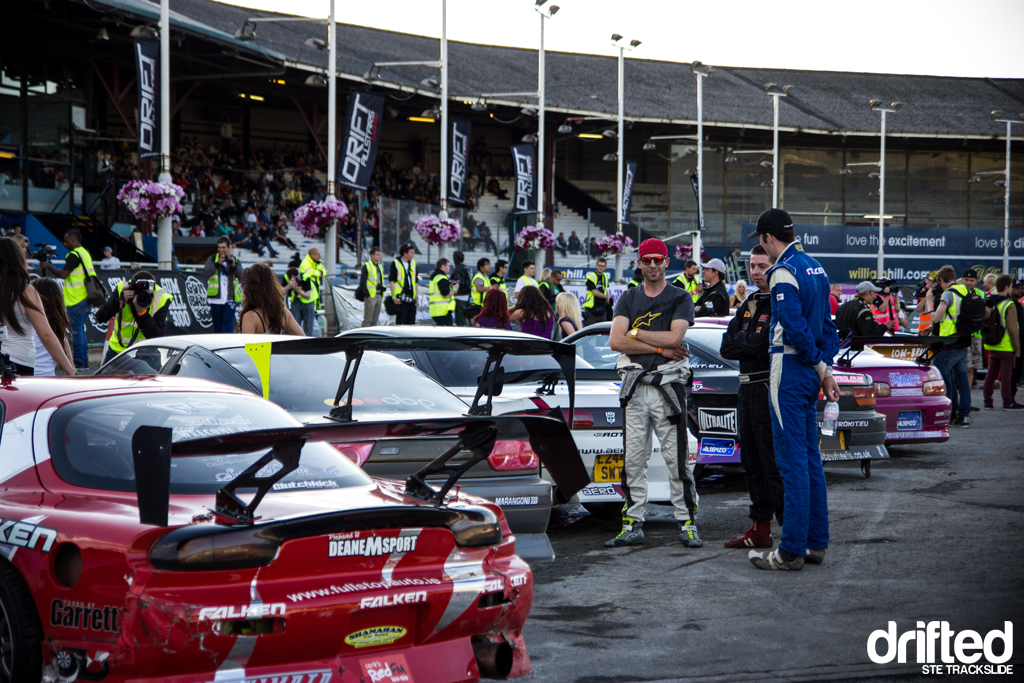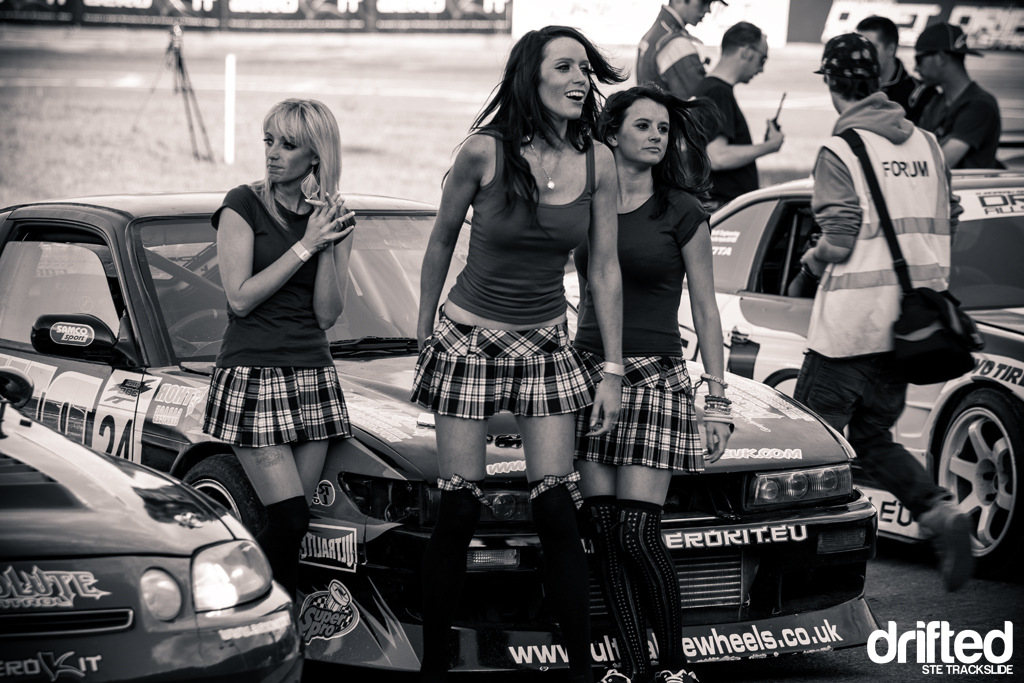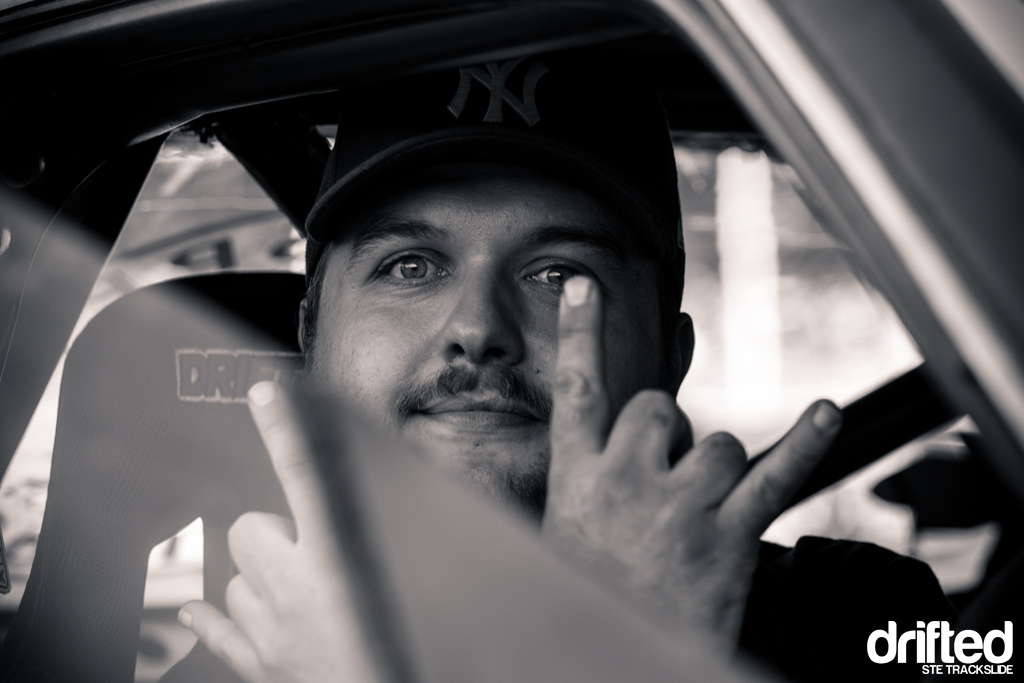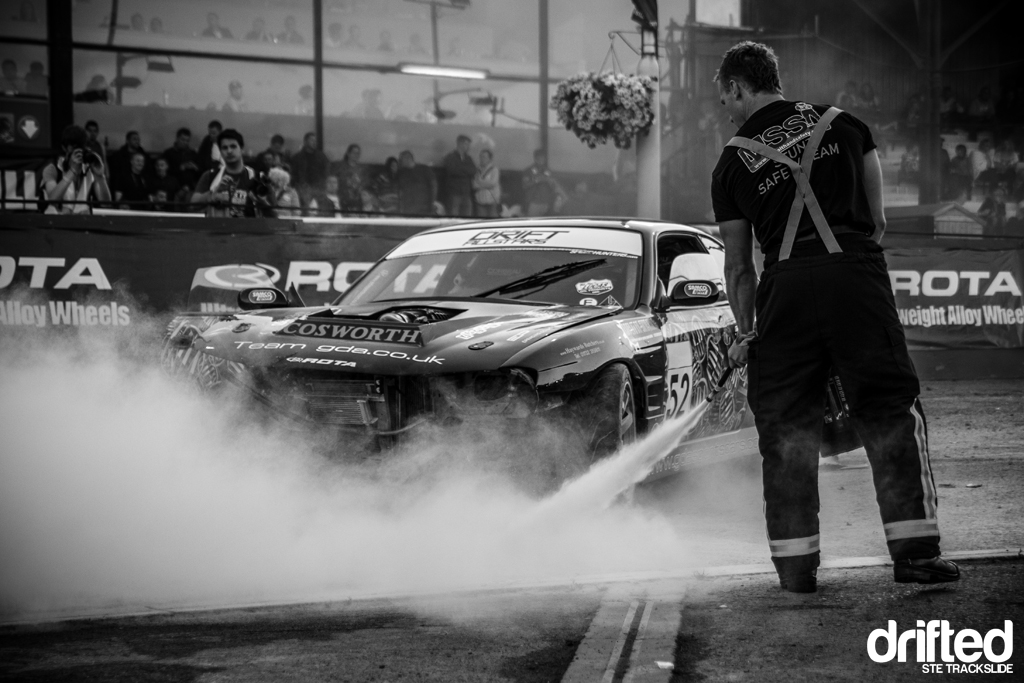 Nathan Chivers had a fairly bad crash writing off his hardcore supercharged S14a, I have spoken to him since, he says he is fine, a bit sore but he has stripped the shell and is already planning a new build so watch that space…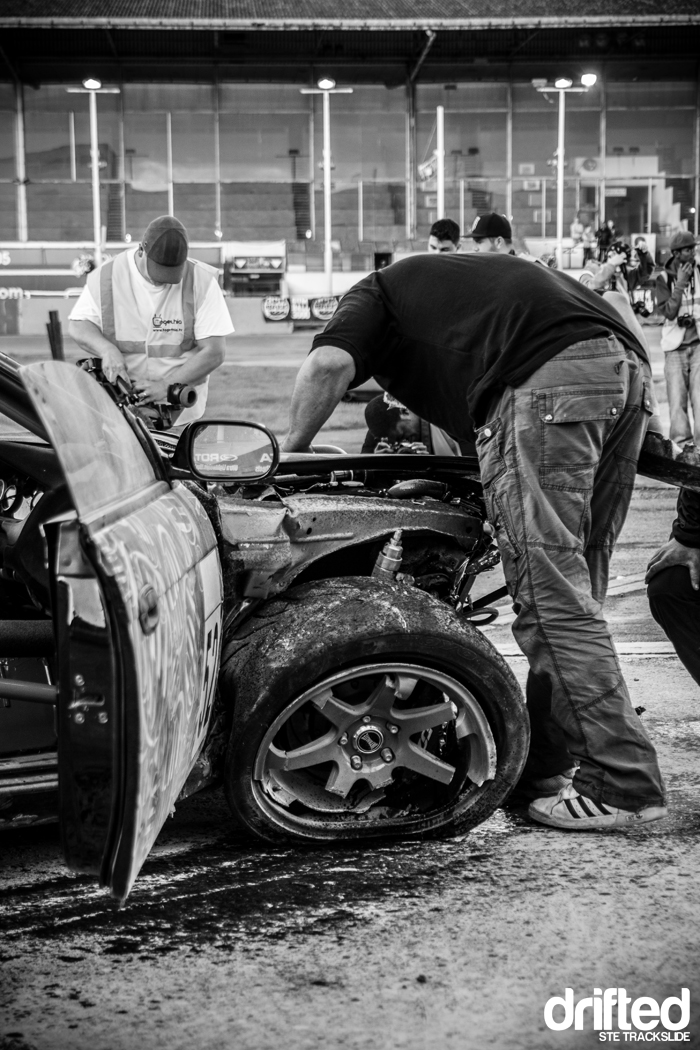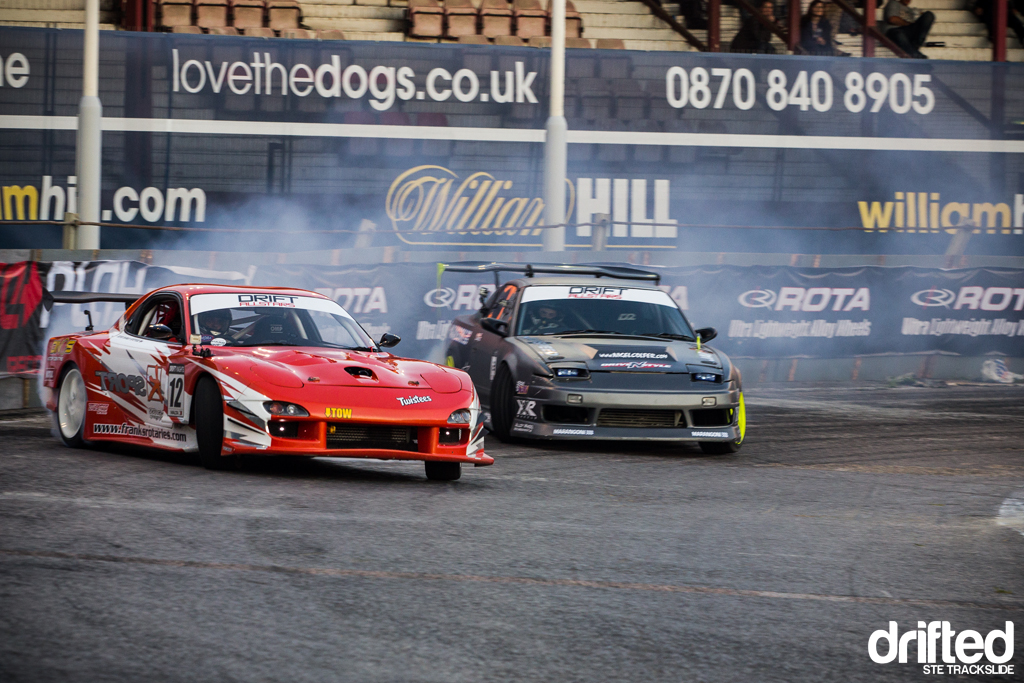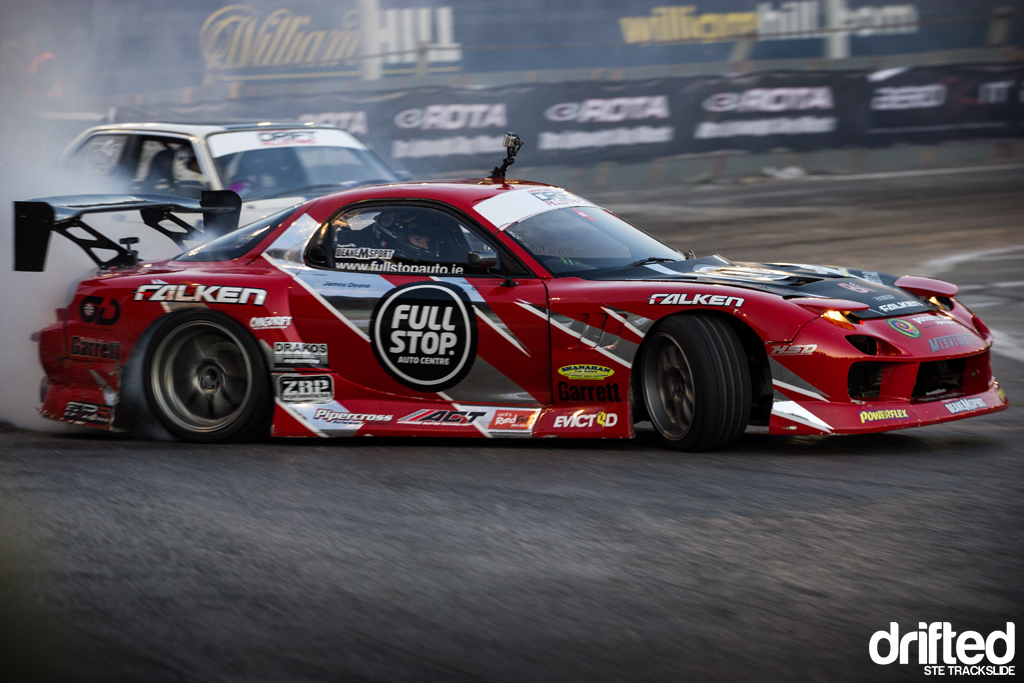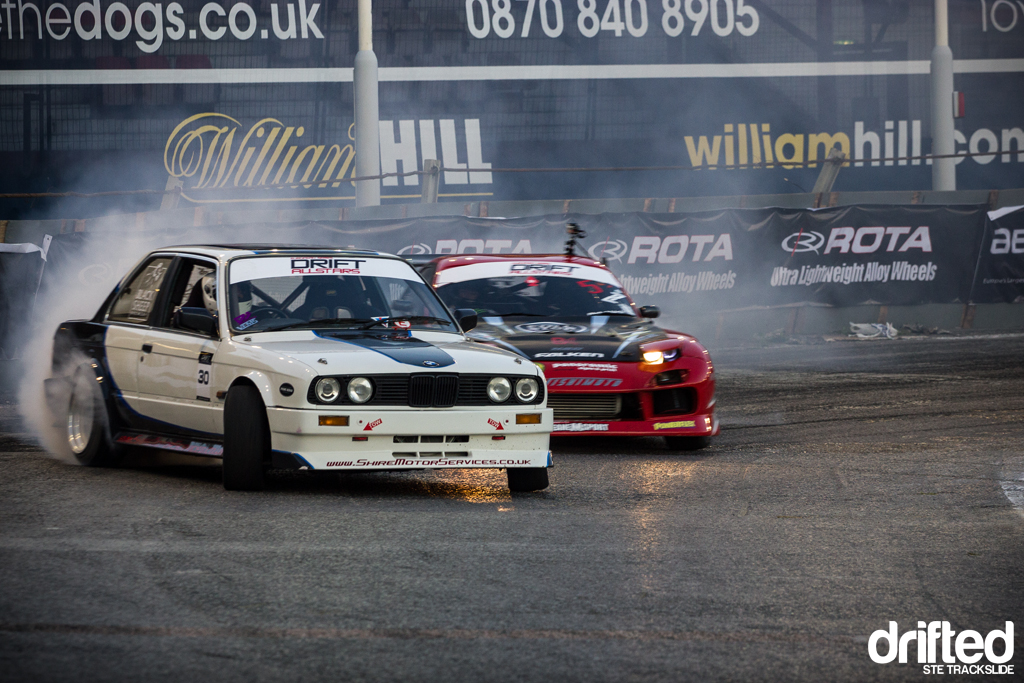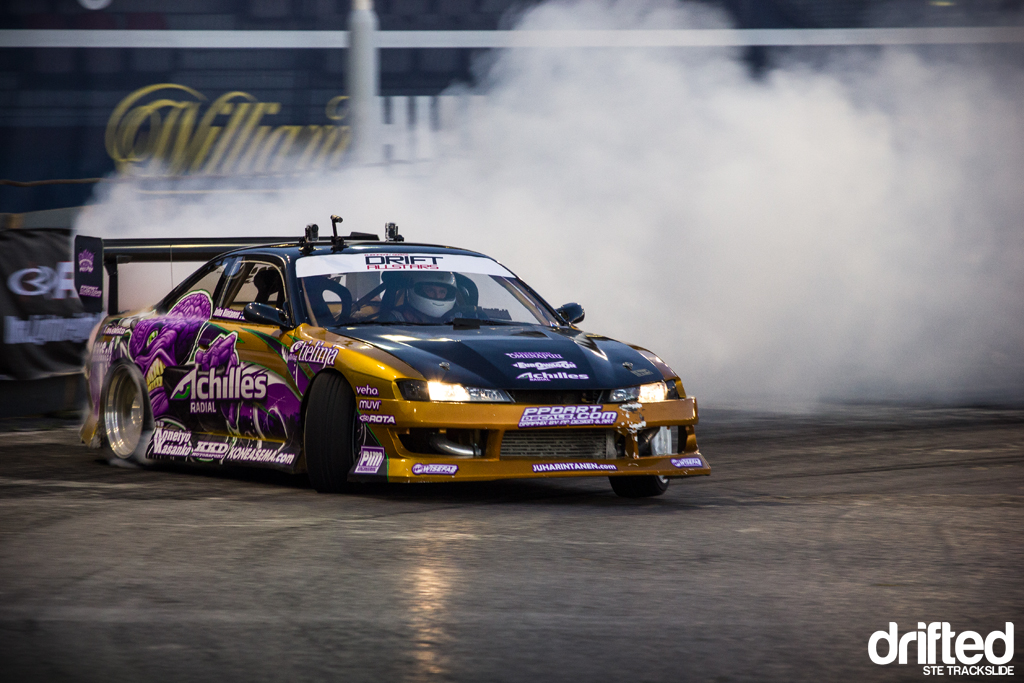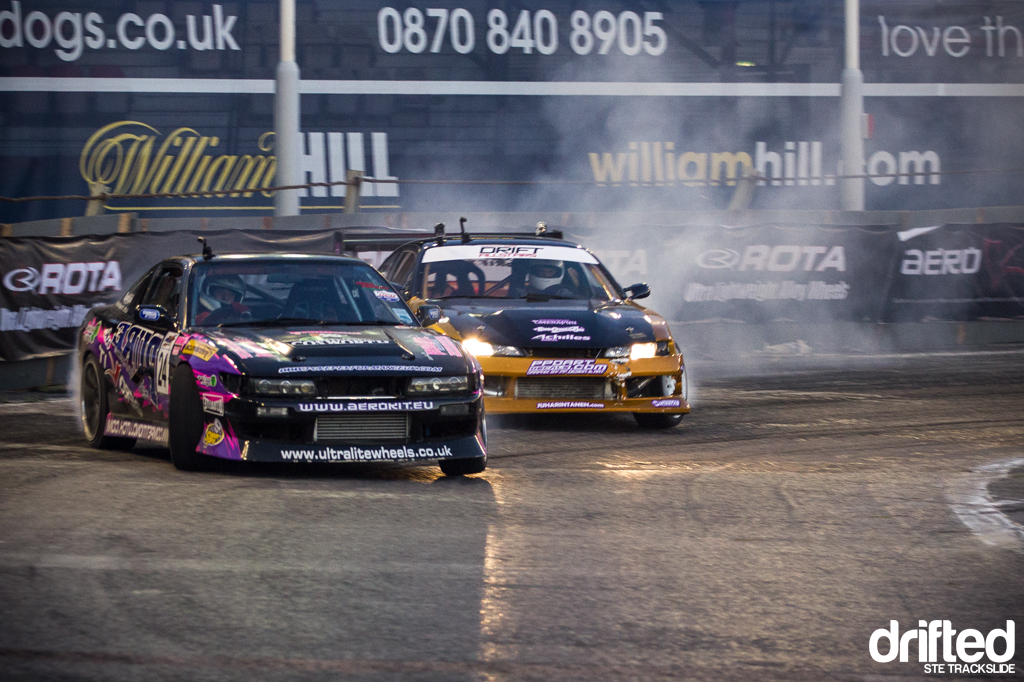 James Deane and Peter Green in the V8 powered E30 BMW have an awesome run knocking Peter Green out.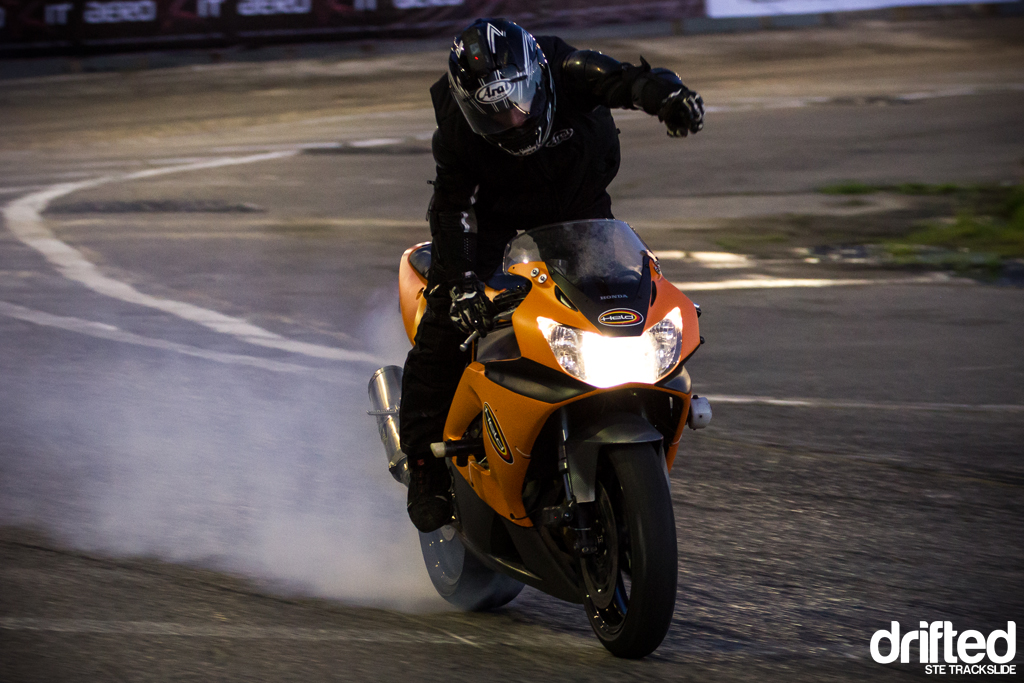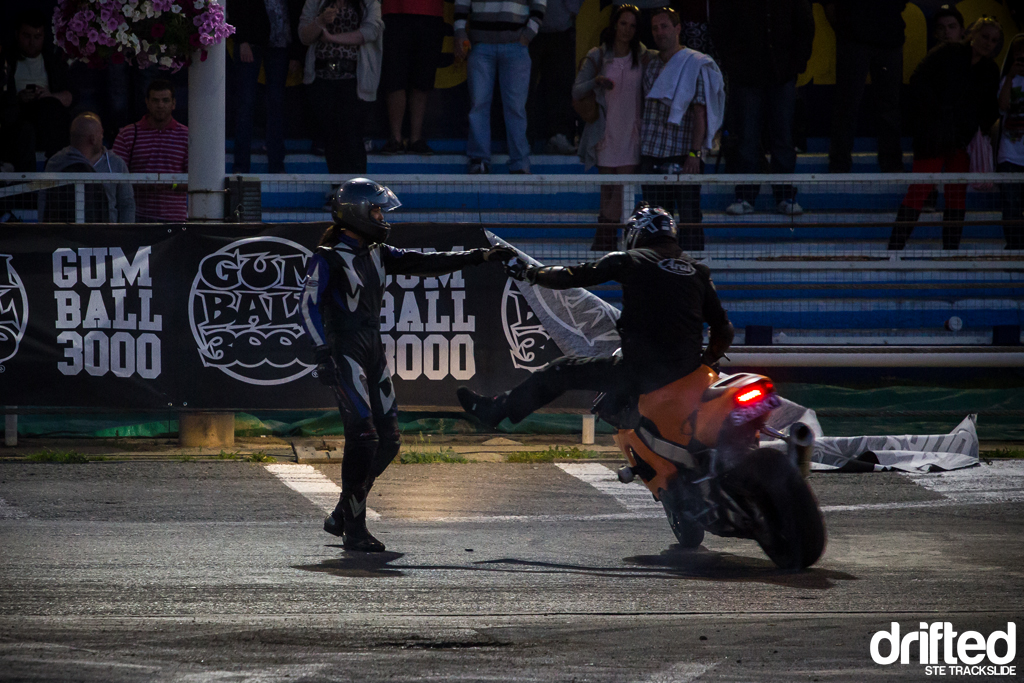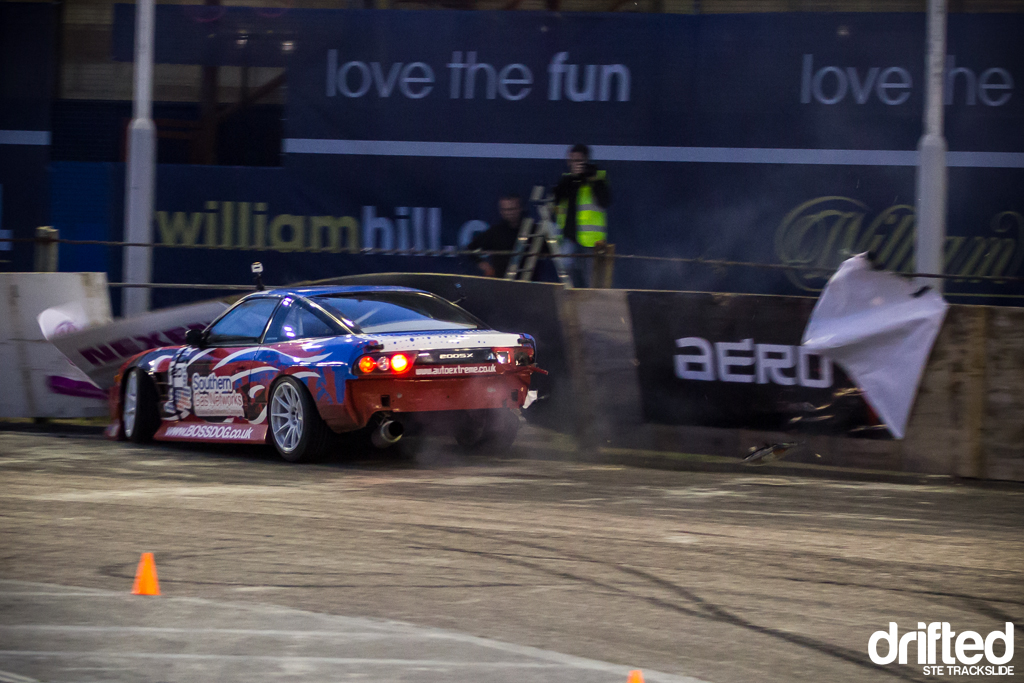 The track claims another victim as Matt Chiappa slides the General into the barrier losing his rear light on the way.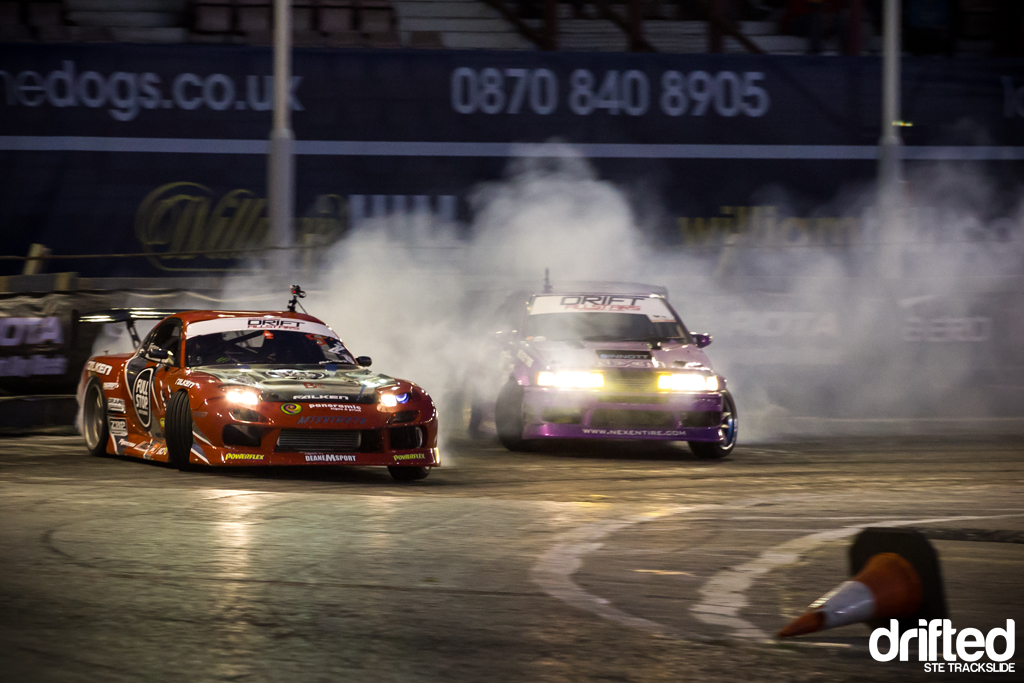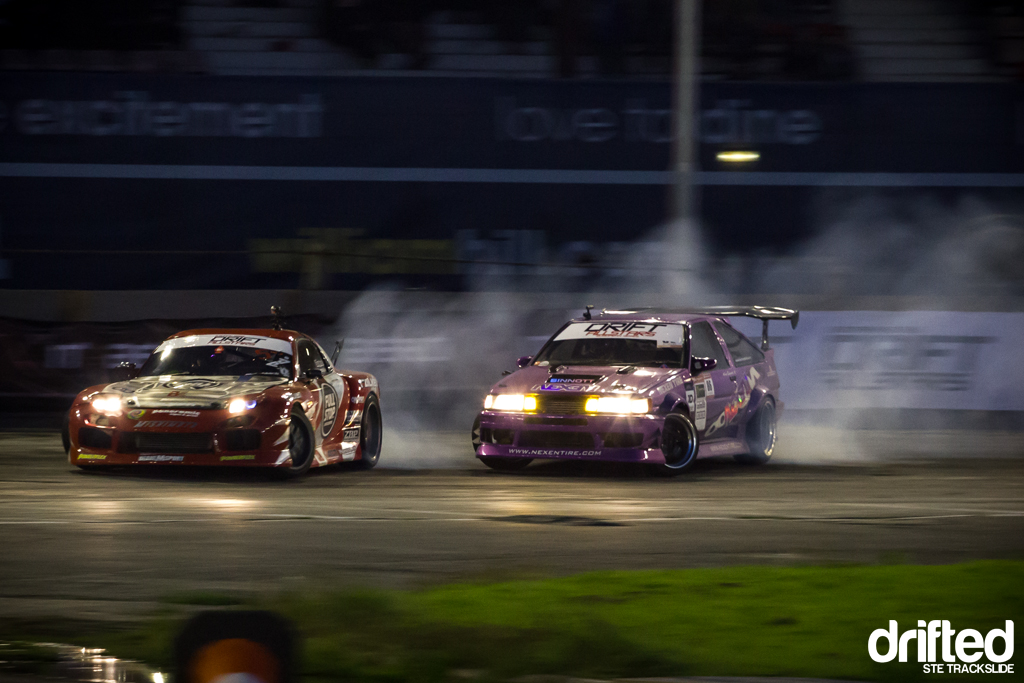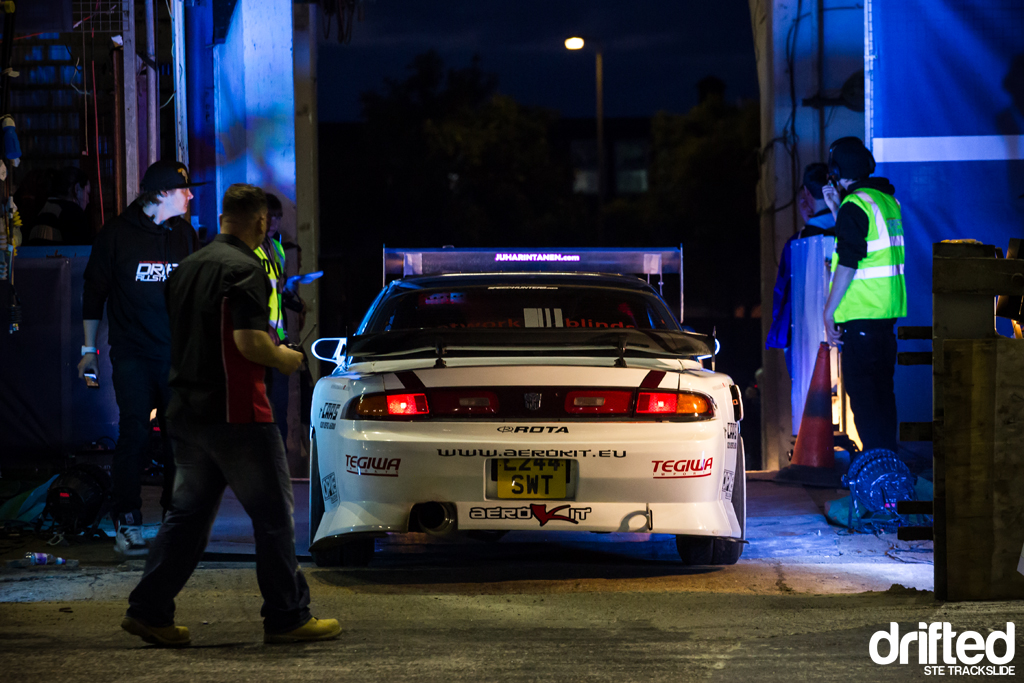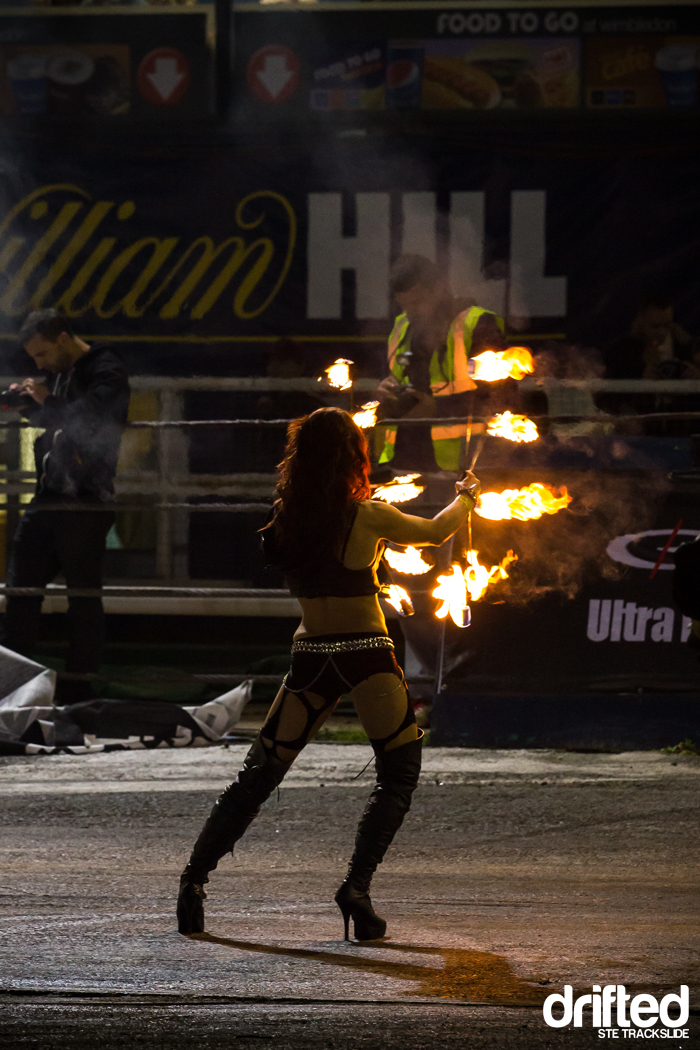 Then came the very talented fire ladies.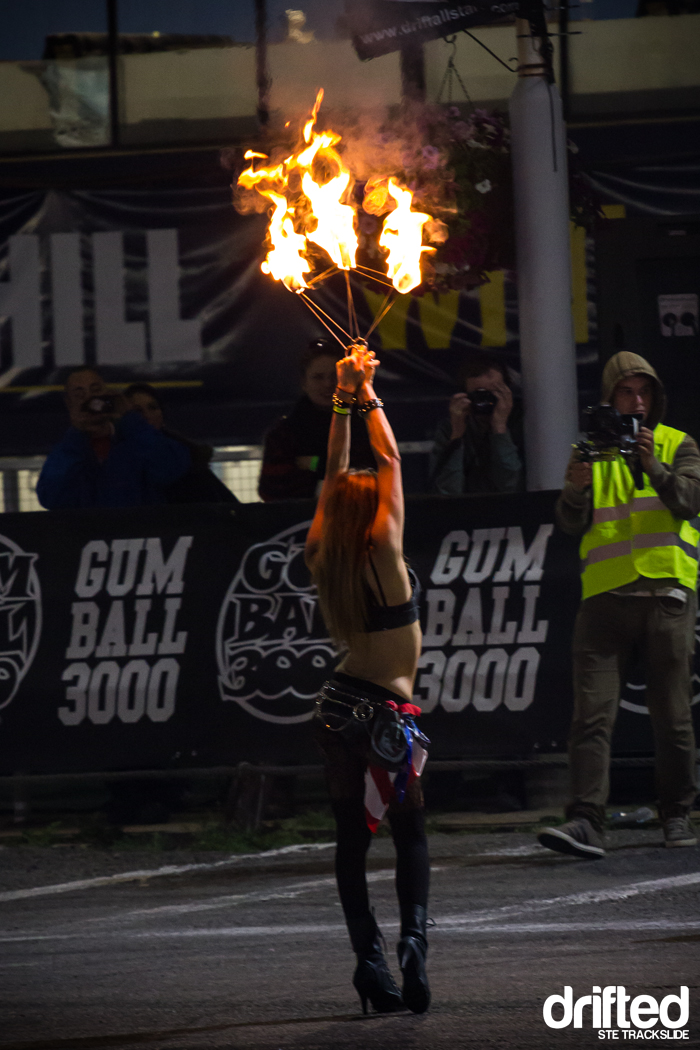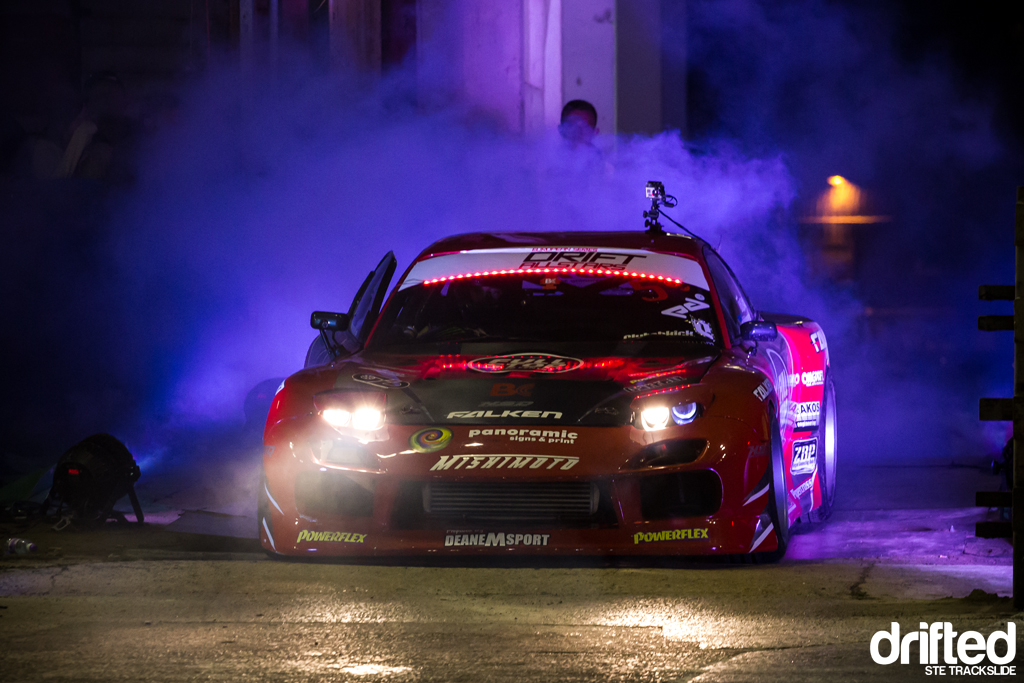 James Deane in the widebody FD RX7 enters for his final battle with Alan Sinnot in the SR20 powered AE86 Levin.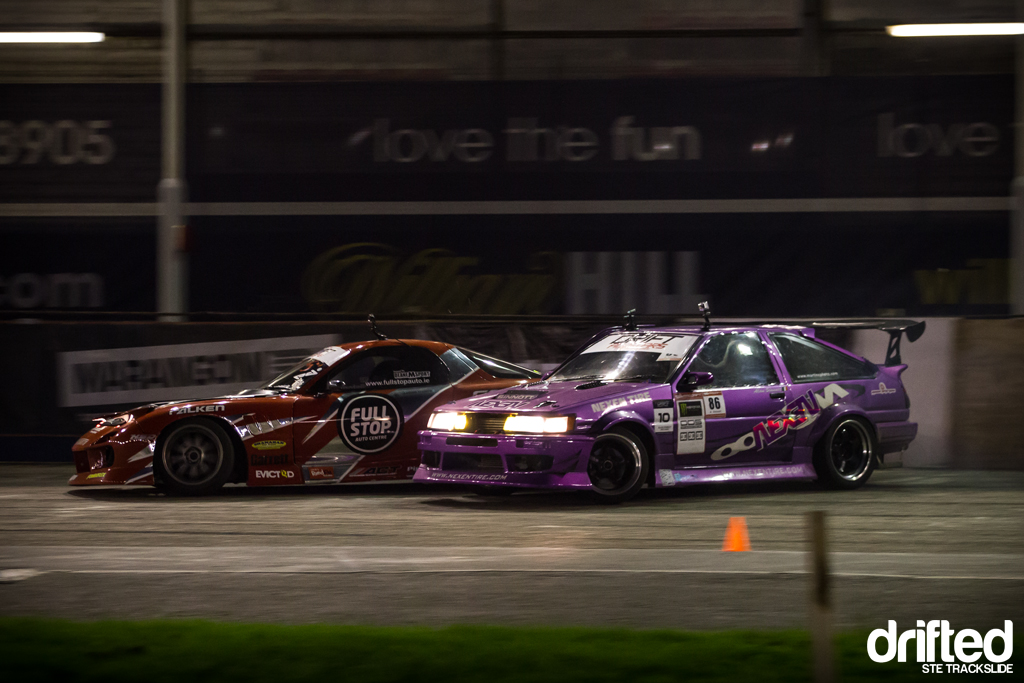 The love tap, Alan Sinnot carries huge speed into the first corner bumping the rear quarter of James's RX7. After a quick trip to the pits they are both back out and ready to rock with one of the closet battles of the day.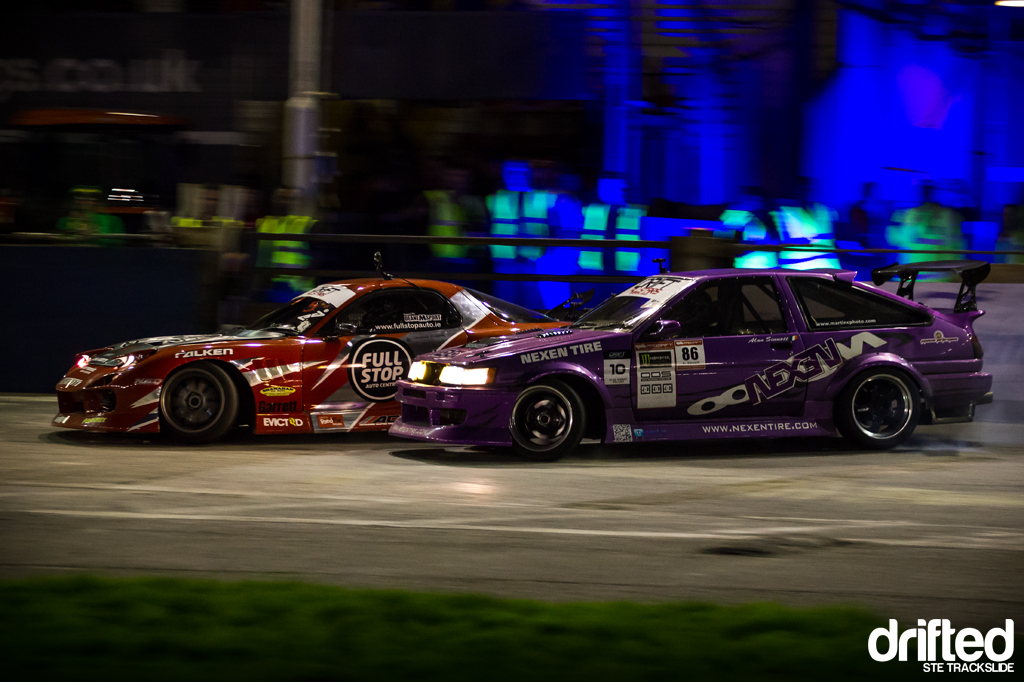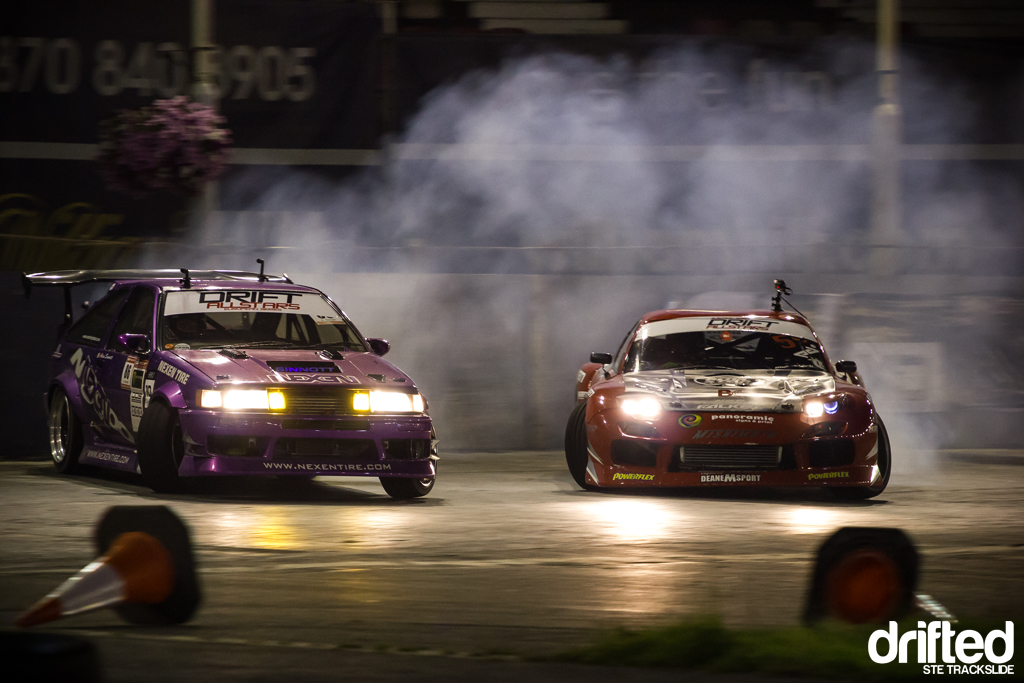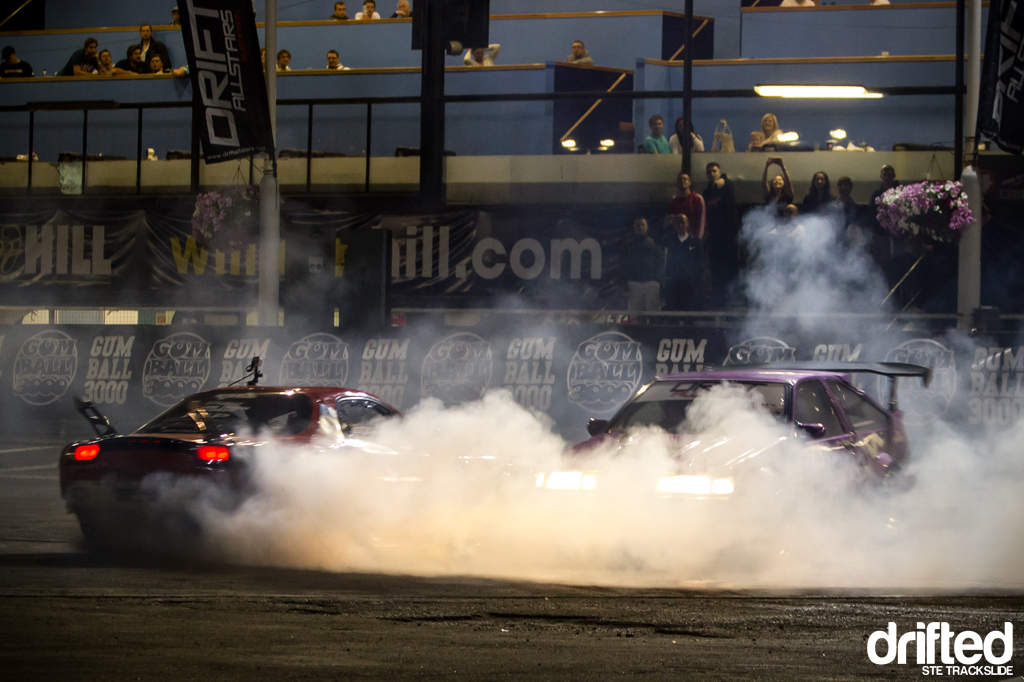 Alan Sinnot goes though to the semi finals, but not before a little celebratory double donut.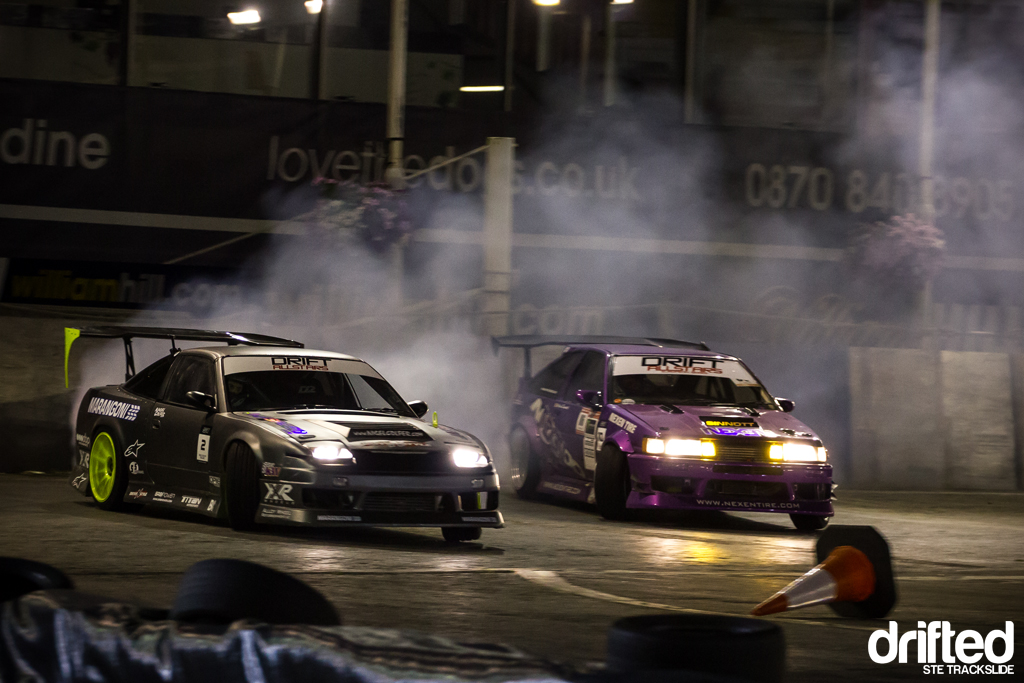 Next up was Alan Sinnot Vs Nigel Colfer, after another few epic battles, Nigel goes though to the finals.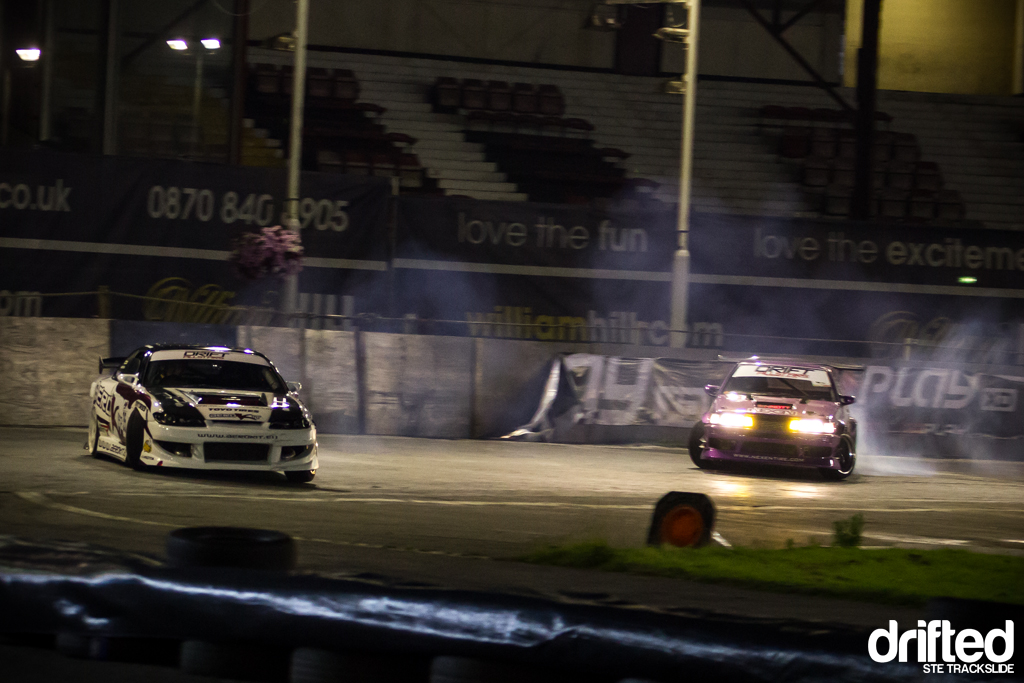 Pete Barber and Alan Sinnot battle it out after both being knocked out in the semi finals.
Juha Rintanen blasts to victory in the final battle against Nigel Colfer in an extremely close  battle showing the talent and skill these drivers have.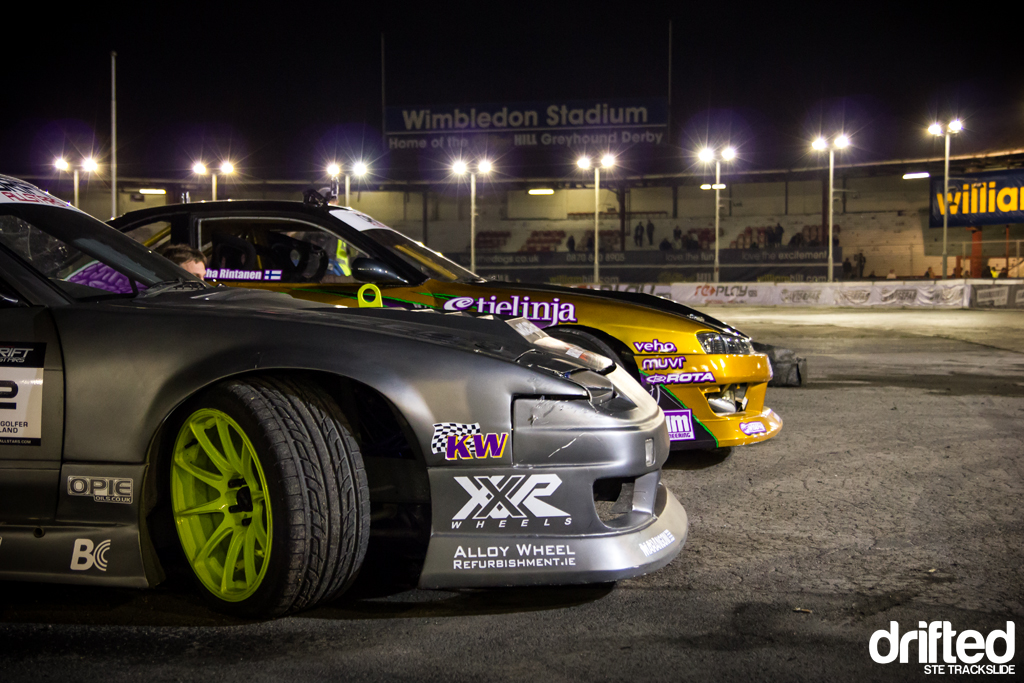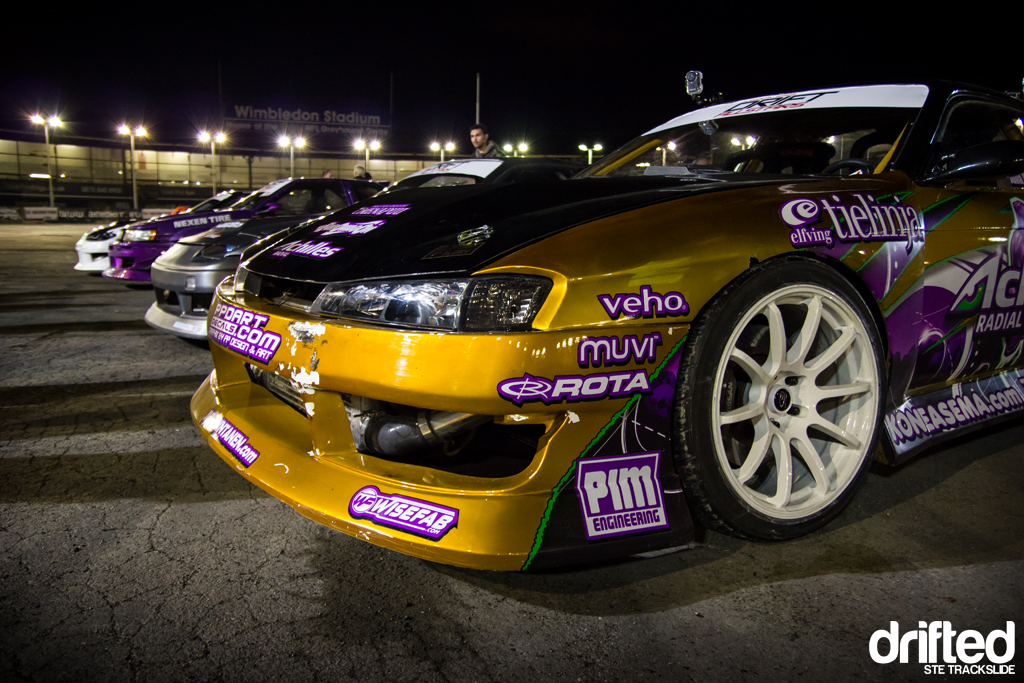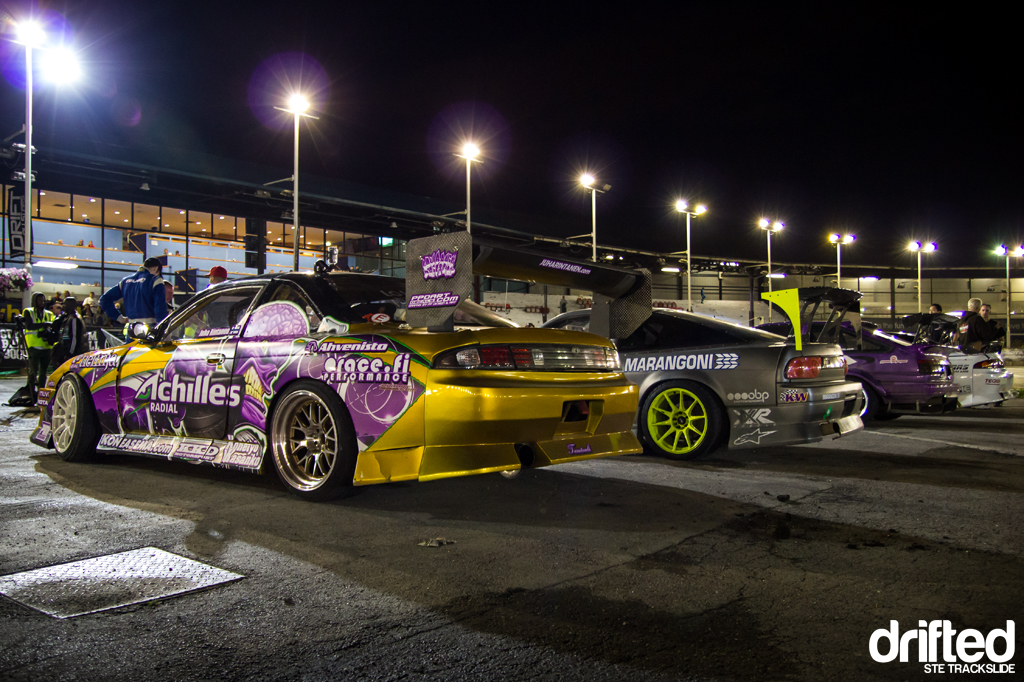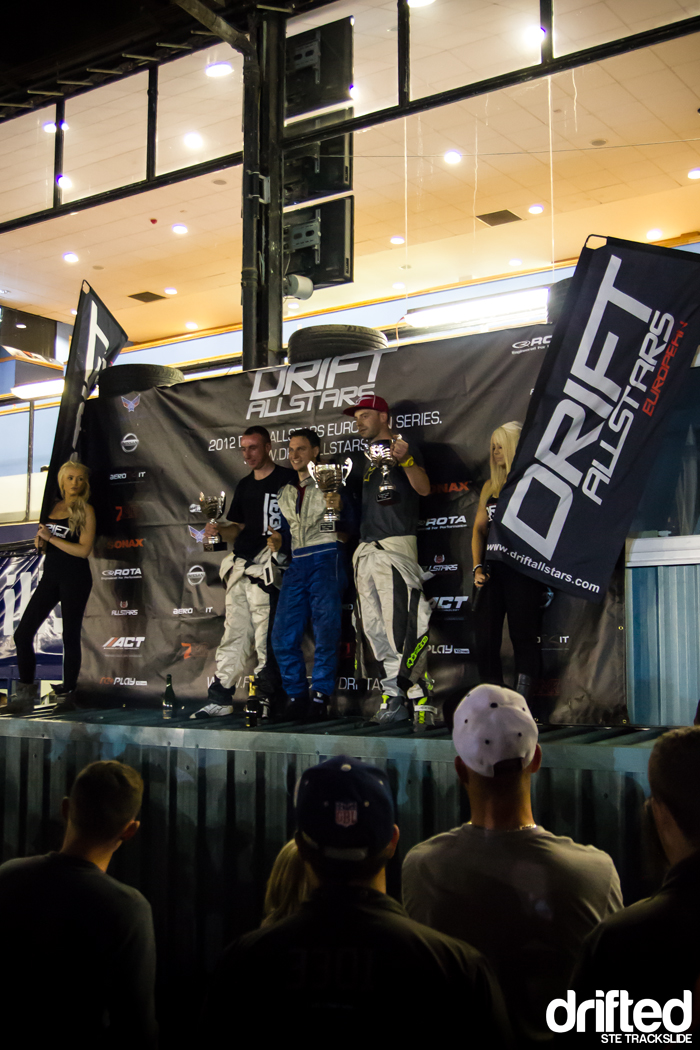 A well deserved podium with Juha Rintanen 1st, Nigel Colfer in 2nd and Alan Sinnot in 3rd. Well done guys.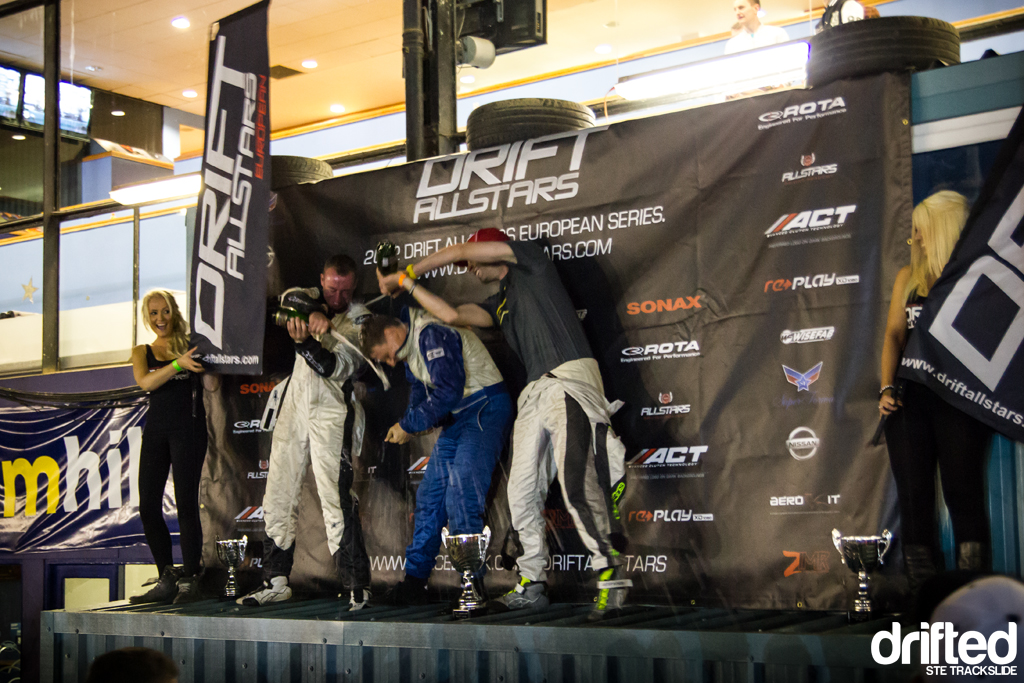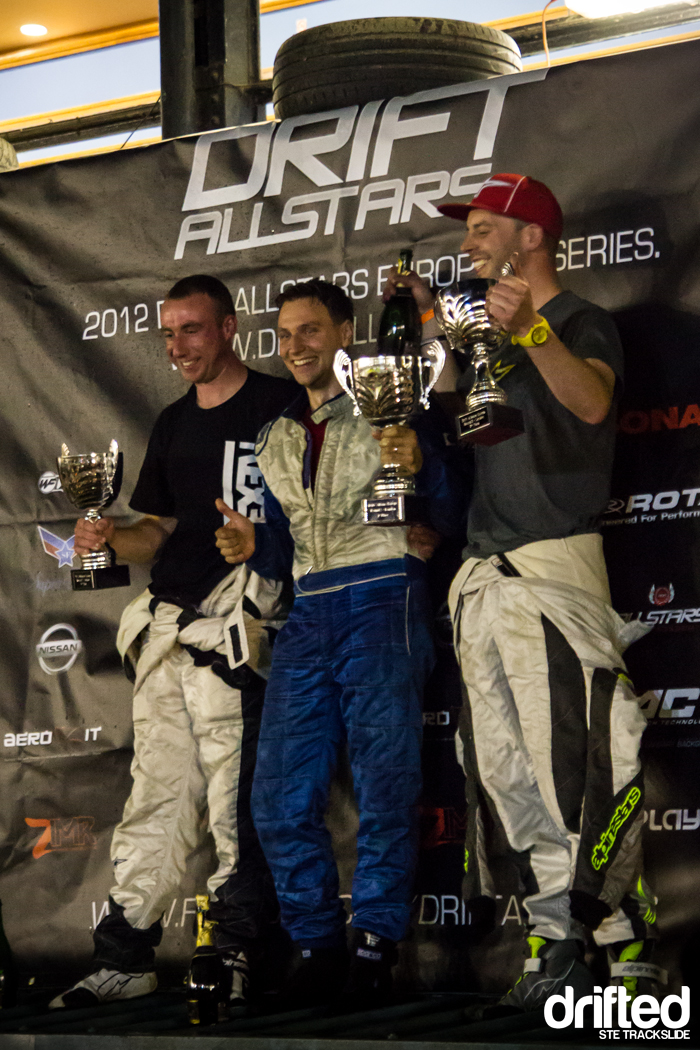 I didn't really put alot of words in this write up as I feel the pictures tell it better than I anything I could write, so I hope you've enjoyed it,
Peace.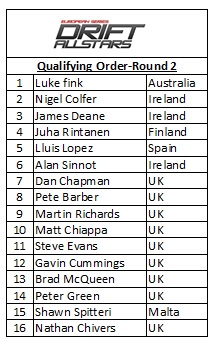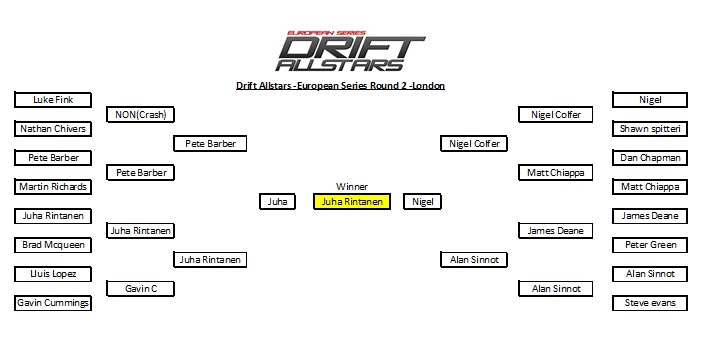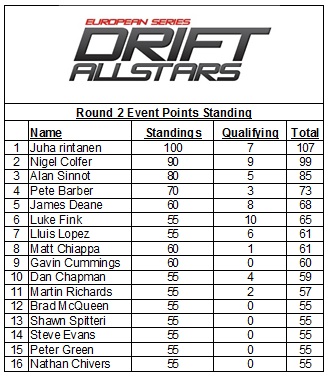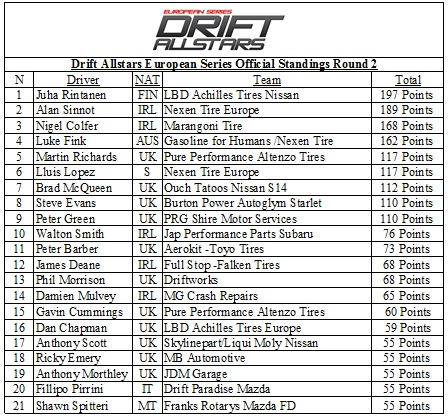 *Drift Allstars tables courtesy of drift-allstars.com