EVENT: Chasing Smoke – BDC License Day 2013 at Teesside Autodrome
March 2013, a month I've been anticipating since my journey home from the last drift event I attended, in other words, my first drift event of 2013 in the form of a license day, giving new drivers the chance to compete in the British Drift Championship. For weeks beforehand I kept checking the weather apps on my phone, praying for good weather but every time I looked, it stayed the same and keeping with Teesside tradition, it looked like rain was on the cards.
To add to things, I was up all night before this event lending a helping hand to license-contendee Darren Rickaby to try and get his BMW E30 V8 ready for the morning, so I was exhausted before I even got to the event! But hey, whats new? It wouldn't be a proper event without lack of sleep, right?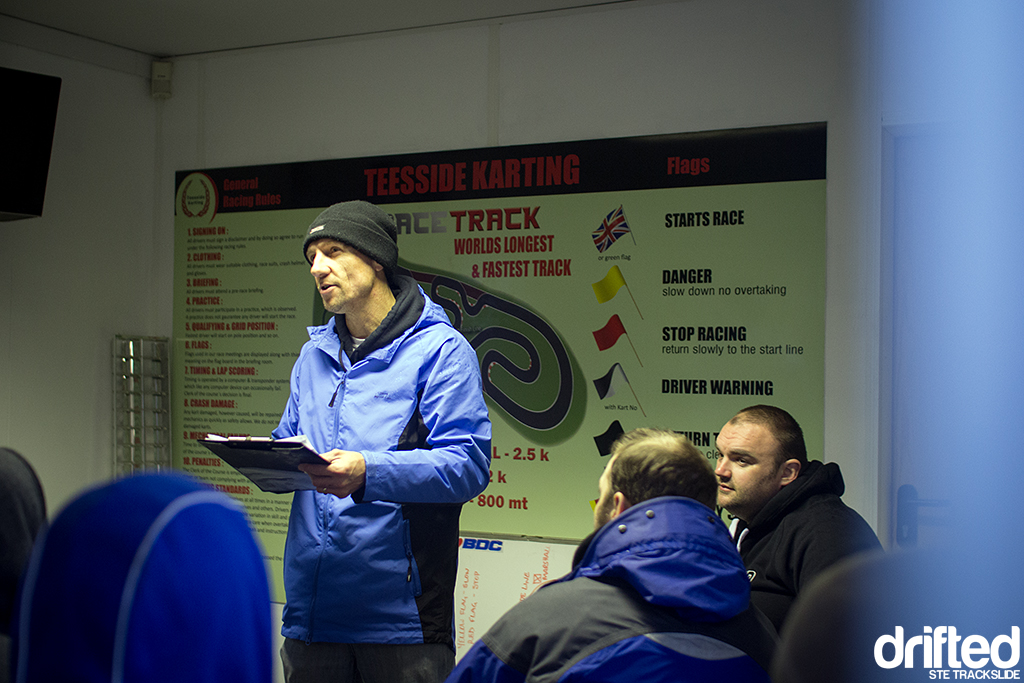 8:30am  was a familiar experience with the drivers briefing being business as usual. Mark 'Sweeps' Buckle is very good with driver briefings, not only giving direction and no nonsense safety advice to these potential competition drivers, but also giving tips on the best way to tackle what was certain to be a very slippery. As always, a bit of light-hearted banter was thrown into the mix to help the newcomers feel at home.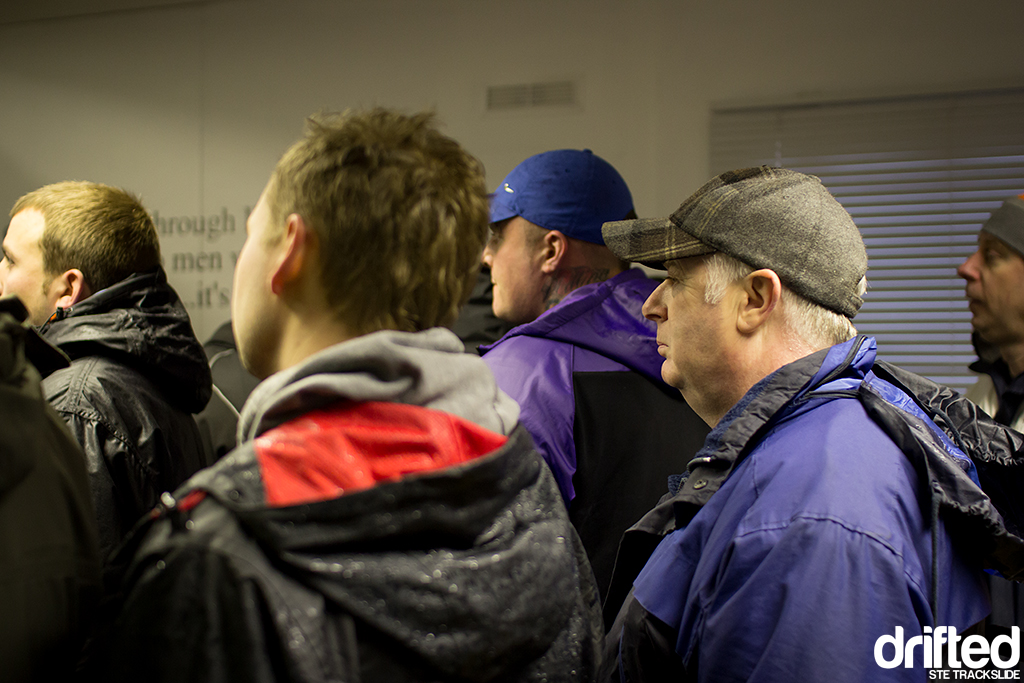 With this being Teesside Autodrome and my local track, I know the majority of the drivers personally - I've seen them progress over the last few years. Some of them said they could never see their skill at a level where they could be in the British Drift Championship, although not everyone would get their license today, it was good to see so many familiar faces trying.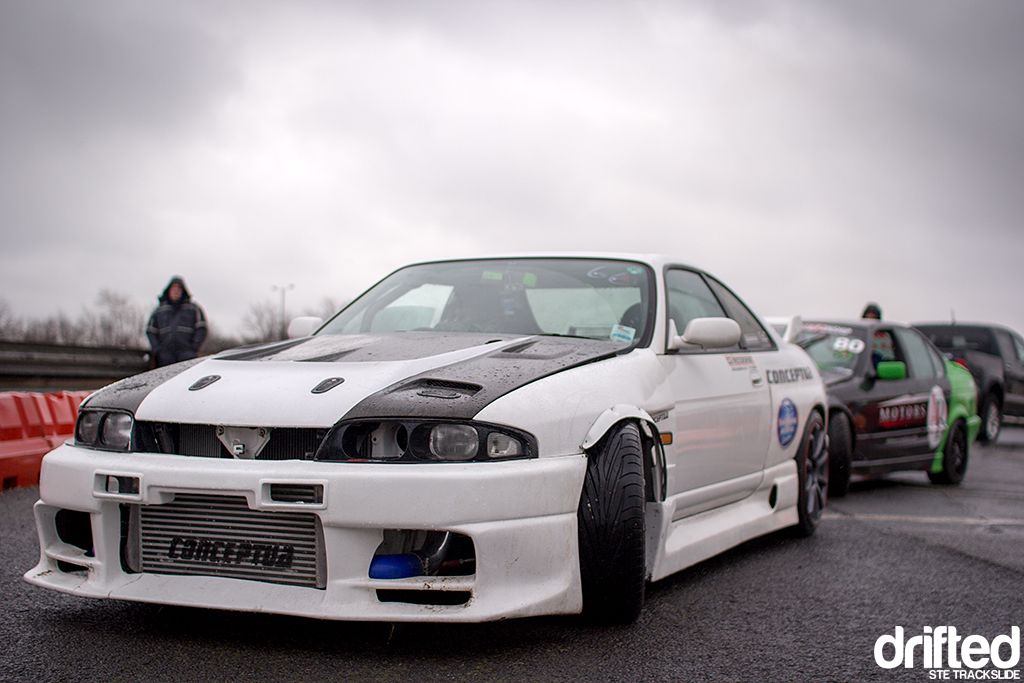 Following the briefing, we made our way onto the track, we found it was pretty obvious that the weather reports I'd looked at before were accurate, It was very wet, dark and gloomy. Despite this there were still smiles all round from drivers, and also a surprisingly big, committed crowd.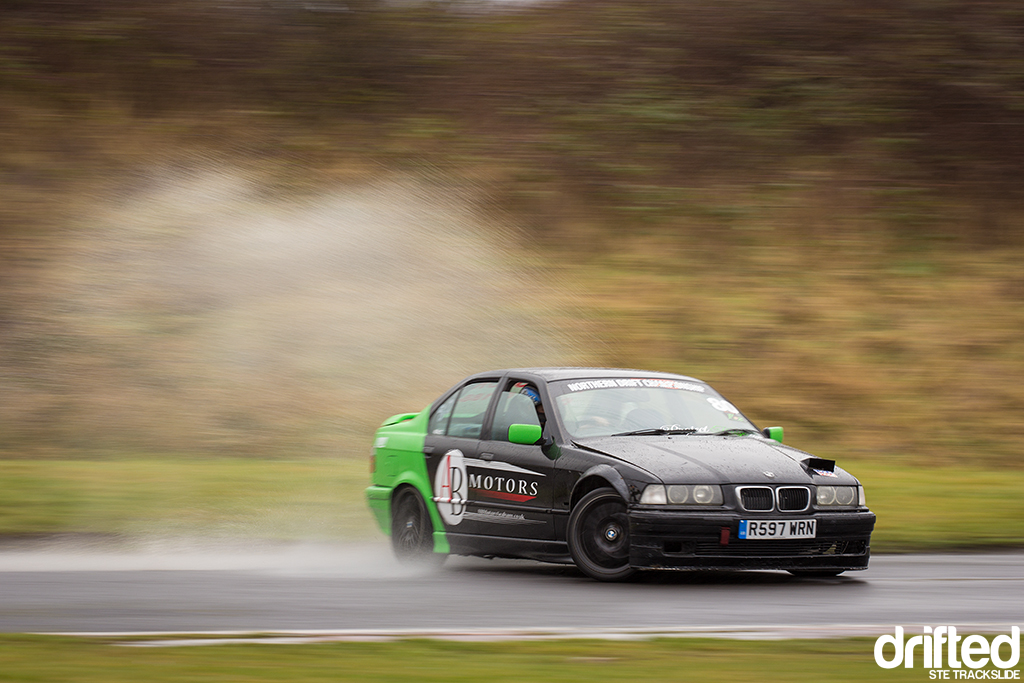 There is one main attraction to drifting, and that's smoke. I love smoke as do most of drift fans so a major part of the event is lost when it rains, however big puddles can run as a pretty good replacement when cars start hitting them. John King seen here destroying a puddle in what could become one of the loudest BMW's in the BDC.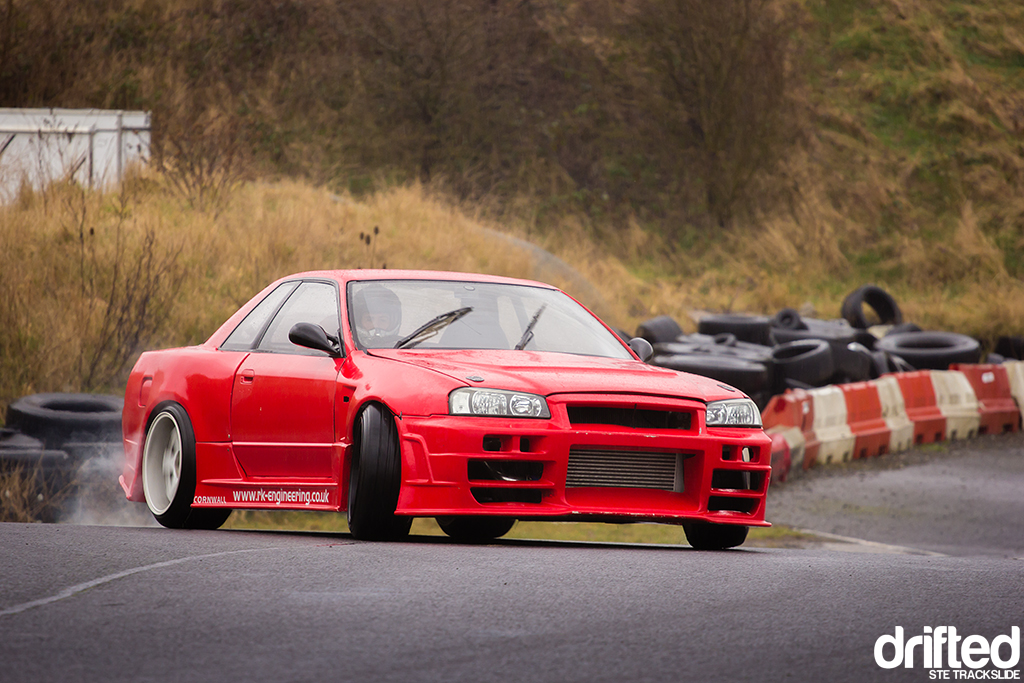 Anyone familiar with Teesside's West track will know there is an uphill section, which has a hairpin both on the entry and exit. With the combination of the hairpin entry, uphill and the rain it was easy to see how hard it was to gain speed trying to climb this hill, though the drivers were still performing great, with straightens and spins few and far between.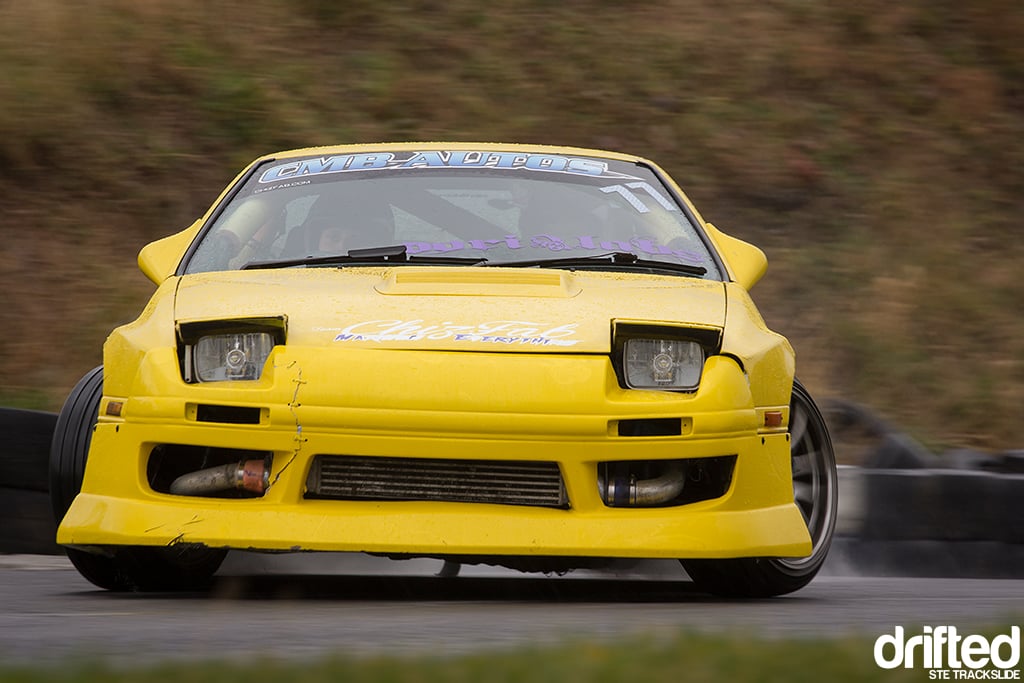 Stuart Lawson came all the way from Scotland in his FC3S RX7, although he is no stranger to Teesside Autodrome - he is there more often than me and I live ten miles down the road.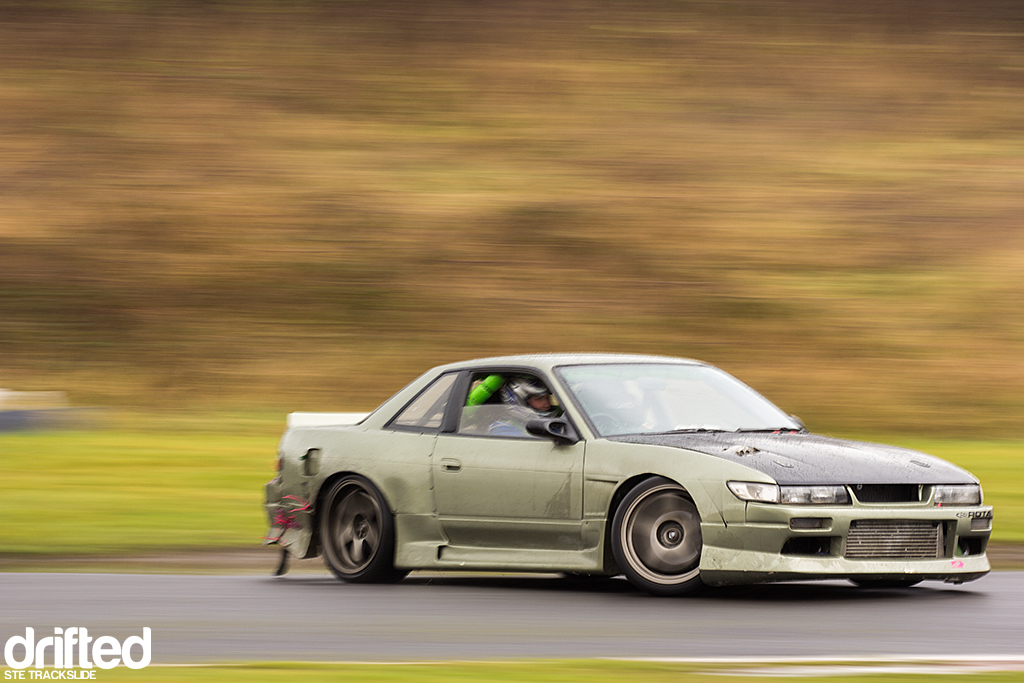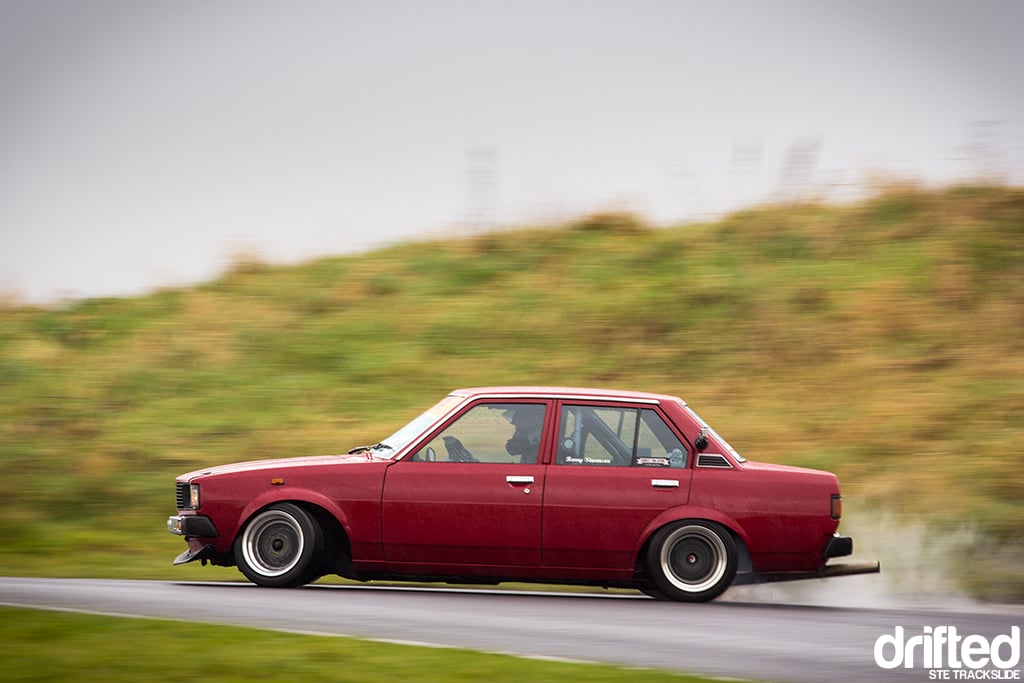 There were a few old cars with new faces there this weekend, former BDC driver Matty Stevenson's BMW V8 supercharged powered PS13 was there as well as Marc Huxley's old Corolla KE70.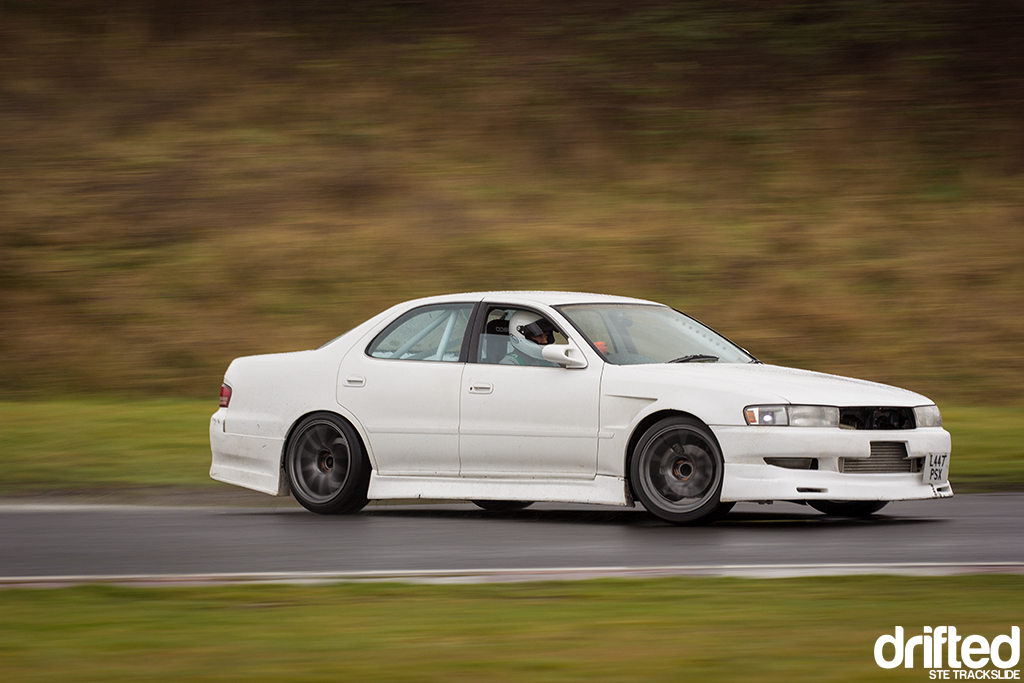 I was pretty happy to see this Cresta there as I'm a bit of a Japanese 'big body drifter' fan, its not quite on the same level as a JZX100 for me, but I still think its cool.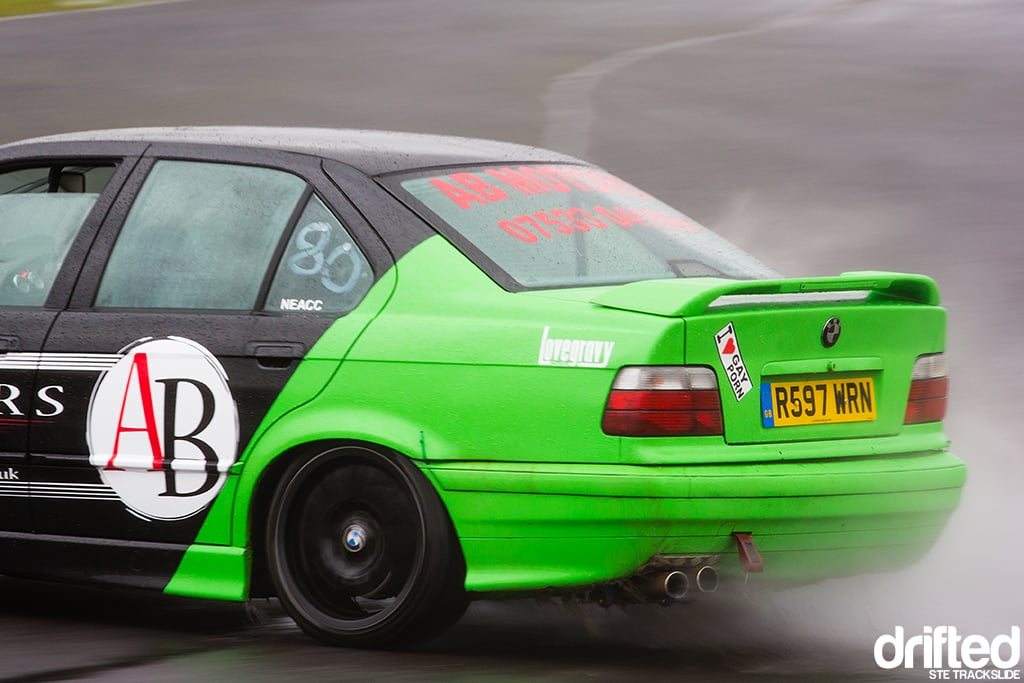 Pranks are just part of the game where drifting is concerned, at every event I usually spot some form of friendly sabotage and this was no different with John King falling victim to a well placed sticker. Whatever floats your boat, John.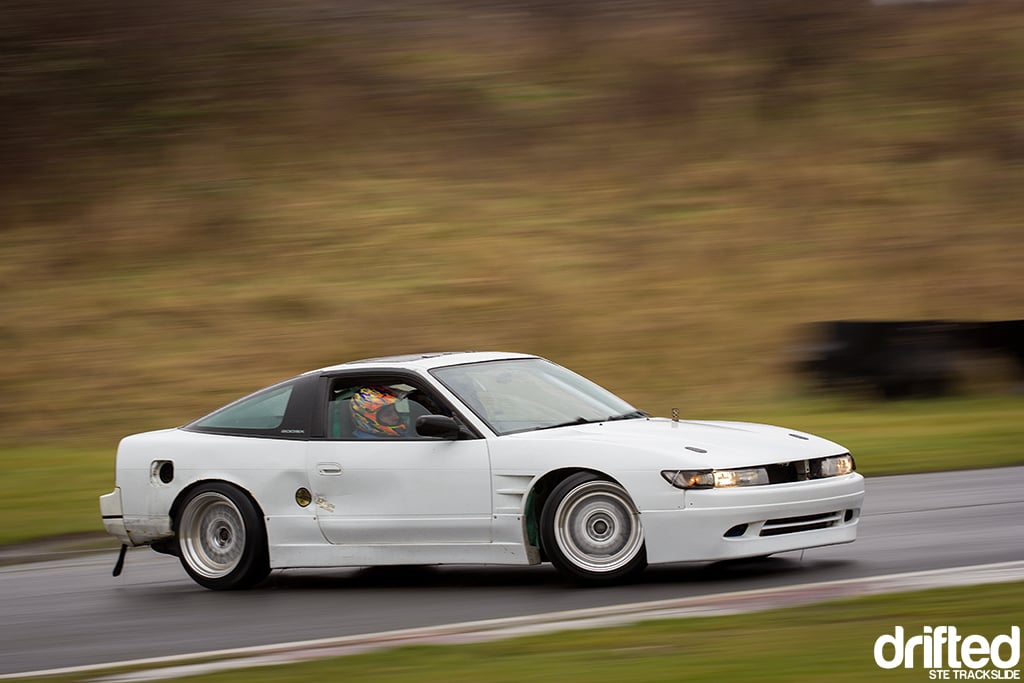 There were two Sil80's  there, sporting a combination or BBS and Works Meister wheels, always a pleasure to see posh wheels at a drift event - it gives the cars a 'street' style.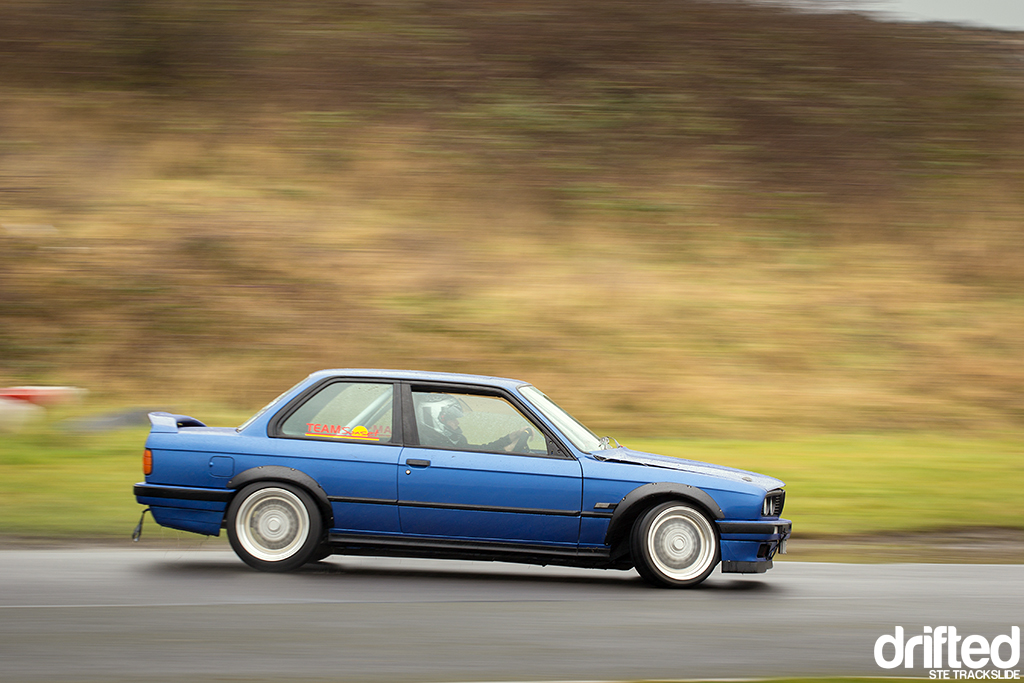 As I mentioned earlier, the car that kept us up all night was Darren Rickaby of  Team Sunset's V8 BMW. Lots of work has taken place on this very special machine, including a new roll cage, a full respray and a brand new set of wheels. With insane lock and that 4.0 V8 he's certainly going to be one to watch this year.
Another driver to watch has to be Ryan 'Coops' Cooper in his very quick R33 Skyline, even in the rain this car was very fast and smooth making very few mistakes, if any.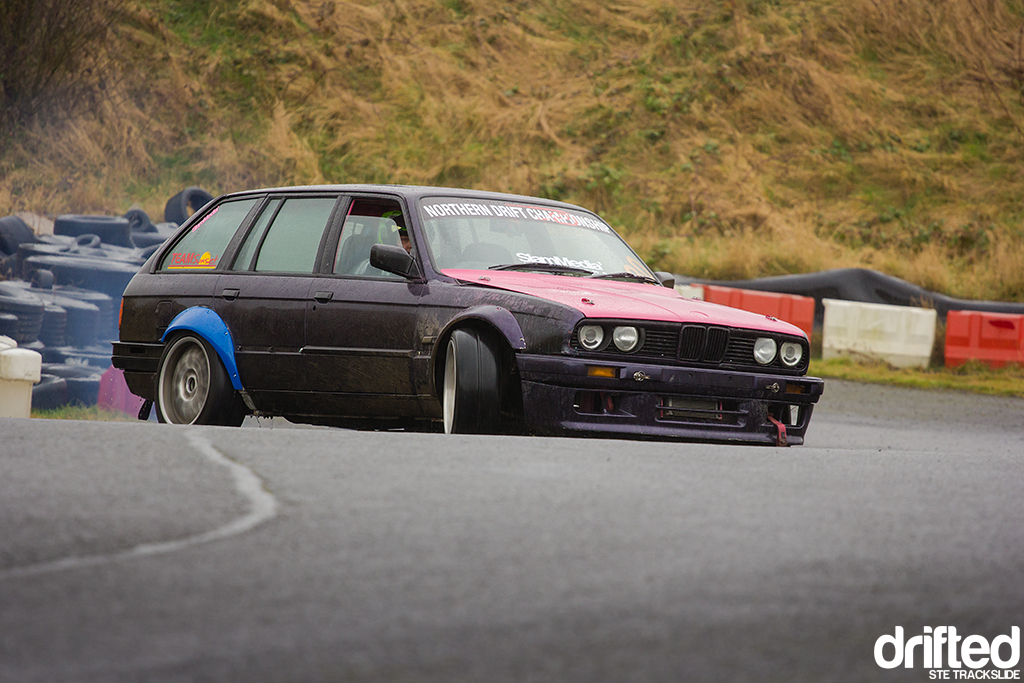 Another Team Sunset E30 also sporting a V8 and insane lock, this time a touring model - worth a few extra cool points in my books. This car was shared by drivers Pete Crown and Robert Wray. This was only Rob's second time drifting and he was doing very well, although maybe a little cautious, Pete on the other hand is an 'all or nothing' kind of guy, pushing hard all the time and is no stranger to loosing his rear bumper on clipping points, you would think Pete and Rob's driving attitudes would be the other way around, with it being Rob's car…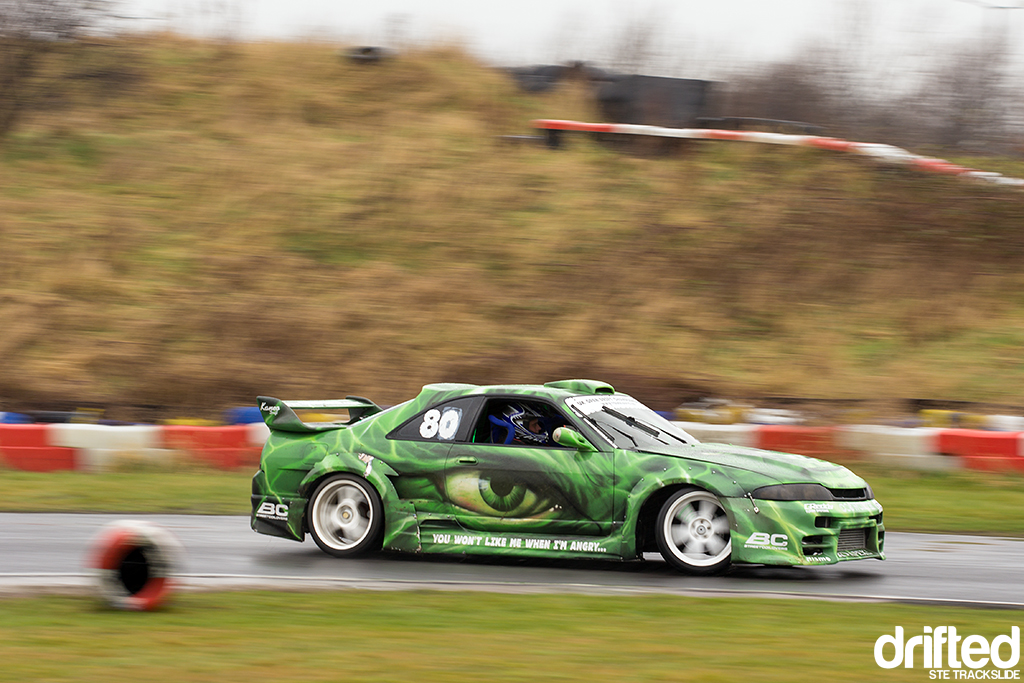 Ryan Toporowski's R33 Skyline has very strong presence, with a Hulk themed airbrush paint job. It divides opinions, but I like it.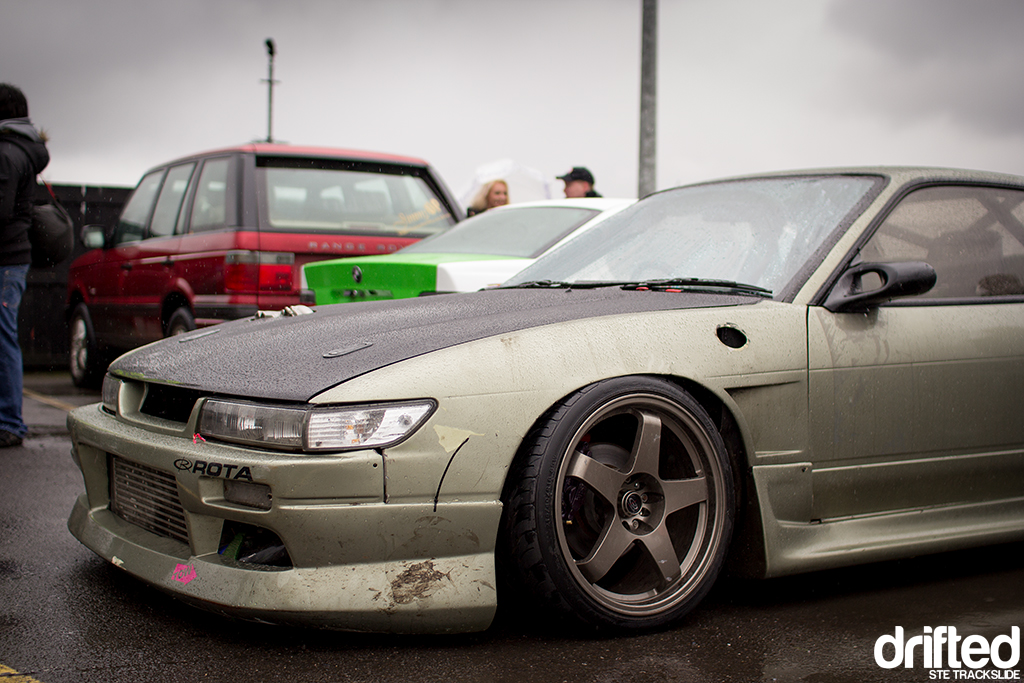 At lunch time my intention was to wander around the pits, however there wasn't a lot happening due to the weather, which was understandable. almost everyone was taking shelter in the cafe.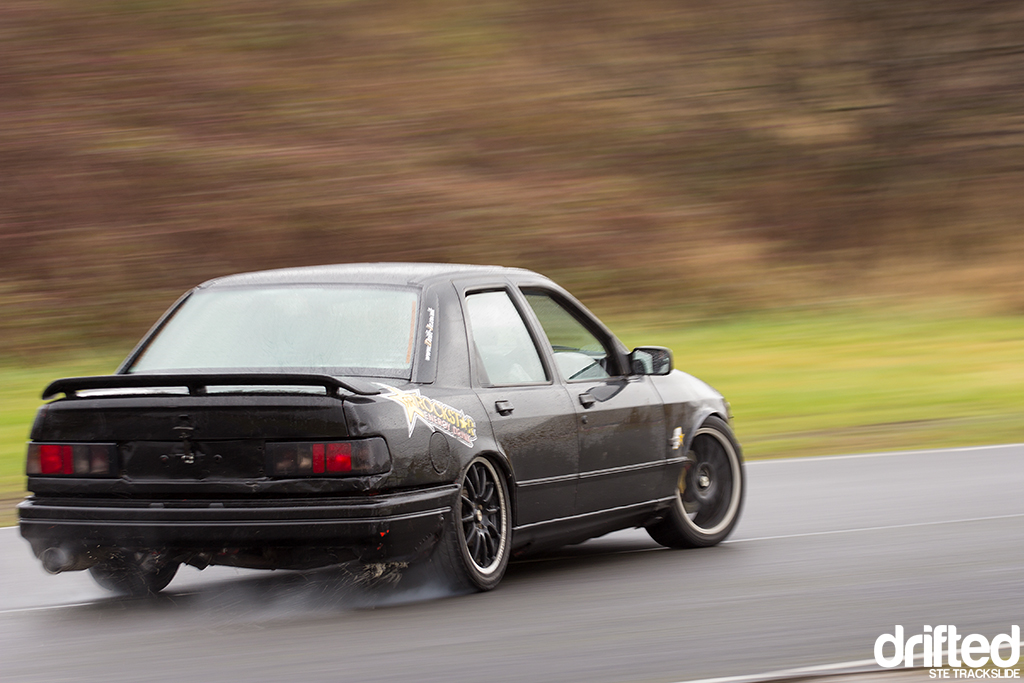 Upon returning to the track, it wasn't any drier, the rain was relentless, it just wouldn't give up, but there were traces of smoke starting to appear, I took this as a sign of hopefully better things to come.
Team Rampstyle and BDC Semi-Pro driver Bradley Wallbank was going for his Pro license sporting the new Team Rampstyle 2013 livery.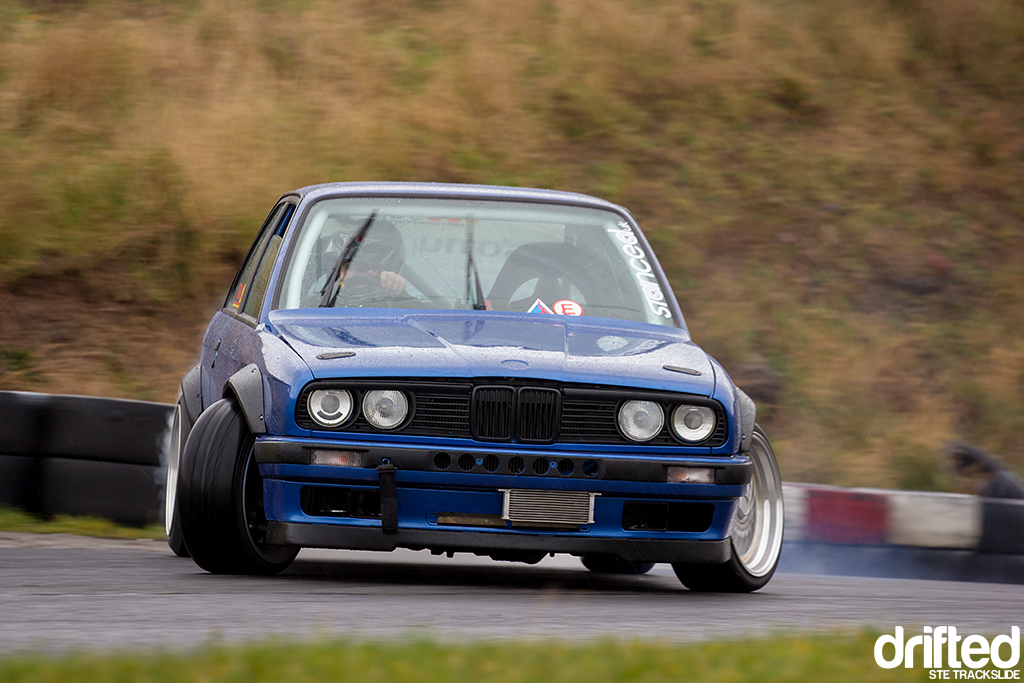 As the day went on the amount of seat-time available helped, with almost every driver putting in apparently near perfect runs.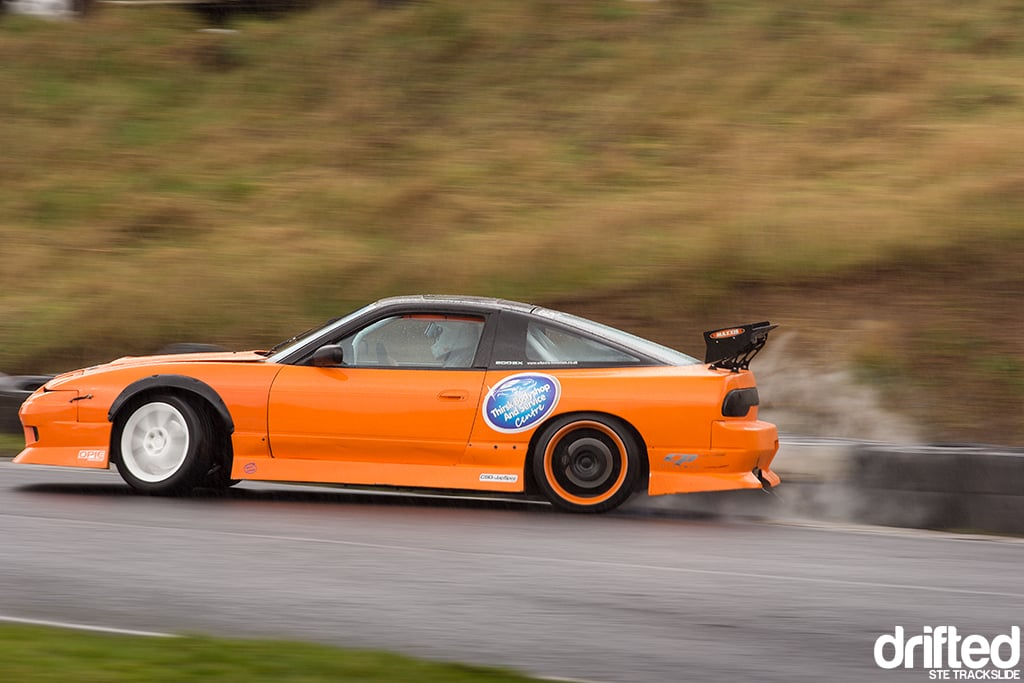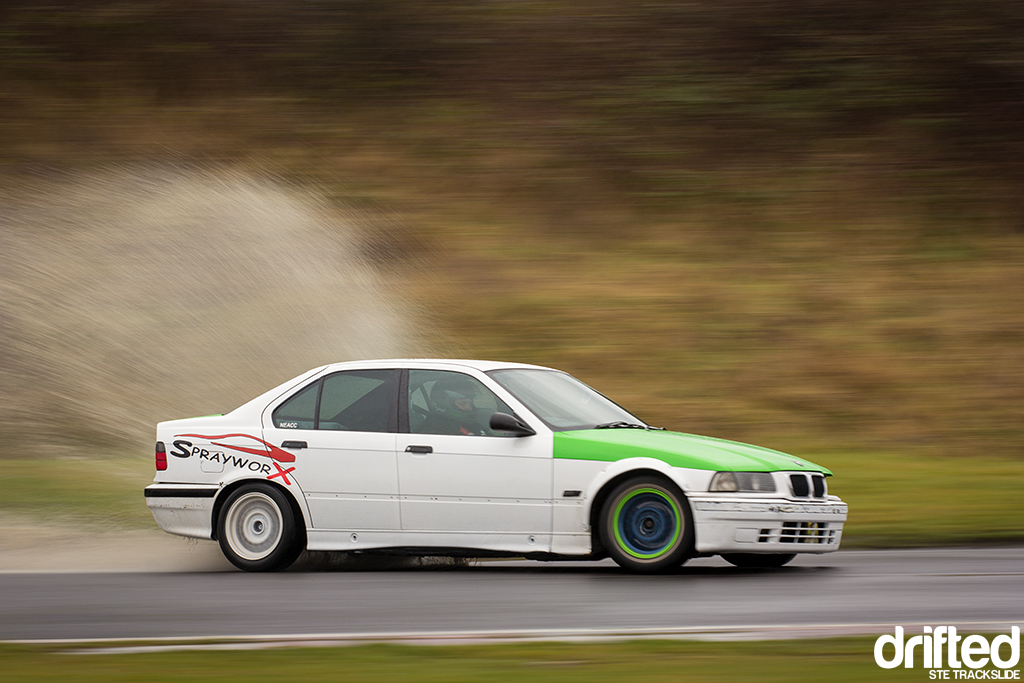 Callum 'The Crad' Craddy in his freshly painted E36 wasn't successful in earning his license this time, but I'm pretty sure this won't be his last attempt.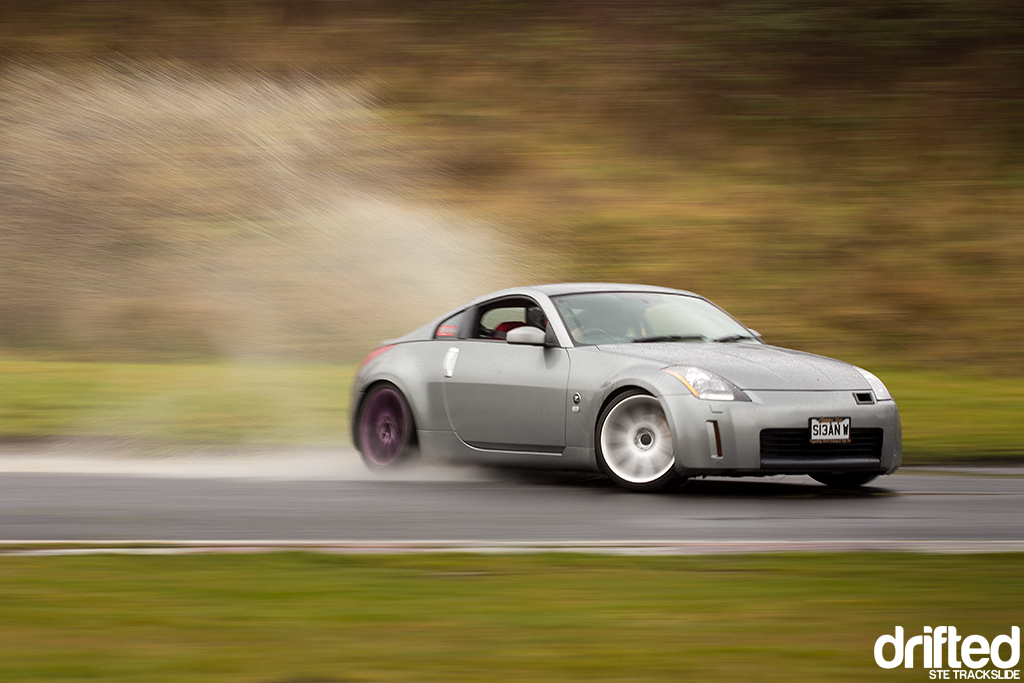 By about 3pm, my tiredness was really starting to kick in and I decided to call it a day as the rain had completely drenched me. I really hope the weather is better for BDC Round 1 @ Lydden Hill on 13-14 April - we've not had bad weather at Lydden yet, so fingers crossed! You'll find a list of all the drivers who were successful in gaining their license below, congratulations to everyone who did and don't give up to all who didn't.
See you at round one!
::Ste
Semi Pro
John King
Robert Wray
Matt Cusens
Stephen Forest
Ryan Cooper
Darren Rickaby
Ryan Topo
Mike Lardner
Andy Sykes
Barry Stevenson
Aron Simmons
Toby Aspinall
Ben Wallace
Tony Walker
Peter Walker
Pro
Ben Manual
Stuart Lawson
Richard Grindrod
Peter Graves