EVENT: D1NZ 2013 Grand Final: Taupo
After an agonisingly long wait it was finally time to see which driver would be crowned champion of the 2012-2013 Cody's D1NZ National Drifting Championship. The difference in points after round five was very slim, with Fanga Dan, Mike Whiddett, Andrew Redward and Curt Whittaker all within reach of the season trophy.
There will always be a different mood going in to a grand final – by now the car setups are fully dialed in, any issues are smoothed out and the drivers can just go out and do their best work.
Something felt very different about this round though. Some changes to the scheduling meant this round was happening several weeks later than planned. Would the ice cold winter air throw anyone off their game?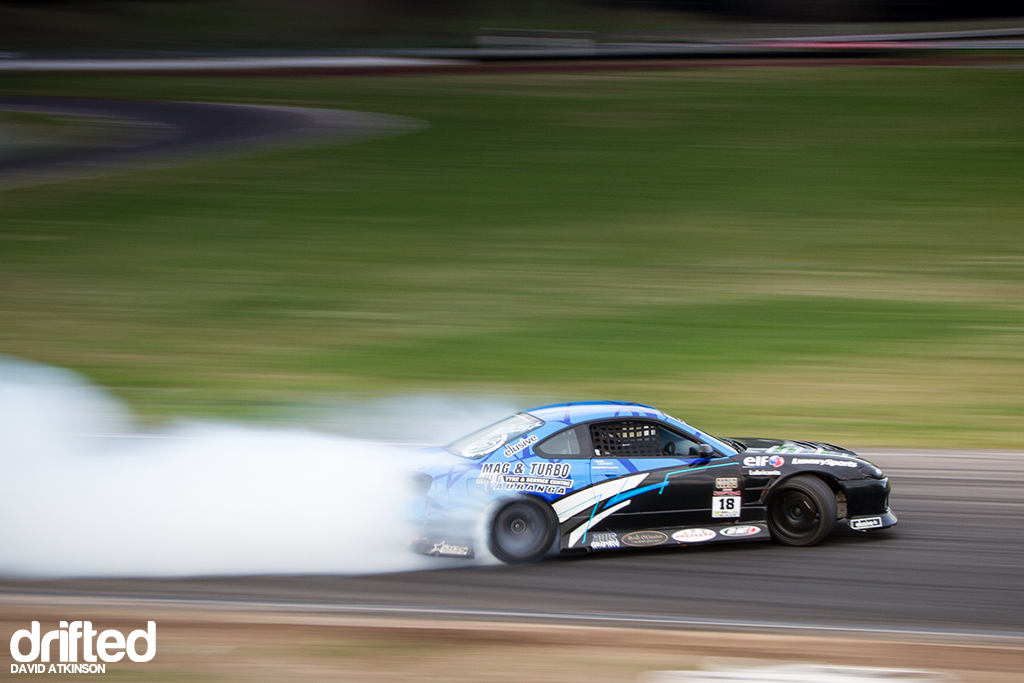 After a scenic drive across the country to Taupo and arriving at the track for Saturday practice, it was very clear the drivers were still in touch with their sport.
It was fitting to hear that Taupo Motorsport Park was the choice for the final round location as this is where D1NZ really kicked off 10 years ago.
The reverse layout of the track is something the drivers here are quite familiar with. Starting out with a fast left hand entry to right switch, followed up by another tight left turn and ending with a 180 degree right hairpin.
The Taupo round last season had atrocious weather. Torrential rain kept spectators away and made for lackluster driving conditions on track. With the forecast this time reading "chance of snow" I was expecting a similar experience this year too.
The pit lane was looking quite empty in between practice sessions. Most crews had shut their doors to keep out the elements.
One of the favourites was Fanga Dan Woolhouse with his LS2 Holden Commodore. A real drift veteran, Woolhouse really knows his way around the track and claimed the number one qualifying spot.
Busy with his European drift tour, Mad Mike had only just got off the plane from Sweden and was probably feeling a bit jetlagged. He was still able to lay down some sweet runs in the Madbul RX7 though, qualifying in 2nd position.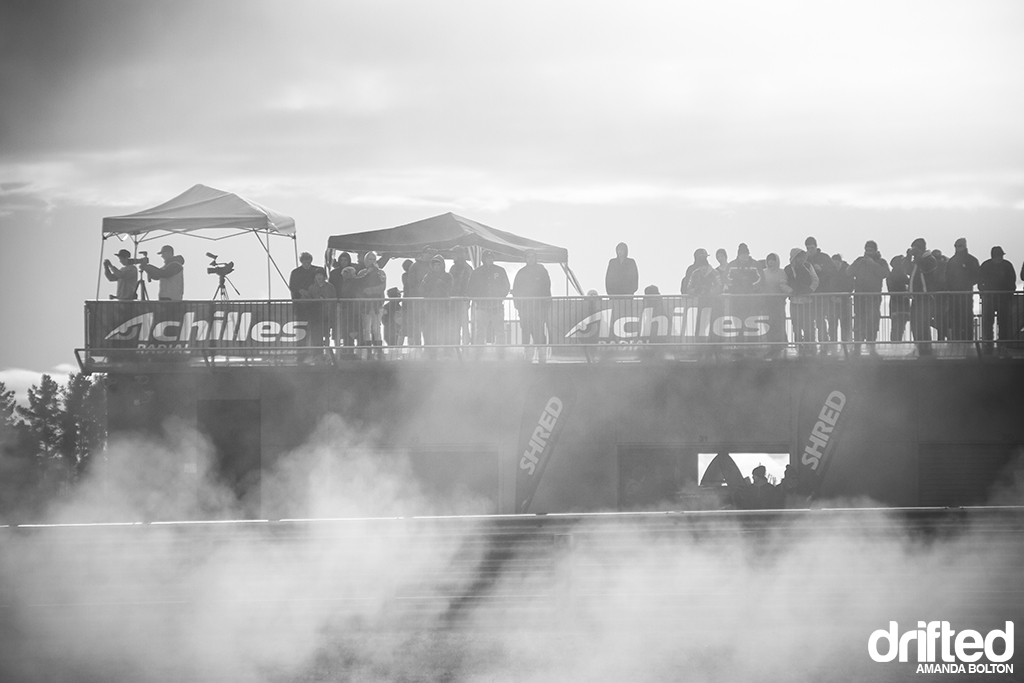 A huge turnout over the weekend meant spectators were lining the walls, grandstands and even roofs to support the drivers.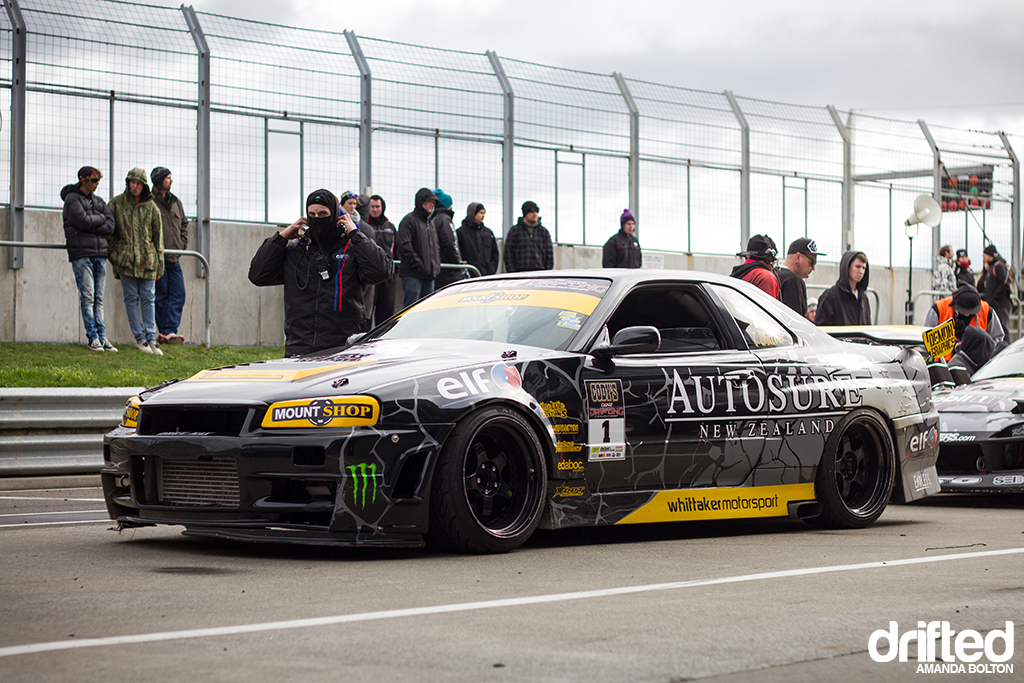 Taking the third qualifying spot was the champion of last season, Curt Whittaker in the Autosure R34.
Gaz Whiter claimed fourth position in the Tectaloy S14 which was finally looking quite reliable with not even a single part blown up yet!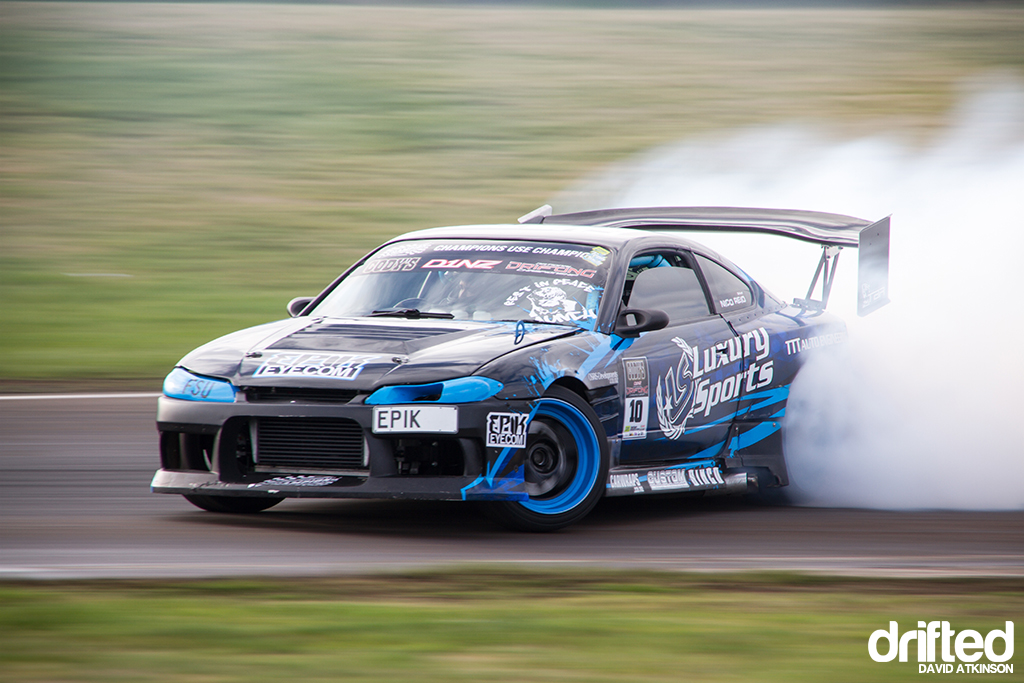 Luckily the rain held off to enable some serious smoke screens to be put on show. Here's Nico Reid in the Luxury Sports S15 rocking a new big wing. Nico went on to qualify in 5th place.
The familiar green Skyline belonging to Cole Armstrong was missing this round, instead replaced by a borrowed 'xR32' running a Barra 240T inline six from a Ford XR6T.
Sky Zhao was out sliding the V8 350z until a busted diff saw him competing with a borrowed pro-am R32 Skyline.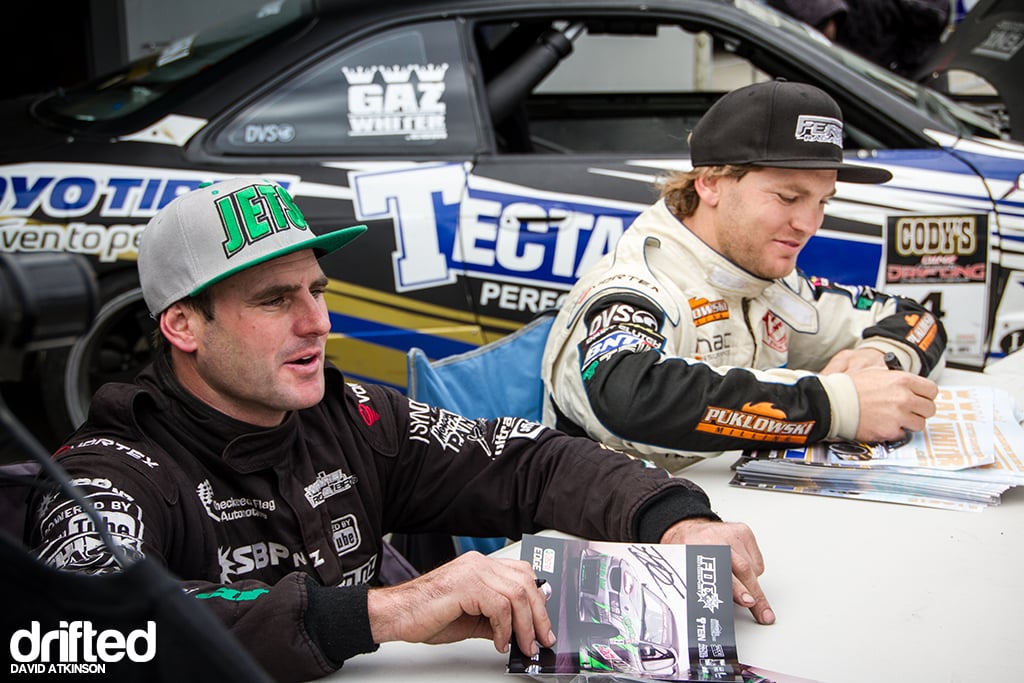 As usual the fans could come and meet the drivers in the pits and get an autograph. I had to work my way through a big crowd to get to Fanga Dan and Gaz Whiter.
The crowds were noticeably bigger compared to last season. It's really cool to see the sport growing with each event!
Possibly one reason it was so cold – strong wind coming in from across the lake and snow capped mountains.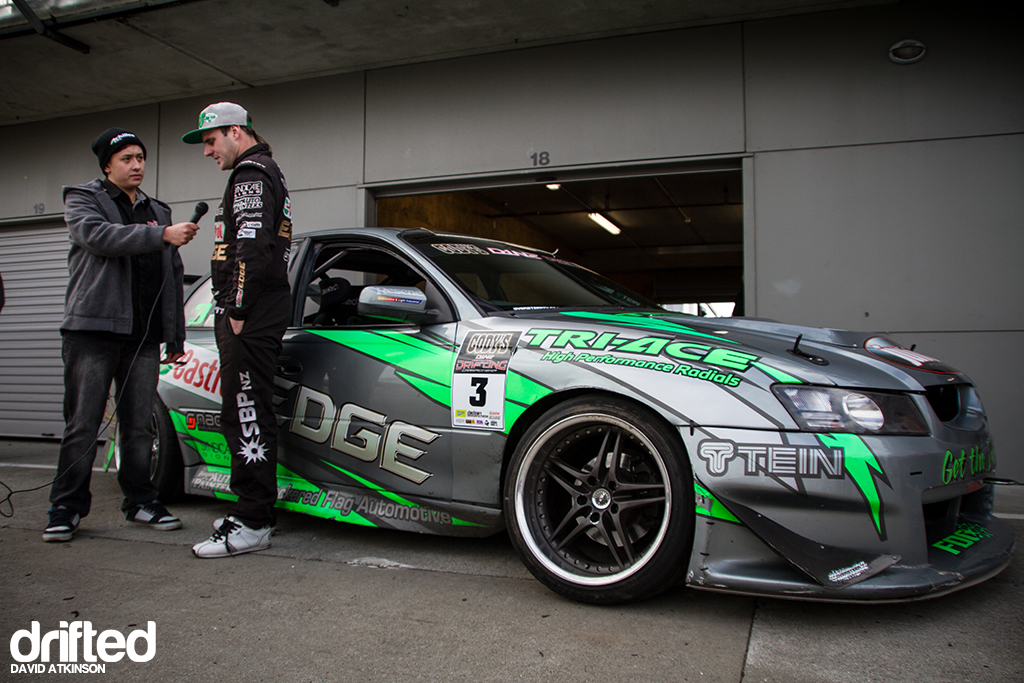 Fanga Dan's Castrol Edge Holden Commodore is one intimidating machine. The Australian V8 Supercar inspired setup is super unique and especially awesome to see travelling sideways.
Another really photogenic car is the 'Madbul'. There's something about the combination of livery, wheel setup and the iconic shape of the FD RX7 that just oozes style.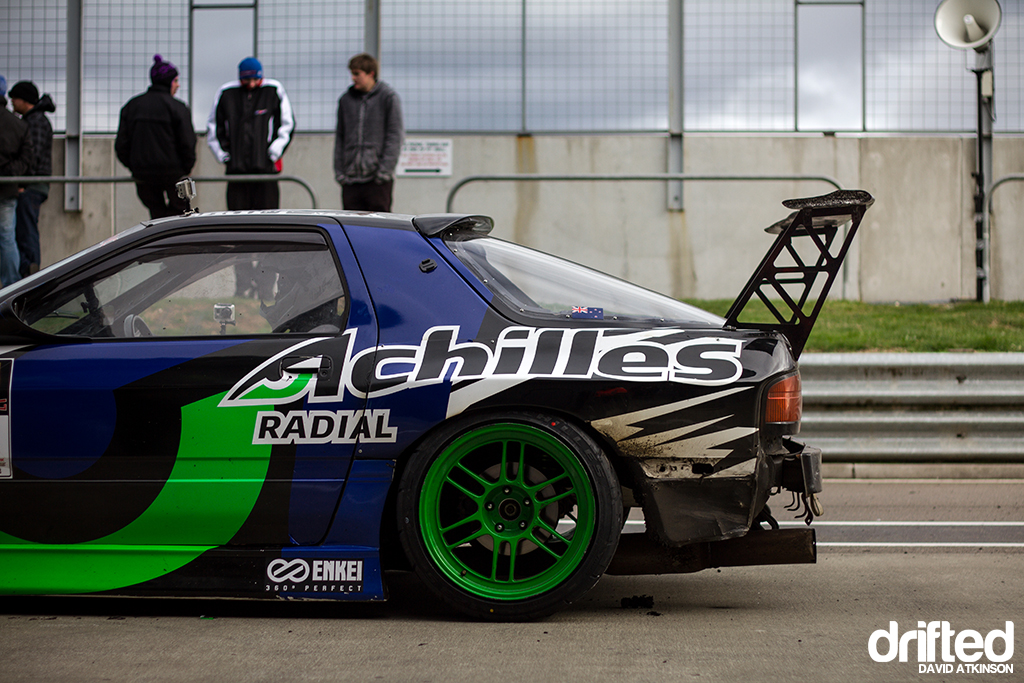 It just wasn't Andrew Redward's weekend. After qualifying lower down in the order than he would have wanted he went off track in his top 32 battle against Shane Allen taking him out of round contention early.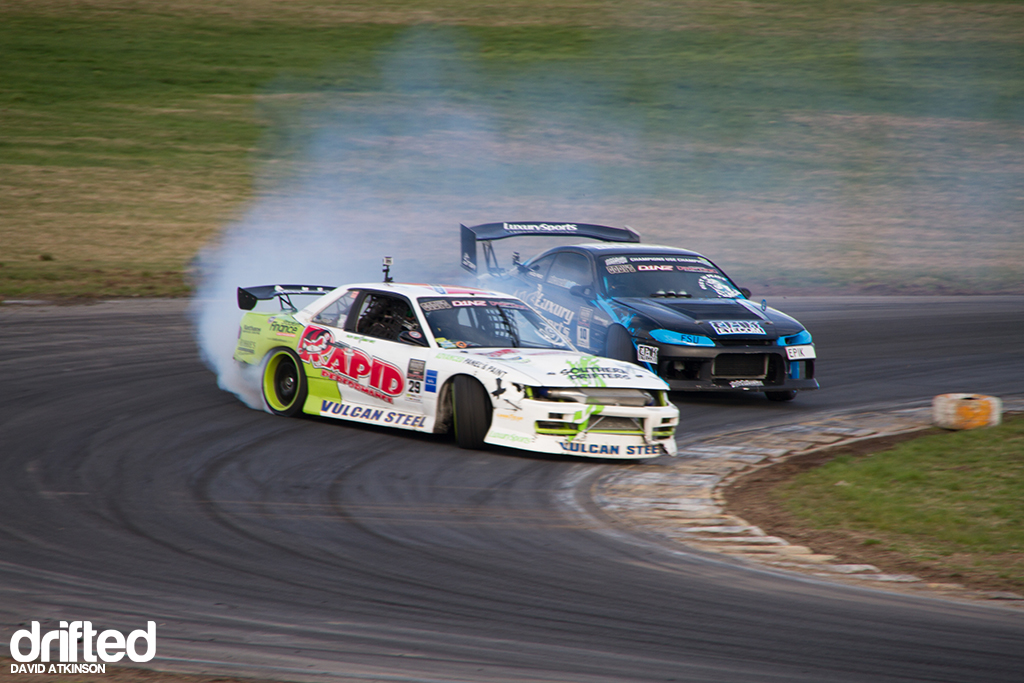 Onto the battles now with Troy Forsythe against Nico Reid in the top 16. There was very little between these two but in the end Forsythe came out on top.
Bruce Tannock put up a good fight against Fanga Dan with good speed throughout the section. However Fanga Dan gained the advantage on his lead run and was awarded the win.
One of the best battles all weekend was undoubtedly Zak Pole vs Mad Mike. Pole was looking very impressive on the chase run – getting super close to Whiddett's car and maintaining the proximity.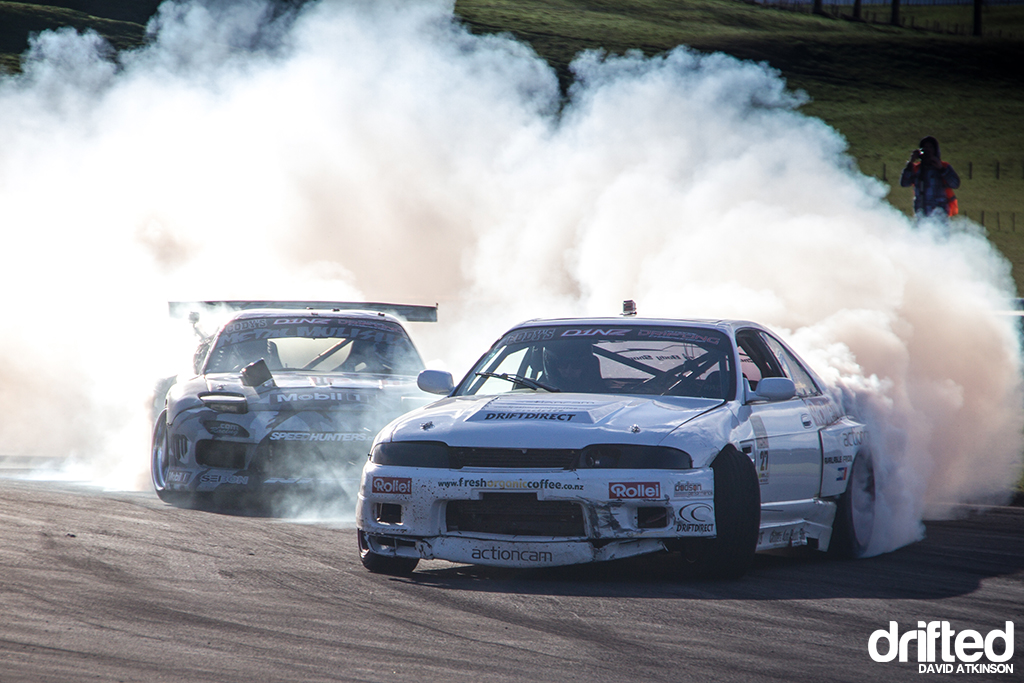 The battle was far too close to call and went one more time. Zak Pole gained the advantage on his lead run after Mike straight-lined briefly on the last turn. It was enough to send Mike home early and advance onwards. Definitely look out for this man next season!
As the sun was quickly disappearing we moved on to the last battles of the day.
Curt Whittaker and Carl Ruiterman put on another good battle together with Curt eventually taking victory.
It was great to see Fanga Dan battling against fellow Dcorp teammate Gaz Whiter. Another tough call for the judges which ended up going one more time with Fanga eventually claiming the win.
The dark horse Zak Pole was eventually taken down by Curt Whittaker, sending Pole into the battle for 3rd place with Gaz Whiter.
Quality drifting from both guys meant it was hard to pick a winner however Zak Pole managed to upset the crowds once again – claiming third place of the day.
On to the final battle of the day. We would finally see who would take out the last round and the entire championship.
Both Curt Whittaker and Daniel Woolhouse deserved the final spot on the podium having driven superbly all day. Curt laid down a really smooth lead run with Fanga chasing with good speed and proximity.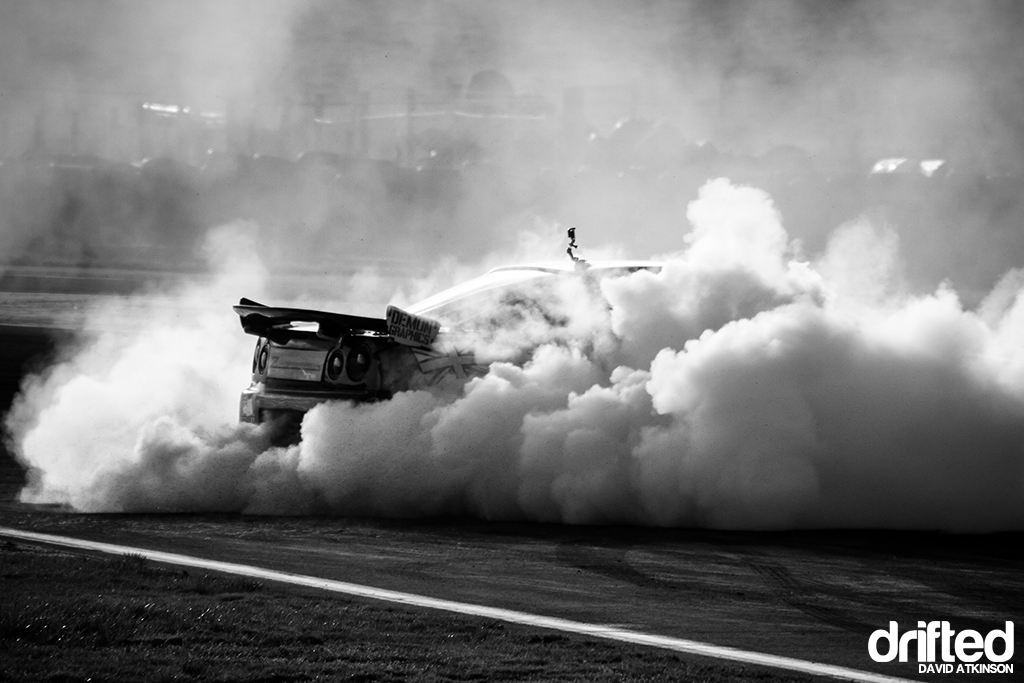 All was going well until….disaster for Whittaker as he looped the car around on the final turn handing Fanga a 10-0 advantage and the round win.
Fanga Dan claimed the top spot on the podium for the final round, with Curt Whittaker in 2nd place and Zak Pole in 3rd with his first podium. But what did this do for the overall championship placings?
As the crowds gathered round the podium and the season champion announced, it was of course Fanga Dan Woolhouse who would claim the D1NZ 2012-2013 trophy and title of drift king until next season. Mad Mike Whiddett had secured enough season points to claim 2nd position overall, with Curt Whittaker close behind in 3rd place.
It's been an amazing season of drifting here in New Zealand. I've thoroughly enjoyed each and every round of D1NZ and feel quite lucky to be a part of it. Bring on the next season!
I'll finish with the championship placings and a shot of your new champion – Fanga Dan Woolhouse!
Photos: David Atkinson & Amanda Bolton
Words: David Atkinson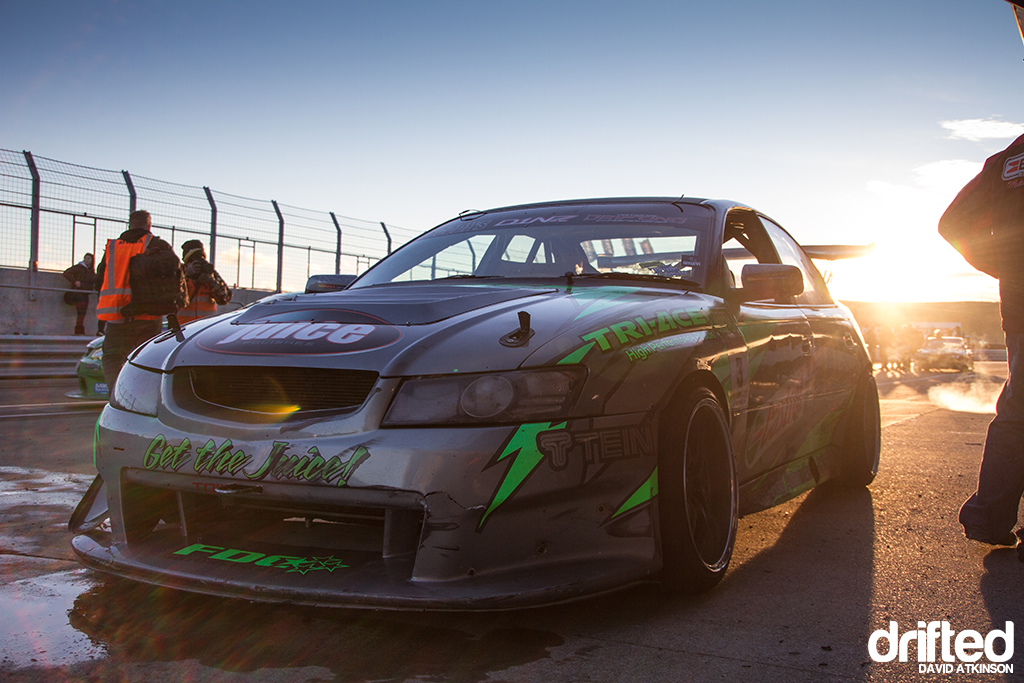 1. Daniel Woolhouse 538 points
2. Mad Mike Whiddett 461.5
3. Curt Whittaker 450.5
4. Andrew Redward 416
5. Gaz Whiter 370
6. Nico Reid 366
7. Zak Pole 352
8. Troy Forsythe 339
9. Daynom Templeman  329.5
10. Cole Armstrong 292
11. Drew Donovan 269.75
12. Bruce Tannock 258
13. Ben Belcher 257.75
14. Sky Zhao 244.5
15. Jason Sellers 221
16. Brad Lauder 219
17. Cody Collis 214.25
18. Carl Ruiterman 213.5
19. Shane Van Gisbergen 211.25
20. Cam Vernon 211
21. Kyle Jackways 208.25
22. Gary Tenana 204.5
23. Hugo Maclean 169.25
24. Shane Allen 164.25
25. Robee Nelson 154.75
26. William Foster 130.75
27. Mac Kwok 123.5
28. Chris trundle 104.5
29. Phil Sutherland 64
30. Aden Omnet 61.5