EVENT: D1NZ 2014: Round Four
A wet track welcomed us to Taupo for round four of the Cody's D1NZ National Drifting Championship. Despite the weather this round would be an important stepping stone on the championship calendar. Most drivers were looking to capitalise on the familiar track and gain valuable points they had missed out on in the previous rounds. Meanwhile, Mad Mike Whiddett would be hoping to extend his considerable lead overall.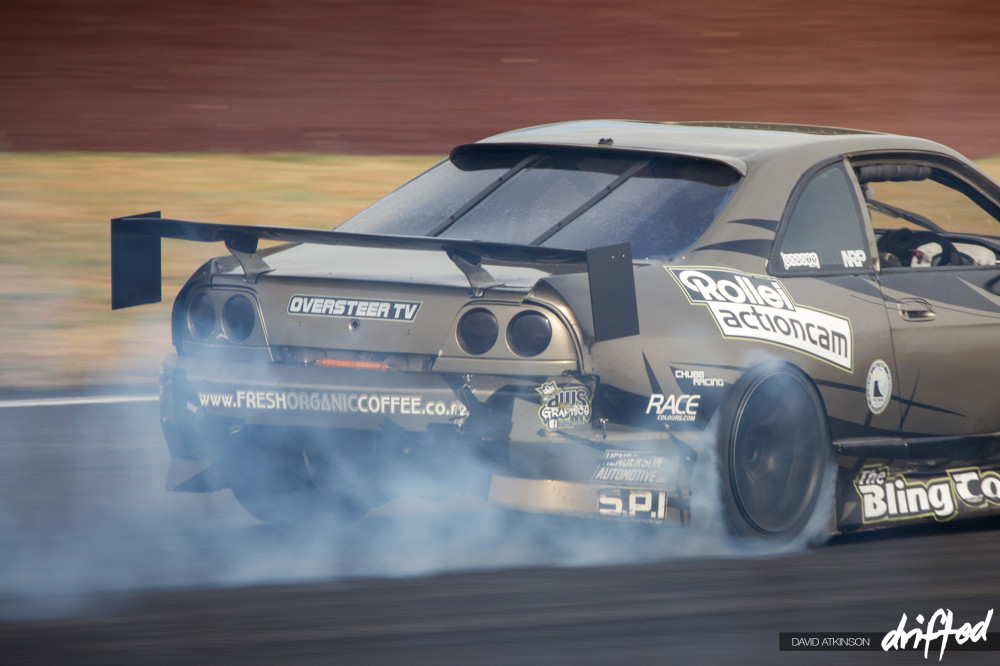 Nobody was too surprised about the conditions as we're used to Taupo being more like ice skating than drifting. Slowly the track started to dry out and the clouds of smoke began to return.
The practice sessions were missing a notable driver. I found out shortly afterwards that Gaz Whiter's LS7 Silvia had suffered an engine failure in a test session the previous day. "Well that's him out then, right?" I said, doubting the team would attempt a full engine rebuild in such a short time period. It turns out I underestimated the Tectaloy team's determination, as I was told they were currently stripping, inspecting, cleaning and rebuilding the V8. Would Gaz make it out of the garage in time for battles the next day?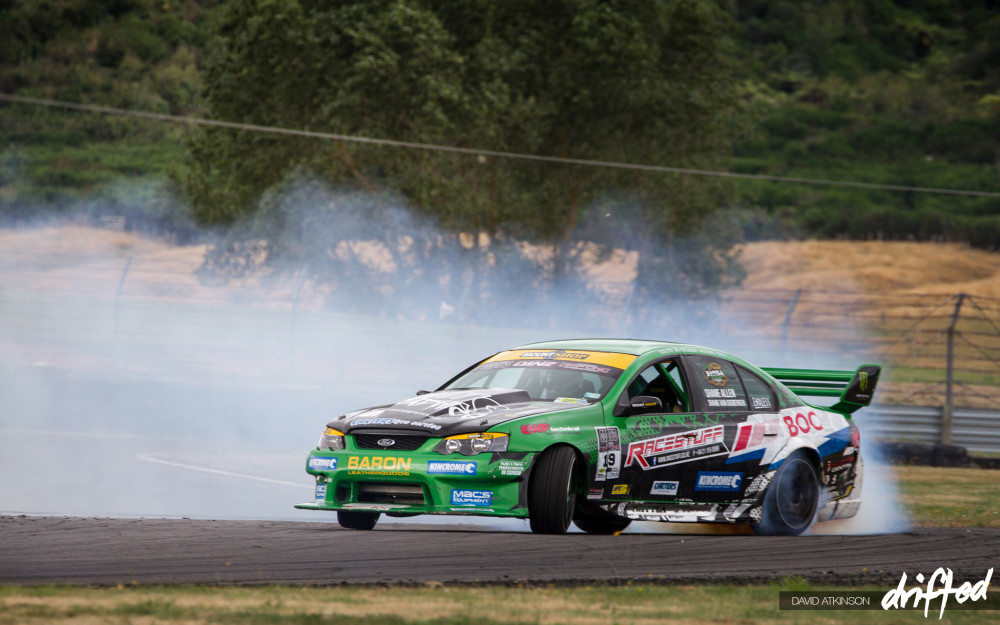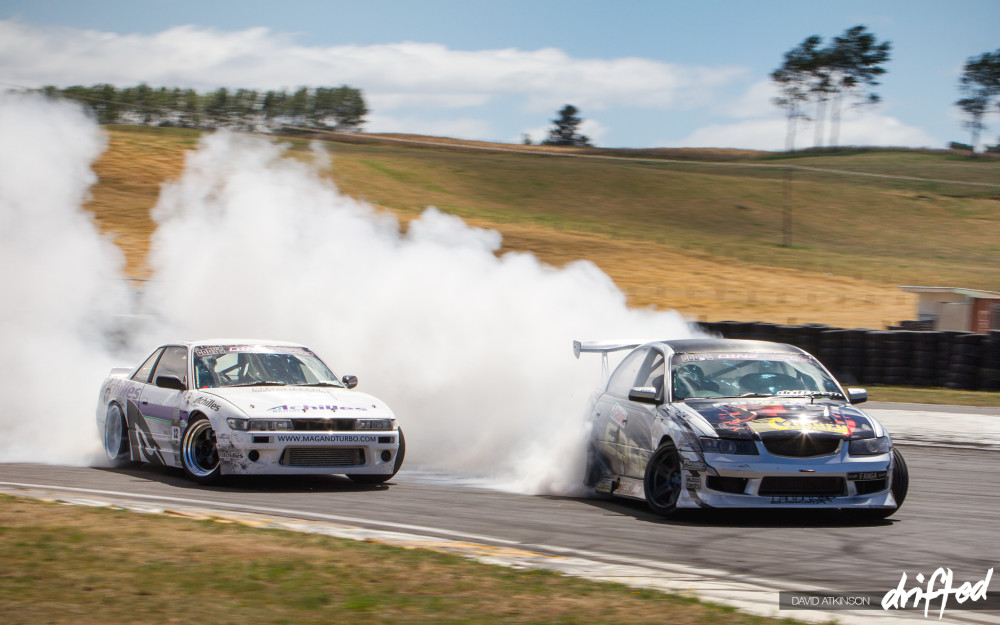 Meanwhile the other drivers were getting some seat time while they could. Finally being back onto a proper racetrack meant higher speeds, more angle and more fun in general.
It was cool to see both C's Garage cars getting amongst some drift trains too. They certainly stand out in a crowd!
Mad Mike was popping huge flames all day long. Rocking the cut off rear bumper for a naked rear end; it made for a nice spectacle!
Fanga Dan had planned to debut his new VE Commodore this round but was unable to have it tuned in time, so the 'old girl' was brought back for one last thrash.
Joel Hedges drives the other C's Garage car in the pro-am development series. Running their '555 knuckle', extended LCA and other components developed by C's Garage, his Onevia is capable of handling some very aggressive driving. In fact five of the top pro-am drivers are all running C's 555 knuckles!
Jock Bennett was tearing up the track in his little AE86, having a heap of fun by the looks of it. Dirt drop anyone?
Some clouds looming overhead made for interesting photos with nice diffused light.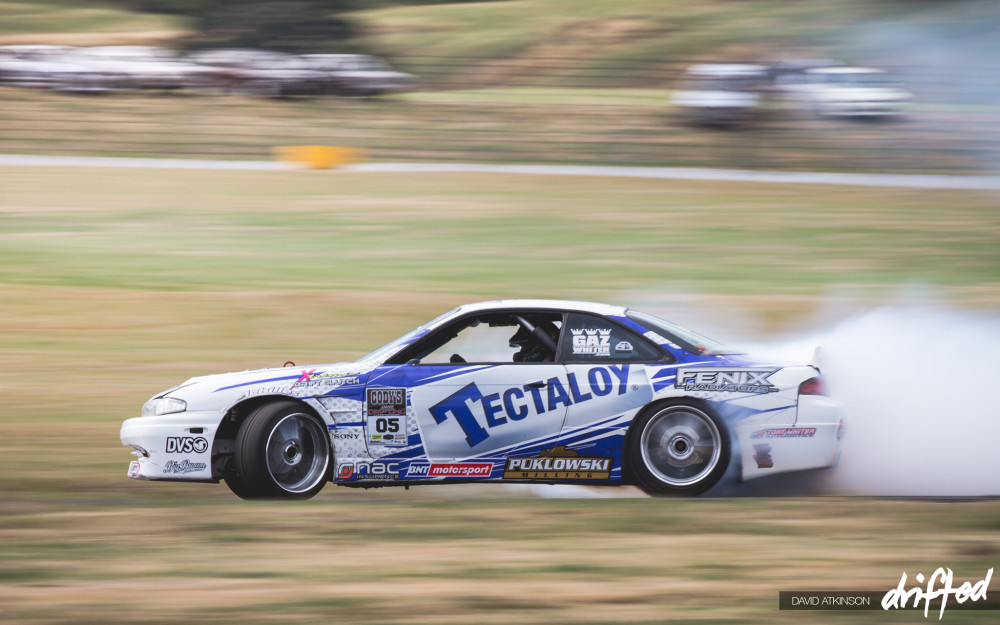 With Saturday practice drawing to a close it looked like Whiter and the team would still be working on the car another night. Then, to everyone's amazement the car rolled out into pit-lane for the last test session of the day. They had done it, an entire engine rebuild in little over a day. A big congratulations to the team and everyone who helped out, as a result the car looked stronger than ever going into qualifying.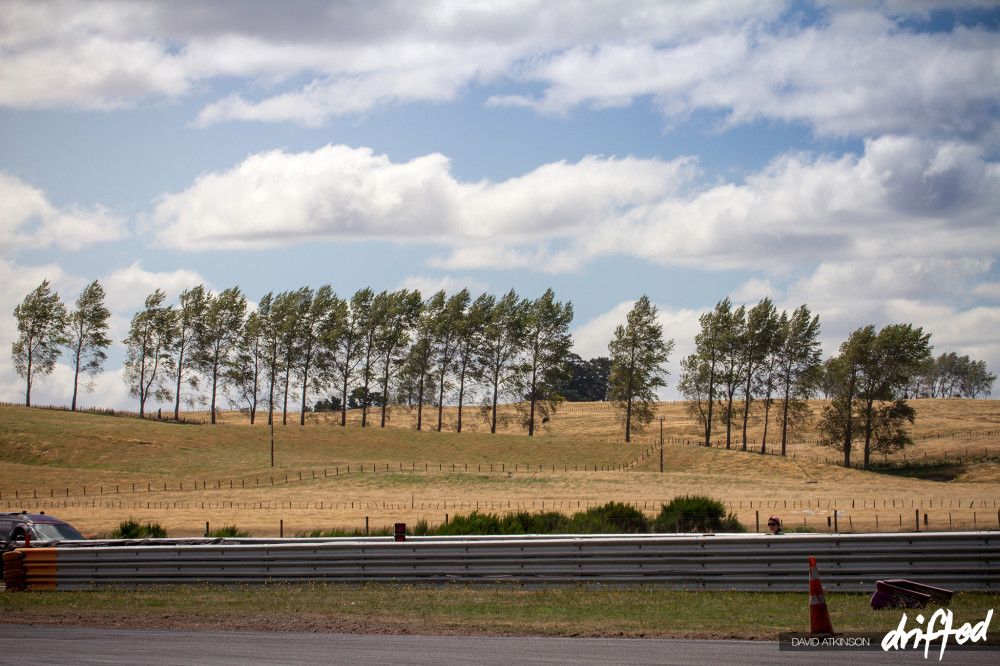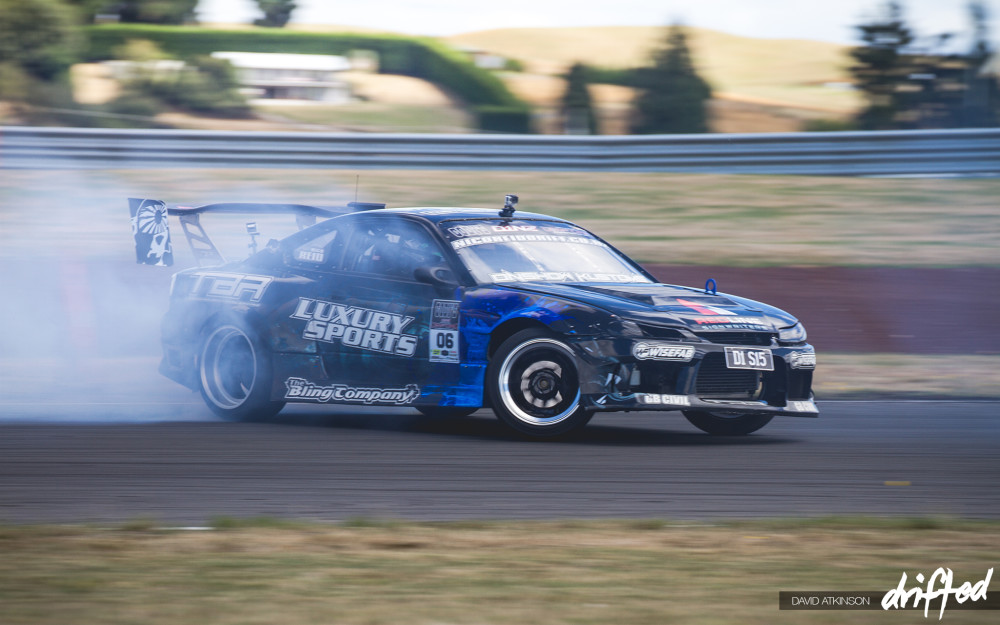 Sunday rolled in and qualifying would soon get underway. Taking out the number one spot was Nico Reid in the Luxury Sports S15 scoring an amazing 94.5. Reid definitely brought his A-game with some of the best angle and line all weekend.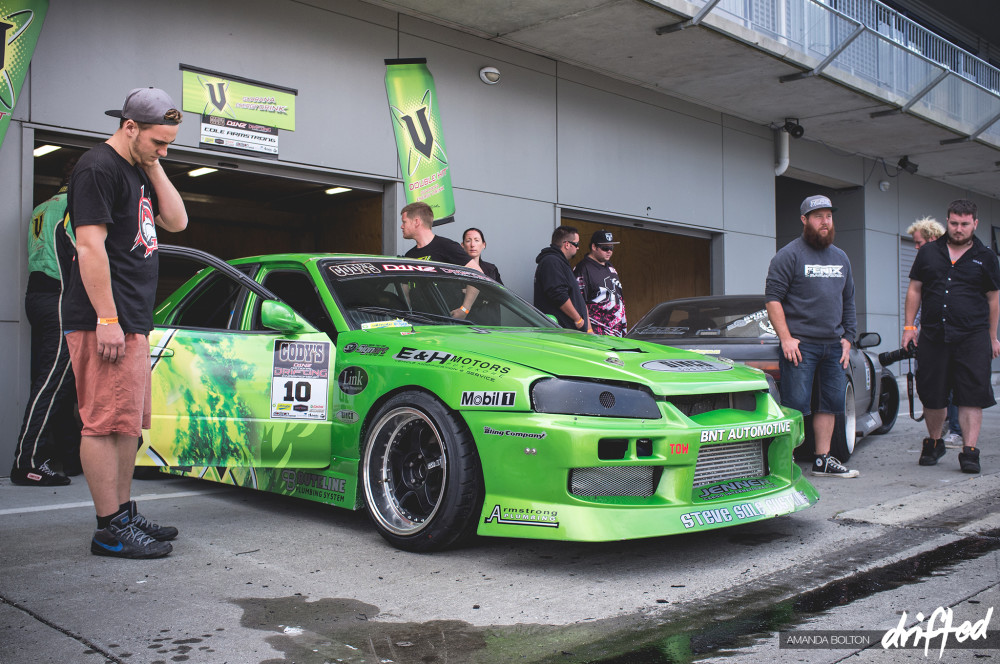 Claiming second place was another RB powered car – Cole Armstrong's V Energy R34. Since the track had dried out it made it easy for the judges to distinguish between those taking an incorrect line and dirt dropping and those who weren't.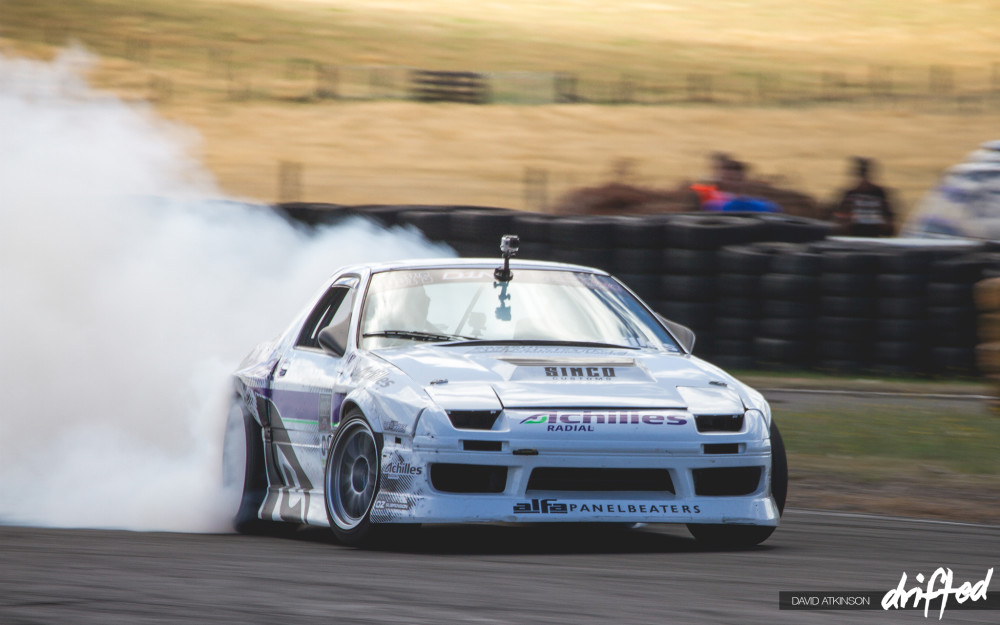 Andrew Redward in the Achilles FC Rx7 took out third spot with another textbook run bringing it home for the V8 crowd. Not far behind was Gaz Whiter in sixth place doing very well for a freshly rebuilt car with almost no practice time.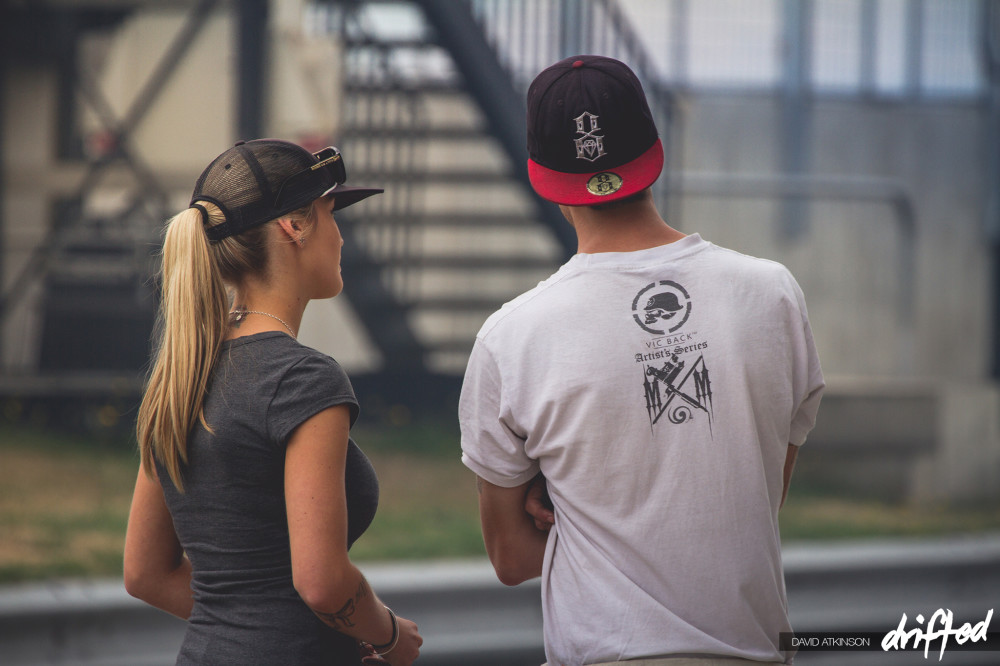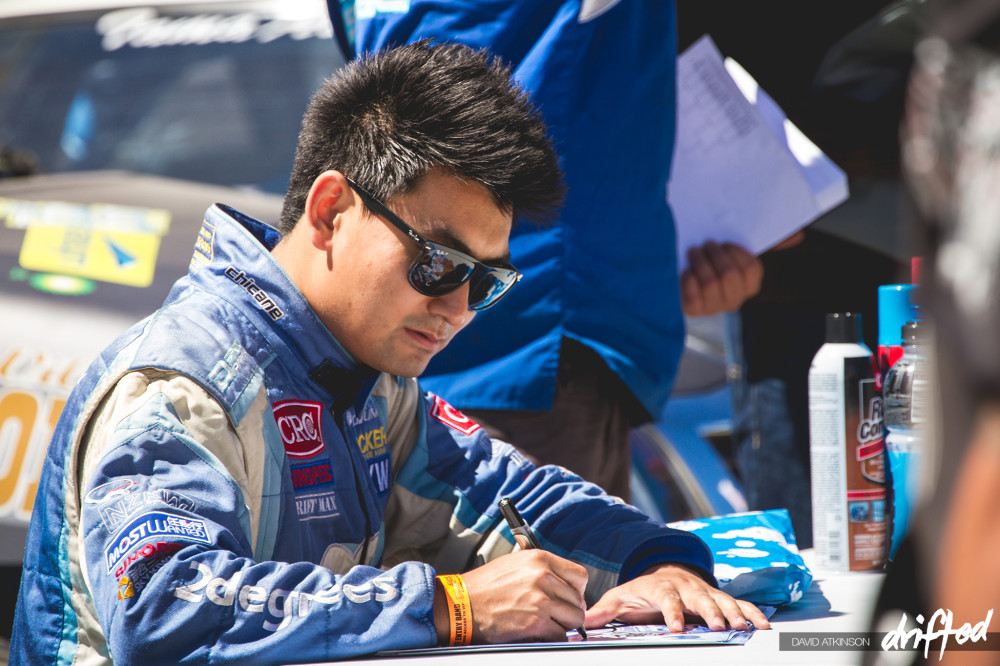 A short break for lunch and a pit walk saw the drivers being swarmed by fans wanting autographs. Traditionally a slightly smaller crowd at Taupo, it was clear people had come from far and wide to get their drifting fix this weekend.
Sky Zhao and Adam Hedges would pair up for their top 32 battle. Despite having a lot less power on tap than Sky's LS7, Adam drove the wheels off the SR20det Silvia and walked away with the win!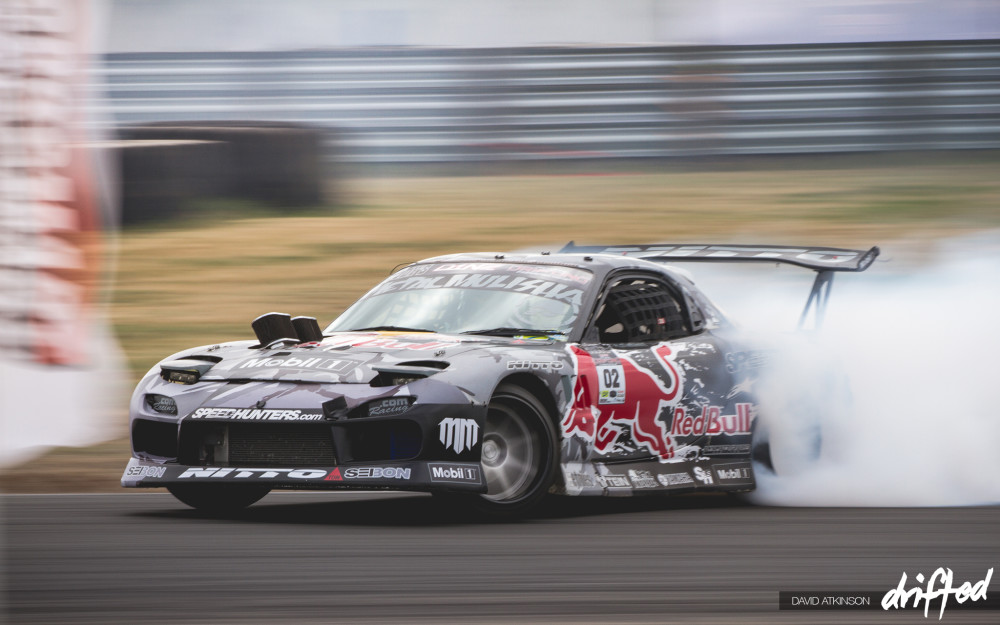 Mad Mike Whiddett came up against V8 Supercar legend Shane Van Gisbergen for his first battle of the day. Unfortunately mechanical problems were plaguing the Rattle Falcon and SVG had to use a borrowed car. Mike would progress on to top 16.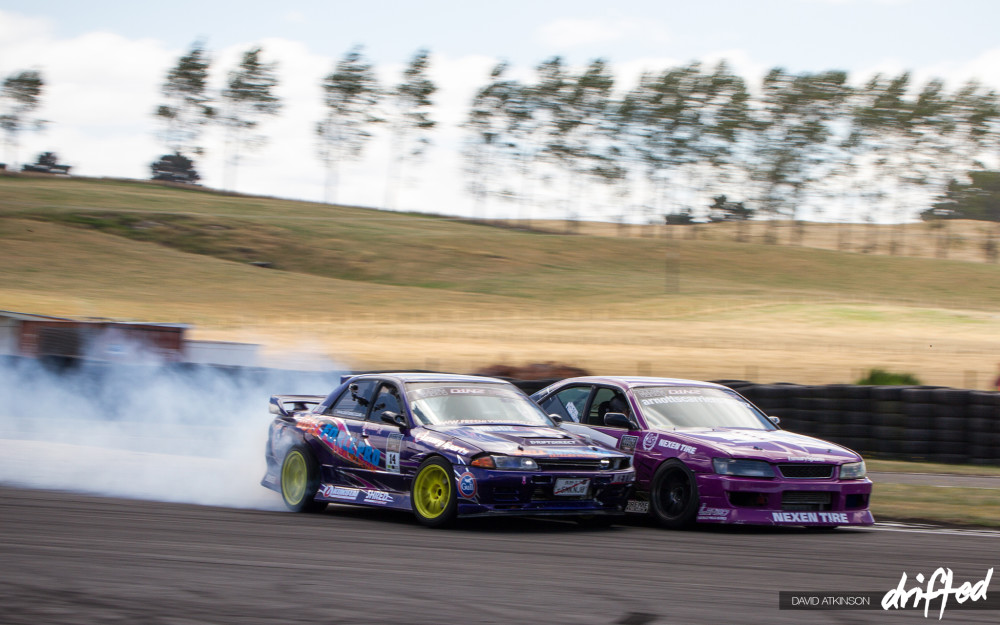 Joseph Kukutai came up against Jake Hakaraia in the top 32. Joe pushed the Skyline a little too hard resulting in contact with Jakes C35 Laurel pushing him off the track giving Jake the win.
Moving on to the top 16 now with another David and Goliath moment. Current champ Fanga Dan Woolhouse vs Pro newcomer Matt Lauder in an SR20 powered 180sx. Again the low powered car moved on after capitalising on a slow exit on the last corner by Fanga.
Adam Hedges took on Curt Whittakers 2JZ R34 in the top 16. Despite a good lead run, the C's Garage car just didn't have the power to chase Curt's R34.
Zak Pole avoided mechanical gremlins with the RB30 R33 this round and met Darren Kelly in the top 16. Good proximity throughout the chase gave Zak the win.
Moving on to the top eight now – it was Mad Mike Whiddett vs Nico Reid. Neither driver would make a mistake and seemed to be a match in angle and speed. They went 'one more time' twice before finally Nico Reid got too close to Mike on the last corner and spun him around.
Curt Whittaker simply drove away from Matt Lauder in their top eight battle. The panda schemed car simply not having enough speed to keep up with the turbocharged 2JZ.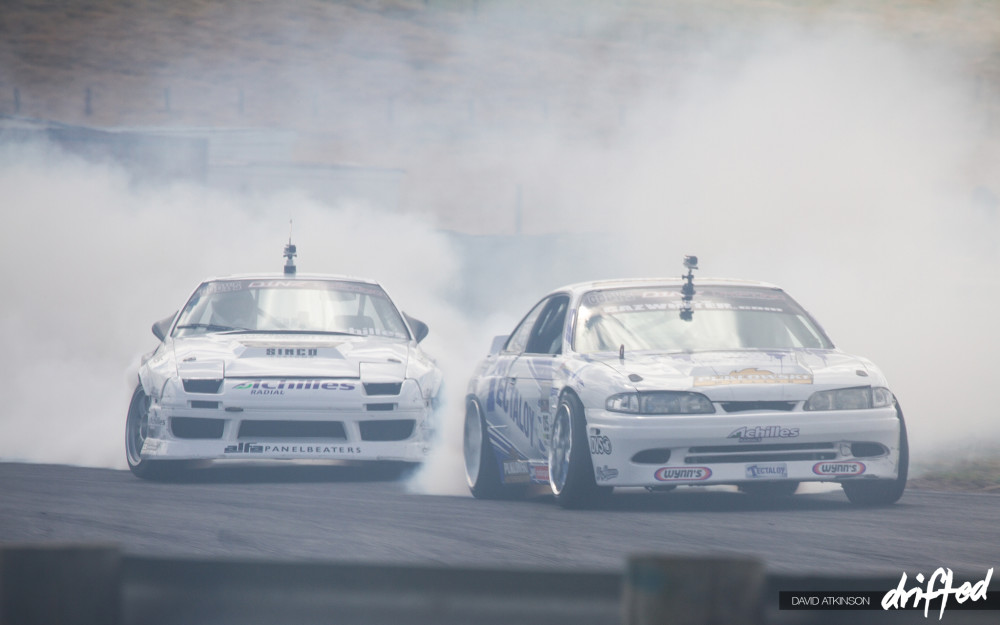 Both running Achilles semi slicks and an LS engine package, Andrew Redward and Gaz Whiter were very similarly matched and would end up going one more time. Eventually Redward would go slightly too shallow into the turn 3 switch creating a proximity gap, leaving Whiter to go on into the finals.
Cole Armstrong was doing well in the R34, beating Zak Pole in yet another close battle. As Zak perfects the small changes to his setup he will be very tough to beat in future.
Curt Whittaker and Mike Whiddett would face off for a chance at the final in what was looking like a repeat of the Nico Reid battle. Mike put down an excellent chase run as we've come to expect from the MADBUL, but on his lead run is where the drama unfolded.
On the last corner Mike would slow right down and contact appeared to have been made – spinning Mike around. In the end the judges ruled that Mike was too slow giving the win to Curt and putting Mike into the battle for 3rd place.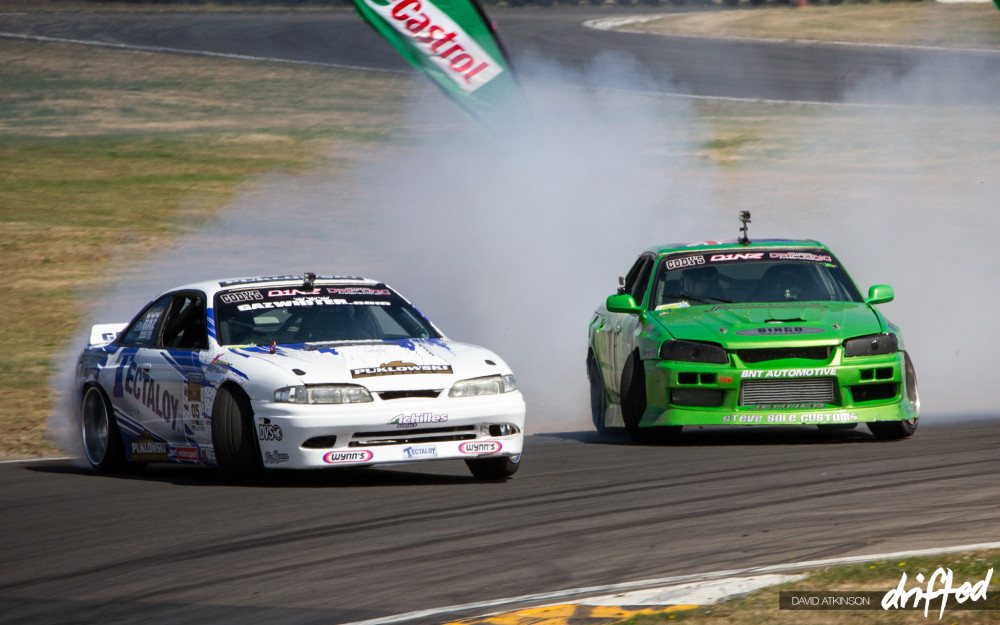 I'm not sure many people would have expected Gaz Whiter to get this far through the pack considering the temperamental nature of drift cars at the best of times, let alone the day of an engine rebuild. But he went from strength to strength, beating Cole Armstrong and moving on to the final.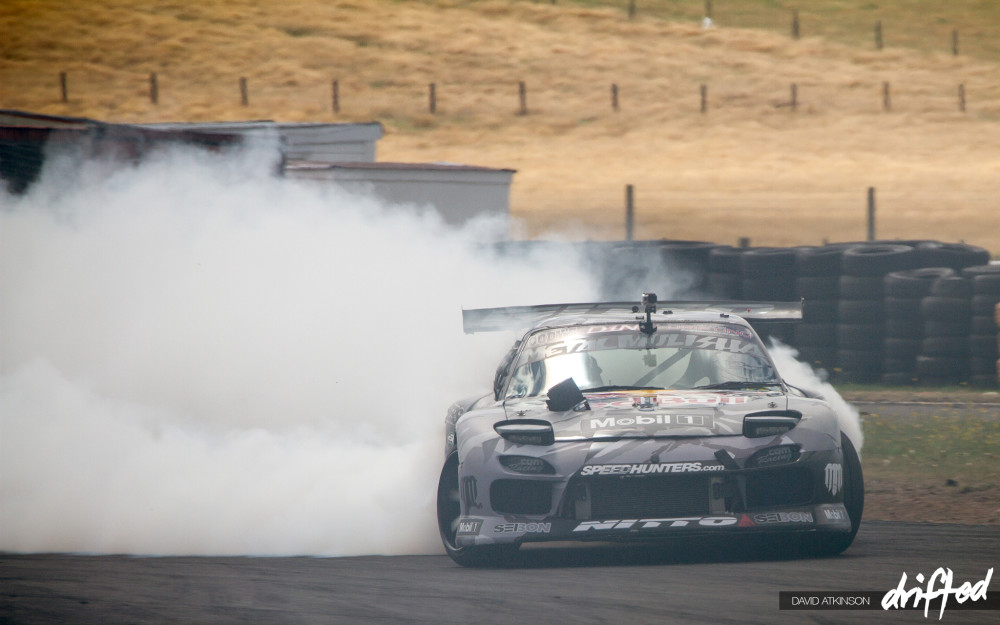 So the battle for third place would be NA quad-rotor vs turbo RB power. Mike had learned from his mistakes however and wouldn't be caught sleeping again. He simply sped away from Armstrong on his lead run giving him a good advantage and ending the day in 3rd place overall.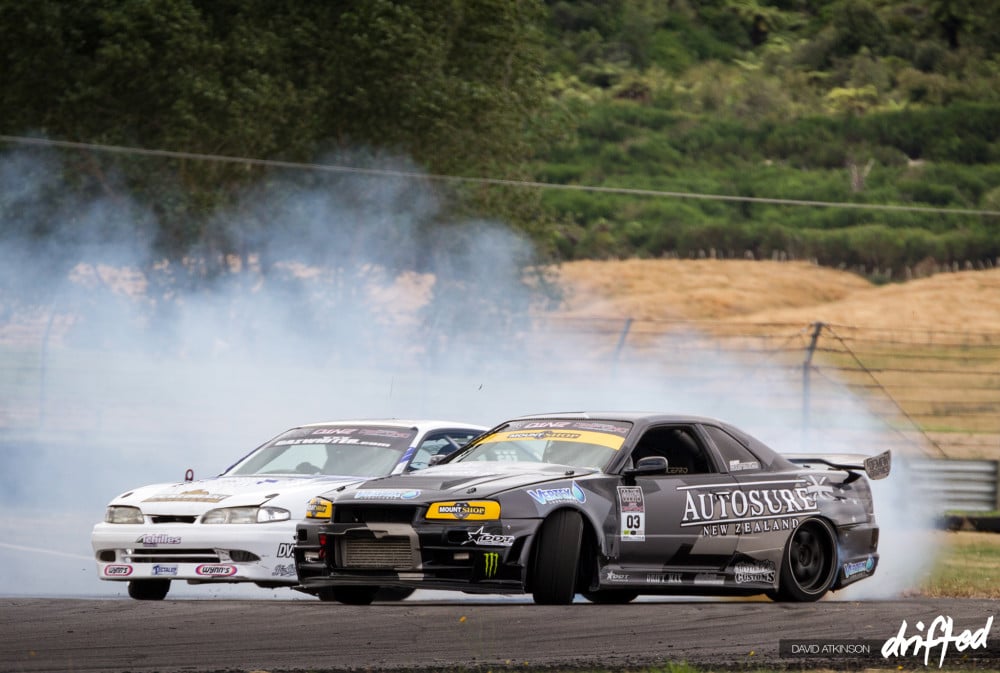 The weekends events would all boil down to this – two ex champions fighting for the top step on the podium. Whittaker's lead run was solid while Whiter made only the smallest mistake to give up the advantage.
Whiter would then take the lead and throw in the car as aggressively as possible, matched by Whittaker. With both drivers a lock for angle and line it would come down to proximity yet again. Whiter was able to pull away slightly from Whittaker on the last turn and secure the round win!
It was probably one of the best come-back stories in drifting for a long time, and Gaz Whiter's team deserved every minute of their success. Curt Whittaker finishing a close second, followed by Mad Mike in third place on the day.
Lastly, here are some shots of everybody's favourite way to end – victory skids! Next round is at Ruapuna Raceway in NZ's South Island. A less familiar track is sure to rattle a few drivers and mix up the scores. Let's see what happens!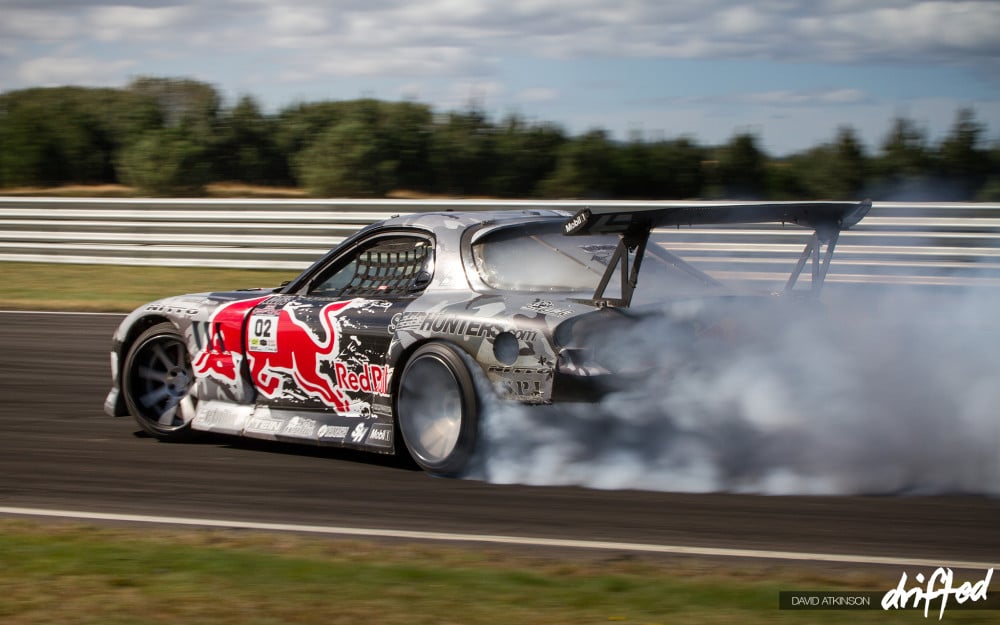 Words & Photos: David Atkinson
Additional Photos: Amanda Bolton