EVENT: D1NZ 2014: Round One
It was time to kick off another season of New Zealand drifting here at Hampton Downs last weekend. Round one of the Cody's D1NZ national drifting championship had come around pretty quickly but everyone was super excited to get out there and shred some tires once again!
Its funny – I've shot drifting many times before but never the very first round of a season. So it was really refreshing to see all the new cars in person for the first time before they make their way into the media.
Zak Pole had updated his R33 Skyline with a unique bronze and black livery. I think it really suits the car, especially with a healthy dose of tire smoke out the back!
The Hampton Downs drift section is very familiar to the drivers so it was a relatively level playing field for round one.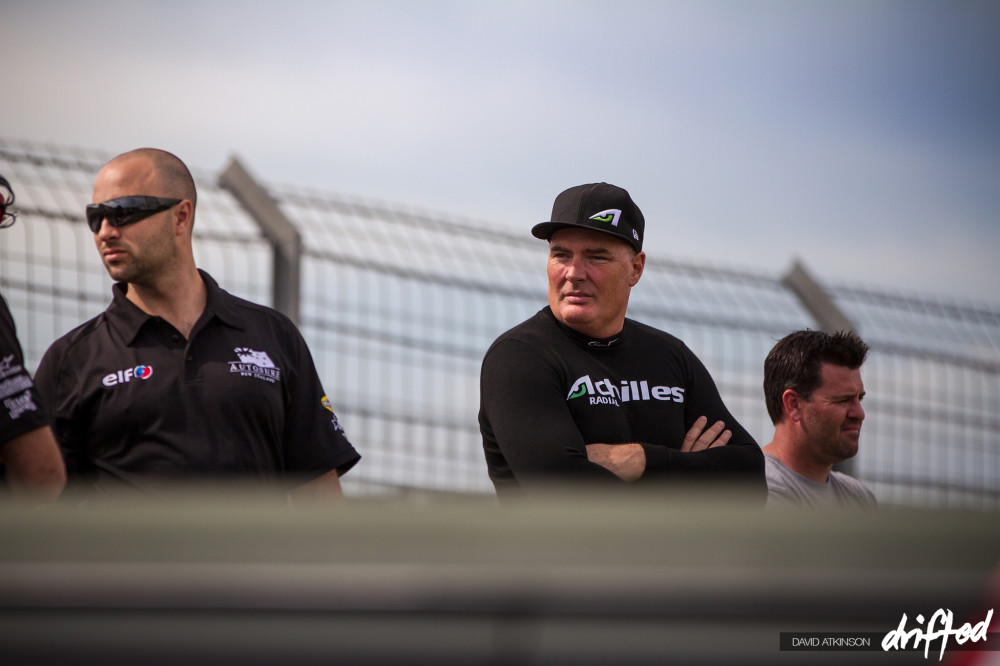 The teams would be eager to get some points on the scoreboard before the custom tracks in the following rounds shake things up a bit.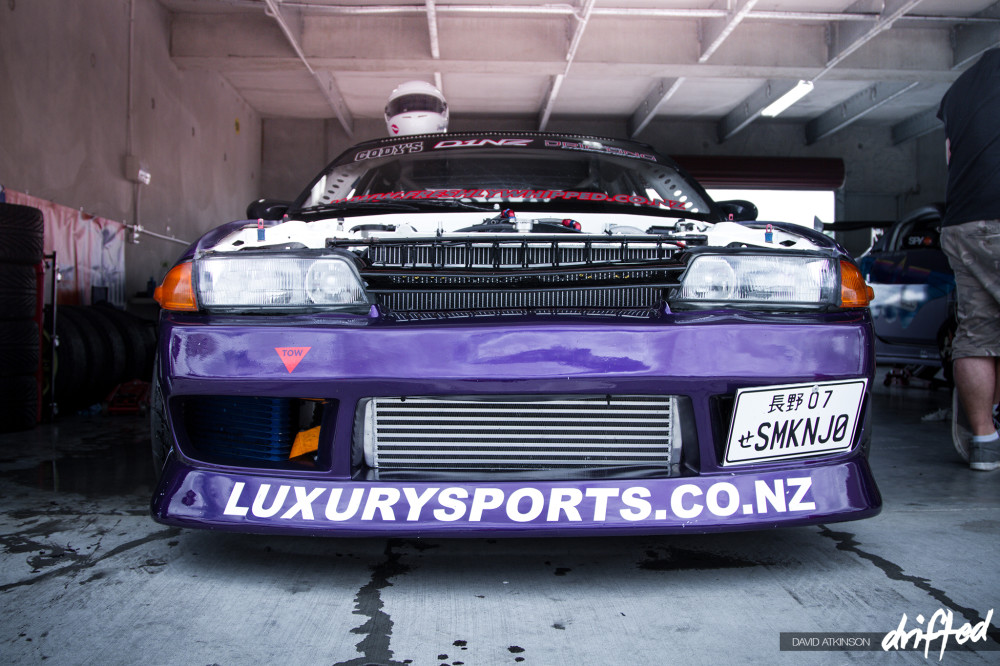 Joe Kukutai stepped up from pro-am division to pro this season, with a new two door R32 belonging to Cam Vernon previously.
Another driver moving up to pro this year was Darren Kelly who won the pro-am championship last season. With a new R34 Skyline and some more sponsorship backing, it would be interesting to see how he went.
The entry into turn one is big and fast allowing for wild initiations and reverse entries. Mad Mike has probably had the most practice here out of anyone and his driving style definitely lives up to his name.
There was no new livery for Mike this round because he is waiting for Kei Miura from Tra Kyoto to finish designing and manufacturing the new Rocket Bunny kit for the FD3S. I can't wait to see how it will look on the MADBUL and what crazy design Mike will come up with!
Another new livery was that applied to both Bruce Tannock's  Rocket Bunny S13 and fellow Achilles team member Andrew Redward's FC RX7.
The freshly upgraded LS7 V8 in Sky Zhao's car was proving to be very effective, giving him more speed over the hill and allowing for better chase runs.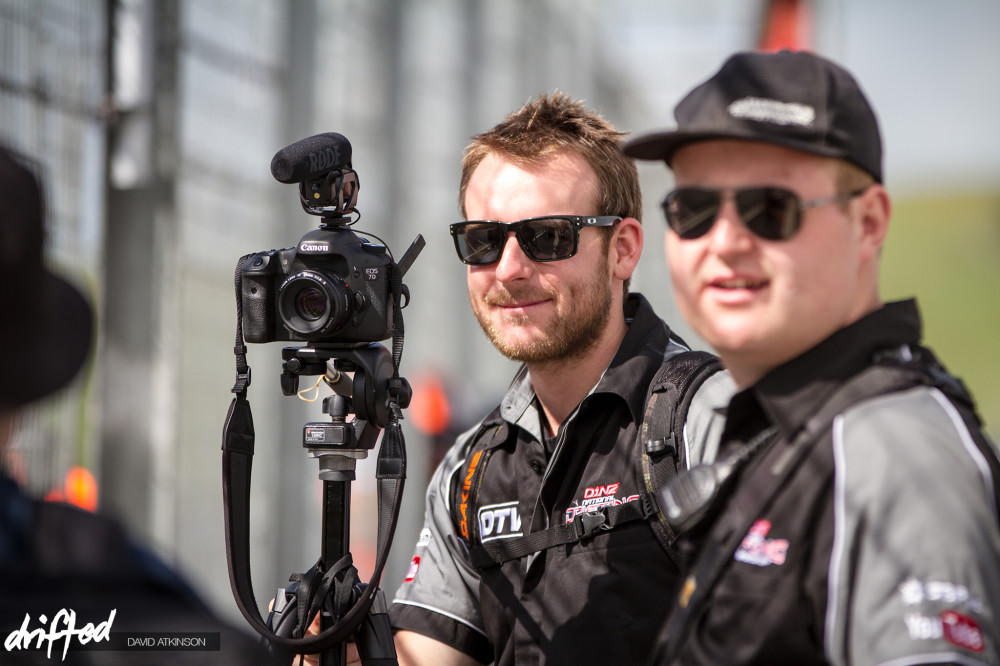 Andrew Burns and the Oversteer TV crew were out doing their thing. I suspect there will be a few sunburnt faces out there after this weekend as it was bloody hot.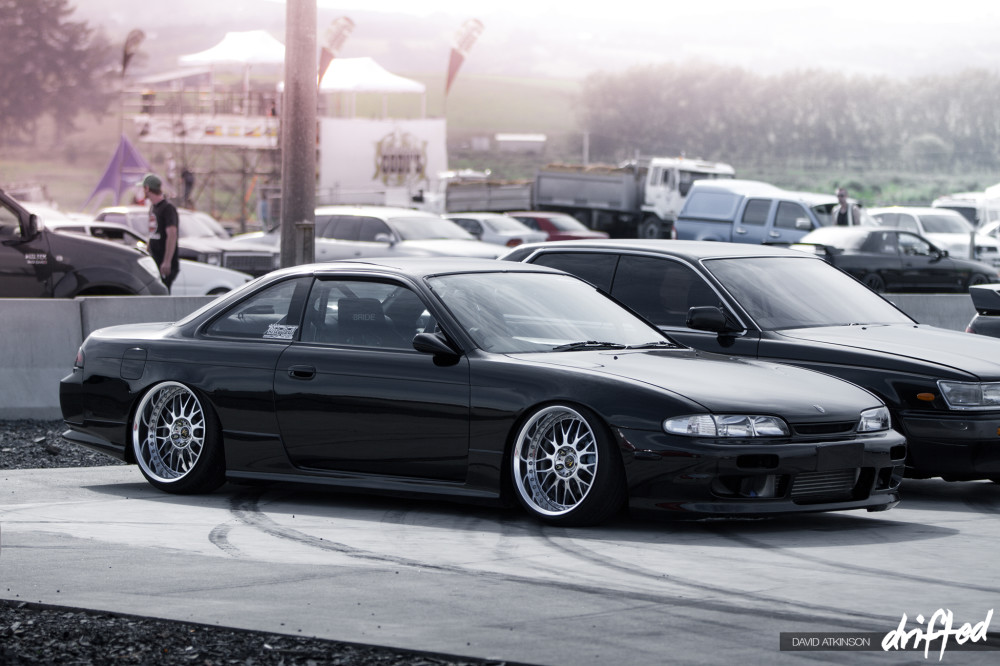 Wandering through the infield I spotted this super clean zenki S14 parked up on Work VS-XX wheels. Fitment is on point!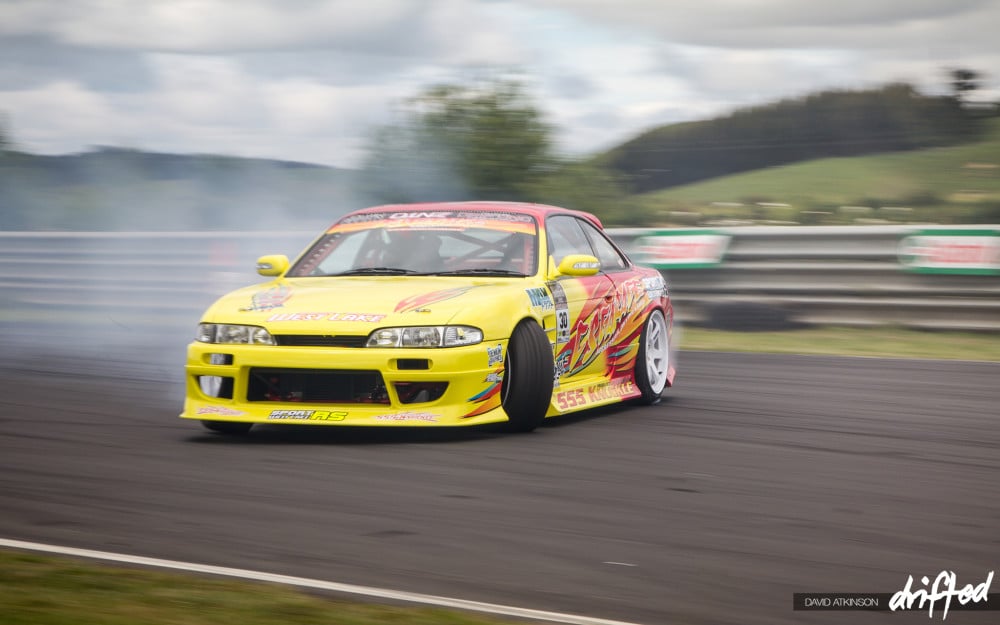 Adam Hedges from C's Garage was piloting the SR powered Silvia in his very first competitive pro season. I'll save the details of how he went for now, as we will have a guest blog from Adam on the site shortly!
Gaz Whiter ditched the dark colour scheme in favour of his familiar white and blue Tectaloy colours from previous years.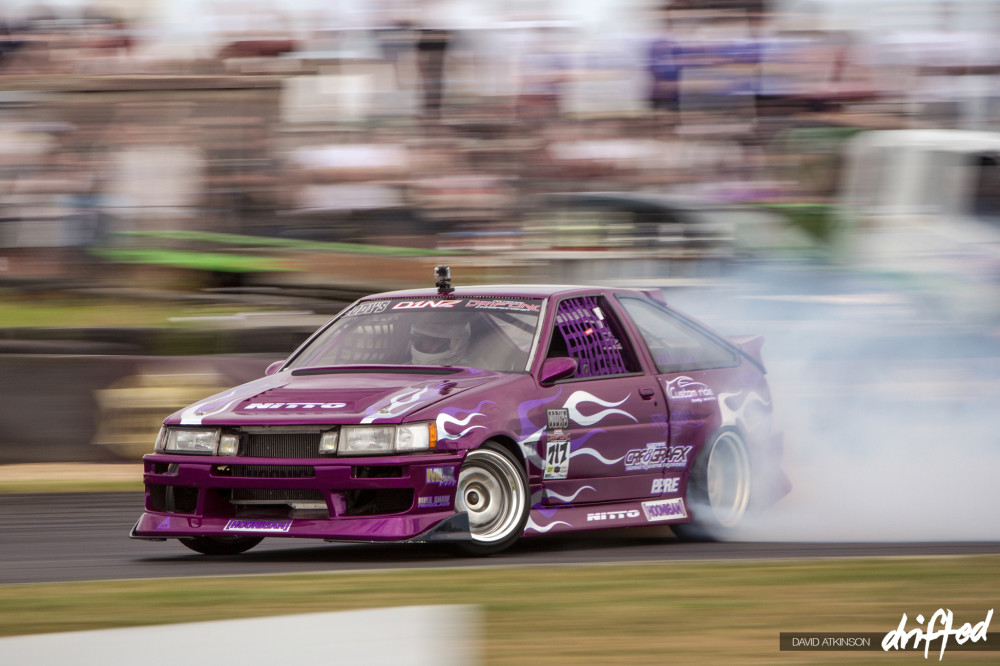 You will remember the feature we shot of Hugo Maclean's 20b powered 86 pre-livery. Here it is all stickered up courtesy of Mad Mike. What do you think? Unfortunately mechanical issues plagued the rotary all day and Hugo didn't get much seat time.
Almost everybody's cars were without problems going in to round one though, meaning quite a relaxed atmosphere in pit lane!
The combination of Hugo and Mike's cars on track just about blew my ear drums. Brap braaap!
Matt Lauder was out rocking a new panda scheme on his 180SX with pumped out guards and a big wing to match. Expect a feature on this car coming soon.
Curt Whittaker looked pretty chilled in the pits – no doubt he was focused on regaining that championship trophy.
In an attempt to gain more reliability from the 2JZ Skyline the Whittaker team had dialed the power back a little, a strategy that worked very well with no mechanical issues to speak of.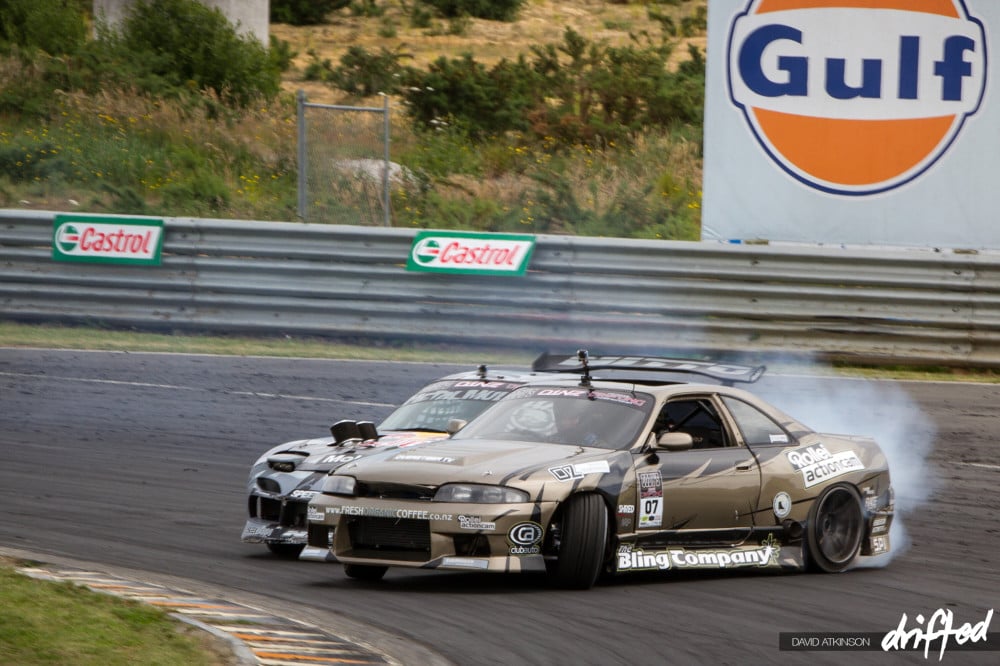 Zak Pole came up against Mad Mike in the top 32 – a slightly unfortunate pairing as whatever happened, a crowd favourite would finish their weekend sooner than they would like. As you can see from the photo Mad Mike's chase runs are amazing to watch. He doesn't back off even when he has the advantage from his lead run. Zak was eliminated but will no doubt be back on form next round.
Another driver to make the move to pro this season was Jodie Verhulst, drawing current champion Fanga Dan.  What was a pretty normal battle turned ugly very quick. A feint entry from Jodie on her lead run caught Fanga off guard and sent him almost completely off track.
We're not sure how the judges missed the huge dirt cloud or line that Fanga was taking, but for whatever reason this run ended up going one more time. Mistakes were made on both sides though and Fanga took the win in the end.
Darren Kelly was looking pretty focused in his new car, beating Hugo Maclean and then going on to fight Fanga Dan for a place in the top 8. The R34 ran well and managed to out-do the ex champ. I'm sure this will be a huge confidence boost for Kelly going in to round two.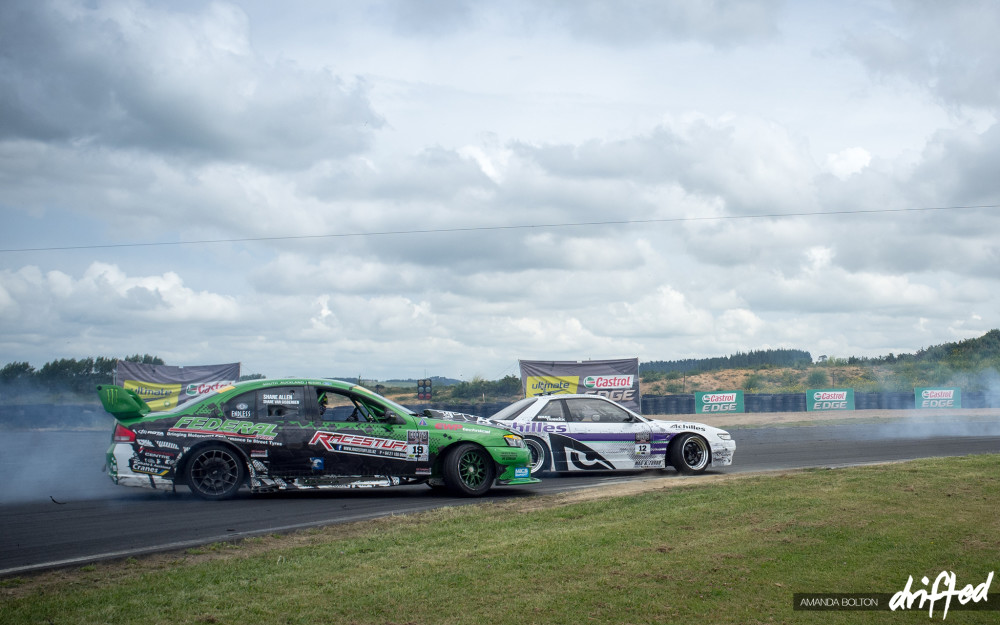 V8 Supercar legend Shane Van Gisbergen made a return to D1NZ this season with the aim to compete in every round. Theres certainly no doubting his ability behind the wheel – the speed at which he is picking up drifting is incredible.
One of the best stories of the weekend had to be that of Cameron Vernon who up until the day of competition, had no plans to enter D1. However at the last minute he accepted an offer to borrow the Shred S15 and began winning battle after battle. With no off season practice and competing on the smaller 235 pro-am spec tires this was no small feat.
After taking out Australian Michael Prosenik and Cole Armstrong, Andrew Redward met with Gaz Whiter in the top 8. The Achilles driver looked to be a little off his usually superb form and Whiter moved on to the finals.
It was a good day out for spectators – perfect weather and a nice clear view. The crowd was lining the fence all the way to the end of the track.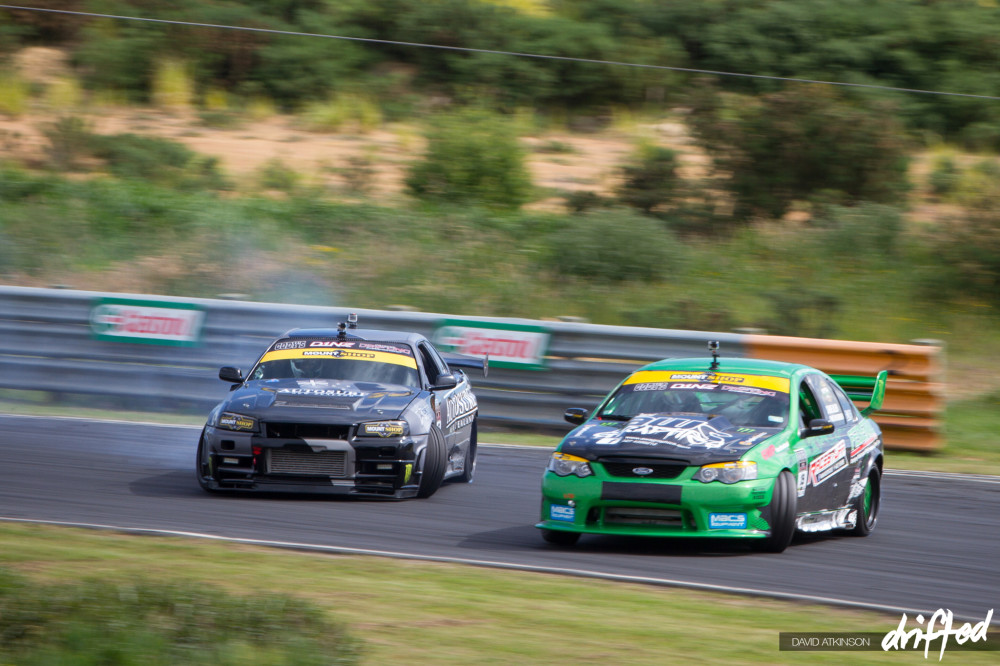 Whittaker made it through to the top 8 before being beaten by Shane Van Gisbergen in the Rattla Falcon.
Despite Vernon's superb driving skills behind the wheel of the Shred S15, the pro-am car was simply no match for the speed of the Madbul and put Mike into the finals.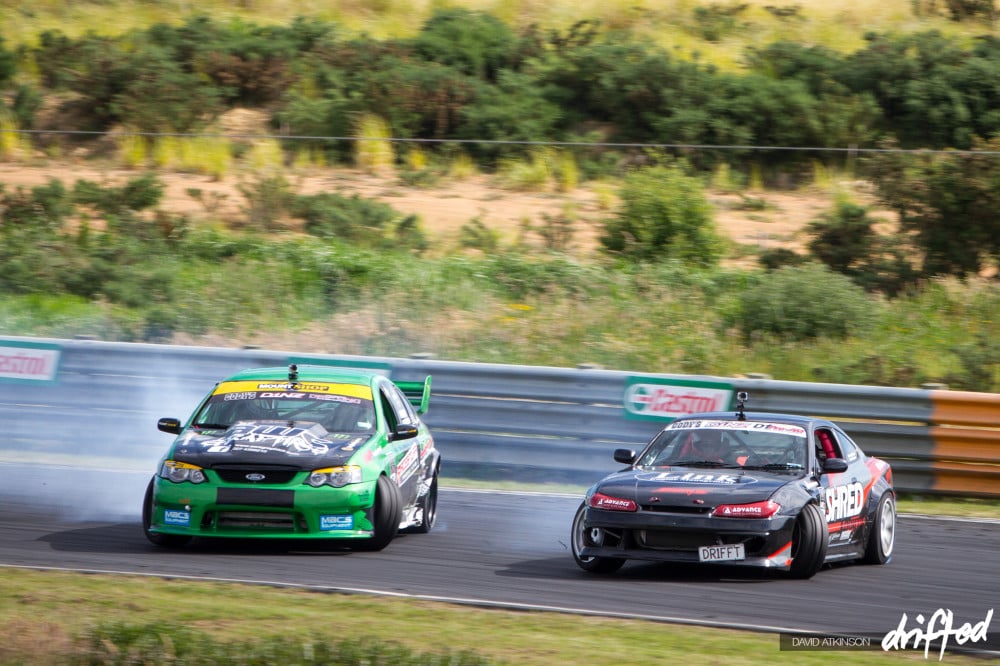 The battle for third place would be between Van Gisbergen and Cam Vernon. I'm glad that I wasn't judging this run as both guys were taking a good line and had similar angle from where I was standing.
So with the final battle we would see two veteran drifters go head to head. Unfortunately for Mike he was at a disadvantage with no power steering, no handbrake and only 3 rotors. Gaz couldn't be faulted either, piloting the V8 Silvia perfectly all weekend.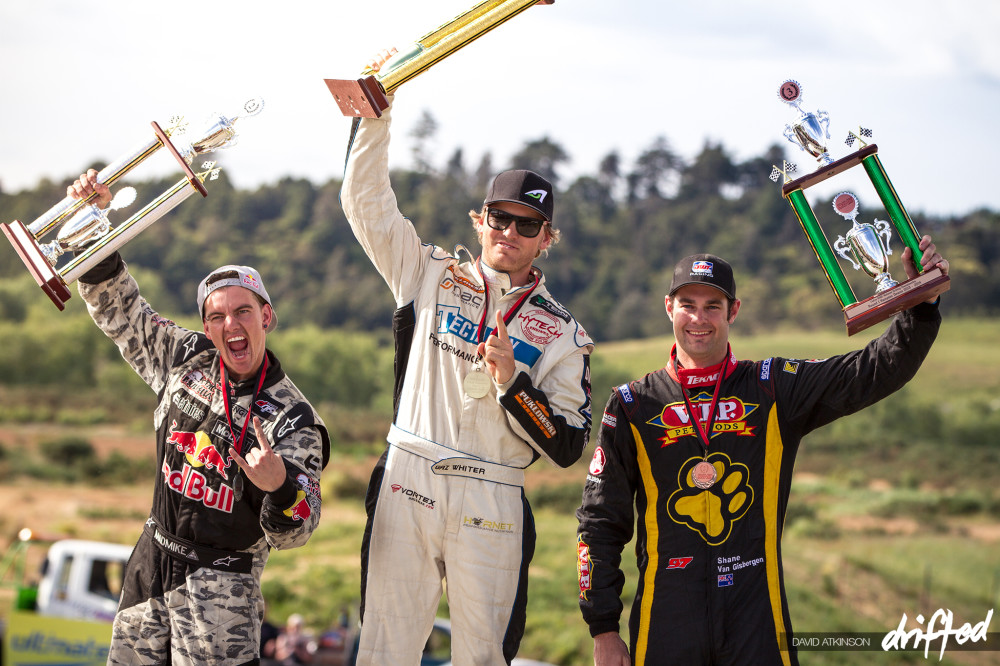 Gaz Whiter had the perfect round – qualifying in 1st position and taking the round win too. Mad Mike Whiddett in 2nd place followed by Shane Van Gisbergen in 3rd!
Next round we travel north to the custom built circuit at Whangarei. It will be interesting to see if Cam Vernon makes a return after securing so many season points this round, and how the drivers cope with those big concrete walls!
Photos: David Atkinson & Amanda Bolton
Words: David Atkinson