EVENT: D1NZ Demo at CRC Speedshow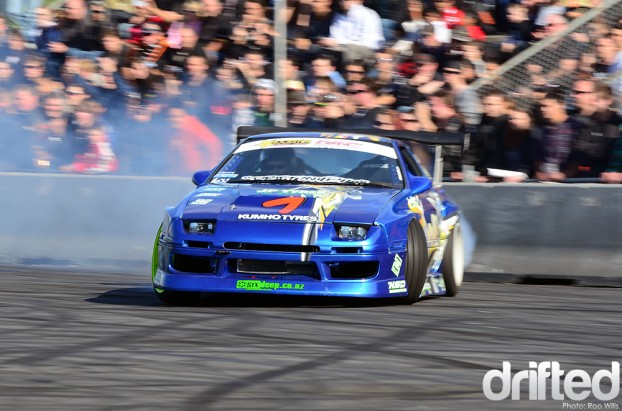 The annual CRC Speedshow is New Zealand's premier automotive event. Showcasing all types of cars, motorbikes and associated products. It has grown each year and this year saw huge crowd numbers. Luckily Auckland's unreliable weather came to the party and gave spectators something that a lot of them hadn't seen before. Drifting.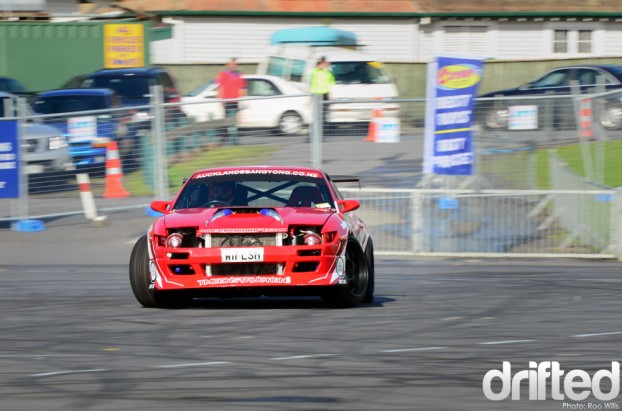 The show itself is held inside a series of halls but it also had an outdoor arena where they had all sorts of car stunts and racing on display. D1NZ were invited to provide regular drift demos throughout the weekend event. While a lot of our top drivers are currently in Sydney for the World Time Attack Drift Challenge the D1NZ crew still managed to get a number of great cars and talented drivers to put on an awesome show for the crowd.
Mac Kwok debuted his new look after Milwaukee Tools came on board as a main sponsor. Nissan Silvia's are definitely the most common platform for drifting in NZ but Mac's is a little different. It's powered by a twin-turbo V8!
I love attending these sorts of demo's as they make for really good photos. Seeing the crowd so close to the action reminds me of scenes from various Formula D rounds I have seen in the past. Jason Sellers put on a great show, getting pretty close to those concrete barriers.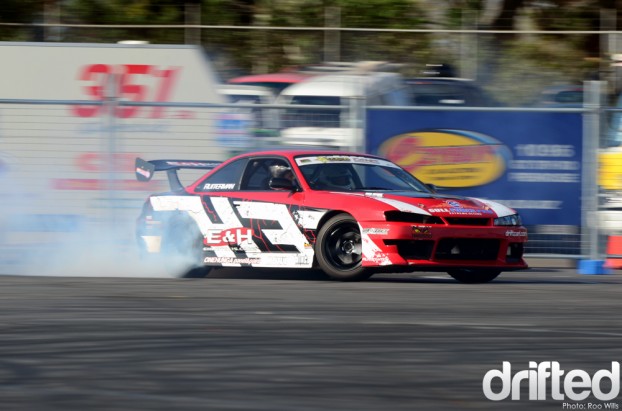 Ex-D1NZ Drift King Carl Ruiterman was building up great speed and angle considering the tight space the drivers had to work with.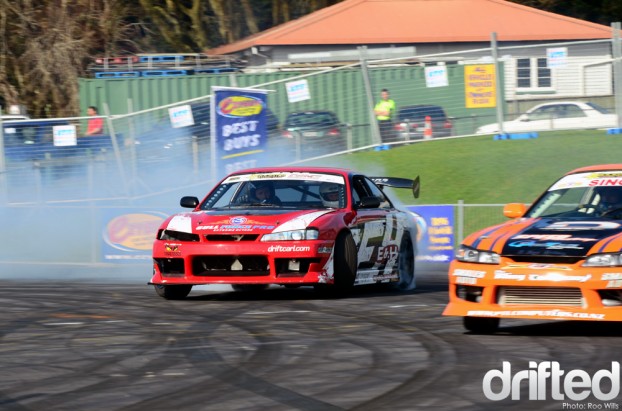 He was also getting pretty close to the other drivers, this really got the crowd going!
Nico Reid won D1NZ Pro-Am last season and is stepping up to the big boys league this year in his new S15. While that is having the finishing touches put on it, he brought his trusty S13 out. This car has seen a fair amount of abuse over the last 18 months but never misses a beat. Nico's driving style is extremely aggressive, here he is drifting all the way back into the driveway leading into pits. Definitely a crowd favorite.
New Zealand drifting veteran Steve Sole produced a lot of smoke in his 2JZ-powered JZX90/100 Chaser. What is it about big 4-door cars screaming sideways that is just so cool?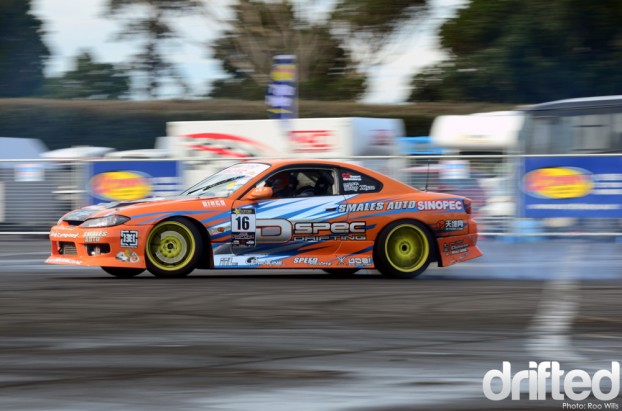 D-Spec driver Sky Zhao looked to be having a lot of fun out on track, even waving to the crowd at times. D1NZ competes in about 8 of these demonstration style displays at events across the country each year. They do a lot for building the sport with the general public who just think its a bunch of boy-racers hooning round when in fact it couldn't be further from the truth. Keep up the good work!