EVENT: D1NZ Grand Final: Hampton Downs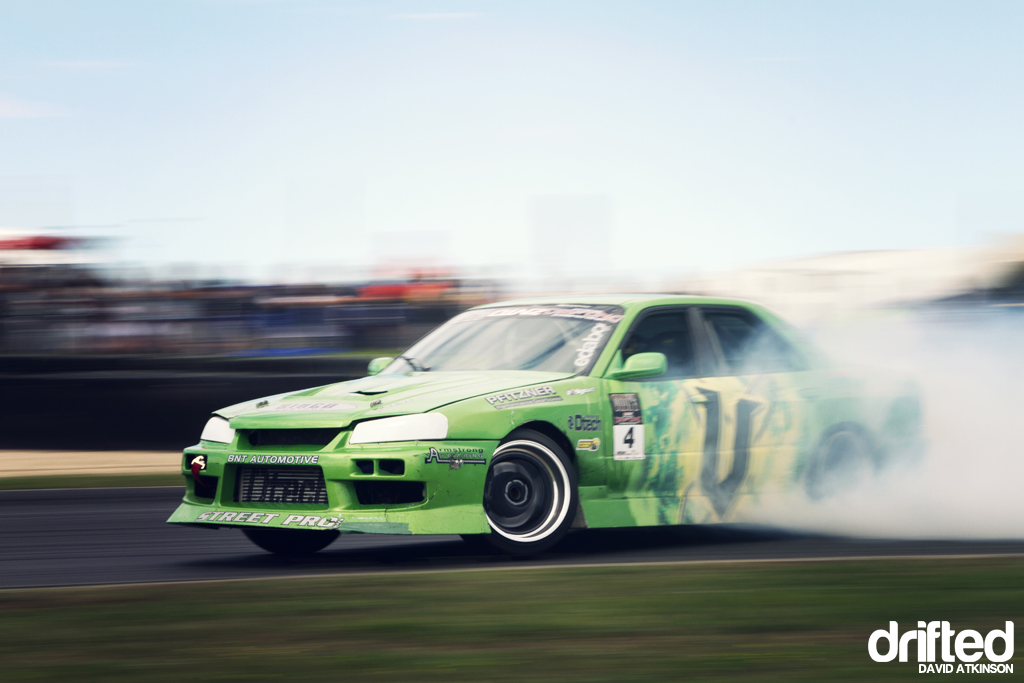 As we head into the final round of the Cody's D1NZ National Drifting Championship, the tension and hype was unbelievable. With about six drivers in close contention for the Championship title, any small mistake here could cost the drivers dearly.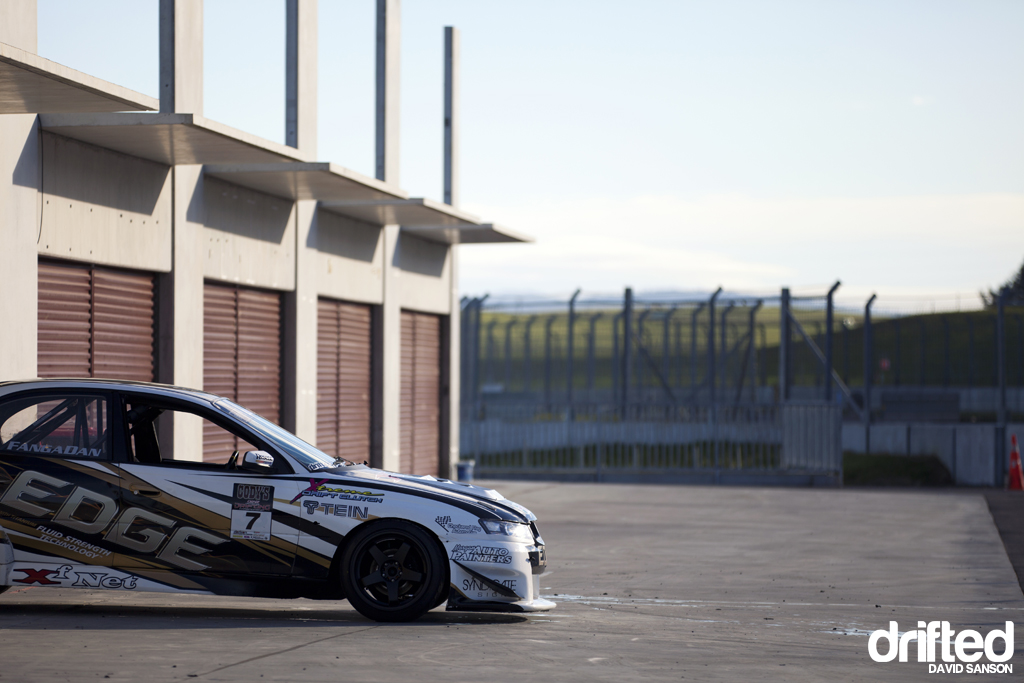 The sixth and final round was held at Hampton Downs raceway  – a high speed track with sweeping corners and elevation changes throughout.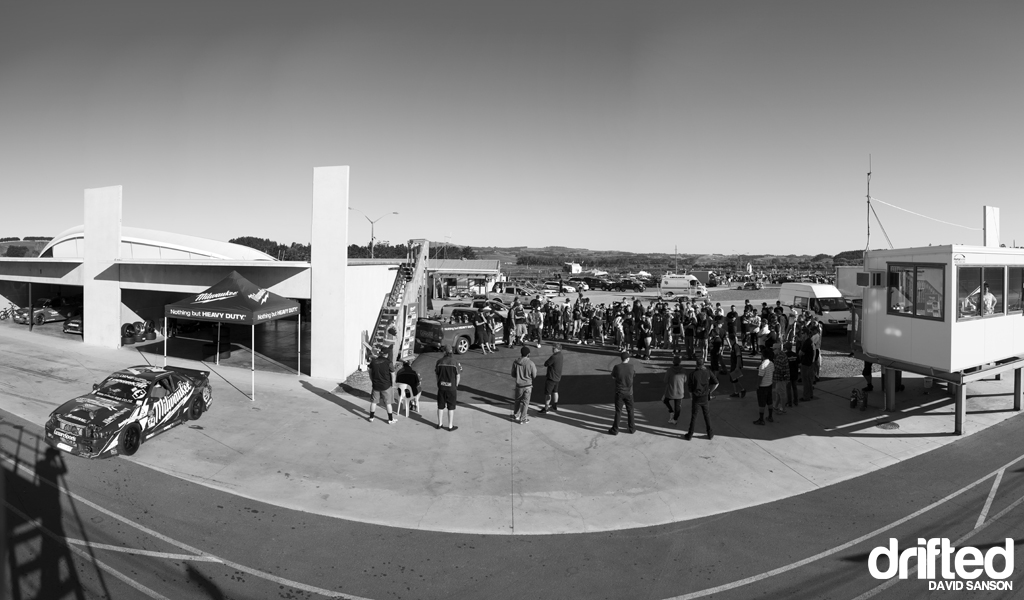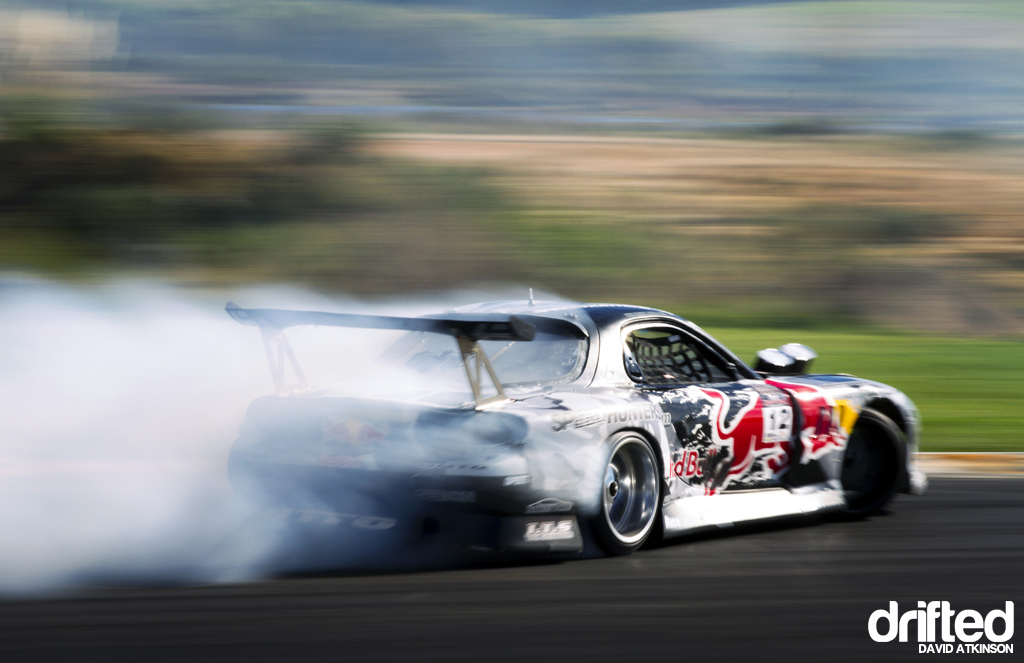 The five big names to watch out for and leaders on the table were Mad Mike Whiddett, Curt Whittaker, Gaz Whiter, Fanga Dan Woolhouse and Cole Armstrong. Nothing is set in stone though, with plenty of other drivers keen to get their hands on the trophy. Practice on Friday treated us to brilliant weather and a bunch of different vantage points to shoot from. Milwaukee Tools driver Mac Kwok, above, had geabox issues and would not go on to compete unfortunately.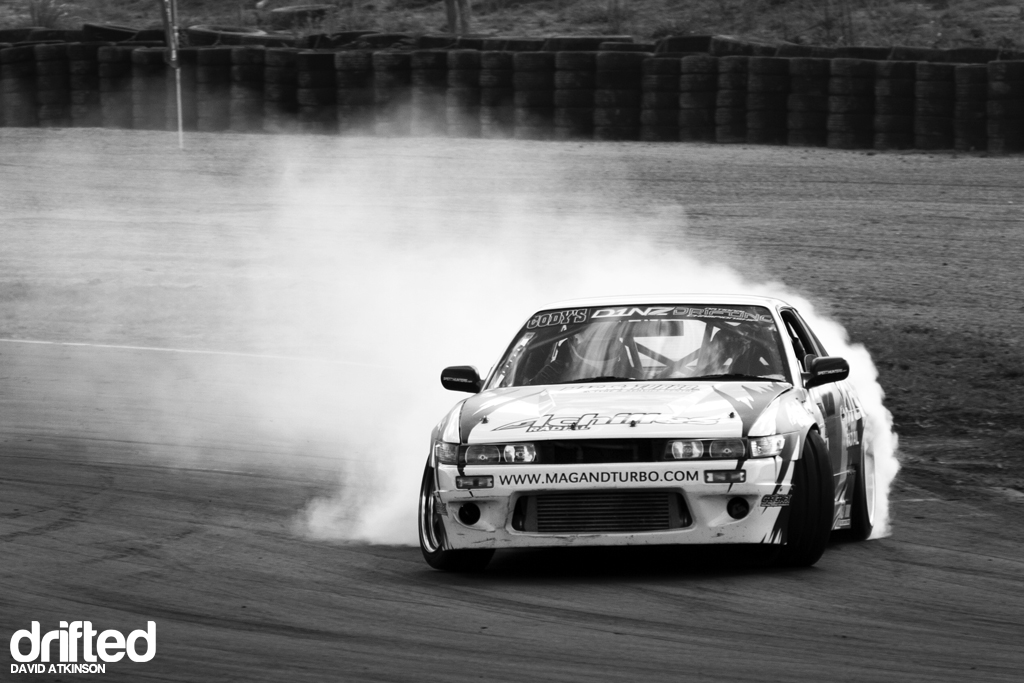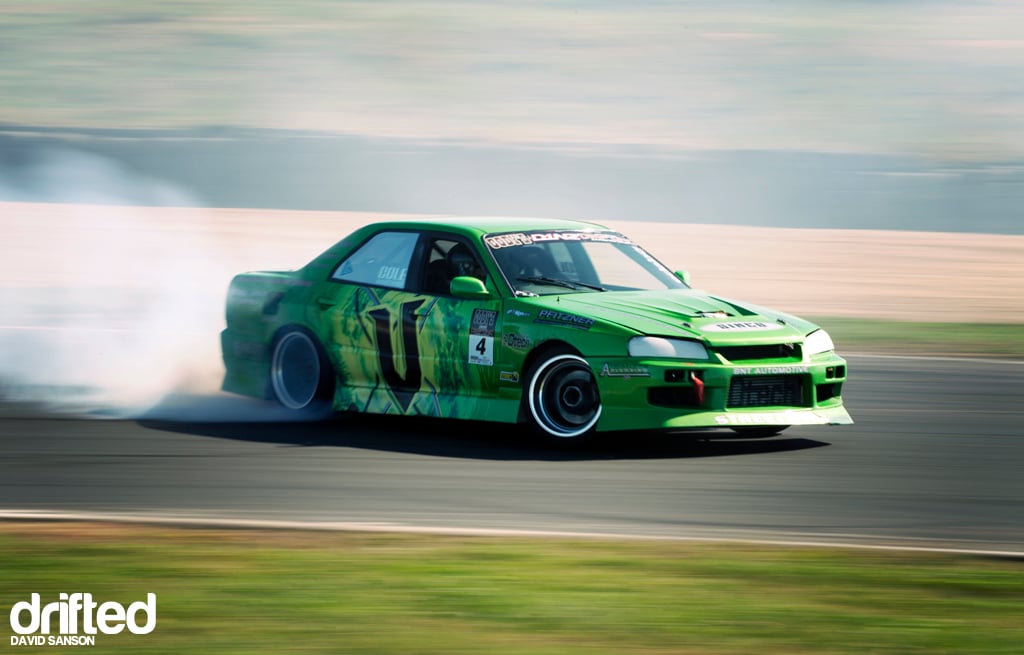 The judged section consisted of a medium right hand sweeper, following through into a longer left corner, up and over the hill with clipping points crossing from inside to out, and then onto the straight.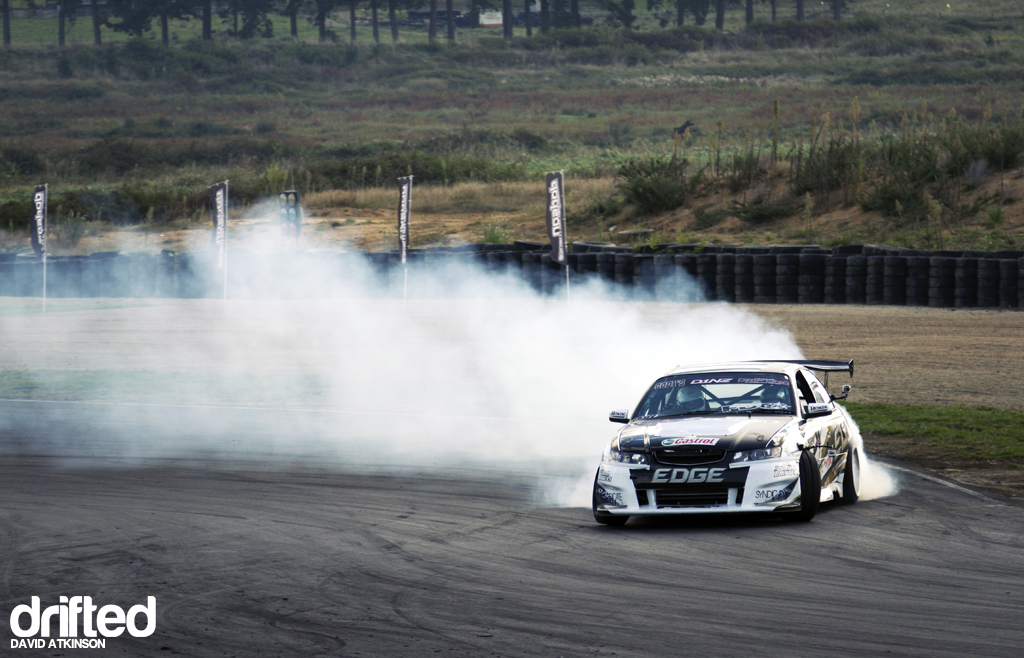 Entry speeds were around 175km/h coming in to the first corner. Above, Fanga Dan had no problem hitting that speed in the LS2 V8 Commodore.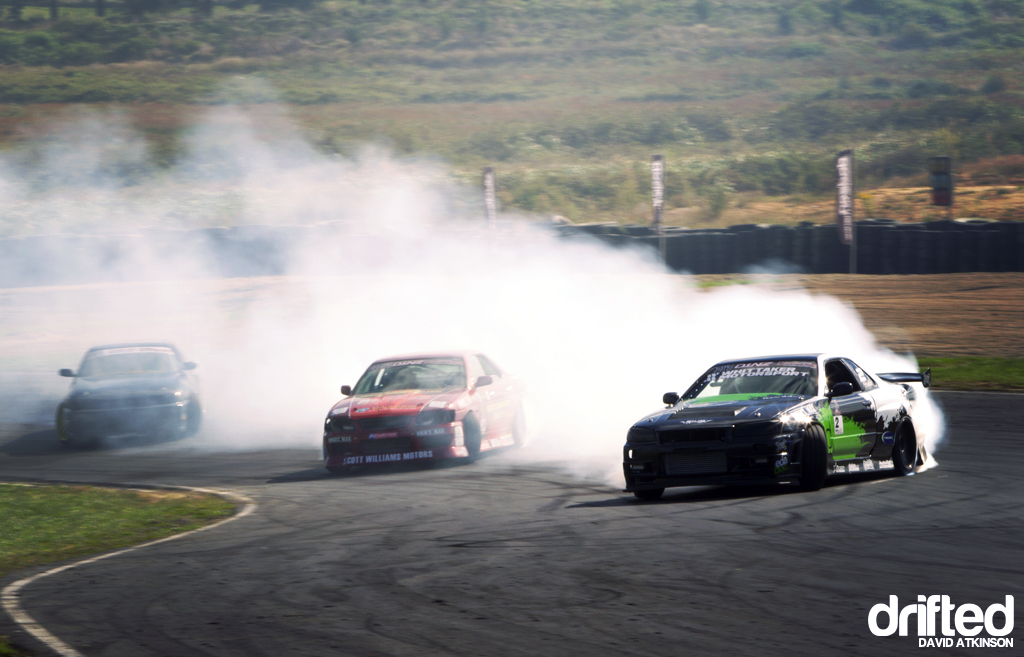 It was awesome to see cars emerging from over the hill in packs of three or more at a time. The D1NZ drivers always prefer to practice in battle groups if they can.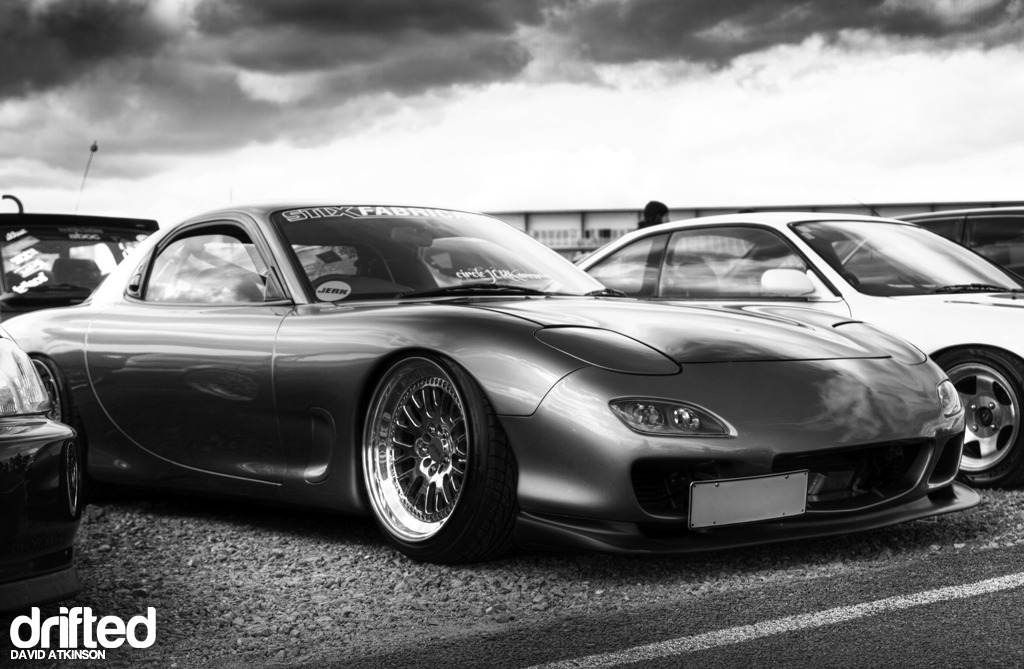 Another attraction for spectators was the hardpark happening on the inside of the track. One car that had a lot of heads turning was this grey RX7 FD sitting on CCW Classics.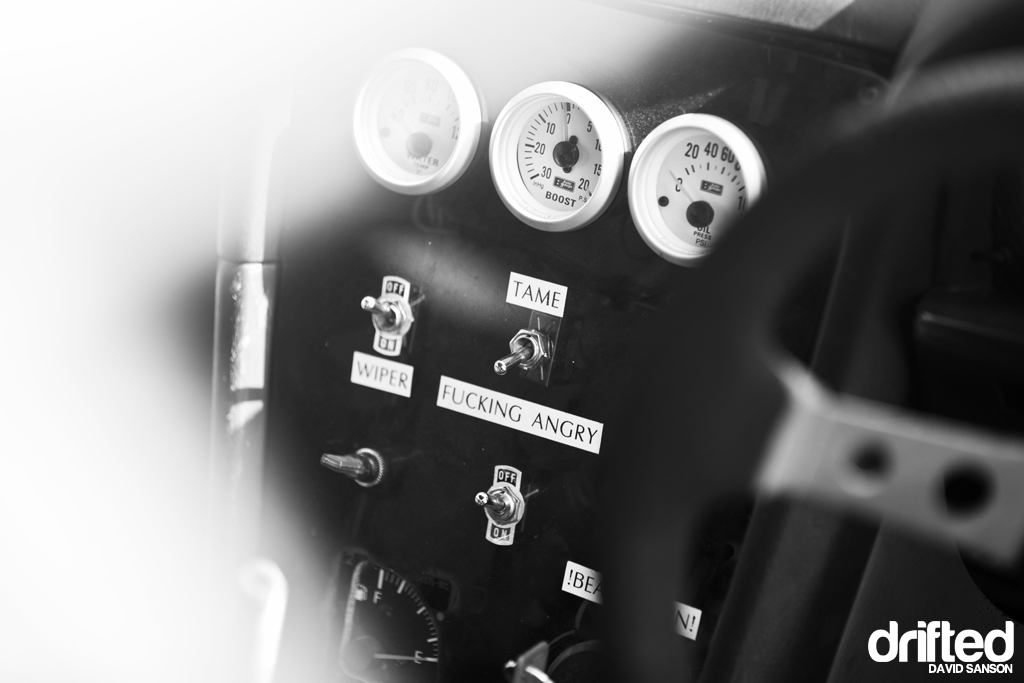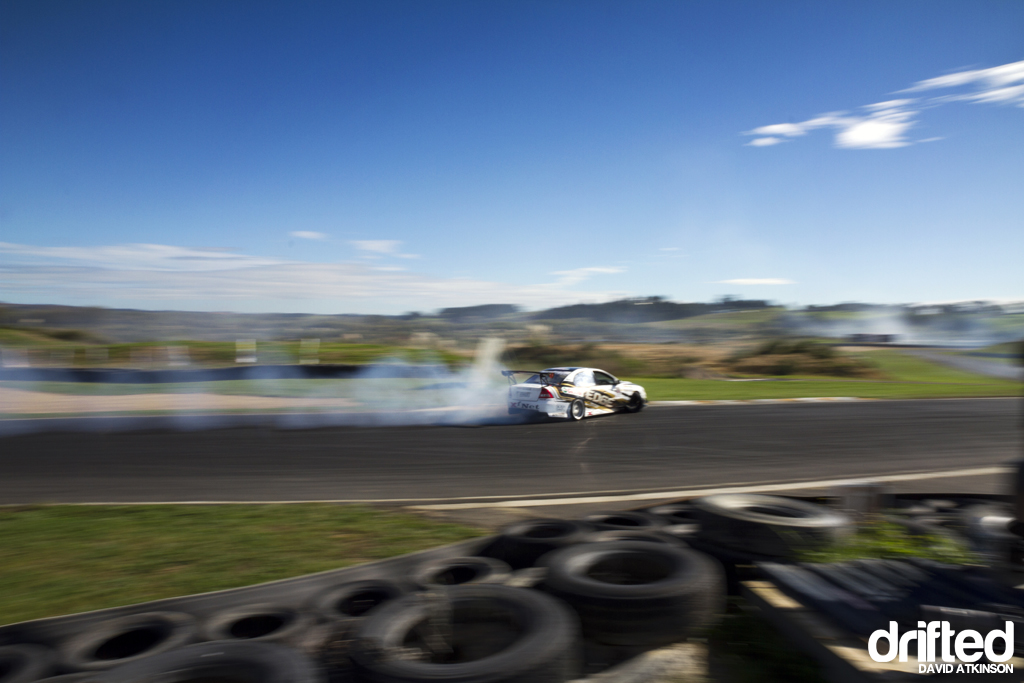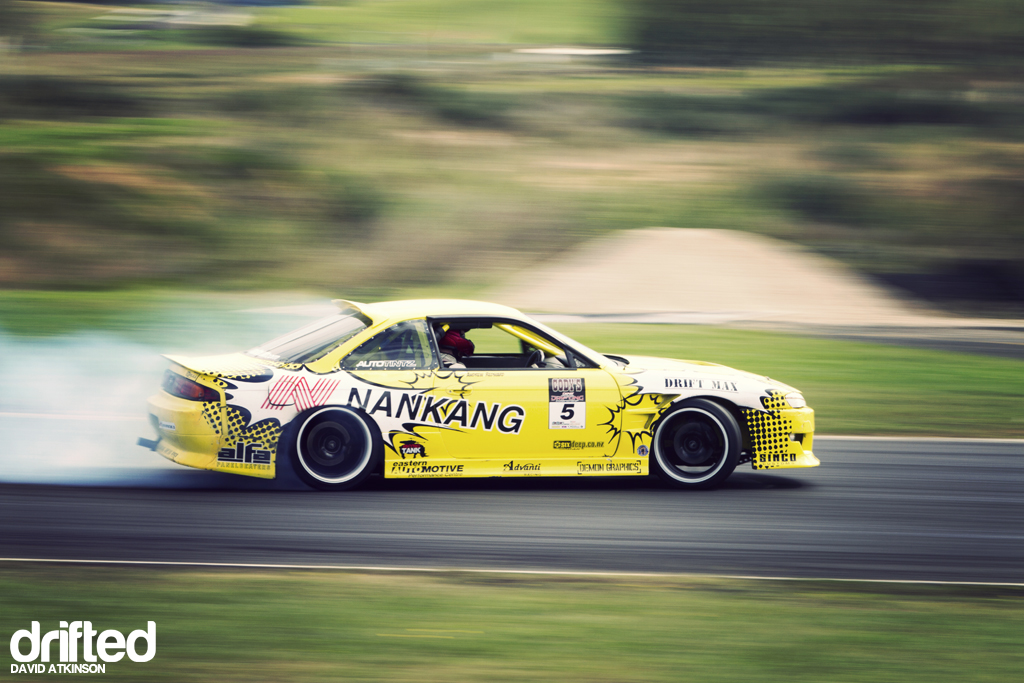 Over the hill and onto the main straight is where the spectators could get a great view of the cars in action.
The inside clipping point on the peak of the hill is where a lot of drivers were dropping into the dirt in practice. Doing this in battles will hand the opponent valuable points.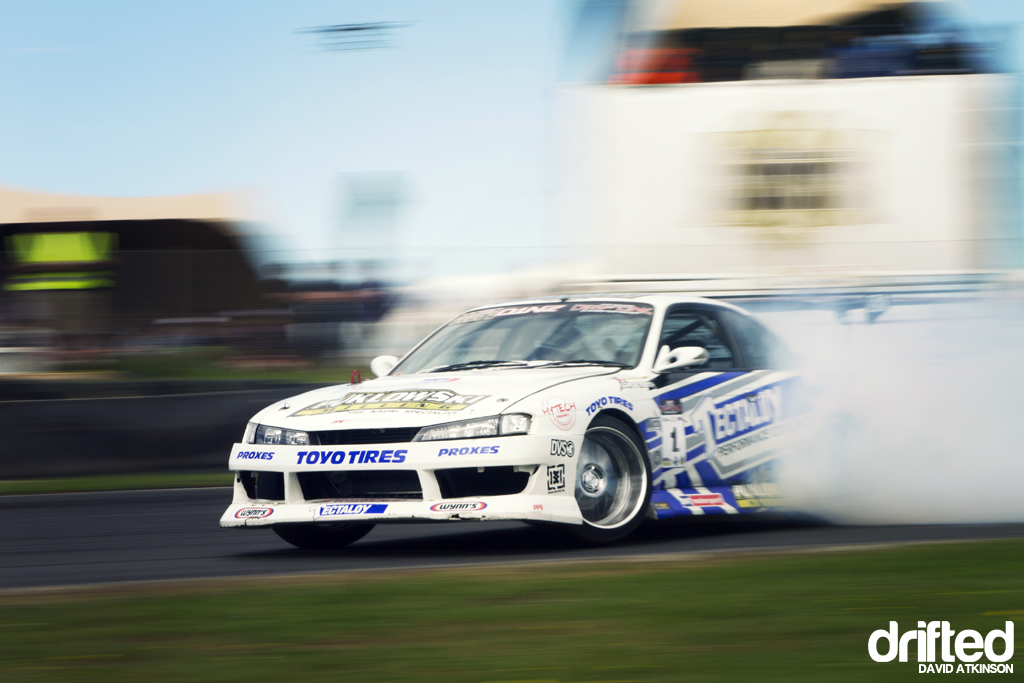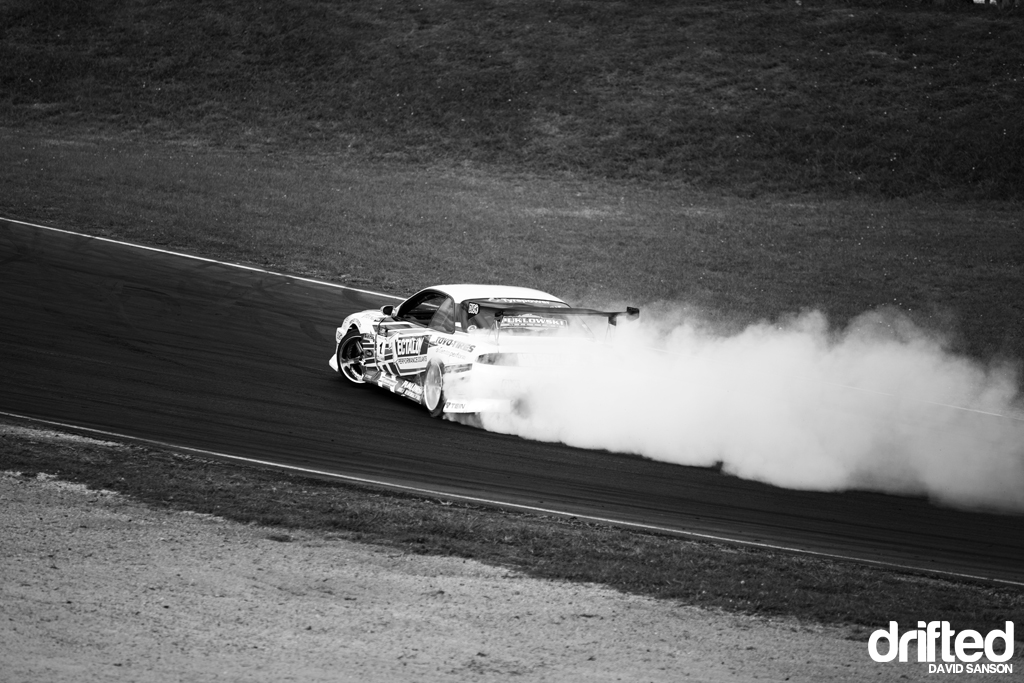 One question on everyones mind was whether Gaz Whiter in the Tectaloy S14 Silvia could make the jump from third place on the points table to take the championship trophy. If anyone can it would be Whiter, with 3 series wins under his belt already he definitely has the experience to take it out.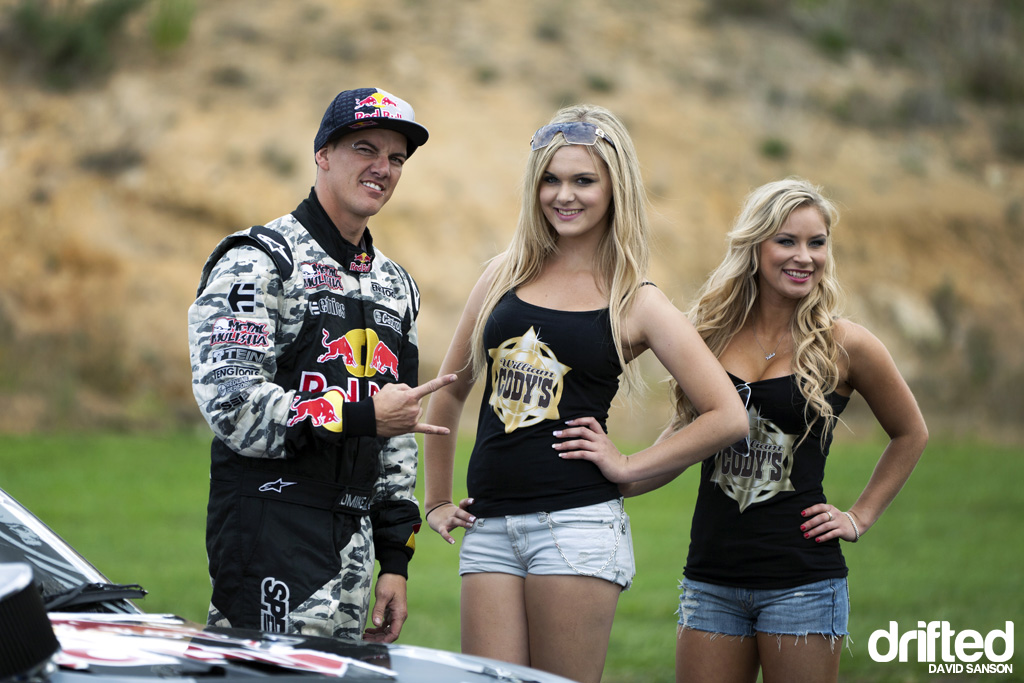 A slight collision in practice left Mikes RX7 with damage to the rear of the car, luckily Mike had shipped over his U.S based Mazda RX8 which was rushed to get here in time for the event. It would be a risky move to use the RX8 however, as he hadn't practiced in this car in over a year.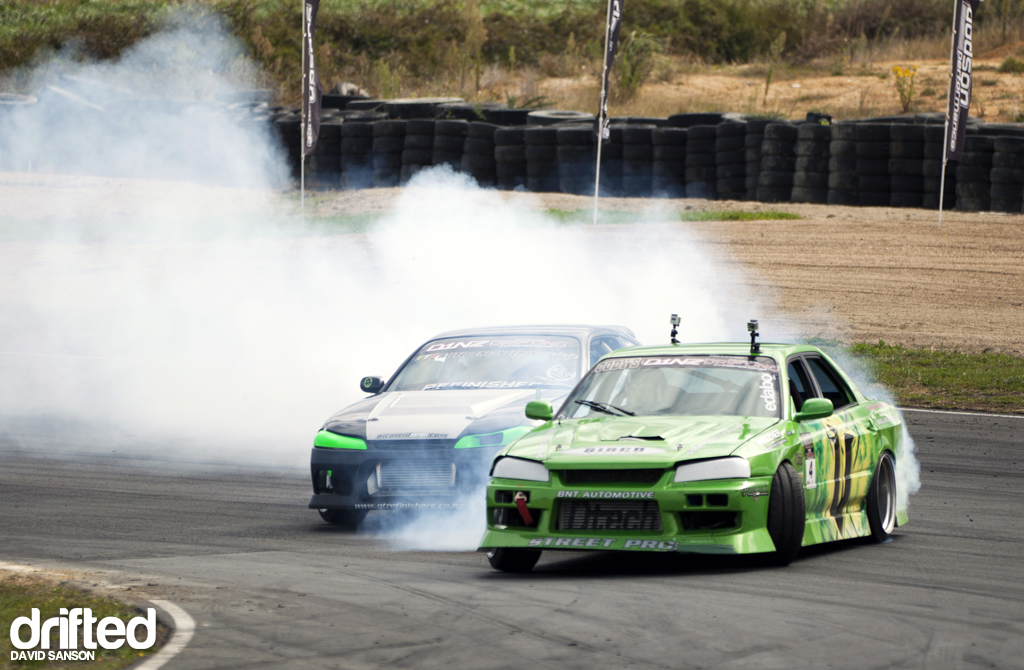 Series contender and V Energy driver Cole Armstrong came up against Nico Reid in the GT-Refinishers S15. Both drivers were looking on form until a mechanical problem meant Cole could not continue.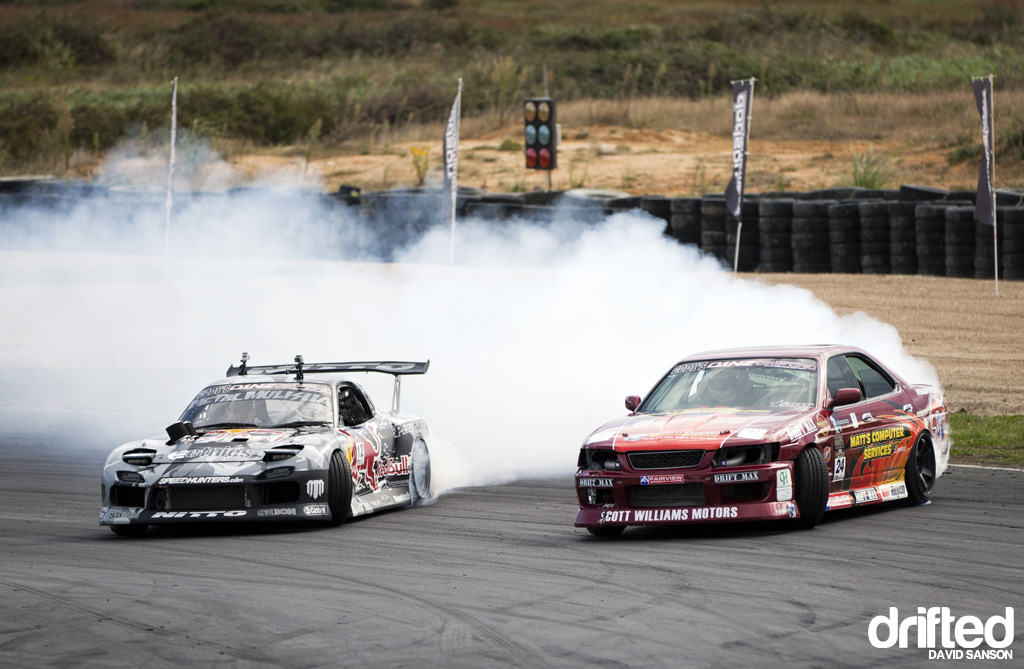 The first battle of the day for Red Bull driver Mad Mike was against skilled D1-Pro newcomer Darren Benjamin. Darren has proven himself in the other rounds and his performance here was no different.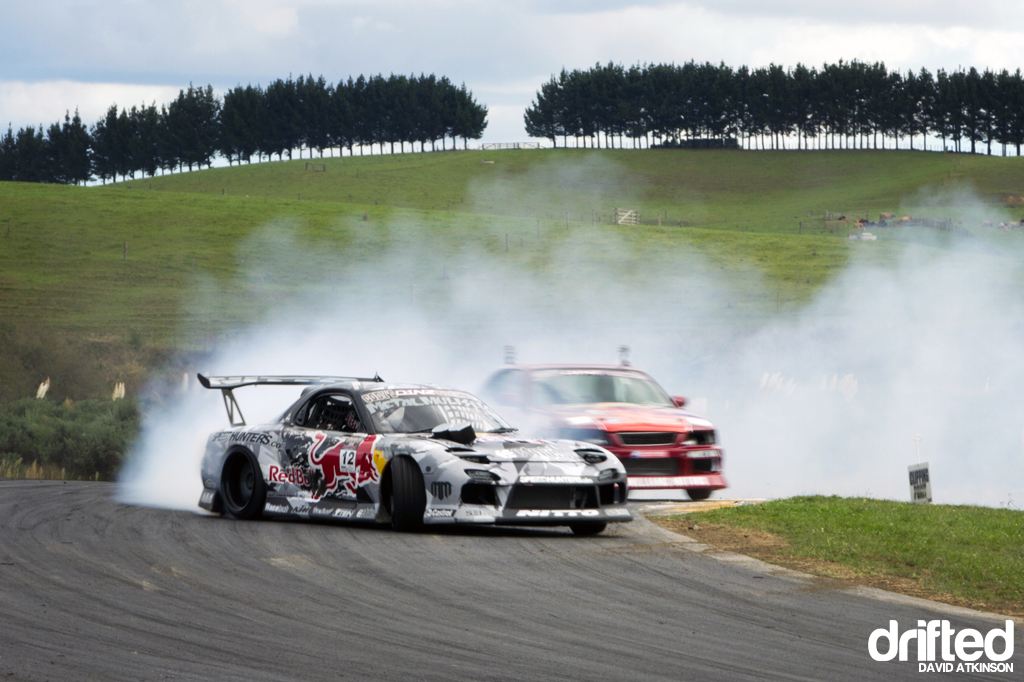 After going One More Time (OMT) Darren went slightly off track giving Mike the advantage.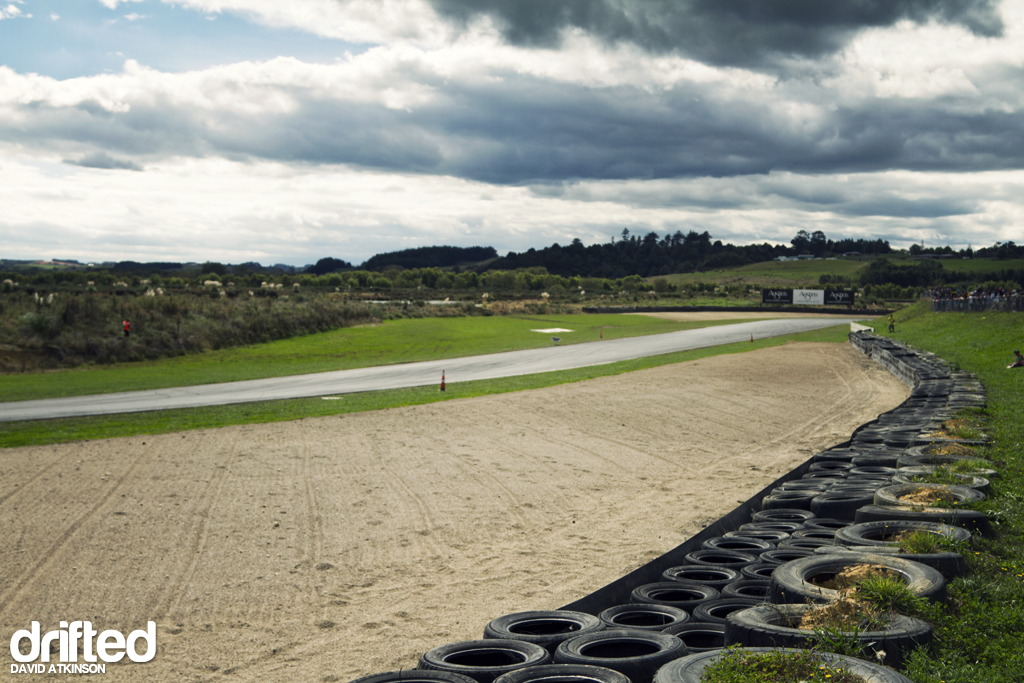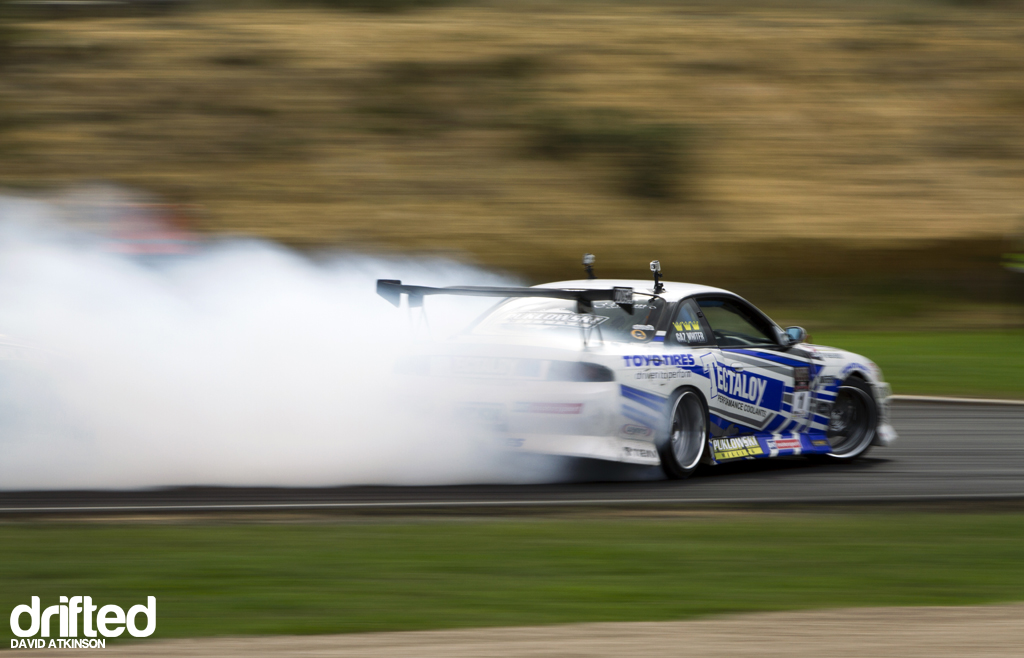 Another great battle of the day was Gaz Whiter vs Curt Whittaker. Curt proved to be just too good on the day however, placing Gaz in 6th for the round.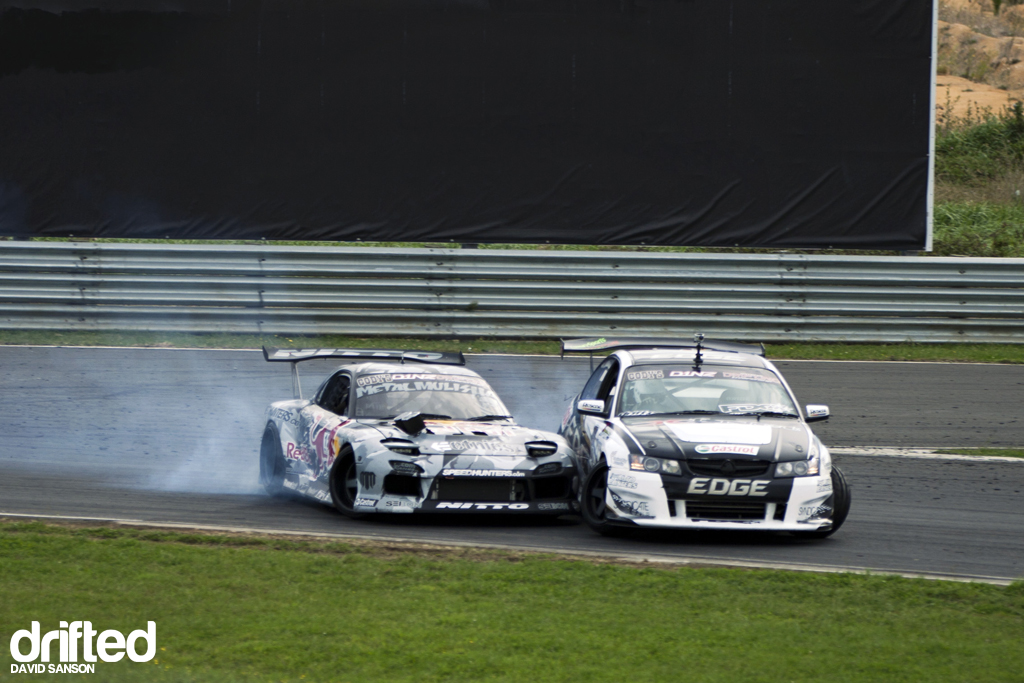 Mad Mike's second battle did not go his way, tapping the side of Fanga Dan's Commodore and spinning him around. This gave Fanga the advantage and placed Mike in 7th for the round. From here he could only wait patiently to find out whether he would have a place on the championship podium or not.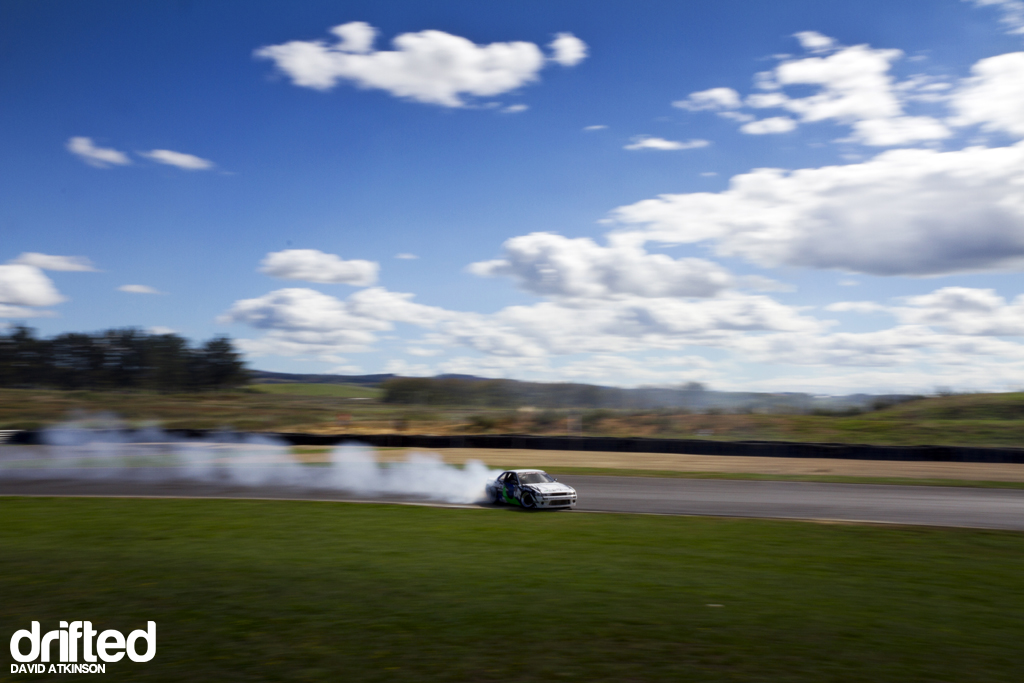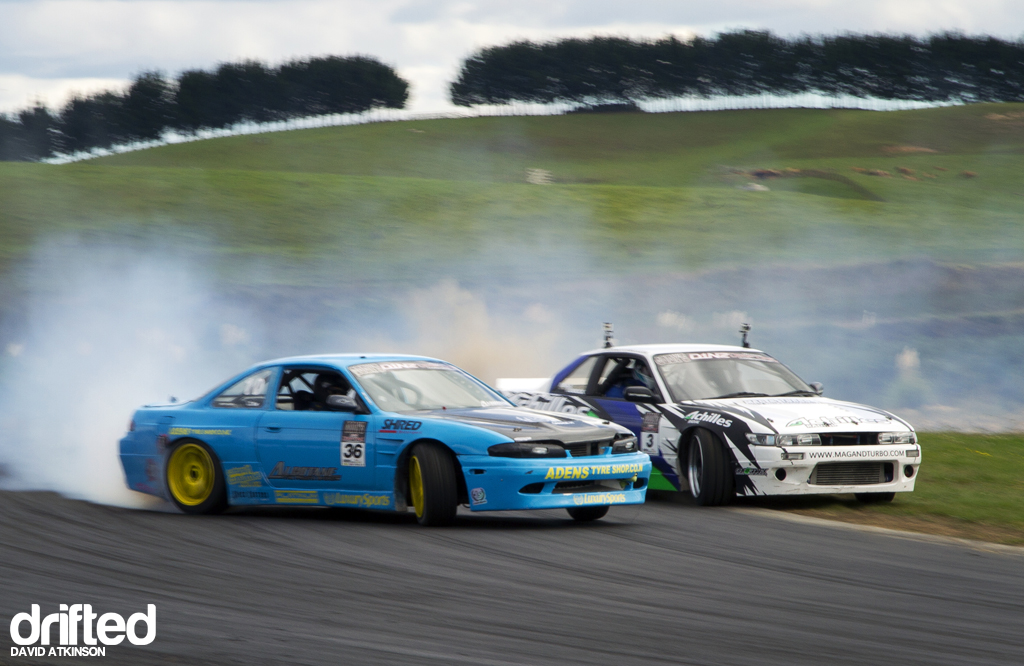 Brad Lauder's blue on yellow Alcotane S14 was looking unstoppable with clean and consistent runs throughout the day.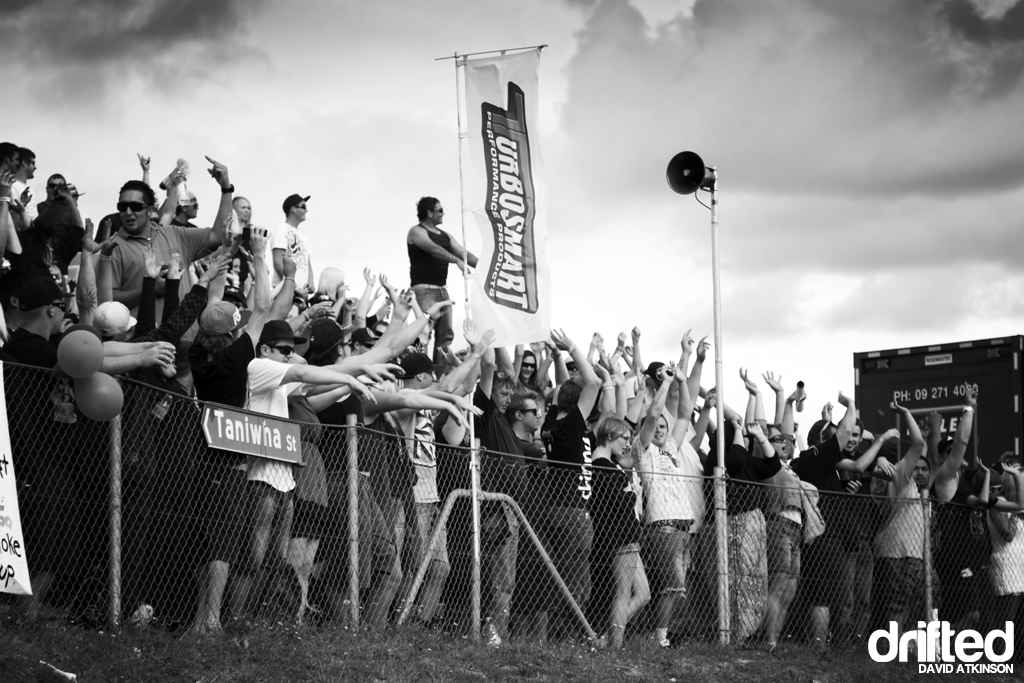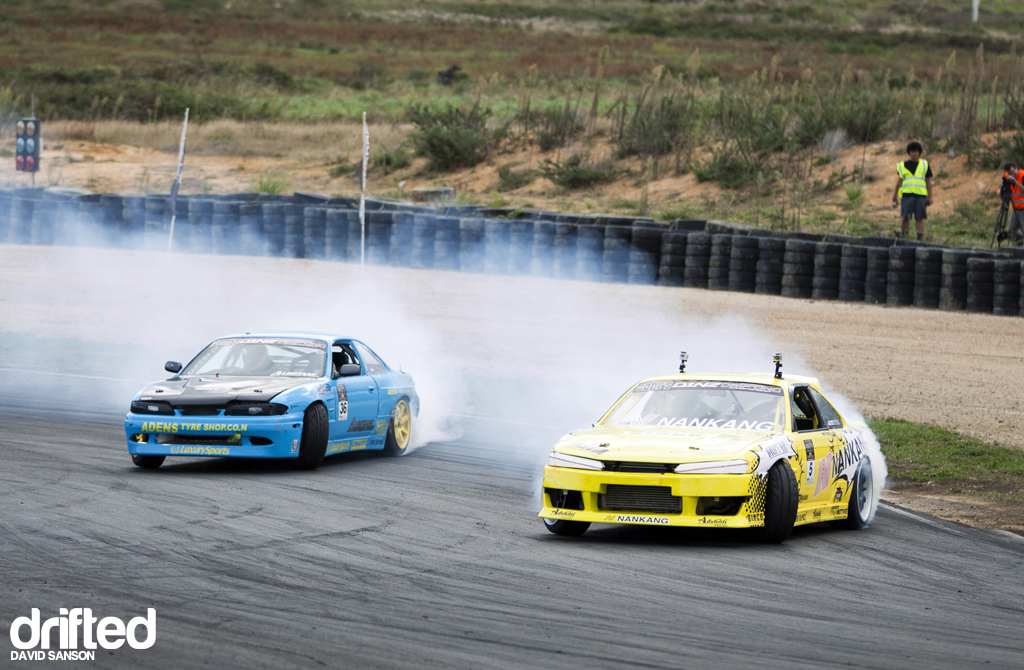 Jumping the inside corner on his chase run meant Andrew Redward in the Nankang S14 would finish the round in 5th place with Lauder moving through.
Jason Sellers met Brad Lauder in the battle for 3rd and 4th place in the round. The judges asked for one more time before deciding on Lauder for 3rd place.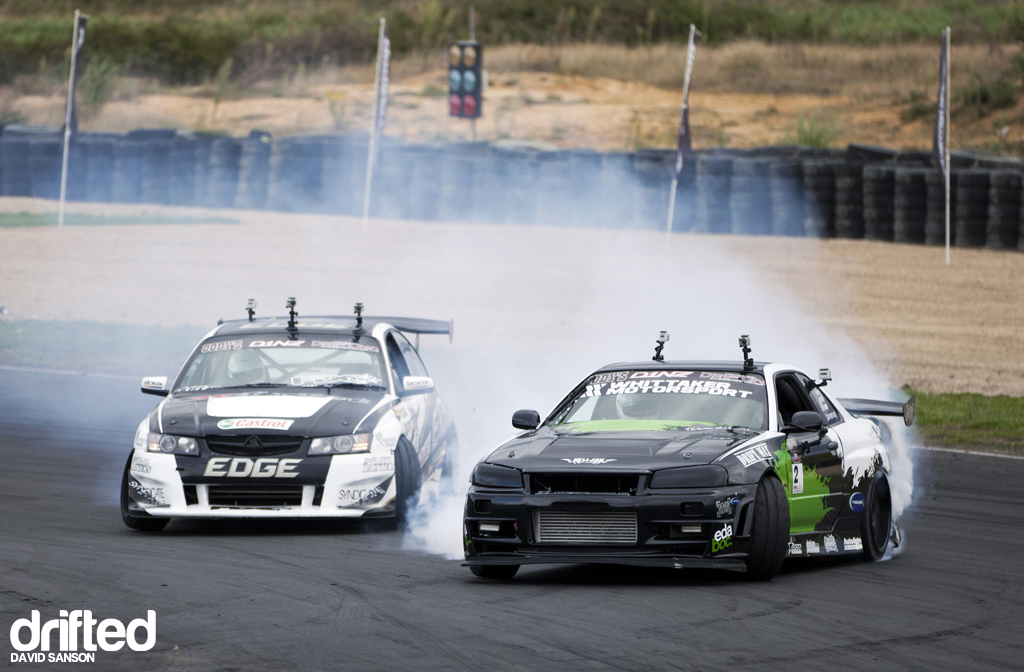 After beating Jason Sellers, Curt Whittaker moved on to battle Fanga Dan for the round win. Both drivers were also after the valuable points to jump up in the championship standings.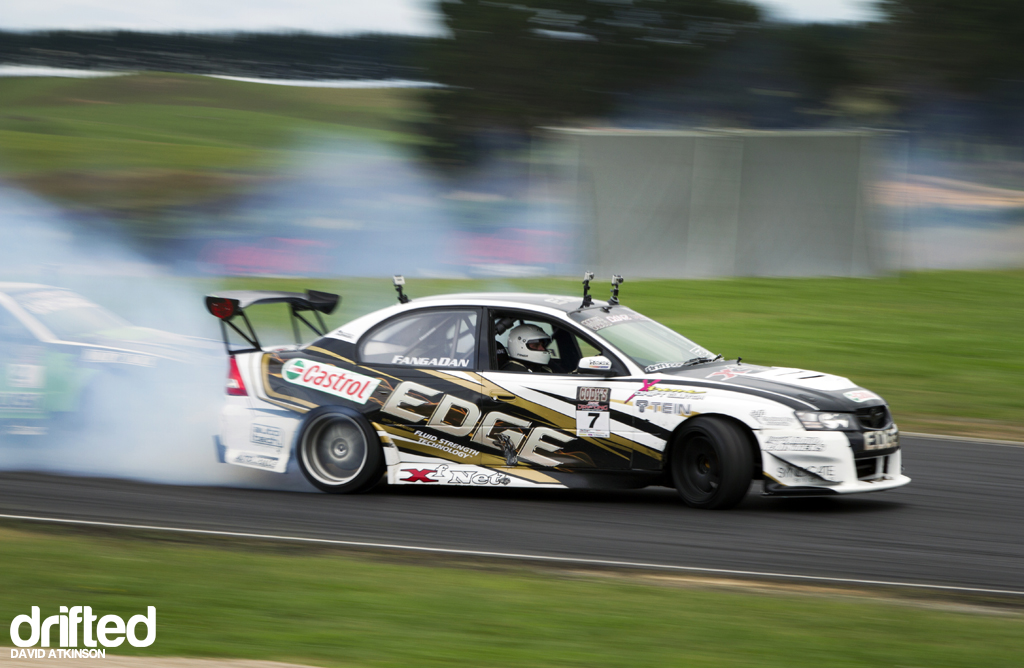 It was clear that both Curt and Fanga had mastered this track and they gave the crowd an epic battle to watch.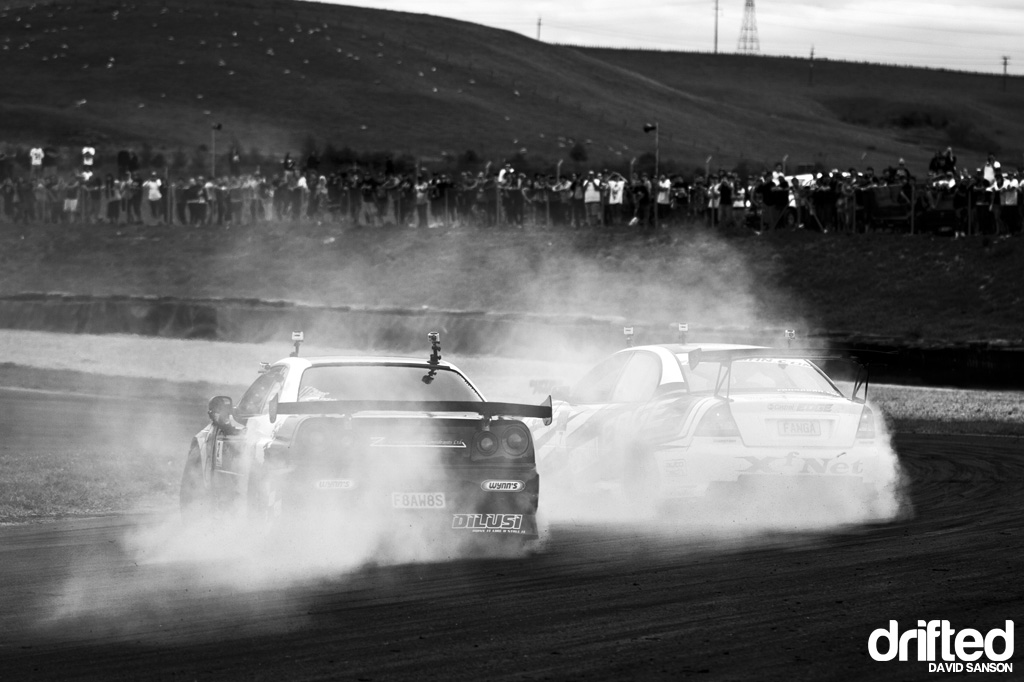 The judges announced that it was too close to decide and so they would go one more time. Both drivers had earned their place in the final and it could have gone either way, but eventually a decision was made.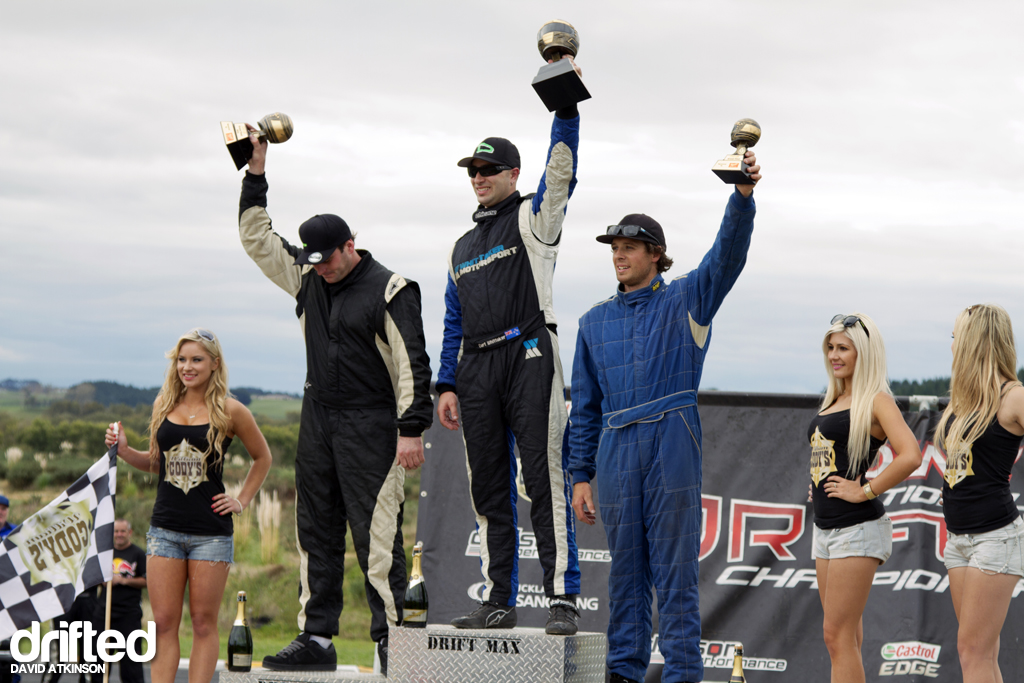 Curt Whittaker takes the round win, Fanga Dan close behind in 2nd place and Bradley Lauder earning 3rd place.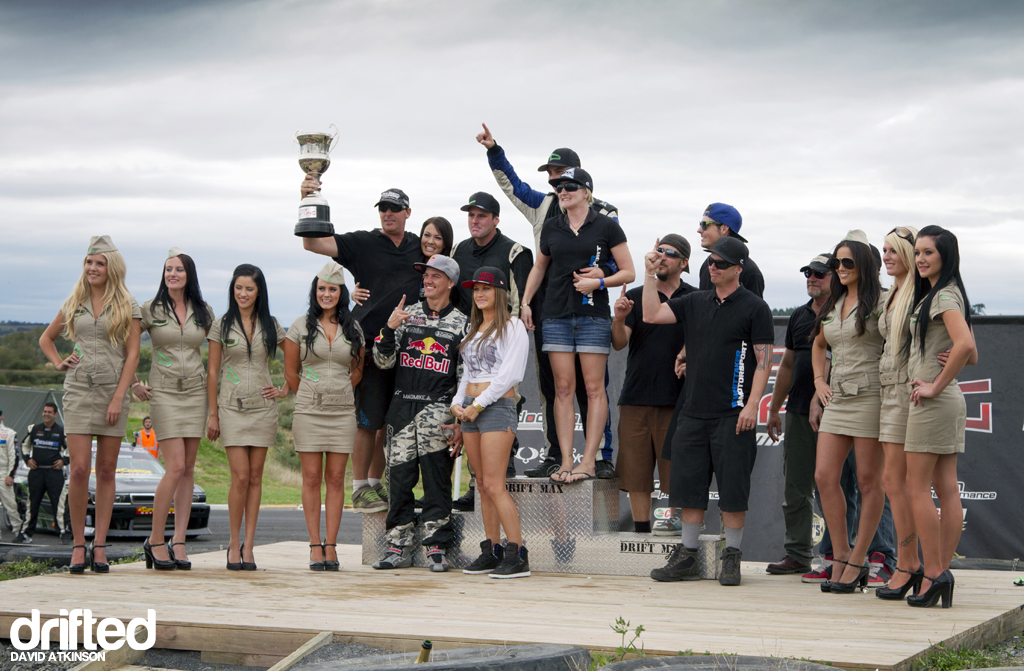 The round win also gave Curt enough points to win the championship title and take home the D1NZ 2011/2012 trophy! Mad Mike Whiddett placed closely behind in 2nd overall with Fanga Dan taking 3rd place overall.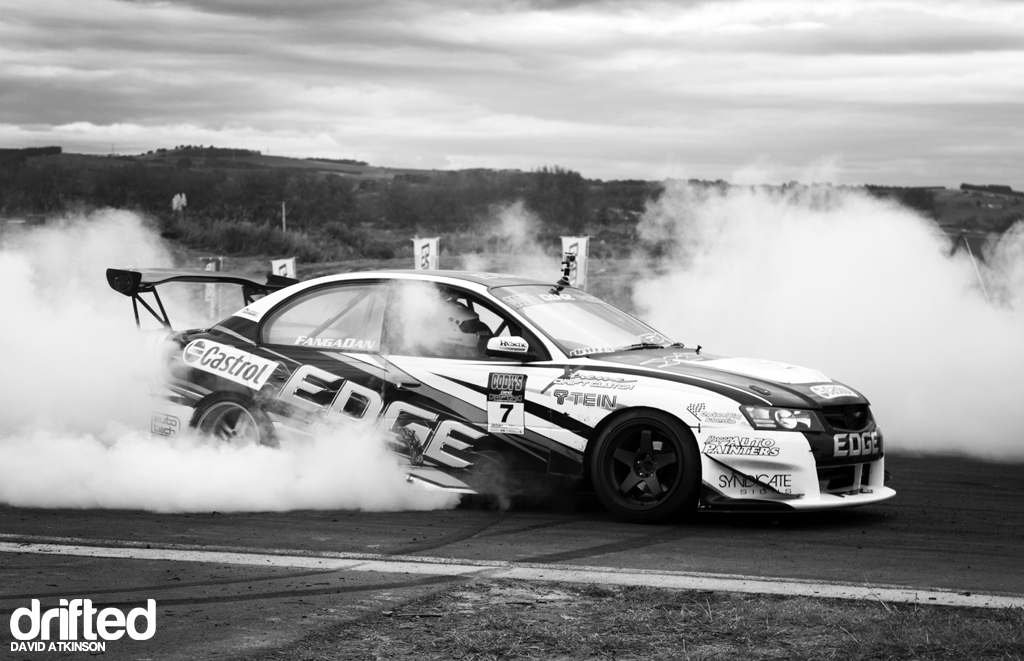 It's been an amazing season of drifting here in little old New Zealand. Each round of D1NZ has been unique and I've really enjoyed photographing the events. I'll leave you with the new champion for the year, Curt Whittaker!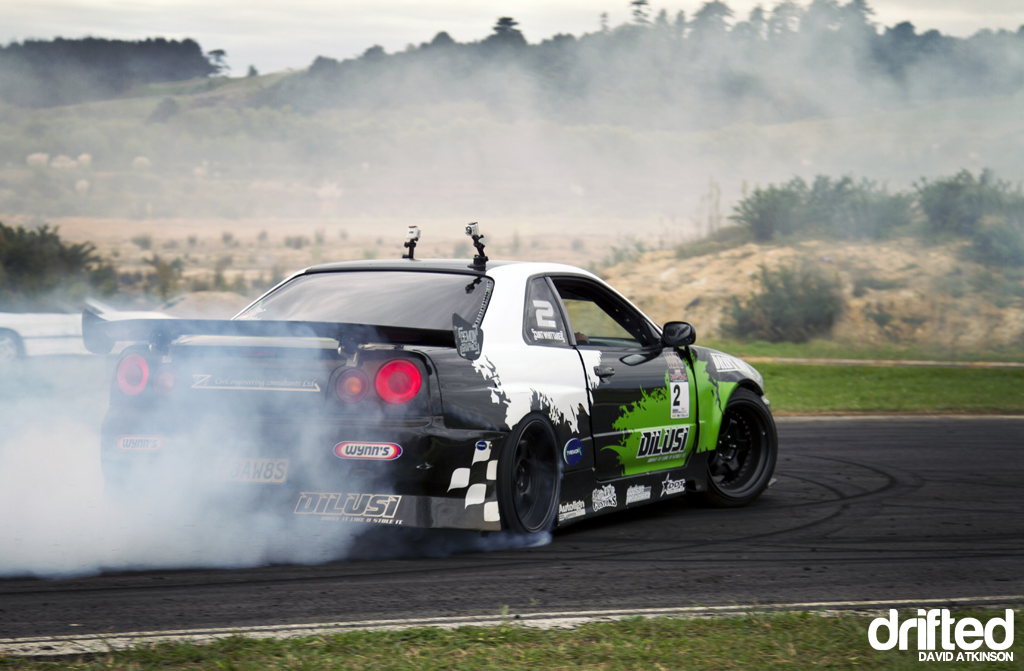 Words: David Atkinson
Photos: David Atkinson & David Sanson
Tags: 2012, Cole Armstrong, Curt Whittaker, D1NZ, Fanga Dan, Final, Hampton Downs, MadBull, MadMike, Mike Whiddett, rx7
Subscribe to Drifted
If you like this article why not subscribe to Drifted and we will email you our freshest content for free!