EVENT: D1NZ Round 5: Whangarei
Round 5 of the Cody's D1NZ National Drifting Championship was surrounded with hype and excitement as the series returned to Whangarei after a 2 year hiatus. Located in Northland, Whangarei is arguably the birthplace of drifting here in New Zealand and a place many of the drivers call home. This combined with an up close and personal street track meant it was no surprise that fans turned up in the thousands!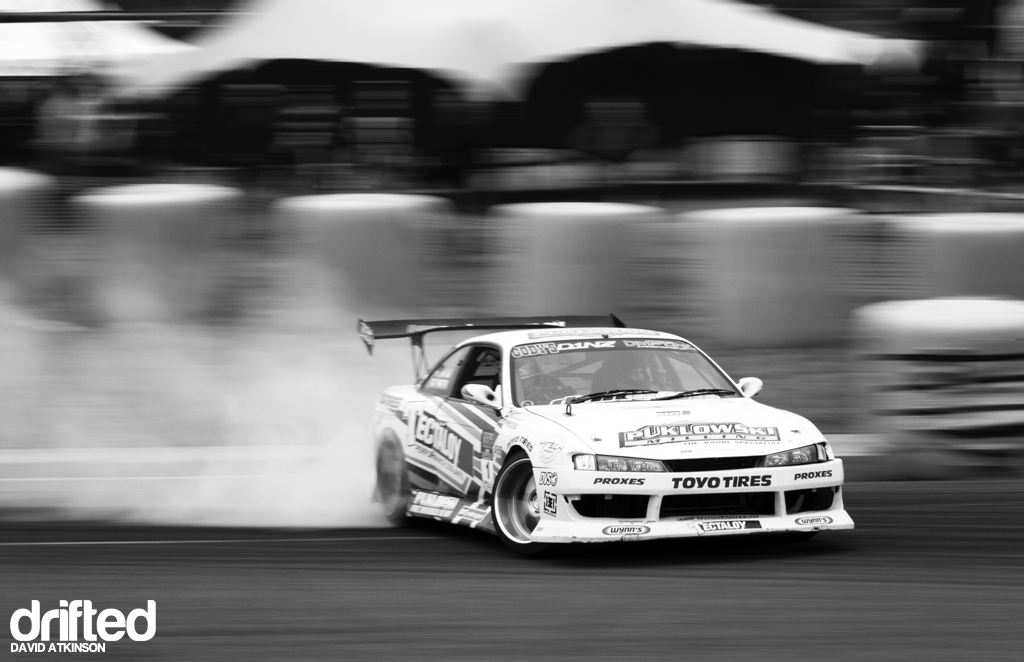 One of the local drivers is three time D1NZ champion Gaz Whiter, who has had his ups and downs this season in the Tectaloy S14 Silvia. This round however Gaz was looking right at home on the tight, confined section and there was no doubt he was aiming high.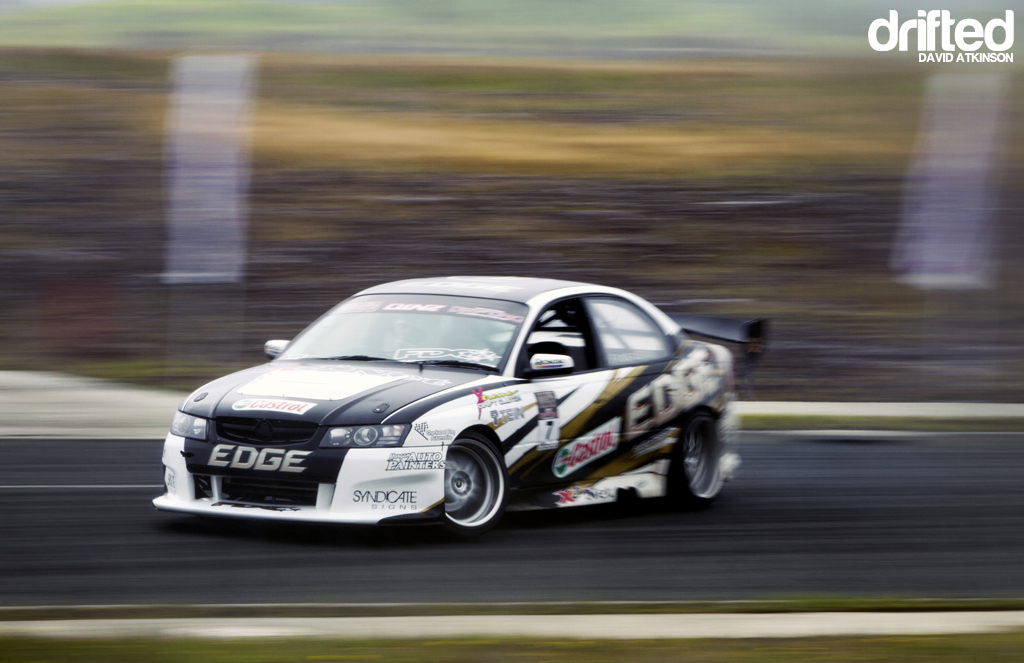 Another local drifter and key figure in locating the track was 'Fanga' Dan Woolhouse in his Castrol Edge Holden Commodore. Fanga and his crew found and organised the empty business park section which was later approved by the city council to be used by D1NZ!
Winner of last round and leader on the points table was Curt Whittaker who has now signed with sponsor Team Dilusi, adding some colour to his 2JZ R34 machine.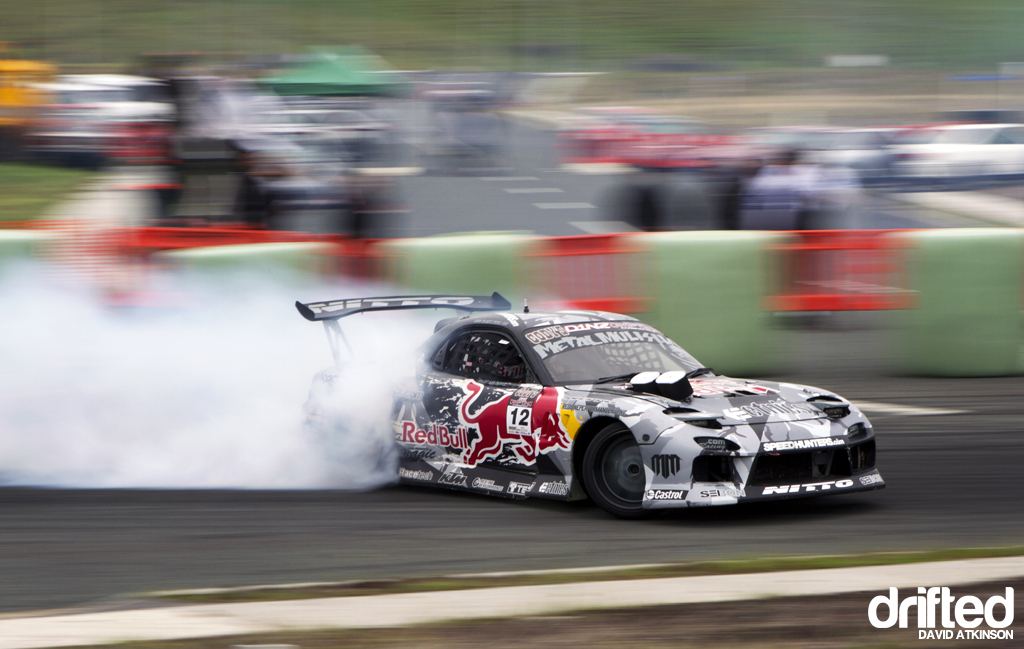 The flame spitting Red Bull RX7 driven by 'Mad' Mike Whiddett was to earn number one qualifier on the day. A smaller street track like this is no problem for Mike, achieving great angle and speed through the clips.
The drivers looked to be enjoying the scrubbing zone for the track – a small roundabout just before the section.
The loose stones on the street made for a rough surface and meant that tires were getting chewed up a lot quicker than usual.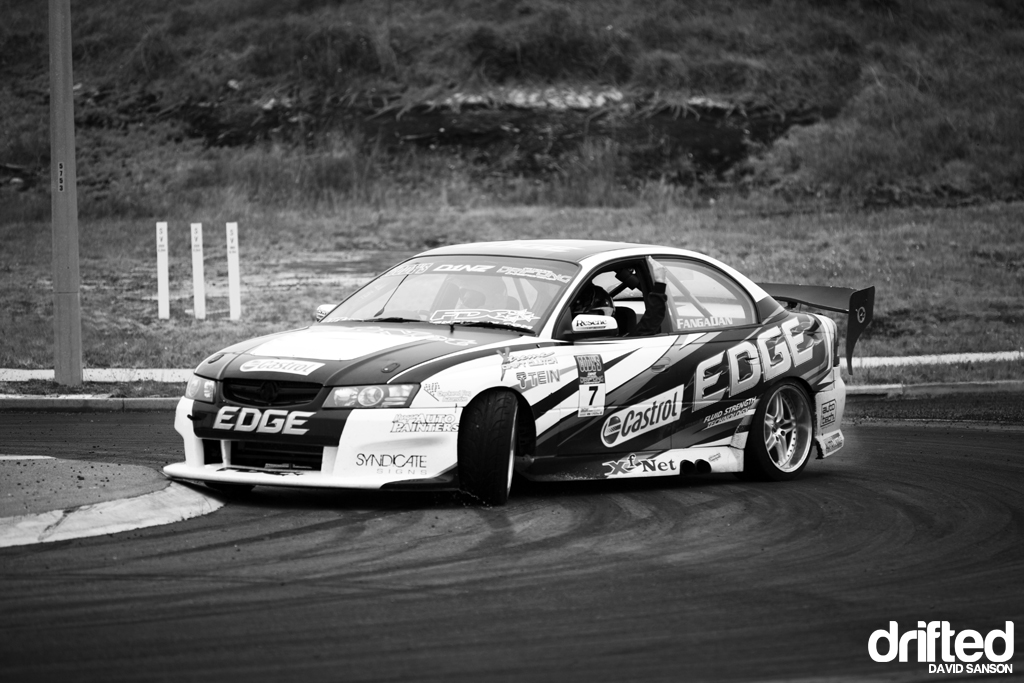 Ever since Mad Mike launched his 5th iteration of the Madbul RX7 he has been practicing the legendary reverse entry. In the shot above he shows just how its done by flicking the rear out early and recovering just in time with the corner.
One of the main talking points of the day was when Curt Whittaker's R34, above, unfortunately blew an engine in practice. Immediately afterwards he had four Pro-Am drivers offer their cars for him to use, which is allowed pre-qualifying. He took up Cam Vernon's E&H Motors R32 Skyline for the battles.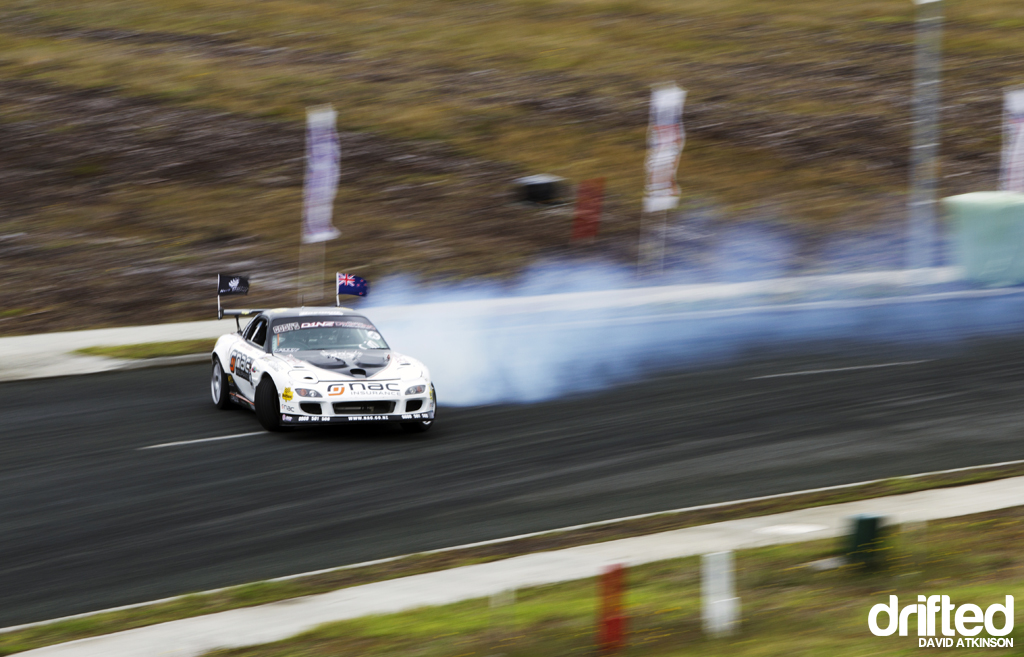 The judges tower was situated near the last few clipping points and was tall enough to see across the entire business park.
As the pit walk was announced, the spectators began walking over to meet their favourite drivers.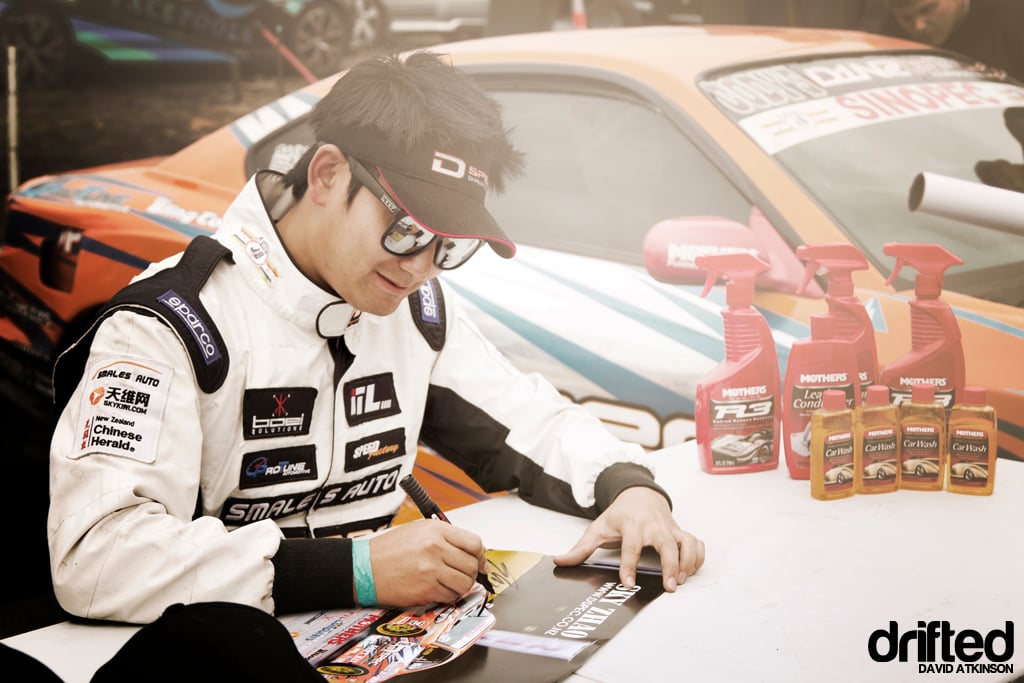 D-Spec driver Sky Zhao seemed happy to meet his fans as he autographed posters.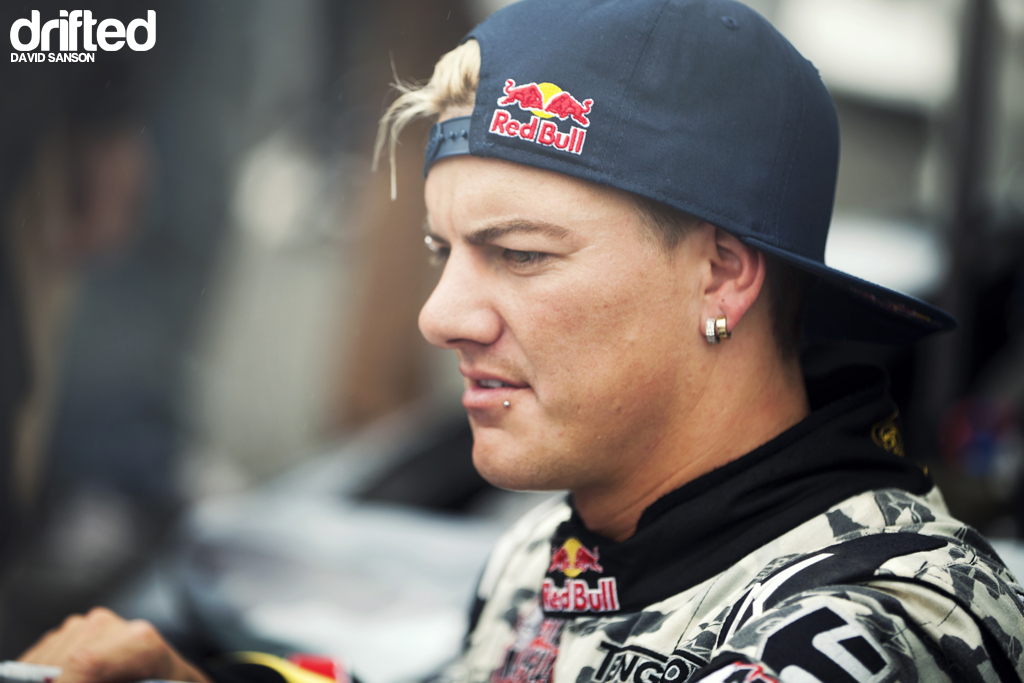 Red Bull driver Mad Mike Whiddett has a great attitude towards spectators and is always a crowd favourite.
The conspicuously clean looking interior of Bruce Tannock's Achilles S13.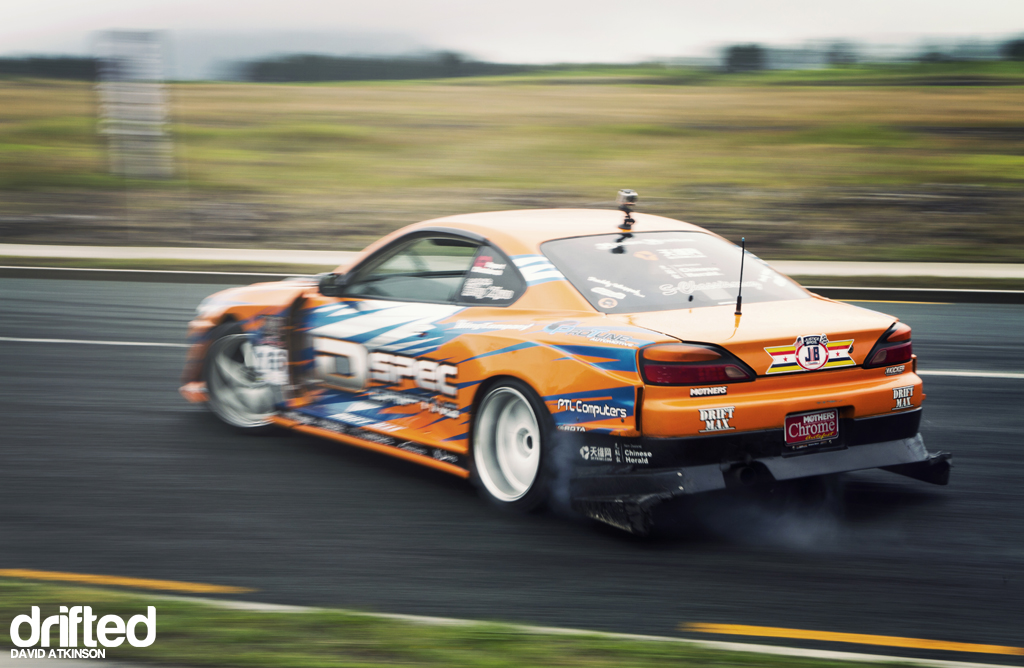 The overcast weather meant Sky Zhao's bright orange D-Spec S15  really popped out. Sky placed 15th after being eliminated by Fanga Dan.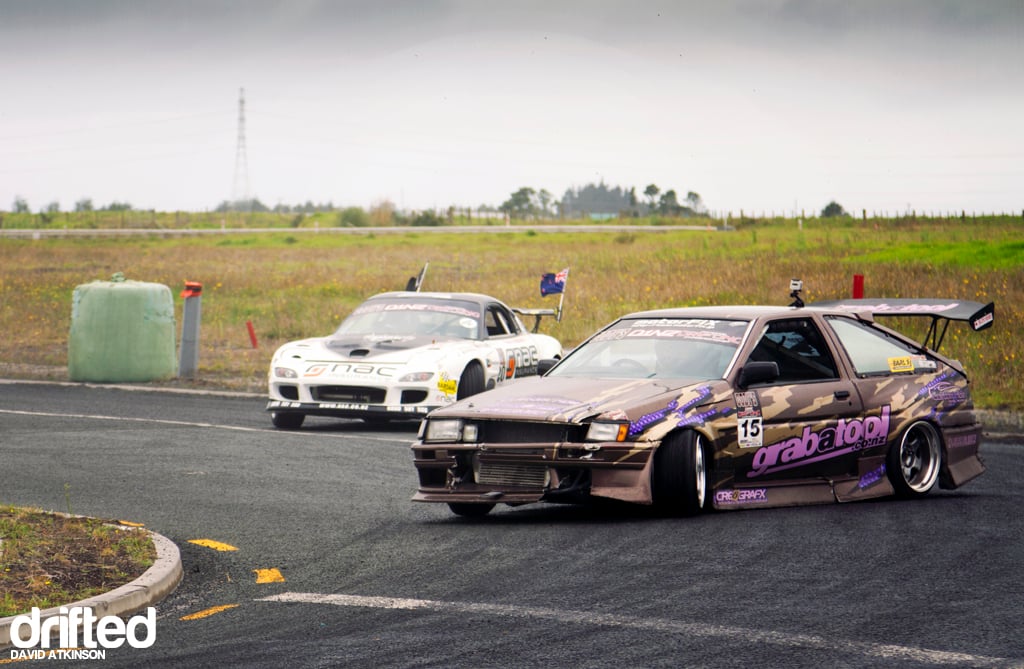 Hugo Maclean in his Grabatool AE86 came up against fellow rotary driver Daynom Templeman in the NAC RX7. Hugo seemed to be losing more of his car with each run, but really was driving well and went through to the top 8.
Curt Whittaker in the borrowed R32 put on an amazing battle with Nico Reid's Luxury Sports S15. With only a few practice laps in the car, Curt showed real skill in keeping up with the more powerful S15.
The judges said it was too close to call so they went OMT (one more time) not once but twice, in a highly tense series of battles until the judges named Nico Reid as going through.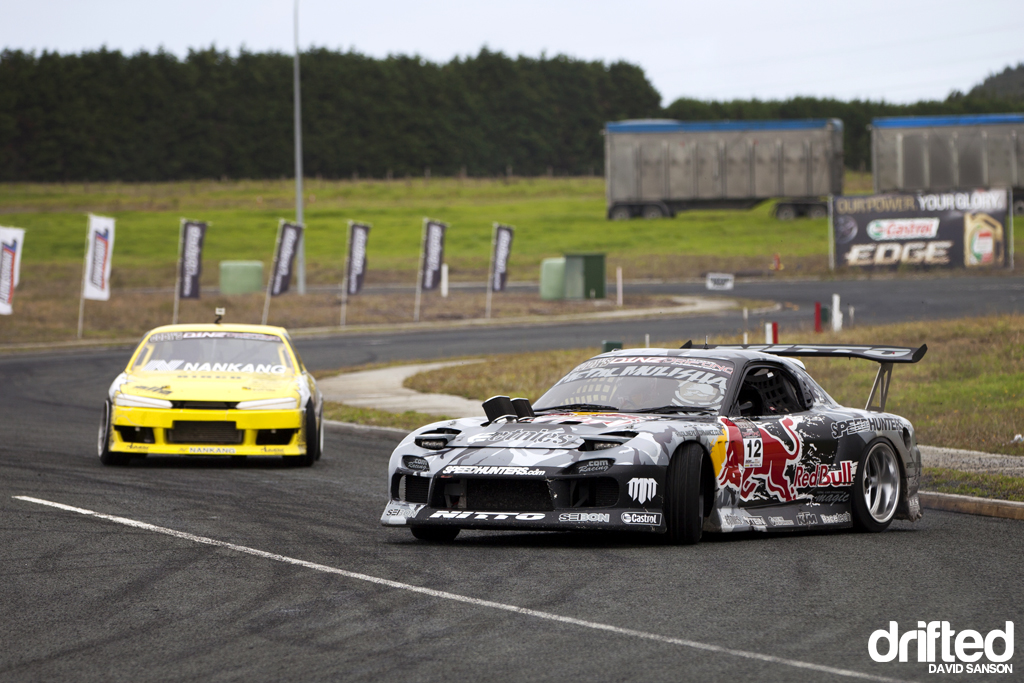 A few mechanical issues meant Andrew Redward's Nankang S14 just wasn't able to keep up with top qualifying Mad Mike.
A shattered windscreen on Hugo Maclean's chase run vs Fanga Dan left the car looking a lot worse for wear, although he was still able to complete the section. Hugo was ultimately outmatched by Fanga.
Nico Reid went on to battle Darren Benjamin in the Matts Computer Services Laurel. A close battle saw Reid judged as going through once again.
Another close battle was between Gaz Whiter and Mike Whiddett who made contact at one point but carried on without fault. Mike went on to take the advantage due to a small correction from Whiter.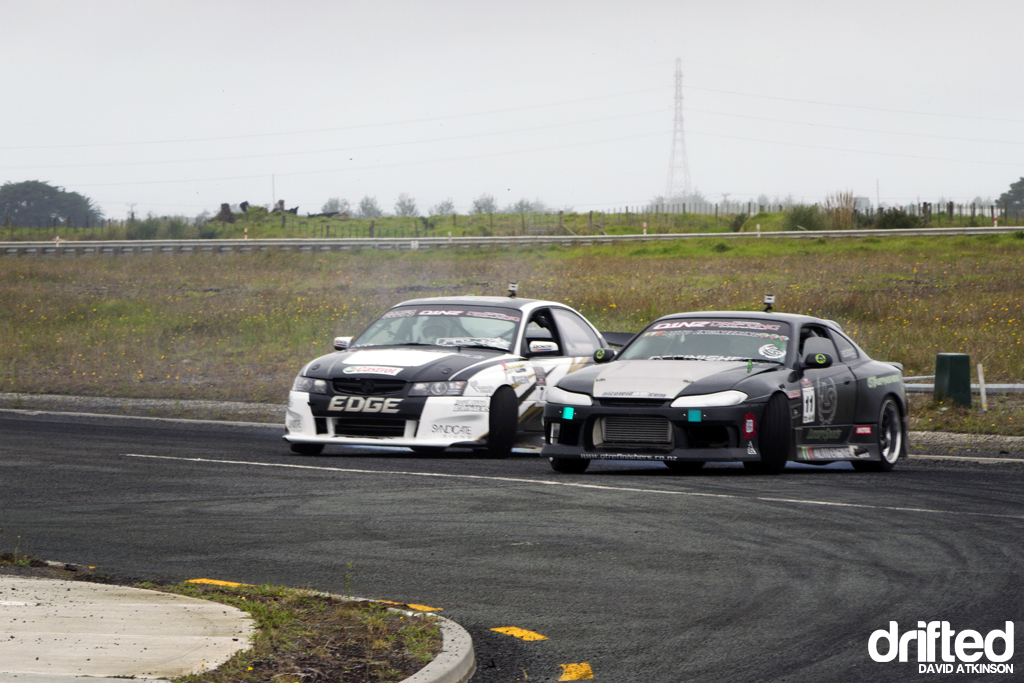 Fanga Dan's big V8 Commodore proved too much for the Silvia though, sending Nico Reid into the battle for 3rd place while Fanga earned a spot in the final.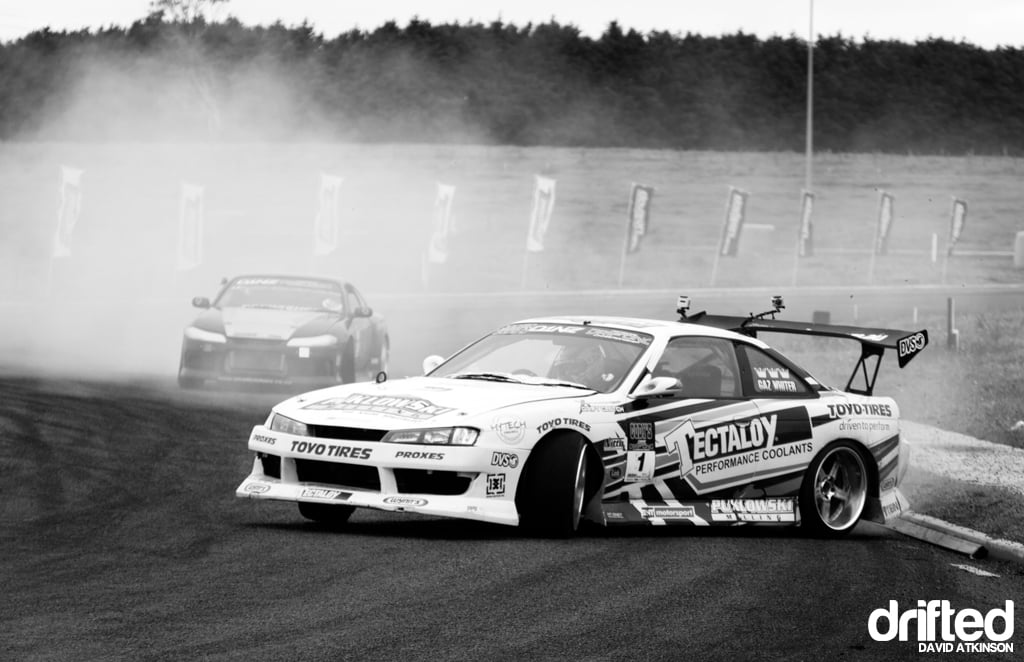 Hitting the first corner hard is definitely Gaz Whiters style and he carried on this aggressive driving throughout the section, winning 3rd place.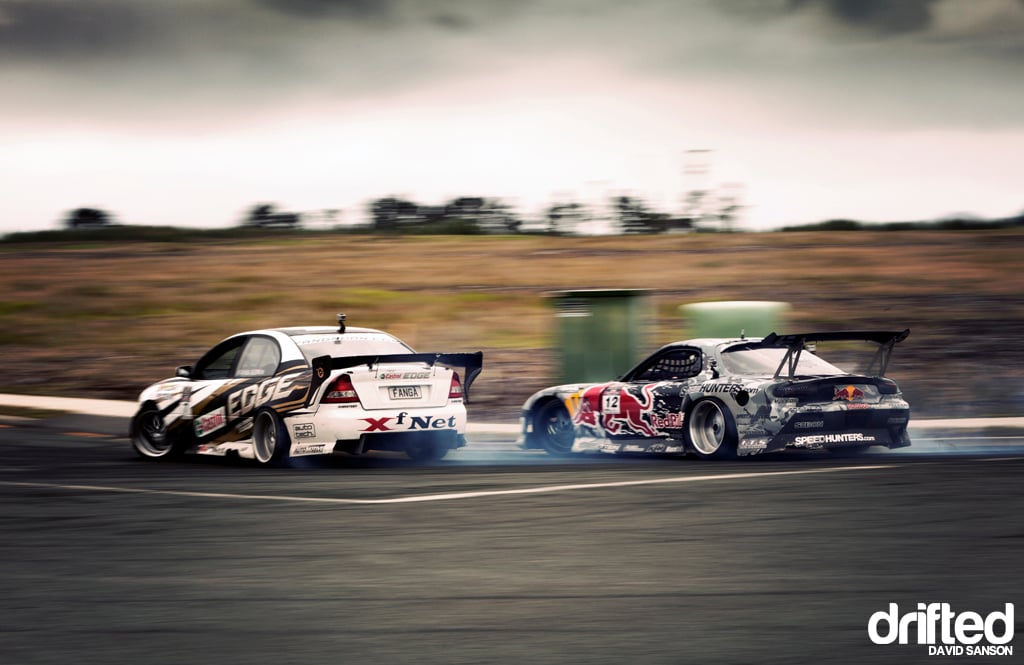 Local hero Fanga Dan versus another crowd favourite and number one qualifier Mad Mike was a stunning final battle. Long time mates and rivals, they both put on a great show for the crowd, rubbing along the curbs and getting maximum angle.
The combination of Fanga's big V8 and Mike's quad rotor engine produced a truly epic soundtrack to complement the superb driving. With the judges calling one more time, Mike put on an impressive chase run followed by only a minor mistake from Fanga Dan.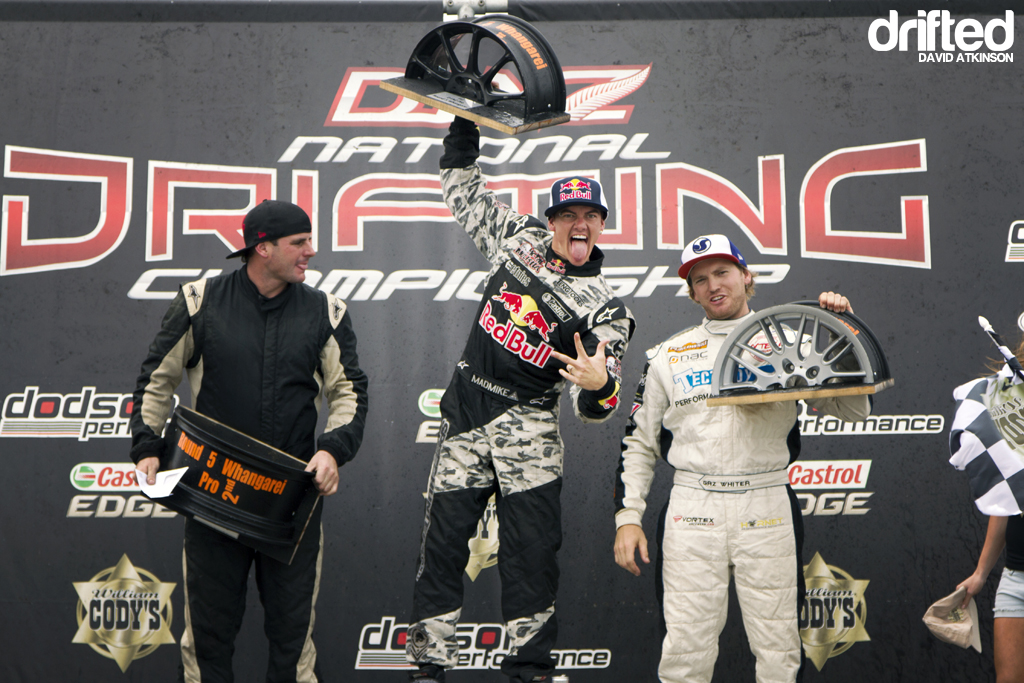 Another top spot on the podium for Mike Whiddett, alongside Fanga Dan scoring 2nd place and Gaz Whiter in 3rd. Mike jumps to 1st spot on the points table, with Curt Whittaker still in the running just behind. Whiter, Woolhouse and Armstrong follow and will be looking for points this round at the Grand Final of D1NZ .
It has been a really refreshing round of drifting here at Whangarei and a very successful event. I'm looking forward to next round which is the championship series grand final, hosted at Hampton Downs Motorsport Park. I'll leave you with the top 10 leaders going into next round:
Mike Whiddett – 419
Curt Whittaker – 392
Gaz Whiter – 380
Daniel Woolhouse – 374
Cole Armstrong – 367
Darren Benjamin – 360
Daynom Templeman – 311.5
Andrew Redward – 311
Bradley Lauder – 297.5
Sky Zhao – 275.5
Words: David Atkinson
Photos: David Atkinson & David Sanson