EVENT: Drift Allstars Europe Round Three 2013 – Drift GP of Latvia
Drift Allstars would make its third stop of the European series at the Bickernieki circuit in the city of Riga Latvia in the Baltics. Before every event starts, there comes the major logistics of getting cars to each country circuit. For this event there would be 50 drivers converging from 12 different countries from all over europe to the Riga circuit.
Above we can see John Shanahan, father of the teenage sensation Jack Shanahan unloading his 500hp Nissan 180sx.
Quick clutch change for the car. No problem for Team Shanahan and on its side its goes. While some of the race cars go back to their respective bases after each event, some cars from western Europe don't return for 4-5 months so constant maintenance is needed while on the tour, and many drivers fly in a few days earlier to prep their cars for race weekends.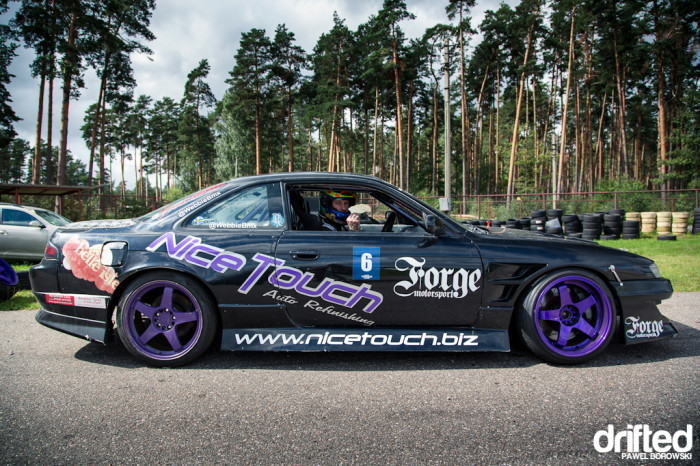 Mark Webb also known as "Webbie" is one of the new rookie drivers.Having gained his pro license earlier in the year is on a massive learning curve. After small mechanical issues in Poland and Sweden could Latvia be his weekend. For people that do not know Mark is a BMX sensation and has many viral videos titled the Webbieshow; well worth the watch and will be a name to watch in the future as this action sports athlete transfers to drifting!
First drivers briefing and drivers are eager to hit the track you just cant hold them back ready to attack this circuit in anger.
The full Wisefab team where onsite all weekend helping dial the setup on their sponsored cars and customers.Here we can Juha Rintanen making clearance to his Nissan S14 after it was lowered more from a personal setup at the Wisefab HQ.
Juha Rintanen and Dmitriy Illyuk cars are the wisefab drivers and R&D team for new parts. All drivers are looking to gain that very important "GRIP" mechanical traction which is so important in professional drifting now. Drifting is evolving quite fast with many teams now bringing engine mappers, suspension engineers and many of the top tire teams now flying in tire technicians to improve their compounds!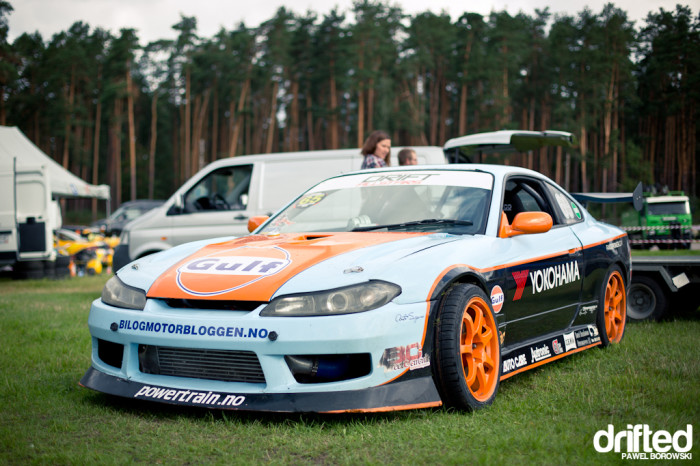 Christer Halverson's Gulf Oil /Yokohama S15 has to be seen to be believed. M3 Turbo powered putting out over 800WHP. For this weekend Christer also changed to the Wisefab setup and raved at the new setup from the Wisefab guys.
Alex Goloyna made a big impact in Hungary last year in  his Zeetex Tires Nissan S13 RB25 WITH 600HP. Alex is ranked 2nd in the Ukrainian series and one of the top EEDC drivers. He has a great aggressive style of go hard or go home!
Tyres would be a big factor on this circuit with it being high speed and quite long.Most drivers could only get 2 laps to a set of tires so tire conservation for practice/qualifying and battles was a big deal.
Dawid Karkosik again would have some problems with his S15, sitting second in the championship he needs to take as many points as possible and limit the damage.He would use his team mates Piotr Wieceks Nissan S14 2JZ.

There was no shortage of smoke in Riga, actually it was a problem seeing the track at times!

The Riga Circuit has to be one of our favourites. It is also a national park to the city and when not being used for racing people are walking in the parks surrounding the circuit or cycling on the circuit.Its a one of a kind venue and is very special circuit in this region.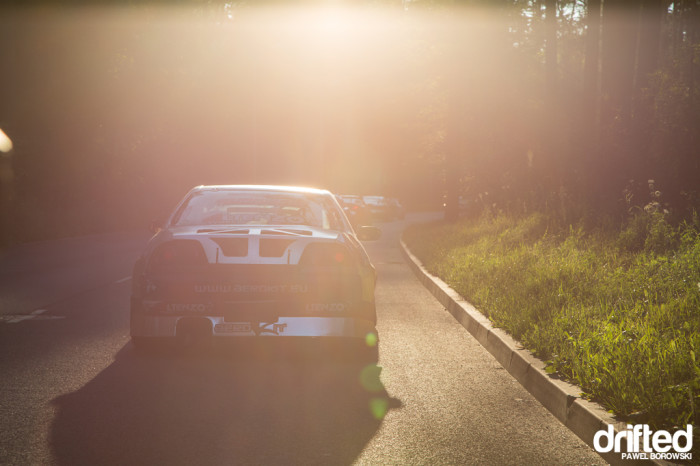 Friday evening would come and so would the city parade.40 drift cars going through the streets under police escort has to be seen.The city just stopped as some of the best drifters in Europe get to bring there competition cars on public roads.

Joachim Waagaard would make the trip over from Norway and his car looked great on the streets of Riga. This 500HP LS3 V8 RX7 rumbling through the streets of the city sounded awesome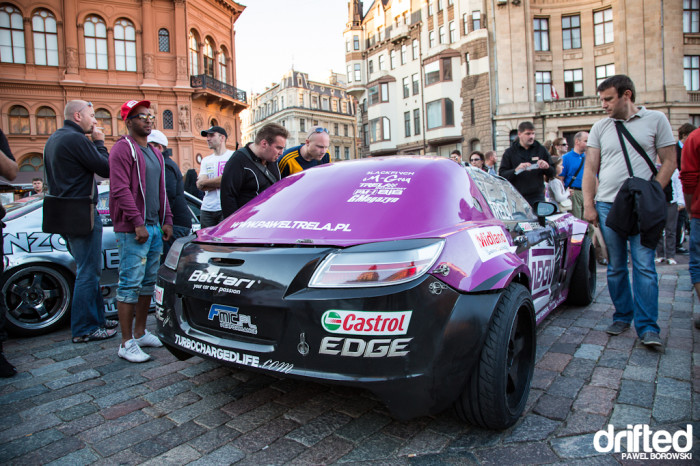 Pawel Trela has to have one of the nicest and bespoke cars in europe at the moment. Trela has been quietly testing and developing a setup up this Opel GT 2JZ and will be one to watch as he improves the setup of this car.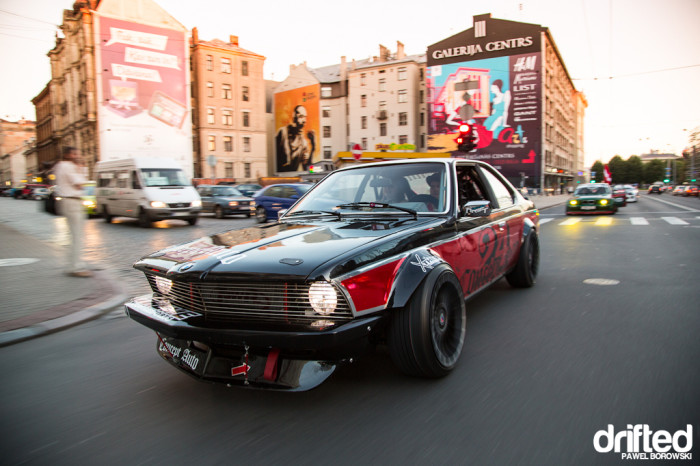 Ingemars Jekabsons E34 is a one of a kind build nearly too clean to be drifting.Its powered by a 500hp LS3 engine and goes pretty well also!
Team Rintanen having a pre-event team talk. Even the big teams have time to laugh.
Nigel Colfer was pushing hard in practice.Here you can see him 3 wheeling as he hits the infamous riga bump as he transitions from the outside track to the inner track.This was probably the most difficult section of the track as there was only one line to take over it.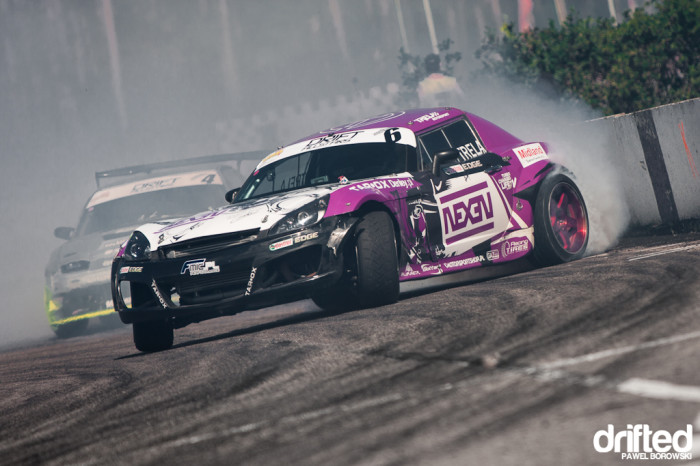 Pawel Trela was looking great and really getting to grips with this car.He was at this circuit earlier in the year so knows it a bit better then other drivers. Note Colfer chasing hard!
And this is what happens when you push too hard, this was the aftermath of the above picture. The final two turns led onto a wall and while chasing Trela, Colfer just could not see with the smoke and collected the wall quite hard.Luckily to come away un injured the shunt was enough to end his weekend as the damage was quite bad and beyond repair of the team
Vents Pecaks was smoking the whole venue out at times. His twin turbo LS3 V8 BMW E46 rumoured to be over a 1000hp was just destroying tires on this circuit.
Piotr Wiecek would have a bad cash in practice in his Budmat Auto Nissan R34, with quite big damage.His team would rush to repair and get it back just intime for qualifying
The local drivers where on it from the word go. Janis Eglite is making a name for him all over europe now nicknamed the "Tandem Assassin" and probably the best chase driver in europe at the moment. The two time Latvian driver was on it from the word go, could he take the win on home turf? He has the best record at this venue!
The Drift Allstars judges set a track that had never been used before in Riga to mix things up.The final section would extend this track a further 300metres and include a wall rub to end the course.Here you can see Arkadiusz Dudko "Jordy" explaining what he wants to see!
Local drivers Gvido Elksnis on the left current EEDC championship leader and Kristaps Bluss on the right also Latvian and EEDC front runner would also be big pre-race favourites. Both using 600hp+ BMW chassis's!
Slava Kalashnikov "El Kaka" from Russia would also make the trek in his now world famous Fail Crew PS13 LS3 V8 powered Rocket Bunny car. The very car Mad Mike Whiddet drove at Gatebil last month. This is very much a familiar track to the Russian drivers so a lot of experience was on hand here and El kaka showed that.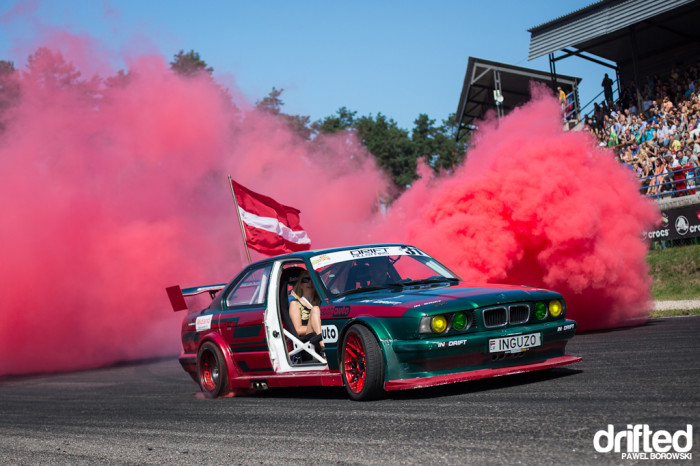 Kumho Red tires smoke the arena out for the intro ceremony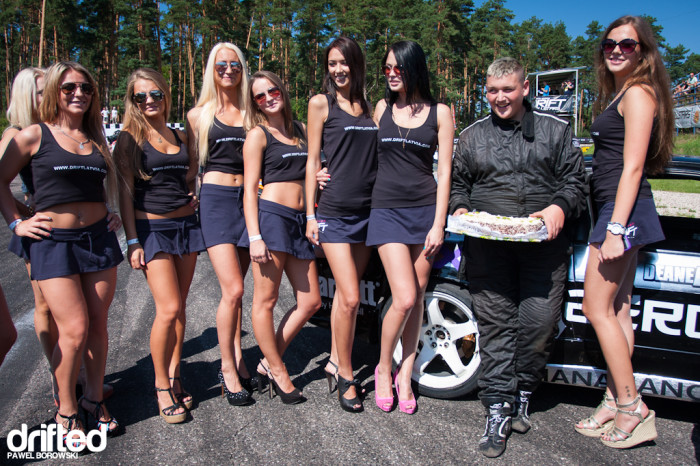 A surprise birthday party also for Jack Shanahan on the day where he became 14 years old. I cannot imagine many 14 years olds having a birthday party in front of a few thousand spectators live at an event!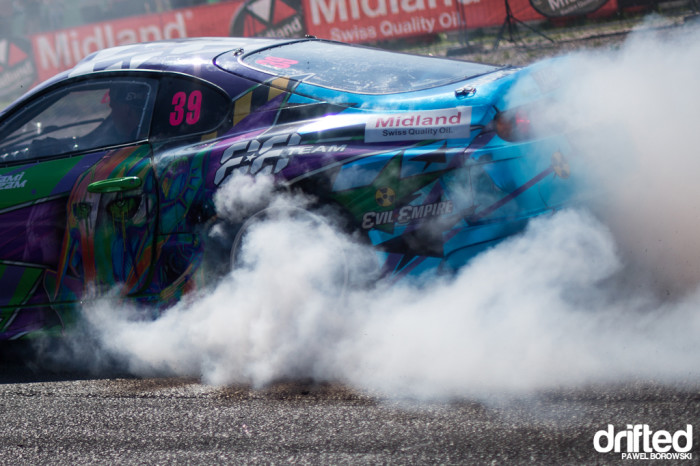 Another Russian driver Sergey Kabargin smoking out the tires on his Evil Empire Supra.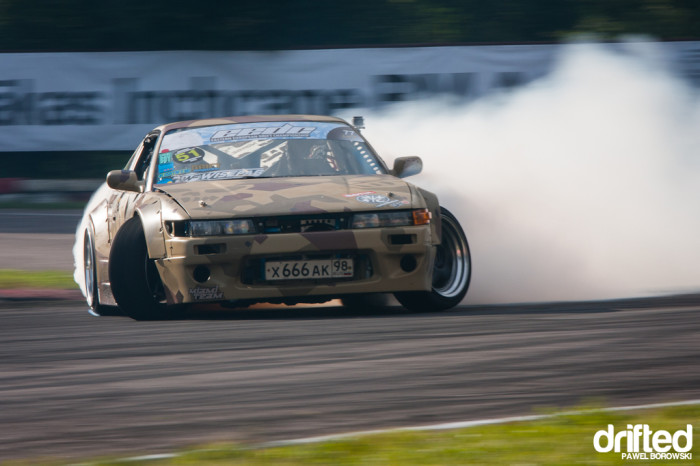 El Kaka was smoking out Riga in his Rocket Bunny PS13 - this car sounds and looks amazing and drifts very well also!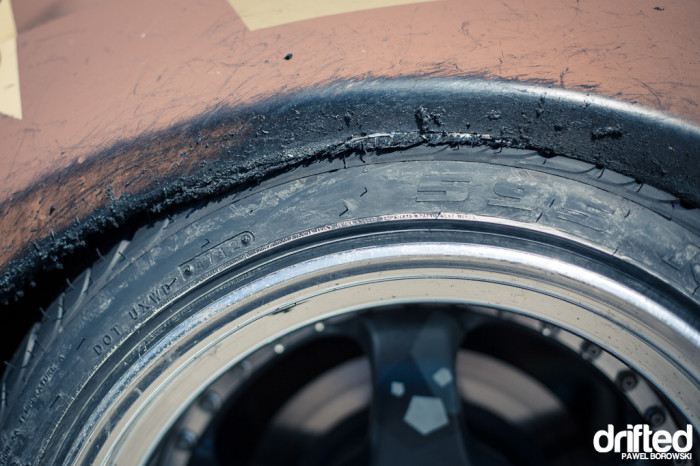 Got wheel fitment? El kakas car slammed and on the fenders the way a drift car should be! I got to say the majority of the Russians and eastern Europeans carry over the Japanese fitment and looks of the cars very well.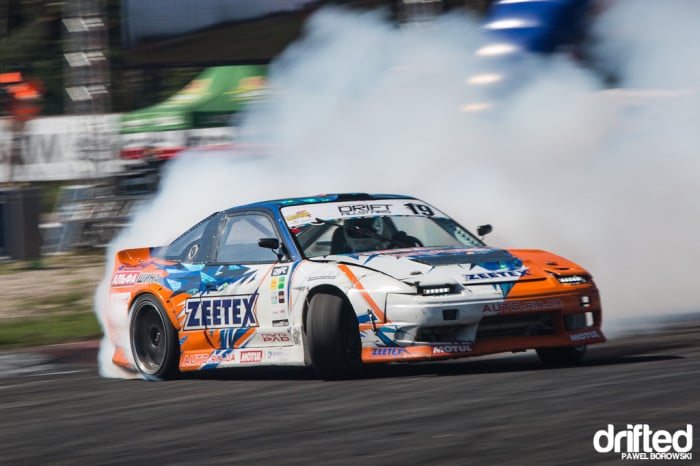 Alex Golovyna smoking out Riga all weekend.This car screamed from the point of entry on full throttle with maximum smoke and angle a great driver to watch all the time.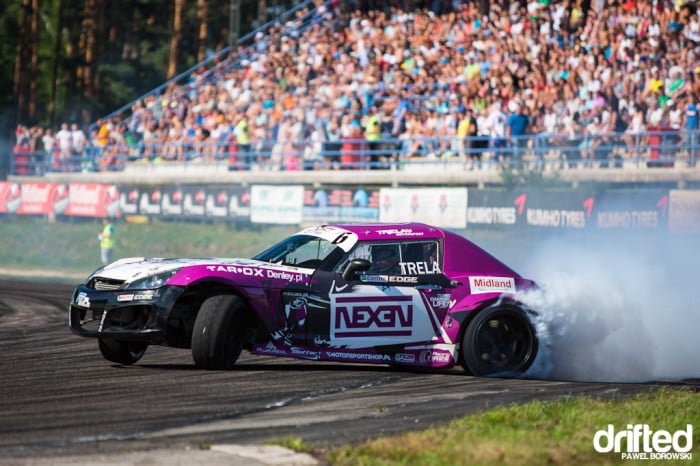 Pawel Trela would show signs of his old self and style and lock out P1 in qualifying with an amazing run.
Sergey Kabargin had a mixed fortune over the weekend he had some great runs but failed to make the top 32 in qualifying.
Another sell out show in Latvia, and what a time to run Latvia's biggest ever professional drift event! Felix entering the main arena with the big screen in the background so you can see his entry.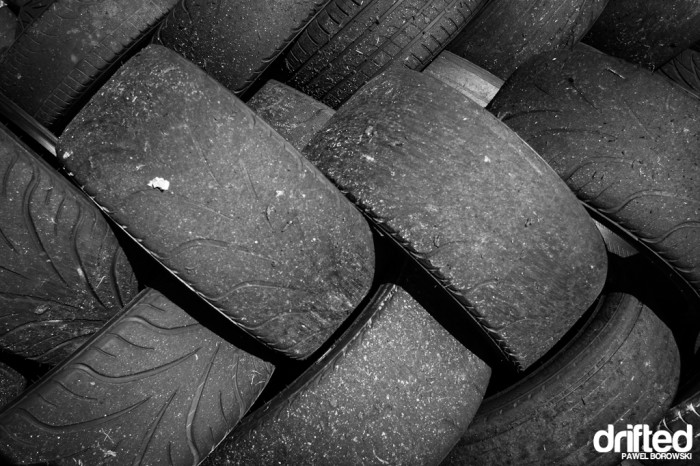 Many many tyres where slayed all weekend.With most drivers getting 2-3 laps per set and using 24-30 over the weekend the tyre changing guys where very busy all weekend! Federal RSR being the tyre of choice for most drivers!

Another tyre killed awaiting fresh rubber to be applied!


The final 2 corners were great for tandems and chases as people closed in. Here you can see Pawel Trela chasing another local driver - powered by an LS1 V8 twin turbo!
Here we can see Martin Richards pushing hard - he qualified in the top 10 but would go out in the top 32. The Riga circuit offered perfect viewing for spectators and with a big screen opposite the main grandstand viewers could watch the livestream also of the first and last corners!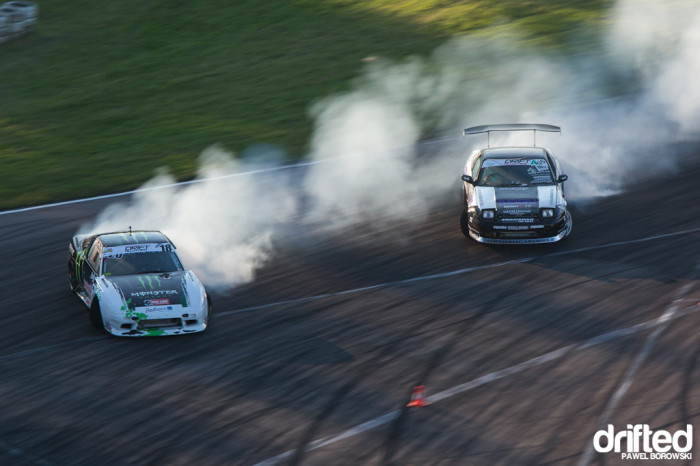 Ukrainian and EEDC champion Dmitriy Illyuk would have a mixed weekend. Having a small engine running issue he would qualify quite low but meet Jack Shanahan in the top 32. A great run from both but Shanhan would have the win after Illyuk had a big correction and straighten!
Another russian driver Ivan Kurenbin in his V8 powered RX7 would go out to Ingemars Jekabsons in the top 32.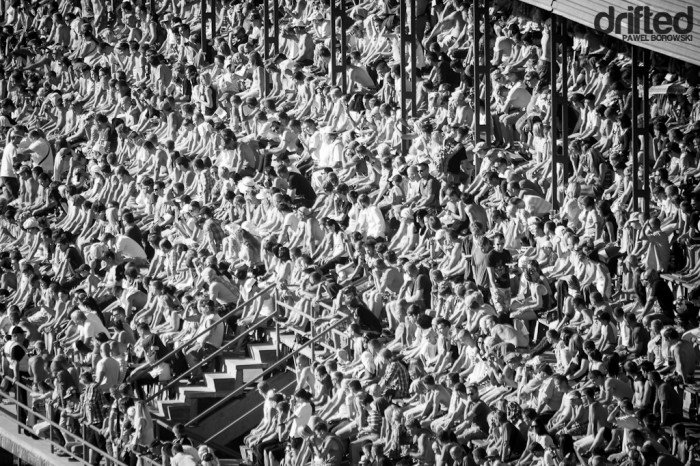 The Latvian fans seem to defiantly be some 0f the most dedicated and passionate fans in Europe. Many times you could here the fans screaming over the noise of the cars as the local drivers went by!
Felix Chitipakhovyan would have a mixed fortune in the Maxxis tyres Hell Energy Fail Crew BMW. Engine running issues would slow his progress but when he was on it and the car was running he was great to watch. With the car setup and working Felix the two time Russian champion will be one to watch!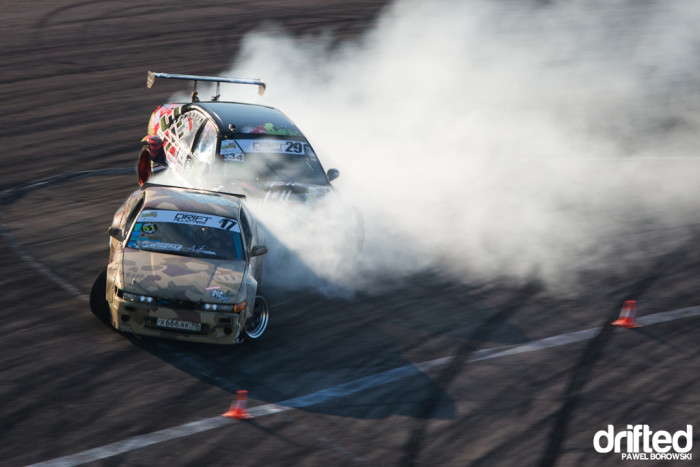 El Kaka and Elvijs Kezis would push hard but Elvijs would have too much pace on the day and defeated the Russian driver.
Pawel "the troll" Trela and Ola The Jæger-Bomb would meet again just like Sweden. A very tight battle by the two would seen the young Norwegian driver advance to the great 8.
Jack Shanahan would push hard and win his top 16 battle against Ingus Jekabsons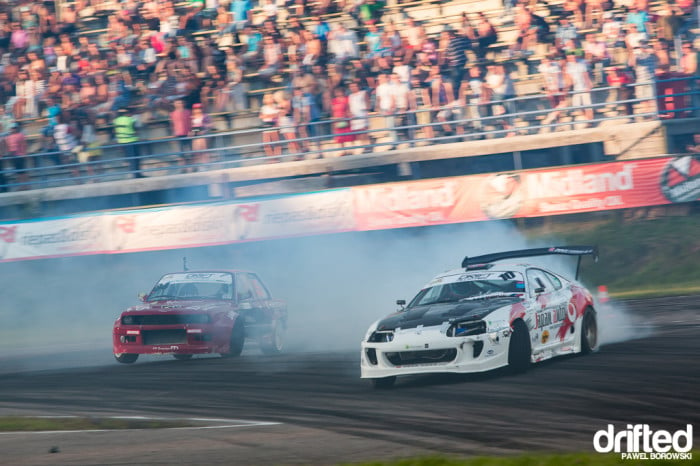 Ola The Jæger-Bomb would face another top local driver Ivo Cirulis. Ola never seems to qualify strong but as the competition goes on always seems to come into his own and be a great tandem driver. A very tight battle between both these drivers would again see the young Norwegian driver progress to the final 4 yet again just like Sweden.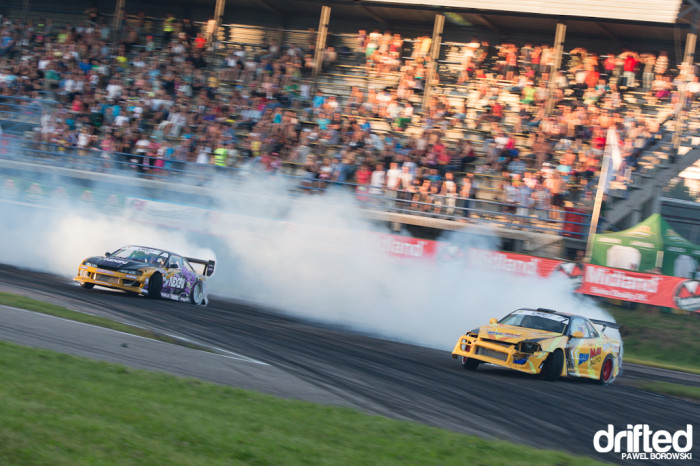 Piotr Wiecek another great young Polish driver seems to get better as the competition rolls on. With every event he seems to improve in the Budmat Auto R34 again rumoured to be over 800hp. He would push very hard but his day would come to an end when he met the Flying Fin Juha Rintanen. Rintanen just had a lot more outright pace and chased hard in his chase battle giving him the advantage.
Another Great 8 battle was Janis Eglite multiple Latvian champion EEDC champion against Jack Shanahan. Both drivers pushed so hard that it had to go one more time. This is Eglite's home track and probably the most successful driver at this circuit and it was going to take something special to beat him. Janis would have the extra pace required when chasing gain an advantage to send him to the final 4.
Ingemars Jekabsons was having the drive of his life and would progress to the final 4 after beating Jaeger in another very close battle.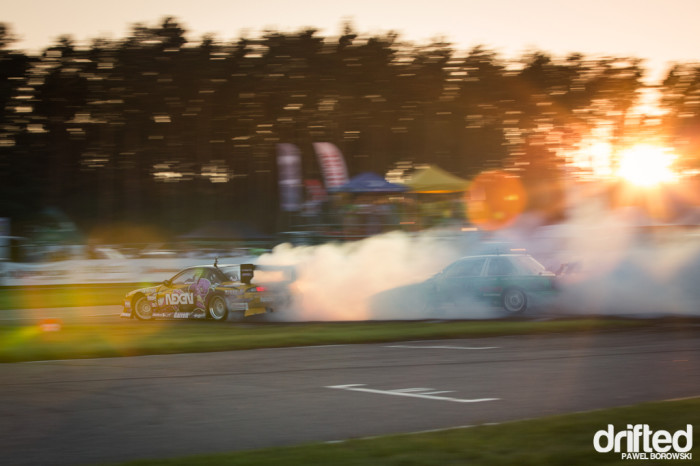 Battle of the day had to come down to this semi final between Juha Rintanen and Janis Eglite. The pride of the country laid on his shoulders as he pushed very hard to try and beat Rintanen. In what can be said as maybe as the closest tandem battles all year Eglite chased and was literally was on the Finns door on entry but Rintanen gained a small advantage over the course of the run on the one more time battle which was enough for him to progress to the final. Rintanen later commented saying it was one of his hardest battles ever in professional drifting!
In the 3rd place battle Eglite just stormed away from Yaeger as he showed even more pace then his semi final battle, and took the win.
The Final would come down to Jekabsons Vs Juha Rintanen. Latvia Vs Finland. Juha Rintanen had lots of pressure to take his second win in a row and extend his championship lead and Jekabsons had national honour and pride as no other driver from outside Latvia has ever won at the Riga circuit.  Rintanen knowing he had more pace lead and won the first battle then Jekabsons E34 hung back and played the it perfect catching him over the course of the run while chasing. The judges had made their decision.
Juha Rintanen was the winner of Drift Allstars RD 3 Drift GP of Latvia and would hold on to the number P1 in the championship chase.
Crowd went wild cheering for Jekabsons in what was such a surprise final. Two latvians taking P2/P3 on the podium showing how strong the Latvian drift scene is putting their mark and stamp on international drifting as being a big force .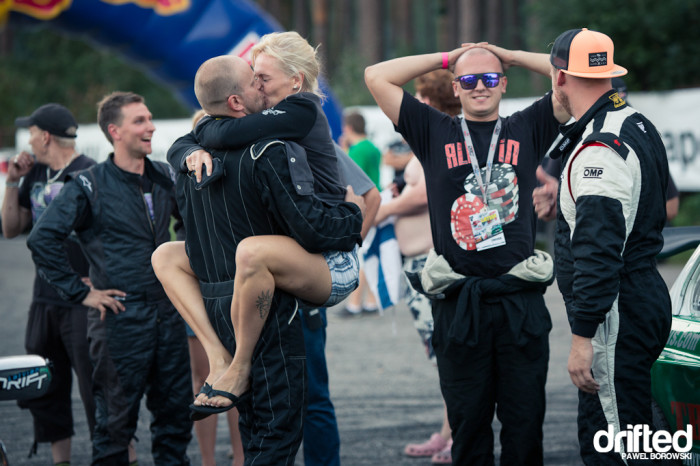 Great to see the drivers share emotions after the climax of the event.Some people think these are robots when they are so calm and collected behind the steering wheel.
Crowd and media went wild for the prize giving as it ended a perfect day as darkness came over the Riga city circuit.
Juha Rintanen seems to be tasting a lot of champagne this year. With two out of 3 wins he holds a 77 point lead and anything can happen in drifting. With a drop score event allowed before the finals in Poznan anything can happen in this title chase.