EVENT: Formula Drift: Round 5 – A Photo Story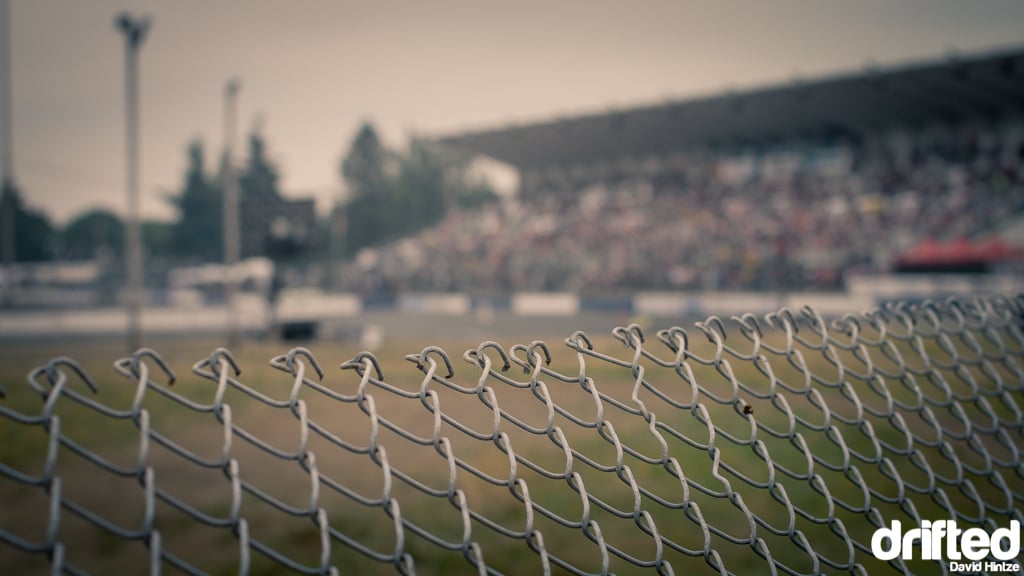 I always look forward to shooting photos at Formula Drift; this past year has been pretty hectic with work and I wasn't able to cover motorsports as much as I wanted to, so I was stoked to get back to my home track and get my face blasted with tire smoke once again. This is my visual story from the weekend while shooting footage for a video I worked on.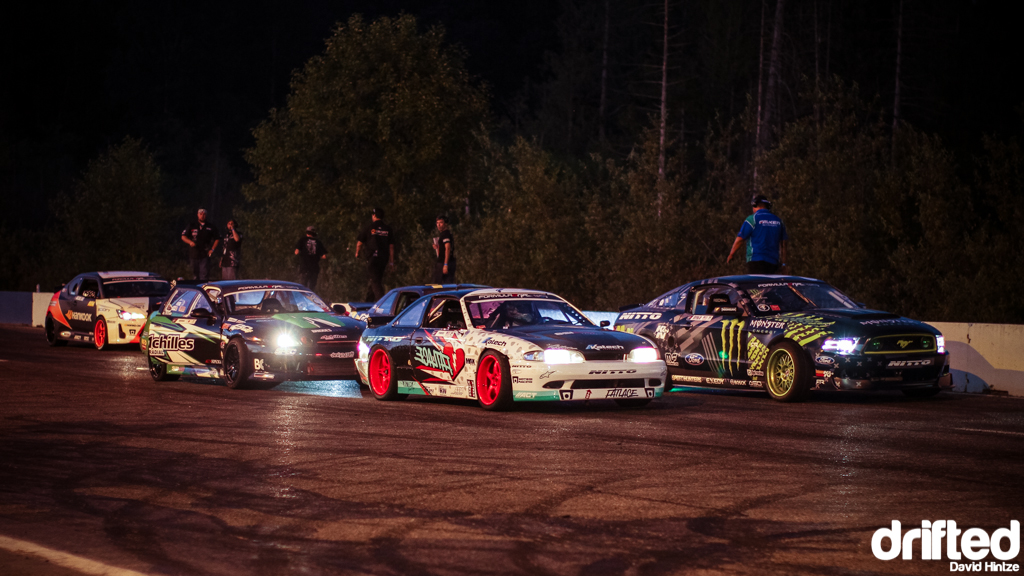 I arrived on track on Thursday, picked up my magical blue wristband which granted me access to the pit area (unfortunately only hard card carriers were allowed to pick up vests and get on track, but I was content with roaming the pit area whilst it grew in size as more equipment and cars were brought in).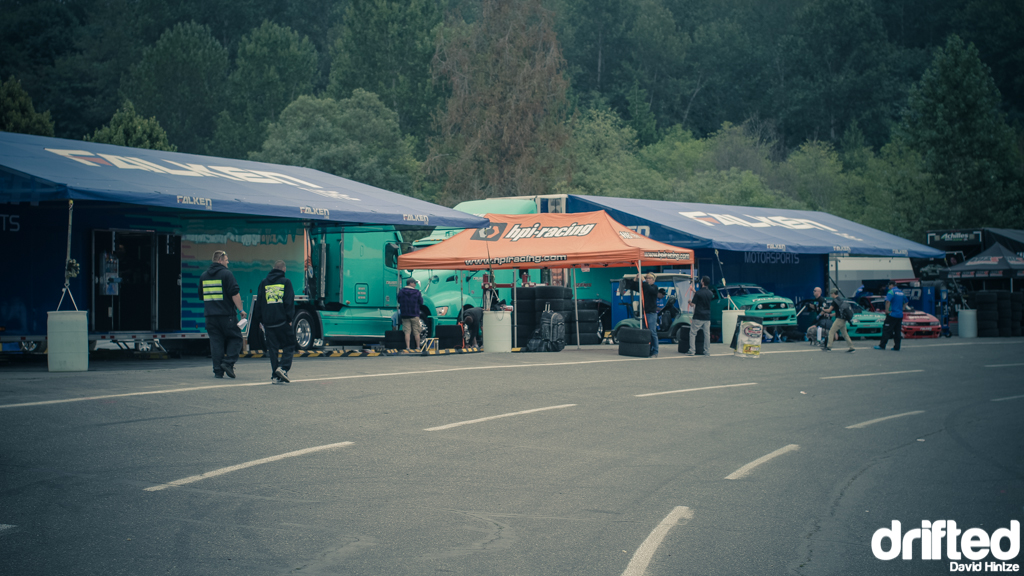 I was already getting a taste of how hot it would be the next 2 days, and after countless breaks to my air conditioned car in its prime parking spot in front of the grandstands, I decided to go for a drive and cool off. I went up to Lord Hill which overlooks the entire Monroe; area after a good bit of hiking I went back to the track to say a few hellos and then headedto my hotel for the night.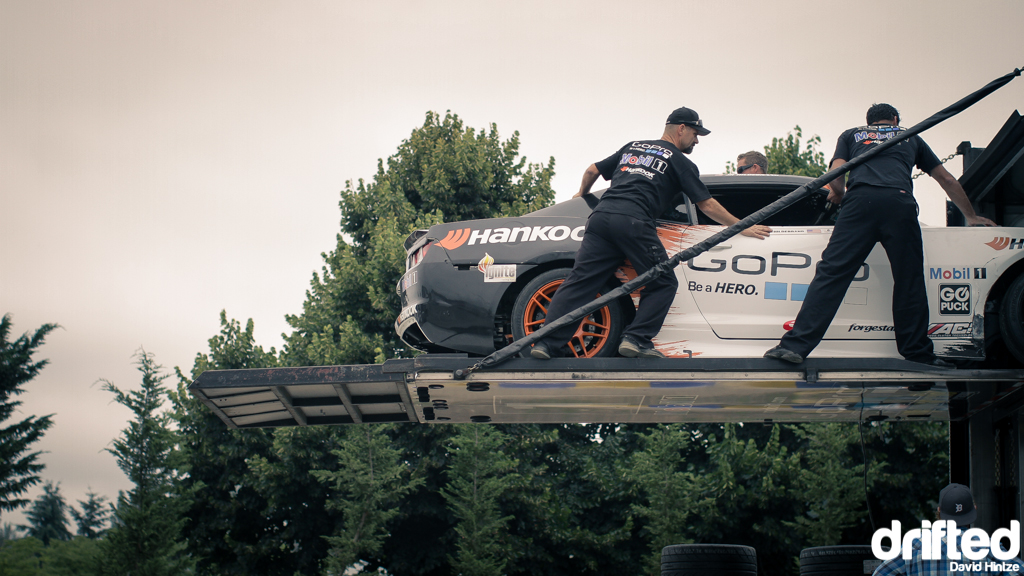 As Friday morning shifted into another blazing day of heat, the pit areas took their full form. Cars were being cleaned and brought back out of their trailers, and the crowds started piling in and waiting for the gates to open. The familiar teal Falken team was busy getting all their cars in order for the morning practice.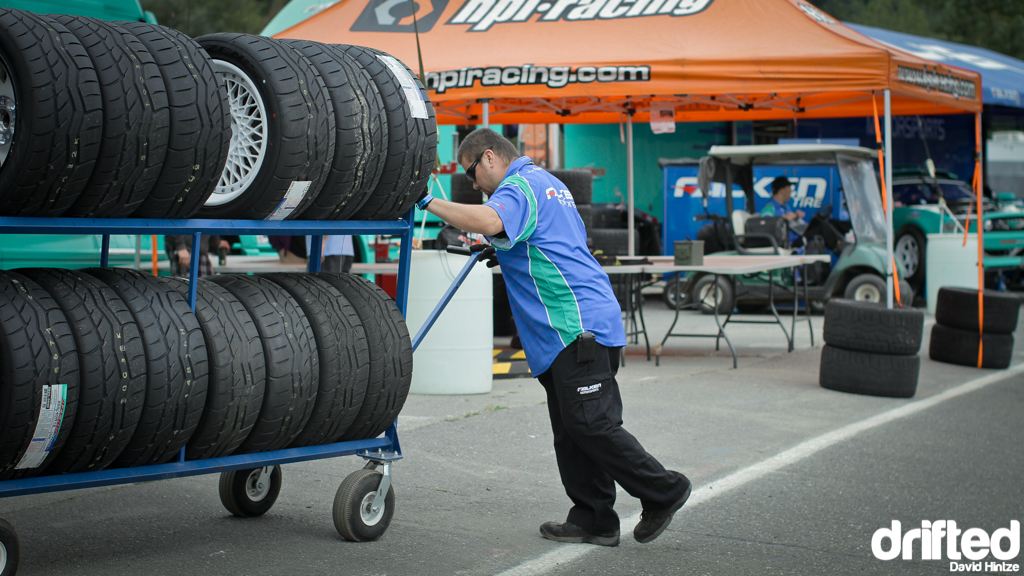 The drivers had their morning meeting at the FD headquarters, after which we had our morning media meeting where we received our vests.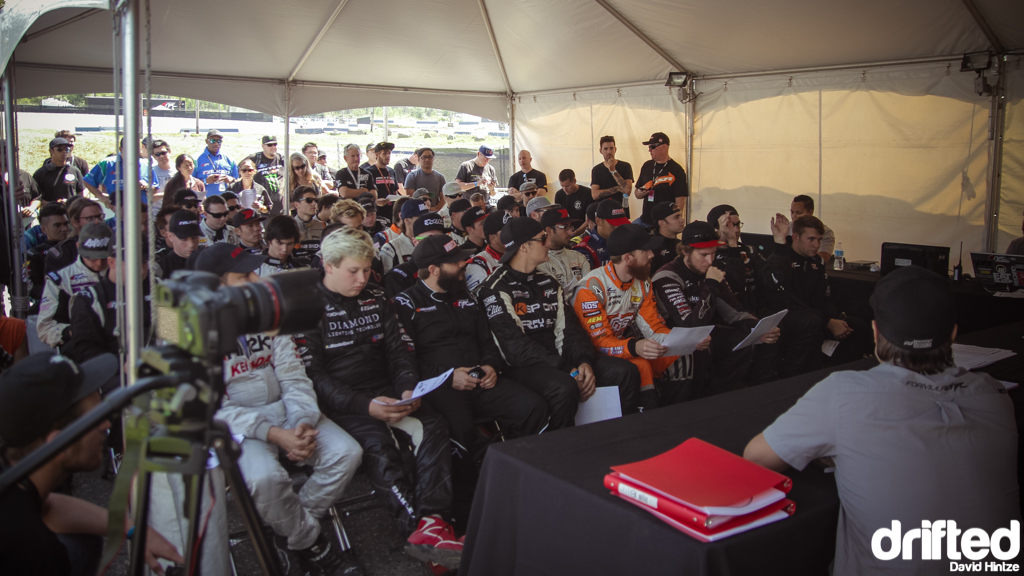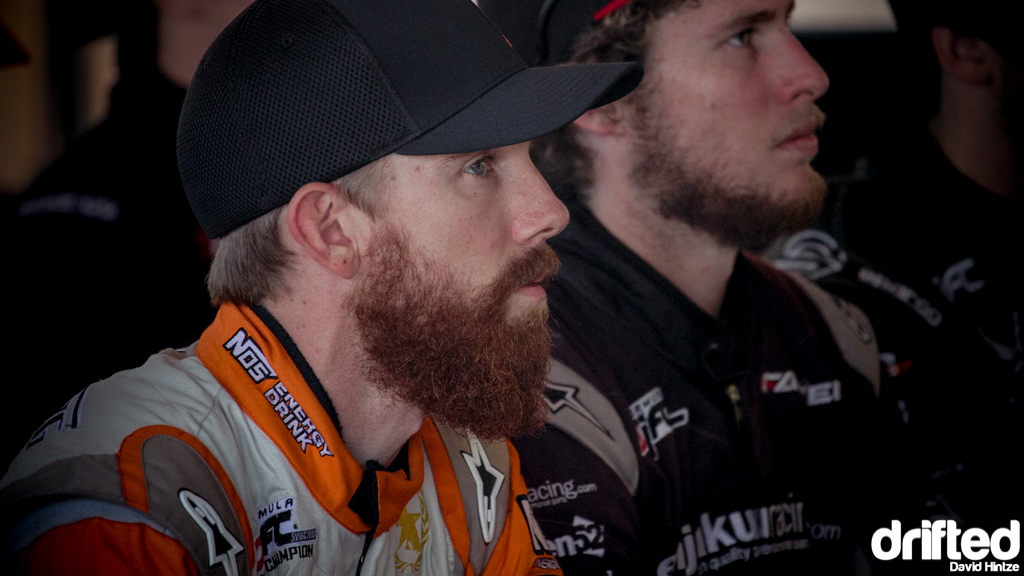 One of my favorite cars is Fredric Aasbo's Scion Tc. With a 2.7L turbocharged inline-four 2AR-FE with 800+ horses, its a sick car and the Norwegian Hammer flicks it around the track like a boss.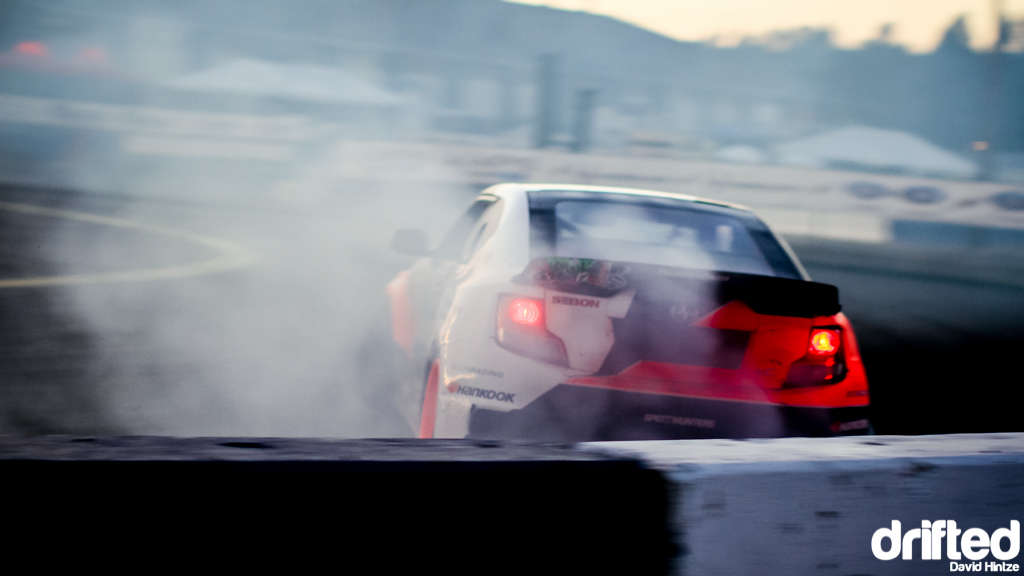 Evergreen Speedway is well known for its harsh tire slaying pavement, and the long 5/8th bank. But what else can you expect from a track that is also used for demolition derbies, bus jumping, and rollover contests. Evergreen will eat your tires, and then send you into a wall without warning. Knowing from previous experience what hitting a concrete wall at 45mph feels like, and with entry speeds reaching above 80mph, this track is not very forgiving.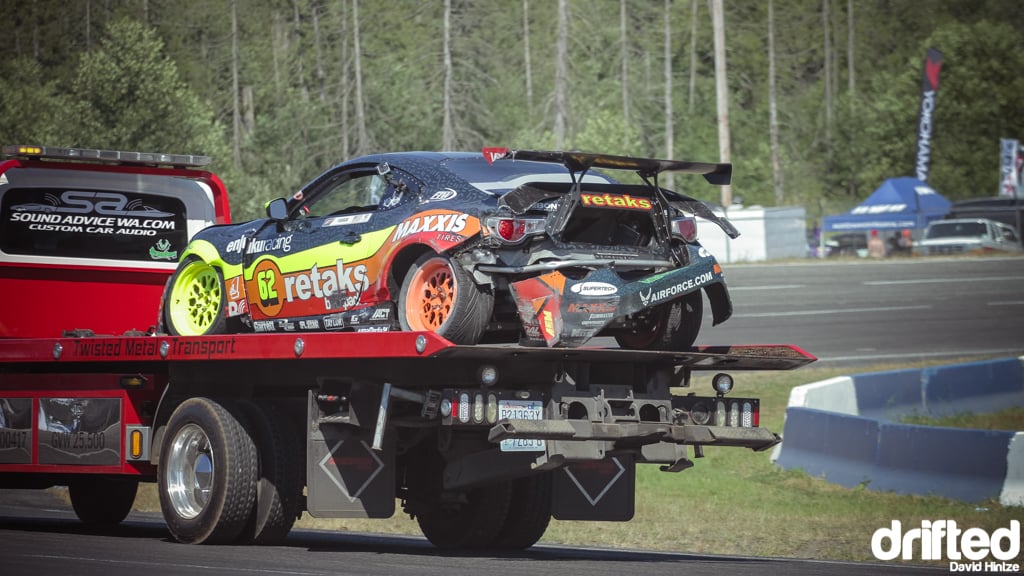 A minor error led Corey Hosford into the inner trak wall, leaving him showcasing a new definition of extreme angle.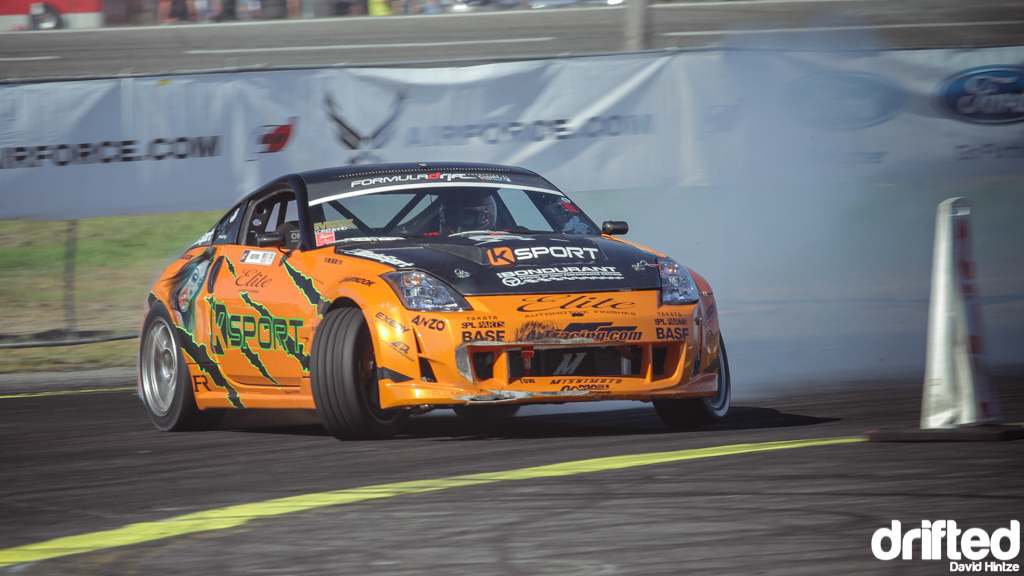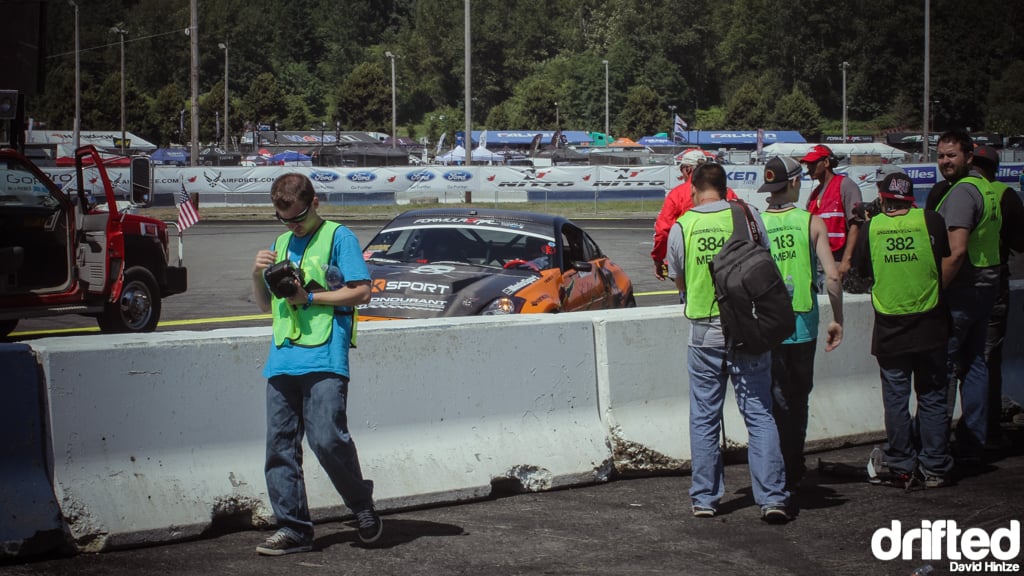 Spectators were invited down to the pit area where all the drivers were at tables for an autograph session. People lined up to get shirts, cards, swag, and the expected used tires signed by their favorite drivers.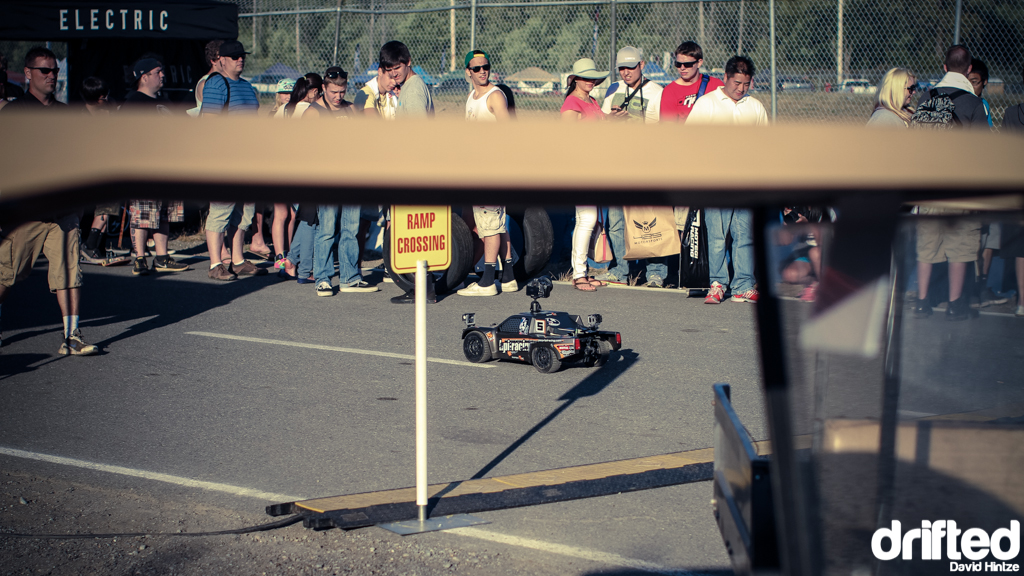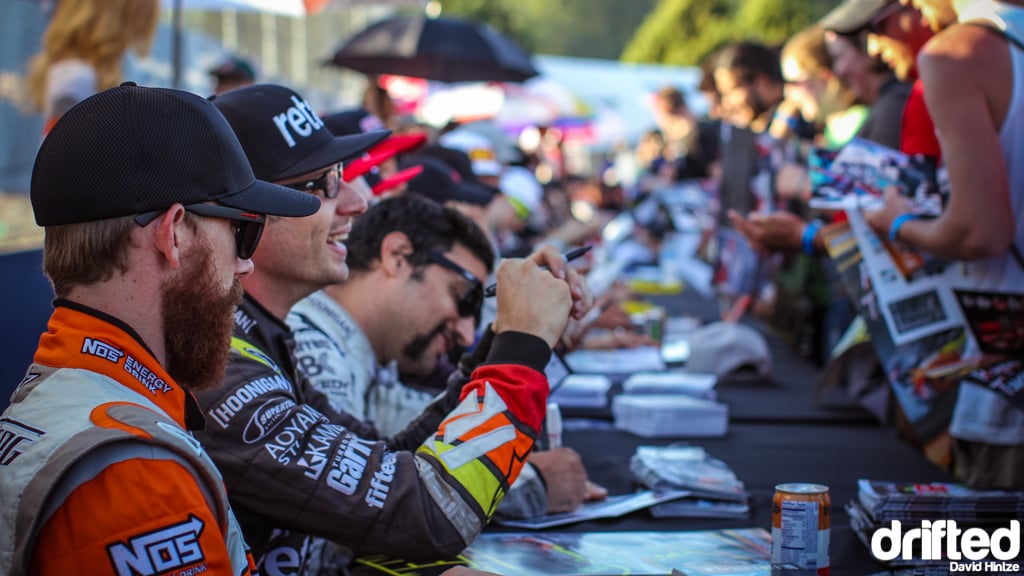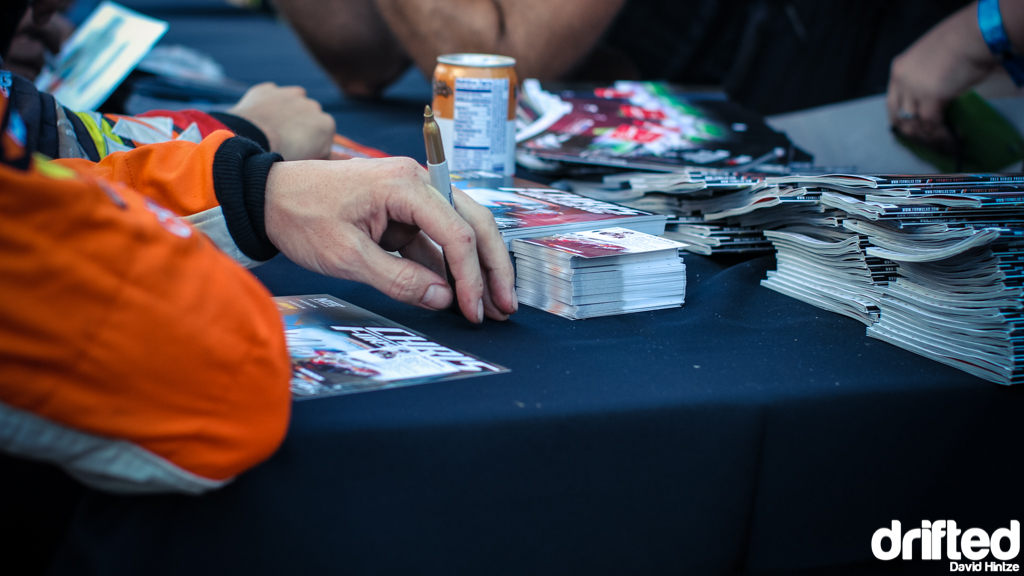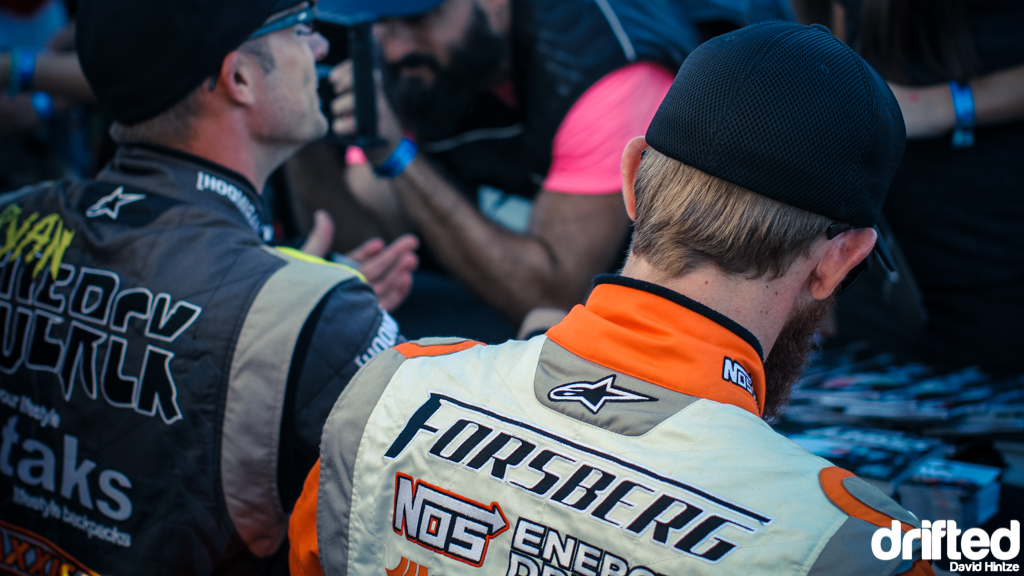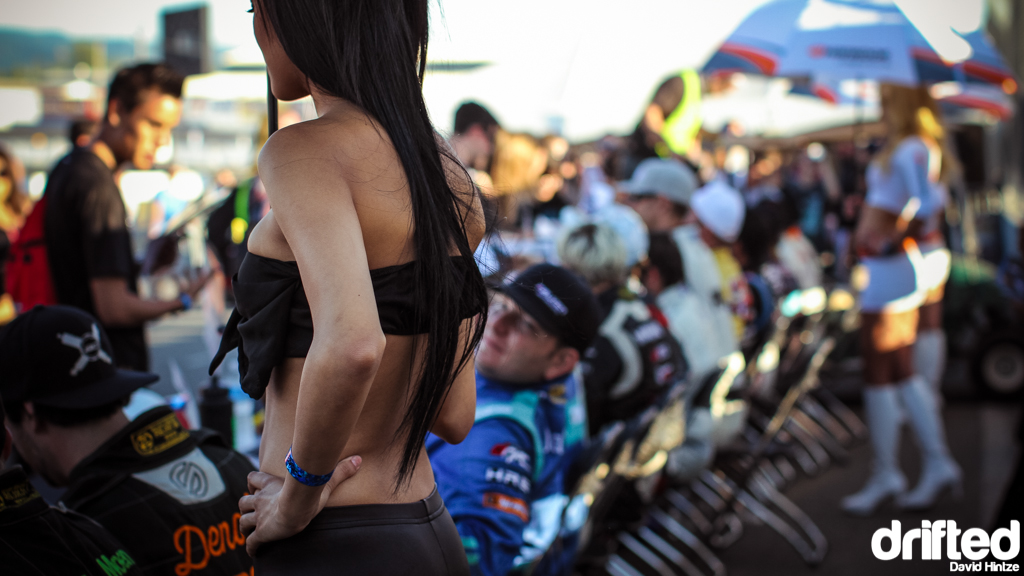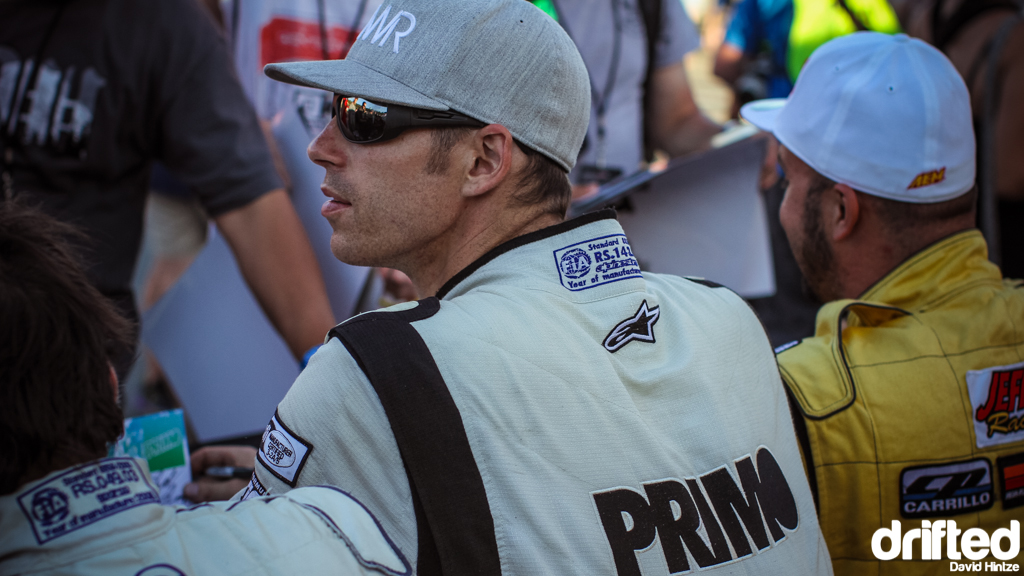 As the track started to cool down, and spectators started to leave for the night, it slowly roared back to life as the sun dropped behind the horizon. Drivers started their night practice, and in the next 2 hours as the sun fell, the sunset lit up the cars and smoke, the best view being in the middle of the track where the remaining spectators could only imagine. There were a few close calls as night fell, but the drivers continued to go hard in the cool breeze of the golden hour as we photographers call it.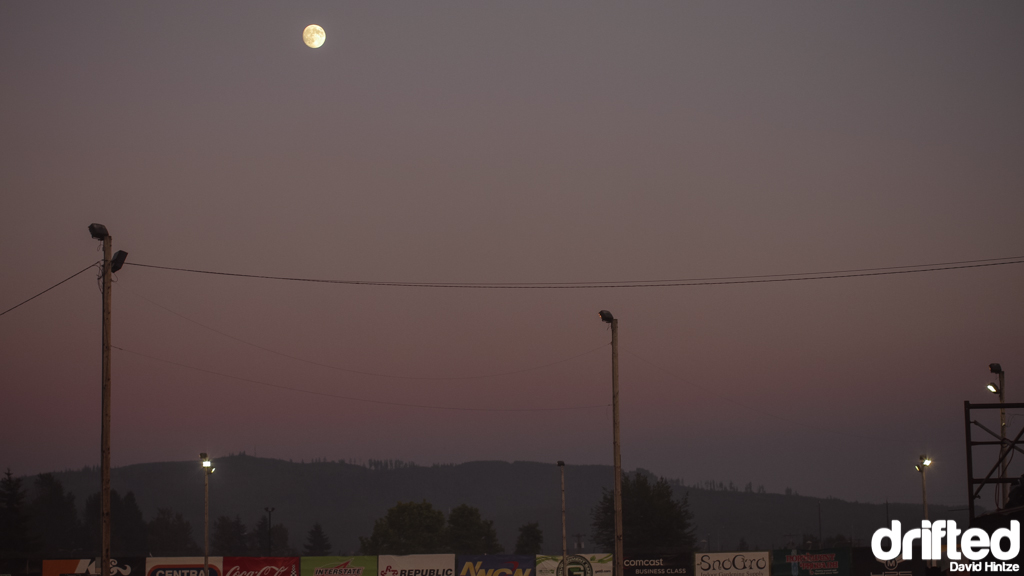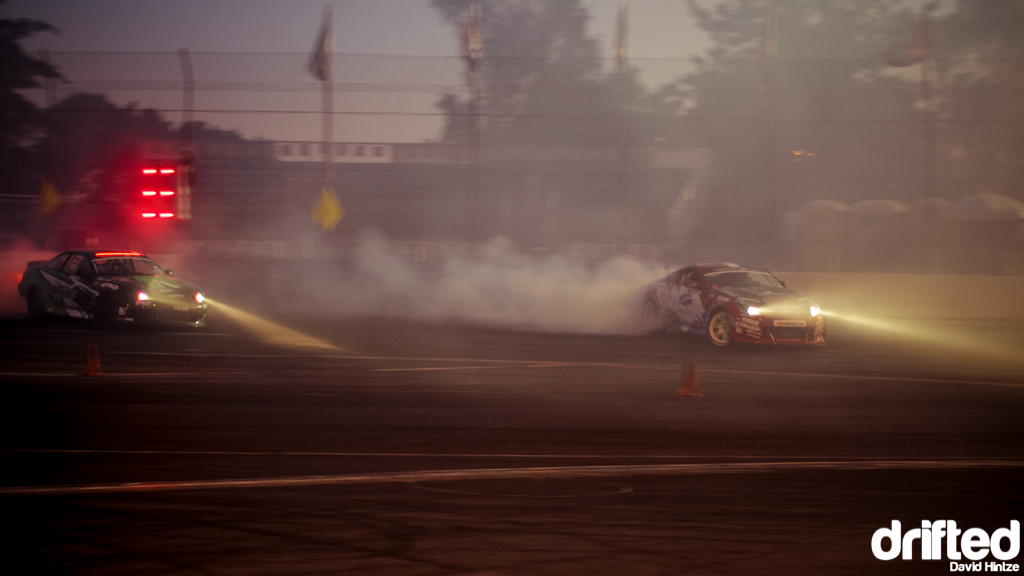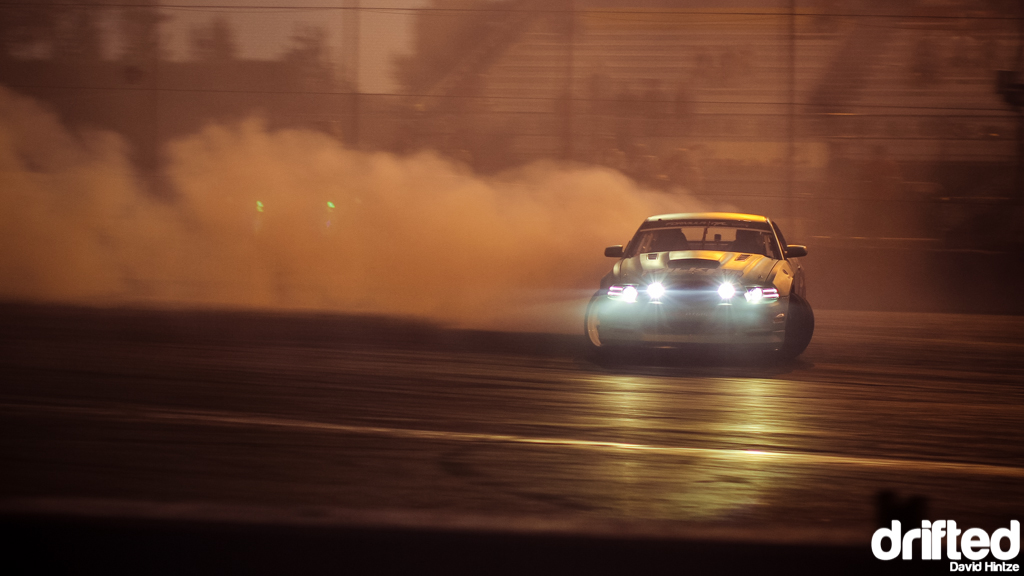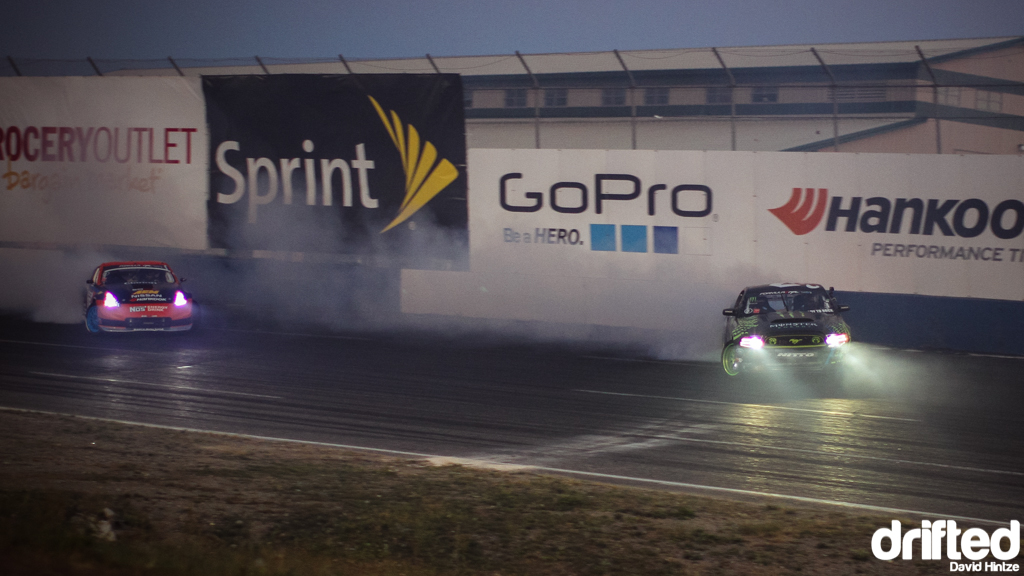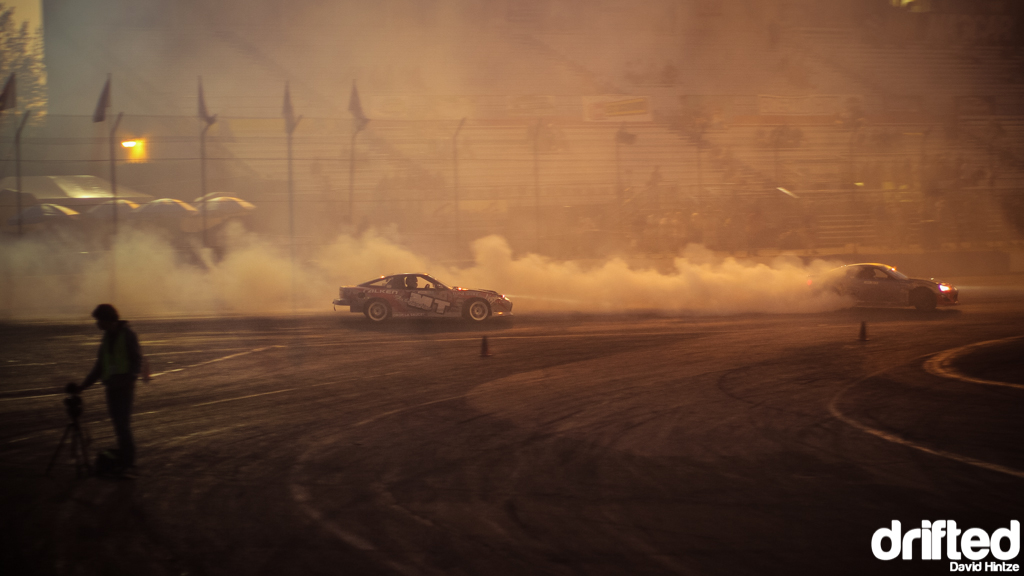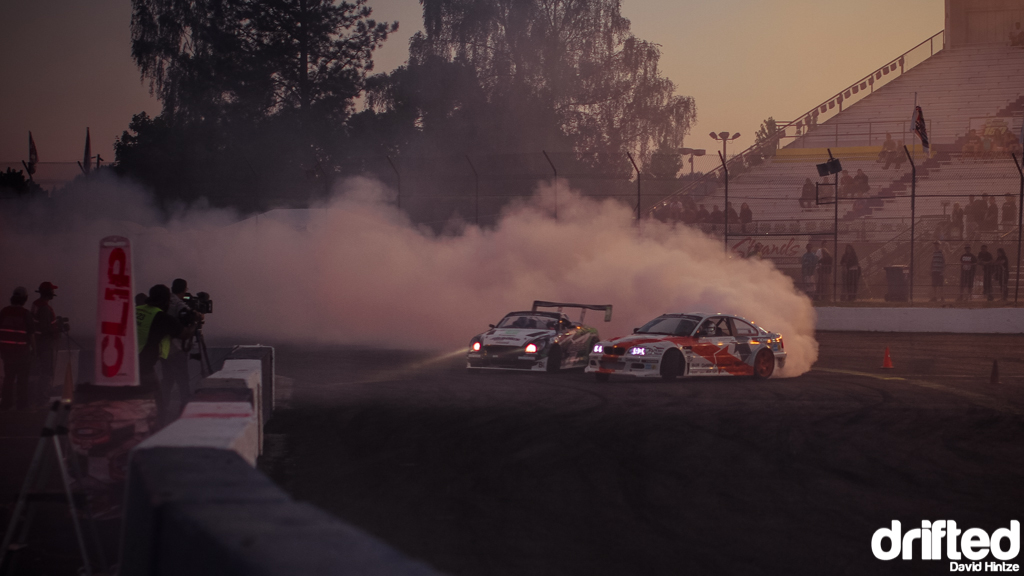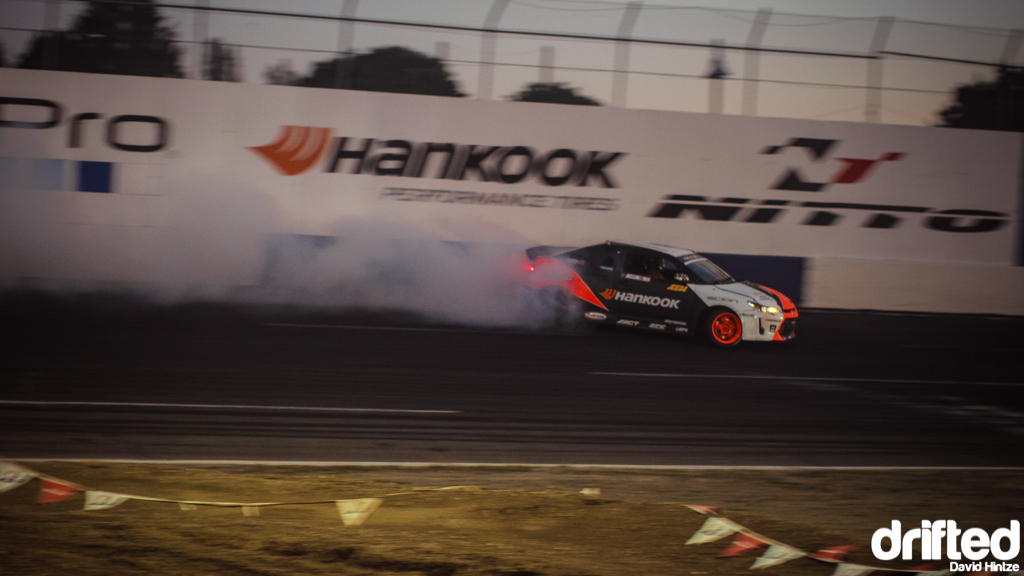 Waking up for the main event on Saturday brought forth a light mist and cloudy skies; not what I was expecting but my rare cooked skin was glad for the change in temperature. Arriving at the track, cars were already lined up to get into the car show that was to open up once the main gates opened to spectators. I took the chance to check out a few of the cars before the crowds got too packed.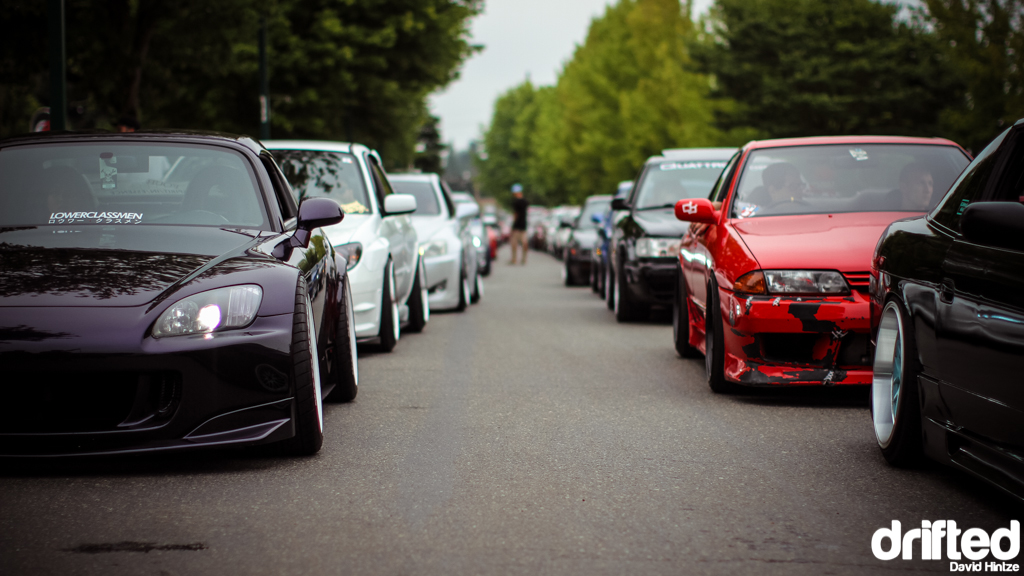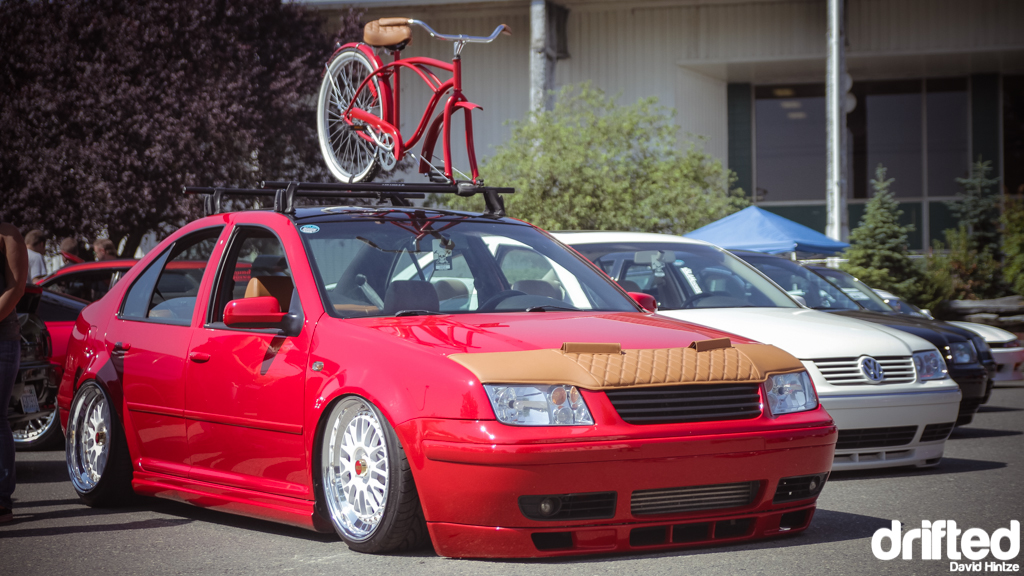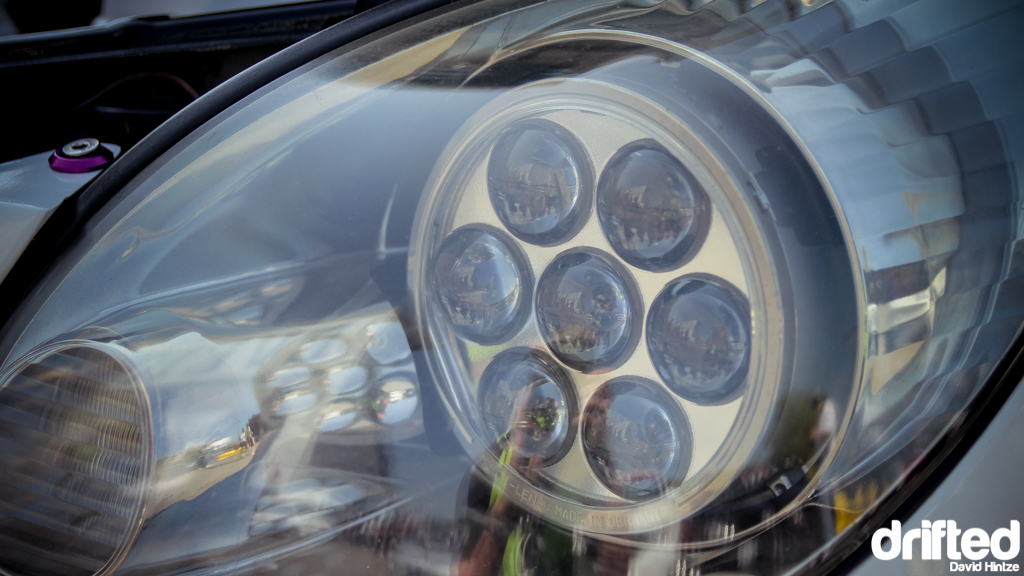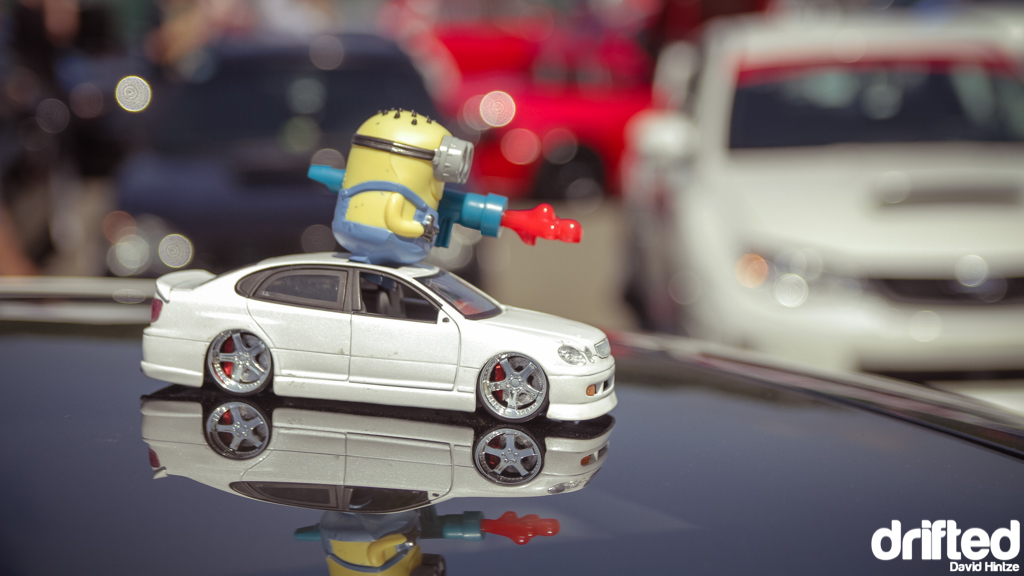 I headed over to the Formula Drift tent where the drivers had gathered for the morning briefing and to get a front row seat for the media meeting that followed. We received our vests and I headed out towards the track.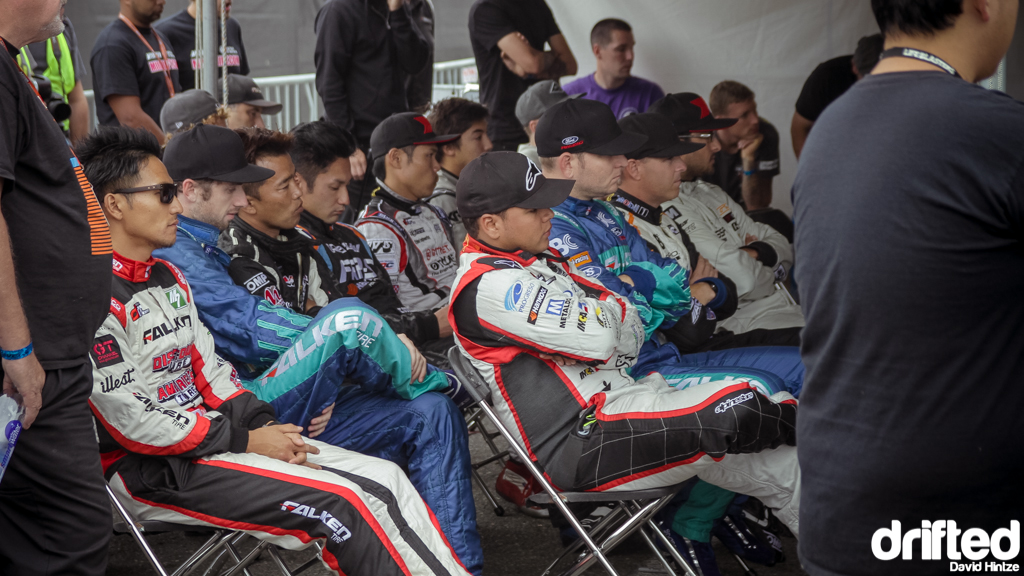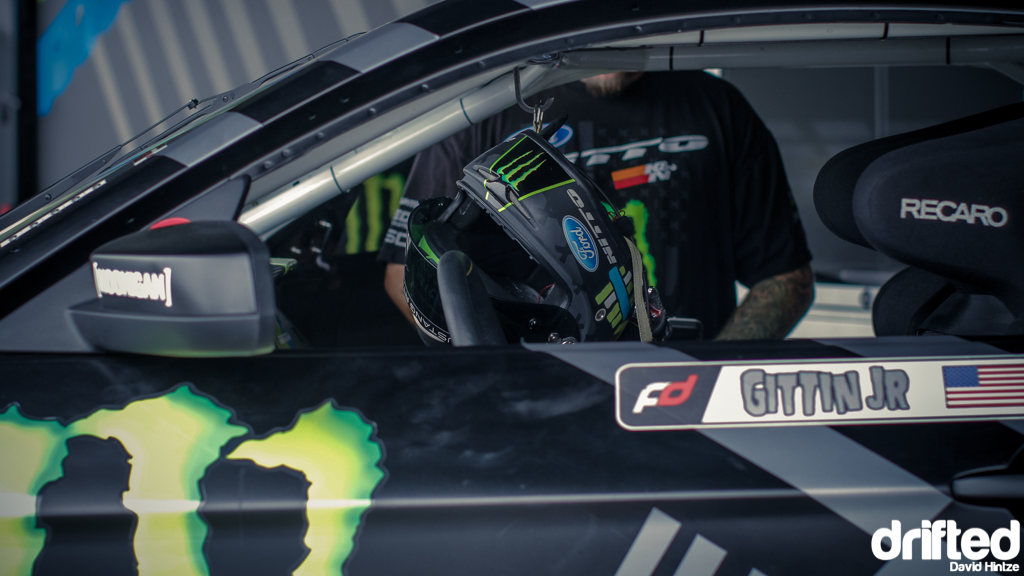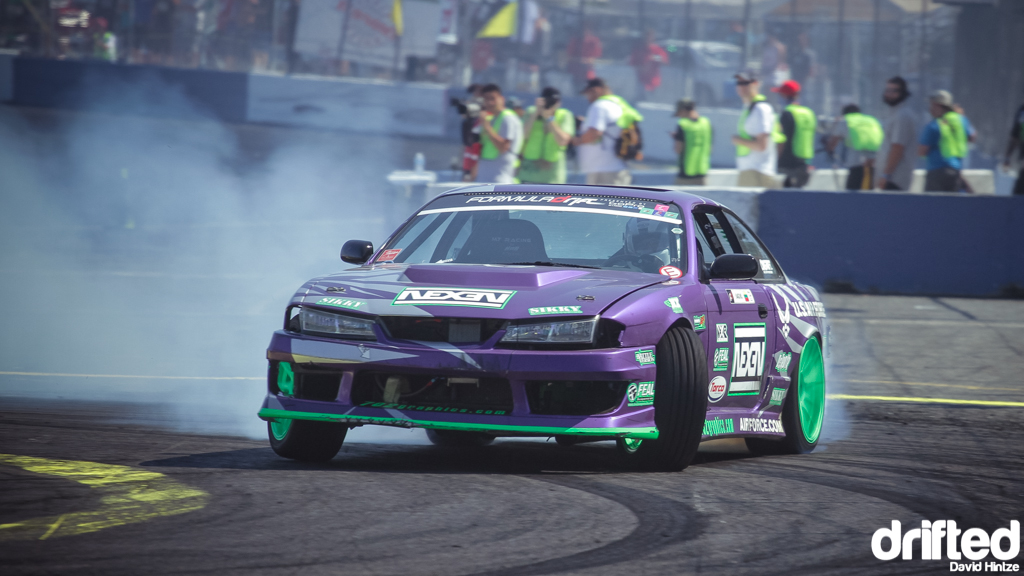 The ProAm top 16 competition started up and drivers competed in front of the ever growing crowds on their home turf. Quite a few of the drivers from Washington have gone on to get their pro license and compete at the pro level. Rob Primo and Mike Philips were two of those who had been on the track the previous day.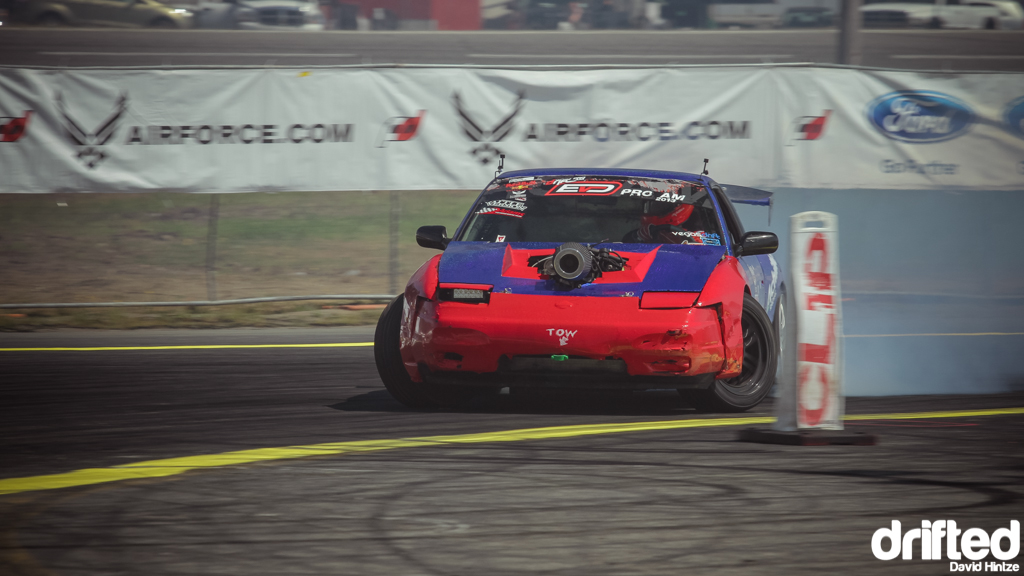 Earlier one of the ProAm guys's car actually caught fire and a good 4+ extinguishers had to be brought out to get it under control.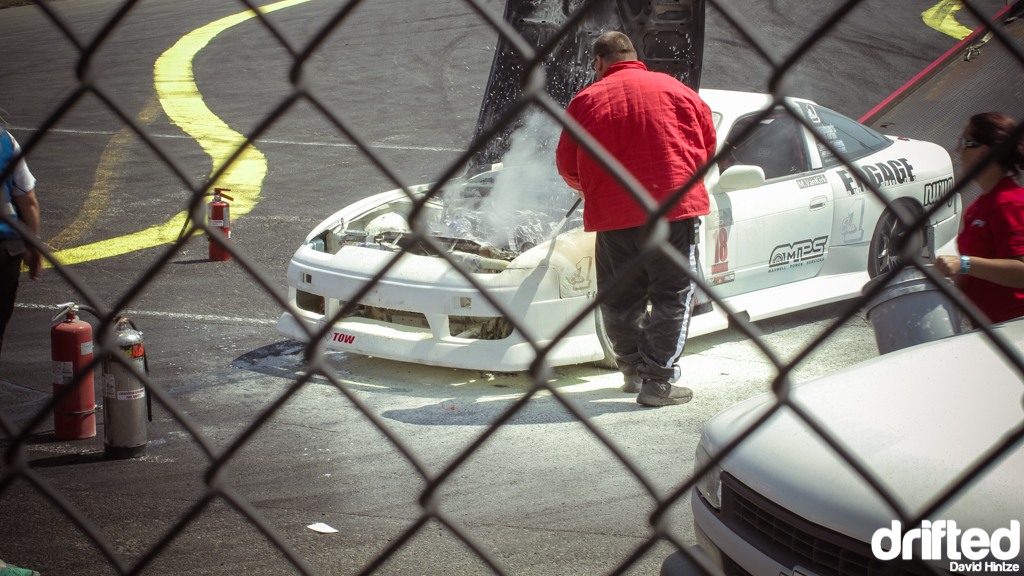 Heading into the event, returning champion Daigo Saito had a commanding points lead, but with an early exit in the Top 32, an opening for the other drivers became present. In the consolation round, Aurimas "Odi" Bakchis in the Nexen Tire Nissan 240SX battled Fredric Aasbo in the Hankook Tire / Scion Racing tC.
Wheel and tire problems helped give Aasbo the win and the third place finish. The final battle pitted Michael Essa in the GSR Autosport / Yokohama BMW M3 against Chris Forsberg. After a close battle, Forsberg edged out Essa to take the victory and the lead in the 2013 Pro Championship points standings. Essa also moves into second place overall.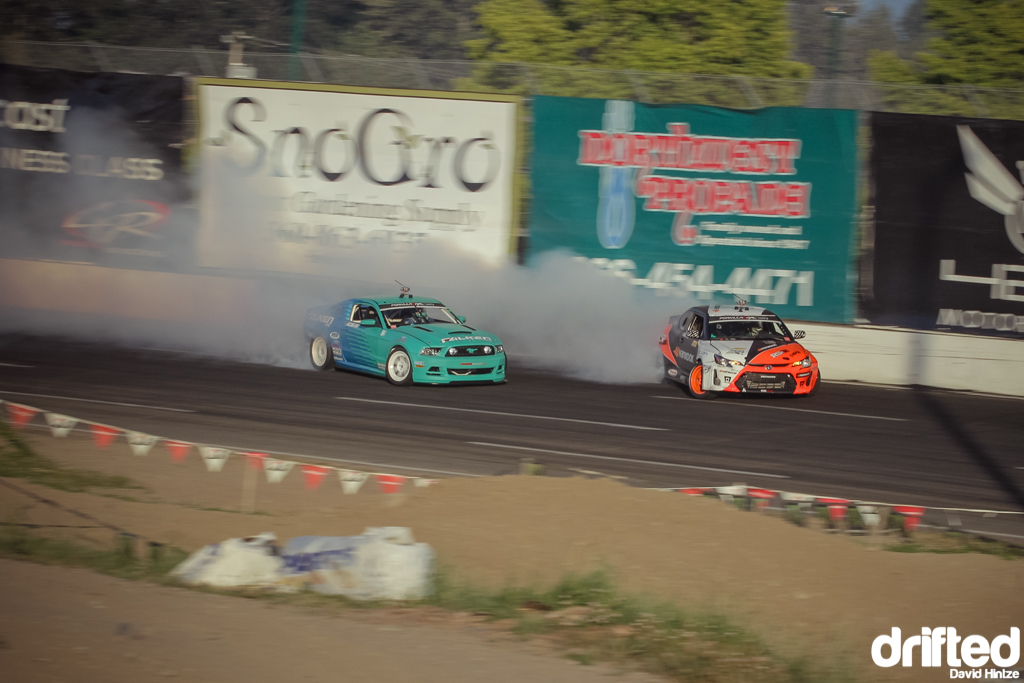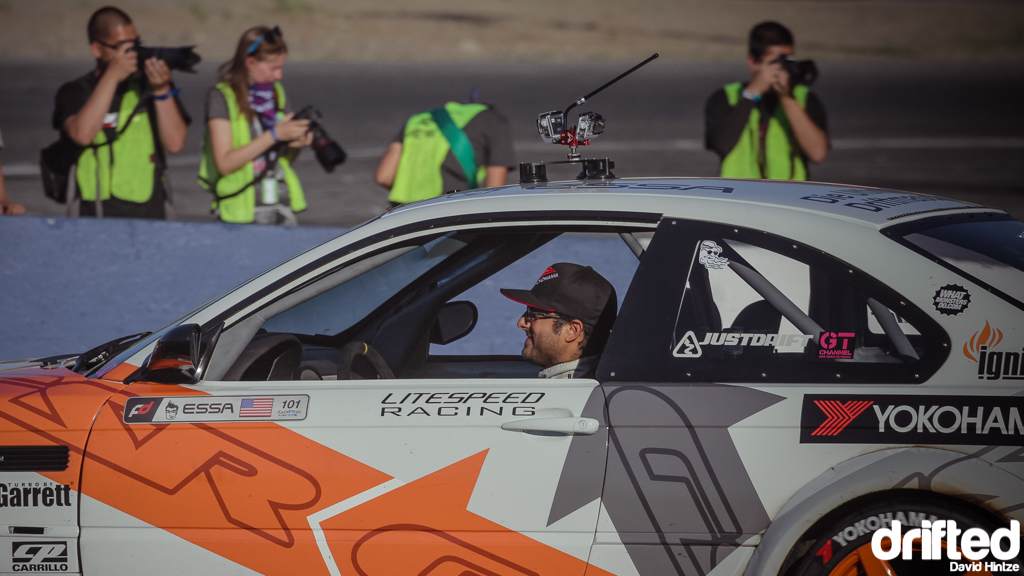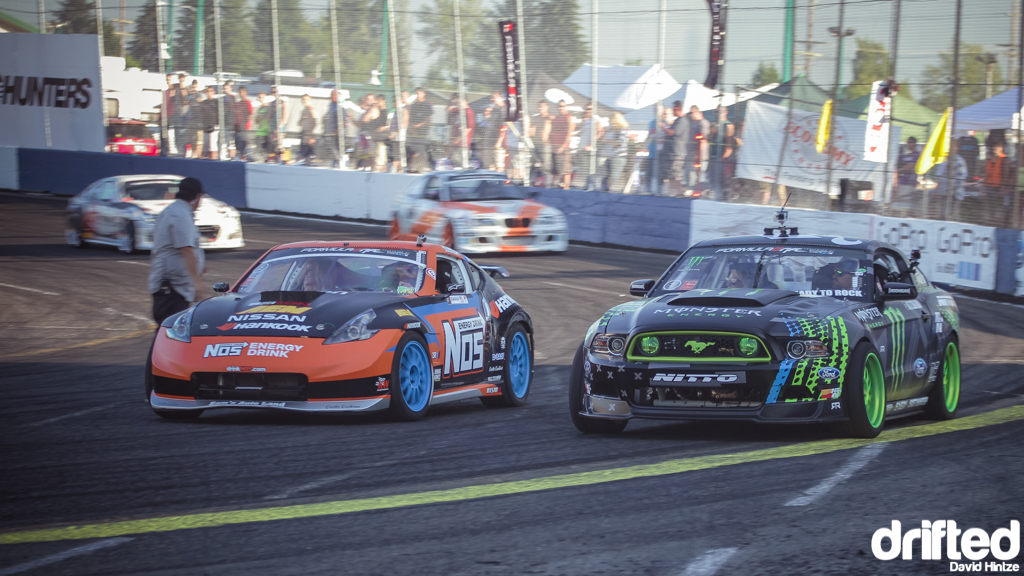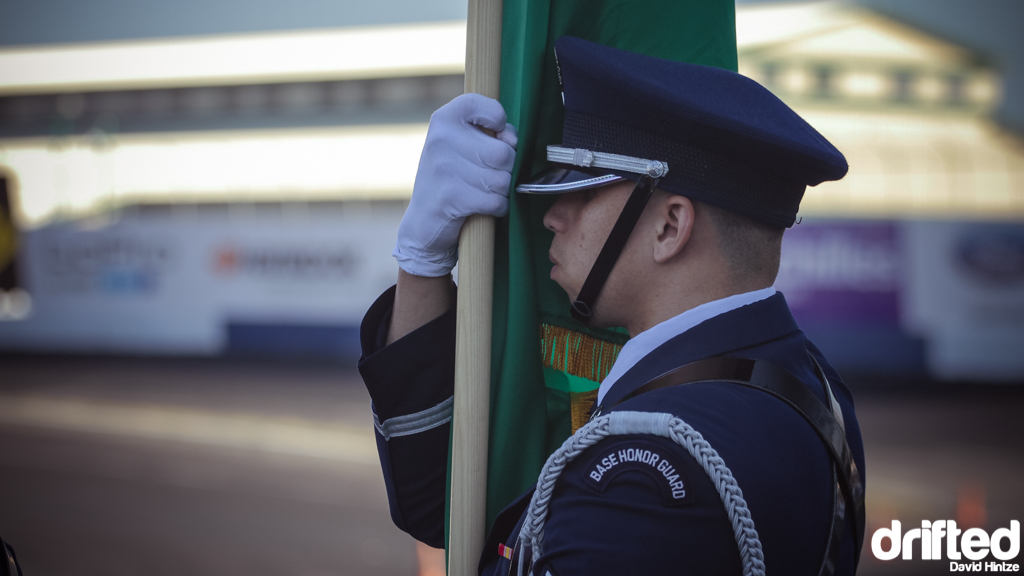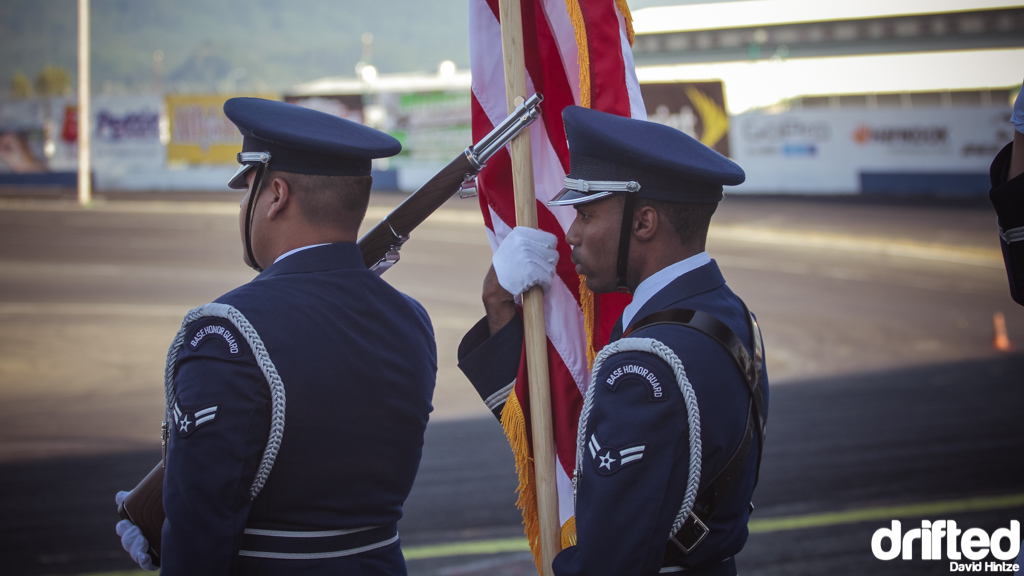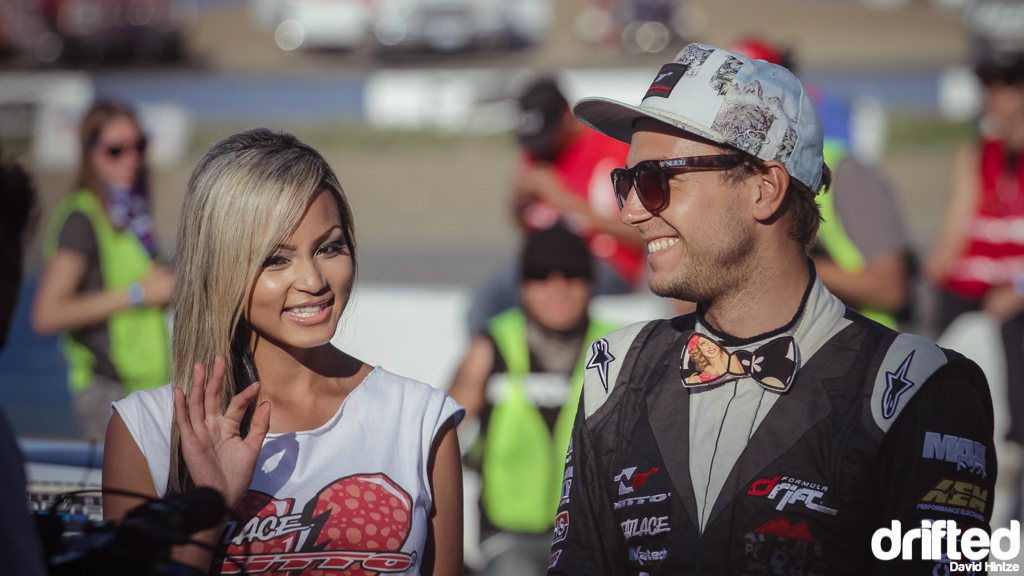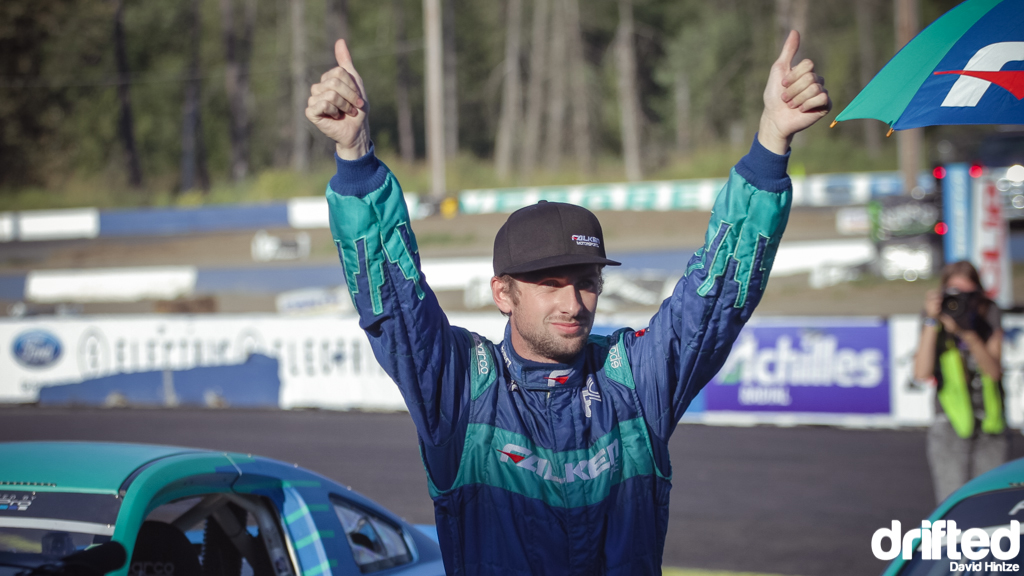 Formula DRIFT Professional Championship Presented by GoPro 2013 Standings After Five Rounds
1. Forsberg, Chris
NOS Energy Drink / Hankook Nissan 370Z
388 Points
2. Essa, Michael
GSR Autosport / Yokohama BMW M3
386.50 Points
3. Saito, Daigo
Achilles Tire / Bridges Racing Lexus SC430
385.25 Points
4. Gittin Jr., Vaughn
Monster Energy / Nitto Tire Ford Mustang RTR
367 Points
5. Aasbo, Fredric
Hankook Tire Scion Racing tC
354.50 Points
6. Pawlak, Justin
Falken Tire Ford Mustang
345.50 Points
7. McNamara, Darren
Falken Tire Nissan S14
332.50 Points
8. Bakchis, Aurimas
Nexen Tire Nissan S14
294 Points
9. Field, Matt
CX Racing / Blacktrax Nissan 240SX
261 Points
10. Nishida, Robbie
Bridges Racing / Achilles Tire Lexus SC300
253 Points
11. Yoshihara, Daijiro
Discount Tire / Falken Tire Nissan S13
244.25 Points
12. Moen, Kenneth
Lutz Performance / Nexen Tire Nissan 240SX
234.50 Points
13. Grunewald, Conrad
Hankook Tire / Megan Racing Chevrolet Camaro SS
230.50 Points
14. Tuerck, Ryan
Team Retaks / Maxxis Scion Racing FR-S
229.50 Points
15. DeNofa, Chelsea
BC Racing BMW 3 Series
210.50 Points
16. Powers, Matt
Fatlace / Nitto Tire Nissan 240SX
201.50 Points
Round 5: Throwdown Event Results
1. Forsberg, Chris
NOS Energy Drink / Hankook Nissan 370Z
First Place
2. Essa, Michael
GSR Autosport / Yokohama BMW M3
Second Place
3. Aasbo, Fredric
Hankook Tire Scion Racing tC
Third Place
Manufacturers Championship Standings After Five Rounds
1. Ford
712.50 Points
2. Nissan
683.50 Points
3. Lexus
668.25 Points
4. Scion
645.50 Points
5. BMW
596.50 Points
Tire Championship Standings After Five Rounds
1. Falken
776 Points
2. Hankook
742.50 Points
3. Achilles
671.25 Points
4. Nitto
645 Points
5. Yokohama
522.50 Points
Subscribe to Drifted
If you like this article why not subscribe to Drifted and we will email you our freshest content for free!