EVENT: Drift Allstars Europe Round Two 2013 – Drift GP of Sweden
For round two of the 2013 season, Drift Allstars would land in Scandinavia, and what a venue to kick it off at - Sturup Raceway in Sweden. Sturup has been used once before for a major international event and some would say this was the place where Fredric Aasbø and Eric O'Sullivan both launched their careers. On that particular day, 2008 Drift Allstars (then JDM Allstars) champion, O'Sullivan, took the win and the so track has a lot of history when it comes to rising stars making their mark. The scene and the sport has evolved massively in 2013, with a lot more teams and huge investment from sponsors. This progress has meant that there would be over 12 different nations competing at Sturup, a so a hugely international field would be present.
Max Tvardovskiy  from Russia in his new camo-liveried Nissan R34. The Maxxis tyres driver would be out to prove a point after taking the win at Drift Allstars Hungary in 2012.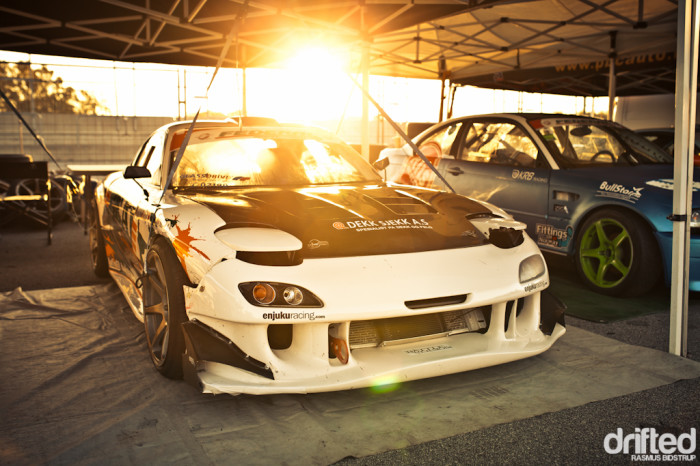 Everyone has been following Norwegian drifter Joachim Waagaard's amazing LS3 V8 Powered RX7 build over the winter and it was great to see it break cover in this international event.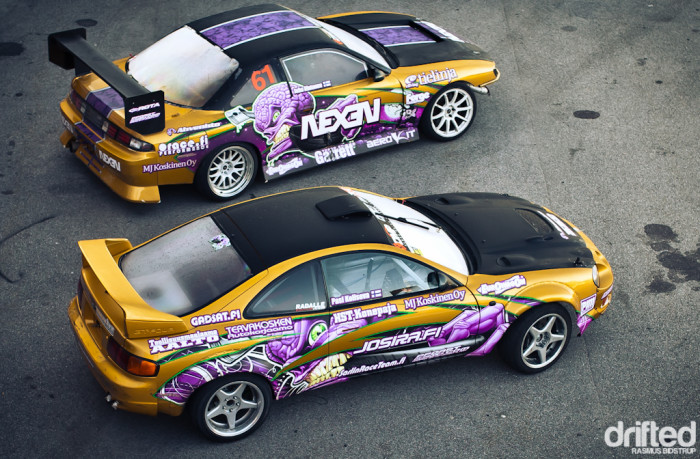 Juha Rintanen and Pasi Koliseva made the trip over from Finland.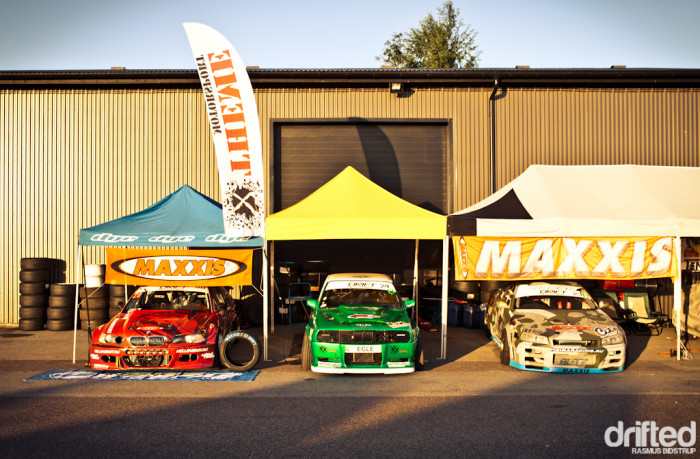 The Latvian/Russian 'Fail Crew' was represented by Felix Chitipakhovyan in his E46 and Max Tvardovskiy  in his R34 from Russia, along with Janis Elgite in his E30 and Kristaps Bluss in another E46 from Latvia.
A very clean Toyota Supra, but look, something's different?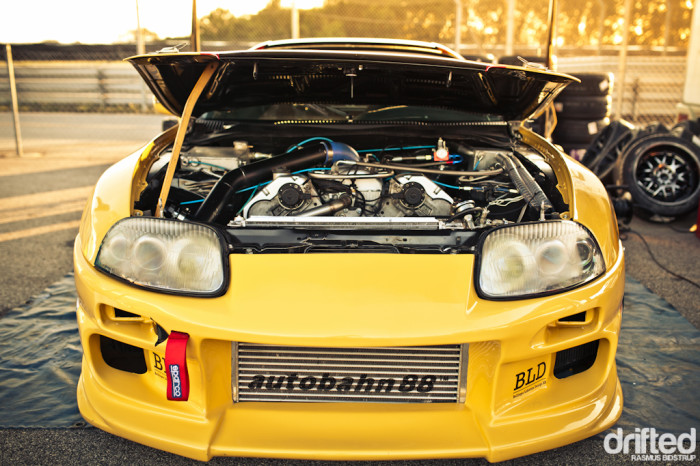 Yes that is a Toyota Supra, with an AMG Mercedes V8 engine, and a turbo. All put together by Denis Martinsson of the Meguiars Sweden team.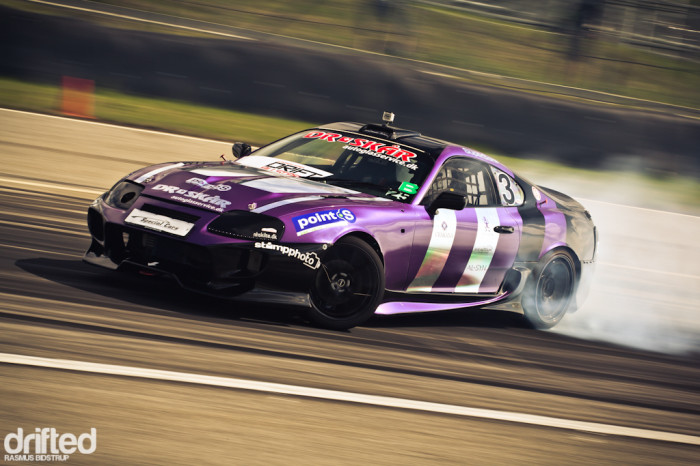 Local Danish driver, Sara V Hagemann, was on her home track and was very comfortable.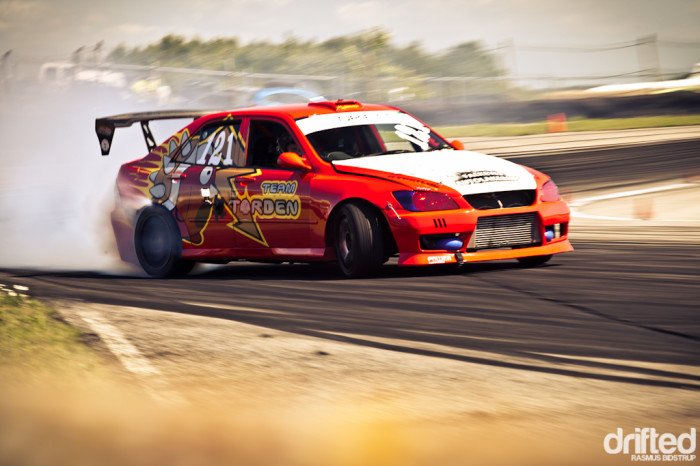 Denis Hansen in his 2JZ powered Altezza was another local driver who was just smoking out the venue run after run. It was great to see one of these lesser-used chassis in action.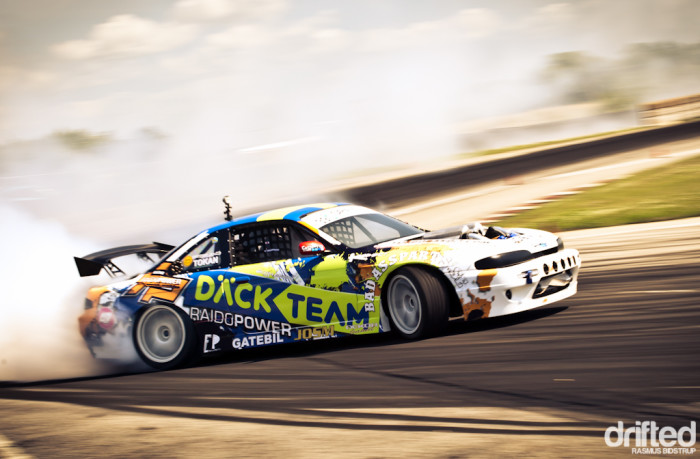 Another impressive build was the Radiopower/DACK car. Anders "Tokan" Bielkeklöf was the pilot of this insane Nissan S14a with it's LS2 V8, but with twin turbos, it was making over 800hp! The Swedish guys certainly know how to build some mad cars! Tokan would only just qualify for the main event, in 32nd place, showing how tight the top 32 placing was for this event.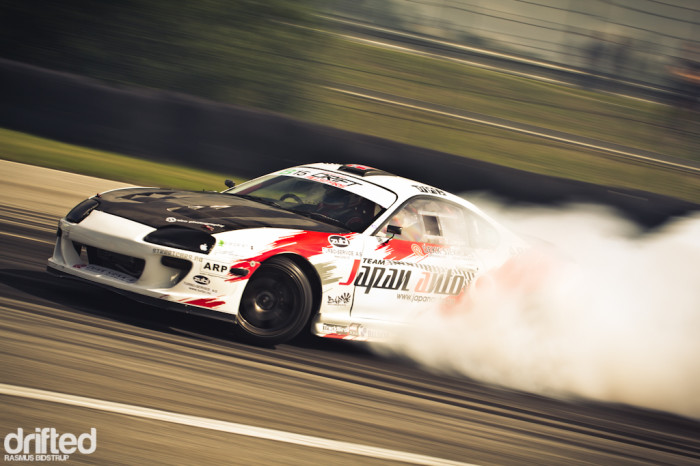 Reigning Norwegian Powerdrift champion Ola Jaeger would make the trek all the way down from Norway. Fresh from finishing his new 2013 Japan Auto supra, and coming from the same team that helped Fredric Aasbø, big things are expected from Jaeger in 2013.  He would qualify quite low in 23rd place, again showing the depth of talent on display.
Jacob Hogh Hansen, another local driver, from just over the border in Copenhagen, would be at his home circuit in his immaculately prepped Jocks Bilimport RB26 S15. He would place 17th in qualifying.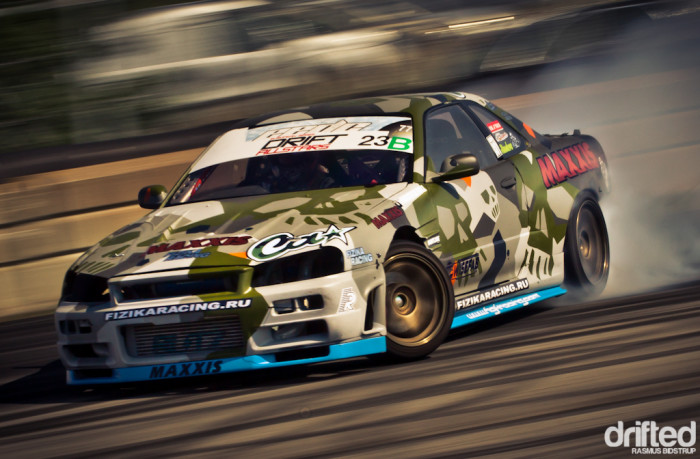 Max the Mad Russian was loving the fast open layout in his big power R34. This must be one of the lowest R34's in the world and also one of the best looking. Luckily, he has a full Wisefab suspension package, so he can do this! Max would go on to qualify 15th for the main event.
Young Swedish driver Rasmus Moller, in his 2JZ powered S14, was making a great impression at his local track. He would lock out 13th place in Qualifying, making him the second highest placed swedish driver.
Mad angles were on display most of the time from Felix in his Wisefab kitted E46. If this isn't enough for you, see below…
As you can see, Chitipakhovyan, the Mad Russian, in his 2JZ BMW E46, seems to be in flying form since switching over from his Supra. The Wisefab built car will be one to watch as he gets more used to it over the season. The Russian RDS champion would end qualifying in 12th position.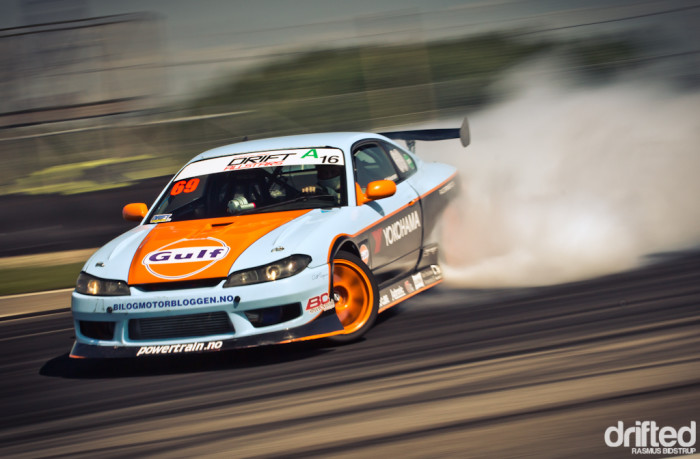 Christer Halverson, another top Norwegian driver, and helped by another Norwegian superstar, Kenneth Moen, was on flying form in practice with mad speed and angles just like his mentor, Moen. Halversons car is quite unique even in this exalted company, having chosen to fit an E46 BMW M3 engine and then turbo charging it. He would go on to grab 11th place in qualifying in his Gulf liveried car.
Kristaps Bluss would debut his brand new HGK Motorsports BMW E46 with it's supercharged LS3 engine, After closer inspection, we can confirm, without doubt, this is probably one of the best built drift BMW's in the world. Bluss has been on flying form as off late after collecting two podiums in EEDC earlier this season. He would go on to qualify in 10th place.
Martin Richards was having a day he would rather forget, this photograph captures his first lap turn two. Moments later, he carried way too much speed and collected the wall, destroying and removing the entire rear end of his R33. After many hours of work by him and many other, he would just about repair the car for qualifying! With NO practice, and with a totally untested car, he then went out and promptly staked his claim to 9th place in qualifying on his very first judged run!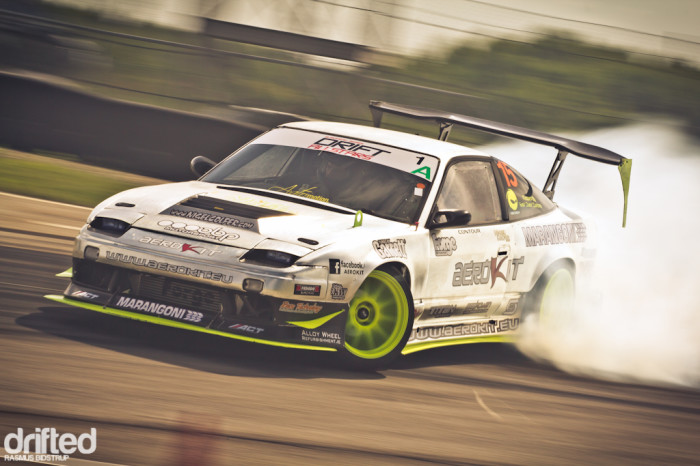 Nigel Colfer was one of the first to hit the track early in the morning and was absolutely loving the fast, technical layout. Coming off a third place finish in Poland, he needed to maintain his championship position with a good points finish. He would lock out 8th place in Qualifying.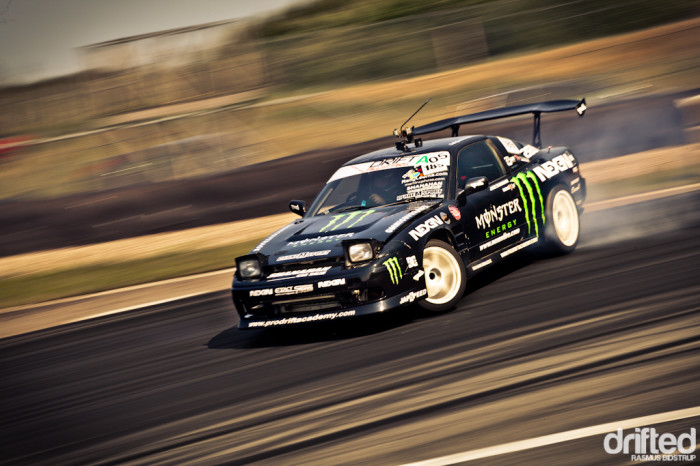 Teenage sensation Jack Shanahan would be on the form of his life again, taking out 6th place in qualifying against this hugely competitive field. It's strange how times have changed, even with 500hp , when put up against a field as formidable as this, he was still having to use every last horsepower to just about stay competitive. 500hp to 800hp seems to be the window for a competitive car in the 2013 season.
Top Swedish driver Johan Halverson has been making big waves in the Swedish series and Gatebil events recently, and it was great to see what the Swedish driver could do in his 2JZ powered S15. He would take 4th in qualifying, a strong showing for his debut in Drift Allstars.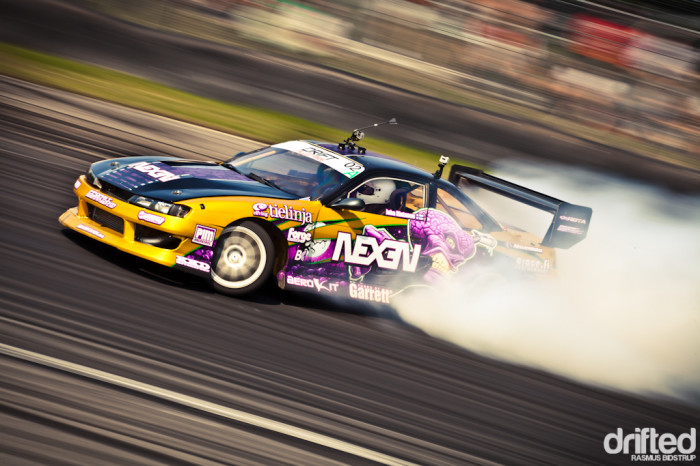 Flying Fin Rintanen was on a mission after his lowly placing in Round 1 Poland. He would attack the track and after holding P1 for most of the session, he finally finished the session in 3rd place, showing how high the level has jumped in 2013!
The Polish TROLL Pawel Trela seems to finaly be getting used to his 2013 2JZ Powered Opel GT. Trela would push hard and take P2 in qualifying after showing some the insane angles and speed we were used to seeing him pull off in his old S13. Fresh also to Round 2 was the unveiling of his 2013 title sponsor, Nexen Tyre Europe, and we must say, the car looks great!
Dawid Karkosik in the Budmat Auto S15 seemed to take to the track like a duck to water, and was absolutely on it from the first run of the day. The Polish driver really seemed to be at home with the high speed entry, which are so common in Polish events, and locked out P1 in qualifying with a run which stunned the judges and just nudged out Trela and Rintanen.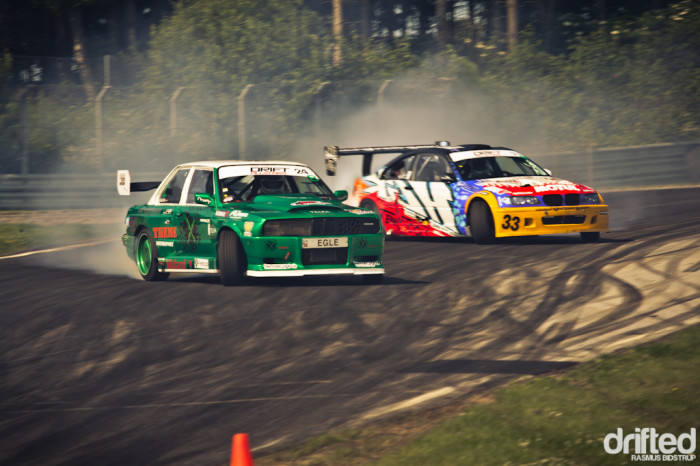 As final practice would come to a close all drivers got use to the quite technical layout and the final practice session was crazy with 3-4 cars at a time coming screaming down the hill and it was great to see so many pro drifters who were feeling totally comfortable at this incredibly demanding track.
Halfway through final practice, teenage sensation Jack Shanahan would be struck down with clutch problems. With limited time to spare before the battles, Team Shanahan got to work replacing the clutch in a very short time to get the Nexen Tire Europe Monster Energy S13 back on the grid. During which they employed some less than usual techniques to speed thing up…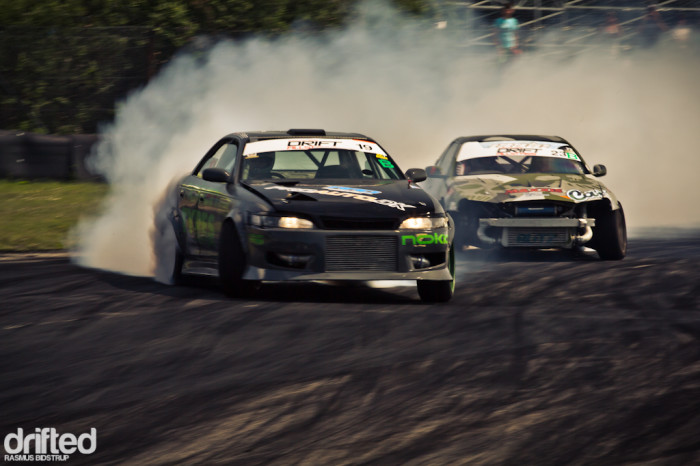 Niels Becker from Denmark, in his Nokian Tyres JZX90, being hunted down by Max.
Martin Richards back on track for the main event in Sunday morning Practice! Will Martin stay out of trouble in round 3?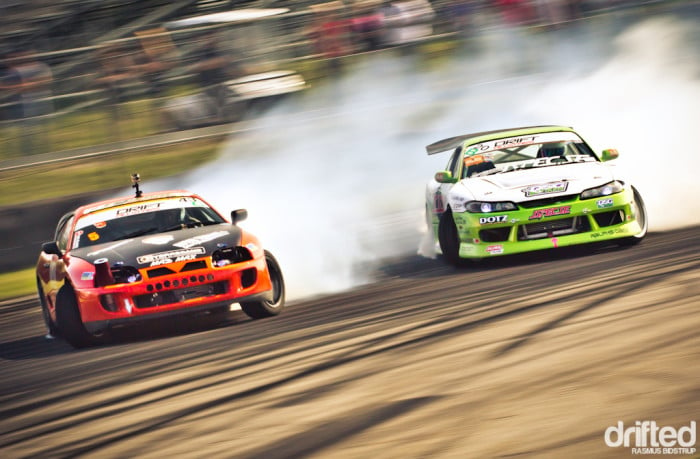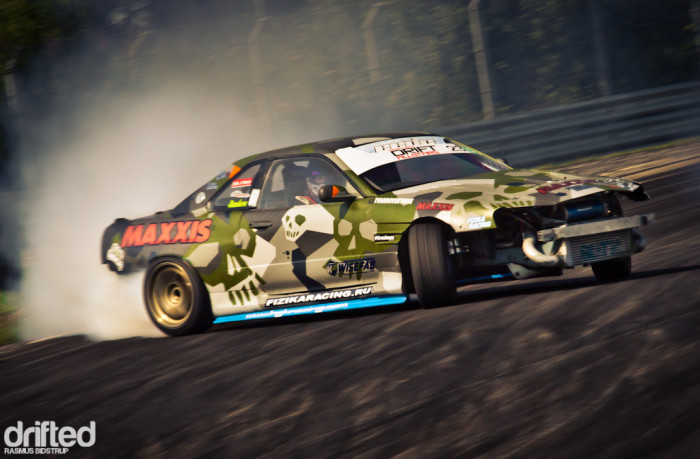 Jacob Hogh Hansen would face local driver and rival Jimmi Egebjerg Hansen after both had put on a great show all weekend. Jimmi would have more speed, and a slight mistake from Jacob was enough to end his day.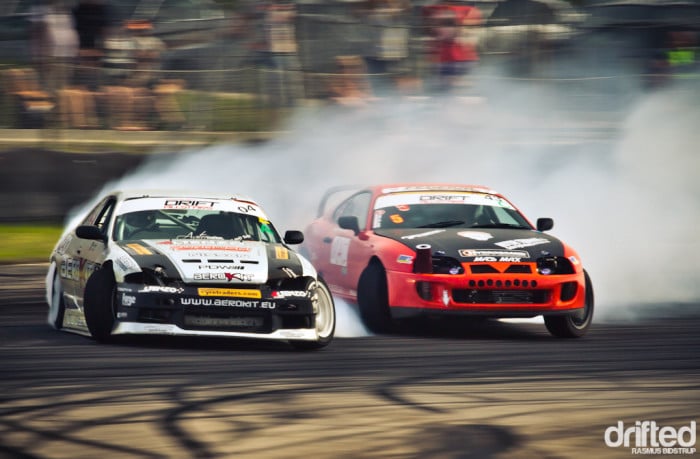 Martin Richards would face Robin Alsaker in his first top 32 battle. After his incident on Saturday, Martin seemed to rise to another level and defeated the Norwegian driver comfortably.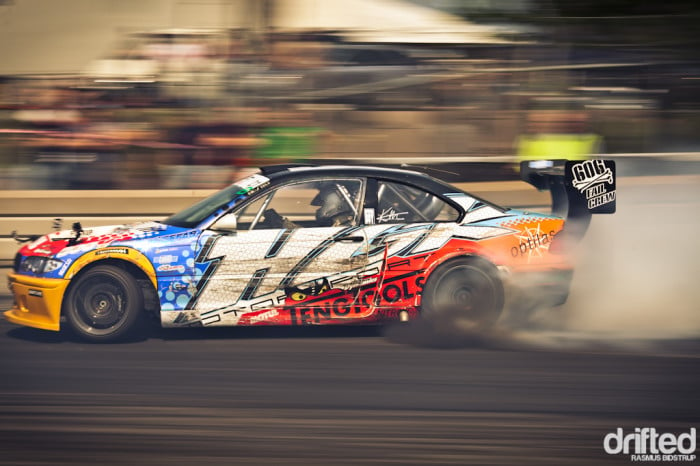 Juha Rintanen would take out another Norwegian driver, Ismail Salih in his 2JZ Powered BMW E46. Juha was showing massive speed and angles, and would easily progress to the final 16.
Top 16 time, and the cars roll down the famous Sturup Raceway hill for the opening ceremony.
Colfer, a man on a mission, could 2013 be his year? He has been the nearly man in 2011 and 2012, placing second in the championship both times.
Johan "Mr Hollywood" Halverson was on home turf, could he spring a surprise?
Janis Elgite, "The Tandem Assasin", would make his first appearance also. Could the Latvian and EEDC champion spring a surprise result?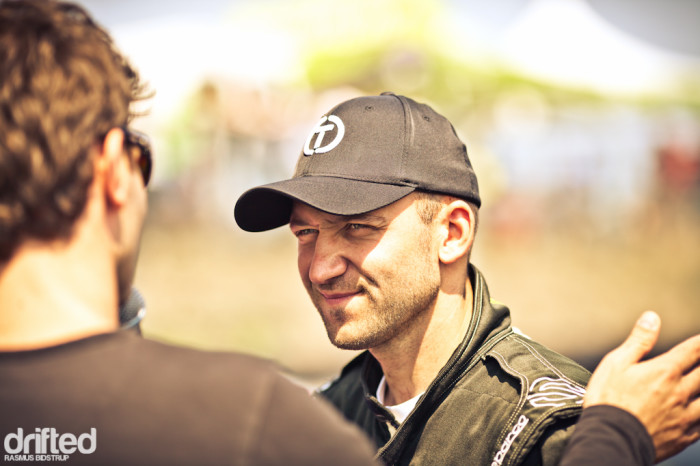 Trela has had a below par start to the season, but being his calm, cool self, we expect him challenging for wins by the end of the season as he gets his one-of-a-kind Opel GT fully dialled in.
Ola Jaeger, the current Norwegian champion, would make it through to the top 16 after a great drive! But this was only the start of his day!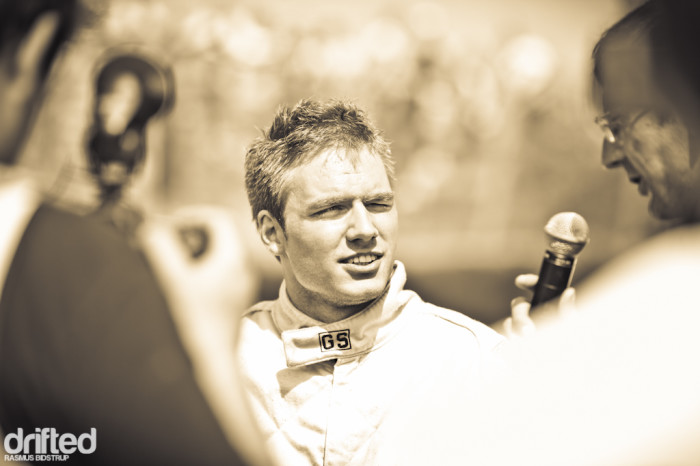 Team mate to Jaeger at Japan Auto, and also neighbour, Joachim Waagaard put on a strong drive and easily progressed to the final 16. Will these two young Norwegians be the next wave of drivers to go international, following in the footsteps of Fredric Aasbø and Kenneth Moen?
Johan Halverson would face off against Martin Hell in the top 16. A mistake and spin by Hell was enough to see Halverson progressing to the Great 8.
Piotr Wiecek would struggle with an engine mis-fire all weekend and it could be seen in his top 16 run. Elgite was just too strong and would be the next driver to progress to the great 8.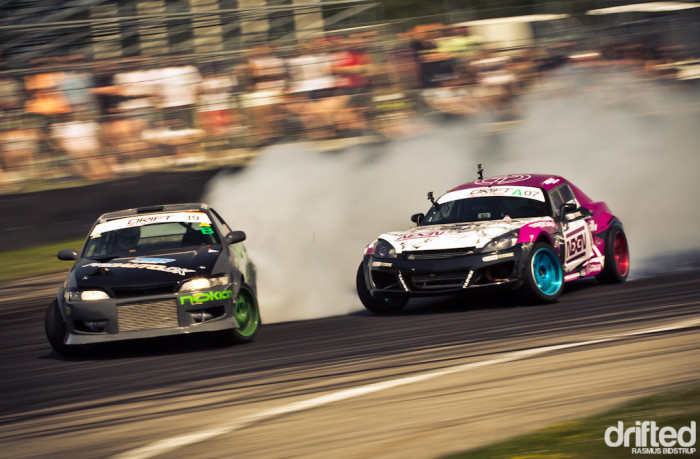 Niels Becker would next face off against Pawel Trela. Both drivers are very familiar with each other, as Becker also competes in the Polish DMP series. Trela would have far more speed, and would progress to the final 8.
Pawel Trela would have another tough battle in the final 8 against Ola Jaeger. The current Norwegian champion vs  the 2011 Polish champion. Jaeger was having the drive of his life and gained a slight advantage over Trela after a mistake from the Polish driver, which was enough to send him through to the final 4.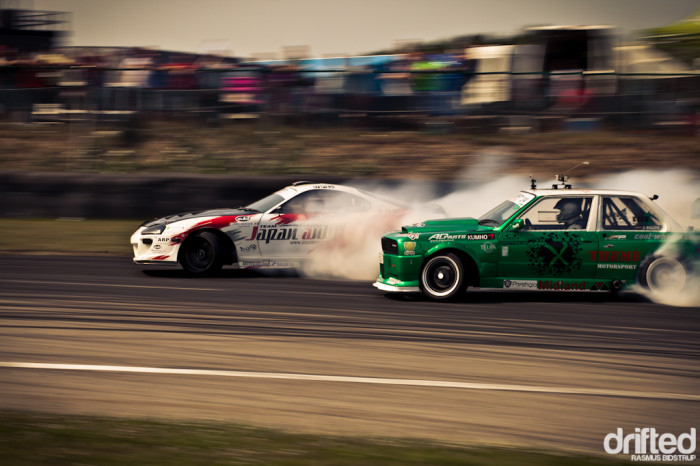 Ola Jaeger and Janis Eglite would do battle in the 3rd place play-off, but the 'Tandem Assassin' was on  form and on a mission after earlier taking out Halversson. Elgite would this time be the one to gain a slight advantage, which was enough to get him on the final step of the podium.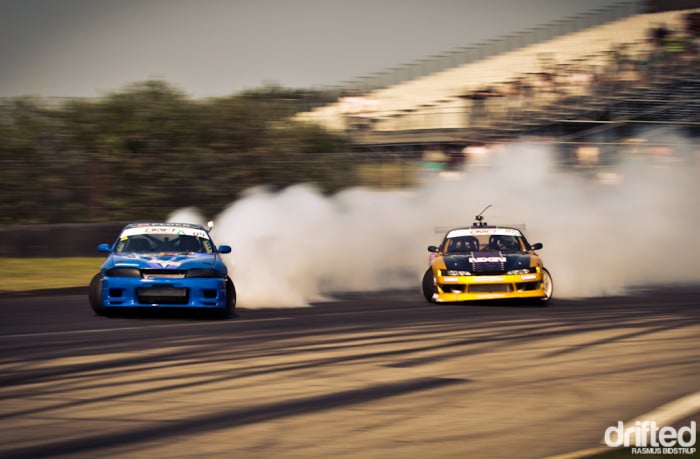 The final came down to a battle between our 1st place and 3rd place qualifiers, Dawid Karkosik and Juha Rintanen. After an incredibly tight battle and a one-more-time by the duo, a mistake by Dawid in the second run, clipping the wall, was enough to give the win to Juha.
And that rounds off an amazing day at the Drift GP of Sweden. As a debut event, the sell-out grid and amazing driving on a great circuit can only mean there is bright future for International level drifting in Scandinavia and throughout Europe. With talks already under was for more events in the region, will be interesting to see what Drift Allstars get up to in Scandinavia in 2014…..

1st. Juha Rintanen Finland – Nexen Tire Europe
2nd. Dawid Karkosik Poland – Budmat Auto RB Team
3rd. Janis Eglite Latvia – Xtreme Motorsport/Wisefab
Drift Allstar's next stop is Latvia -Drift GP of Riga on August 2-3rd for round three of the championship.
Photography: Rasmus Bidstrup