EVENT: Gatebil Sweden 2014: Mixing pleasure with pleasure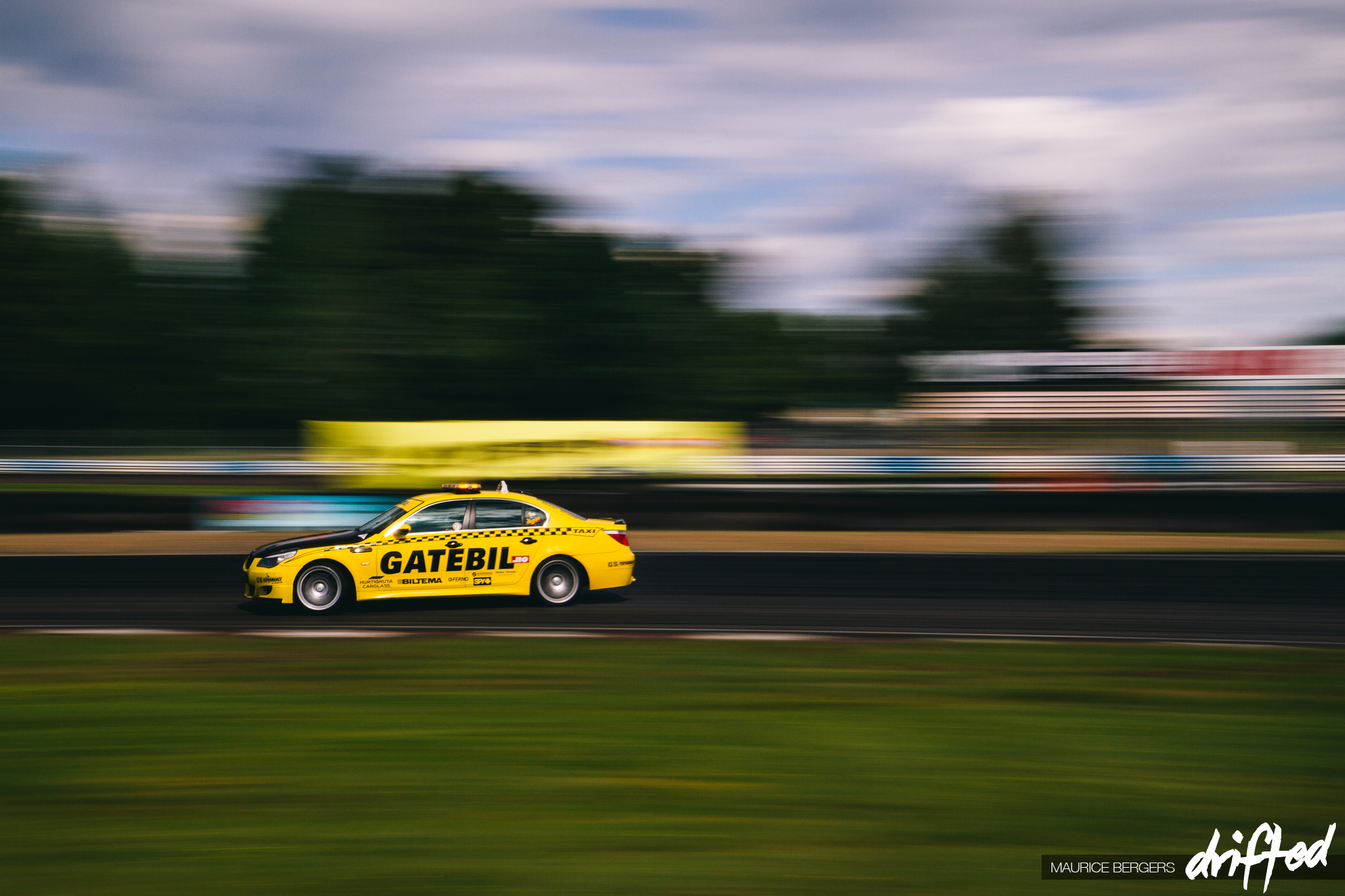 Probably the most famous track day festival in the world, Gatebil with its multiple events per year continues to be a bucket list item for many automotive enthusiasts. It truly is a track day like no other and many claim you have to experience it to know what it's all about – so that's exactly what we did.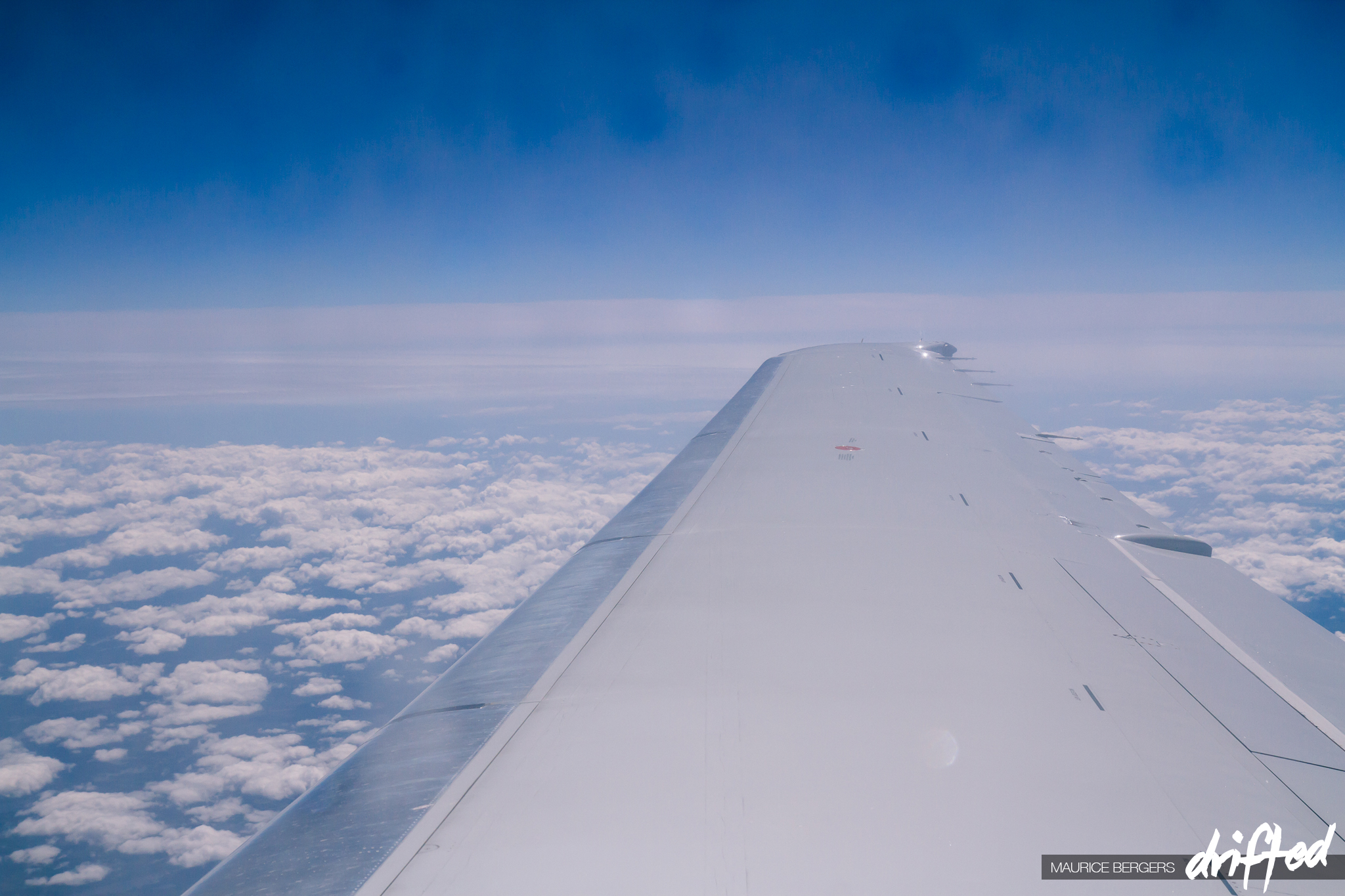 Together with my friend and colleague Rens Adams, we decided to travel to Mantorp Park in Sweden to find out what Gatebil was all about. Videos and photos on the internet can only tell you so much, but we were quite sure it was going to be good. It was also the first time I would actually get to an automotive event by plane, and as an adrenaline junkie, especially take off is quite fun!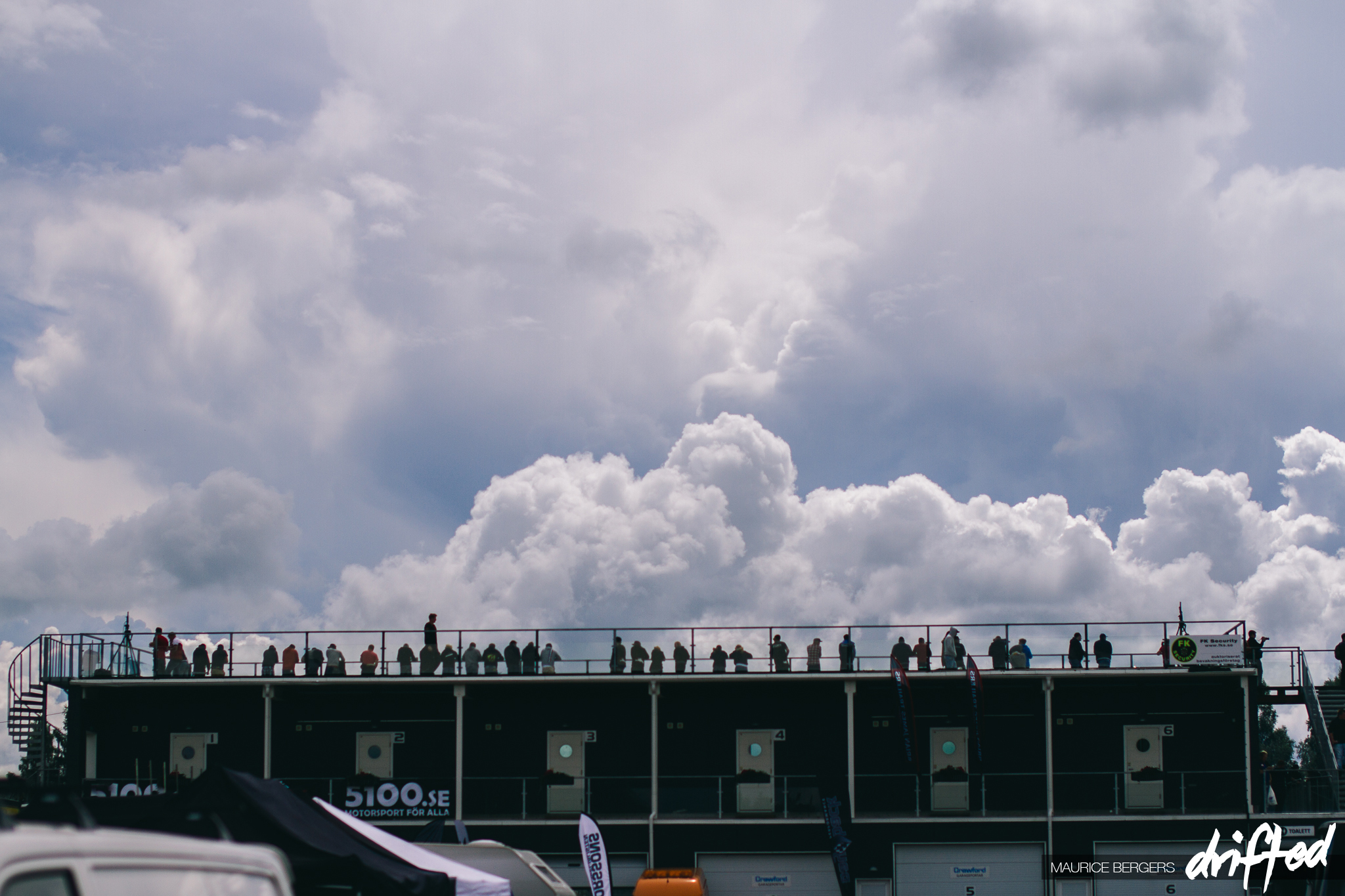 We had originally planned on just experiencing the madness of Gatebil as a spectator, but sometimes things don't really go as planned. As photography is something we both really enjoy, we couldn't resist the urge to apply for media accreditation. So after a few emails with the Gatebil organisation, we found ourselves taking our camera bags as carry-on, as we both got put on the media list.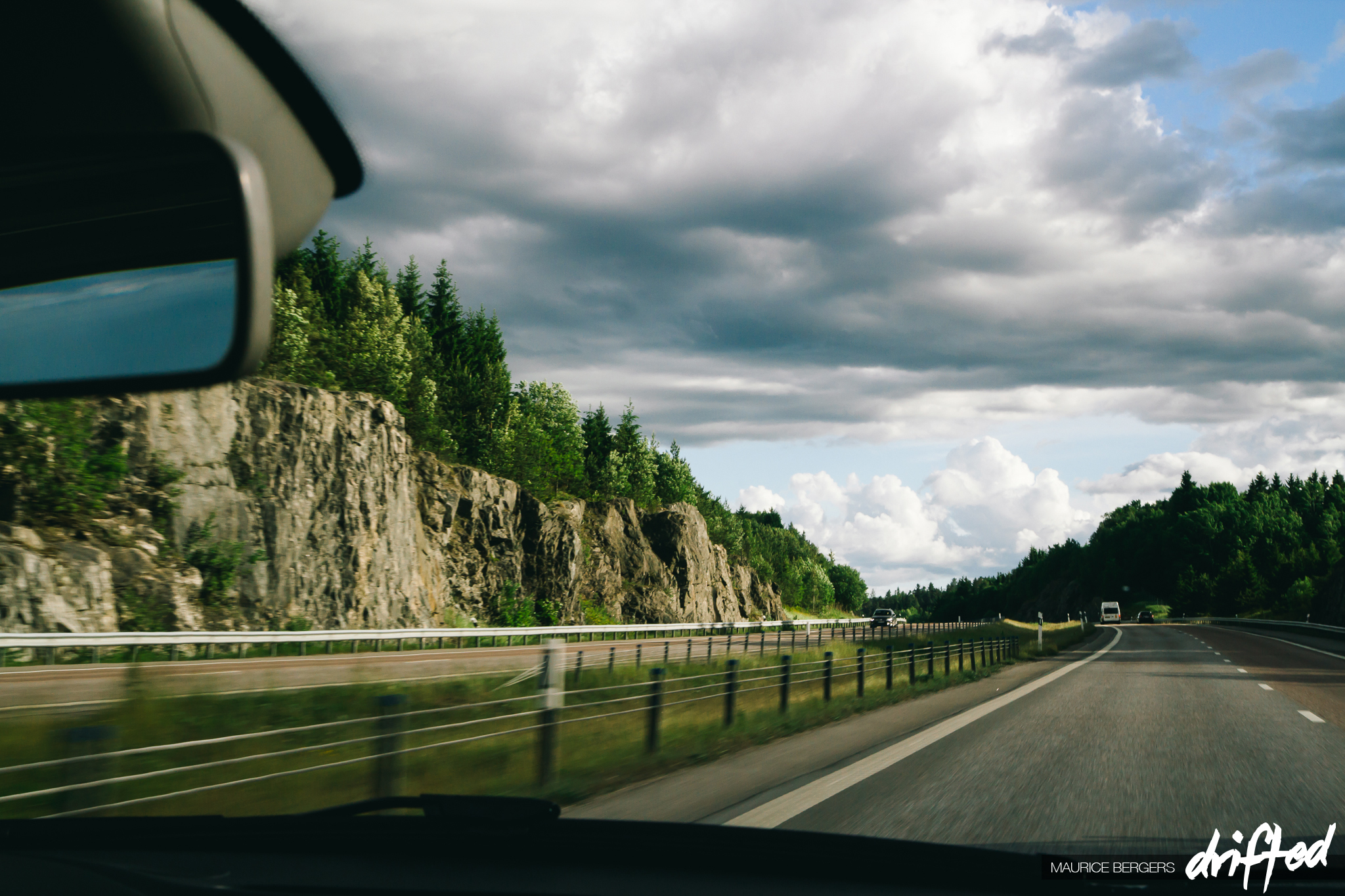 This didn't mean though that we would approach this weekend differently though, this would still be somewhat of a mini-holiday! After not so careful consideration of our budget, we also decided to splurge on a rental car, and not deal with the hassle of public transport. Besides, road trips are fun, especially when the country is as beautiful as Sweden.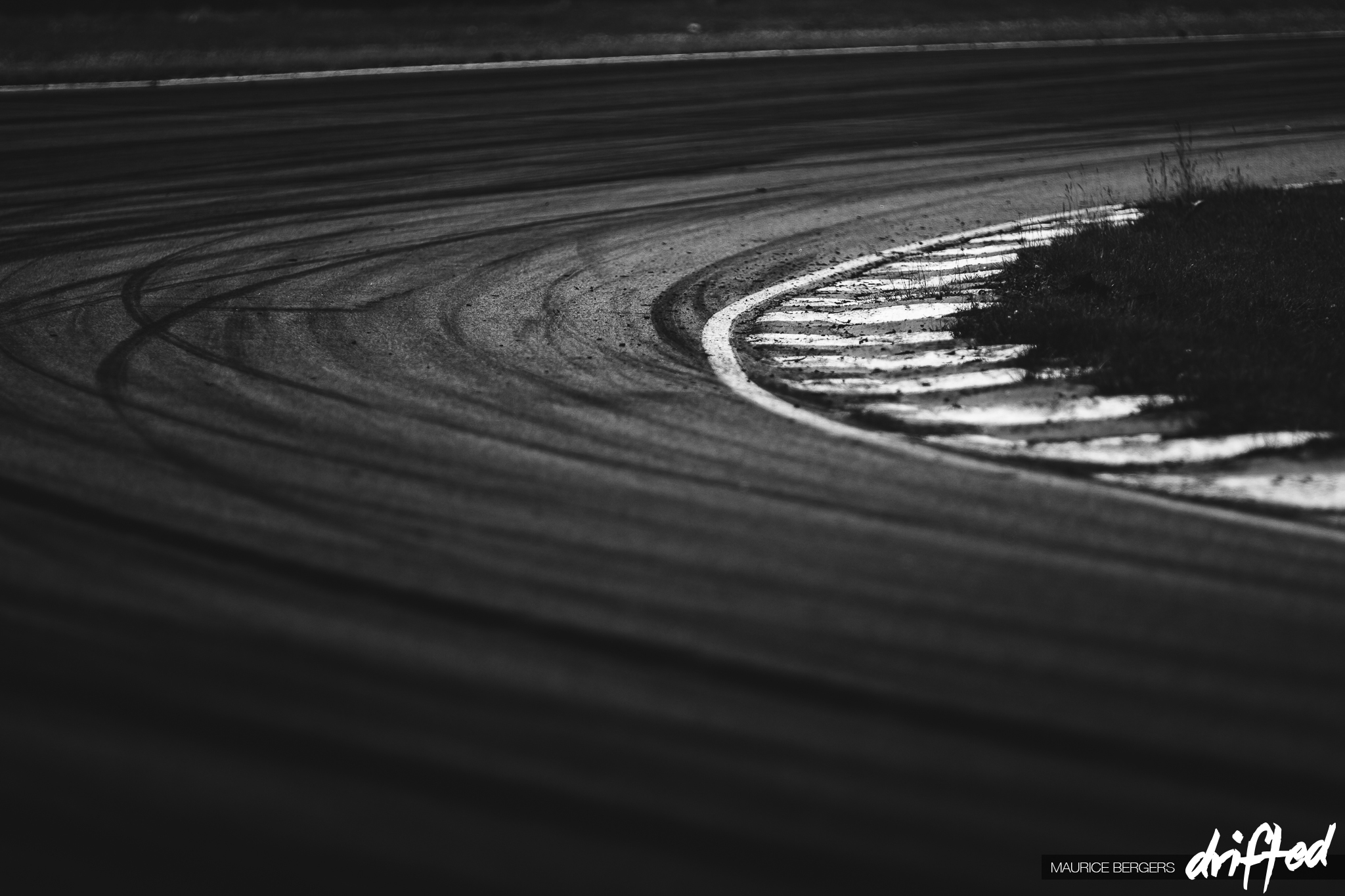 After a night at the hotel, we got up on a Friday morning to experience our first day of Gatebil. Would the stories be true? After getting our media vests and a short safety briefing, we were let loose… Quite literally, as there seemed to be little rules when it came to where we could go as media and when we could cross the track. That actually meant we were allowed to cross a live track! Pretty crazy if you ask me. We were simply asked to look out ourselves and each other and not do any stupid stuff.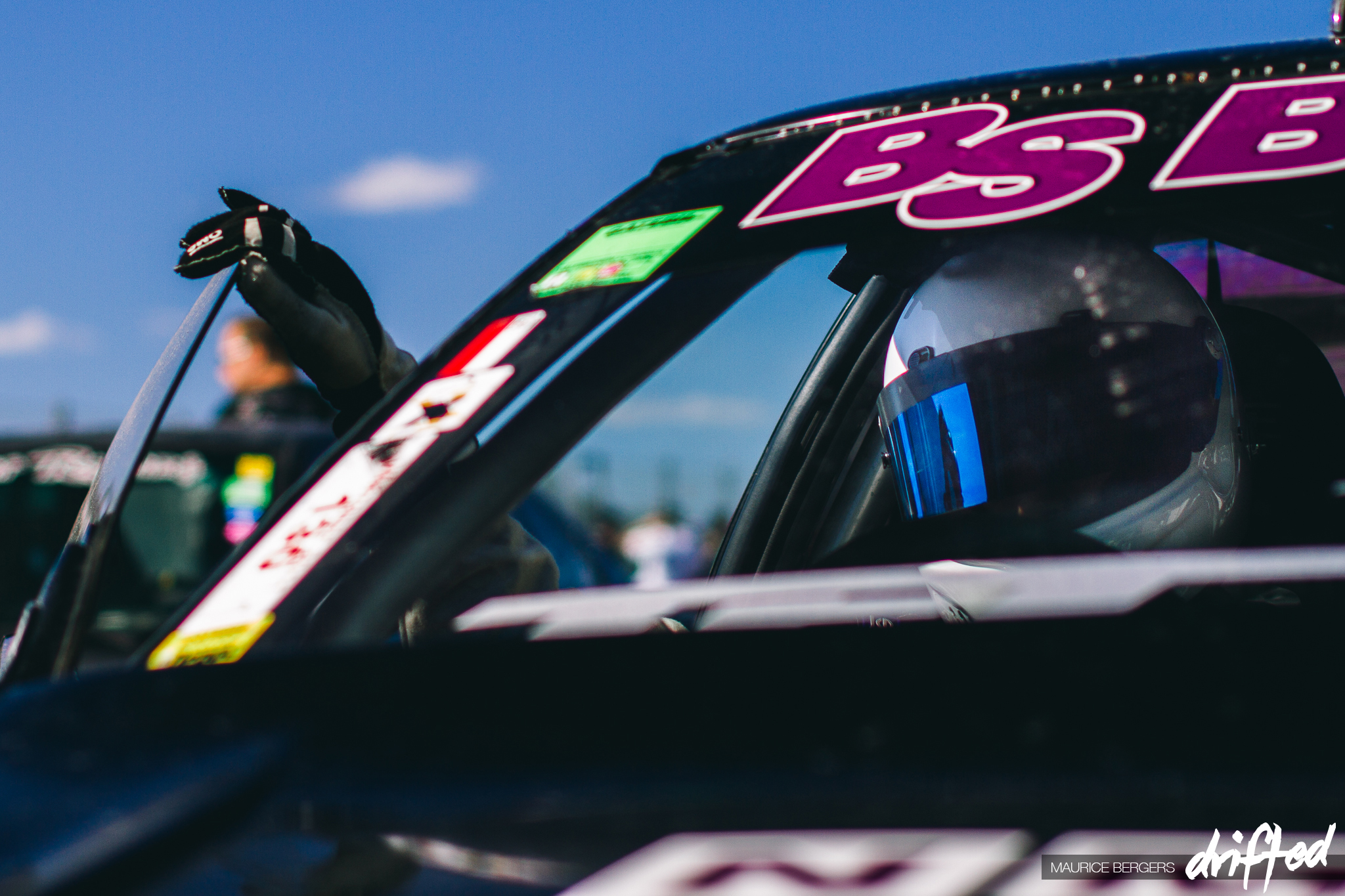 Over the course of the following three days, we were treated to an experience unlike anything we've experience before. Sure, we've shot our fair share of track days, feature cars, drift competitions and demos, but in no way did those events prepare us for this smörgåsbord of action and excitement.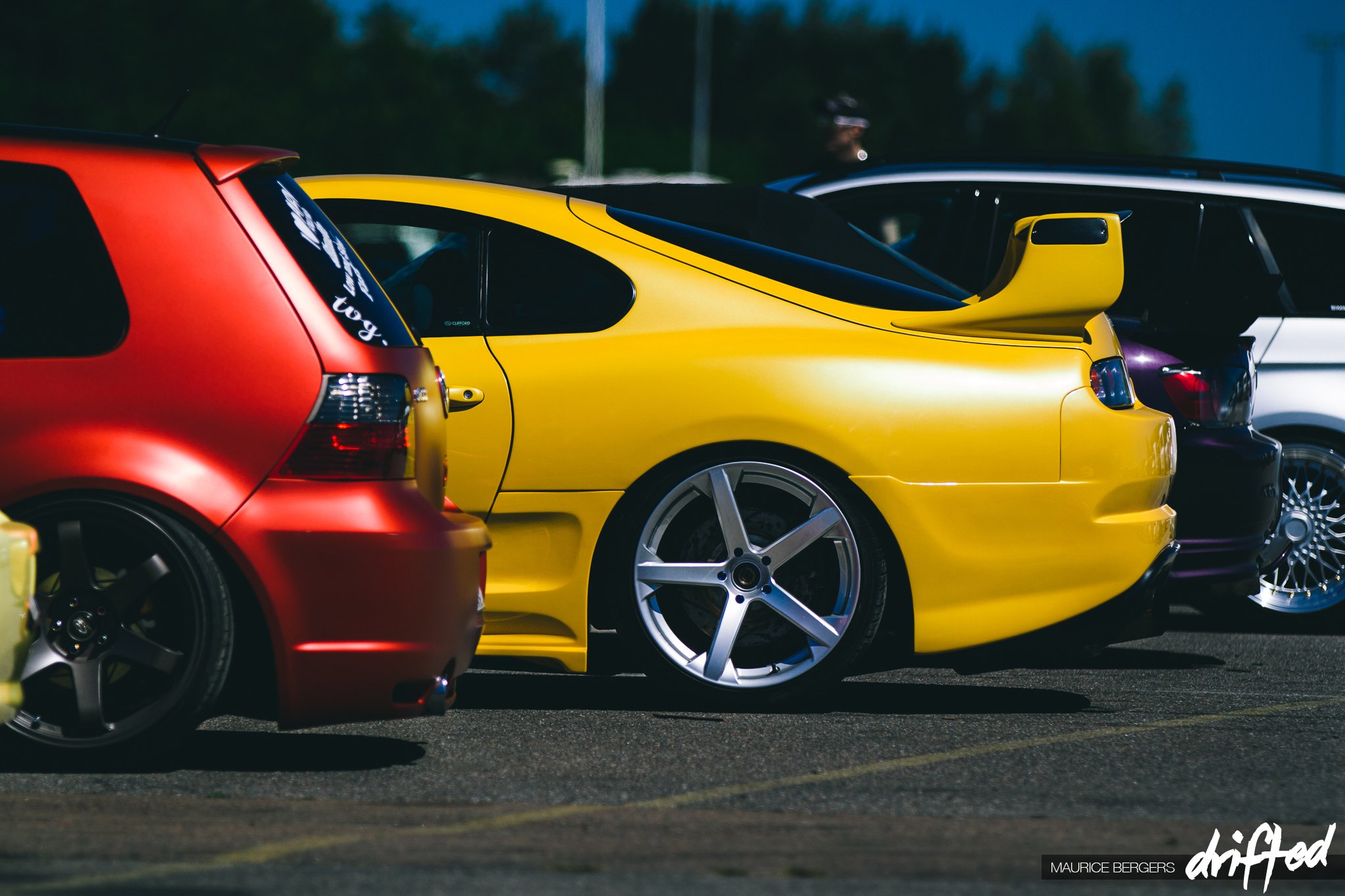 One of the strong points of Gatebil is that it's an event that started small over 20 years ago now, and has continued to grow naturally and get well known for all the right reasons. The variety in cars ensures there is something for everyone. Whether you are a fan of old boxy Volvo's or the sleeker lines of the Supra, there'll be something there that will tickle your fancy.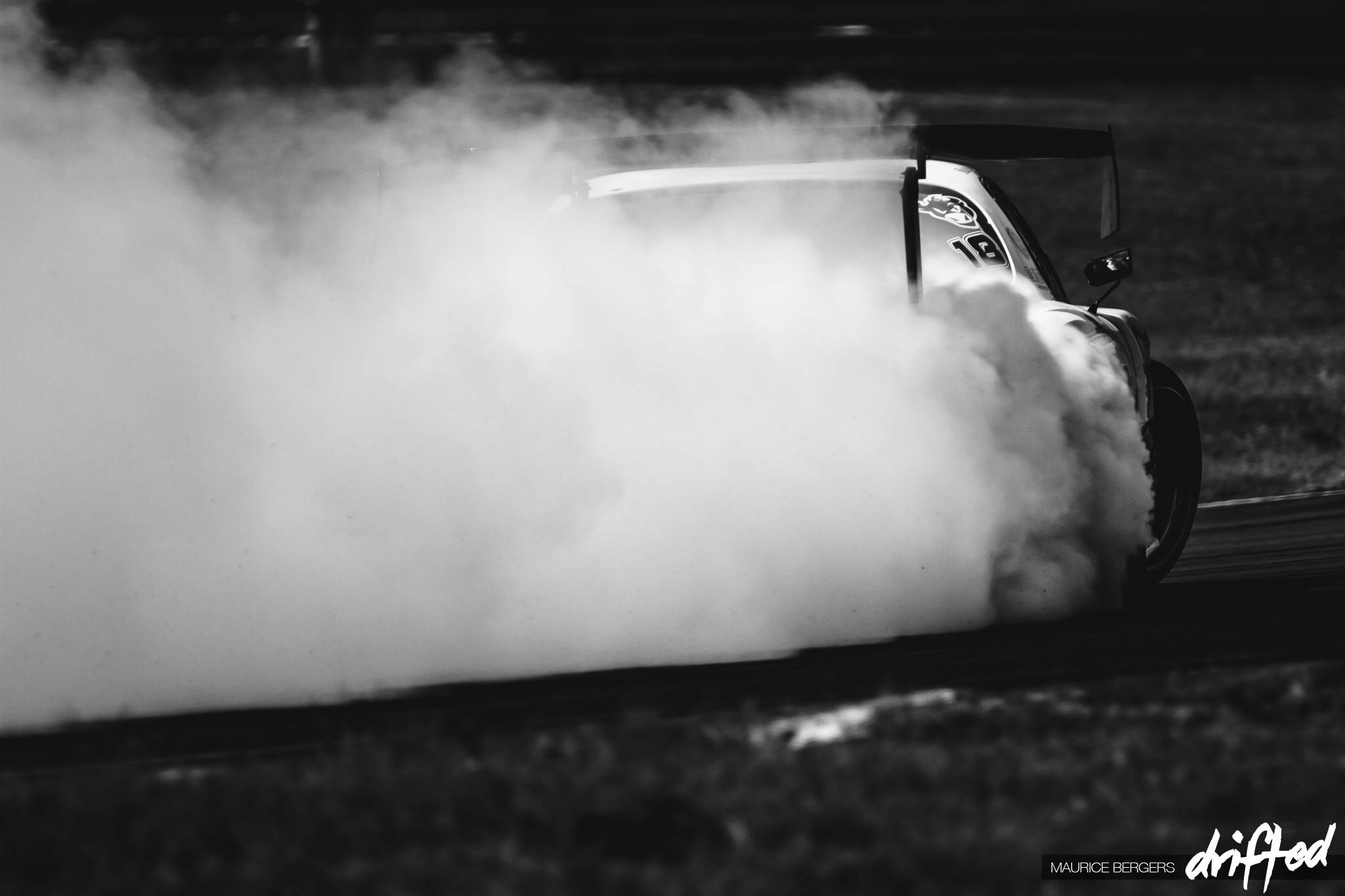 Something that tickles my fancy, I probably yours as well, is drifting… and boy did I come to the right place to see some drifting! It's a big part of Gatebil, as people from far away come to leave a decent amount of shredded rubber out on the track, creating a lot of smoke while doing so.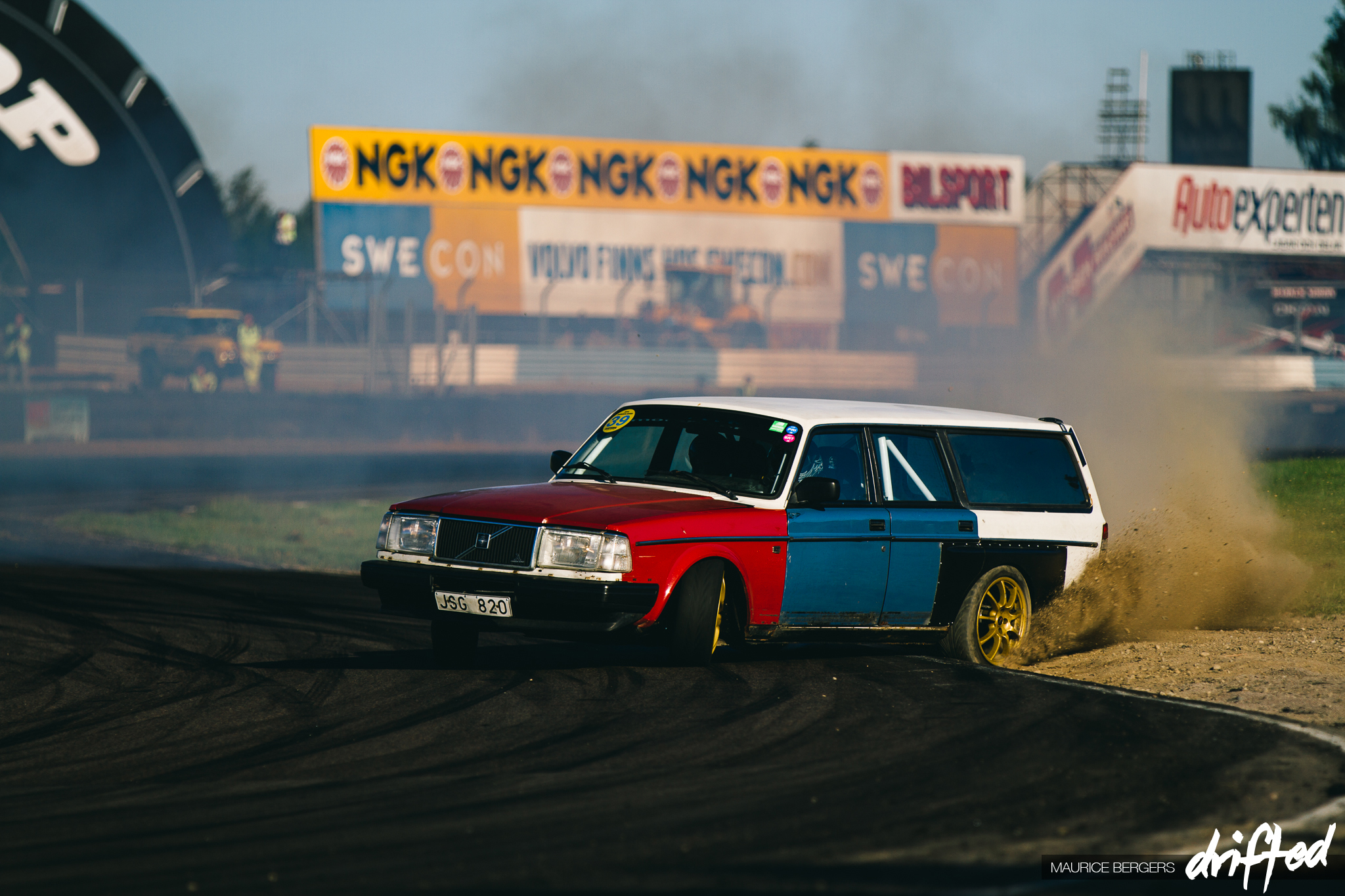 The drivers out on the track go absolutely crazy and seem to have a complete disregard for the time, money and effort they have put in their vehicle. As soon as leave the pit lane, they seem to go in some sort of 'Gatebil-mode' which makes them want to shred harder than Slash on crack.
It wasn't just drifters going crazy on track though. Quite a few seriously insane Time Attack cars and their owners made the trip to Mantorp Park. Simply seeing these cars drive into the pit lane to queue up for their session was quite the experience. The classic lines of a Porsche are beautiful, but when you add some wide fenders, it becomes a whole different beast. Elegant yet aggressive.
They still look better out on track, as that is where they belong. Drivers pushing themselves and their vehicles to the limit, trying to shave off those tenths of a second. Even though Time Attack means the drivers are looking to beat the fastest time, that didn't mean there weren't some intense battles out there.
Among the Time Attack contestants was a car you may or may not know, but either way remains seriously impressive. LaSupra, driven by Peter Pentell, is one of those cars that you read about on the internet, but delivers even more when you see it in the flesh.
From one impressive build onto the next this beefy looking Lotus from Team KRB is the stuff of dreams. It's only the skin that makes it look like a Lotus though, because underneath there's a Tiga C2 Prototype. Regardless of what's underneath, there's something about the aggressive styling that makes it look so goddamn sexy. Usually this pretty flower is driven by its builder Kai Bakken, but at the moment I took this shot, it was actually being piloted by none other than the Norwegian Hammer, Mr. Fredric Aasbø.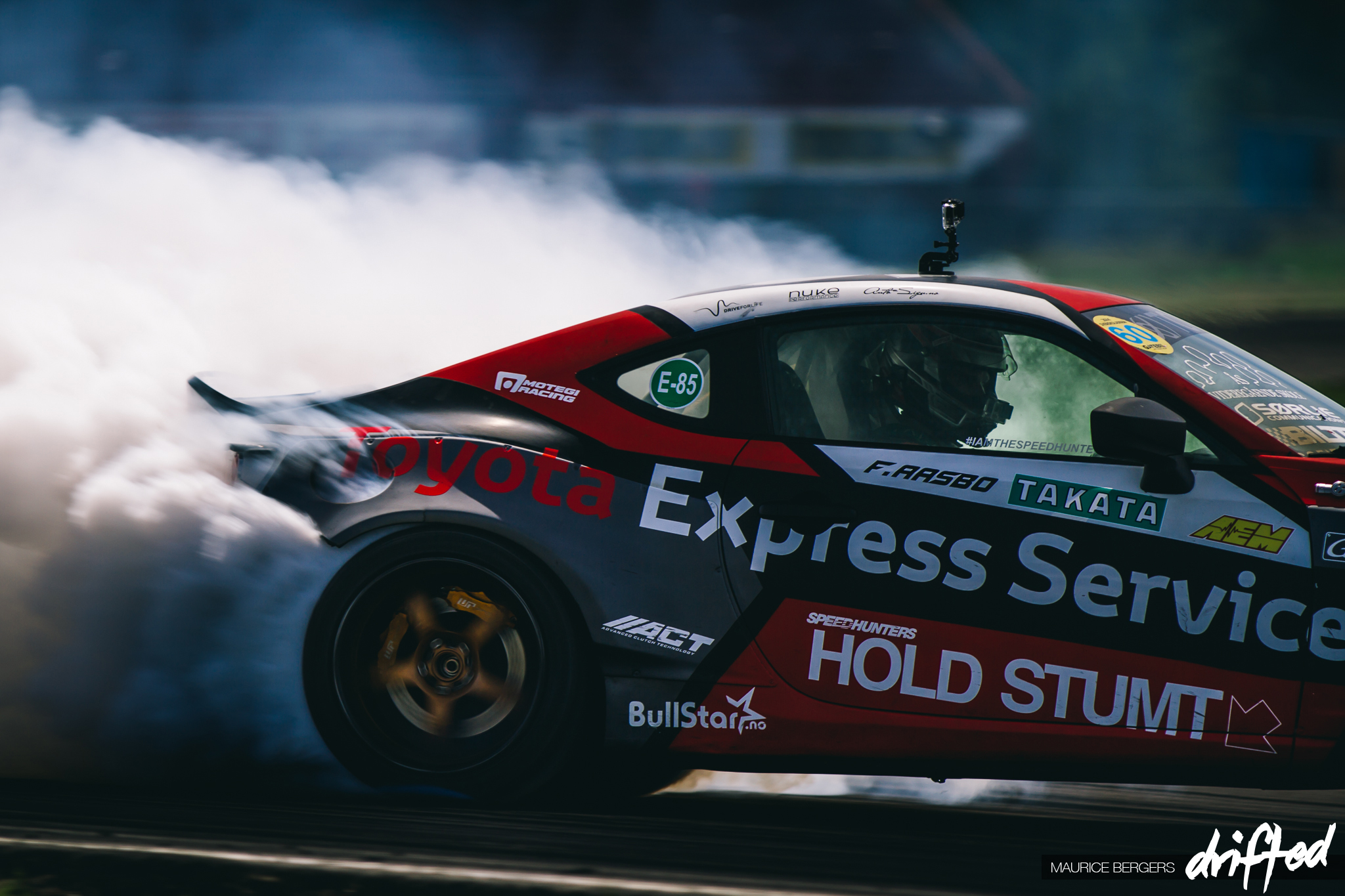 Time Attack isn't his usual cup of tea, and most of us hardly ever see him driving straight and not creating a whole lot of white puffy clouds, but I bet he still had a heap of fun driving that beast. Most of the weekend he was blasting through corners sideways in the Speedhunters Toyota 86-X.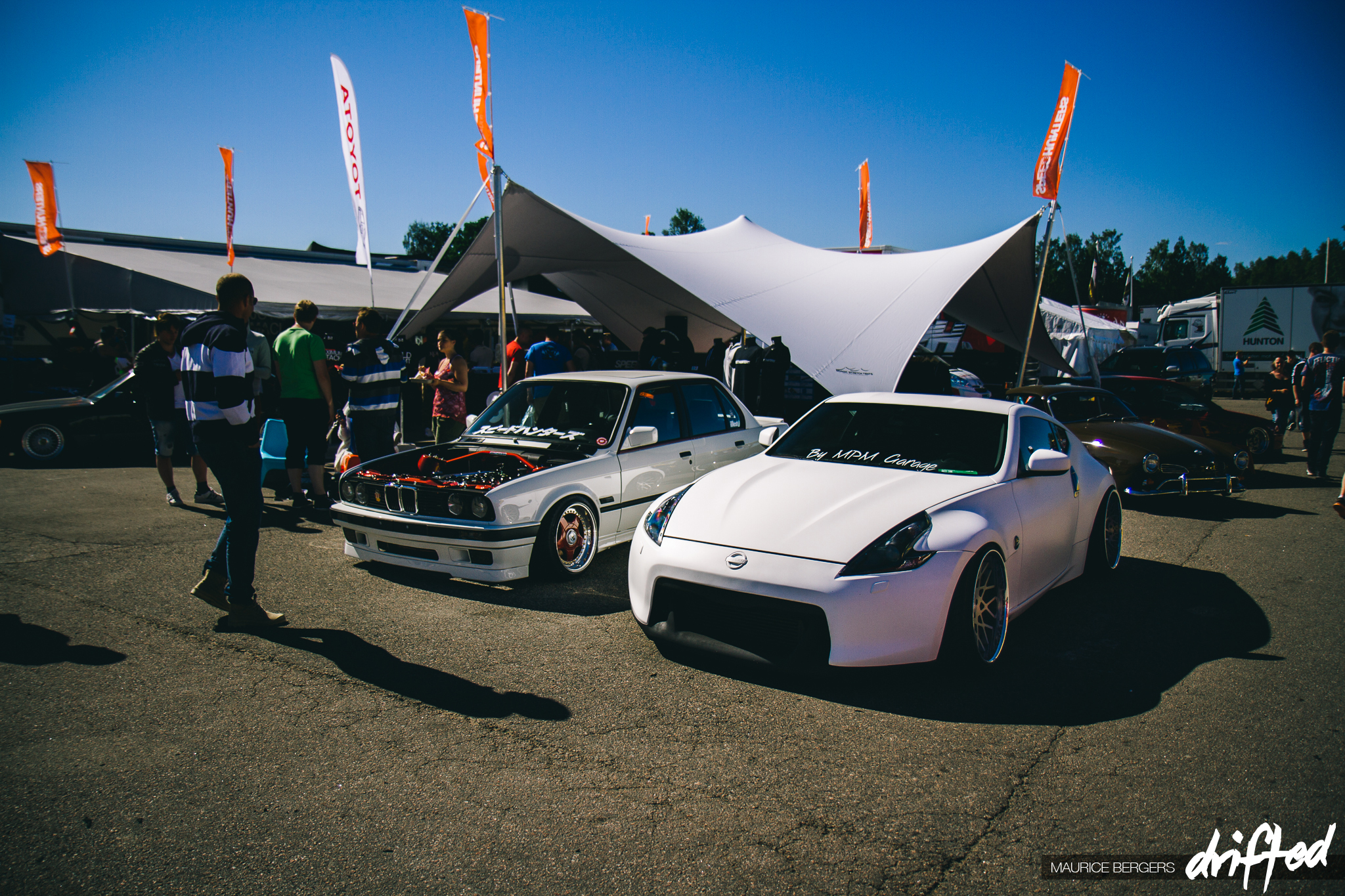 Fredric and Peter weren't the only Speedhunters on site though, as an entire crew had descended upon Mantorp Park. The Speedhunters stand quickly became a hub of activity, with people looking for a new shirt, seeing what the teams of the LaSupra and the 86-X were up to or checking out the fabulous cars that were surrounding the stand.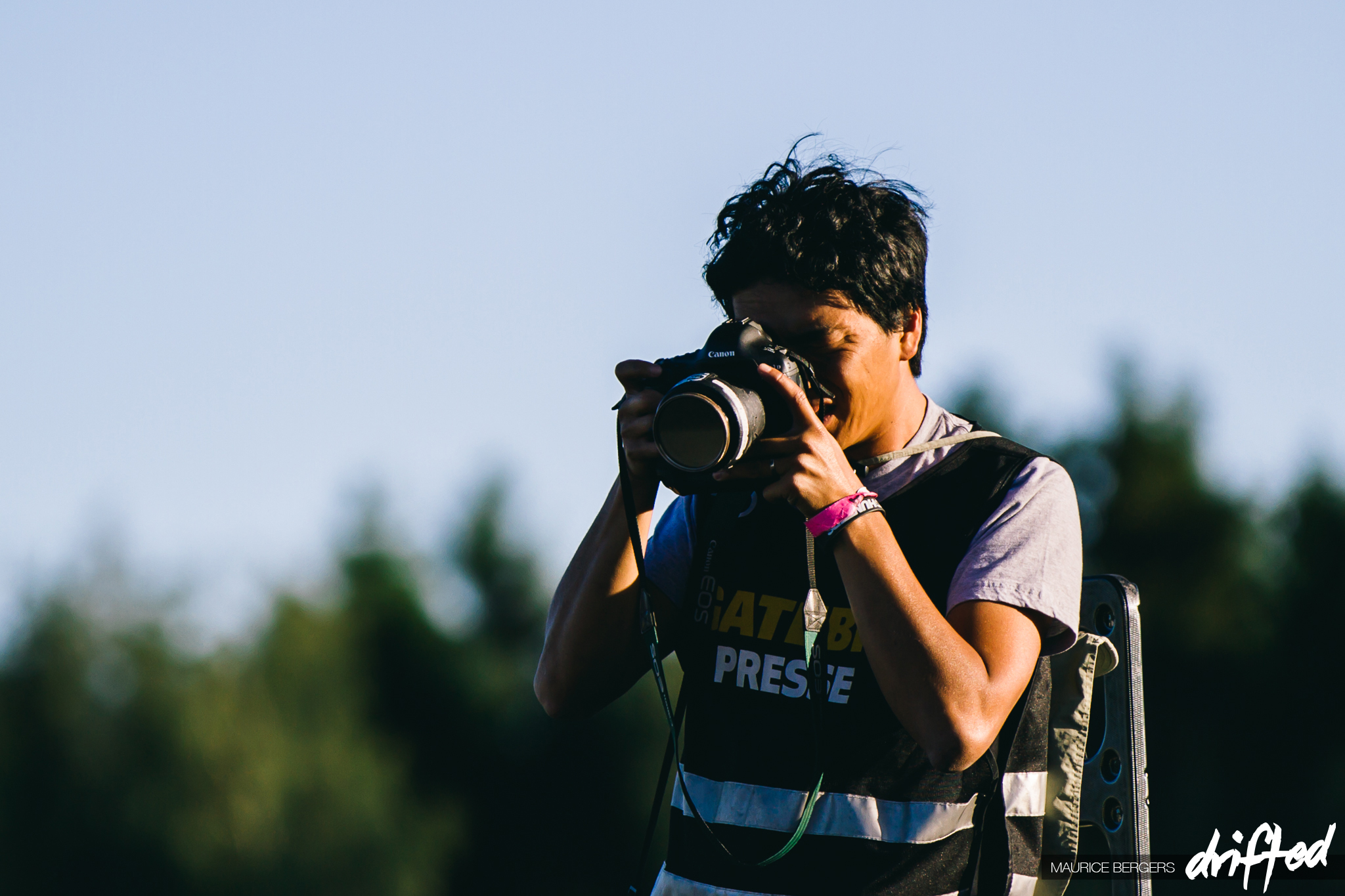 It also gave us photographers a chance to meet the people that we look up to, and draw inspiration from. After our first day, when we sat down at the Speedhunters booth to decide on our dinner plans and go over what we had just experienced we were joined by Bryn Musselwhite and soon after Larry Chen and Rod Chong joined us as well. For some reason I felt like a kid at the grown-ups table.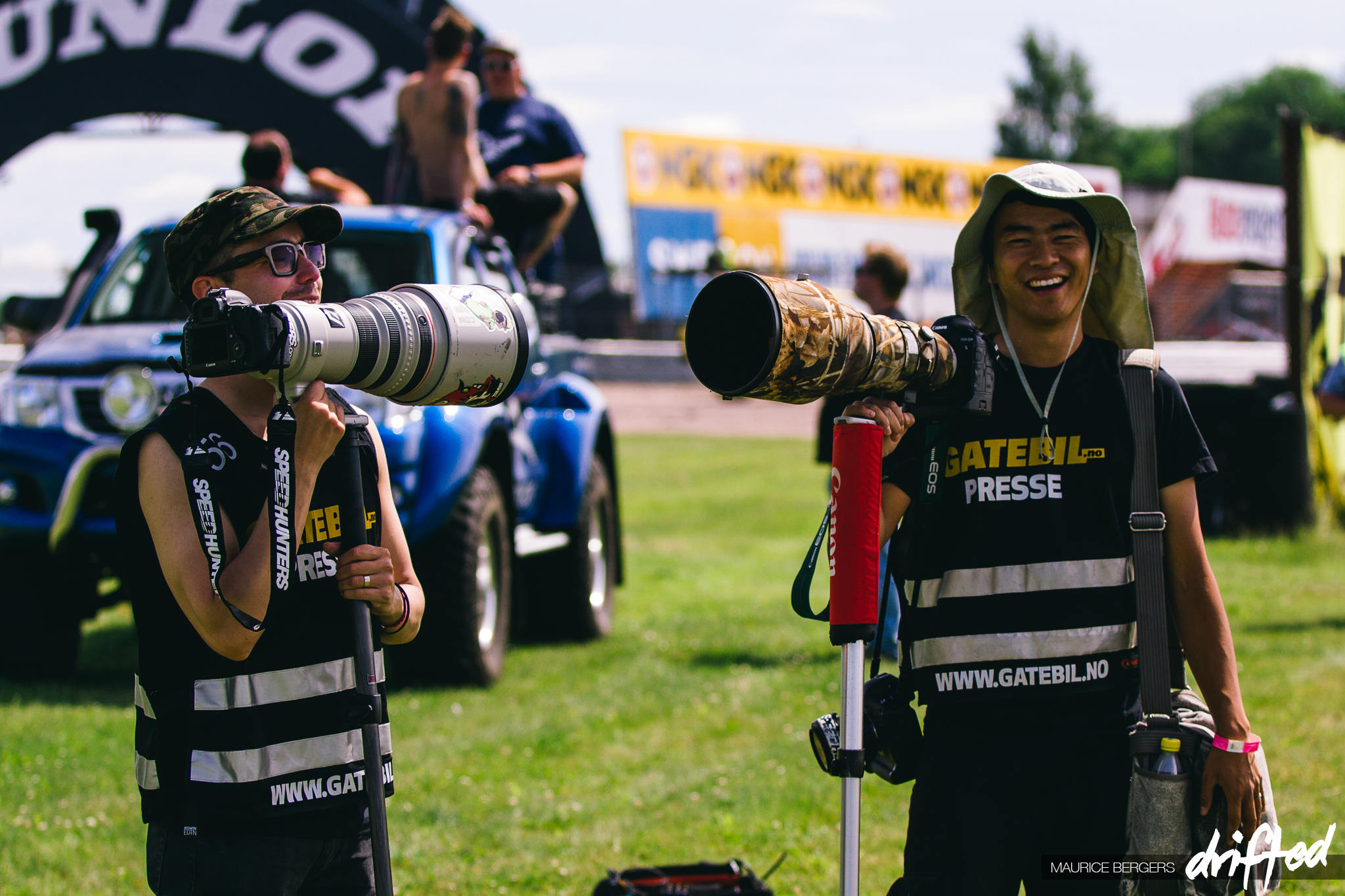 They're an interesting bunch these Speedhunters, but all of them genuinely nice and sometimes unexpectedly funny. The fact that the topic of conversation went from professional photography to blankets on airplanes quite quickly might not tell you everything you need to know, but trust me when I say you may not even want to know. As a not-so-closet Speedhunters fan, it was relief finding out these guys are just people too, although I'm not too sure about Mr. Chong.
Speaking of people, the Swedes are a great folk! Apart from the fact that everyone seems to speak English very well, they are all really nice and happy! Everywhere we went in Sweden, we felt welcome and people were helpful whenever we needed them to be. Perhaps someone from Sweden can enlighten me – is this normal, or is this just the effect Gatebil has on the entire country?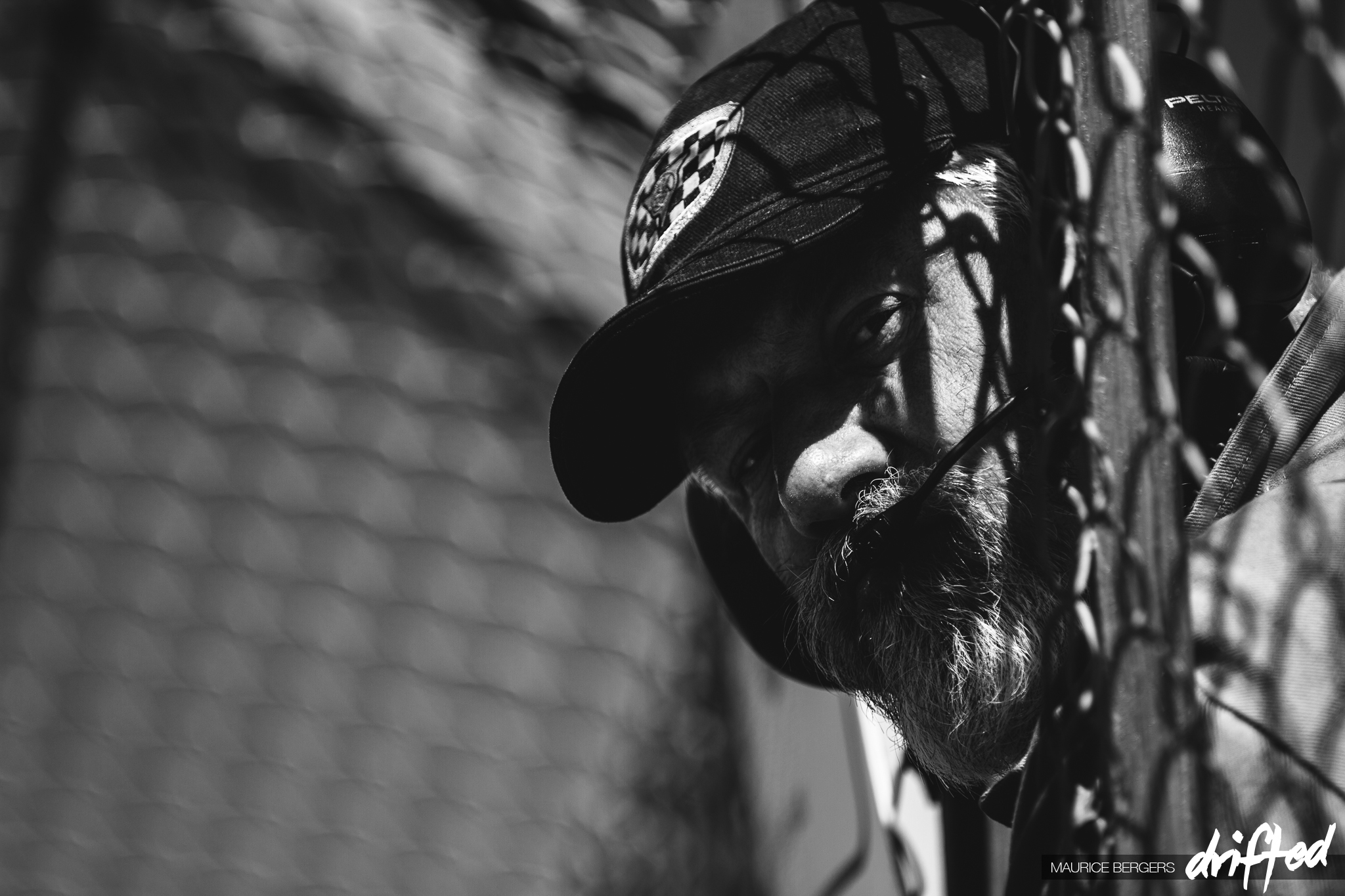 Among these people were the Mantorp Park marshalls. When going to an event you might not pay much attention to these people, but let's not forget these are the people that look out for your safety. If you're a driver or photographer, next time you see a marshall give them a big hug and tell them you appreciate what they do, because more often than not they are volunteers.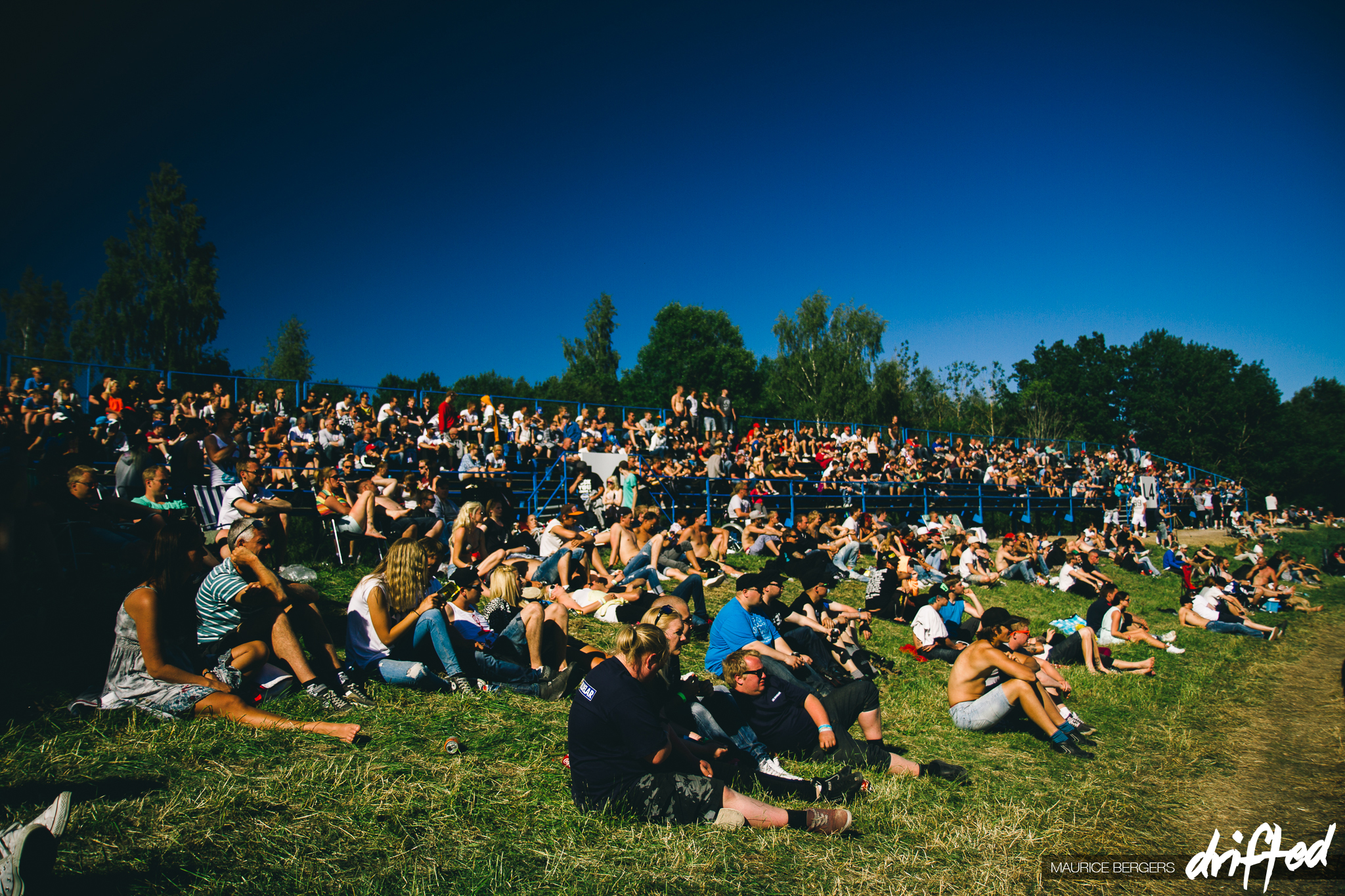 And then there's the spectators… We were blessed to have amazing weather that weekend, so the spectators came out in big numbers and the atmosphere was very relaxed and fun loving. During the qualifying session for the Breisladd, Rens and I actually found a nice spot on one of the spectator stands. Every time a driver had a good run the crowd cheered and clapped, without needing any form of encouragement! And the next day during the actual competition, this was no different.
Now as some of you may already know, Gatebil isn't your ordinary track day… or do your track days normally include a drift- and freestyle motocross show? The drift show was pretty much the drivers going nuts on a small course made up of the ramps used by the FMX guys and some concrete barriers.
As an extreme sports fan and a motorcycle rider myself, the freestyle motocross show was another great experience. Seeing these guys perform their tricks high up in the air as if it's effortless is simply mindboggling. Yes, that's a tank he's jumping over.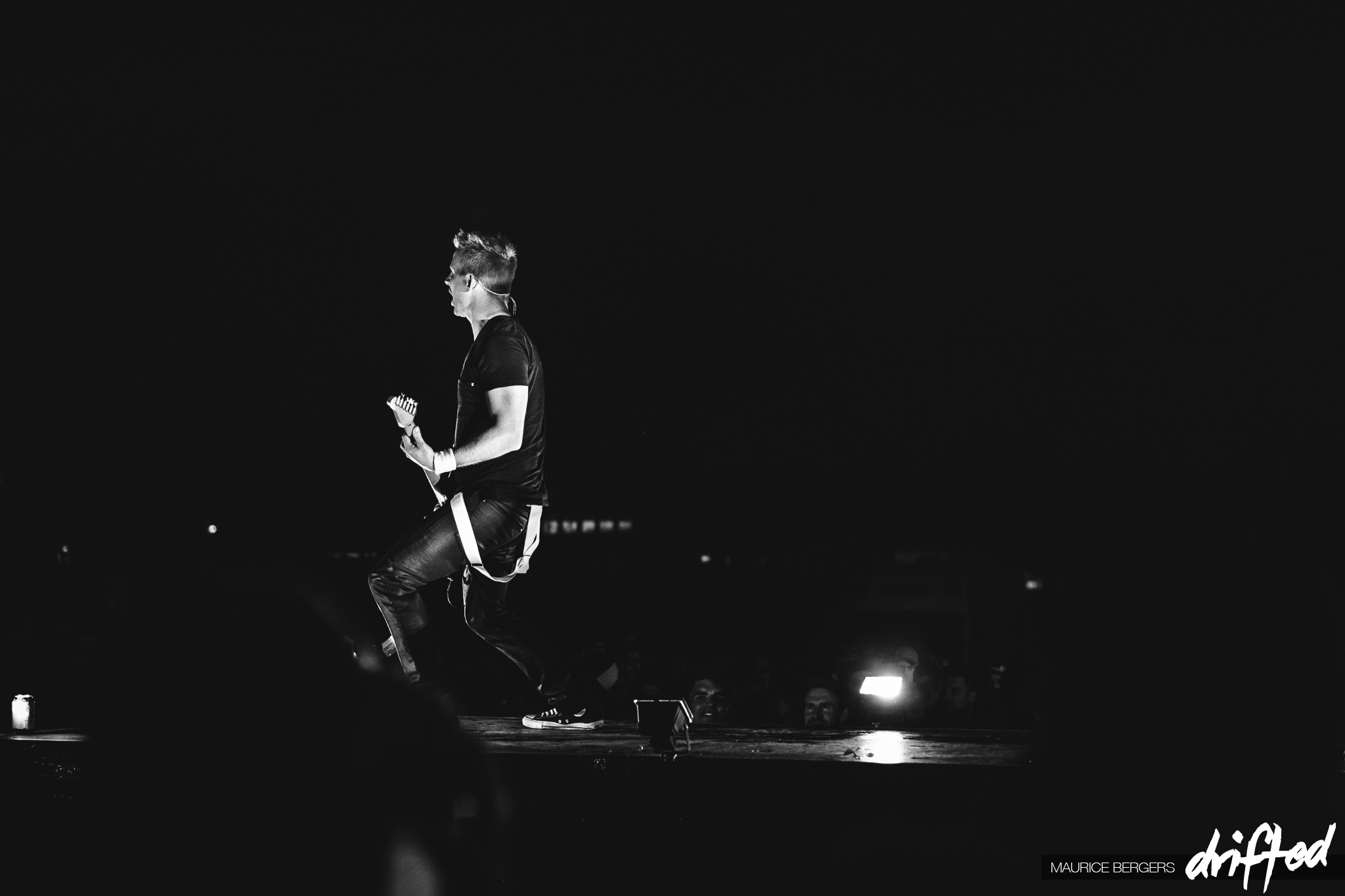 On both Friday and Saturday the action didn't end after the drift, and FMX. Monster Energy set up a stage to provide the festival-goers with the necessary entertainment. On Friday night, the boys from Nolltresex took to the stage, and even though I had absolutely no idea what they were singing about, they certainly knew how to play the crowd and were having a great time. The band wasn't the only show that night however, as there were also some barely dressed ladies on stage at some point. Perhaps their clothes got dirty during the day and they forgot to bring fresh ones? Or perhaps they felt really hot and wanted to cool down? Either way, the crowd seemed to enjoy it.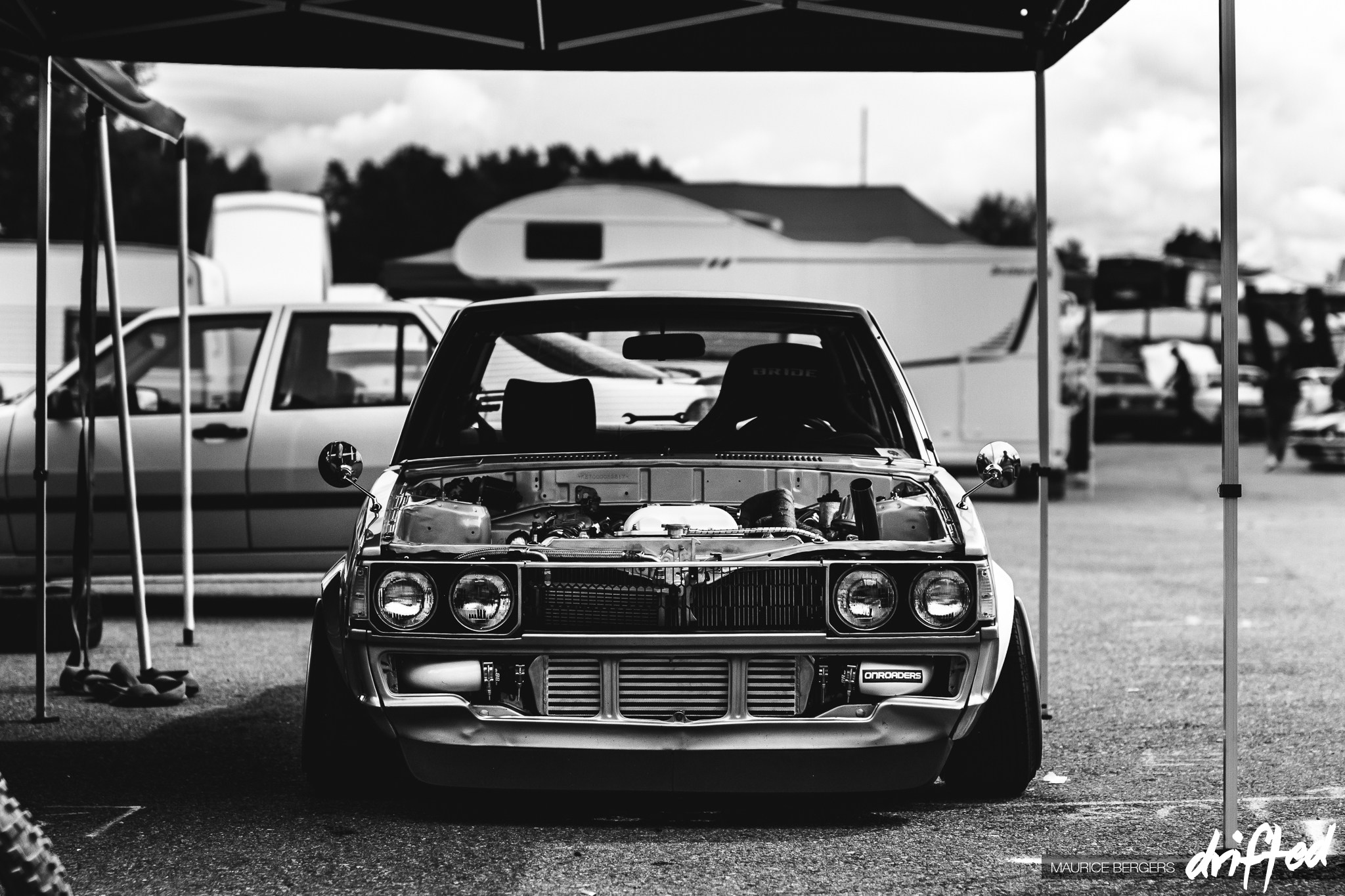 Over the weekend we continued to indulge ourselves in all the joys Gatebil had to offer and time and time again were treated to awesome cars flying by either straight or sideways, it didn't really matter to us. The smile on our face was ever present as we made our way around the track or were walking through the paddock or pits.
The paddock and pits were open to all the visitors and gave everyone a chance to get even closer to their favourite cars and even meet with the drivers. The area was absolutely filled to the brim with impressive builds. And I mean impressive in the broad sense of the word, so I could be gawking at a professional drift car one moment and be amazed by a badass missile car the next.
There was just something about the mix of cars that made it that much more enjoyable. Sure, pro drifters might be easier to photograph, but to see the amateurs out there having the time of their life was very satisfying.
Another big part of Gatebil is the Breisladd competition. Using two corners of the track the goal for drivers was to go big or go home. Since there were no actual clipping points set up it was all about style and pleasing the audience.
And man, did they deliver! At almost impossible angles the drivers would produce clouds so thick you could swear you would be able to put a fork in it and roast it like a marshmallow.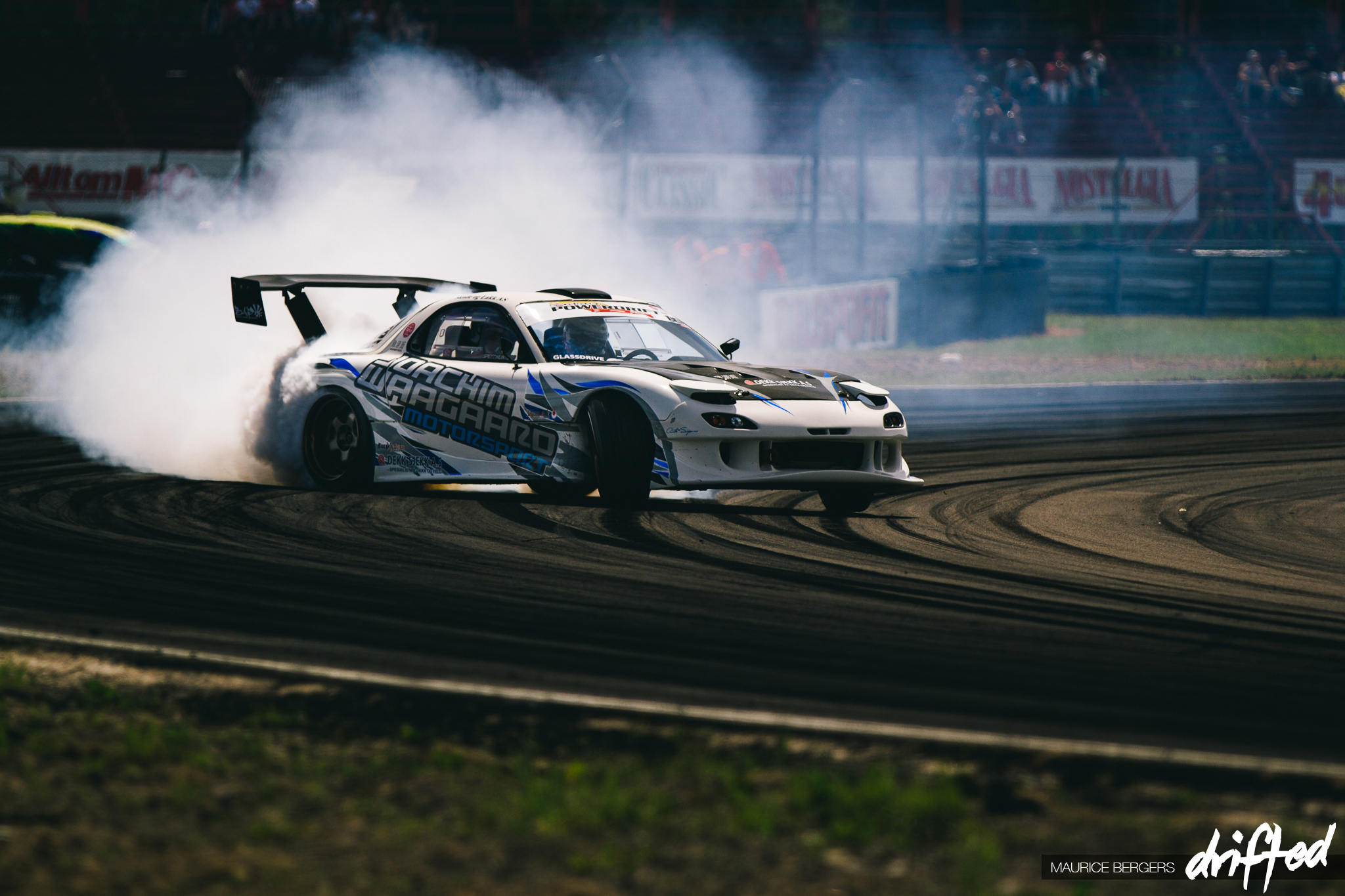 The competition was fierce and in the spirit of Gatebil everyone gave it their absolute best. We were on the final day of the event, so by now I had already heard all the cars but just couldn't get over how loud some were. It was like some cars managed to hide a God of Thunder under their bonnet, instead of an engine.
Ultimately it was none other than Fredric Aasbø who managed to take home the win. He might be the most well-known professional drifter there, but trust me when I say this was no easy win for him! Needless to say he was profoundly happy and a big smile adorned his chiselled face.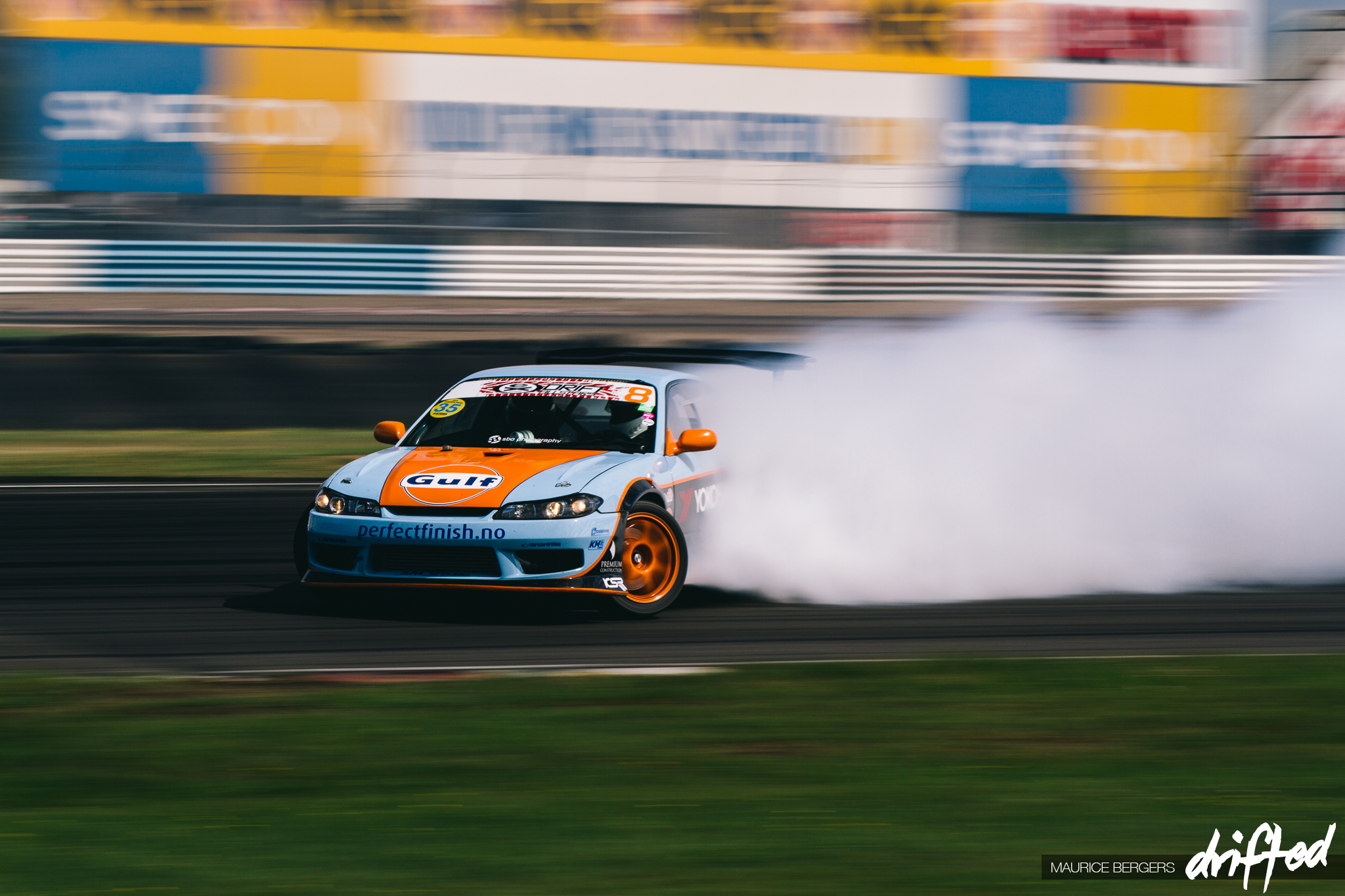 After we managed to somewhat clear our lungs of smoke, we headed back out to the track for the final hours of the event, to soak up every last bit of Gatebil we could. What a weekend it was! I truly feel blessed that I get to enjoy all sorts of automotive events, but so far this one takes the cake. I got to meet some amazing people, some of which I still look up to, even more so after meeting them. And, I got to see such crazy cars that made my automotive heart beat so fast, and felt like it was bouncing off the rev-limiter.
We really enjoyed one of the best weekends so far this year and it'll be a hard one to beat. To everyone going to any of the remaining events this year, especially if you're going to the main event at Rudskogen, have fun and enjoy all that the Gatebil festival has to offer! To the people that have yet to experience Gatebil, just go.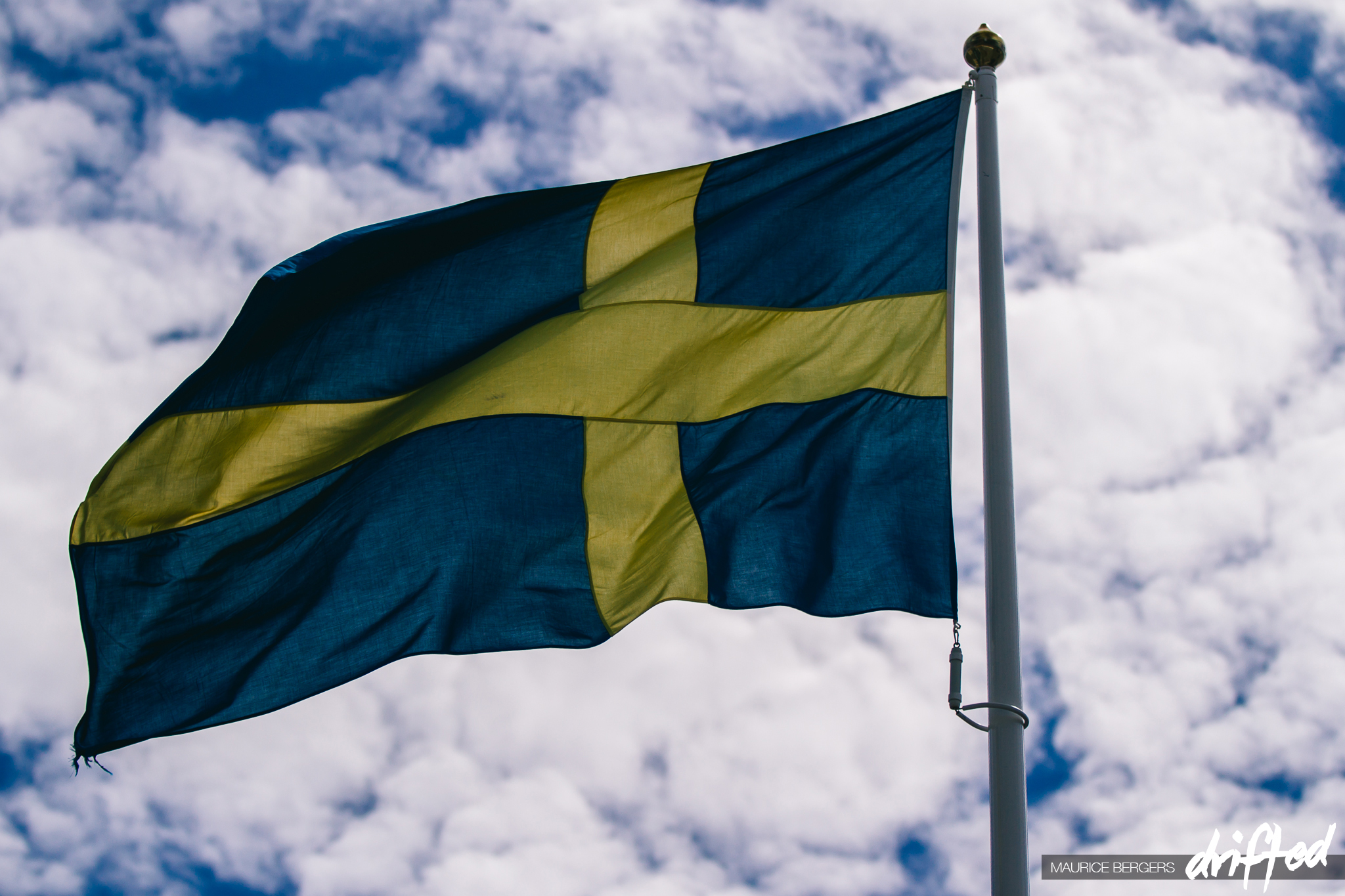 I don't care where in the world you are from, come experience this Scandinavian madness! Save up some money and just get out there, whether you are a photographer or just someone with a passion for cars, you won't regret it.
Gatebil and Sweden, I love you both and I can't wait to see you again!
Words and photos: Maurice Bergers