EVENT: Gymkhana GRID 2014 Finals, Madrid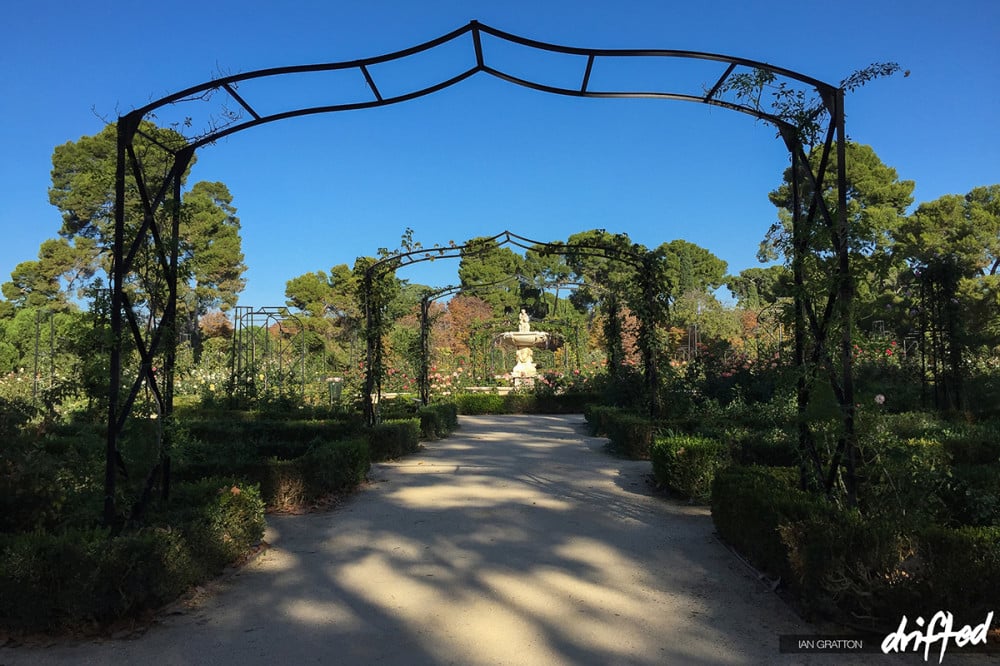 Hola Madrid! Mid October and I find myself in the middle in Spain's capital city. Drawn not by beautiful architecture, tasty tapas or the delights of the country's Rioja wine region, a few hours north. I was here to see donuts, handbrake turns and a certain Mr Block, who's just released a video apparently - you may have seen it. The grand finale of the Gymkhana Grid 2014 series was in town and it would serve as a worthy introduction to a discipline that I'd not had more experience with before.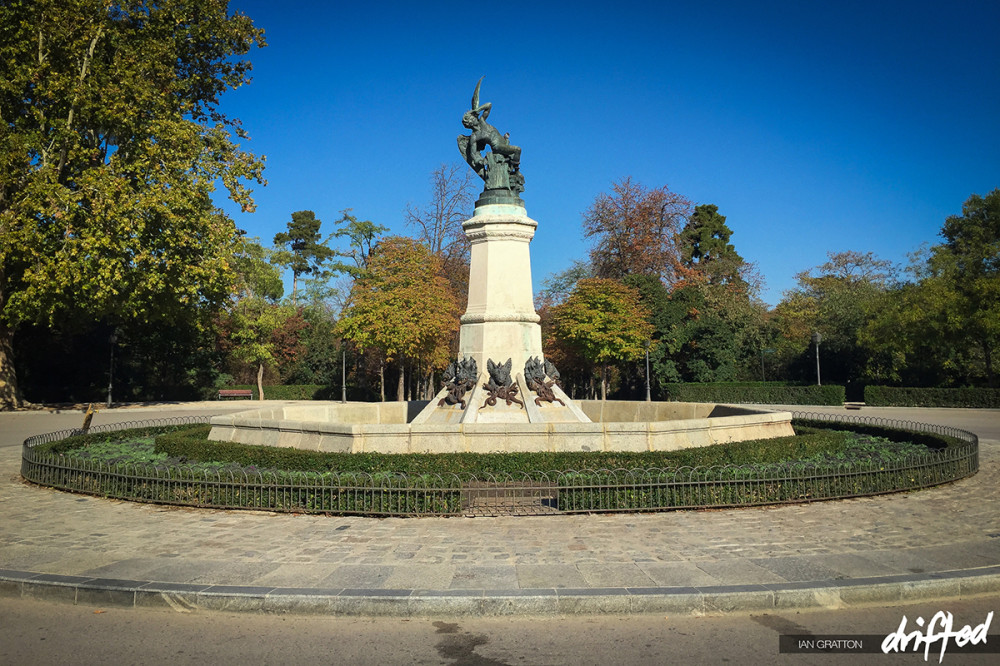 We were on a tight timetable, so sight-seeing had to be kept to a minimum, which was a shame because Madrid, as a tourist destination, has plenty to offer. Amongst the beautifully sculpted gardens lie historic statues marking an era where Spain was one of the foremost powers in the world.
Similarly to the city of Barcelona, Madrid has its fare share of modern urban artwork and the two seem to work well together.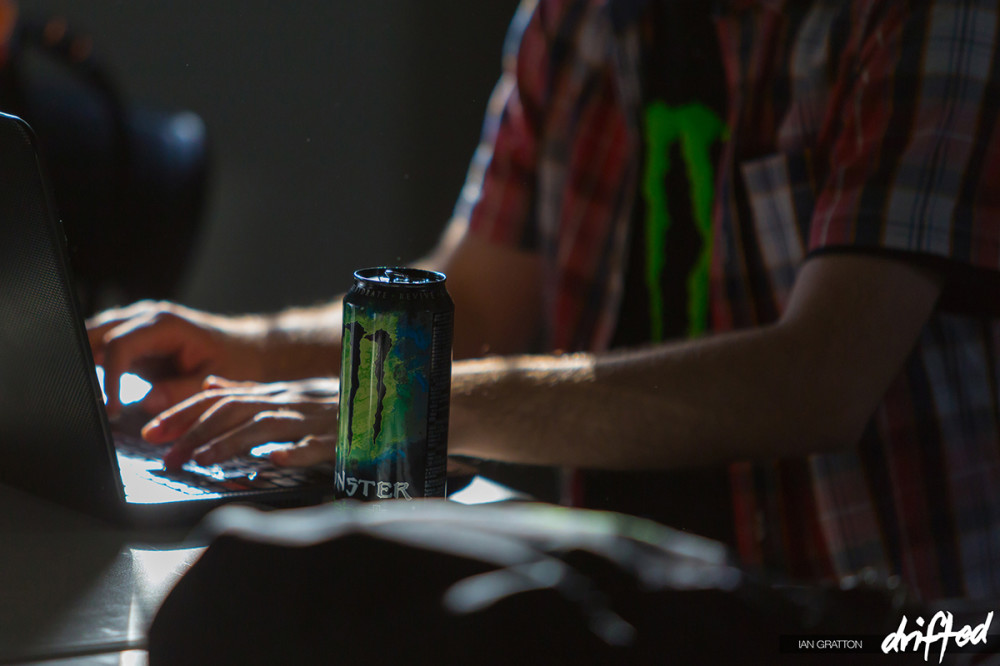 With an early start on Thursday morning the Monster Energy media bus arrived outside the hotel and I jumped on board along with 40 or so other people from the various media teams that would be covering the event.  Given that GRID is not strictly drifting most of these media faces were new ones from various TV sport networks and both tabloid and broadsheet newspapers from many European countries.  The sun was high in the sky and it was set to be a warm few days with 26 degree temperatures, very much not the norm for this time of year.
So what is Gymkhana GRID? Well…this is 'the GRID' – the arena in which these battles take place.  One track with its horizontally flipped mirror right next door.
The track doesn't just build itself – it takes a good few days of hard work to make it what you see here. The Gymkhana part of the equation forms the driving activity that will occur within the GRID – in equestrian terms Gymkhana means an event which tests multiple disciplines of horse riding. In driving terms it means a testing course which requires a blend of skills from different driving disciplines and a clock to decide who does it the fastest. A strong experience of circuit driving, rallying, drifting and time trial/auto testing will serve you well.
As well as a longish straights and regular corners to get round – there is also repetition of certain activities to remember at various points throughout the lap.  It could be three complete circles of a huge Corbeau bucket seat…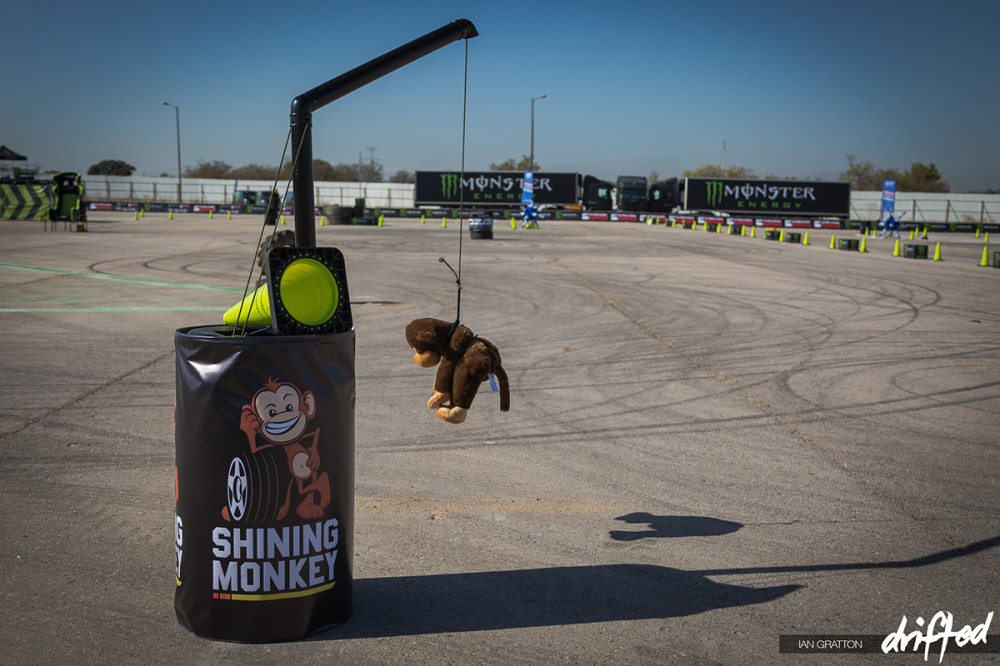 Hit a monkey hanging from a rope with the front of your car, do three figure of eights around two stacks of tyres,  do three inner loops of a massive earth mover tyre followed by three outer loops of a circle of oil drums. And, if that wasn't enough to remember, you have to bring your car to a halt at the end of the lap in a marked box. There is no co-driver involved - drive, learn, count and go as quickly as possible.
And to keep things relative there are three different categories of cars. You have RWD cars ranging basic to mid tuned (in today's numbers anyway). Most of the cars are predominantly Nissan S-body shaped, a few R-bodies, 3 series BMWs and a mid engined M20 Toyota MR-2.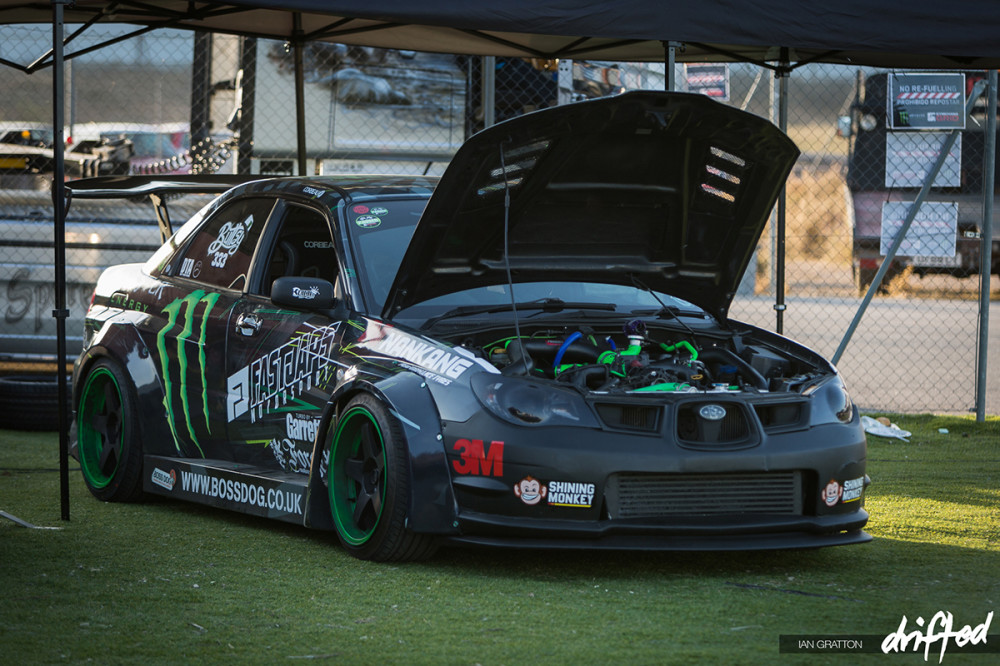 The AWD class is formed mostly of Subaru Imprezas and Mitsubishi EVOs in various trims - road-going right up to rally car specification.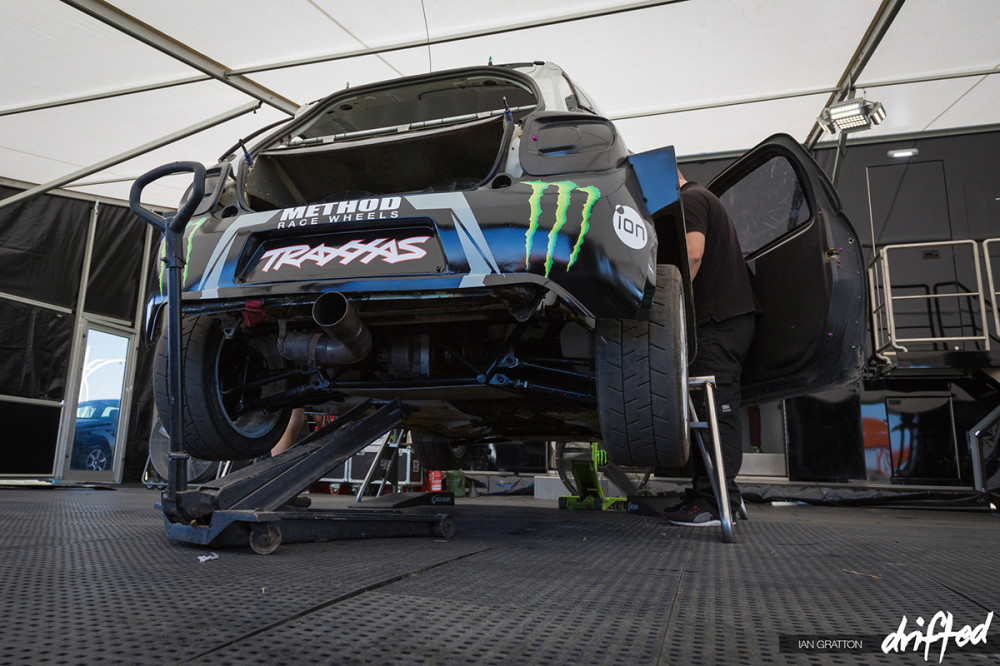 The third and final class is known as Supercar class. However you'll see no prancing ponies or flame-spitting Lamborghini here. Hugely potent Rally X cars including Liam Doran's Citroen DS3 are the order of the day…
And a car you will almost certainly recognise to be Ken Block's awesome 650bhp Ford Fiesta ST WRC, made famous by his own earlier Gymkhana videos. Mr Block introduced the Gymkhana GRID concept and and offers you the chance to compete against the man himself if you win the AWD Class.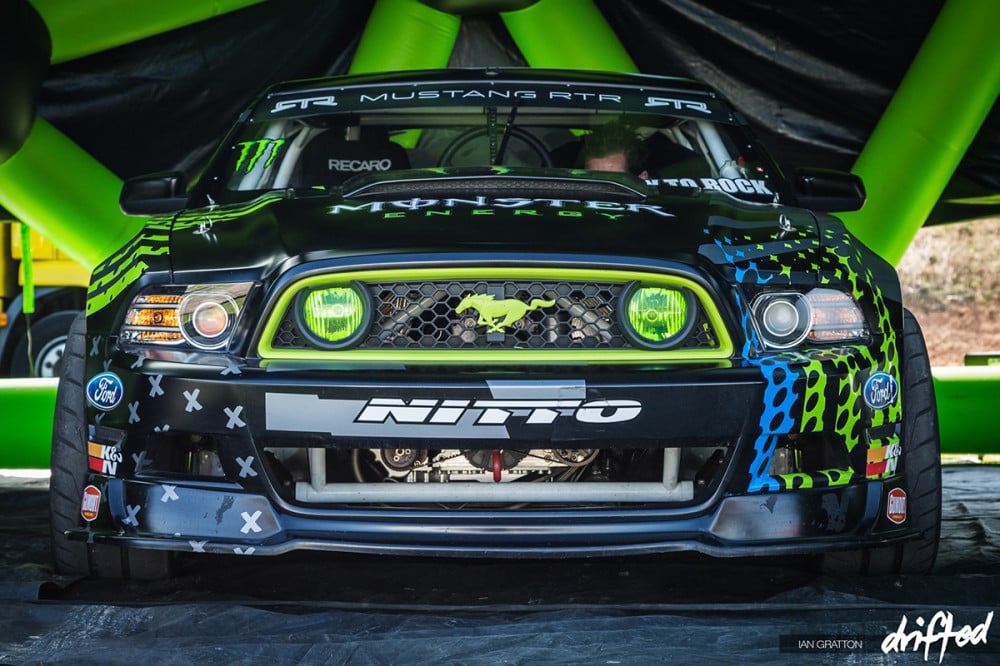 The winner of the RWD class would also get a chance to do battle with none other than Vaughn Gittin Jr in his ASD-prepared Monster Energy Formula D Mustang RTR!
Monster Energy had a whole host of their Athletes at the event including RallyX stars Ken Block and Liam Doran, rally driver Nani Roma, drifting's Vaughn Gittin Jr,  Shane Lynch, Steve 'Baggsy' Biagioni, Luke Woodham, and Buttsy Butler, and two-time world speedway champion Tai Woofinden to name but a few.
Messrs Block and Gittin Jr spent Friday morning busy with interviews for the media before it was time to take VIP visitors to the event for a quick ride-along through the course.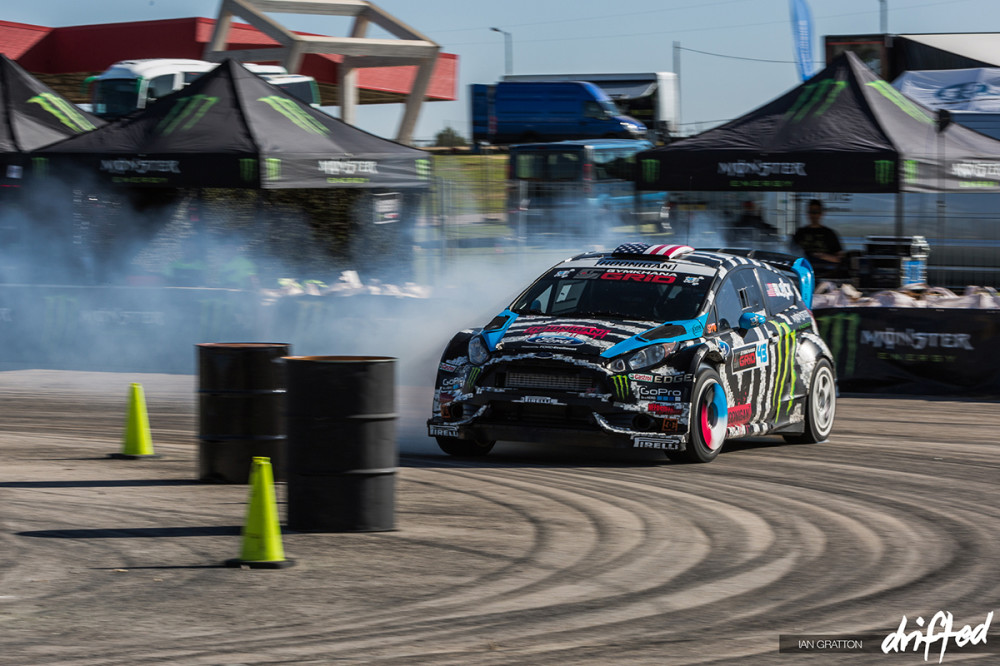 For many the opportunity to sit alongside drivers of this calibre is a once in a lifetime experience – probably their first time in anything but ordinary cars – and definitely their first experience with fearless Hooningans like these!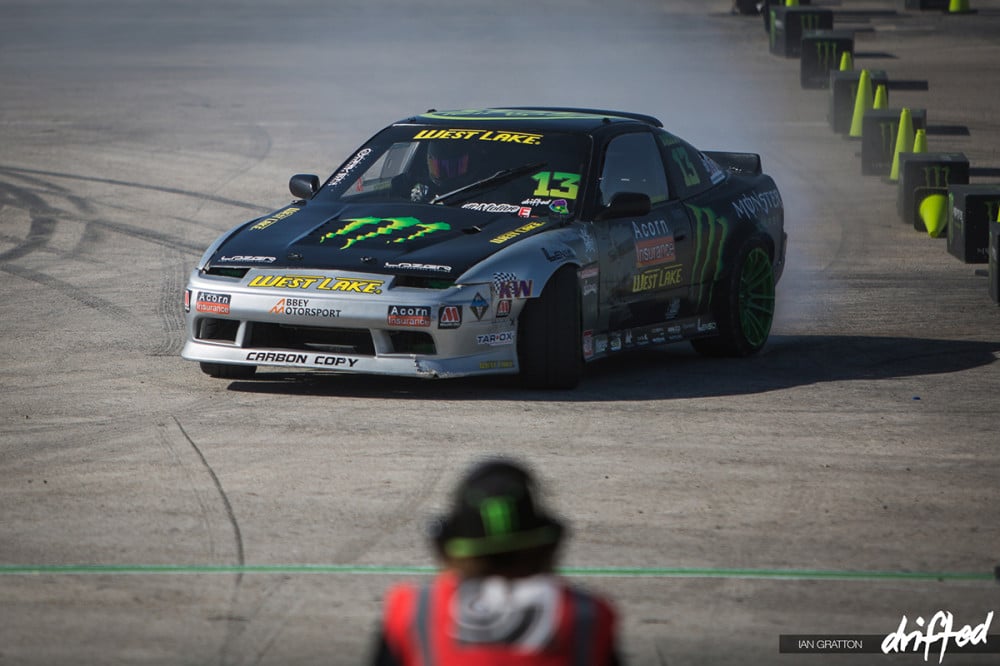 Former British Drift Championship champion and King Of Europe winner Steve Baggsy Biagioni was also on hand for ride alongs in his extremely potent S13. Baggsy's mix of driving disciplines is a perfect match for the GRID course.
Due to some unfortunate mechanical issues Vaughn Gittin Jr's car was unable to leave its pit garage which meant Mr Block and Baggsy had to give additional rides for those who were set to go out in the Mustang RTR – more seat time – neither driver would turn down more time to dial in the track, although we were disappointed not to see Vaughan's Mustang roar to life and attack the GRID.
With the main event running on the Saturday it meant I had two days in which to take in this spectacle. An almost empty pits gave me an opportunity to get up close to these fantastic machines. The build and preparation of these cars is second to none – attention to detail is huge.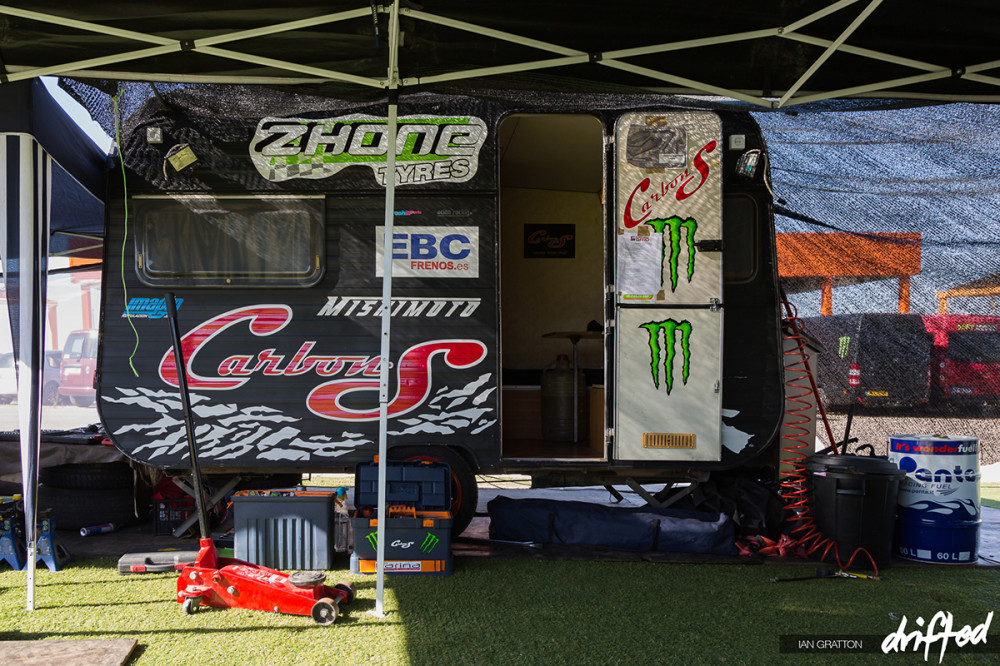 Pit set ups range from the modest…
…to full-on WRC pit specification, with entire teams to spanner and keep cars in perfect shape throughout the event.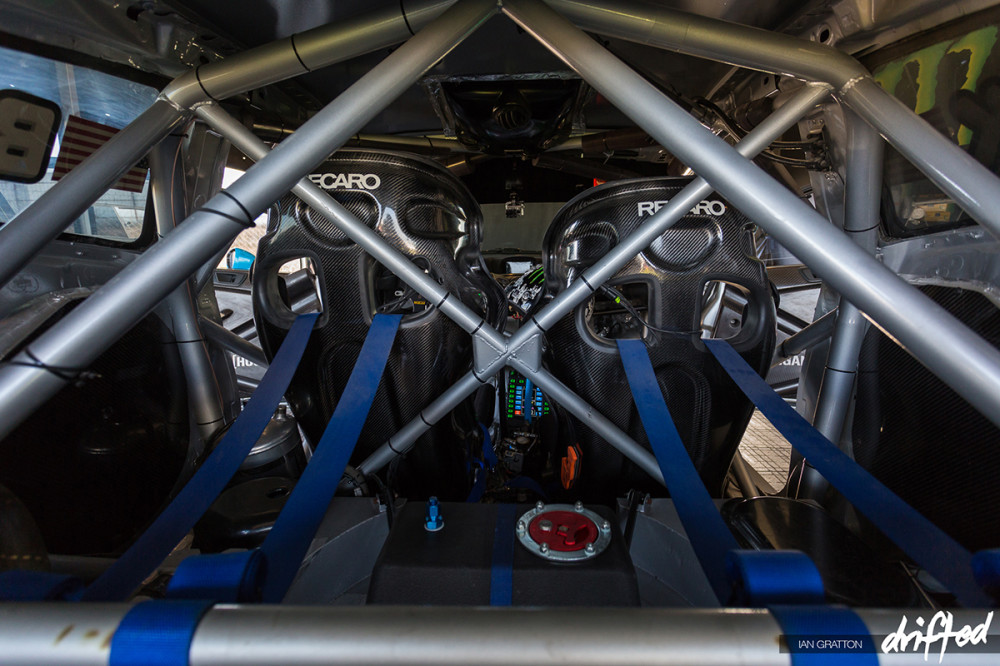 The attention to detail is second to none on this car which I believe is built by M Sport in England – they have been taking care of Ford's WRC cars for the last 16 years so you know this thing is fit for purpose.  You just know this roll cage was modelled on a computer and underwent stress and finite element analysis before a welder went anywhere near the best materials money can buy.
If you pull the restricter from the 2.0L turbo engine in this car you could have over 800bhp under your right foot. In Ford Fiesta terms – that is just ludicrous.
To say the car is quick round the GRID course is somewhat of an understatement. Ken Block's fastest time was a good 1.5 seconds quicker than the next fastest Supercar and approximately seven seconds faster than anything running in the AWD class.
With more practice time on the Friday afternoon Luke Woodham from the UK was happy to be posting sub-one minute times.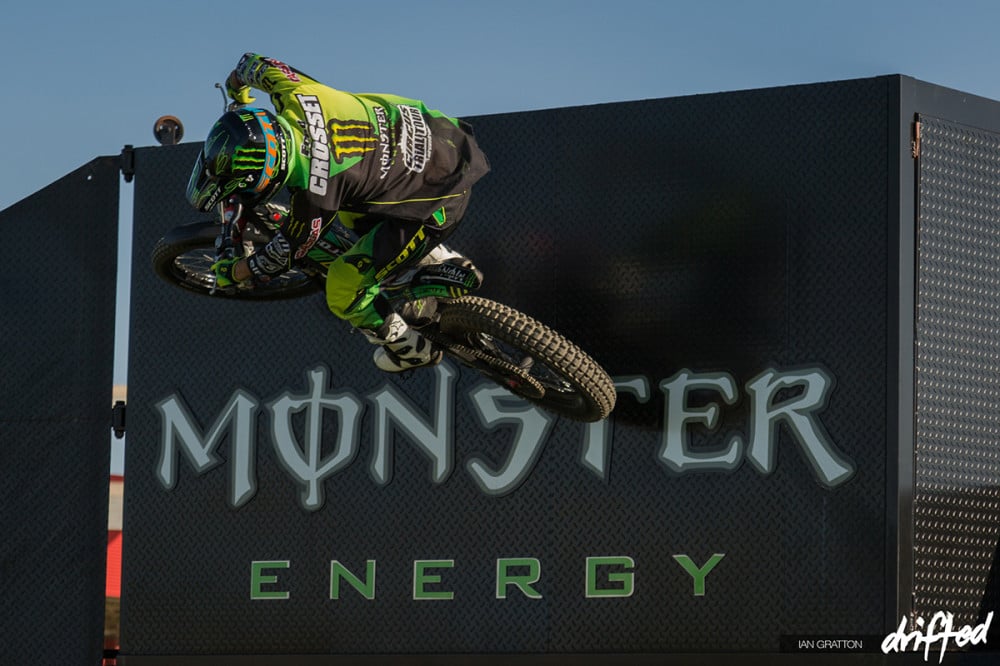 Away from the track Belgium's Fred Crosset was wowing the crowd on his trails bike.
Baggsy popped along to see what was happening and got a little more involved than he expected – moments later Fred had Baggsy laying down on the floor and proceeded to jump clean over our willing Monster Athlete – not to mention doing tail whips within inches of Baggsy's face and stoppies between his legs – dangerously close to preventing the future pitter patter of any tiny Biagioni feet.
Roaming the pits I bumped into Formula Drift's main MC Jarod DeAnda who was going to be the voice of the GRID livestream that would beam around the world on the Saturday.
Team Japspeed's Shane Lynch was busy giving interviews for TV crews back in the pits… his 2JZ powered Lexus Altezza had been in transit 'somewhere in Spain' for what seemed like forever.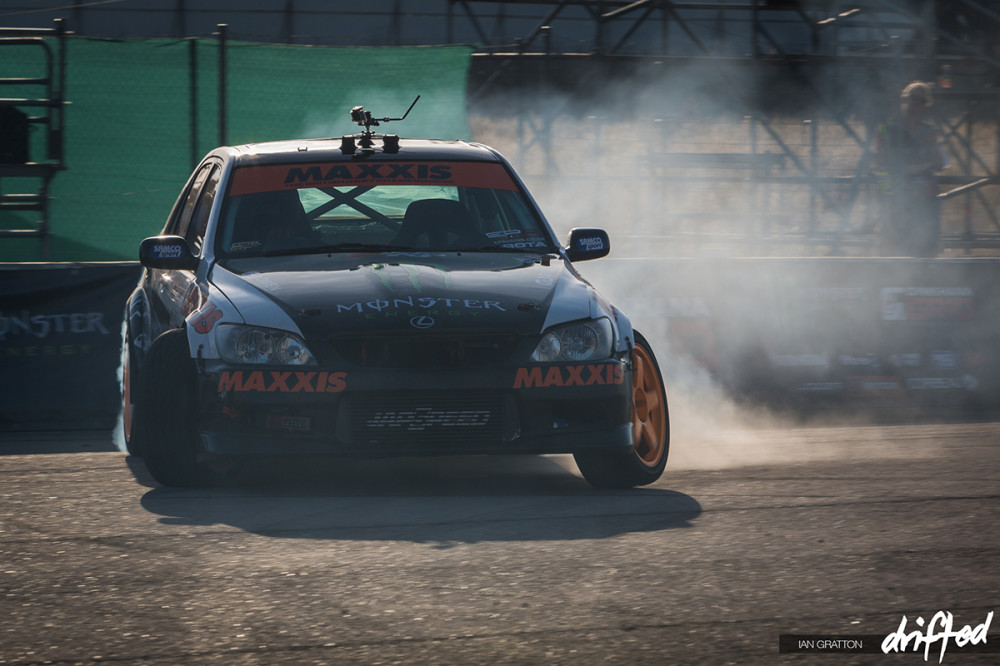 When the car finally arrived he was straight to down to business out learning the track in preparation for Saturday's drift demonstrations with Baggsy and Buttsy.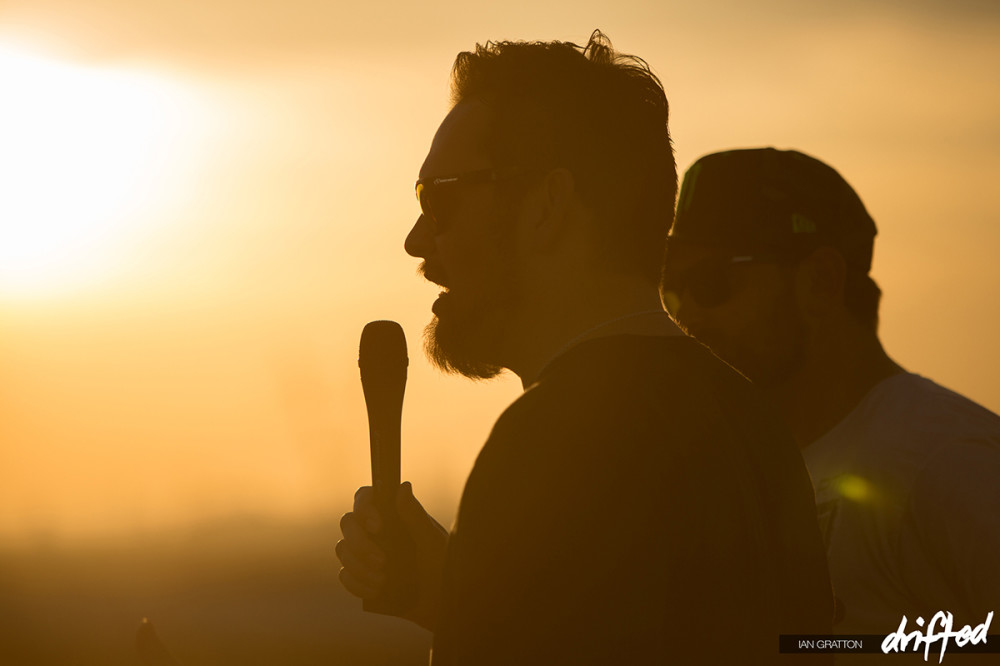 As the sun dropped over the Arganda del Rey venue Jarod and Jr took to the mic on the roof of the Monster Energy rig to record a preview to the live cast that would run tomorrow…
… and Monster tested their pyrotechnics set-up. Yep, we have fire! The scene is set for Saturday so its back to the hotel to feast and be merry with new friends… keep that early start media coach in mind!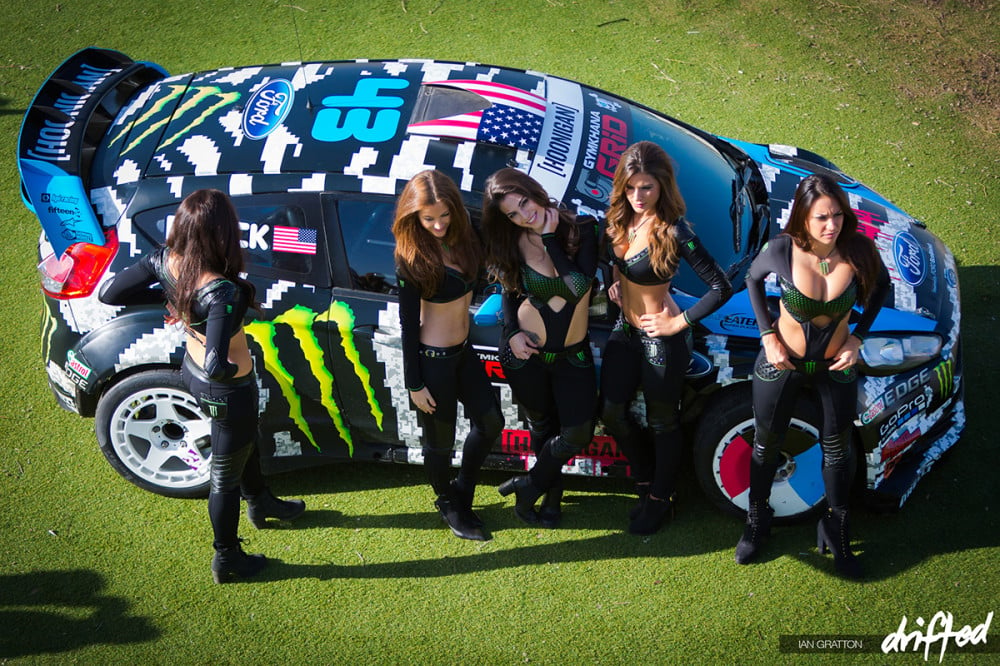 Before we knew it, and after no dodgy Spanish liqueur at all was consumed, it was suddenly morning and we hit the track. Race day – the place will fill with spectators very quickly today; Ken Block's car was being guarded by the Monster Energy KB43 security team. They don't seem so intimidating…
Out on the GRID the RWD class was hotting up.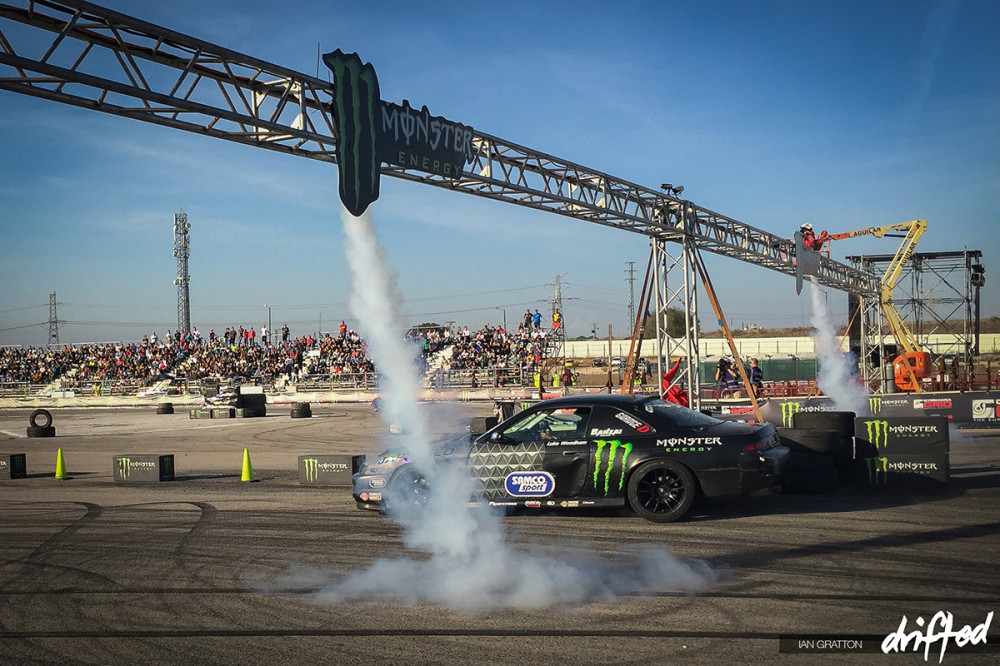 …and steaming up in equal proportion; the CO2 cannons hissing into life.
I double-take a Lancia 037, or something good enough to pass for one, blurry-eyed after not much sleep.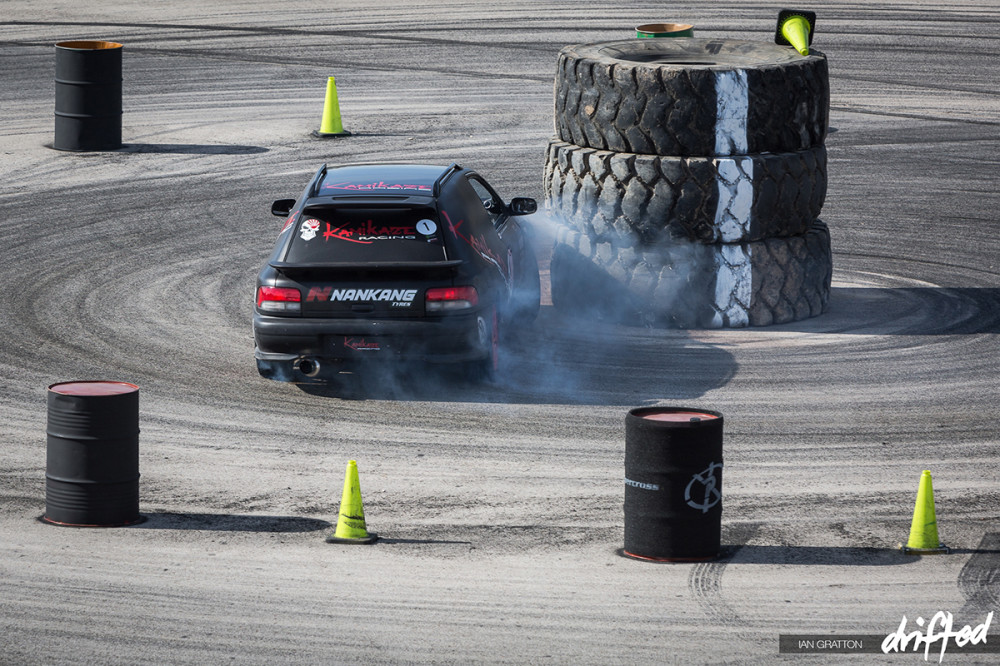 AWD cars attack the course with push and pull in equal measure. It seems almost strange watching 4WD systems 'slide' now after years of watching drifting so closely – their bodies moving round a more central point rather than round the front axle.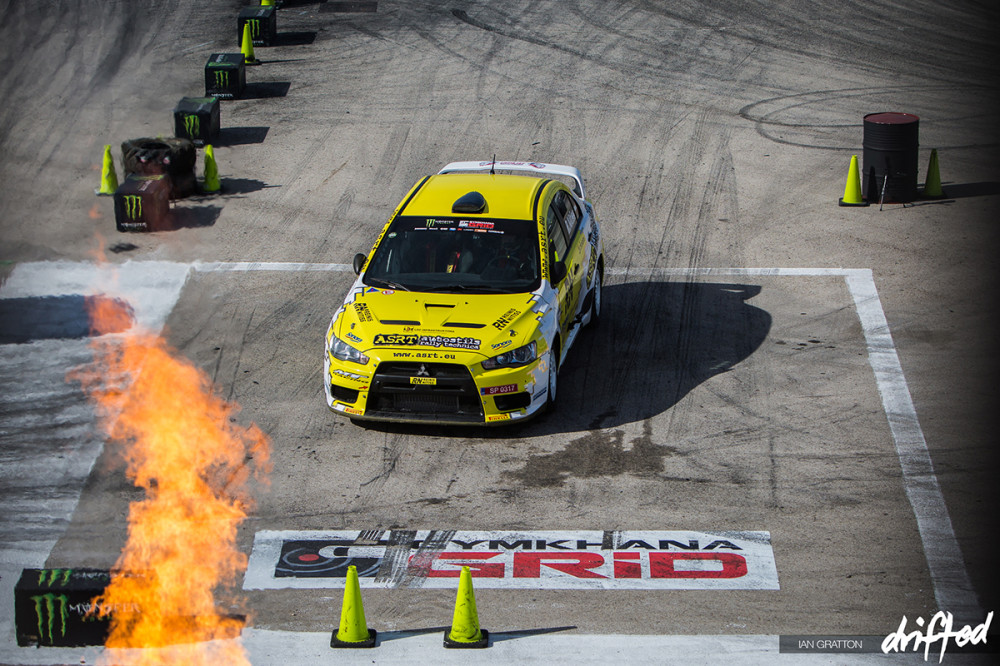 You can't argue with their pace and traction though – modern rallying is more than enough of an answer.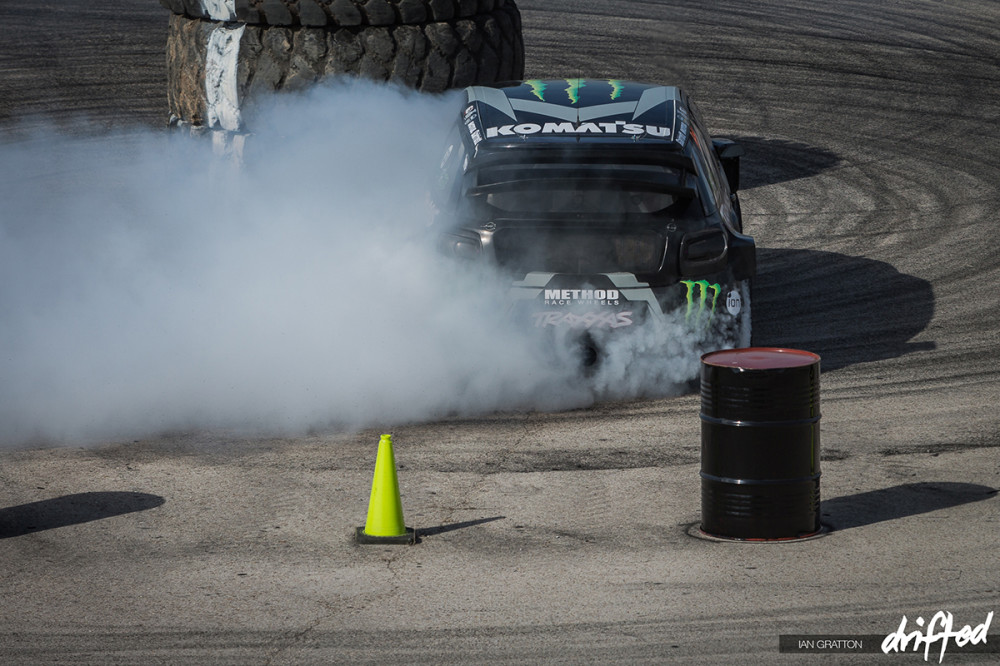 Rally-X cars left thick dense smokescreens whilst they navigated the obstacles around the track.
Other Supercar competitors did their best to chase Block but he was always seemingly at the finish line first.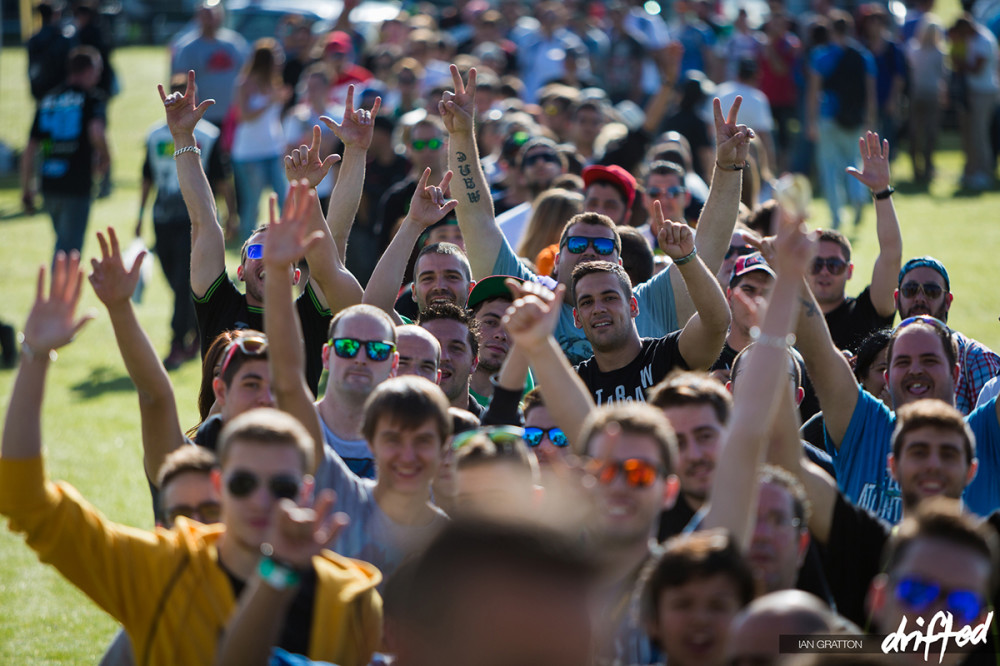 With a bit of a break in the action it was time for fans to meet their driving heroes and get some autographs…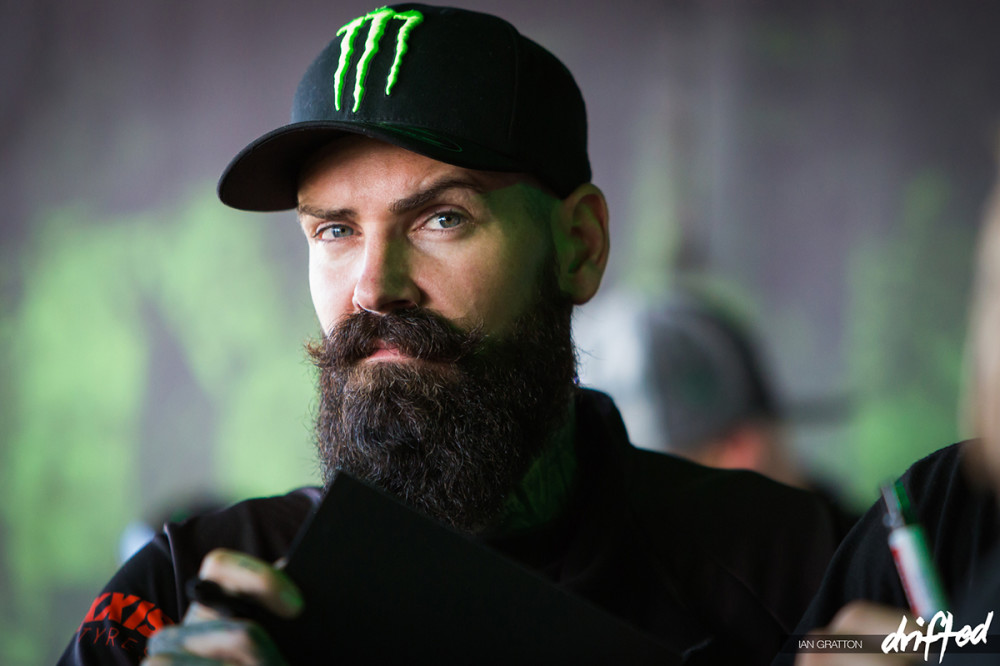 Monster Athletes grabbed their pens…
…and happily put their autographs on posters, clothing and skin for their fans.
With the signing session under way the sound system was turned up to 11 and demonstrations from Monster athletes began.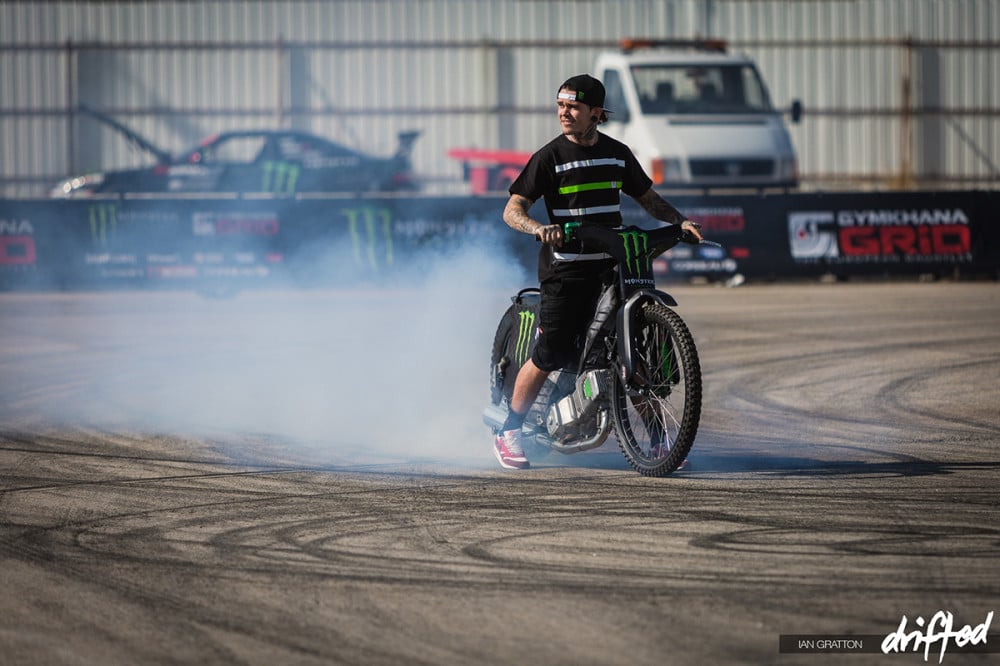 Speedway world champion Tai Woofinden made a one-tyre-fire of the good kind…
… before doing massive wheelies across the GRID course. Given that speedway bikes don't have any brakes Tai stays in complete control. He is twice world champion for a reason.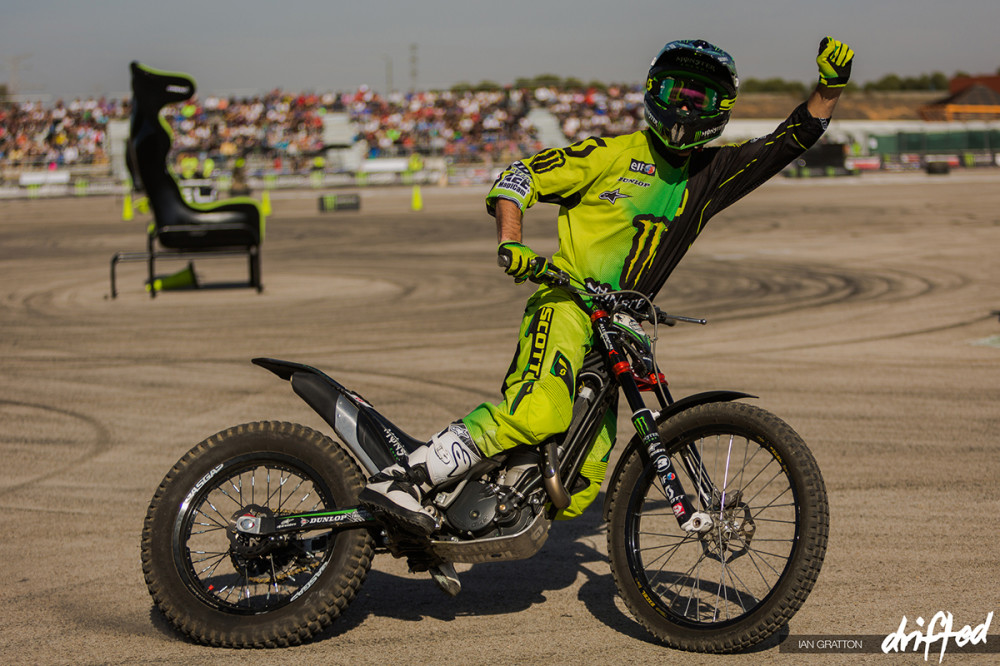 Fred Crosset pulled yet more motorbike moves for the crowd.
Baggsy…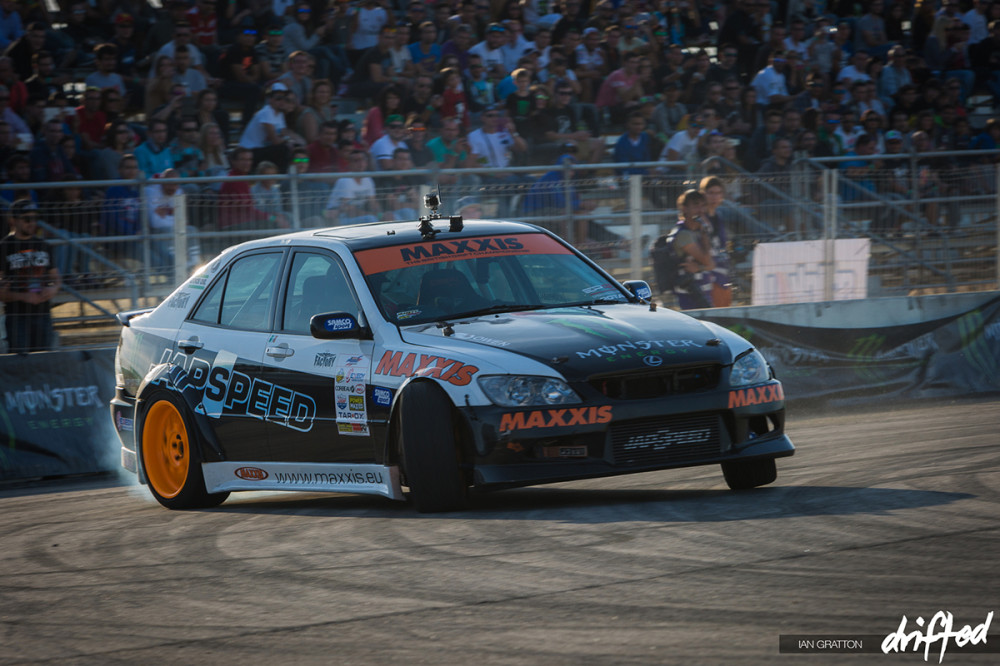 Shane Lynch…
…and Buttsy made a sacrifice of slayed tyres for the crowd.
Leg over the door, Buttsy pulled some rodeo drifts for the already buzzing audience -
- who seriously approved!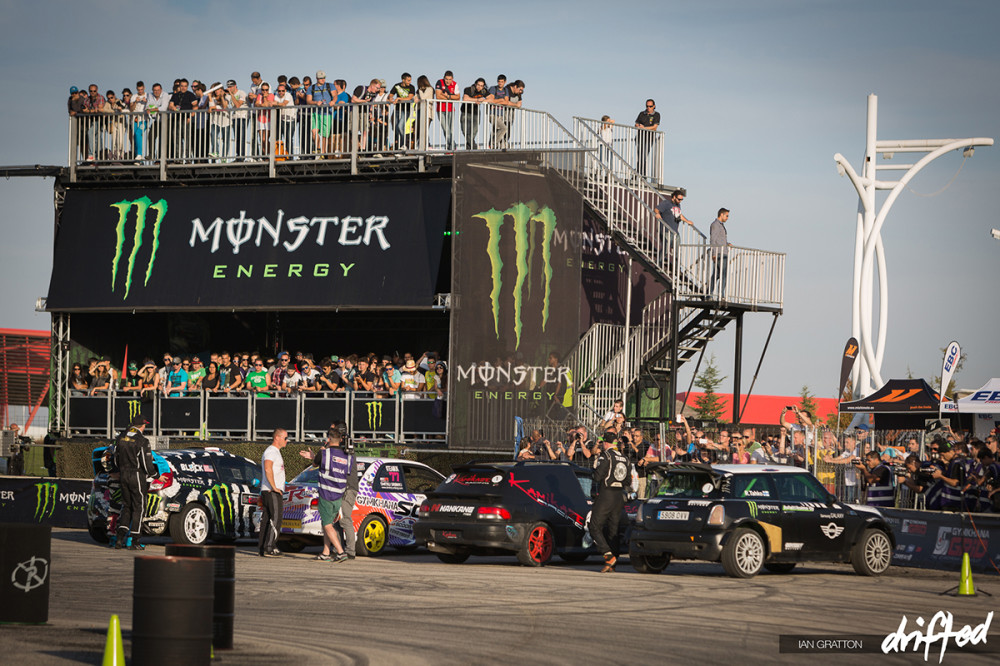 As the sun became golden, the finals for each of the classes took place.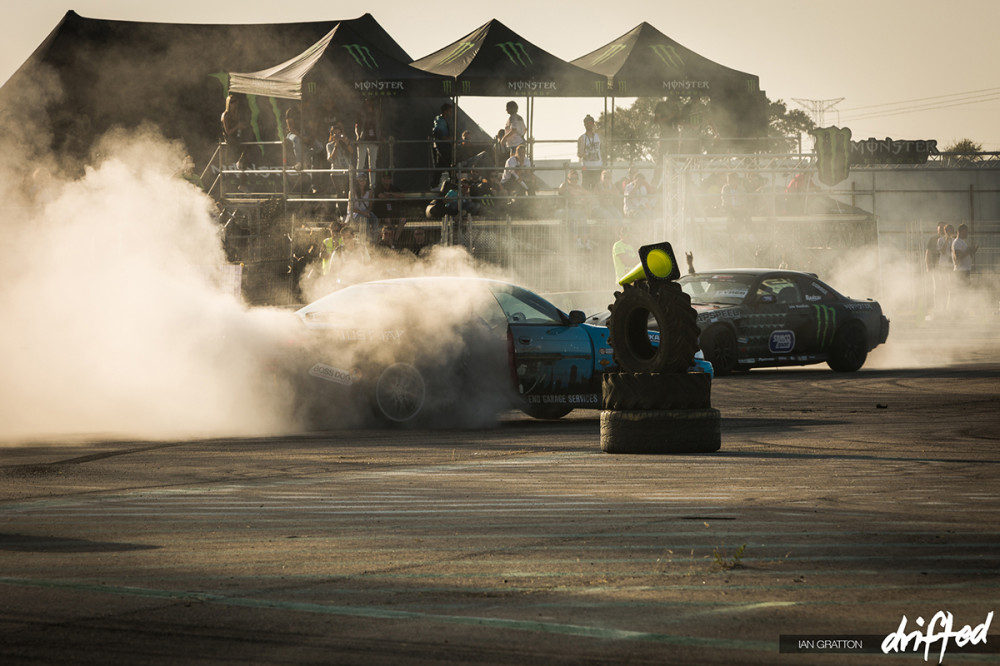 Drivers smoked out the crowd in appreciation of their support.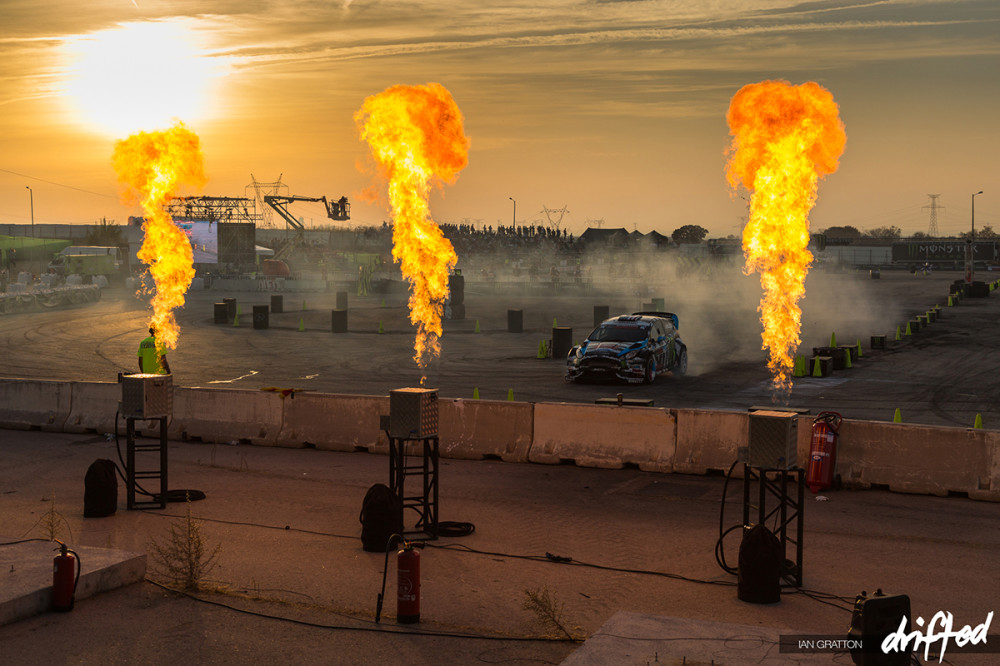 The AWD class winner did battle with Ken Block but he was on fire, not literally.
Winning the AWD class was still reason enough for Dmitrij Sribnyj to celebrate and make some more smoke.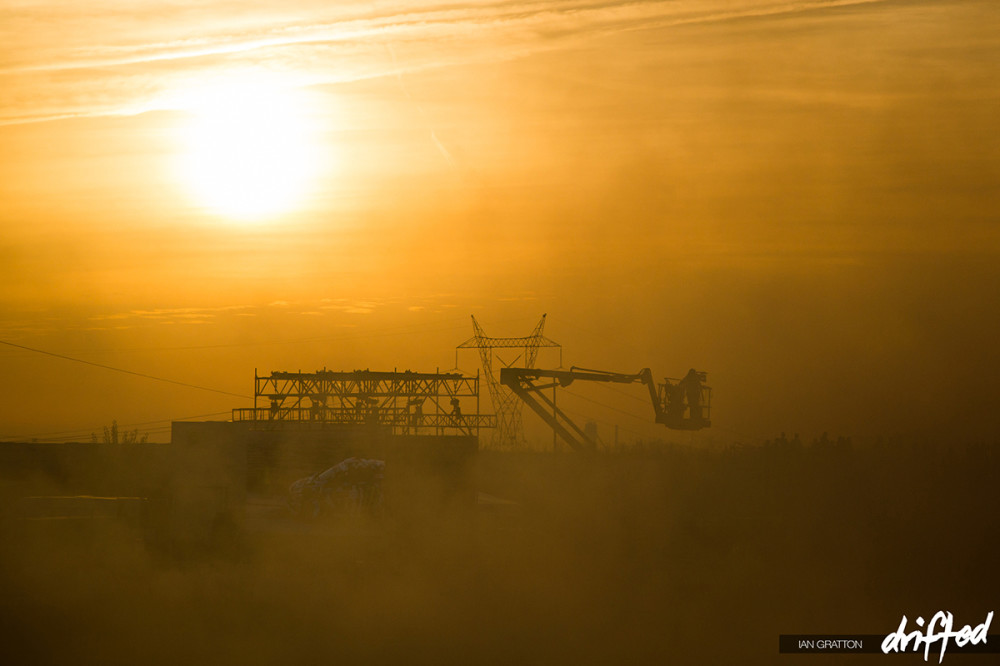 As the sun fell over the GRID the crowd disappeared into the growing smoke screen. With the prize giving over it was time for the event to wind down – and what a spectacular event it had been!
So, given this is our first experience of Gymkhana GRID its important for us to measure how this unique event relates to the sport of drifting we know and love. Will you see huge entry speeds and massive angle? Not necessarily, but don't rule it out! Will you see the driving techniques of drifting used to good effect? Absolutely!
To do well in GRID you really need to be a 'full spectrum' driver. Skills honed in circuit driving teach you speed, car position and line. Skills drawn from drifting and rallying help enormously in certain areas of the GRID course. Most of us who are drivers will know brake, turn in, apex and accelerate doesn't always make for the fastest way through a corner – being de-sensitised to being sideways at any speed with excellent car control means doing so can be used to your advantage – rather than it being something you have to deal with to get straight again and avoid an accident or contact, which it typically is with circuit driving. The sections of the course that require you to be sideways aren't always about angle, smoke and being flamboyant – its about using what you know about car control to find the fastest way around an obstacle and making sure the tyres can still give you some traction to gain speed again to move through the course without losing time. The often subjectiveness of judging in drifting is replaced with a clock that cannot be fooled.
All in all the Gymkhana GRID finals had been a fantastic event. The presentation and polish Monster Energy's involvement brings to the series make it spectacular for spectators and competitors alike. Being able to see your driving heroes from across the pond doing battle on home soil with your own eyes you take away something that you just can't get from a video. The confines of the GRID means you get to see everything – there is no waiting on a corner to get a few seconds of action as a car flies by like with rallying. The hugely excitable and passionate Spanish crowd magnify this atmosphere even more.
So – Gymkhana GRID isn't going away any time soon – in fact – it can only grow in popularity. It doesn't matter if you have a hugely potent Rally X monster or a street tuned car – this event has a place for you, and, if you feel you have what it takes maybe you should consider signing up to Gymkhana GRID 2015!
Words & images: Ian Gratton