EVENT: Irish Drift Championship 2014: Round 1
A new year, a new season. 2014 brings the Irish Drift Championship into its second year of competitive drifting since taking the reins from the ever successful Prodrift series. 2014 would welcome a new champion, as 2013's champion James Deane has taken a year out from Irish Drifting to turn his focus onto European competition with his newly built Falken Tire 2JZ powered S14.
Round 1 of the Irish Drift Championship would see a return to the home of Irish Drifting, Ireland's only International Raceway, Mondello Park. Over the last few years Mondello Park has become the center of Irish drifting, with year round track days and the Prodrift Academy running every weekend.
A new season means one thing, new builds. All weekend long, John Stone was kept busy with scrutineering duties. John set down strict guidelines for the 2014 season, with each car from Rookie to Pro needing to pass John's inspection before venturing out on track.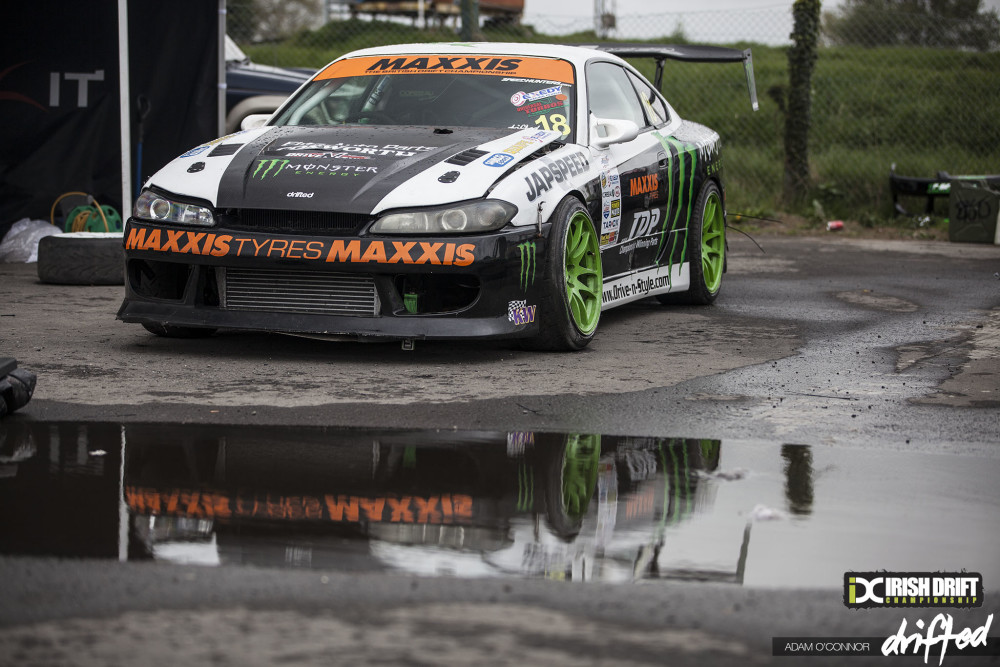 Fresh from his BDC duties at Lydden Hill the week previous, Team Japspeed driver Shane O'Sullivan was out for revenge, narrowly missing out on the top spot to 14-year-old Jack Shanahan.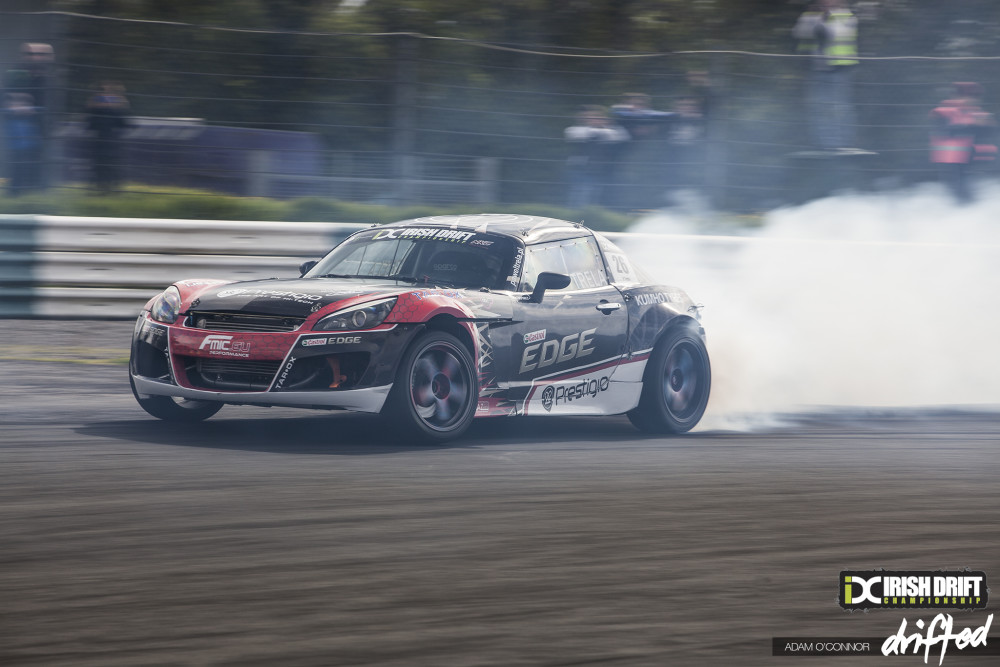 Prodrift and IDC always strive to attract International drivers to mix it up with the Ireland's best. The beast from the East, Pawel Trela made the trip across Europe for Round 1 with his freshly rebuilt 660hp 2JZ powered Opel GT.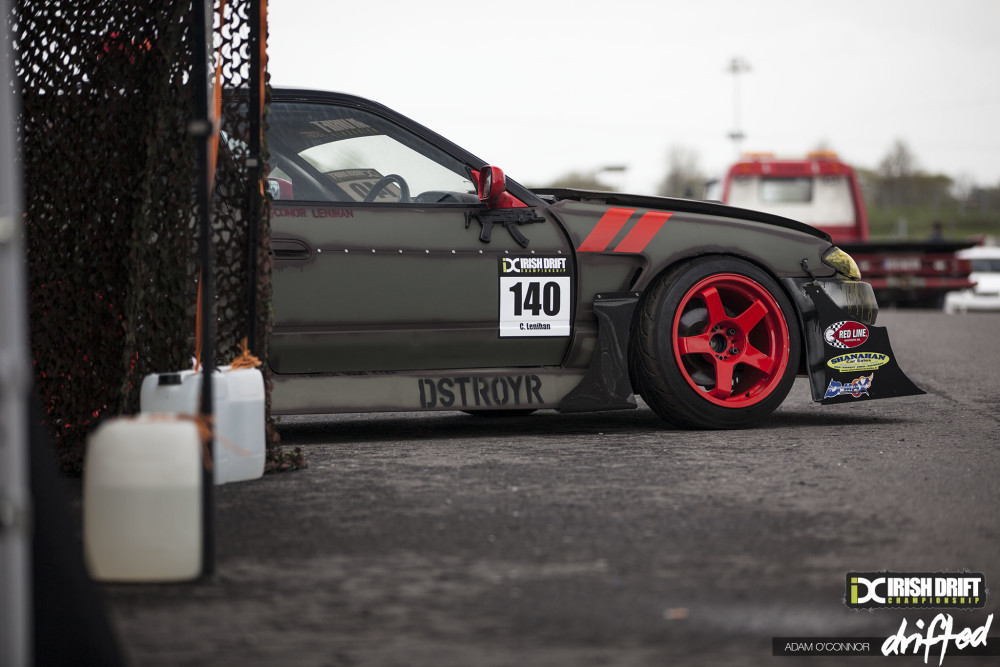 Year on year, Semi-Pro has stepped up their game up; the aesthetic and performance gap between Semi-Pro and Pro is reducing. Pro driver Conor Lenihan unveiled his military themed S13.5. The car is amazingly detailed; rumor has it that the entire paint scheme and livery only cost 80 Euros!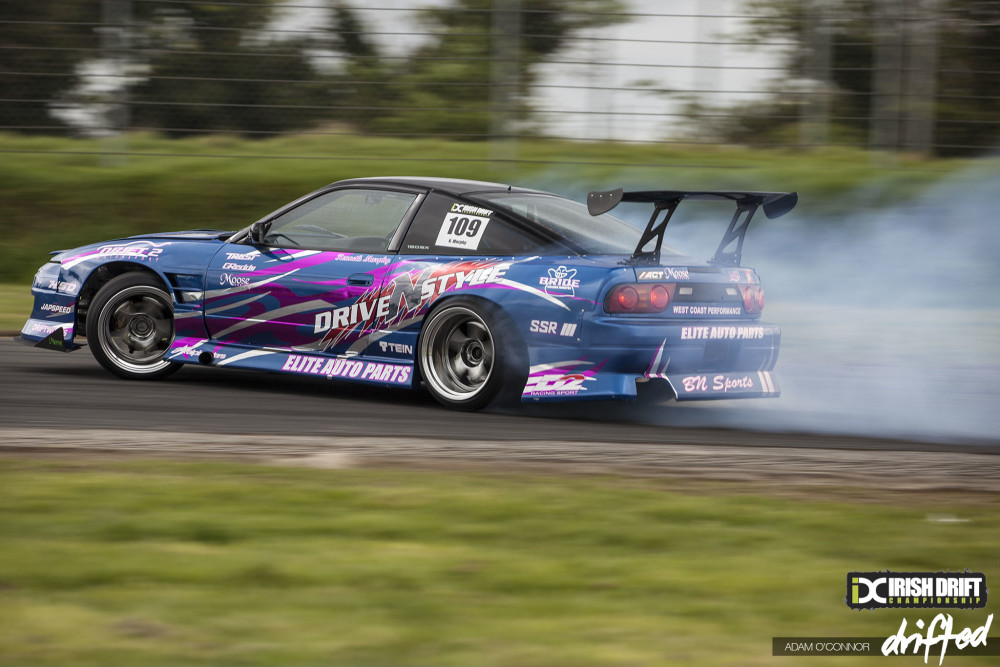 Another driver out to impress was Kenneth Murphy in his immaculately styled 180sx. Kenneth wouldn't look out of place drifting through D1GP or plastered across the pages of any Japanese tuning magazine.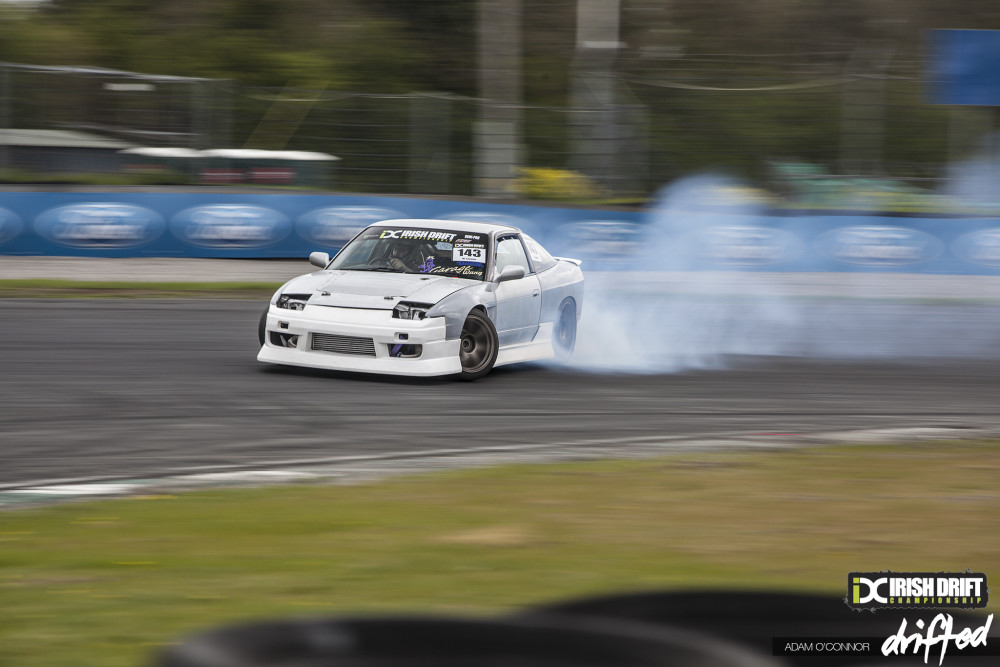 Martin Lenane of Garage Wang is another driver whose style would fit right in on the touge roads of Osaka. His unfinished, unpainted 180sx has so much character on track.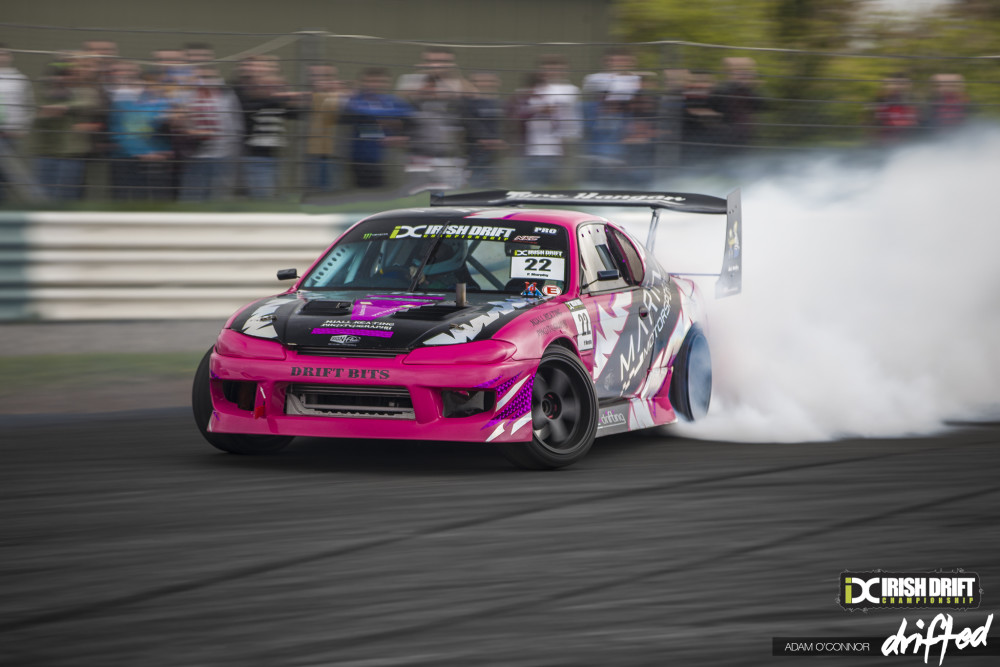 Stepping up the game in 2014 is Team Marini Motorsport. Paul Murphy and his s14.5 went under major surgery over the off-season and was blazing a trail all the way through the competition; one to watch this year.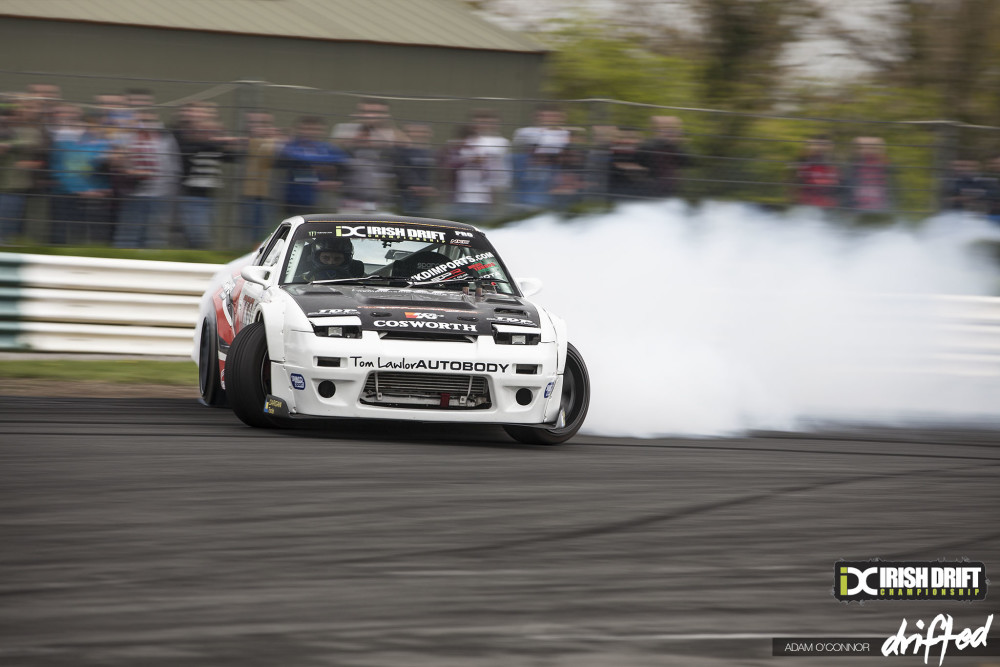 Crowd favorite, Team WKD imports owner Wesley Keating is really getting to grips with his Nankang Tyre Rocket Bunny 180sx.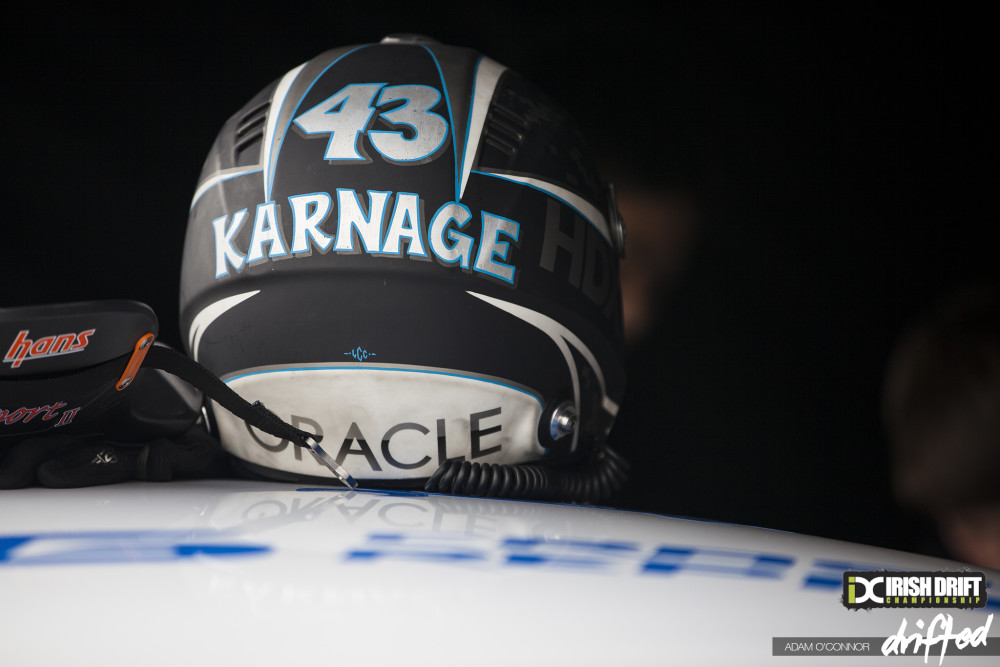 Making his return to the Irish drift scene is Formula D driver Dean "Karnage" Kearney. Dean has been flying the Irish flag in America for the past few years and was going to be a tough man to beat.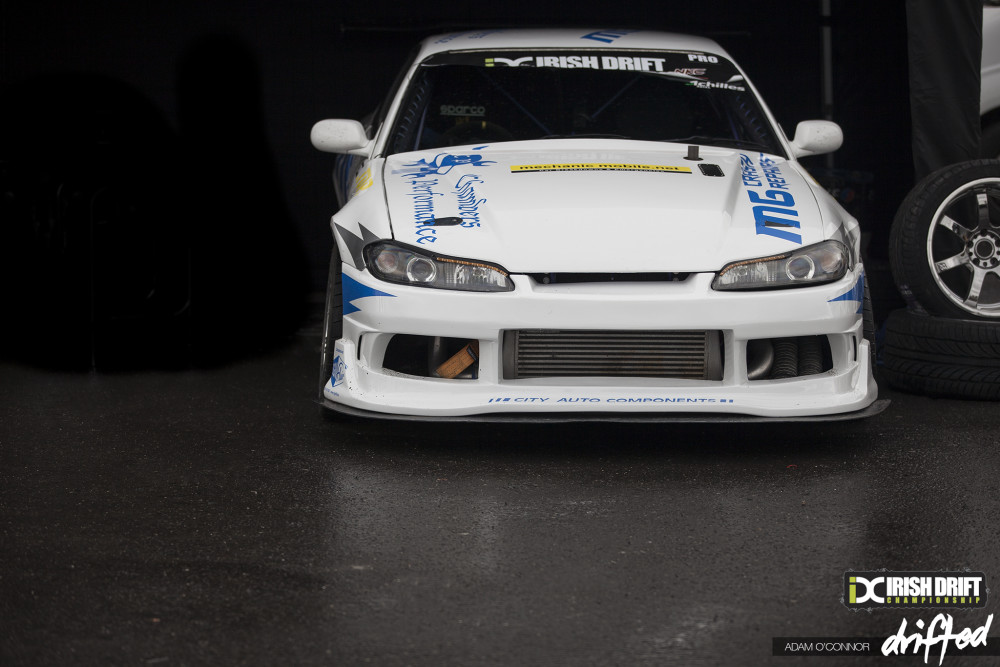 Dean will pilot the Team MG Crash Repairs S15 for the season. This particular S15 is no stranger to competition and silverware. Brendan Stone was at the helm in 2012 and took the championship in a tight season against James Deane.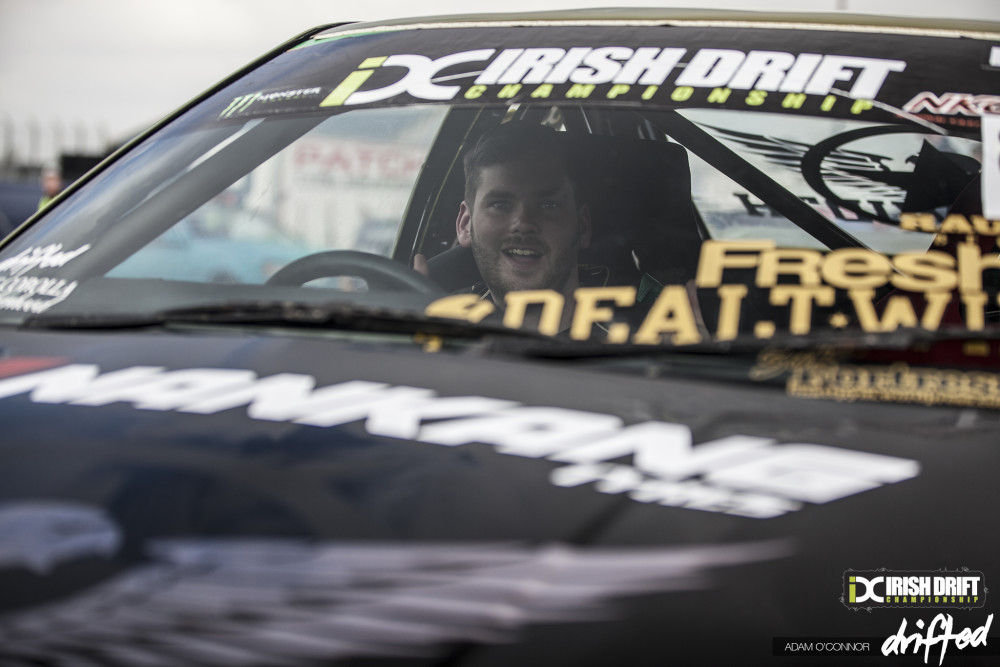 Team DealthWidth driver Brian Egan was all smiles in the paddock after a successful weekend in the BDC. Brian has gone down the route of a Rotrex Supercharger for his F20c powered AE86 to keep up with the horsepower race.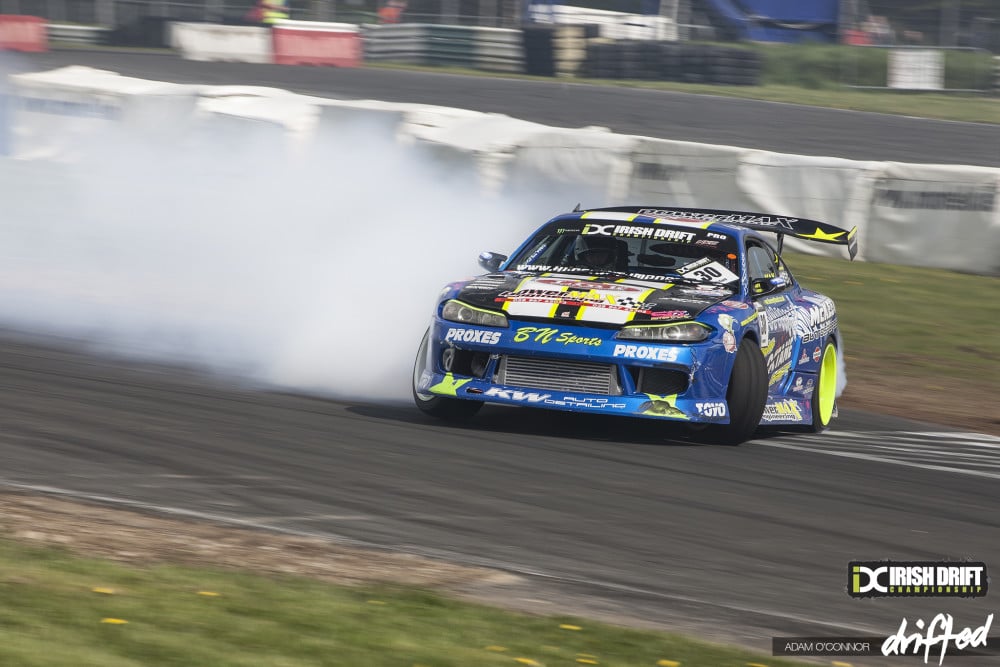 And when it comes to horsepower, its hard not to think of Alan McCord in his V8 powered wide body S15. Alan has been a regular feature in the IDC in the past few years, but has yet to see the fruits of his labor with a podium finish.
One man not short of podium finishes is Ireland's own Darren "D-Mac" McNamara. A schedule mix up with his Formula D commitments meant that Darren was in Ireland for the weekend and what better way to get some seat time for FD Atlanta then to take out his LHD Onevia "hire car".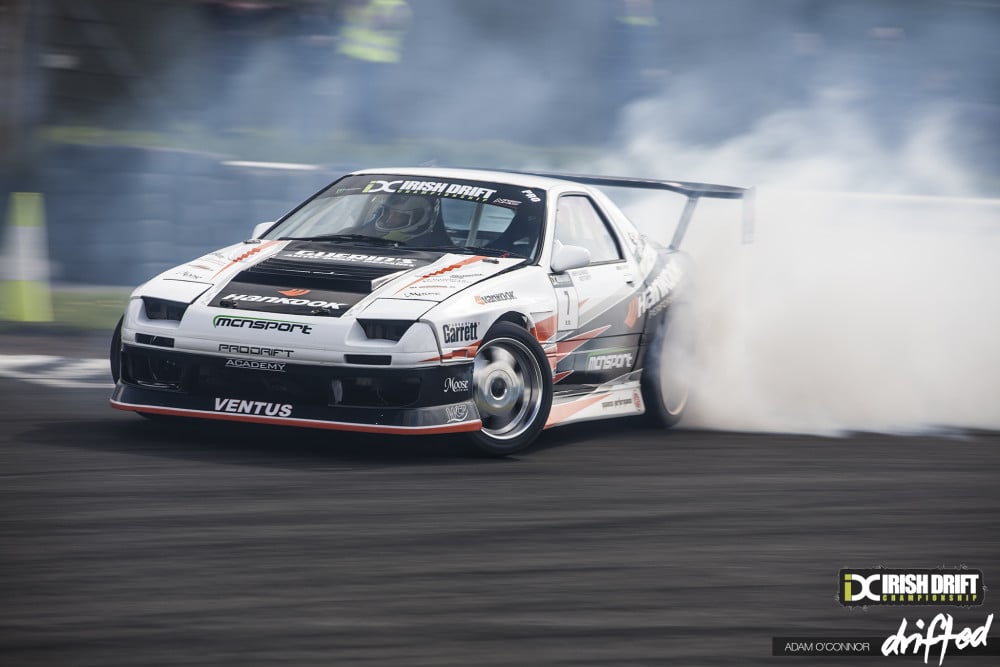 Crowd-pleaser Mike Fitz is getting his FC RX7 dialed in with each event. He put down a solid run in Qualifying and would advance into the Top 16.
No one was more shocked about qualifying then Brian Egan. It was the first time in the IDC that Brian had missed a spot in the top 16. Brian narrowly missed out finishing in 18th. His aggressive entries and screaming F20c were certainly missed from the main competition, but there is no doubt he will be back bigger and better for Round 2 in Fermoy in a couple of weeks.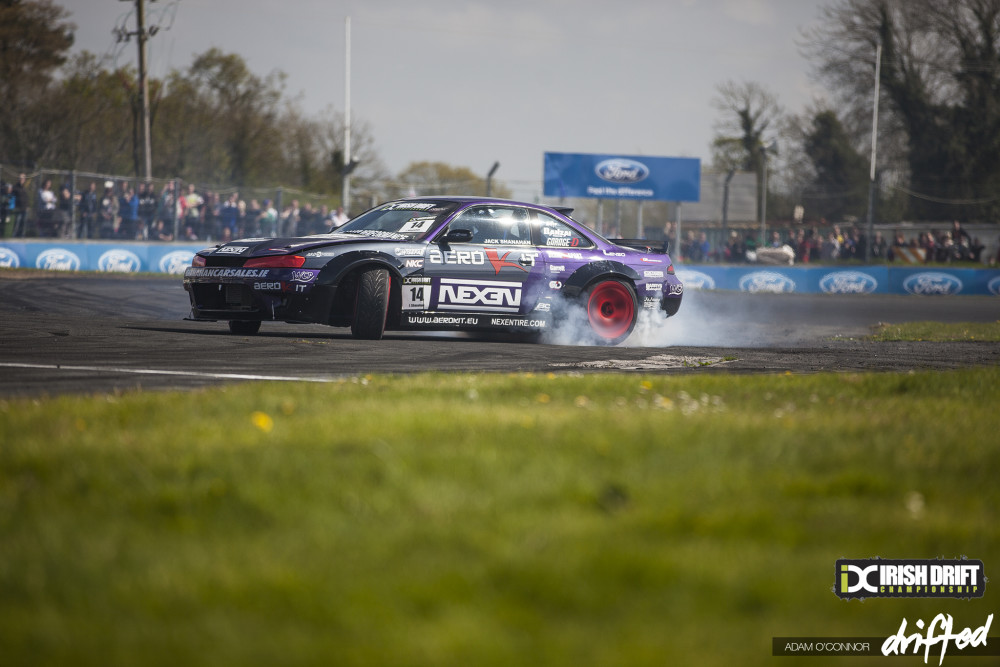 Top Qualifier Jack Shanahan was looking to continue on from his victory in Lydden Hill and was out to show the Irish crowd what he could do in his Team Aerokit BM Powered S14.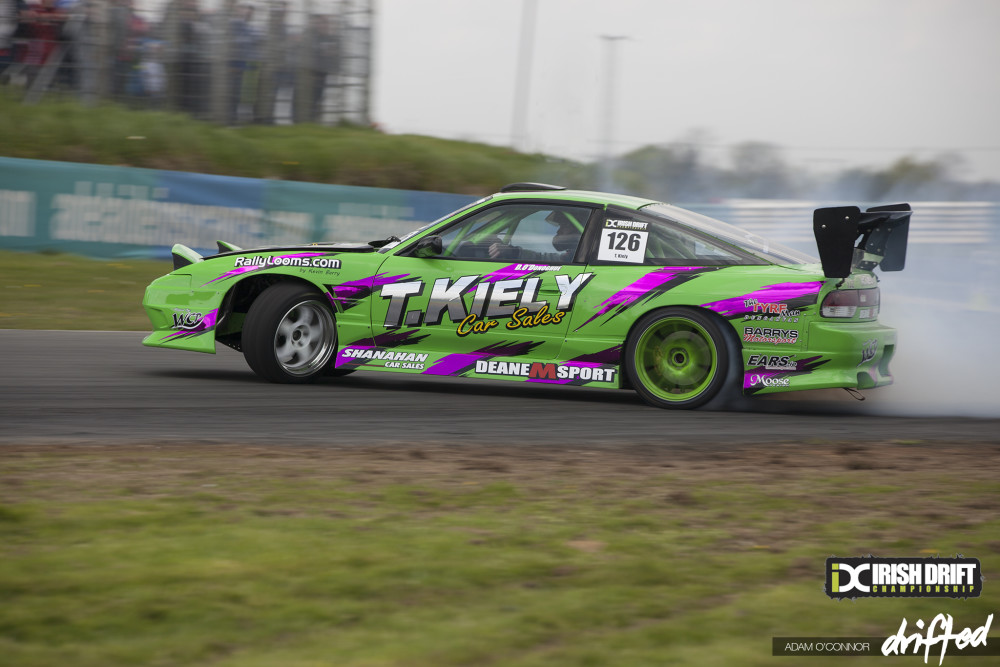 Team Japspeed driver Shane O'Sullivan found himself in unfamiliar surroundings. It was down to John Shanahan, father of Jack Shanahan to "borrow" Tomas Kiely's car at the last minute, just so Shane could but in a qualifying run to make into the top 16. Fortunately Shane was able to make it into the Top 16 with 13th position from qualifying.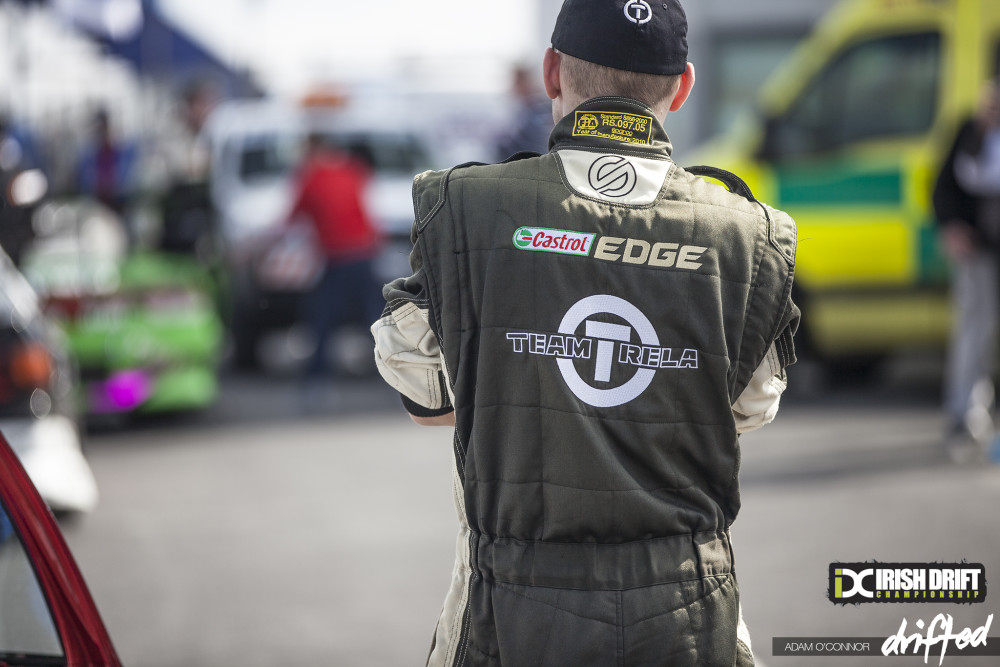 With proceeding of the Top 16 well under way, Pawel Trela's weekend came to a premature end being knocked out from the top 16 by an on form Semi-Pro Trevor Murphy. Trevor had battled his way through tough competition on both Saturday and Sunday just for the main event.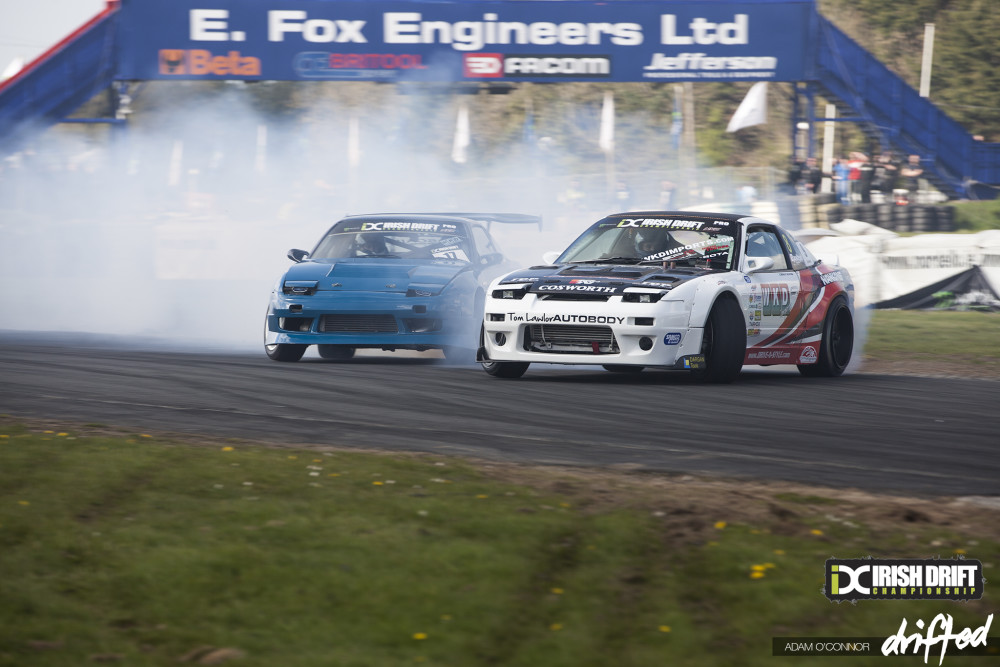 Wesley Keating put an end to Kevin O'Connells weekend with two solid runs. The Nankang Tyre 180sx seemed to be more dialed in which each new battle and would take a big name to stop Wez on the hunt for silverware.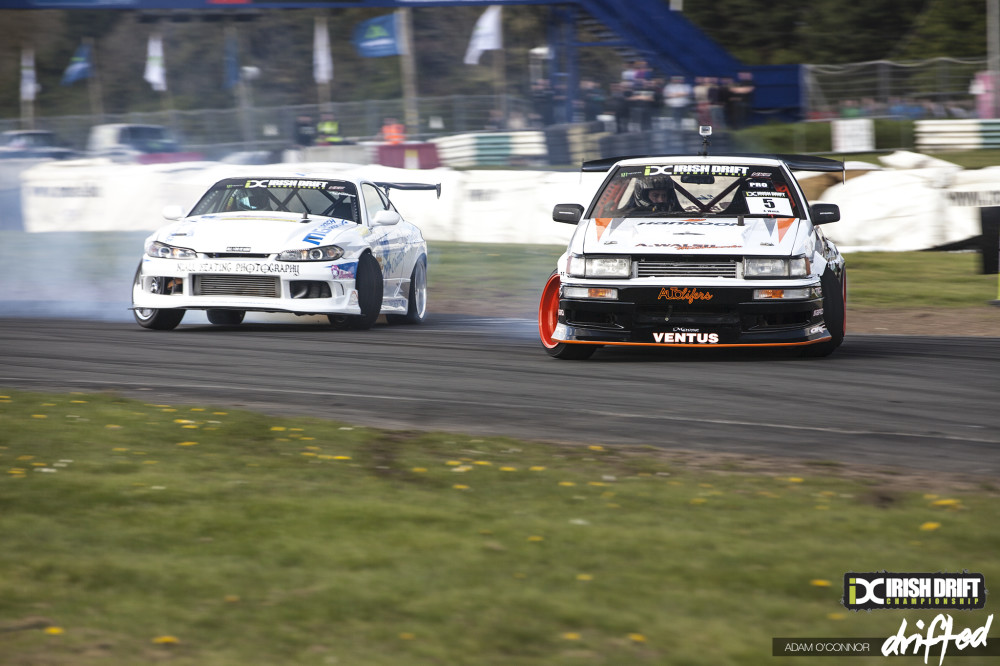 Adrian Walsh was caught in the crosshairs of Dean Kearney on the way to the Top 8. Adrian is one of the most consistent drivers on the grid, but the pace and power of Kearney was too much.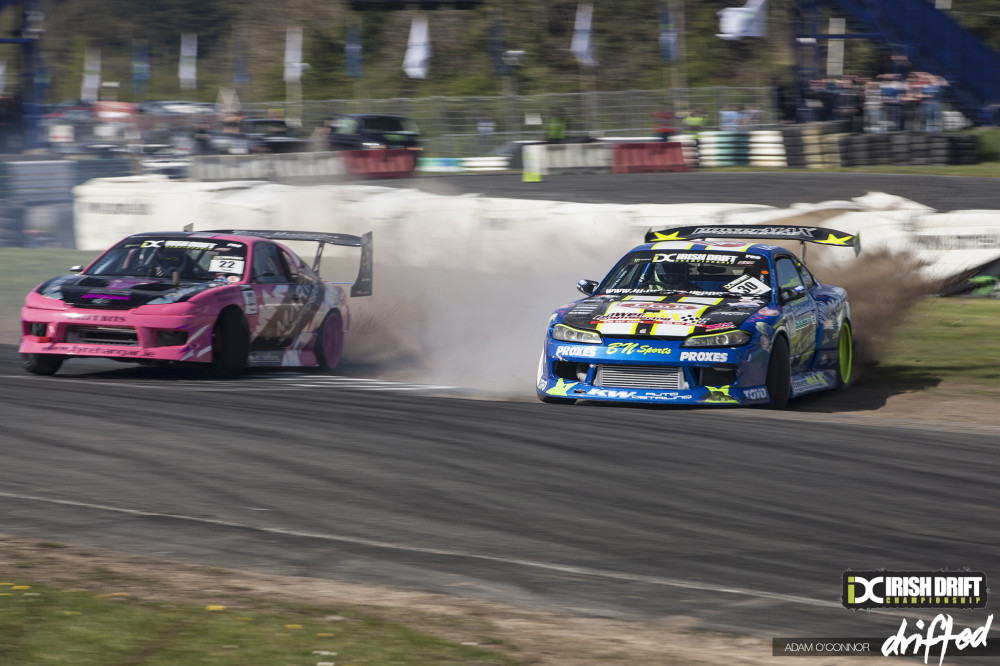 Alan McCord would put an end to his own weekend running a little wide into the Mondello dirt, allowing Paul Murphy to advance. McCord was glued to Paul Murphy's car in the first run but would not advance after this mishap.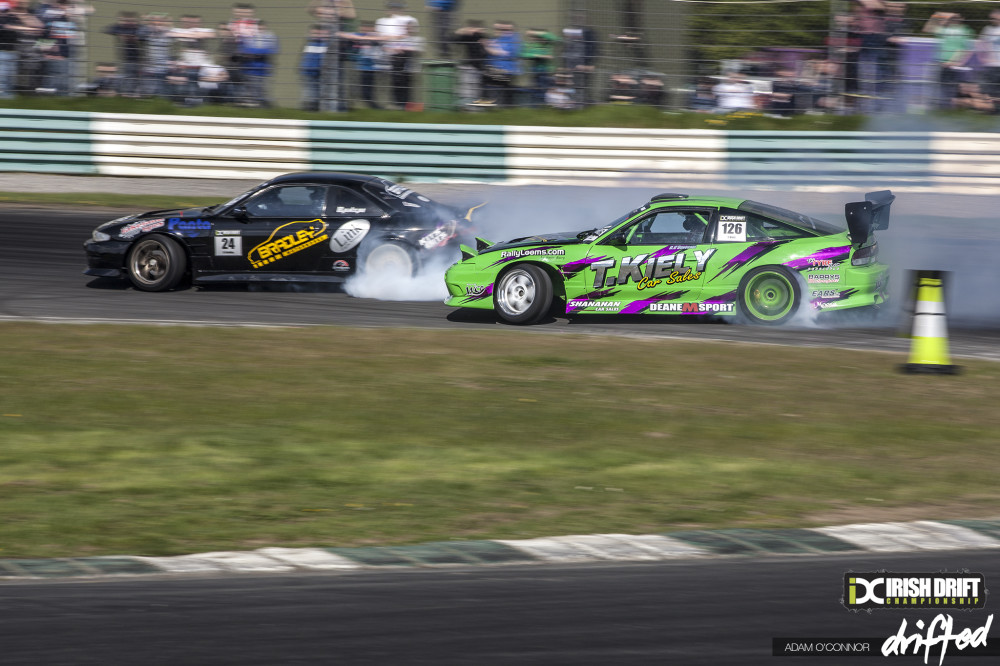 In the battle of the borrowed cars, Duane McKeever would fight off a strong push from Shane O'Sullivan. The two men found themselves in the cockpit of different vehicles but didn't look one step out of place all day.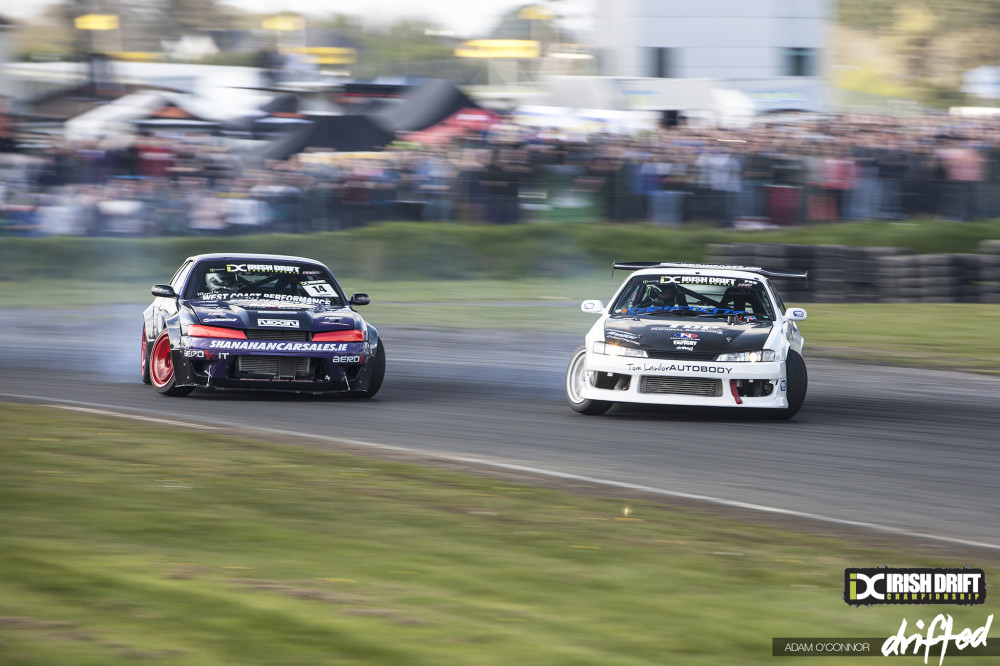 Team WKD Imports driver Barry Leonard would come up against an on form Jack Shanahan, but drift veteran Barry Leonard held his own against the teenager and would move on to meet Paul Murphy in the Great 8.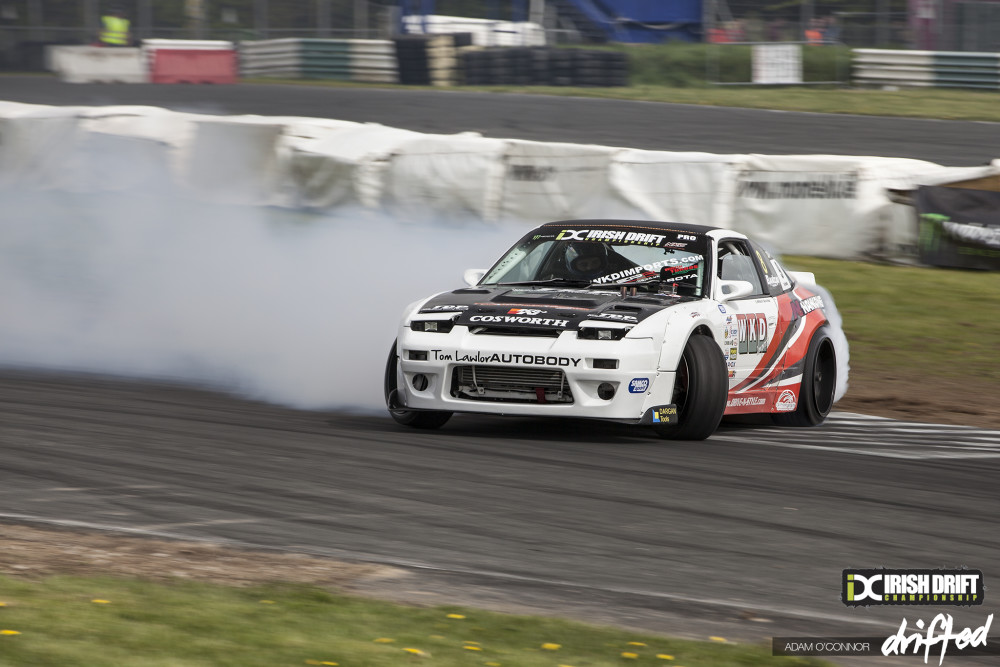 Wesley Keating produced the moment of the weekend, after battling his way to a 3rd place finish due to mechanical issues from his opponent. Most drivers would run the course as a formality, but not Wez.
Radio communication came around that he wanted 1 more run of the course to go backwards into turn 1. One do or die run to put on a show for the crowd, and he 100% nailed it.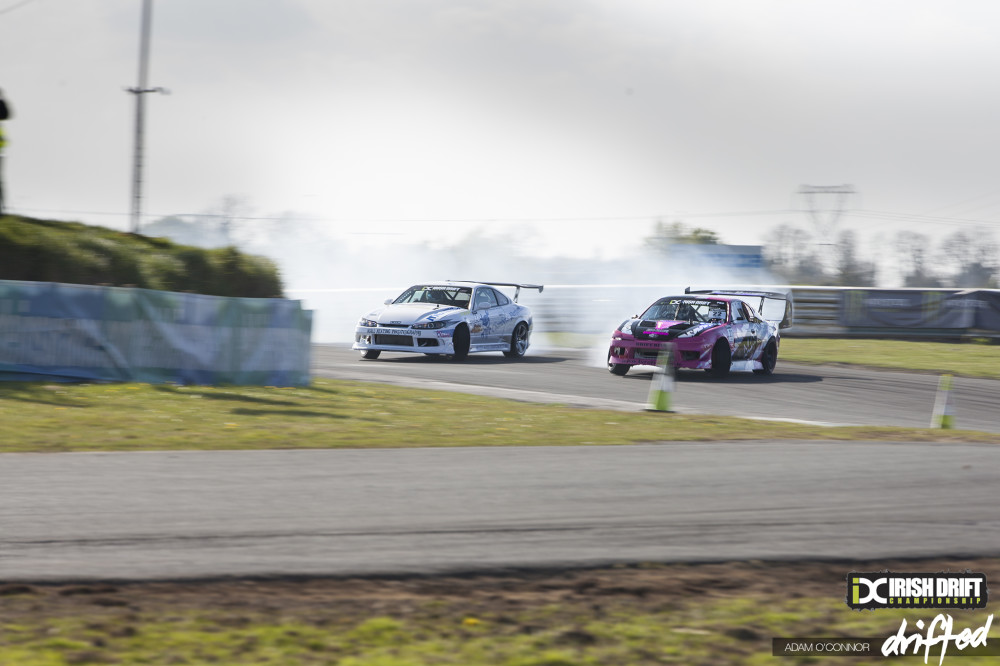 So the final was decided. Paul "the wall" Murphy vs. Dean "Karnage" Kearney. Both men were on form all weekend and were both veterans of the Irish drift scene.
With door-to-door action on both runs, the battle could have gone to a OMT, but the judges had a winner.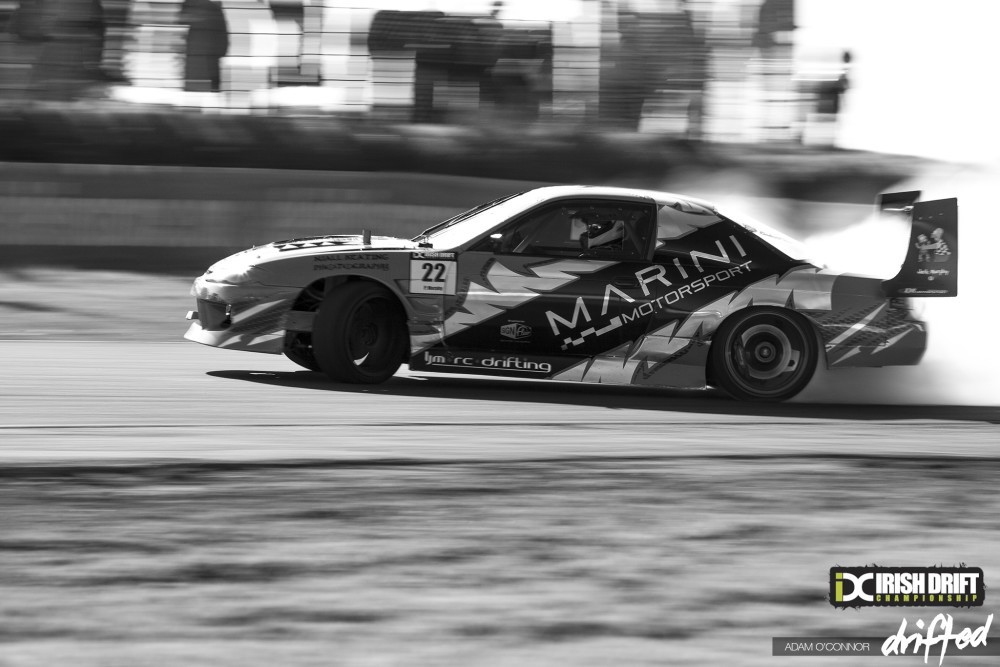 Paul "The Wall" Murphy pulled the slightest of leads of Dean sealing the victory and cementing his foot hold in championship.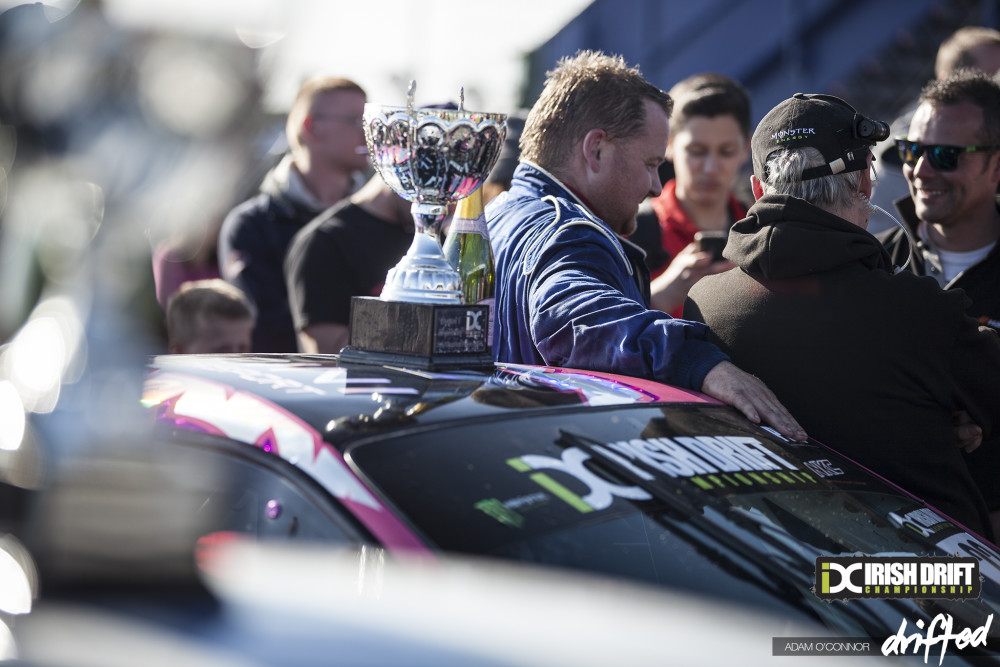 With the sun setting over turn 1 of Mondello Park, Paul Murphy will be tasting champagne for weeks to come. The endless nights spent in Marini Motorsports HQ over the winter came to fruition and he heads into round 2 in Fermoy, Cork with confidence at an all time high.
The championship is wide open for the season ahead, with many of the heavy hitters of the Irish drift scene down the championship table; will they be able to climb up? We'll see in two weeks time.
Thanks for reading,
Adam O'Connor