ADGP 2013/14 Season Review
The 2013/14 season of the Australian Drifting Grand Prix (ADGP) started off with a huge bang, being held alongside the inaugural Formula Drift Australia. This was a huge excitement for me as I see it as drift in Australia finally being noticed as a serious sport.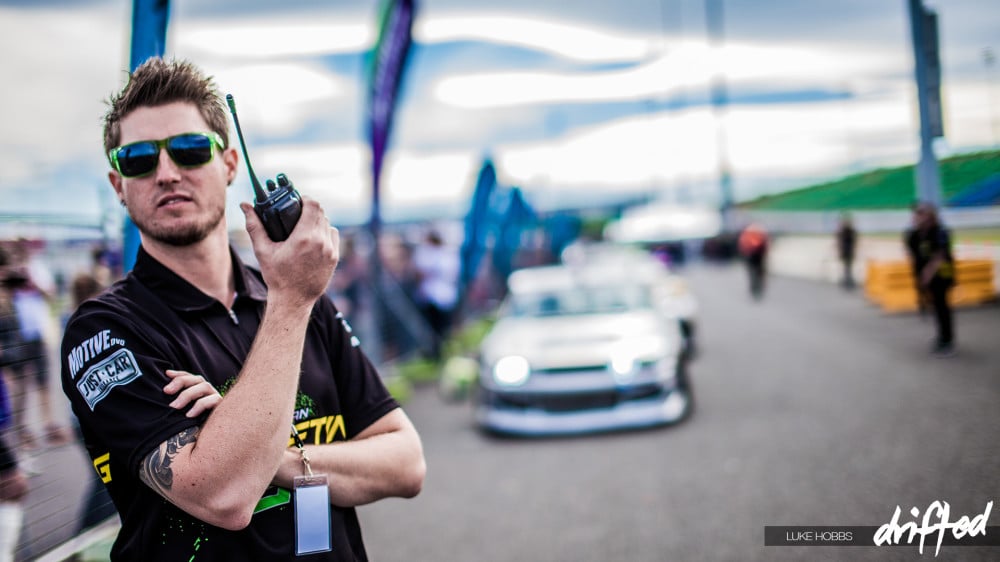 This wouldn't have been possible without the help of this man here, Championship Manager – Brett Wilkinson. Brett dedicates so much of his time to make ADGP what it is today. We would not have seen FD Asia make it to Australia, we would not have seen the big names in drift come over to guest judge and drive in the rounds we did this year. So from me and from everyone else, a huge thank you to Brett.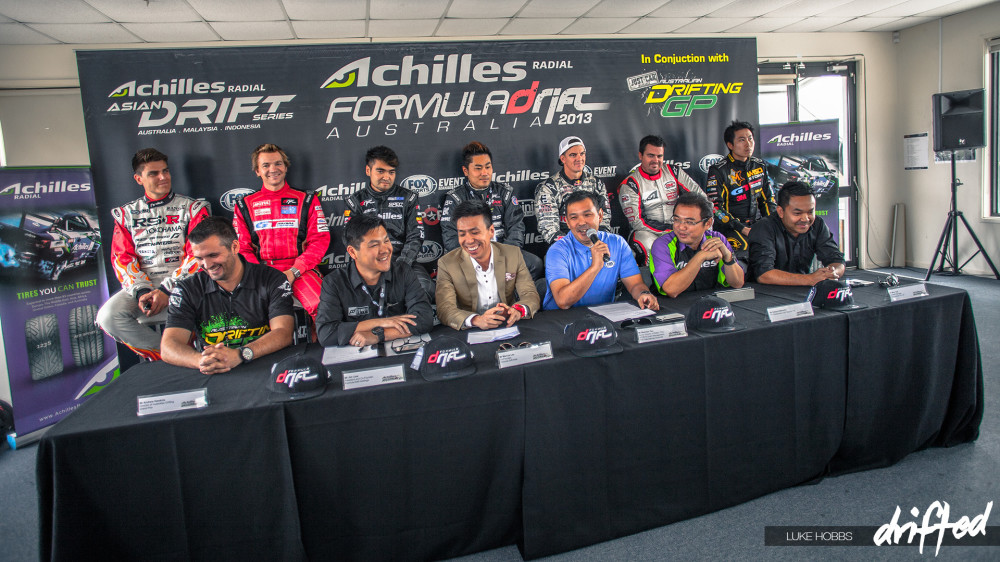 It was great to see international drivers like Daigo Saito, Fredric Aasbo and Mike Whiddett mixing it up with our Australian superstars like Rob Whyte and Josh Boettcher.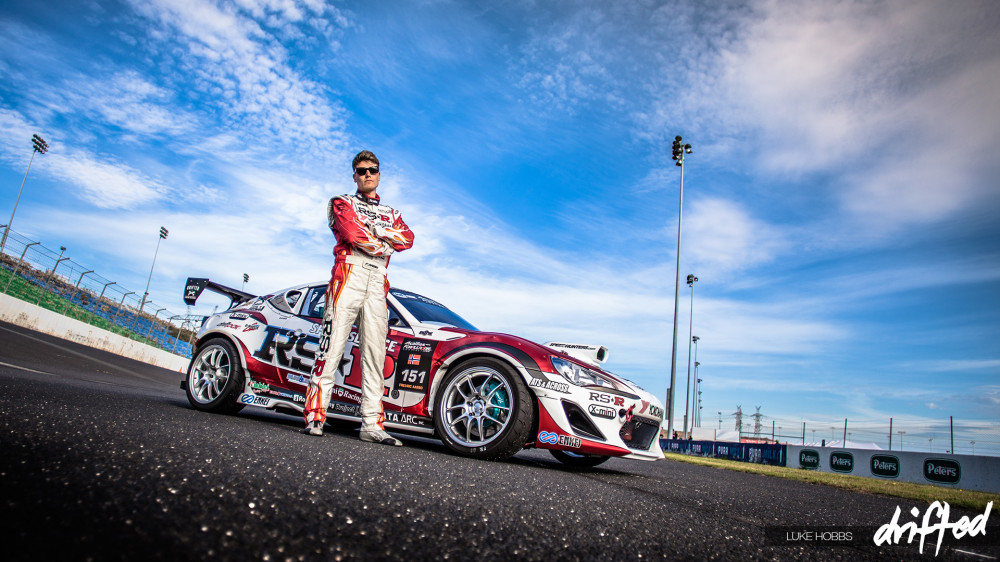 Before the race I was sure to squeeze in a photoshoot with Aasbo and his amazing Nascar powered 86.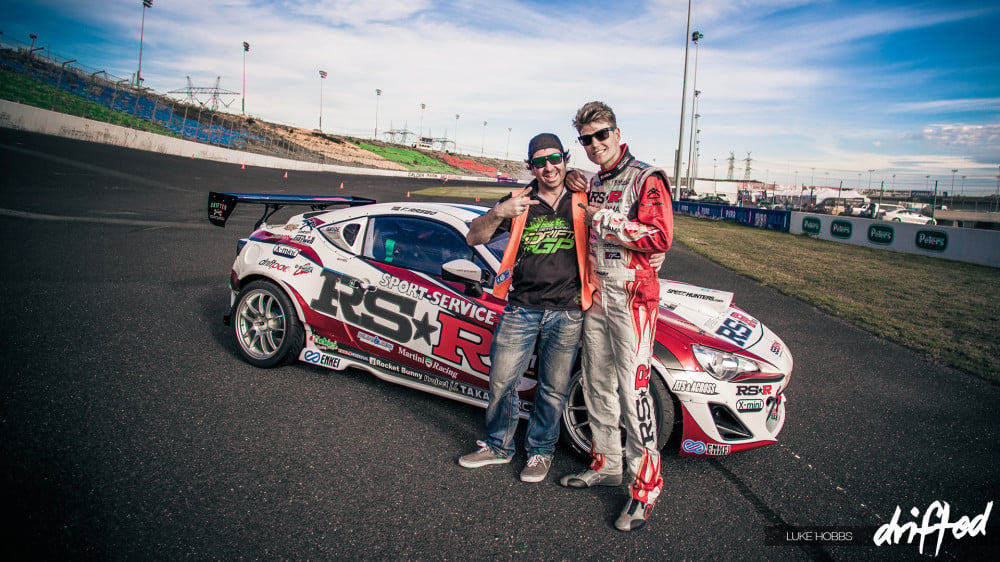 And thought it would be irresponsible not to get a photo with him. Ignore the fact I've got the height advantage over him and he still towers over me!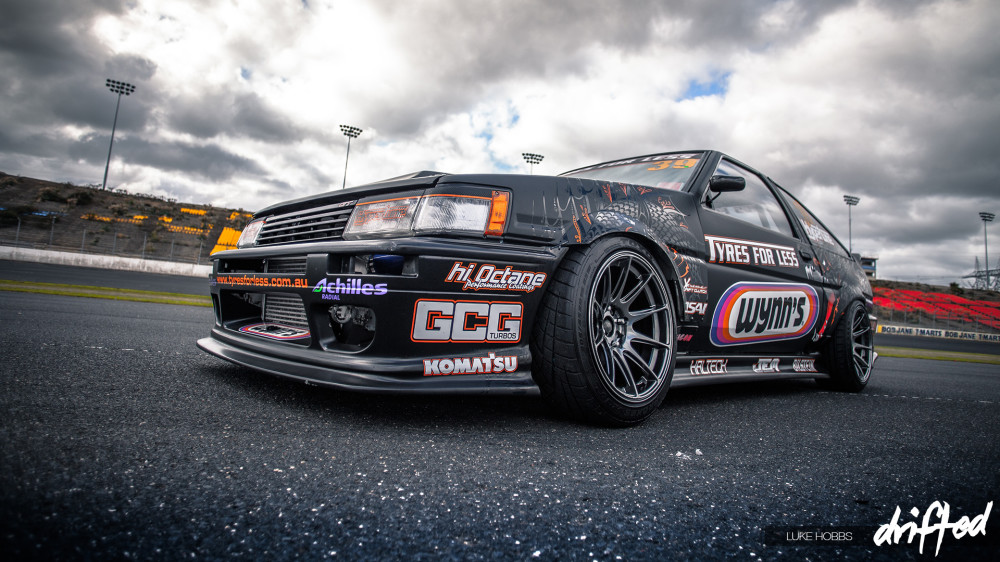 Another car I had to shoot was Beau Yates' AE86. There is so much history behind this car. Being such an old chassis doesn't stop it in the slightest on a competitive level. But due to the unfortunate event at World Time Attack, this car is no longer competing and Beau has since moved onto the newer Toyota 86.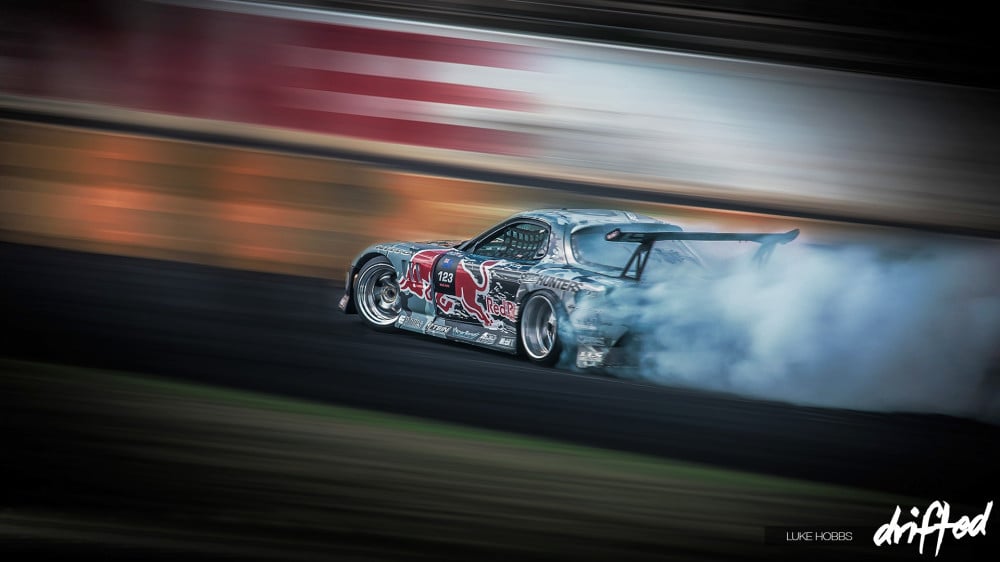 Mad Mike's RX7 is to put it simply, mental. Unless you have heard it in person, there is no words to describe how loud this thing is! I think one of my ear drums is still burst!
And he had no problems putting on a show past these two stunning models!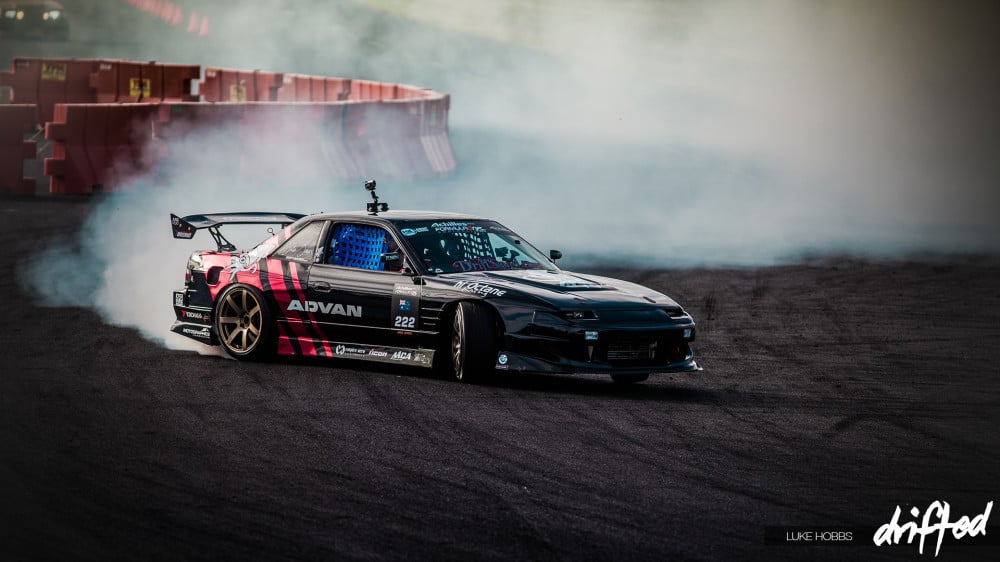 We don't get to see Australian Jake Jones competing much around these parts anymore, getting the opportunity to drive in Japan and New Zealand keeps him fairly busy, so was good to see him on his home turf blazing it up for us again.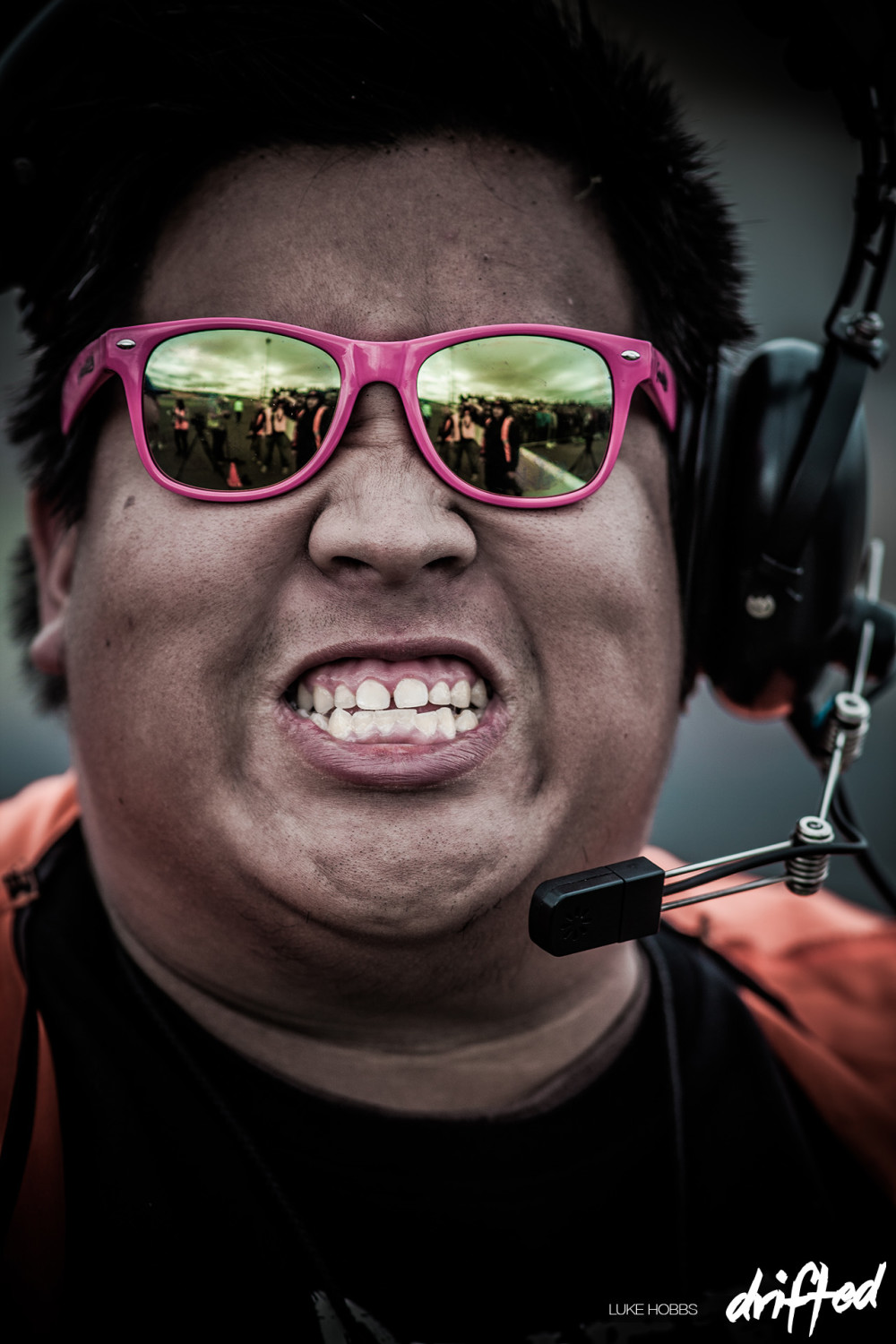 This is Choonga. Choonga is funny. We like Choonga.
On a serious note though, it's guys like this behind the scenes that we don't hear about that make events run smoothly. Without guys like this it'd be complete havoc. From flaggies, start linesman, judges, scrutineers etc, we appreciate what you do!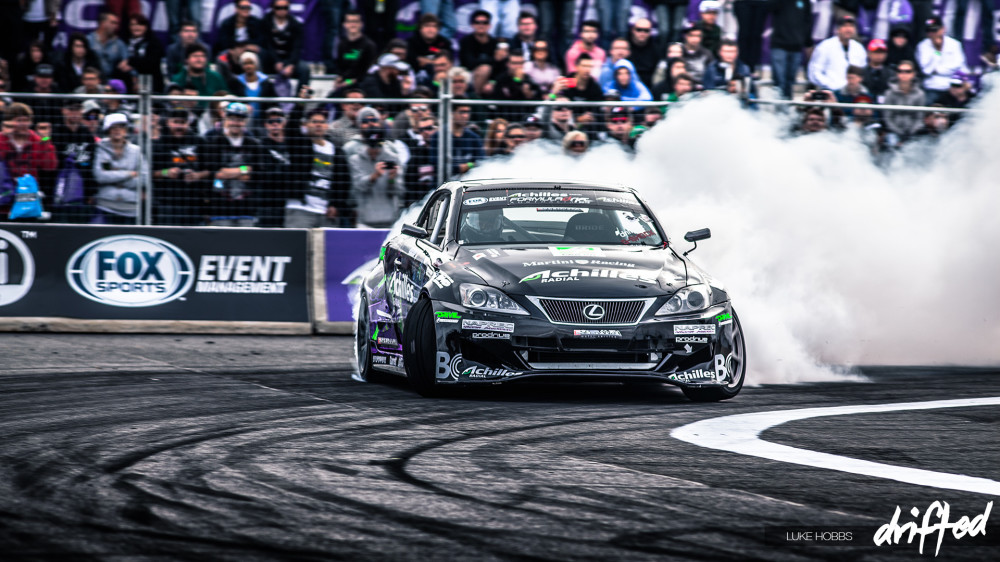 Being able to watch Daigo battle was incredible. The amount of skill this guy has… just wow.
As the battles were coming to an end, so was the amount of sunlight. Which made for some incredible photos!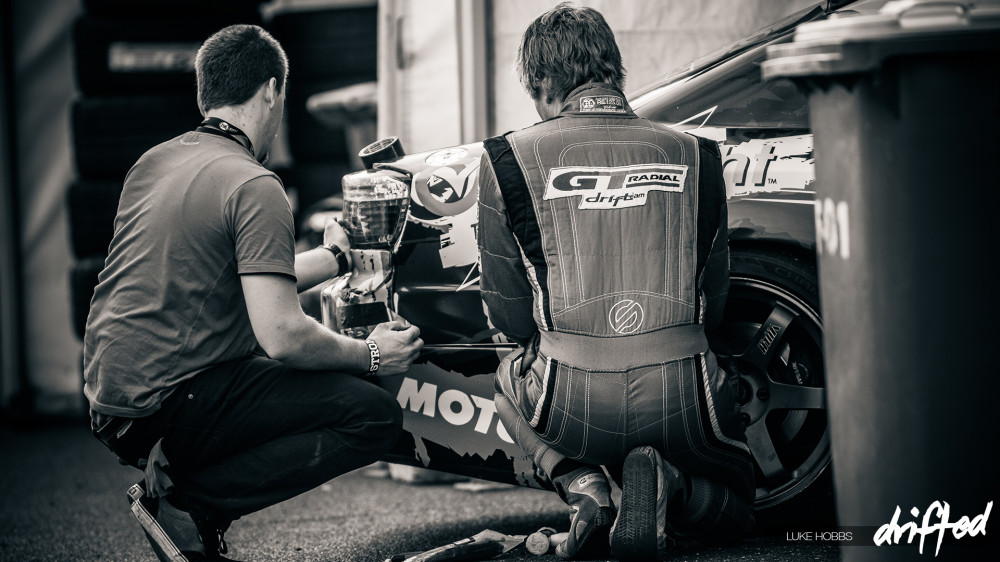 Josh Boettcher getting ready for his battle against Aasbo.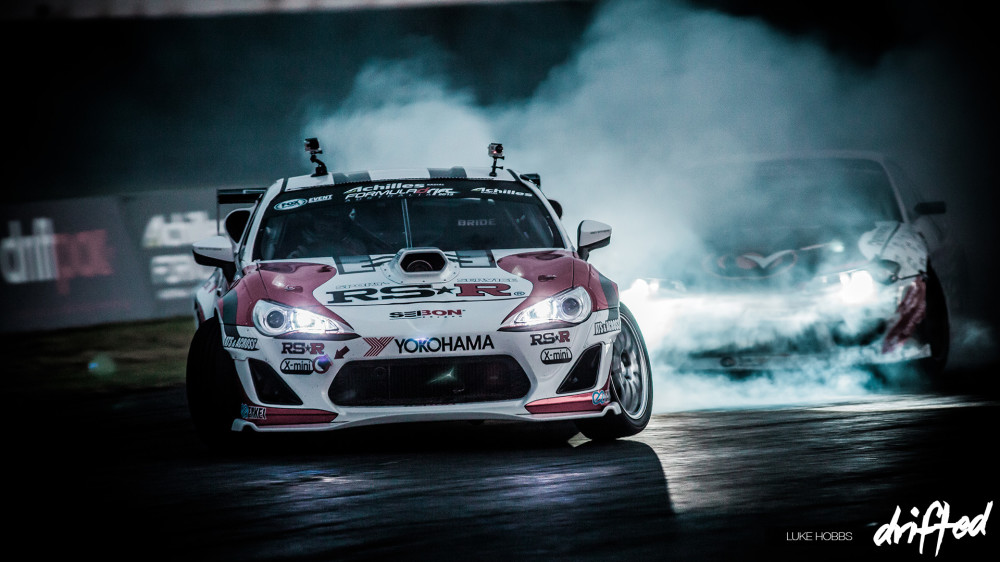 Boettcher put up a good battle but there was no stopping Aasbo, he was on fire!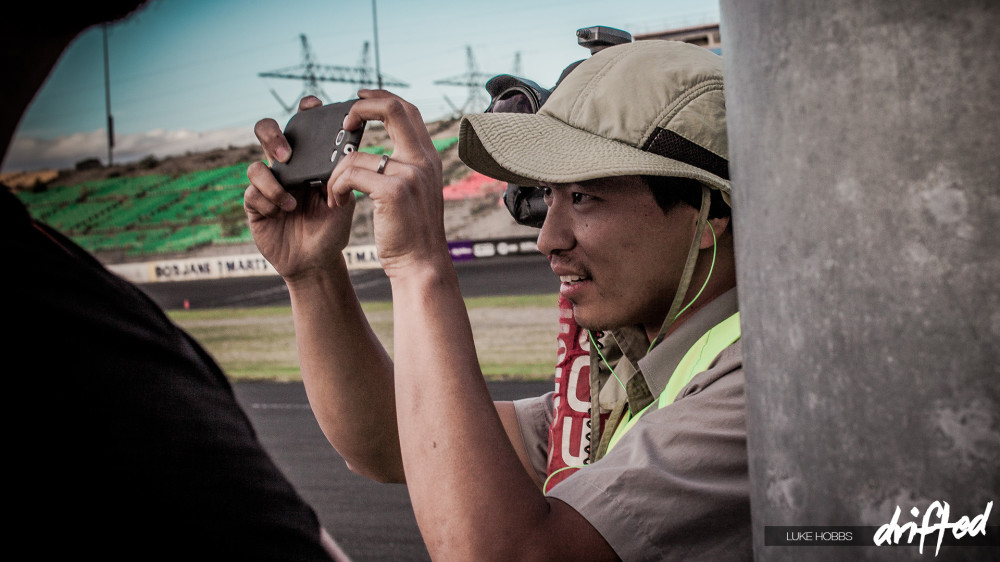 Speedhunters photographer, Larry Chen, getting in some instagram time!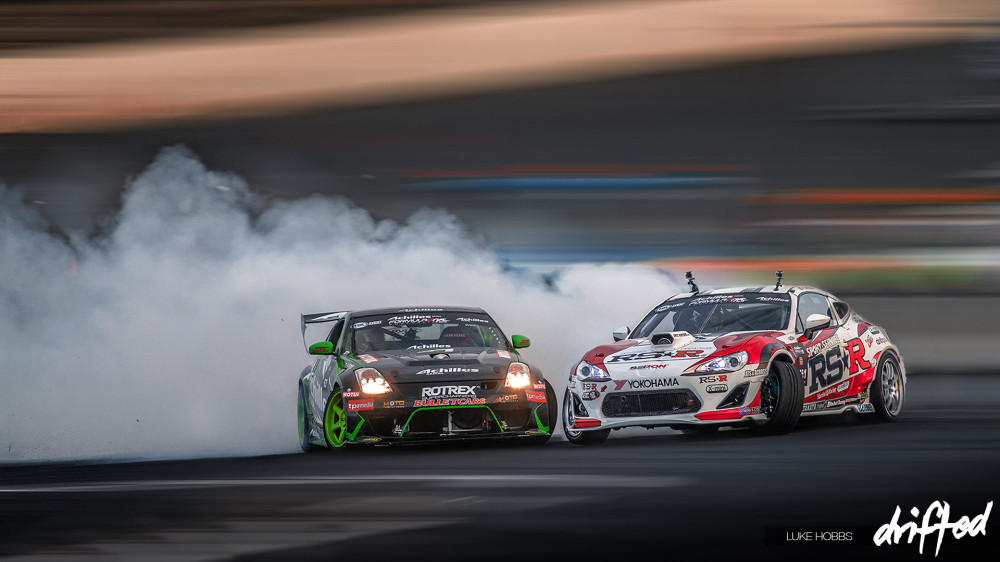 Australian drifter Rob Whyte in his 350Z again just couldn't handle this intense speed and angle Aasbo was pushing!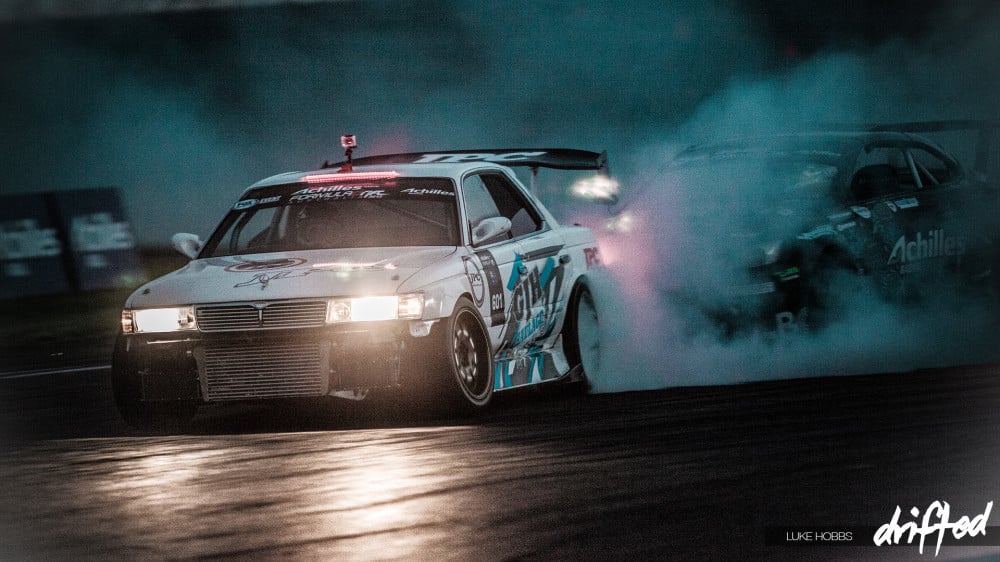 Tom Monkhouse battles Daigo Saito for the win. Extremely close battle but in the end Daigo took the win. Imagine the view from Monkhouse's rear view mirror? Now THAT'S intimidation!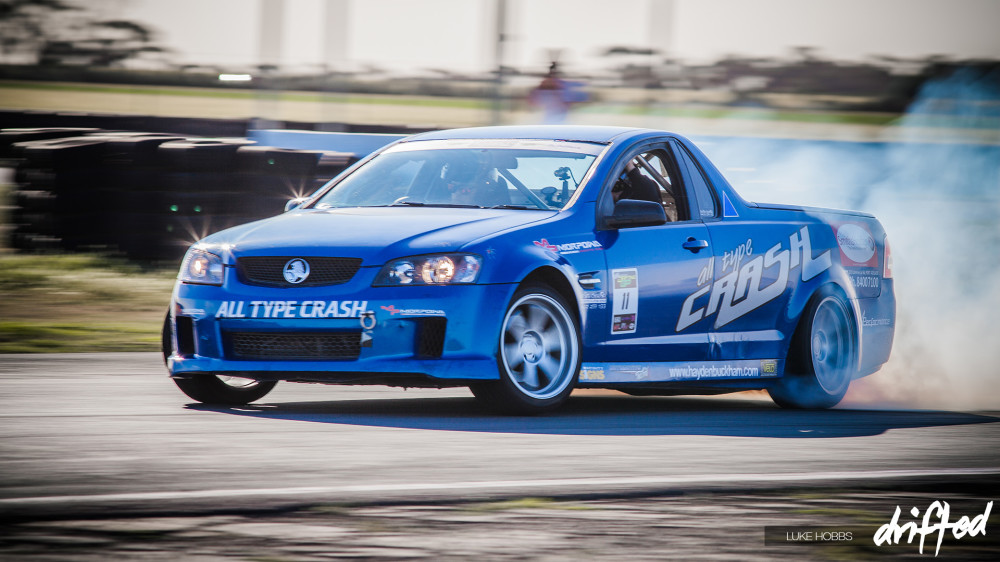 The official start of the season began at Mallala Raceway near Adelaide, SA. We flew American Formula Drift driver Chris Forsberg over. What better way to introduce him to Australia than to get him in the cockpit of an Australian made Holden V8 powered ute?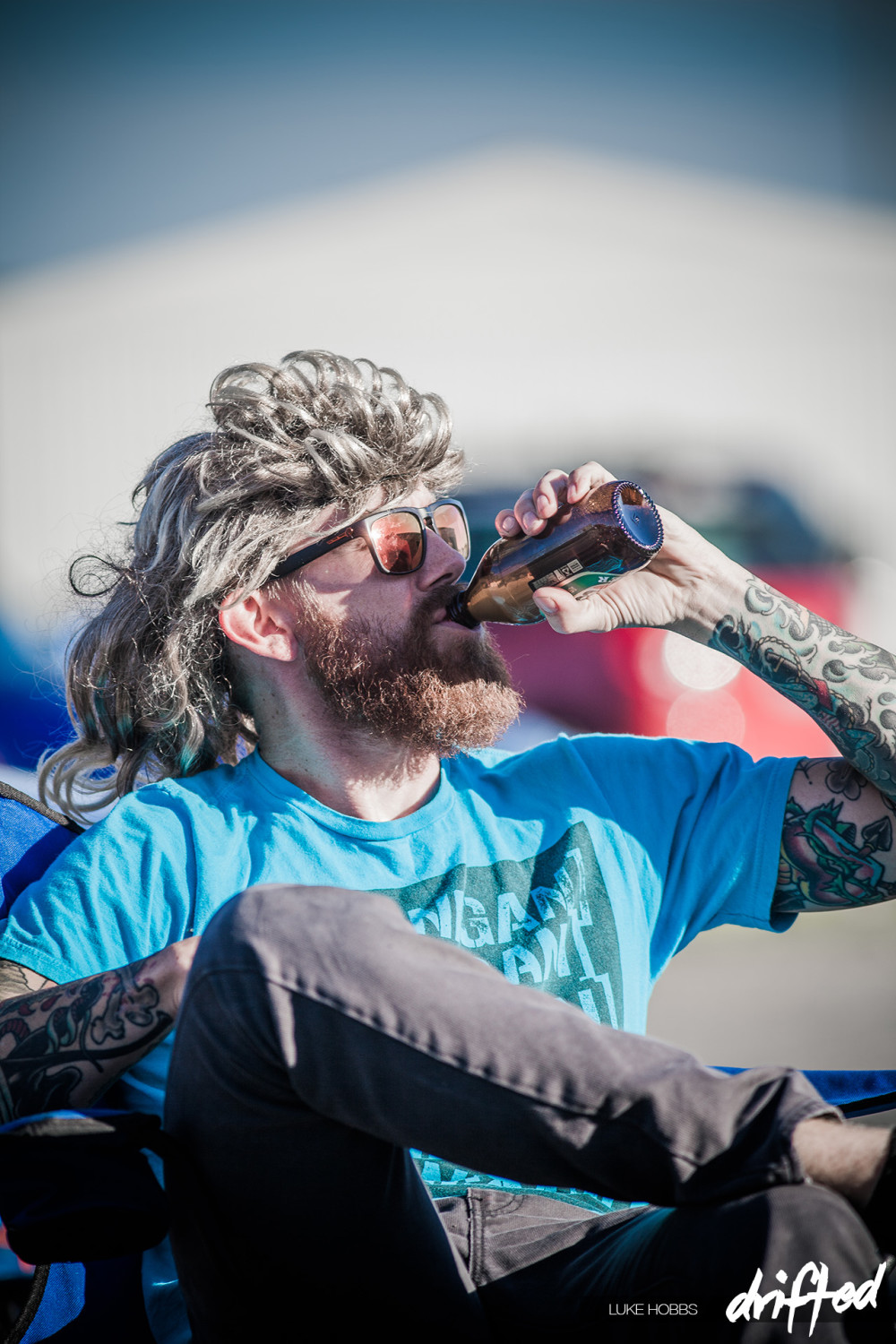 Oh, and chuck a mullet on him and feed him a VB. (I'm Australian and still won't drink that stuff!)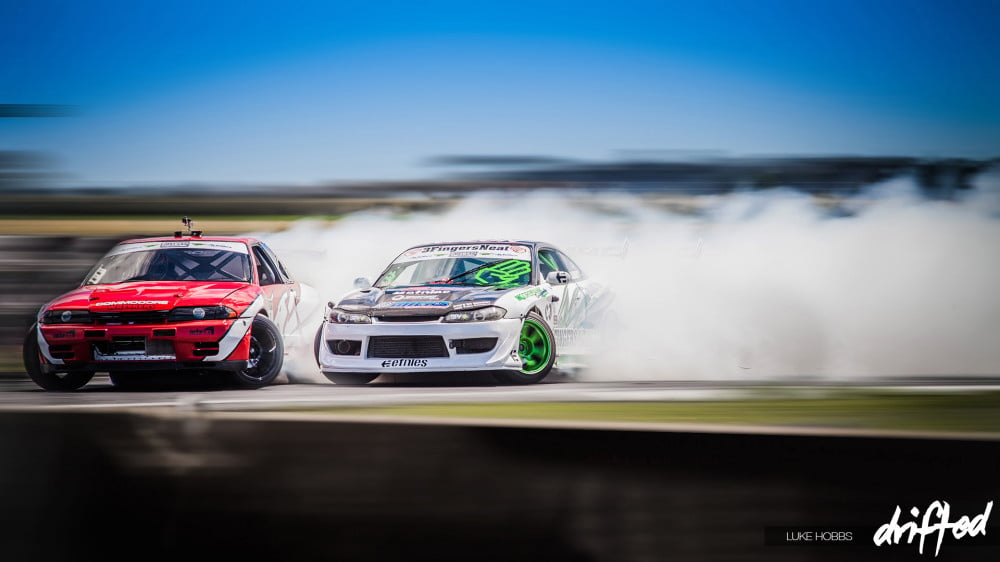 Mallala was an awesome track as it had a lot of long sweeping bends to allow fast, close proximity battles. And who doesn't love seeing doors rubbing!? Here we see 3 Fingers Neat/Blaze Unit driver Jabbit getting up close and personal with Commodore Wreckers driver Michael Rosenblatt.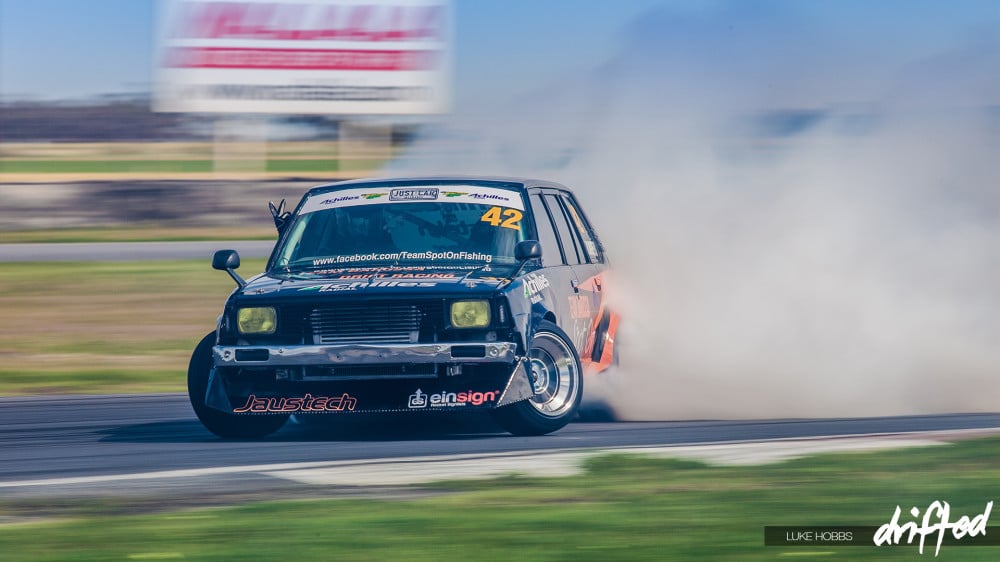 Jarrad Klingberg calls Mallala home. You can tell he feels at home too, casually blazing one handed while reppin' the peace sign.
Levi Clarke seemed to be enjoying himself too, blazing off his tyres in his V8 powered S15.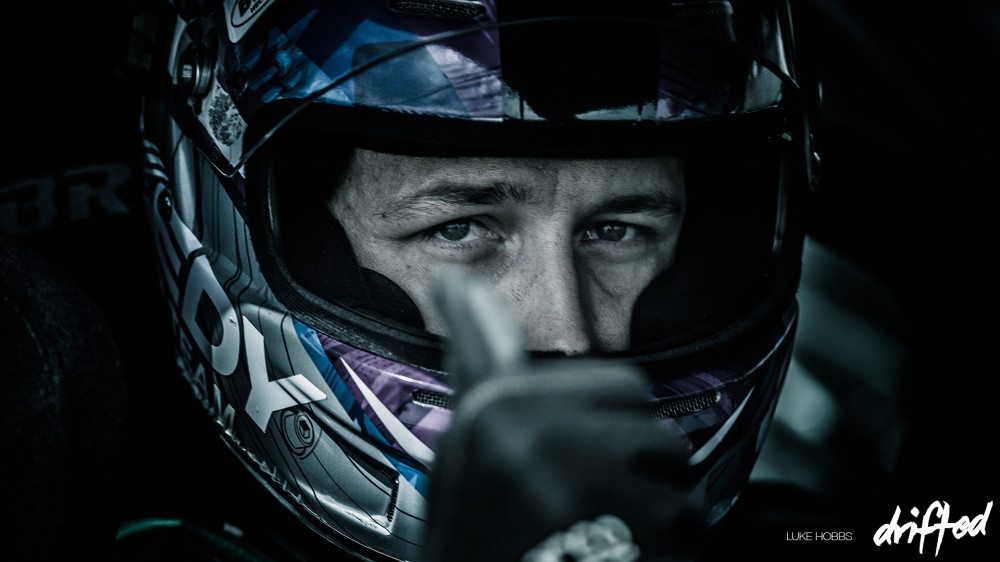 Levi approves.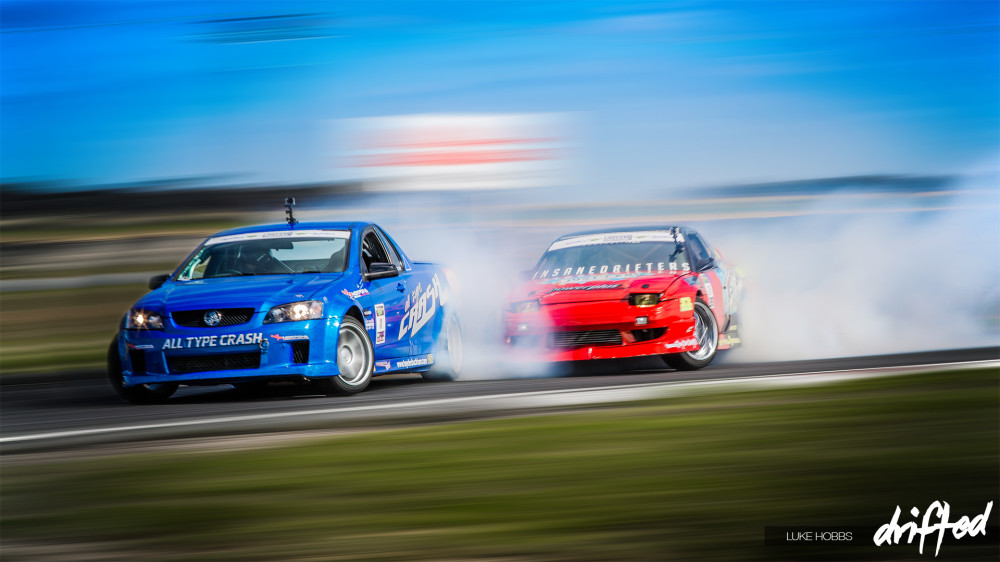 Andreas Paraskevas (Aggess) was tuned in this whole round, there was literally no one that could stop him!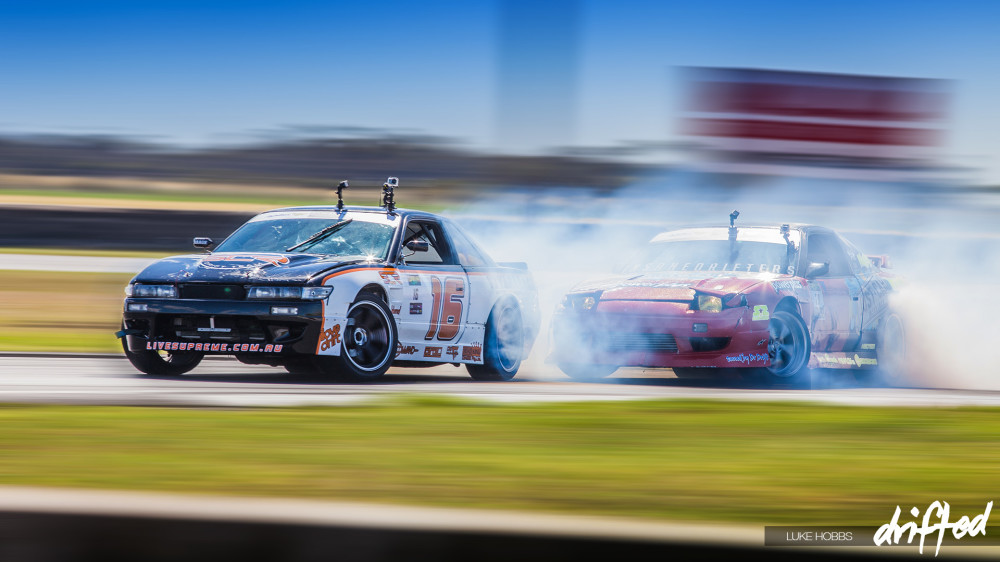 Prosenik took him on for the number one spot, but aggess wouldn't have it! He was determined to win!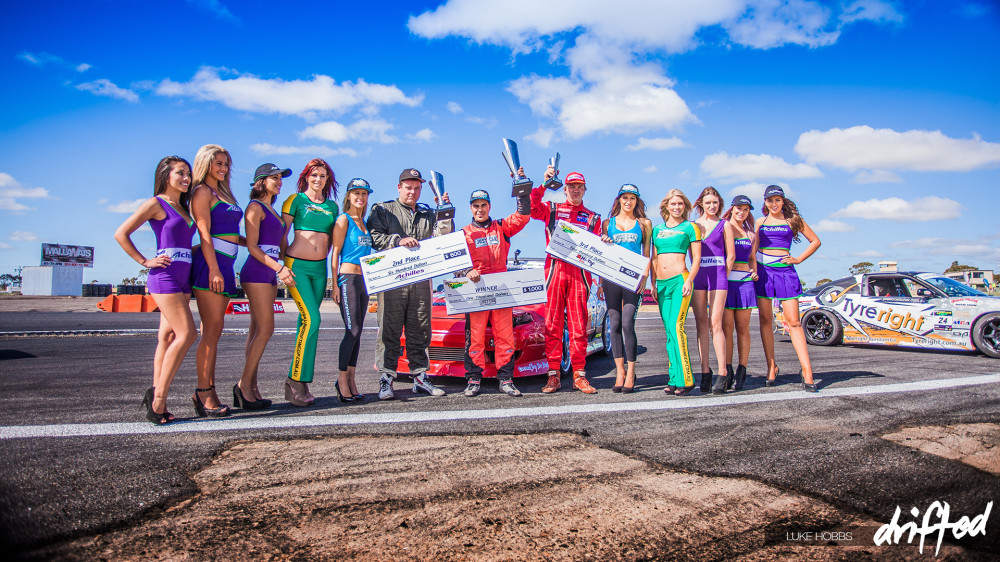 Congratulations to Aggess for taking the win, Prosenik for second and Boettcher for third.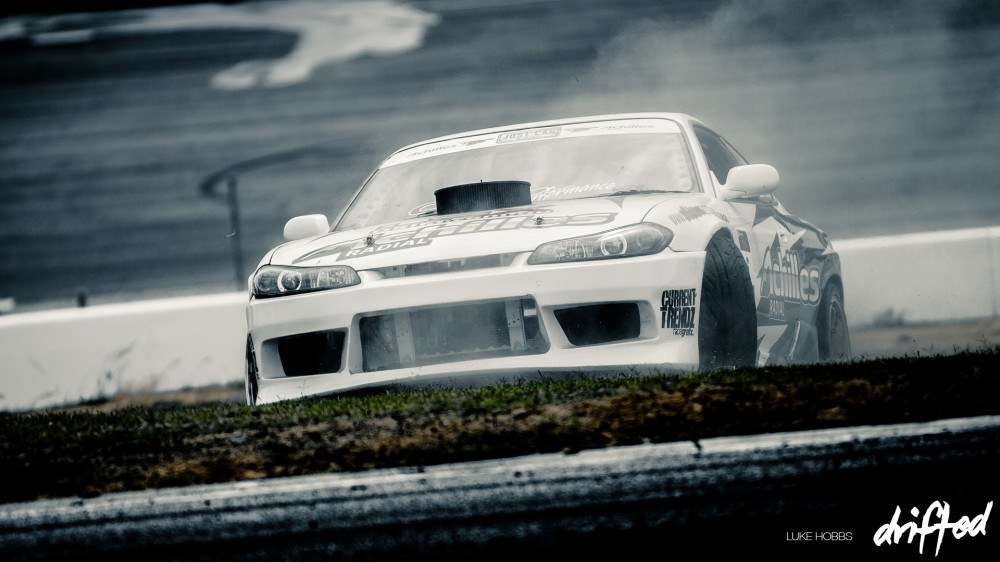 Round 2 sent us all the way west to Barbagello Raceway in Western Australia. Here we had Daigo Saito as a guest entrant. Took him a bit to get use to the loan car, a V8 powered S15, as you can see here.
But he soon got use to it!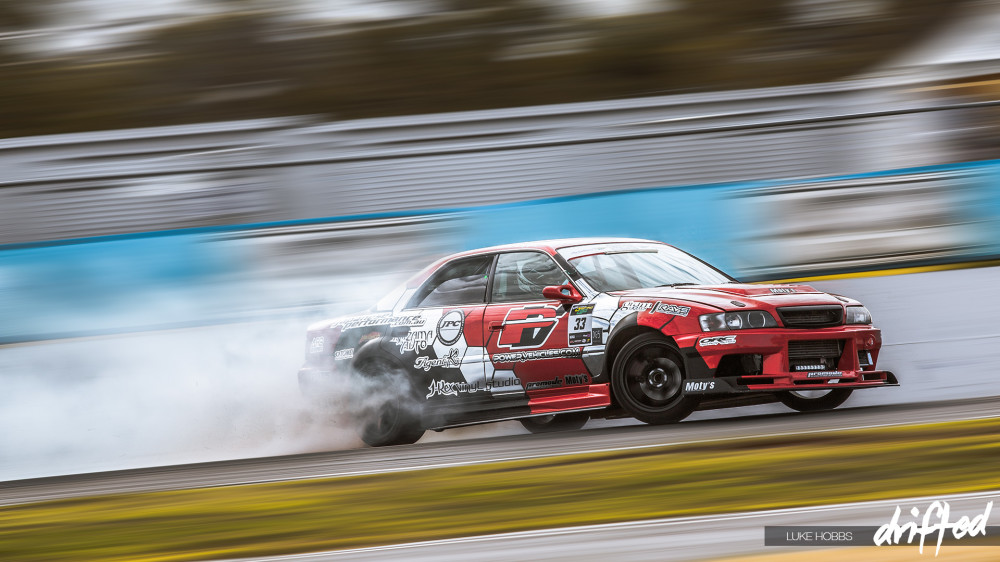 Andy Gray also joined us and let me tell you, Andy and his Chaser did not disappoint!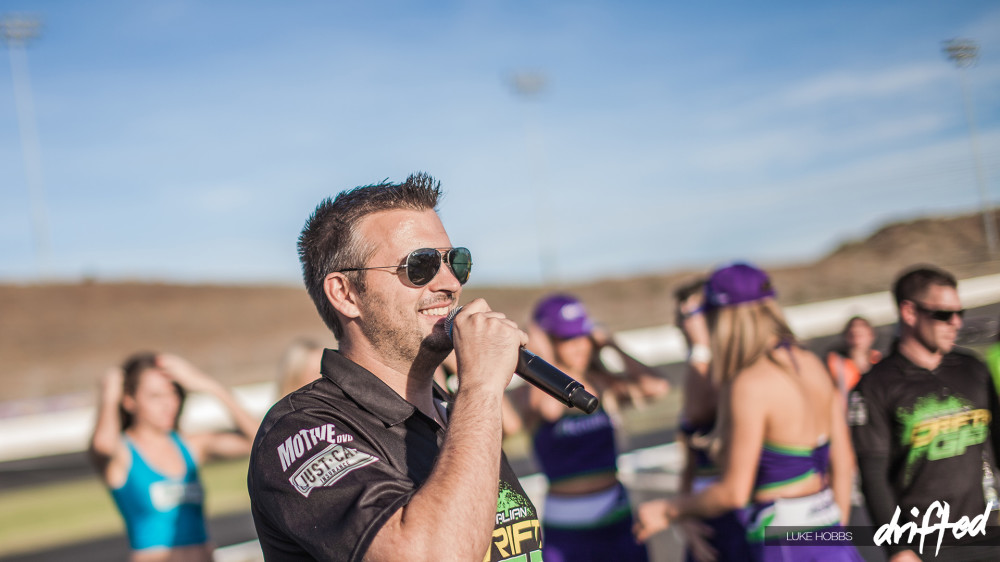 Here we see ADGP Director Andrew Hawkins. Andrew handles the media side of things and without him, the sport would not be as well known as it is! From TV deals and coverage to print and online media. This is the man that shoves it under your nose! Again, from myself and everyone else, thank you for all the work you put into making ADGP what it is today!
If you've made it to an ADGP round, this is the man you would have heard on the mic making those 'funny' jokes.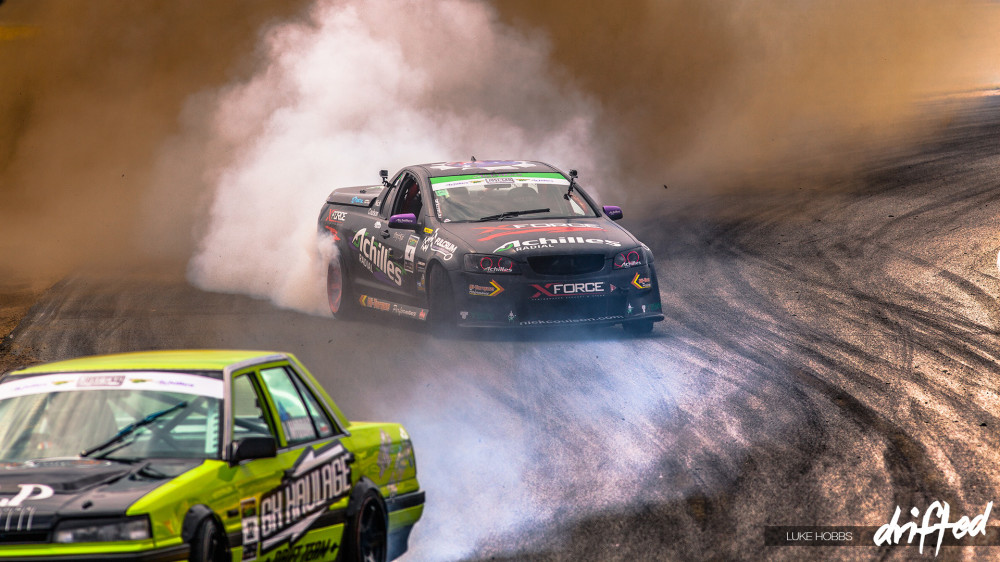 Dust traps won't stop drift kid Nick Coulson! He'll drift through anything!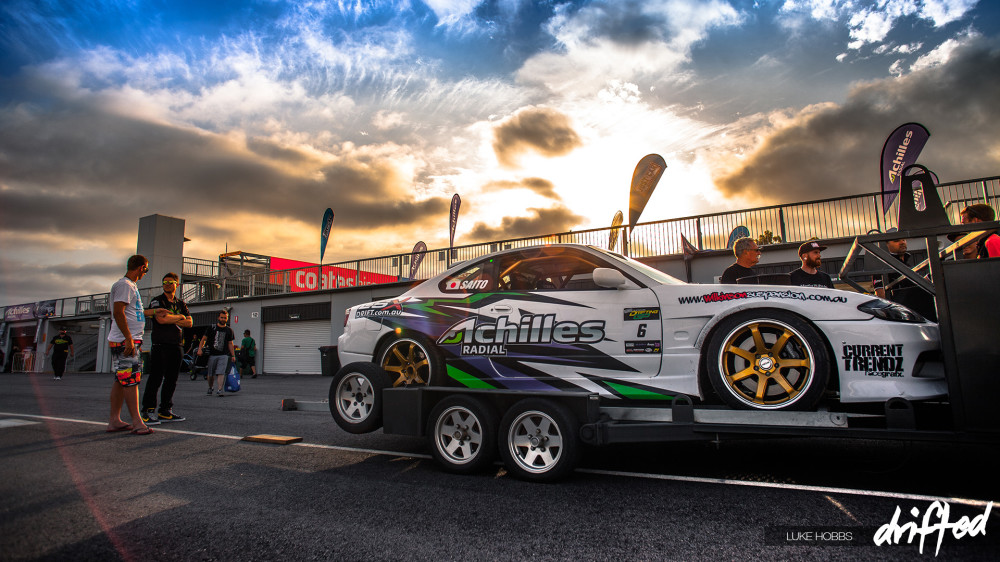 Unfortunately Daigo got too happy and may have blown the car up. No battles for Daigo! So we took him out on the town Saturday night, almost killed him then let him sleep through the whole next day…Sorry Daigo!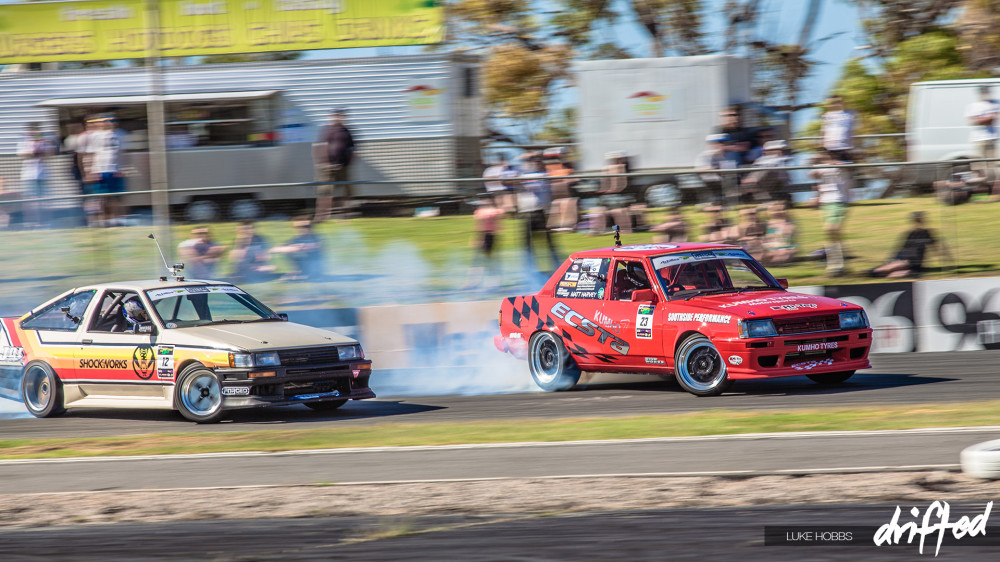 The final was a battle of the old school! Matt Russell drove amazingly, but Matt Harvey had a slight advantage and took the win.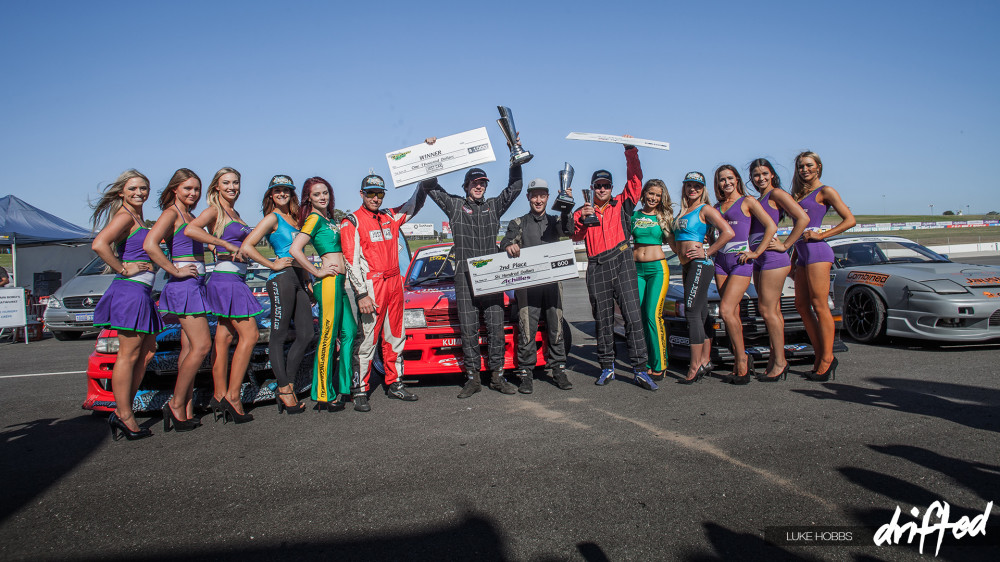 Congratulations to Harvey for taking the win, Russell for second and Campaign for third.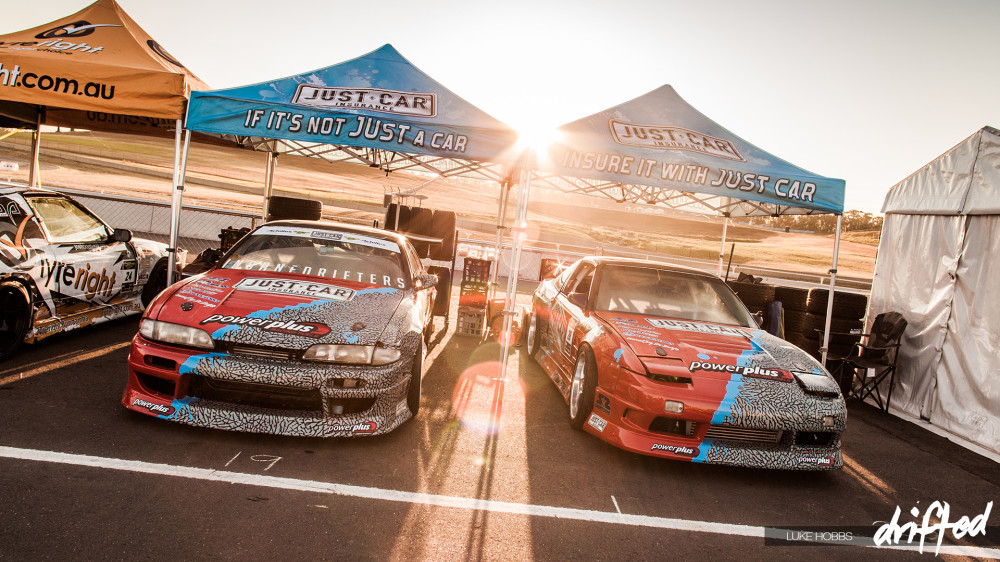 Round 3 was held at Sydney Motorsport Park in, you guessed it, Sydney! The Insane Drift cars posed nicely for me as the sun came up. Which tells me I was up way too early!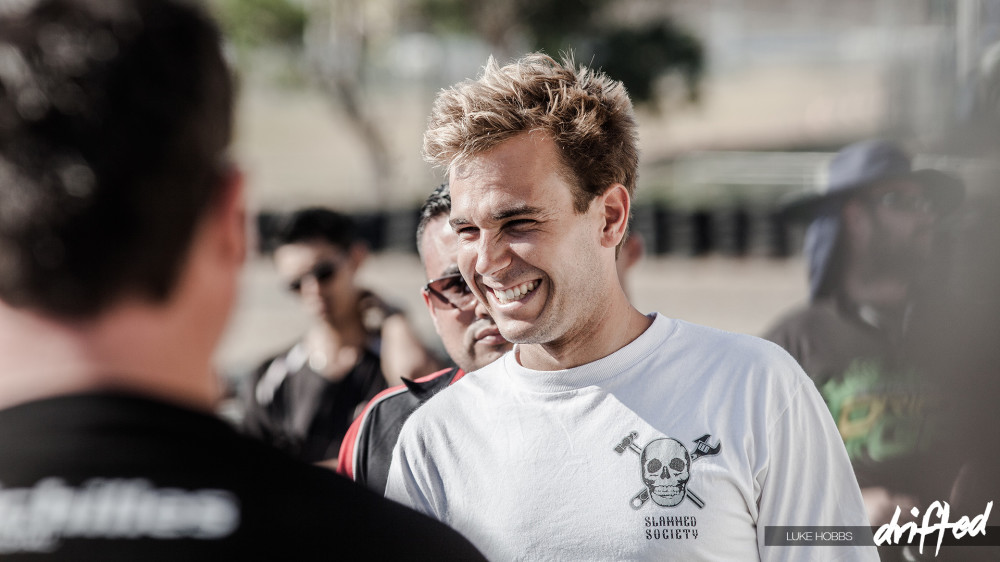 For this round we had Formula Drift driver Matt Powers guest judge for us.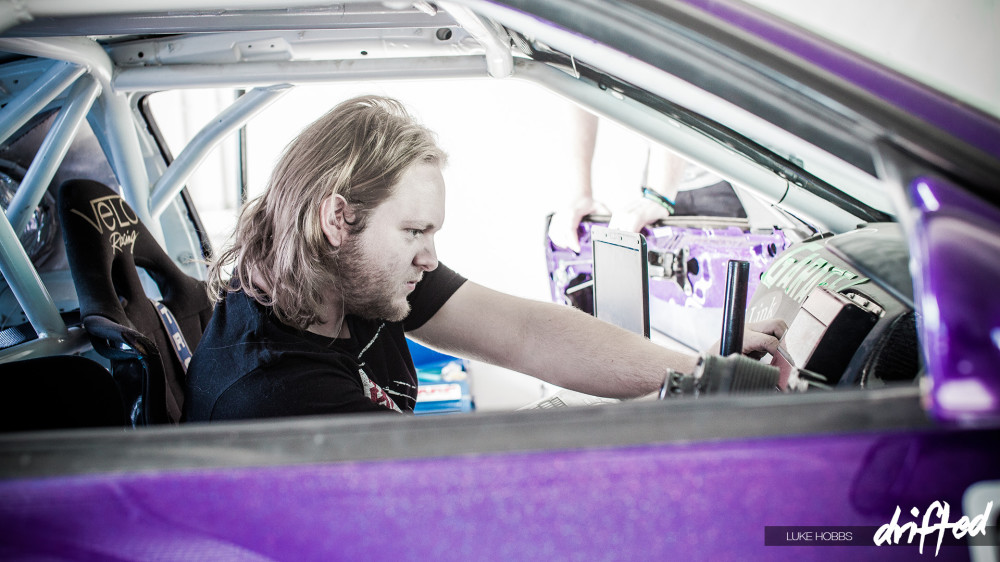 Another shout out and thank you to people like this who spend countless hours (and usually just for the love of it) working on the cars to keep them running in tip top condition. Here's Declan from Garage-7 working on South Australian driver Simon Michelmore's car.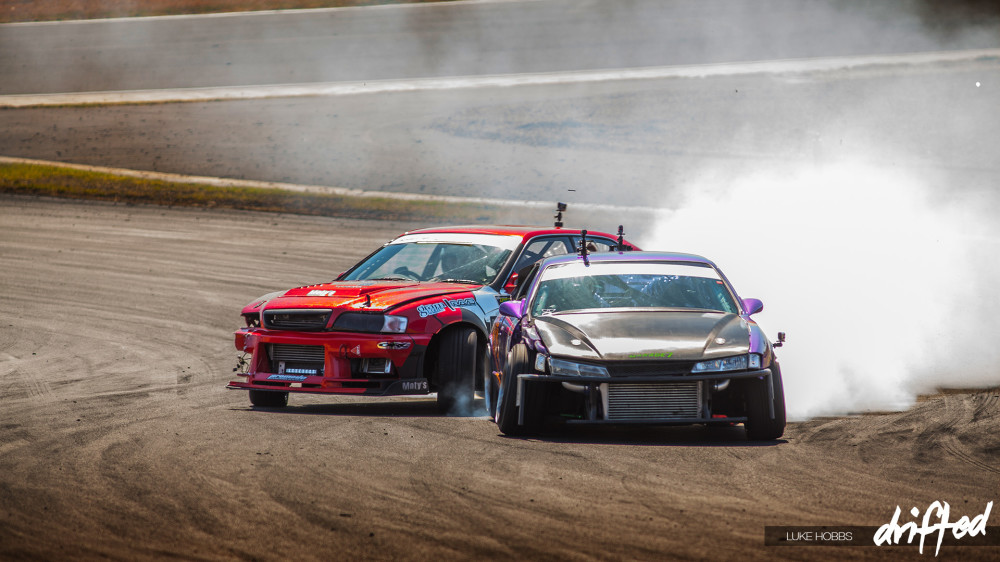 Unfortunately sometimes accidents happen on the track and cars break! Couldn't stop Andy Gray from blazing behind Michelmore though!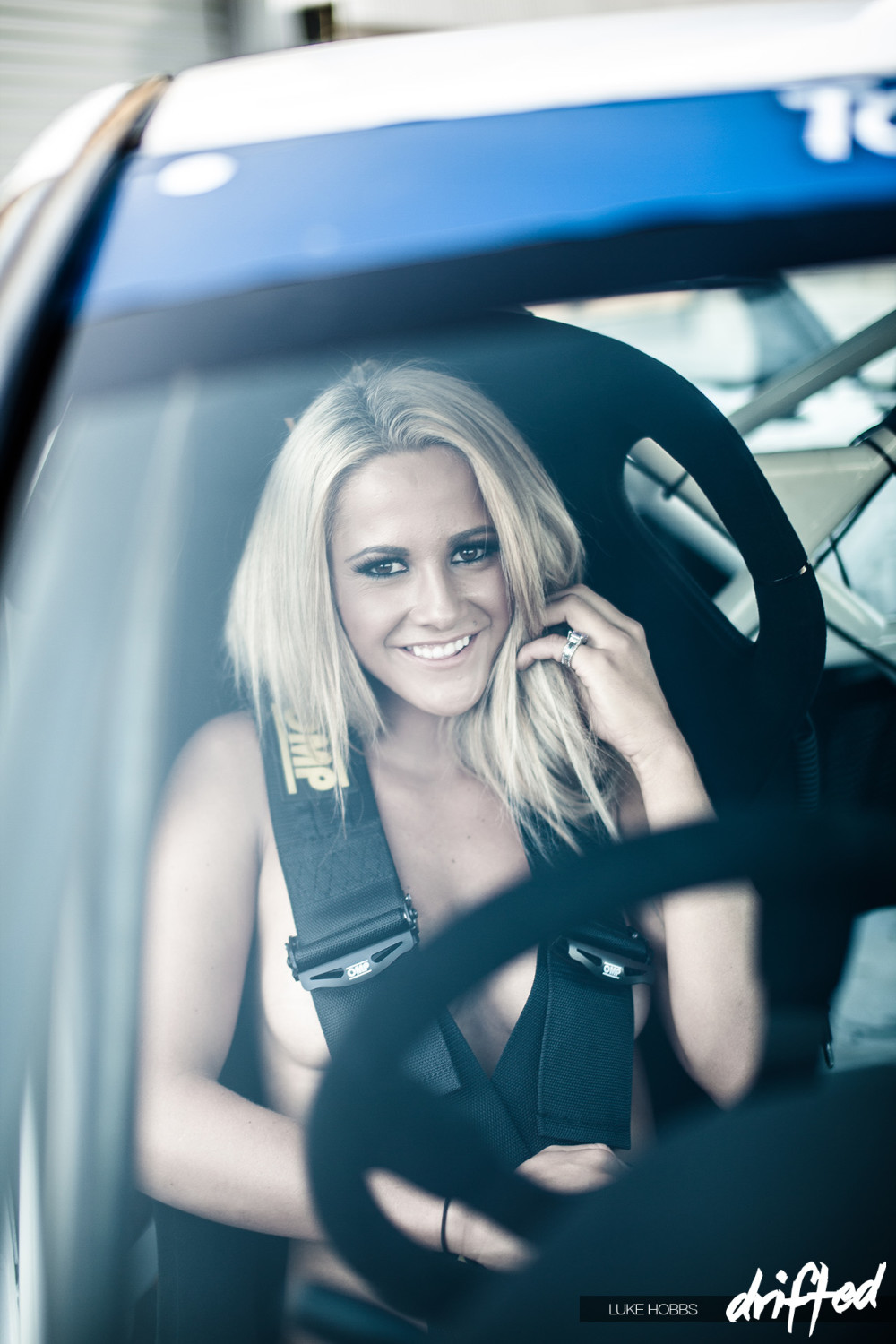 In my downtime I like to relax and take models clothes off. What? You're going to judge me? It's work I promise!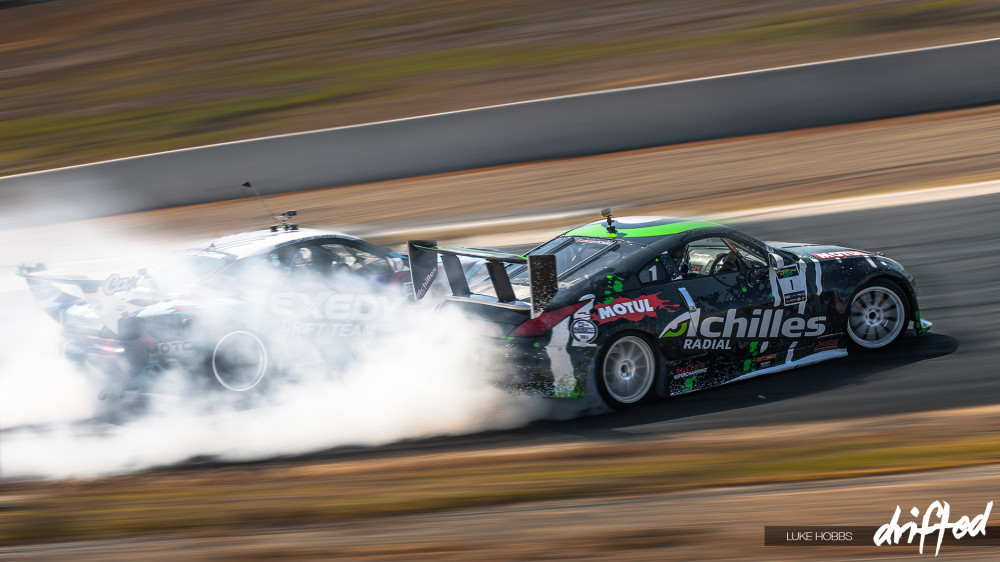 Levi Clarke was on a mission, he wanted the win and he wouldn't take anything less!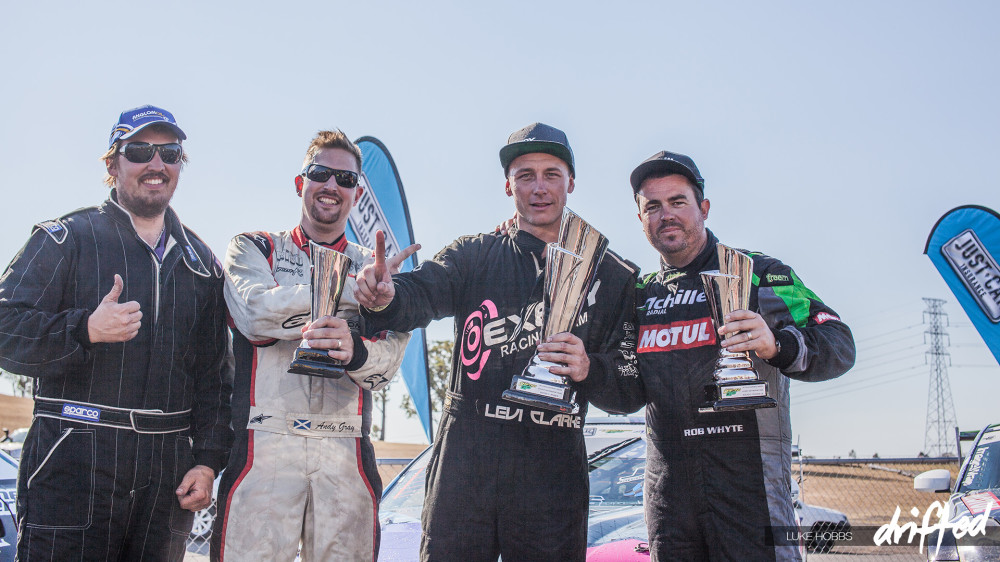 Congratulations to Levi for the win, Whyte for second and Gray for third.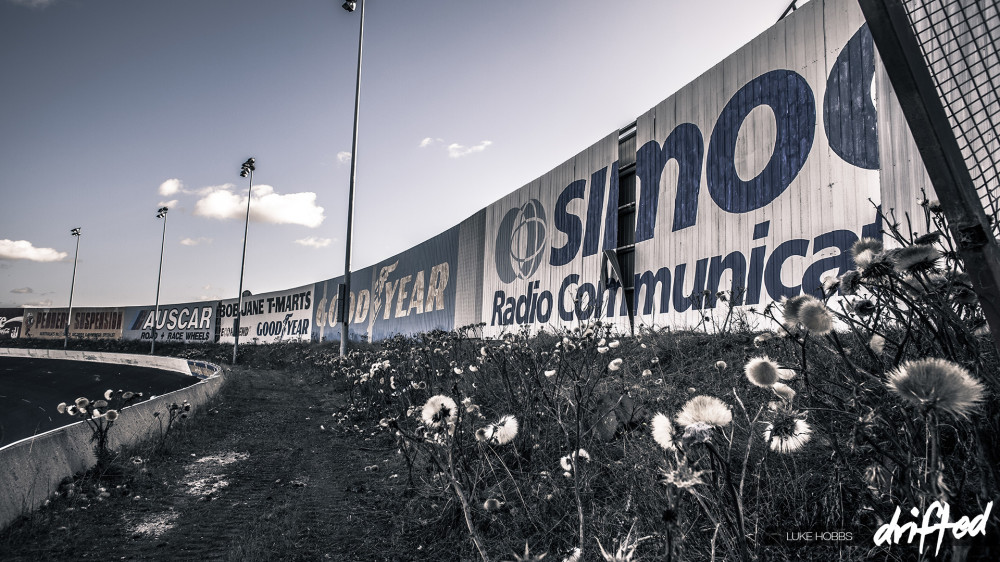 The final round was held at the inception of ADGP, Calder Park Thunderdome in Melbourne. So sad to see a track with so much potential as run down as the Thunderdome is. Hopefully with events such as this can see some money poured into what could be an amazing facility!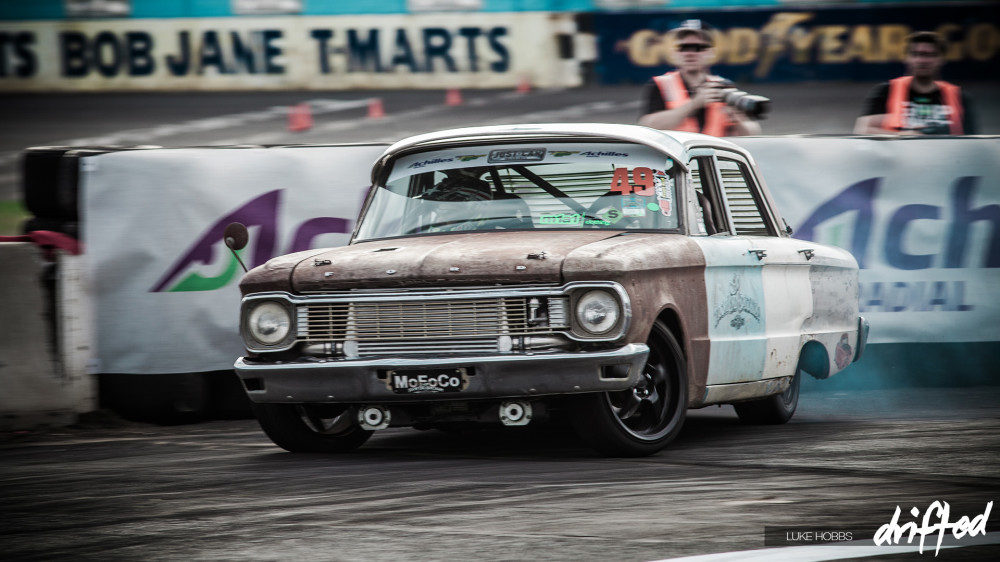 Spotted this old Falcon in the pits and was hoping it was competing! Sure enough, comes out on track and has a blaze. Was great to see something different on track! Only got to see it twice so I'm assuming it had engine problems. Would have loved to see this thing in battle!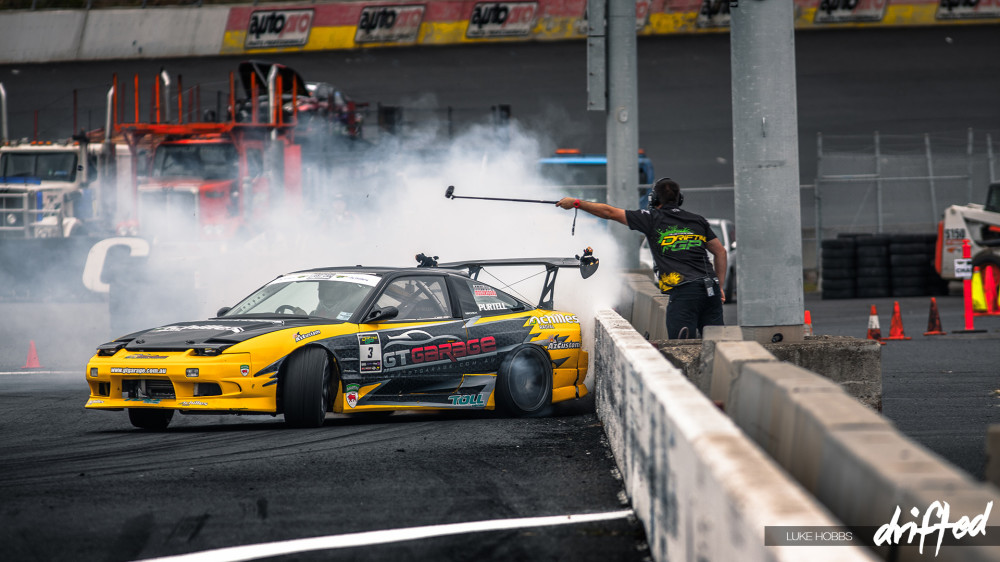 Tasmanian Ben Purtell owns this insanely powered 180SX. And he's definitely not scared to use that power, loves scraping walls! Another person who isn't scared is Andrew Hawkins holding that camera while Purtell's wing swoops under his arm!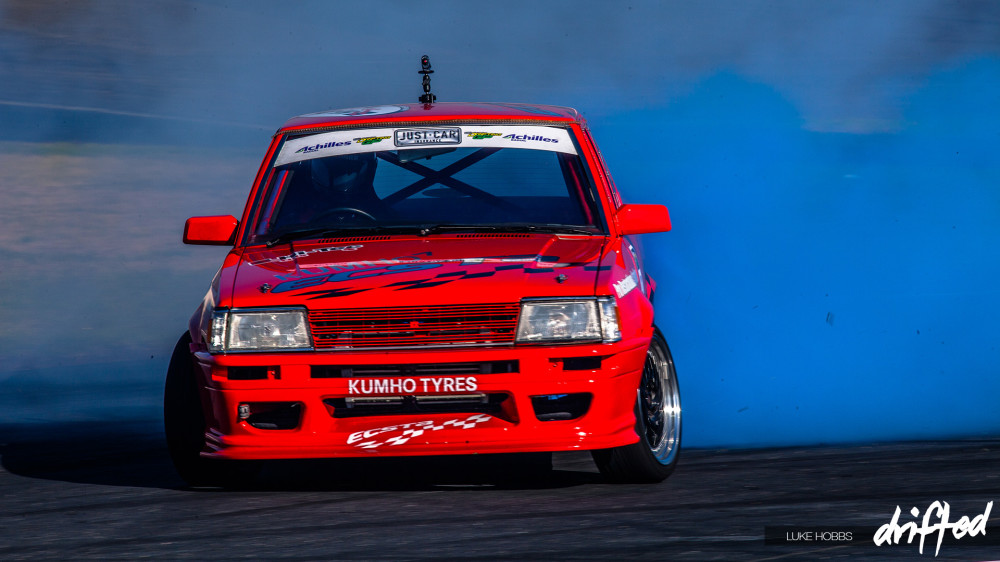 While we're on the subject of Tasmanian's putting on a show, here's Matt Harvey (Round 2 winner) putting on a smoke show with a difference. Always a crowd pleaser.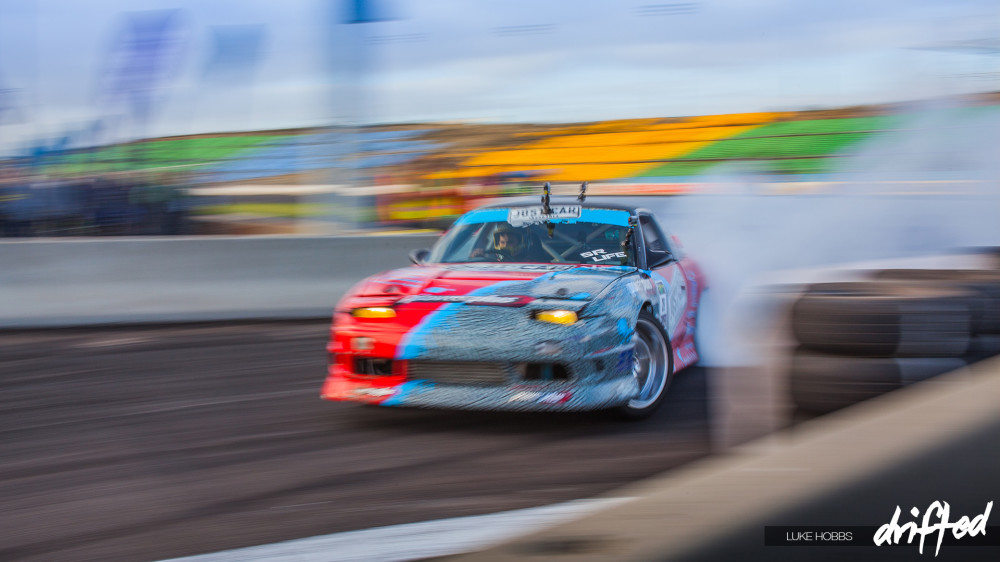 Just Car Insurance driver Aggess from the Insane Drifters powering through the hairpin. Slow corners won't stop this nutcase!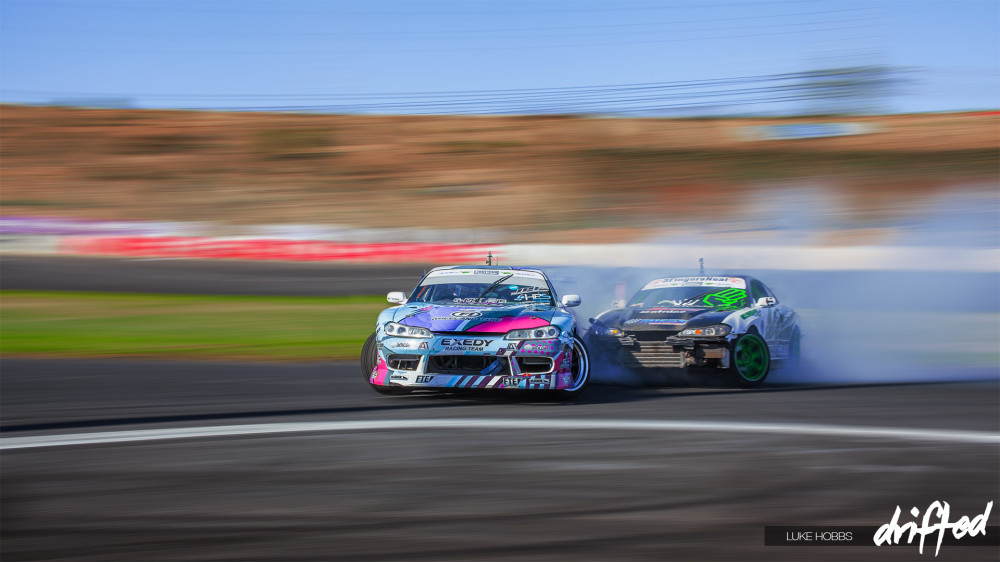 Jabbit giving Levi a little sniff.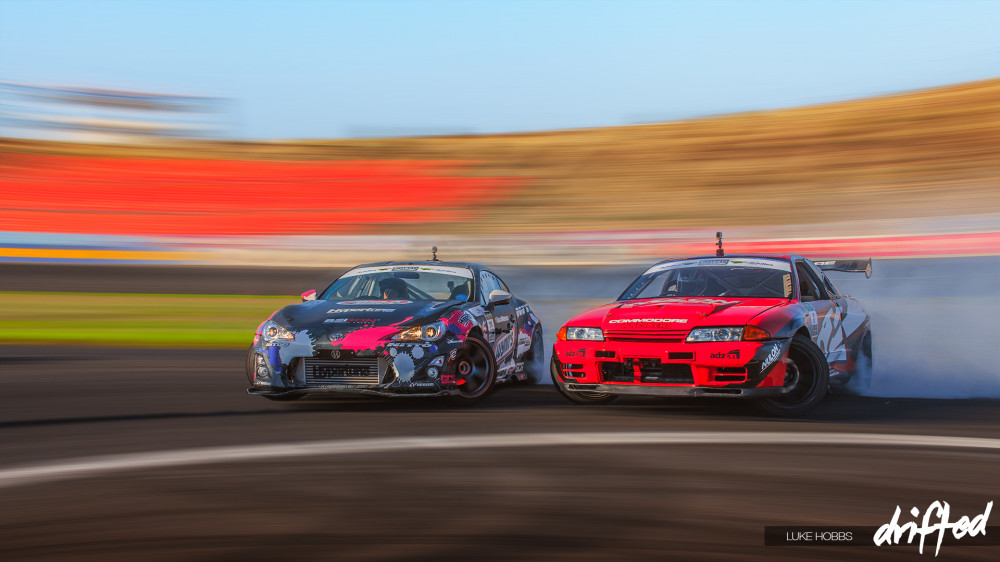 One person I HAVE to mention is Michael Rosenblatt. I don't know whether he was on an adreneline drip or just lost every single f*ck he had for the weekend, but this guy put me in awe! Every single run he put down he would only give the lead car a matter of centimetres gap! I could literally watch him all day, every day!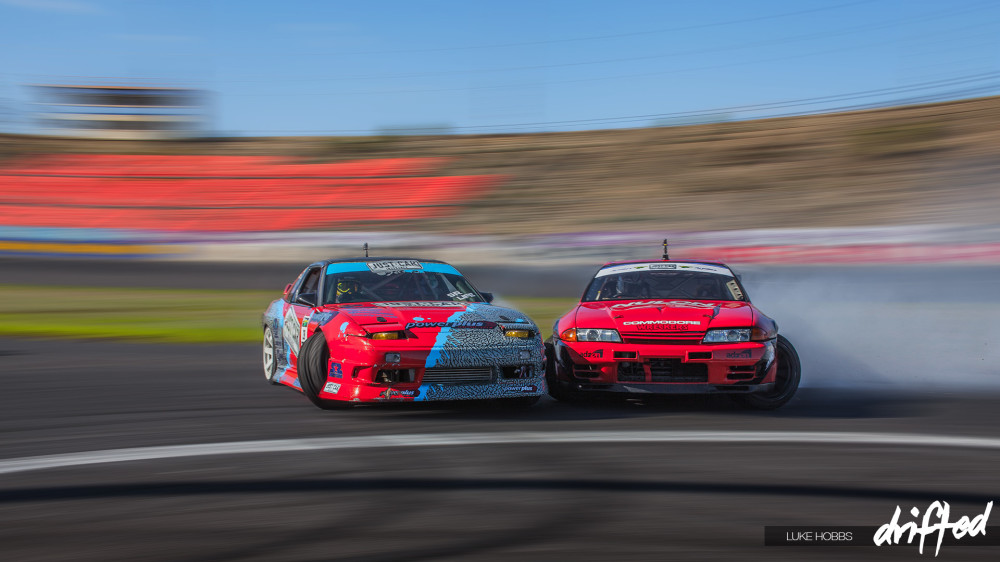 Again, Rosenblatt getting stupidly close to the lead car. Aggess was smashing it, but Rosenblatt was relentless!
Pop Quiz: In drift what's closer than rubbing panels?
A: putting your wheel in the lead cars wheel arch!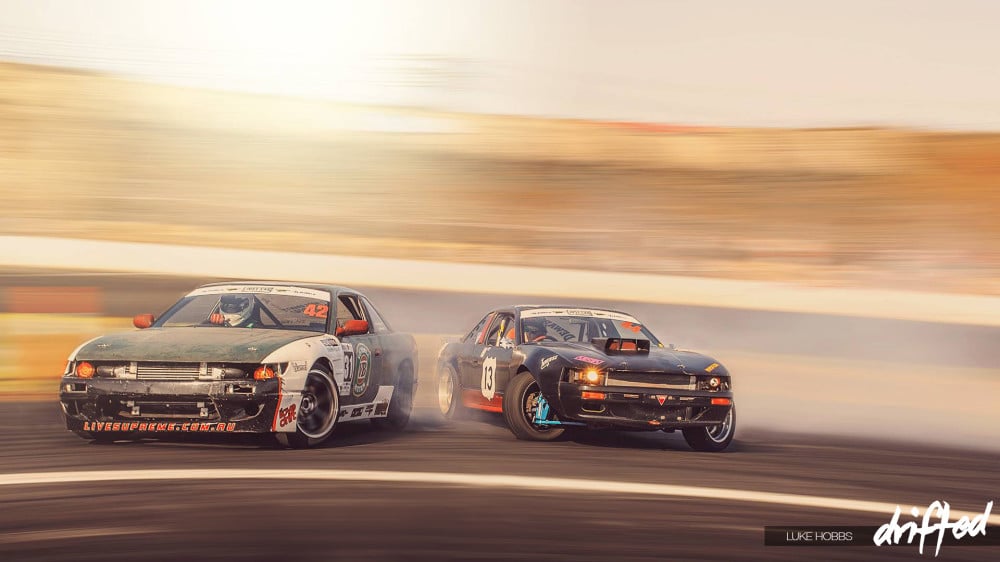 A guilty pleasure for all of us is watching backwards entries. They aren't really the best for competitions, but damn they look cool!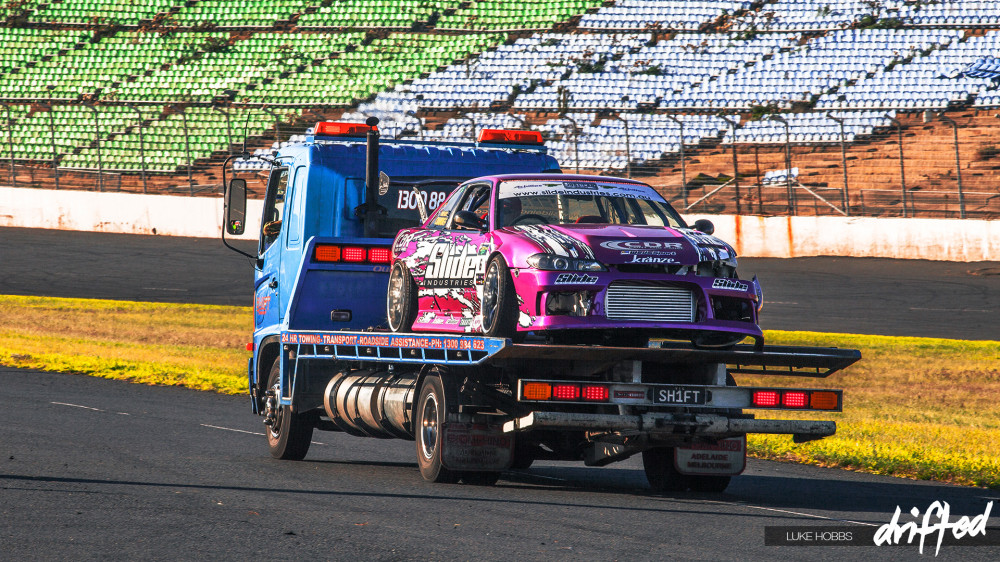 Ryan Cummings has had bad luck all series! He's got the skill, just not the luck! This round all his crew couldn't make it so he had to drive 20+ hours by himself to the event and still have no crew to help him in the pits! Definitely points for dedication!
Congratulations to Nick Coulson for defeating Levi Clarke in the finals to take 3rd Place.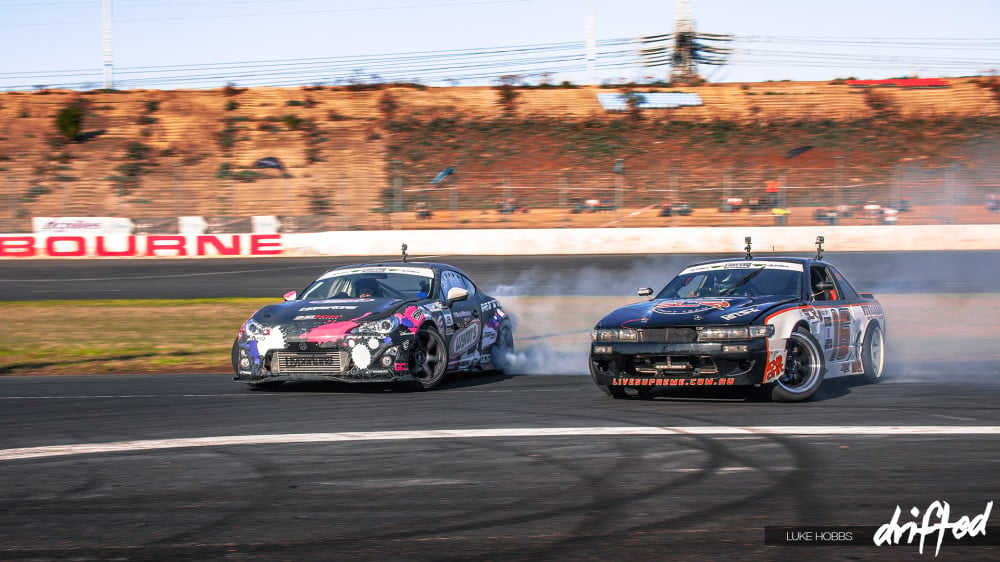 Michael Prosenik put up a hell of a fight against Beau Yates for the win but unfortunately got taken out and came in second. Congratulations to Prosenik for second.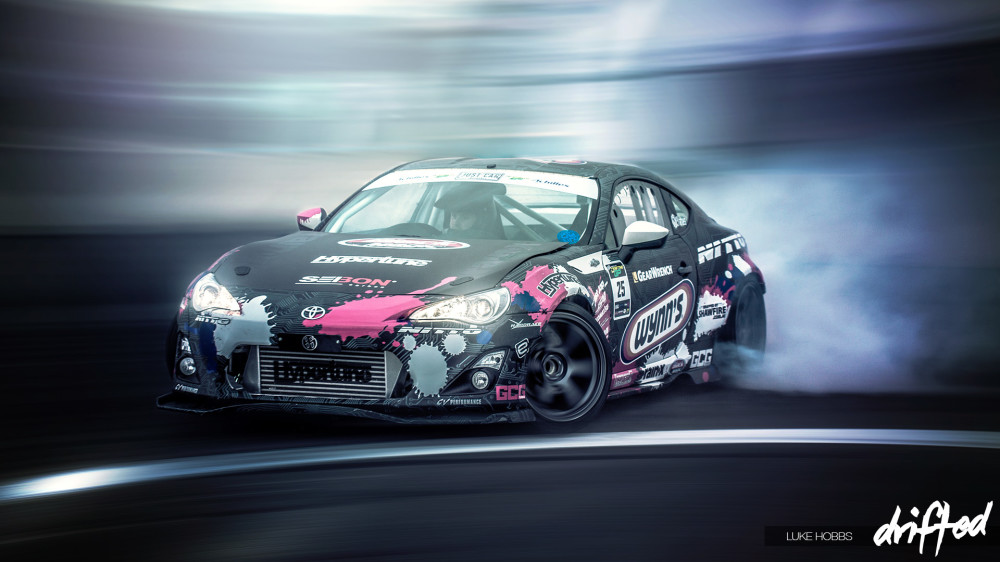 Beau Yates was on point both days, put him behind that wheel and you'll get nothing but 100% pure determination. So Congratulations to Beau for taking out first!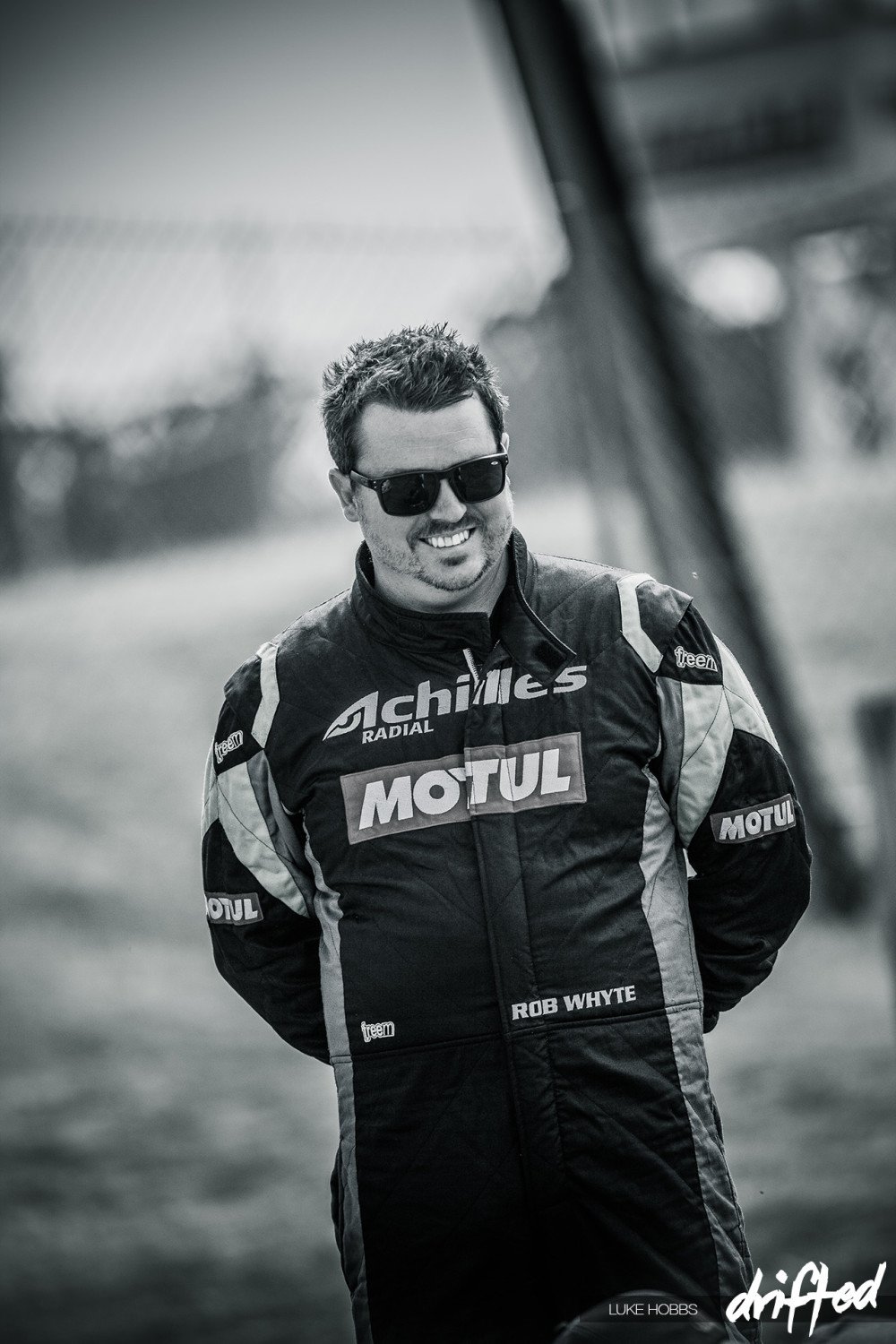 This whole season has been impossible to tell who was going to take out the season championship place. Different winners each time, points so close together. We called the final round 'The Blender'. Rob has always been up there and was definitely a contender, but getting knocked out to take fifth place for the round, he was quite skeptical he could take out the championship. Luckily for Whyte, the rest of the event unfolded to his advantage and he still managed to take out Season Champion. Whyte states "This isn't the way I would have liked to win, there were many who deserve to be in my place up here, the points just worked in my favour".
We're taking nothing away from Rob, his dedication to the sport, driving ability and good sportsmanship definitely makes him worthy of that first place position. A huge congratulations to Whyte and his team.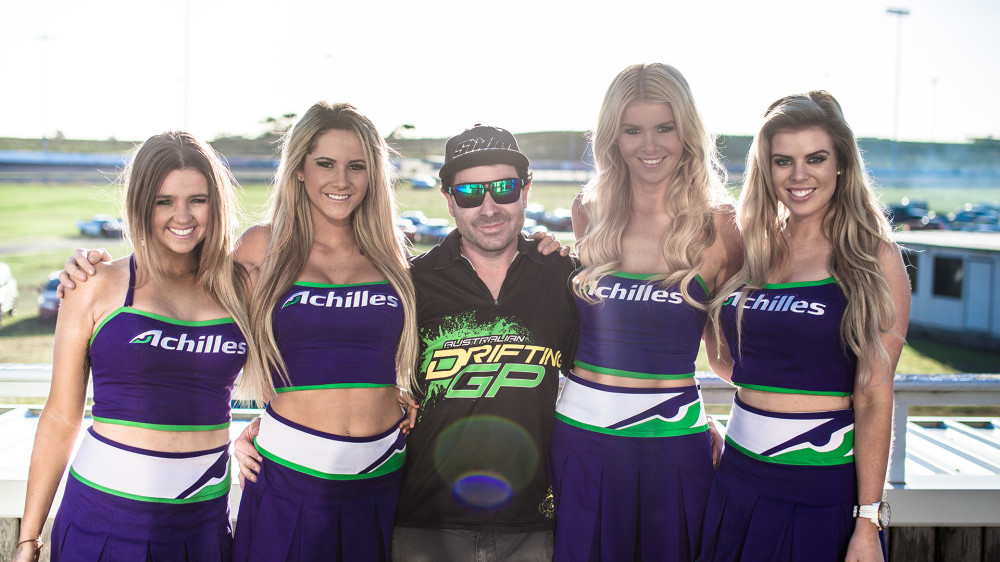 The 2013/14 season was massive and has grown so far from it's origins. It can only get bigger and better from here! Drifted will continue to follow the Australian Drifting Grand Prix. If you head over to the wallpapers section we have released a special Drifted.com wallpaper for you all to enjoy.
I'd love to stay and chat, but these lovely ladies are calling my name!