EVENT: JDM Allstars Round 3 – The Nissan Factory
Sup Drifted readers!
Before I start this little bit of coverage I thought I'd introduce myself as it's the first time I've posted on the site. My names Daniel Bridle, I'm 17 years old, from the UK, and usually you'll find my photography on a website called MotorMavens – which is a car culture blog covering all aspects of the automotive world. So you might be thinking, "why the hell is he posting here then?" Well, about a week and a bit ago JDM Allstars Round 3 was held up north in Sunderland (near Newcastle) at the Nissan Factory, and I was fortunate enough to be able to travel the long distance up there. Most of the Drifted crew hadn't be able to sort going in time or had other projects they were working on, which would mean there would be no coverage on the site! So after a few discussions with Jordan Butters, we decided to do a MotorMavens x Drifted collab to spread the love and share some photos. Think of it as an extended family!
So with that explanation out of the way, let's get down to business with some highlights from this awesome event!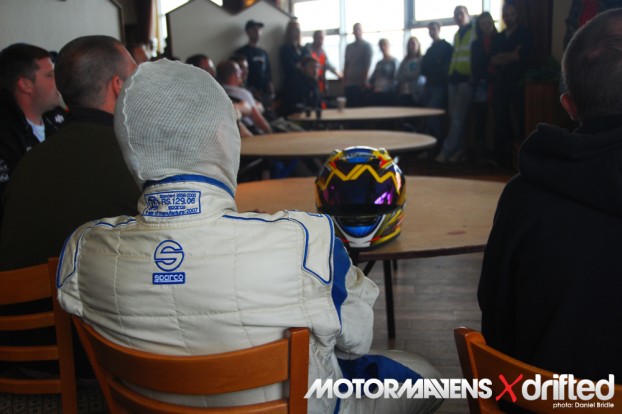 Old school Irish pro driver Martin Ffrench was eager to get back in the driving seat after missing out on Round 2. It made me laugh seeing him in his race suit and balaclava pretty much all day – even when he wasn't near his car!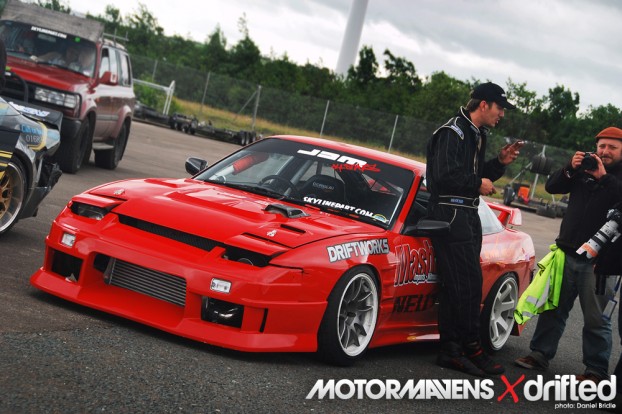 One of the big highlights for me was seeing Jon Calvert back in a fully rebuilt S13. After the big smash into the wall at Round 2 I wasn't sure whether the guys from Team Neuton Tyres/Mei No Mai and MashaMoto would be able to get the car re-built e in time. But with a new shell and a weeks non stop work they managed to get the whole car finished and looking IDENTICAL to the previous car.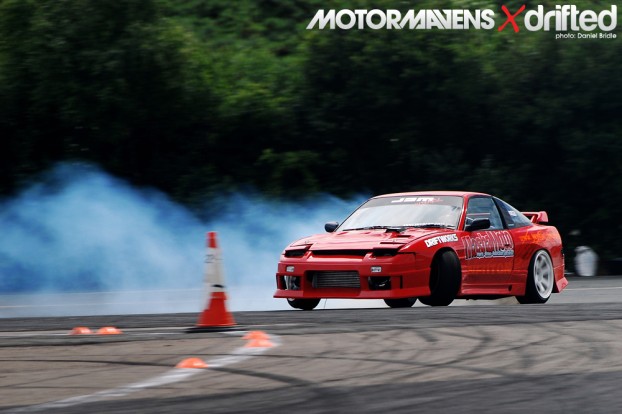 He seemed to be getting on great with the car as well. Putting in fantastic runs throughout the day.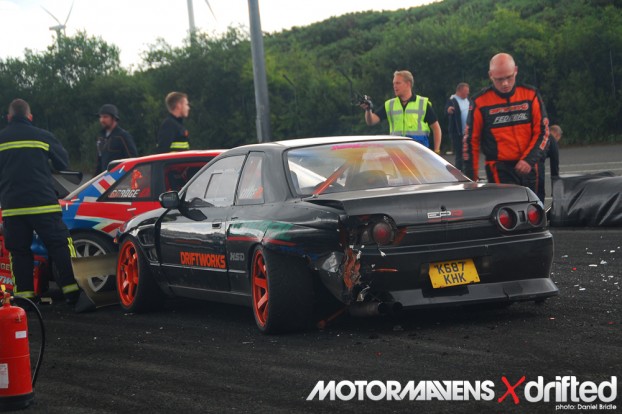 During practice Driftworks drivers Bon Bon and Phil Morrison headed out onto the track with Luke Fink for some 3up train drifting. Unfortunately the it didn't end so well, with Bon Bon colliding into Fink after he span, and Phil smashing into both of them. Bon Bon's R32 Skyline looked wrecked. The Severnside Imports PS13 that Fink was driving was surprisingly in one piece considering the scale of the impact.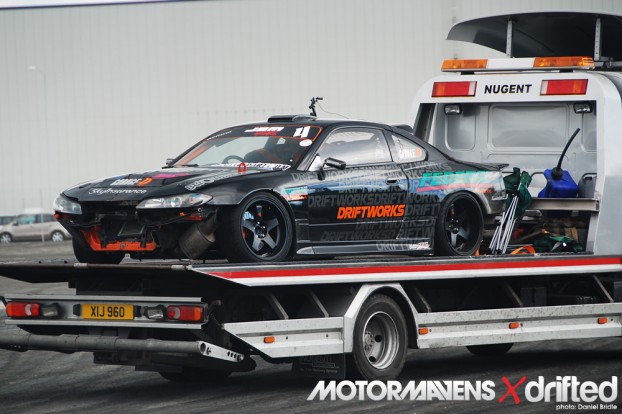 Phil's Driftworks S15 was – to put it simply – smashinated, and had to be towed away.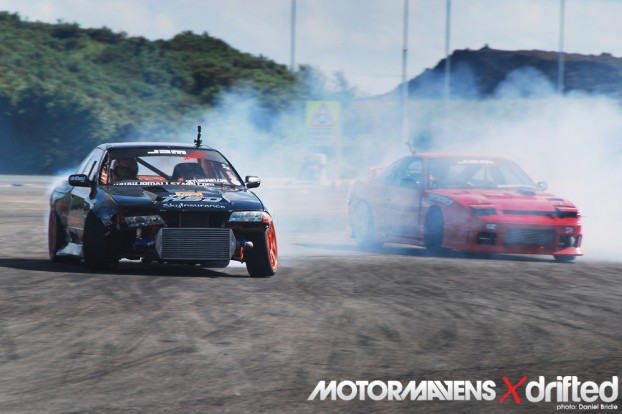 Somehow the Driftworks crew and friends managed to get Bon Bon's R32 back out on the track. Where (utilizing the full power of his mighty Bon Rage) he qualified 1st and even made it through to the Top 8!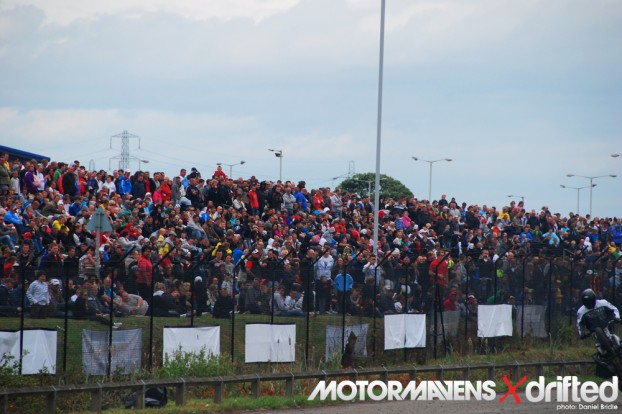 During the down time between practice and qualifying it gave me a chance to sit back and take in my surroundings. I couldn't belive the size that the crowd had reached! This photo shows just a small percentage of how many people were there, but there was thousands.
Walton Smith was debuting the new Jap Performance Parts Subaru Impreza Type-R and it looked like everything was going pretty damn smoothly for it's first outing!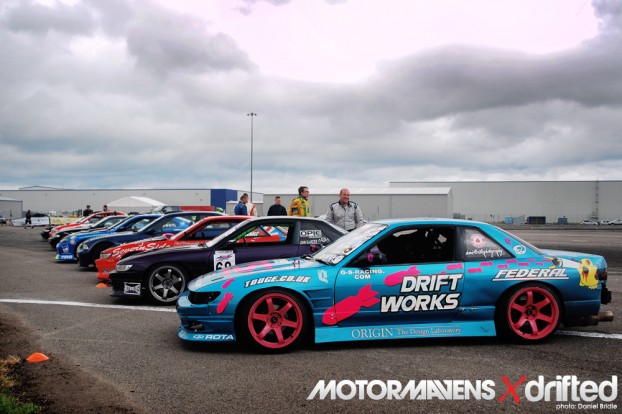 The Top 16 was set to be an interesting one thanks to the varied mix of cars and  upsets that happened throughout the day.
In fact  it ended up being one of the most intense Top 16s I've seen at a JDM Allstars event to date. The drivers had seriously stepped their game up for this round, and it was tough to separate a lot of them skill wise. Many one more times and close shaves later it was time for the final.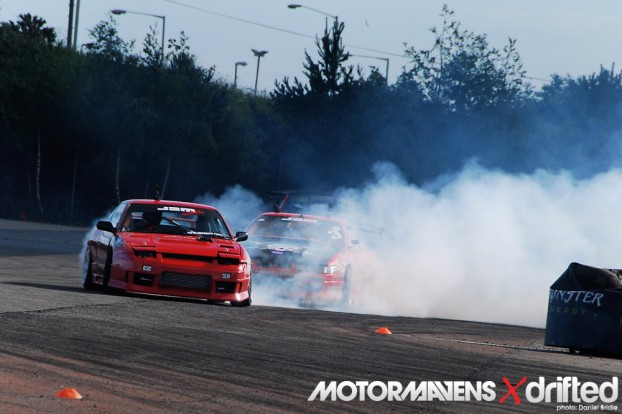 Luke Fink faced off against Jon Calvert in a crazily close battle for 1st place. Usually I can tell who's gained the advantage or won but it was so tight I had no clue. I don't think a lot of people did to be honest!
In the end though Fink taking his first win on UK soil, with Calvert in 2nd and Dan Chapman placing 3rd.
That's all from me now, but expect to see more MotorMavens and Drifted collabs in the near future!