FEATURE: 2011 in Pictures: Jordan Butters: Part II
Picking up where I left off in Part I; 2011 offered up so many great opportunities that I couldn't squeeze them all into one post so here's is Part II of my 2011 in pictures.
After the chilled out festival of awesome that was Awesomefest 2011 it was time to make the longest drive of the British Drift Championship calendar (for me anyway) and visit Scotland, more specifically Knockhill Racing Circuit in Fife.
Set against the backdrop of hills and forests Knockhill is amazingly picturesque.
There's nothing quite like a collection of the finest screaming full throttle drift cars to upset the tranquility.
Knockhill saw some superb driving on a very challenging track. Steve Moore has really got the hang of backwards initiations and I think will be a credible threat in 2012.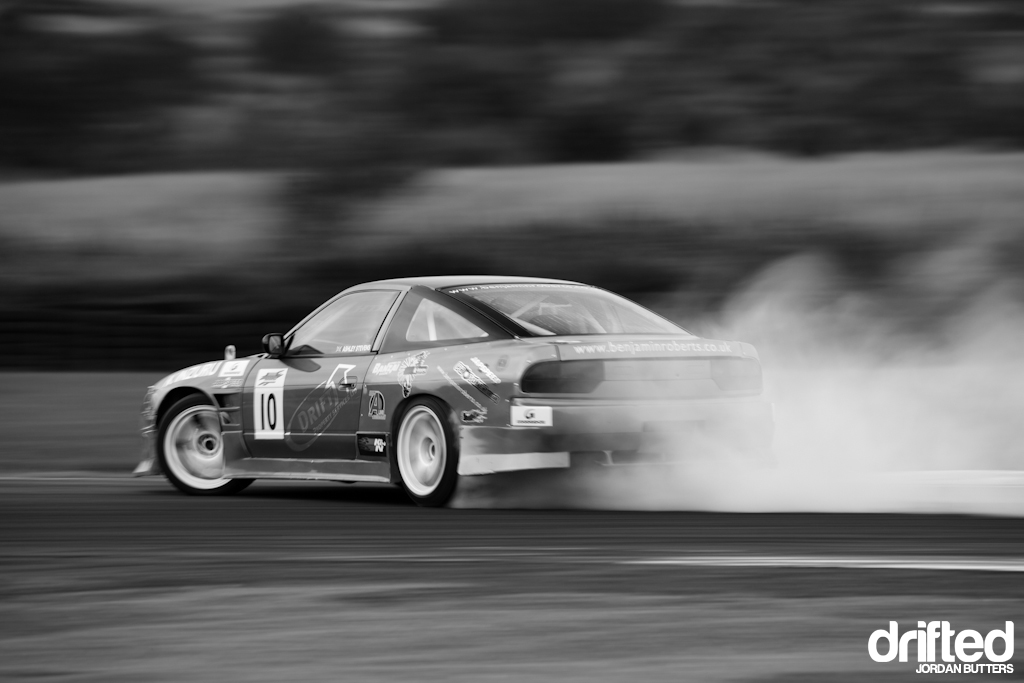 Quite a few of the media guys found Knockhill a bit of a slog to shoot. It may have been the long journey there and the impending return journey in the back of our minds. It could have been the exposure to the Scottish weather and lack of sustenance at the bottom of the circuit away from the hospitality and burger vans.
But I think it was actually down the the collection of fascinating gun-to-the-temple-inducing facts that the Knockhill commentator had up his sleeve. Did you know that Knockhill is actually three degrees north of Moscow? Knockhill took us all to some pretty dark places and back mentally!
But we were treated to some amazing drifting against a fantastic backdrop, so a bit of torture in the intervals was acceptable.
A nail-biting final between the two top championship contenders saw a surprise upset with Mark Luney in the SATS Cosworth Supra spinning out against Falken's Matt Carter in both final runs, handing Carter a solid lead in the Super Pro class.
Sunday September 4th brought about an important date in the UK drift calendar, that being the flagship Super Pro-only round of the BDC at the home of British motorsport, Silverstone.
The event played host to the 'Invasion' of drift superstars Fredric Aasbø and Darren McNamara from the Speedhunters/Need For Speed stables.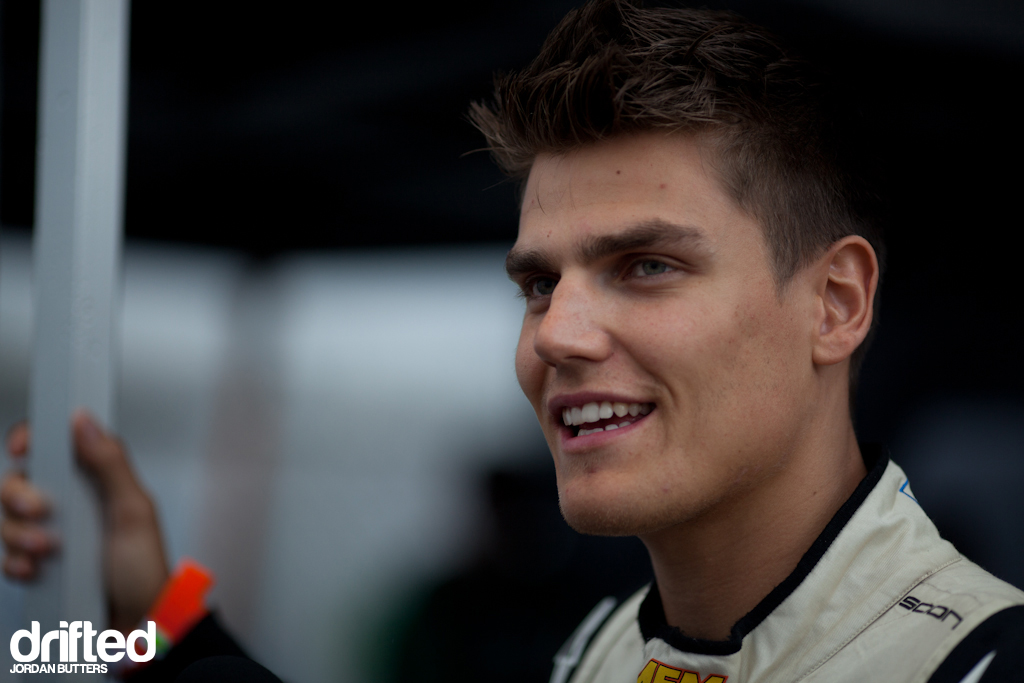 I have to add that Fredric is one of the genuinely nicest and most down to earth guys at his level in pro drifting. I got a personal Facebook message from him after the event thanking me for the shots I'd taken and wishing me all the best. I think several up and coming drivers could take a leaf from his book in how to keep grounded and levelled!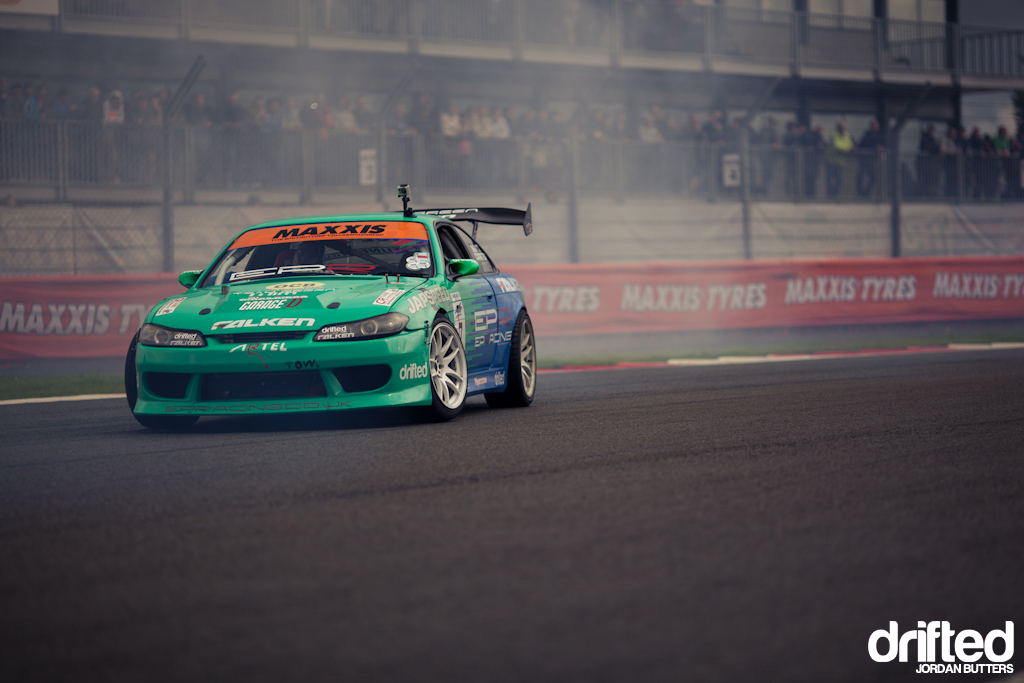 Despite the heavens opening and creating a very tricky qualifying session it dried out in time for the main event and the BDC's best put up a good fight against the invaders.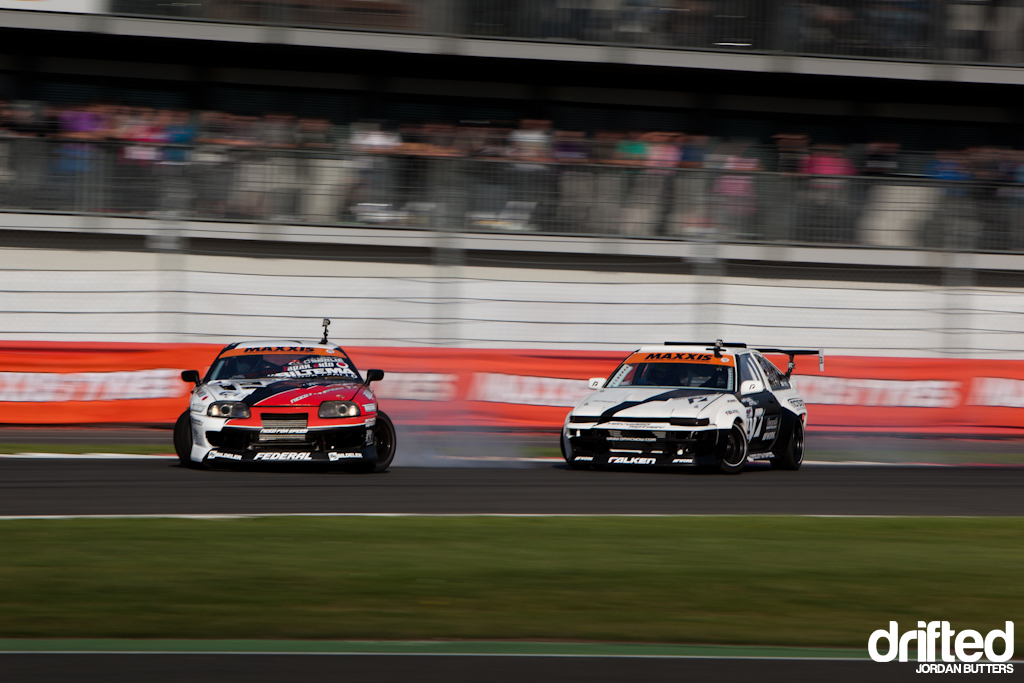 Team Need For Speed came head to head in the Semi Finals, I have honestly never seen the Speedhunters photographers enter 'work mode' so efficiently and quickly before. Two NFS-backed cars going head to head? Money-shot time!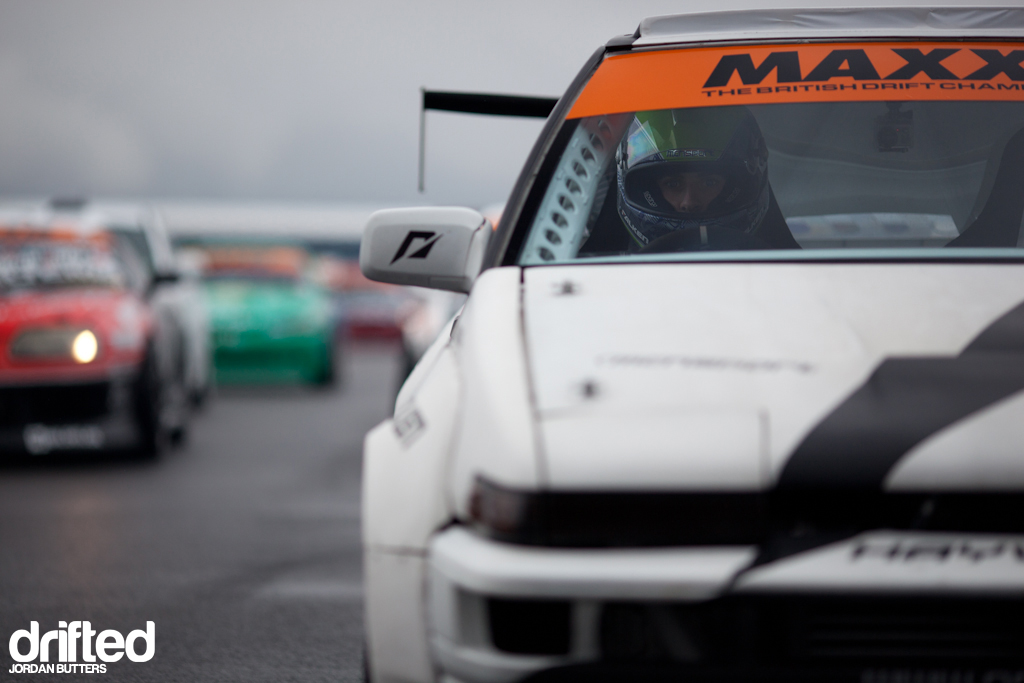 Although these guys are team mates, neither wanted to concede the victory, it was a great battle to witness.
The BDC regulars put on a great show for the Silverstone crowd and kept the grandstands packed until the end of the day.
The weather played ball, Aasbø took the win and everyone left feeling pretty good I'd say! A definite highlight of the year for me.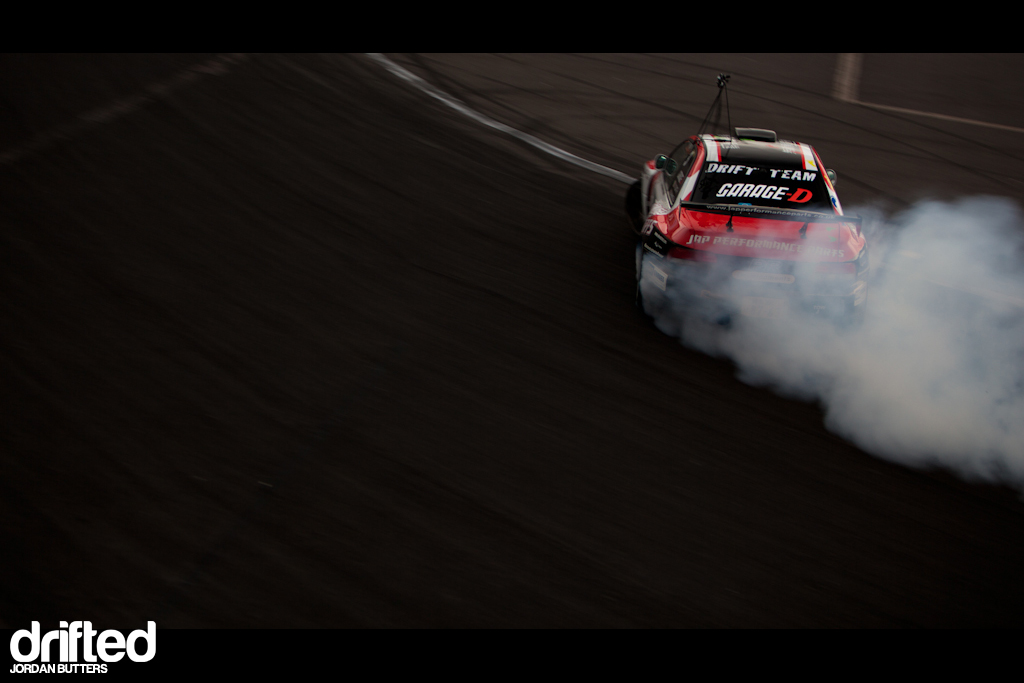 Just two weeks later and mid-September found me at my first Drift Allstars event of the season. Allstars regular Ian Gratton does a great job of covering the series but I couldn't resist returning for the flagship Wembley event on the streets of London.
We were graced with the presence of yet another Formula Drift star in the form of Daijiro Yoshihara, who would be driving the Driftworks 2JZ S15 for the event, however it was, as is often the case, the Irish who dominated the event with their super-aggressive driving style.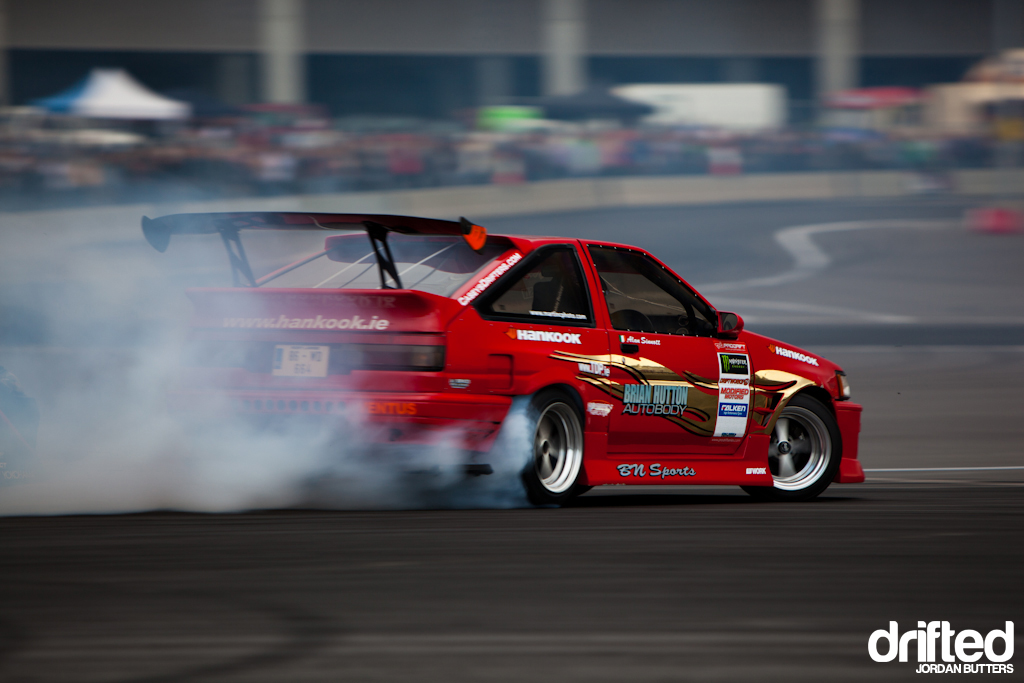 Fresh off the back of being crowned 2011 Prodrift champion Alan Sinnott brought his gorgeous AE86 to London to lay down some lines. This is such a photogenic hachiroku!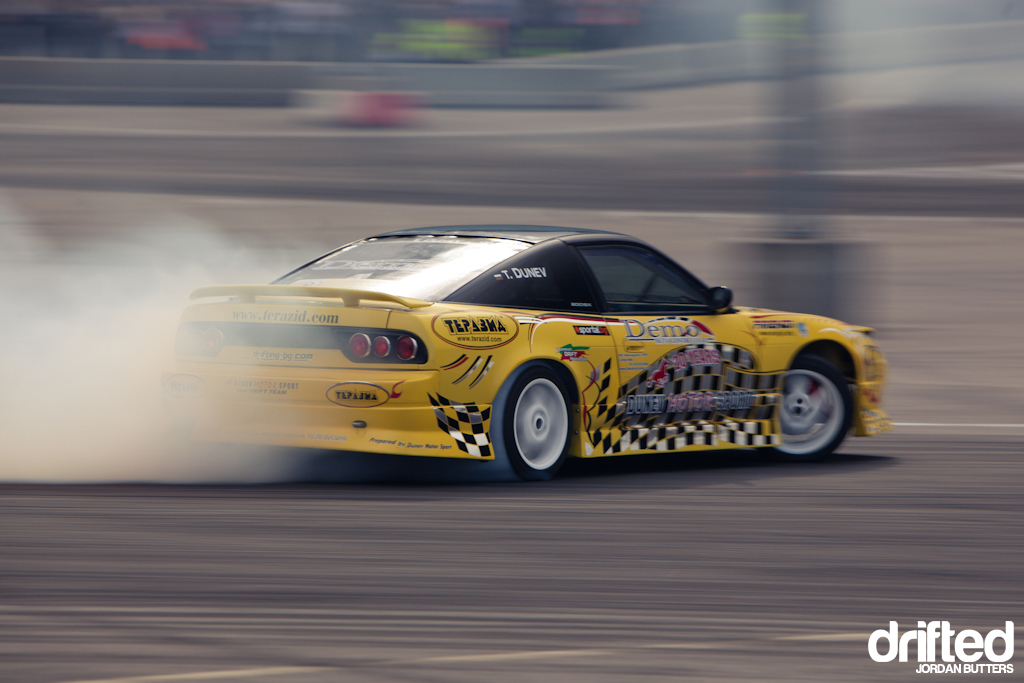 As with many Allstars events the round attracted lots of drivers from several countries across Europe, such as the Nitrous-powered S13 of Bulgaria's Todor Dunev above.
I spotted Spain's Lluis Lopez as a contender early on in the day. We had last seen Lluis at Lousada, Portugal in 2010 and his driving has come on leaps and bounds since then.
It was pretty cool getting to shoot drifting with the city of London as your backdrop. It makes for an interesting contrast.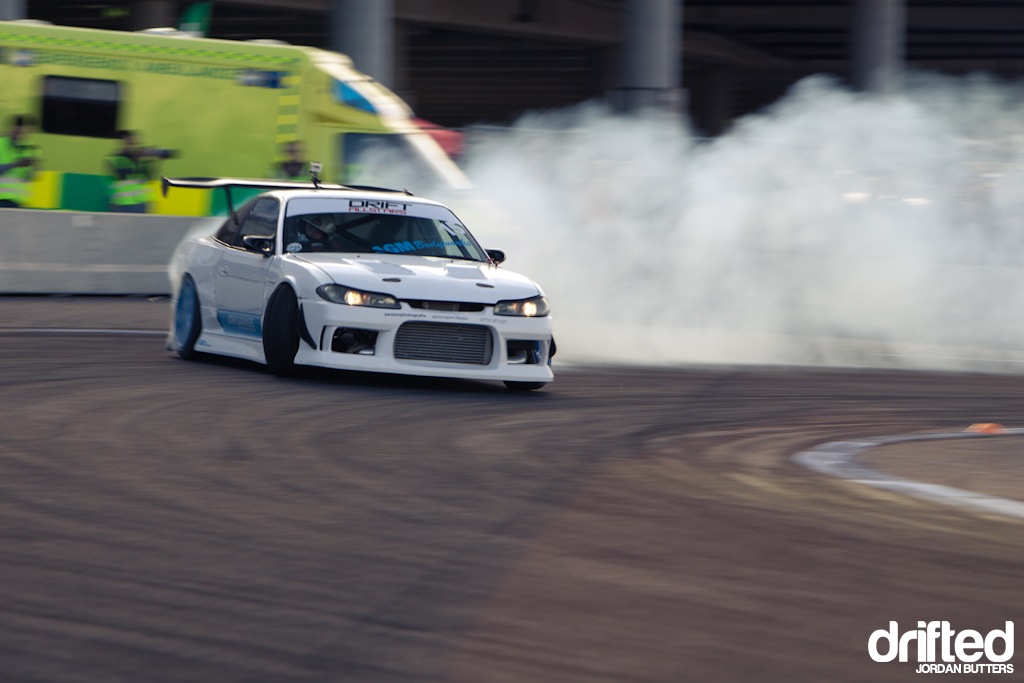 As the light faded over the event and 'golden hour' came and went us media bods dawned upon the fast approaching reality.
We would be shooting the Top 16 in near pitch-black darkness, the spotlights above the carpark-turned-racetrack providing nothing more than ambience, suitable for drivers returning to their cars late at night and struggling to find their keys, but not enough illumination to help our cameras play ball.
And then we got rained on. Dark moment of 2011 number two. Above Speedhunter Paddy McGrath and Low Brain TV's Dan Buck Joyce smile through the pain, meanwhile Speedhunter Ross Ianson isn't so good at hiding his feelings.
As predicted, the conditions were very tricky. Ramping the ISO up on the 5DMkII helped with things but by the time the Finals came many of us had adopted the 'spray and prey' technique.
Still, it's all a learning curve and the day I can master shooting motorsport in the dark will be a happy day.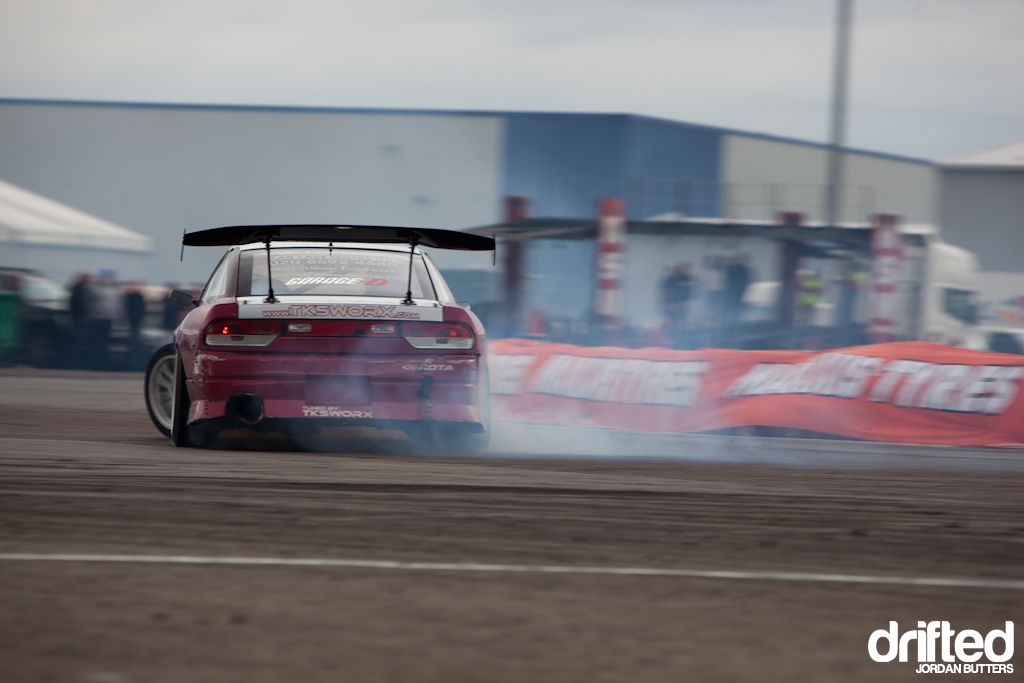 The penultimate event of the year for me was the British Drift Championship Final at the Nissan Manufacturing Plant in Washington, Sunderland.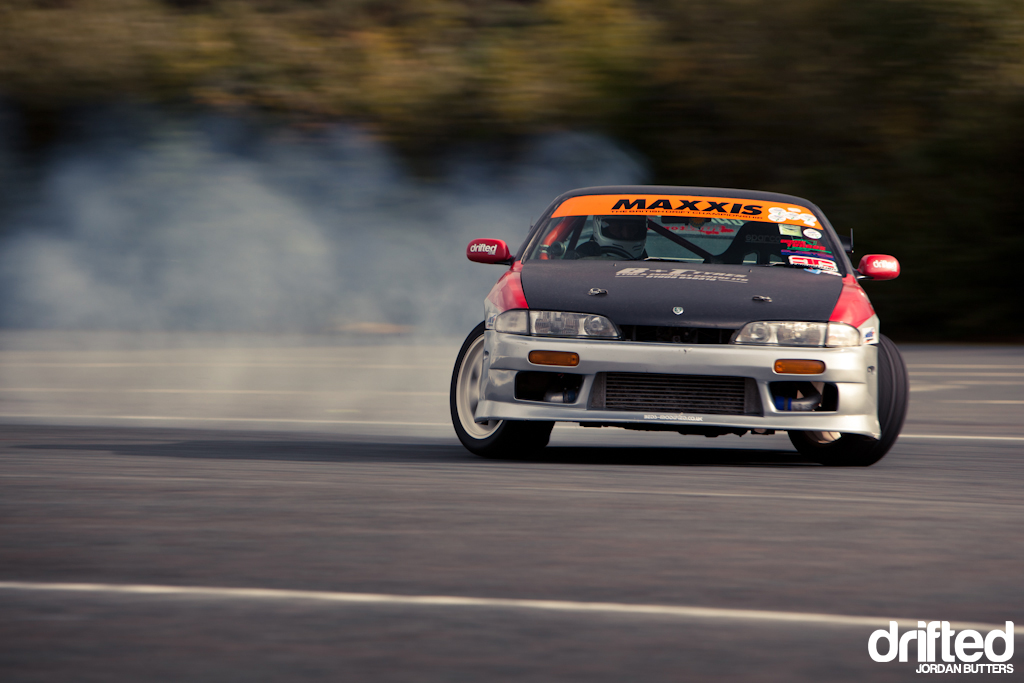 The culmination of a hard year's competition for drivers across all three classes.
On board shooting is something I've wanted to try for a long time after seeing the inspirational work of Driftfotos' Larry Chen and his use of remote cameras.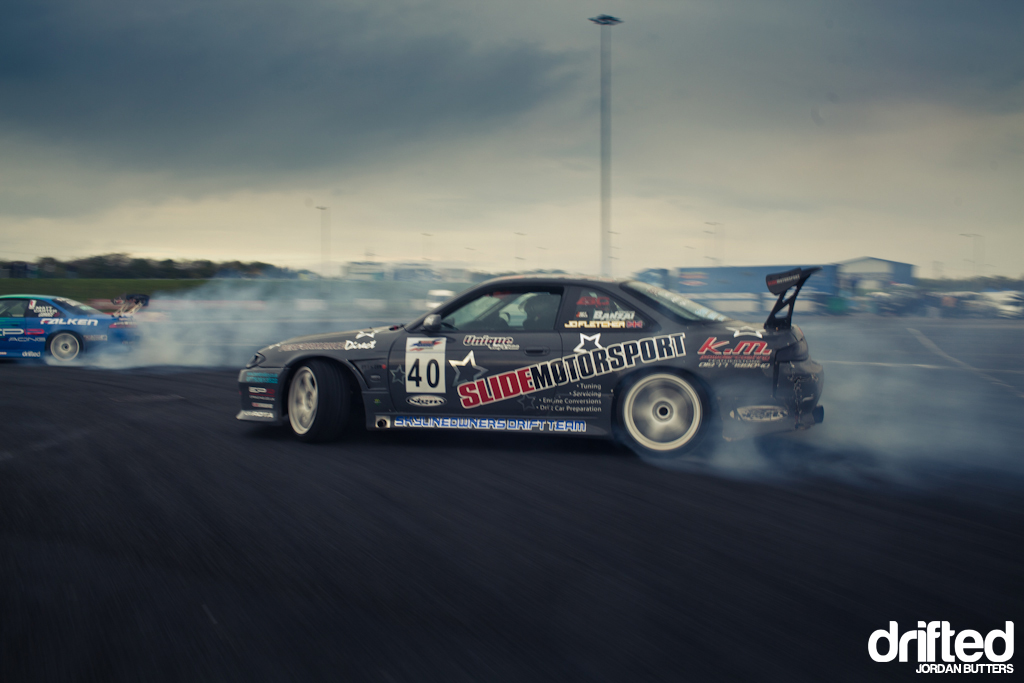 I don't have the bottle to strap £2k+ worth of camera gear to a drift car just yet so we used a chase car driven by Stephen Brooks (off of Facebook). Thanks Brooksie!
I was moderately pleased with the results and it's something I would definitely like to experiment with further in 2012.
I find shooting at events in large open spaces quite tricky at times. There is no real definition to the track in terms of apexes and where the track ends and the run-off begins.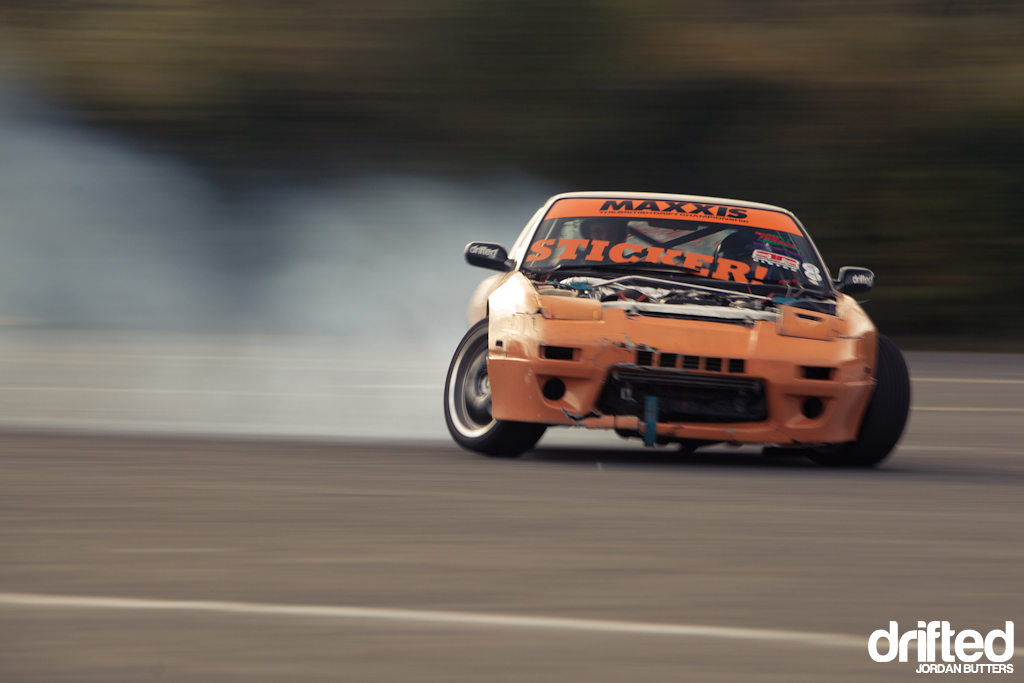 I find shooting nice a low helps overcome this, you just have to be mindful of what your shooting against at your backdrop.
Or you can pull the shutter speed right down and smear the background into oblivion. The above shot of Steve Moore was shot at 1/5 and did a good enough job of disguising an ugly backdrop.
As the sun set on the 2011 championship tensions were still pretty high.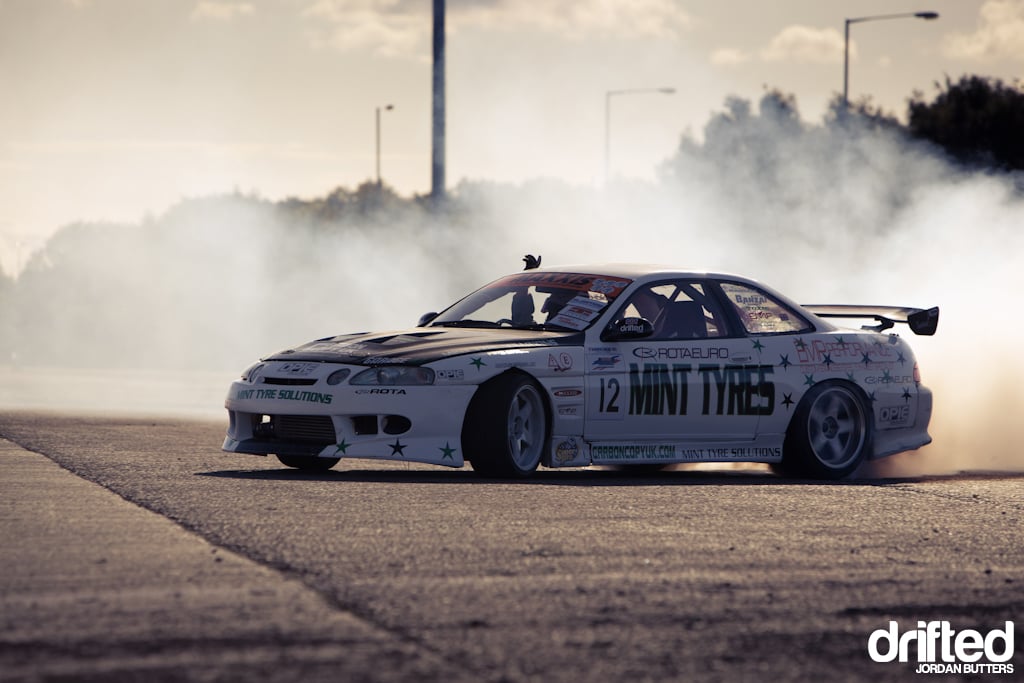 Final positions were still up for grabs with not a huge amount seperating some drivers.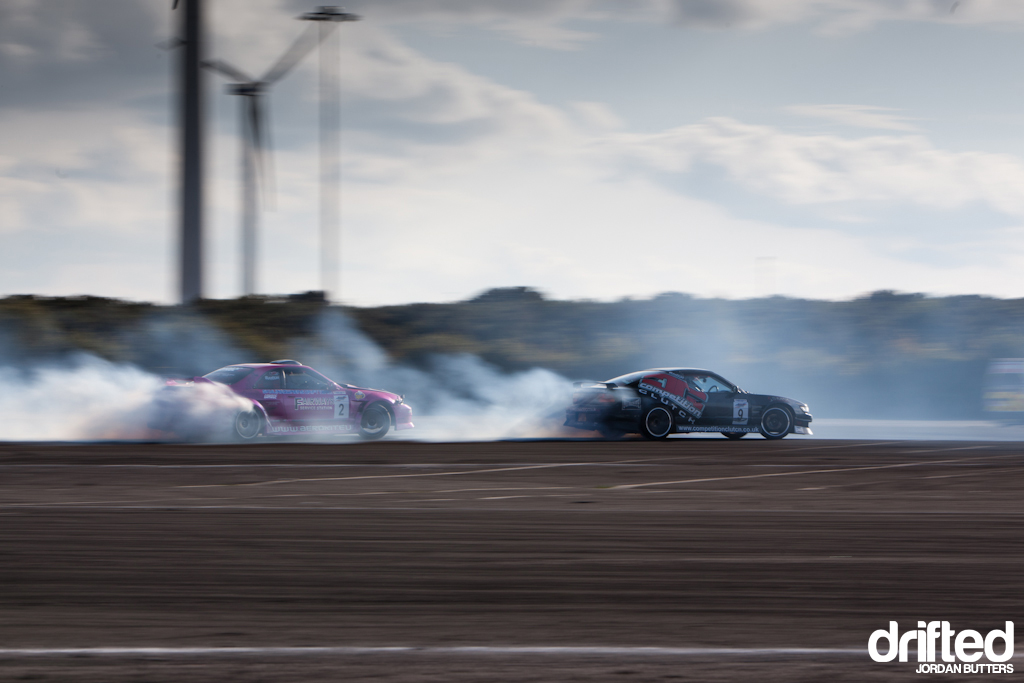 We were once again treated to some amazing battles.
And a fitting end to a fantastic season.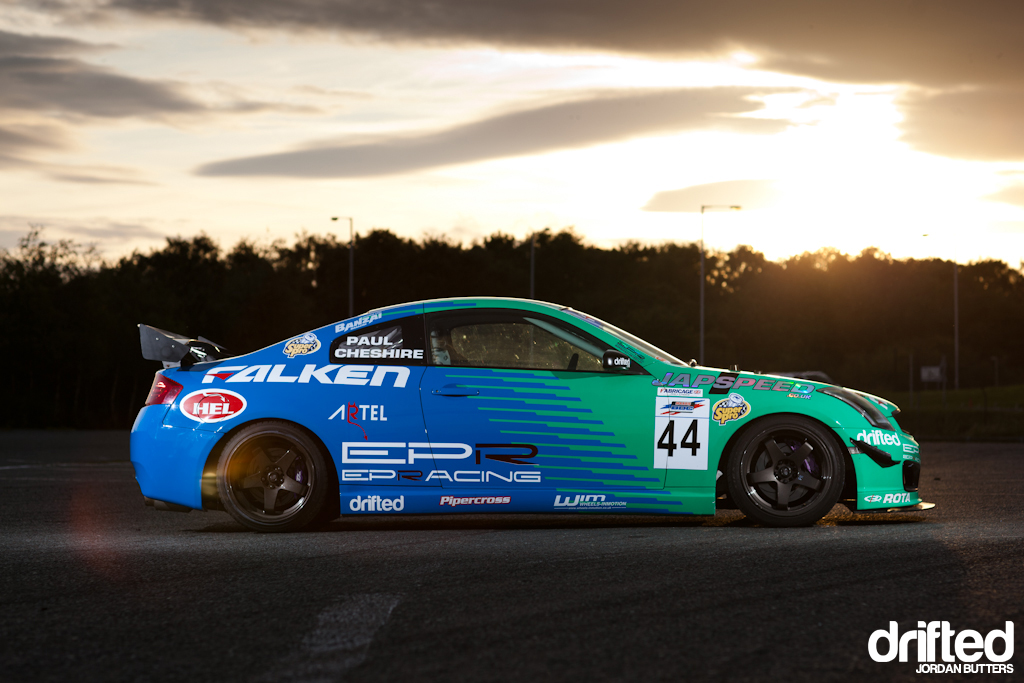 I got the opportunity to shoot the Falken 2JZ V35 for Banzai magazine here in the UK.
A photoshoot which spilled over into the annual KDRace event in Lousada, Portugal. This was my first feature shoot for a car magazine and considering the impromptu nature of the shoots I was pleased they liked the shots.
Speaking of Lousada it was again a fitting end to an amazing year.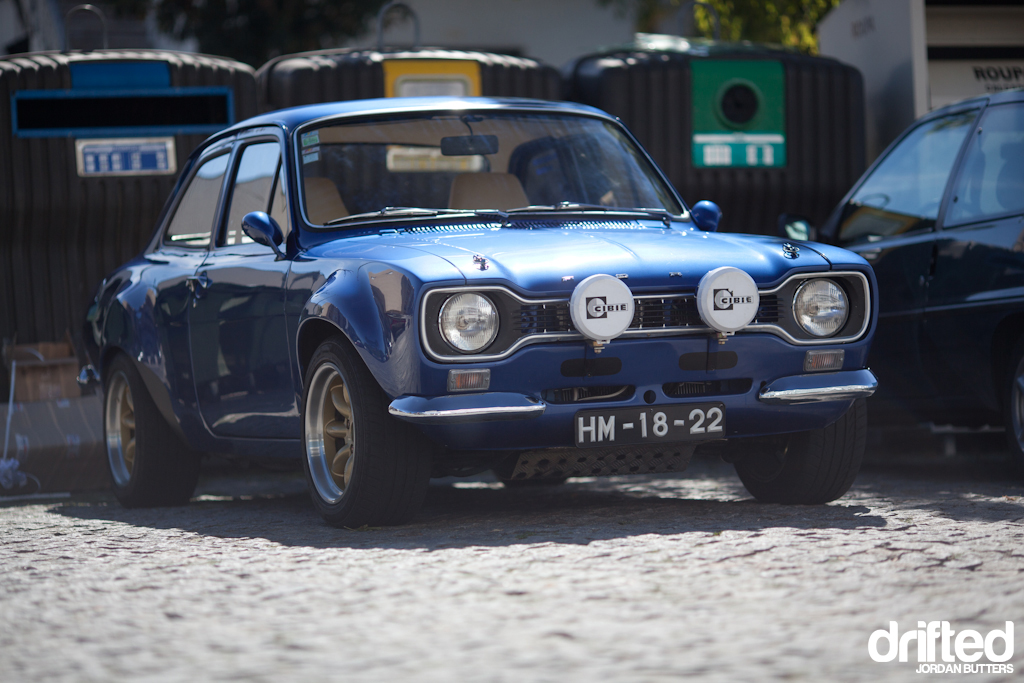 This sleepy little Portuguese town never fails to deliver the goods. I still feel like it's a well-kept secret in the drift world.
The levels of insanity peaked higher than ever before.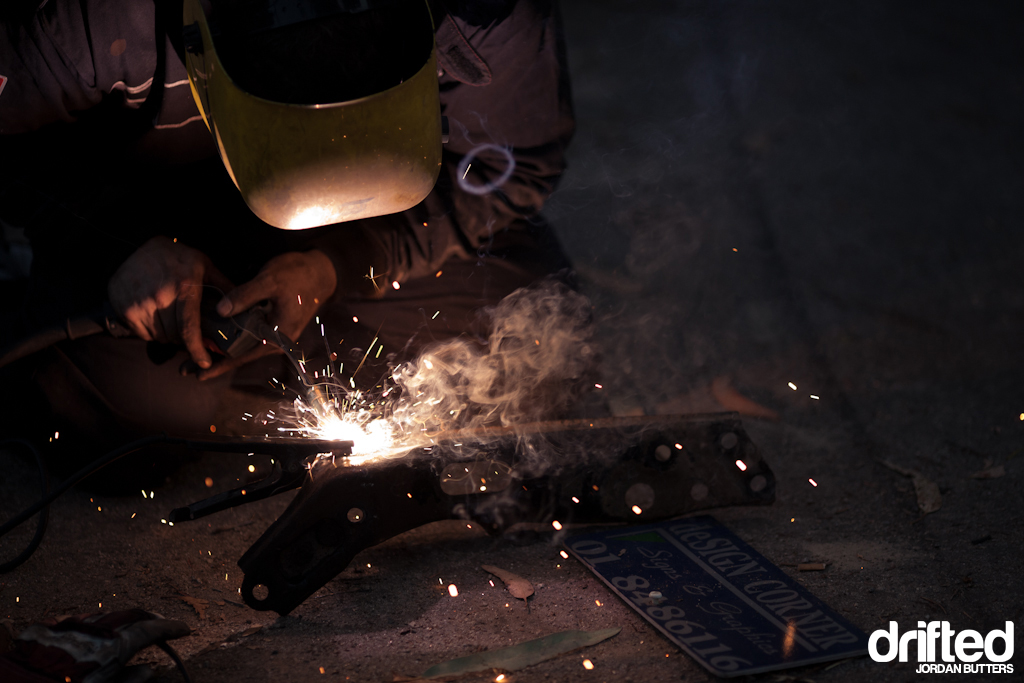 Carnage ensued, and hasty repairs are made.
So drivers waste as little time as possible and get back out on track. Season's end looming tends to mean that everyone pushes super hard.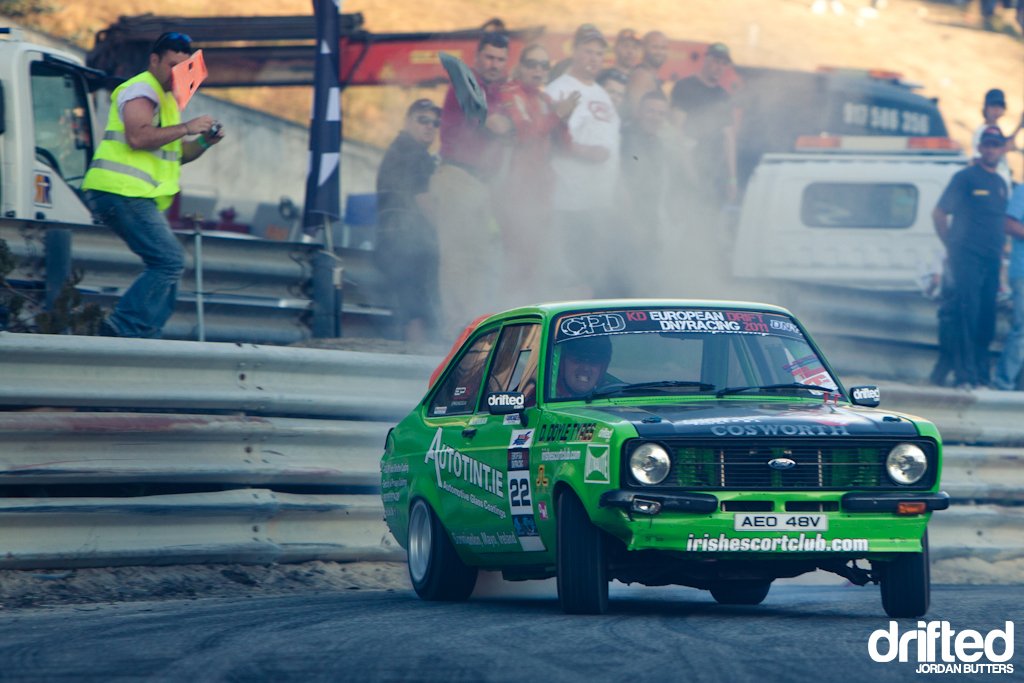 Which can be hazardous for trackside media folks.
The crowd at Lousada never disappoints either, not just in numbers but in enthusiasm too. They love to see drifting arrive at their humble circuit!
Lluis Lopez delivered a stunning drive all weekend and won both competitions. Congrats Lluis!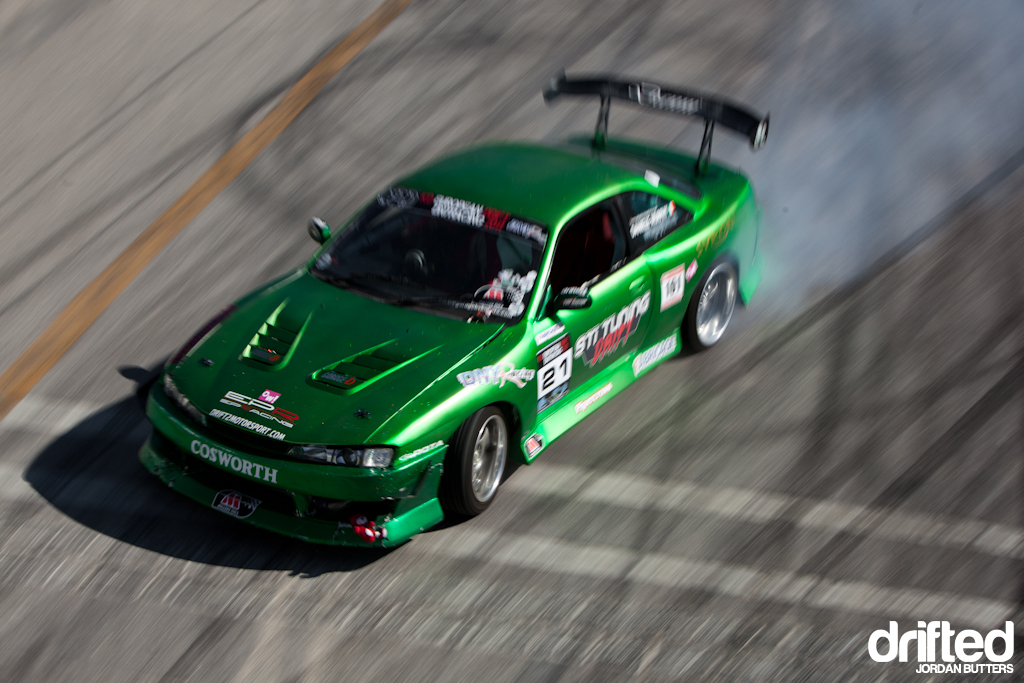 With 2011 a fading memory I'm looking forward to seeing what 2012 has in store for Drifted.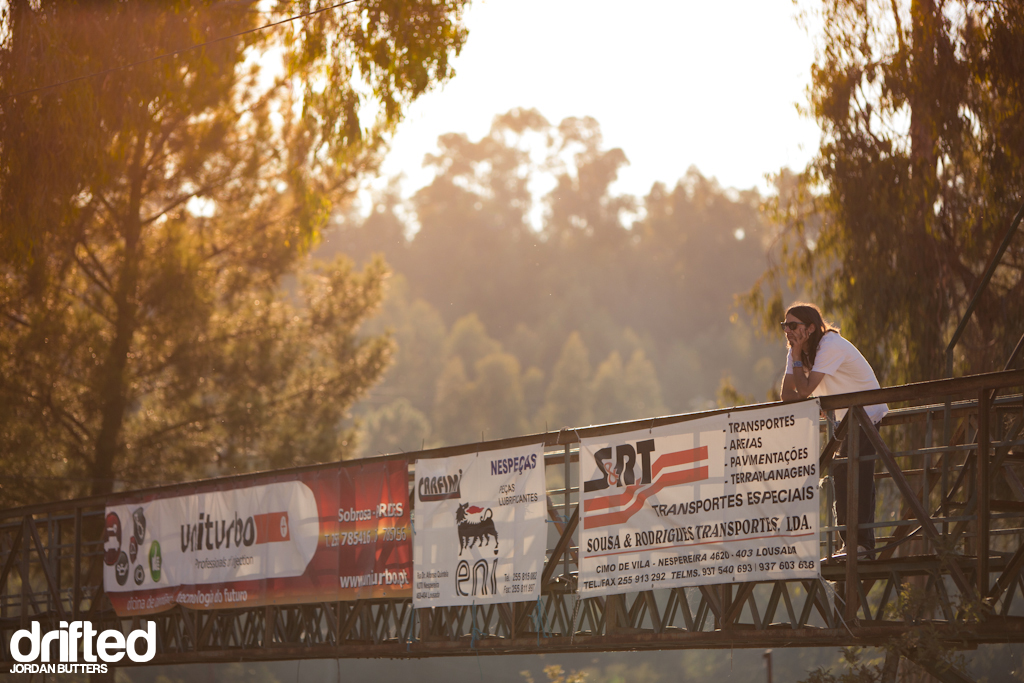 One thing's for sure is that we'll continue to strive to bring you the widest coverage of drifting culture available online. Here's to the future and all it holds!
::Jordan
Tags: BDC, British Drift Championship, Darren McNamara, Drift Allstars, Fredric Aasbo, Jordan Butters, Knockhill, Lousada, photography, silverstone, Wembley
Subscribe to Drifted
If you like this article why not subscribe to Drifted and we will email you our freshest content for free!