FEATURE: An S15 With Heritage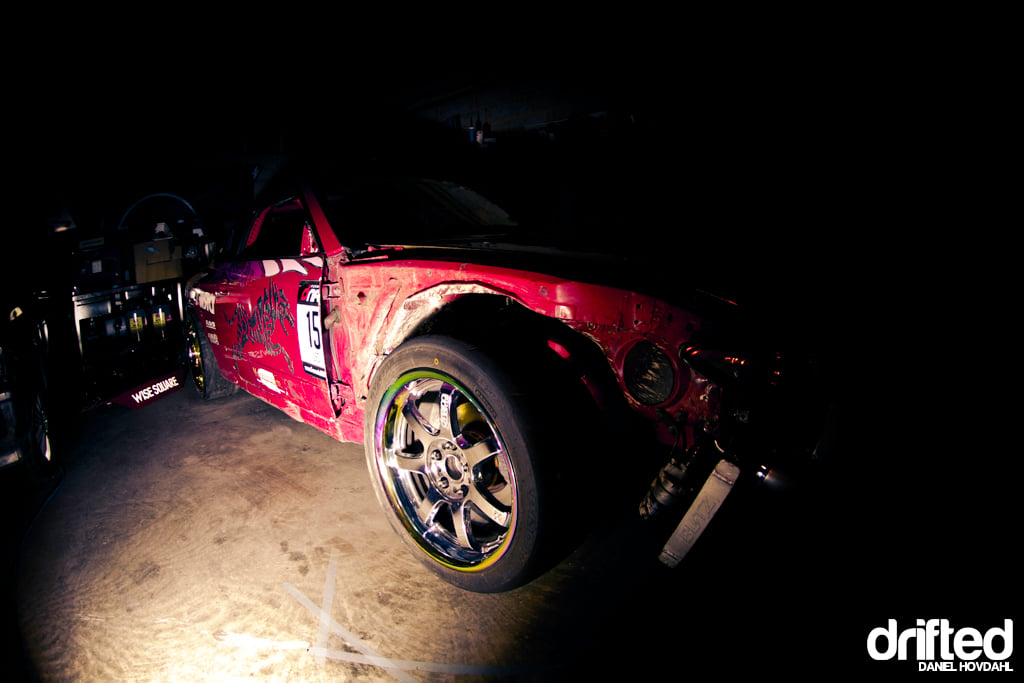 Does anybody remember this car? It might look a bit gloomy where it sits now, but this is team Driftspeed and Ueo's Ex-Formula D RedBull Drifting World Championship S15, held back in 2008 in California. It has also run in D1 in Japan and Formula D Stateside. It is now owned by Thomas 'Thompa' Pettersson, who is currently rebuilding it for the coming season. It will be a part of some big moves on the Swedish drifting scene, with the JDM-importer and media outlet Superior Imports, getting involved big time.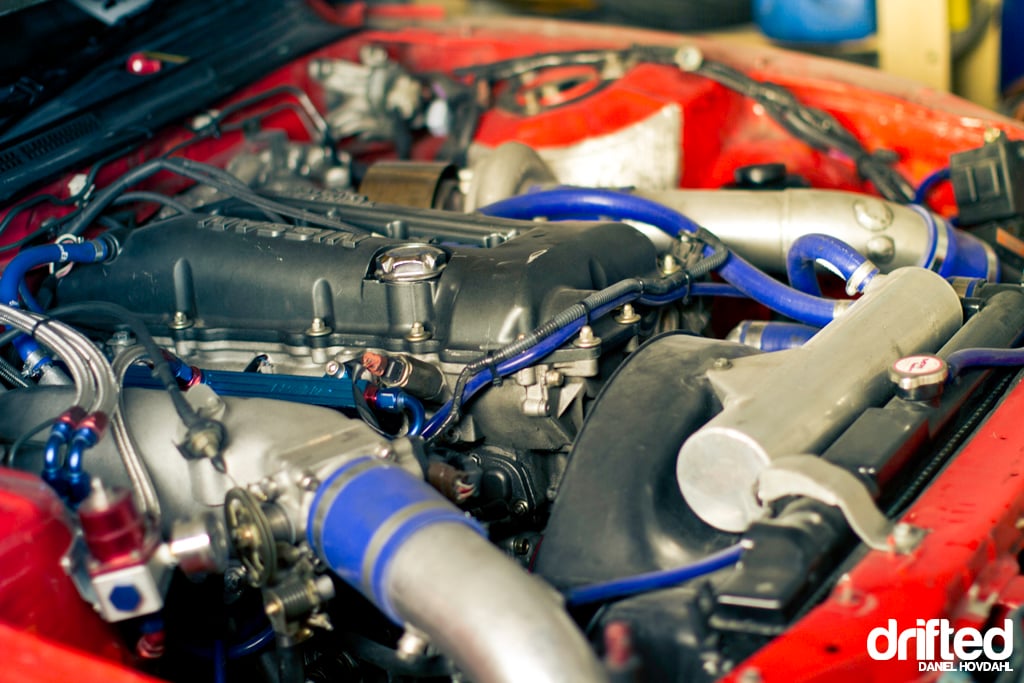 This is the heart of the beast. Making 500bhp with 600nm cranked out at 1.7bar through the 2.0Liter SR20 Black Top powerplant.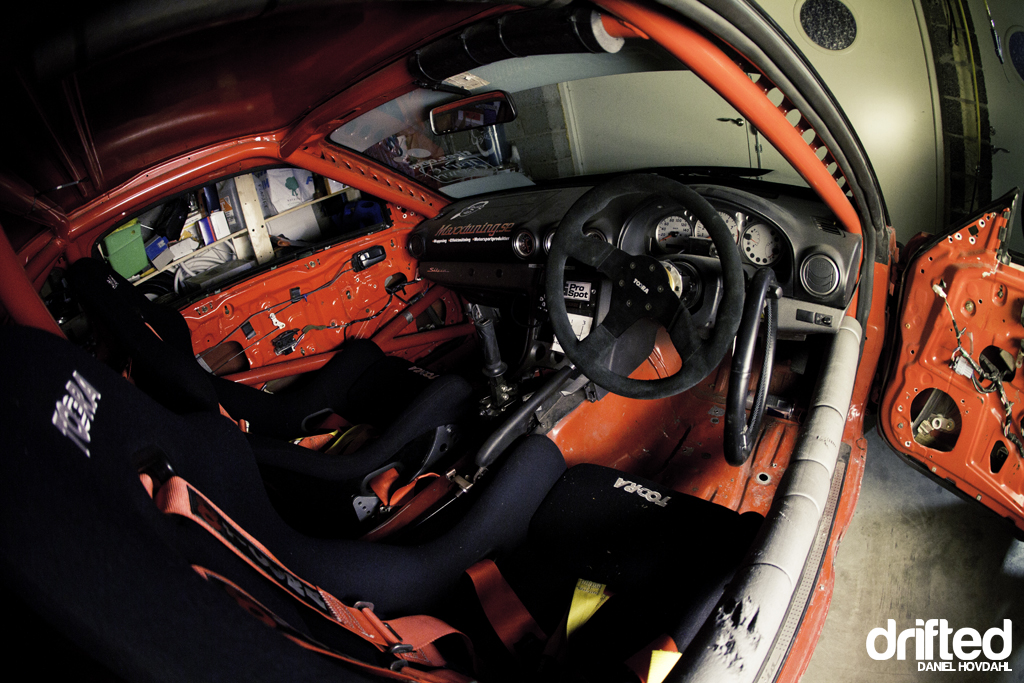 Interior-wise it is strictly business. Toora Bucket's to go with the Toora Safe6 6-point harnesses, Formula D-spec Rollcage fabricated by Techno Square. And if you have a keen eye, you'll see a  4 speed Gforce GSR dogbox in there.
Paint wise it's due for some changes. Although the body will stay mostly the same, with the Wise Square / Behrman bodykit – which is off to a bodyshop to get patched together and prepped for paint.
This is probably the last chance we're gonna get to see the car as it stands today, with the paintwork it has had since it left America. Off to new and exciting things!
The wheels is it sitting on are Gram Lights 57SPro Polished with Titanium Lip, with a staggered 18×10 and 17×9 setup. Rear and front respectively.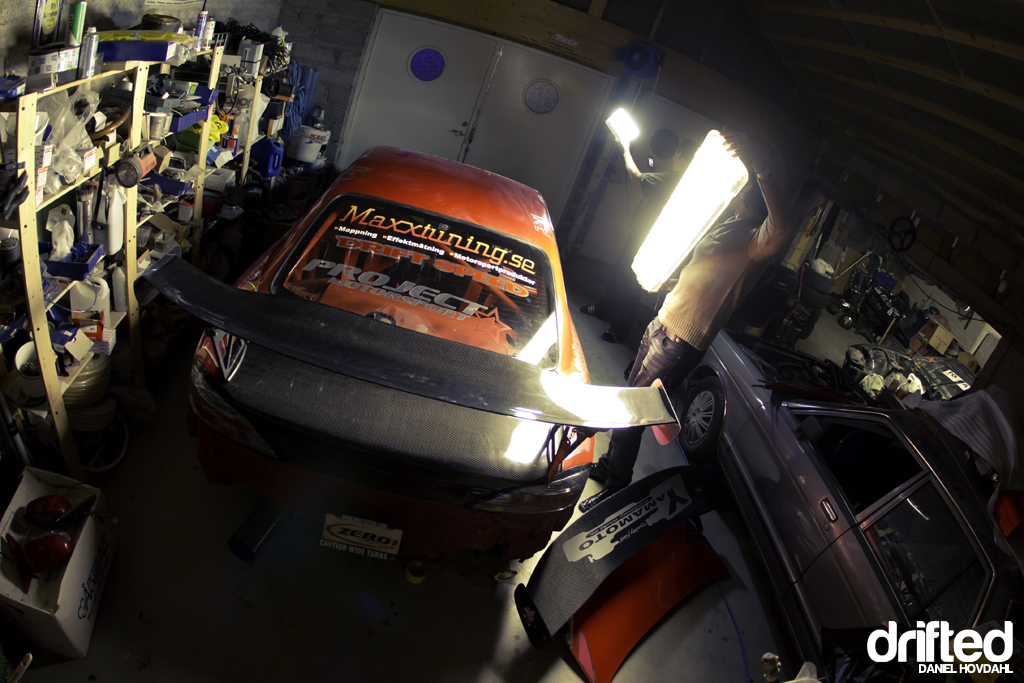 It's always good to have someone to help you out during an impromptu-shoot. Thanks Micke and Thompa!
History:
The car was originally built for D1 Grand Prix USA Series by Wise Square and exhibited 2007 Tokyo Auto Salon, Japan. Building completed early 2007 and debut D1 USA Las Vegas.
2007 D1 Grand Prix Japan, Fuji Speedway – Displayed
2007 D1 Grand Prix USA, Las Vegas – Debut
2007 D1 Grand Prix USA Season Finale / World All Star, Irwindale
2008 Formula Drift Red Bull Drifting World Championship, Long Beach
2009 Formula Drift, Long Beach
2009 Formula Drift, Las Vegas
2009 Formula Drift, Sonoma
2009 Formula Drift, Irwindale
Spec list
1999 Nissan Silva S15
Engine
2.0 LSR20DET Black Top
ARC Oil Pan
Over sized JE Piston
HKS Head Gasket
HKS Cams
HKS Solid Lifters
Greddy Rocker Arm Stopper
Yashio Factory Pulley
Greddy Intake Plenum
N15 Throttle Body
Nismo Twin Plate Copper Mix
Sard FPR Changed by Thomas to aeromotive
Z32 MAF
Drive train
G-Force GSR 4 Speed Transmission
Nismo Twin Plate Copper Mix change by Thomas to Sachs twin disk
Drive Shaft Shop Axle Shaft
Nismo GT Pro 2.0 LSD
Fuel
VP 109 changed by Thomas to E85
GTR Fuel Pump in tank
850 Sard Injectors changed by Thomas to deatsworks 1300cc topfeed
Greddy topfeed rail new by Thomas
Custom surgetank new by Thomas
2x bosch new by Thomas
AN8 fuel lines new by Thomas
Cooling
Yashio Factory Radiator with Electric Fan
Blitz Intercooler
Blitz Oil Cooler
Blitz Oil Filer Relocation Kit
Apexi Air Filter
Electronics
Apexi Power FC L Jetro
Blitz SBCi Boost Controller
Blitz Water Temp Gauge
Blitz Oil Temp Gauge
Blitz Oil Pressure Gauge
Kill Switch
Interior
Bride Bucket Seat Driver and Passenger changed by Thomas to TOORA Project
Takata 6 point Harness changed by Thomas to TOORA 6 point
Fire Suppression System removed by Thomas
Formula D ready Roll Cage (done by Techno Square)
Nardi Steering Wheel changed by Thomas to TOORA TRACK
Battery Relocation into Rear Trunk
Suspension
S15 DG-5
Tein Tension Rod
Ikeya Formula Inner Tie Rod
Peak Performance Rear Upper Control Arm
Peak Performance Traction Rod
Peak Performance Toe Control
Exterior
Behrman Techno Carbon Hood
Behrman D1 Spec Pro Front Bumper with Techno Carbon Canards
Behrman D1 Spec Pro Side Skirts with Techno Carbon Canards
Behrman D1 Spec Pro Rear Bumper with Techno Carbon Diffuser
Behrman FBG Doors
Sard Carbon Fiber Rear Wing change by Thomas to APR GT500
Seibon Carbon Fiber trunk hatch new by Thomas
Wheels
Gram Lights 57SPro Polished with Titanium Lip 17×9 1 set
Gram Ligths 57SPro Polished with Titanium Lip 18×10 3set (one set new by Thomas)
Power: 420WHP (on dynopack) @ 1.5 KG ,new 500bhp 600nm @ 1,7bar dynoed at Maxxtuning
::Dan