FEATURE: Hybrids – The Future.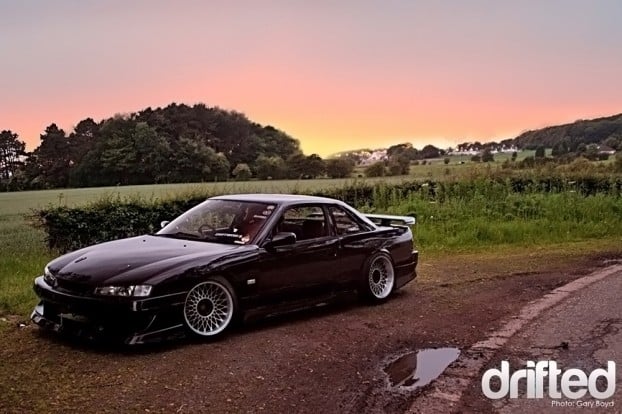 Sambo bought his car in 2006 as a non-running, naturally aspirated, automatic Silvia. After a few solid days work, it ran a stage2 CA18 and various other parts directly transplanted from his previous UK S13. Cut forward to 2010 and aside from the constant hoarding of wheels, not a lot had changed.
I first photographed Sambo's car during a drift day hosted by the SXOC, the events of which would lead to how the car looks now.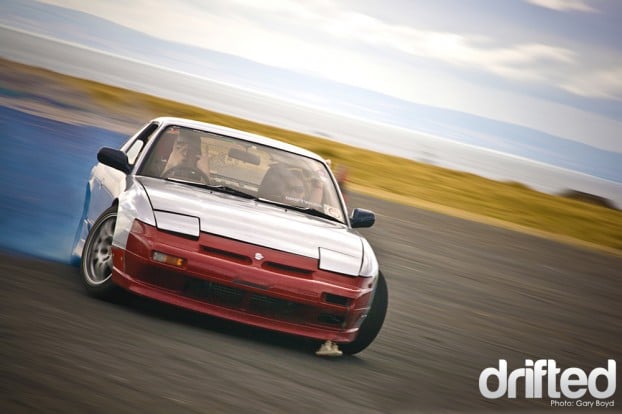 I feel that unfortunately, these days people become obsessed with going that bit further. Whether it be wheel fitment or running that bit lower than the next guy, more often than not at the expense of the overall cleanliness of the car. From the opinions posted on the Drifted Facebook page, it looks like Sam has managed to push boundaries whilst retaining the all important classic flavour that is simplicity.
After a visit to Aberdeen based 'GarageLSD', the car came back from it's extensive makeover looking fairly different.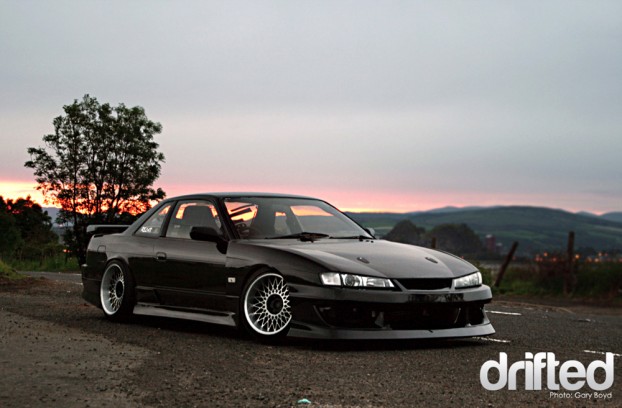 The car is now coated in BMW Rubinschwarz (Ruby Black)
URAS Type II Aero, modified to lose the characteristic rake.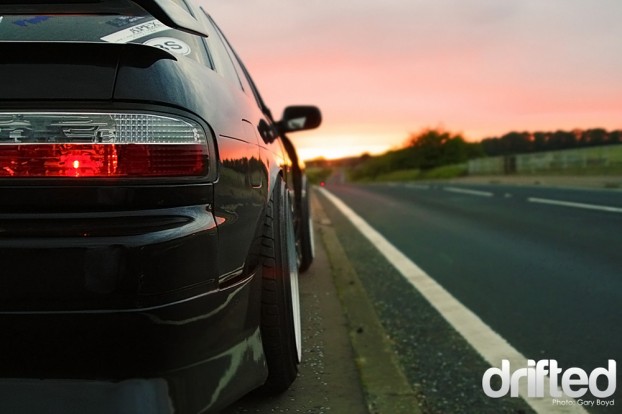 17×10 -5 Borbet B with 225/45/17 all round (+20 with 25mm 5×130 adapters)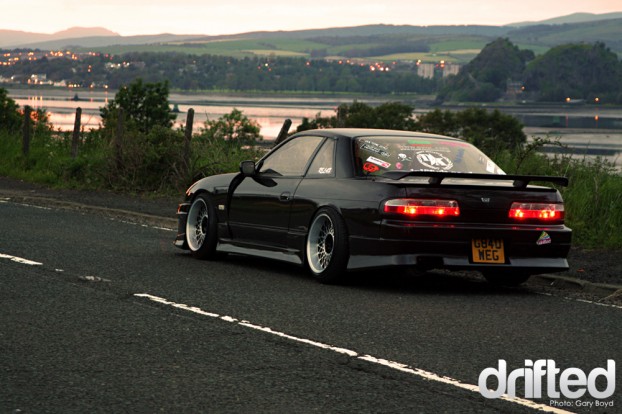 Crystal Lights & Sambo's collection of stickerwears.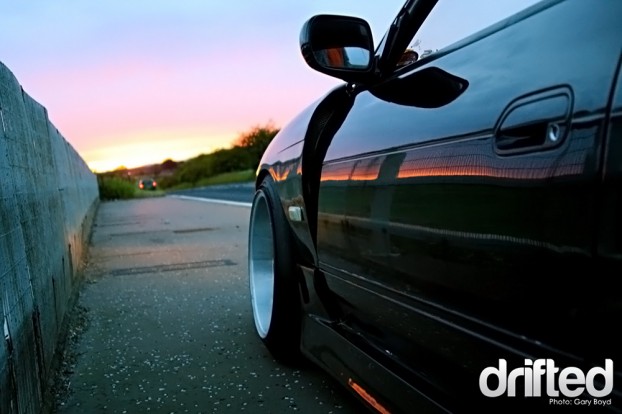 GarageLSD Custom wings (1x S13 wing, 1xS14 wing, 1XS14a wing)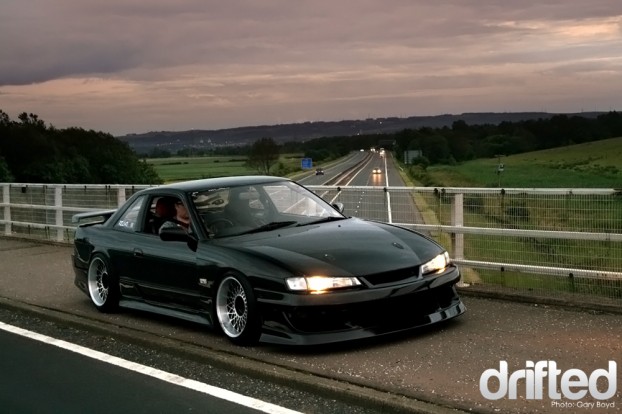 You can't deny how aggressive this car looks
It's rare to get a car that looks as meaningful whilst parked up as when it's moving



As you can see, the change has been dramatic. The quality of the work done by Dunkz at GarageLSD has been to the highest standards. This said, Sambos main aim is to still use the car for drifting – and with his first drift day the weekend after this article is published, hopefully he doesn't need to make the 300 mile round trip for any repairs in the future, especially as there's so many other projects on the go that spare time is few and far between.
1990 S13 Silvia Q's
Engine
JDM CA18DET – 3" stainless exhaust – T28 turbo – Apex inboard FMIC – Walbro fuel pump
H-Dev stage 2 chip – MBC@15psi – K&N filter – Bee*R
Transmission & Suspension

AP paddle clutch – Migspec 3 Way
Wheels

17×10 -5 Borbet B with 225/45/17 all round (+20 with 25mm 5×130 adapters)
Interior
Oil temp/pressure gauges – Corbeau bucket for the larger gent – Dildo knob
Nardi Wheel – Momo Boss – Handbrake Spin Button
Exterior
Custom wings (1x S13 wing, 1xS14 wing, 1XS14a wing) – Adapted s14 bonnet hinges –
Standard S14a Headlights/Sidelights/Bonnet – Respray in BMW Rubinschwarz (Ruby Black) –
URAS Type II Aero – Feiro Wing – Crystal Lights

Thanks to
Duncan@GarageLSD – HYPERMEDIA – Drifted.com – Kev, Kieran & The Scottish SXOC lads –
Askew – Andy – Dave
Words & Photos: Gary Boyd