FEATURE: 2011 In Pictures: Fabian Linder
For several years the german drift scene, especially the "race series" had problems and fights, which damaged a lot, many relationships to sponsors, racetracks, series suffered and so It has become very hard to be loyal to everyone. Even after years, when the "International Drift Challenge" (the precursor of the IDS) broke down and ended in a lawsuit, there is still a lot of stuff ruined and a lot of resentment in the air. That makes it difficult to satisfy drifters here, especially when it comes to judging and event organisation, old cracks opened up. But this year, in my opinion, was a step into the right direction, with many drivers from different nations in Germany or German drivers as guests on foreign events, the local scene starts to grow together, also the big aid for the driftbrothers, who lost their car in a crash, showed that its getting better again and the people help each other.
Personally I think drifting is about having fun, even in a competition you can have fun and enjoy it (for example Chris Kögler and Philippe Guillod), a wise man with a big beard (and a JZ powered E46) once said: "Keep Drifting Fun" – and that sums perfectly up what my life is all about. 2011 was one of the best years I ever had, I had the luck to visit almost every event I wanted and also I had the chance to get to know many friendly people all over Europe. I have to excuse myself for all the people I forgot to mention 😉
2011 in numbers:
I was at 14 major and minor drift events and practices
I visited four nations
I traveled 6360km
I took 80.000 pictures
Words can´t explain how awesome this year was, so I let the pictures speak: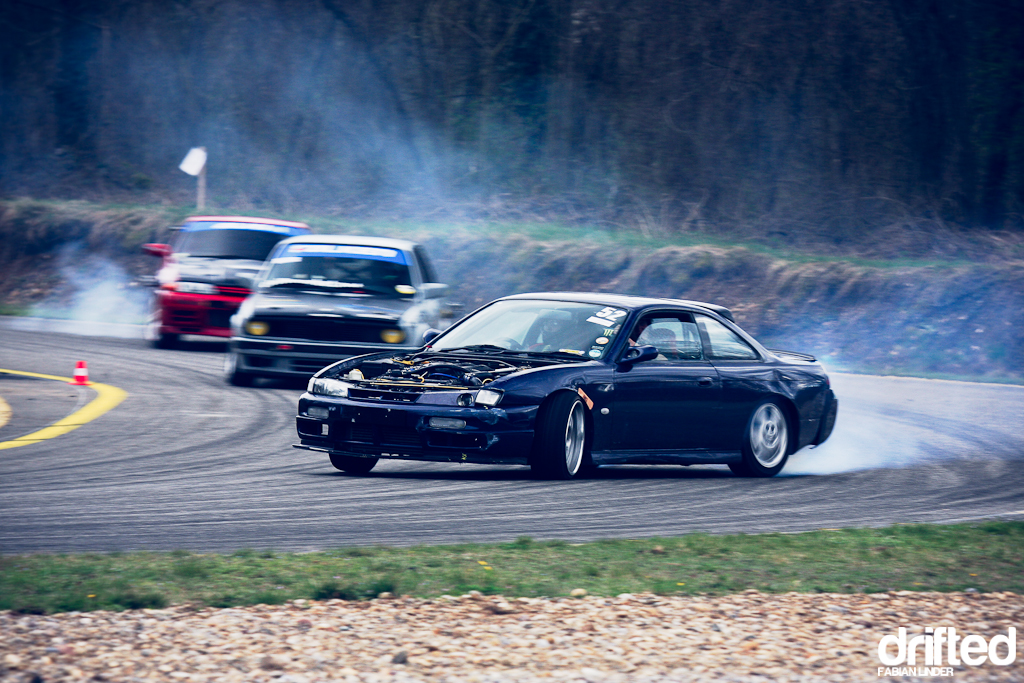 The year started with one of the legendary Speedindustries Trackdays in Anneau du Rhin. A bunch of cool cars, gentle persons, friends and a cool track with all opportunitys – great event!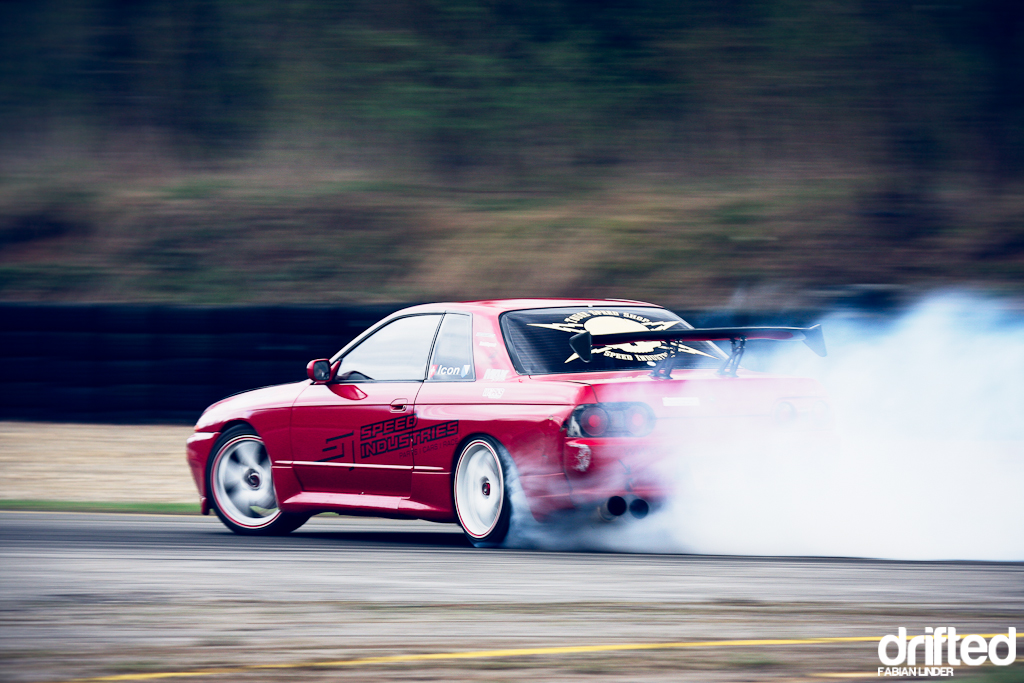 This year the Touge Skulls were everywhere, here on Haudí´s R32.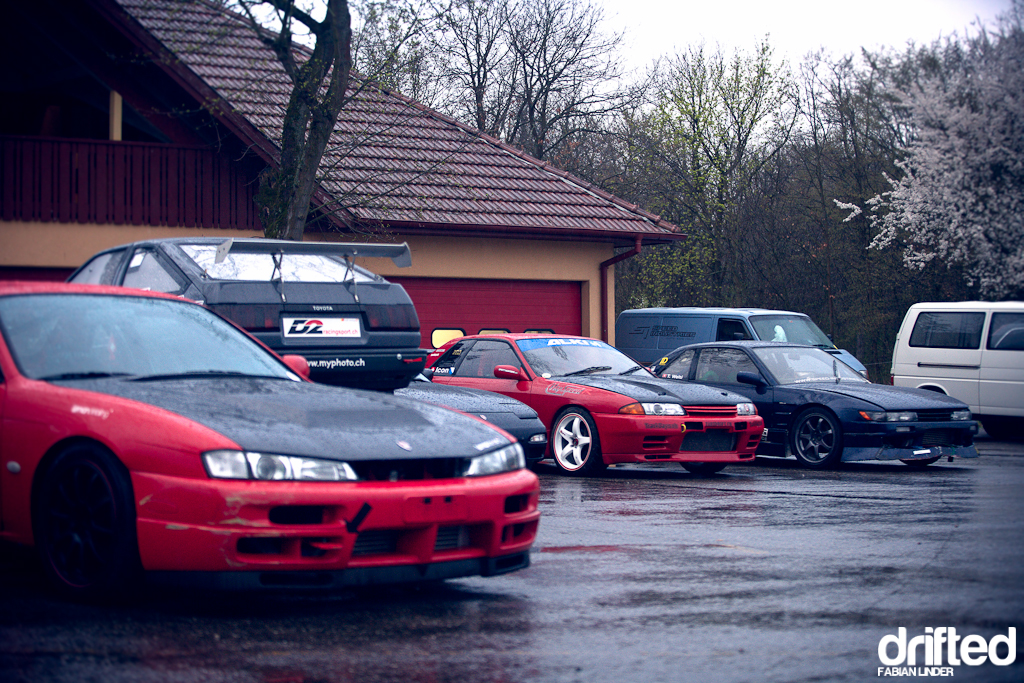 Drifting or Timeattack? Speed Industries got 'em both.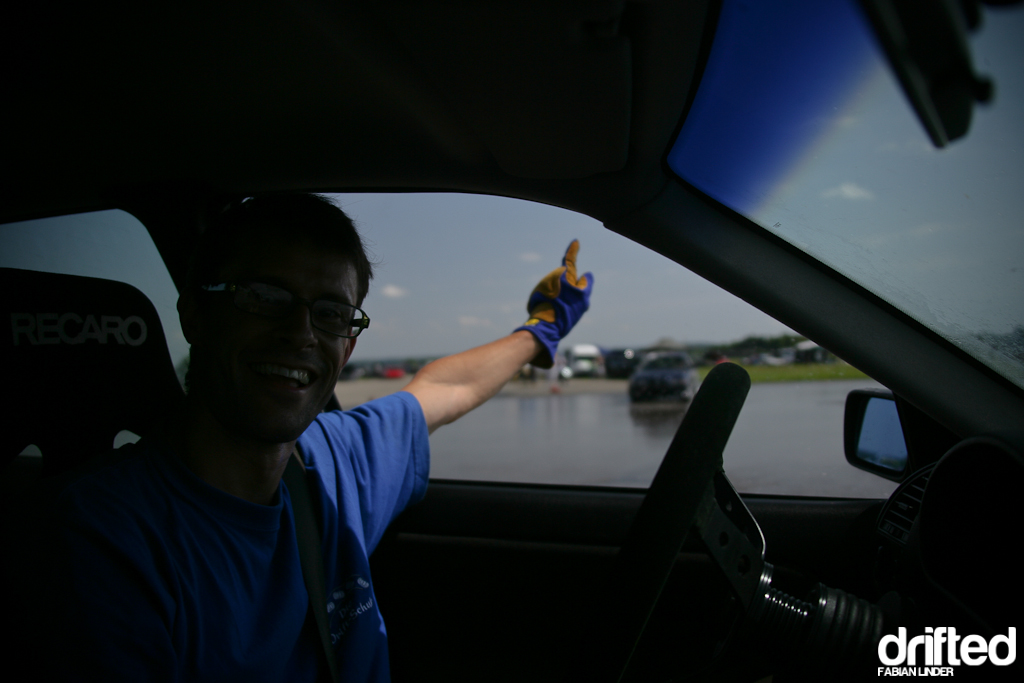 Keep Drifting Fun – Flo coaches noobs like me, he is the owner of the Drift-Schule (drift school) and also a good friend. Last year he spent over 50 days coaching, seems like learning drifting is getting popular these days!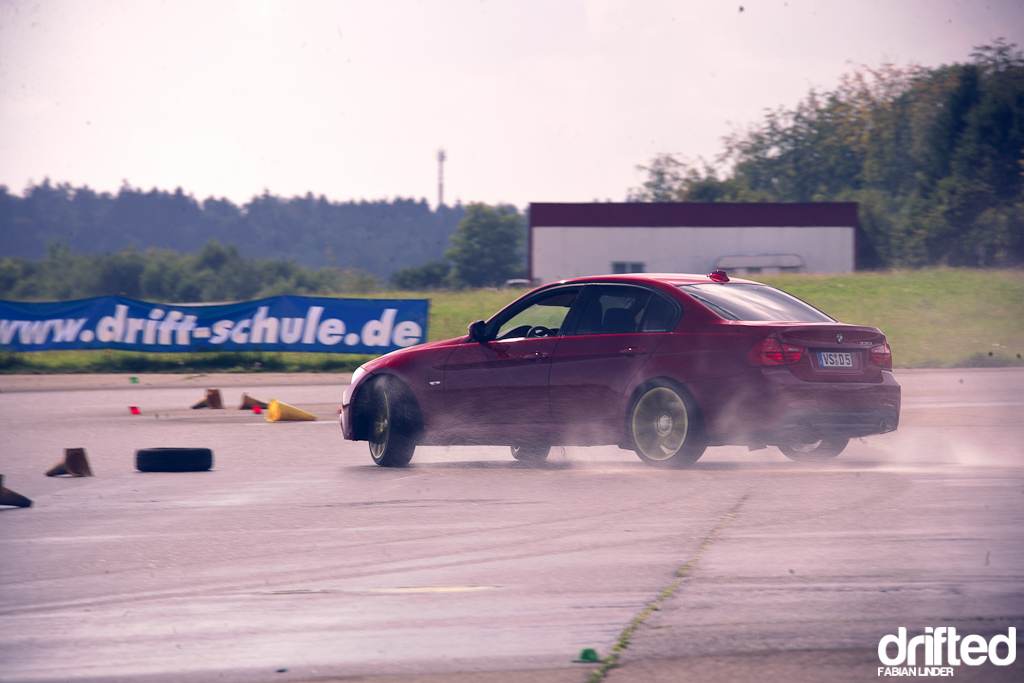 At Drift-Schule events there are various personalitiys: This is Daniel Keilwitz, FIA GT3 champion of 2010 in his 335i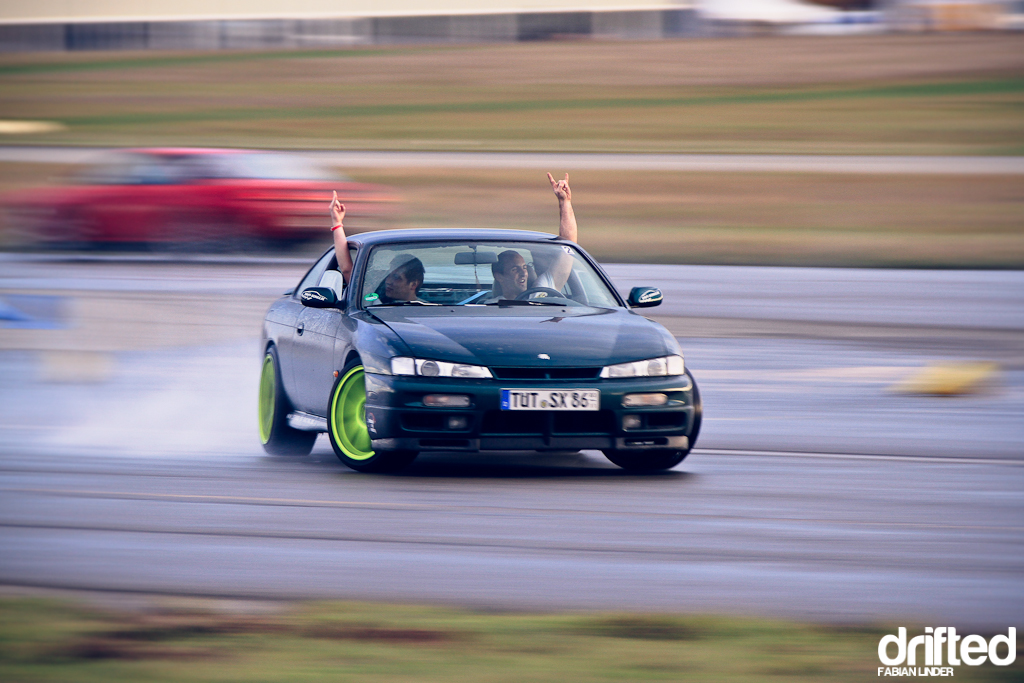 For Milosch drifting is all about having fun.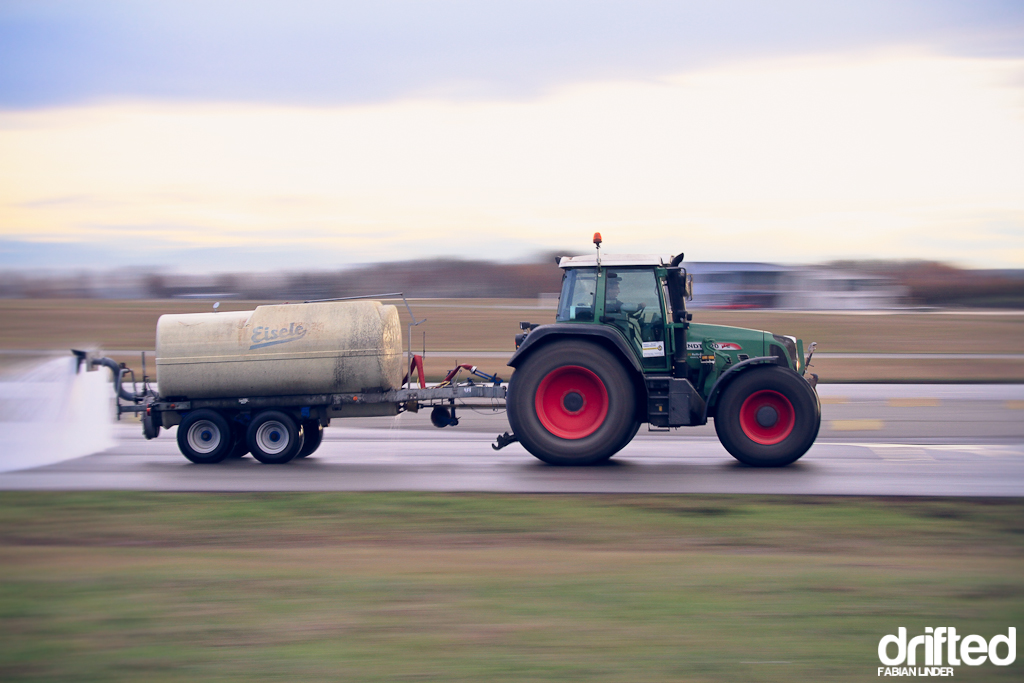 The only bad thing about Drift-Schule is, that its always on wet ground, due to noise reduction.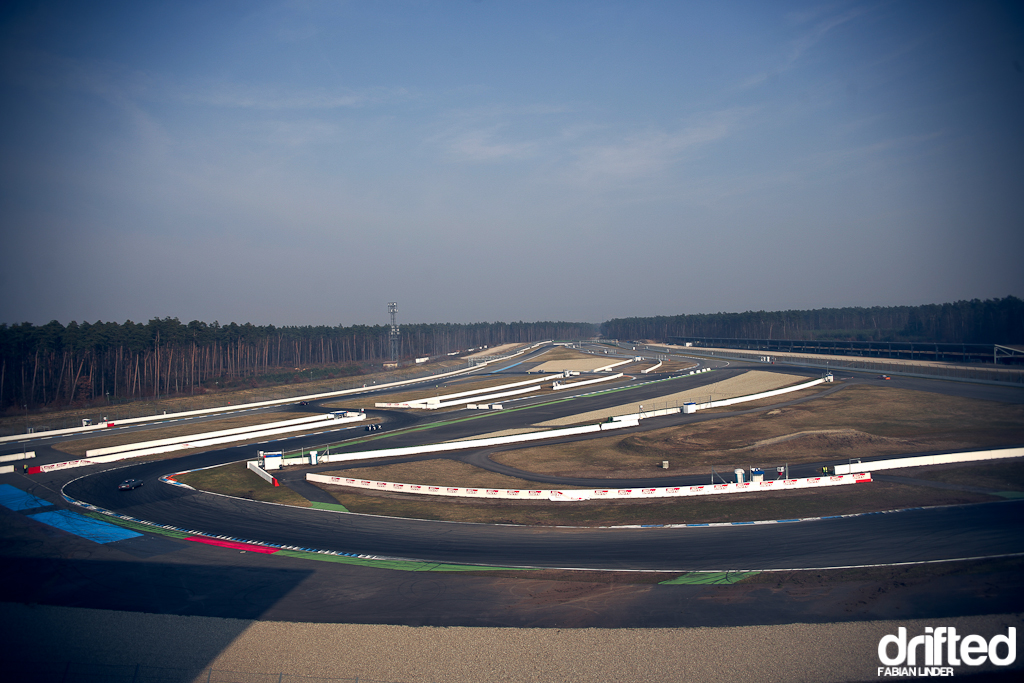 Luckily the Sport Auto magazine hosts a dry training on this playground: the famous Hockenheim Ring.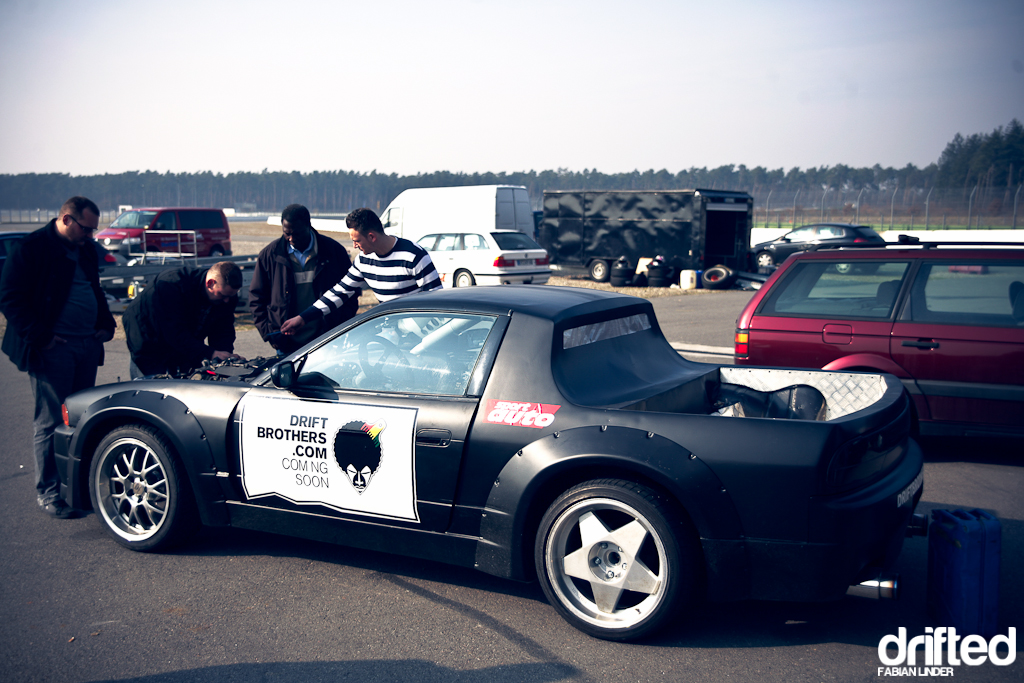 At the training in Hockenheim I first saw this beast: The Driftbrothers build a weird mixture between a S13, a Pickup, a Mitsubishi frontend and a BMW engine.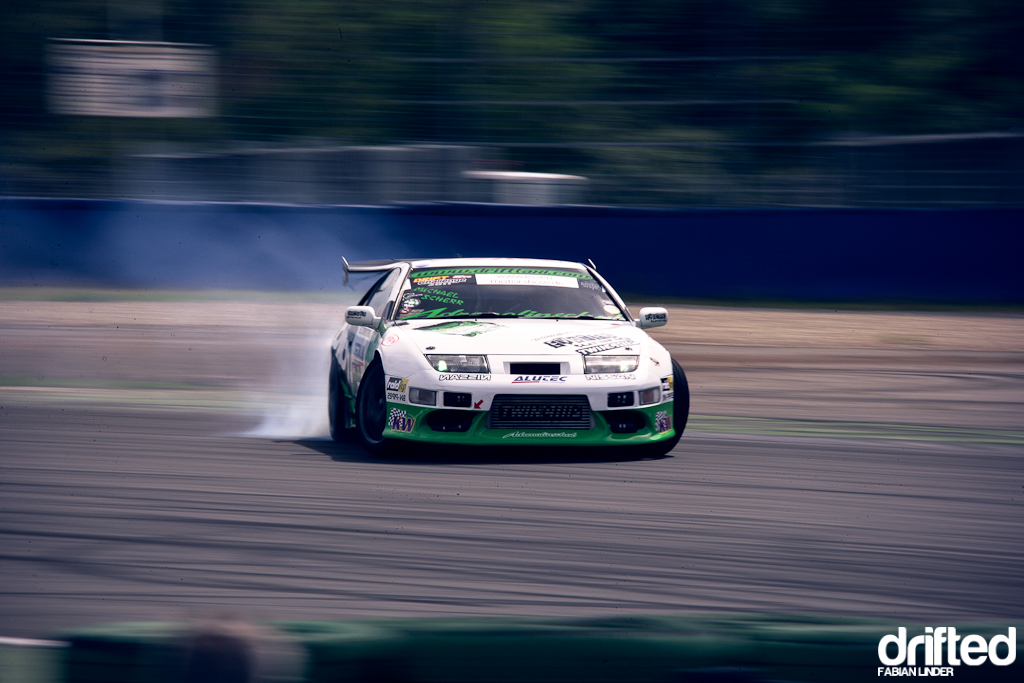 The german champion Michael Scherr trained hard with his 300ZX, for 2012 he stays with his 300ZX but improves almost everything. In the meantime he builds a slammed 240ZX for street purposes…addict!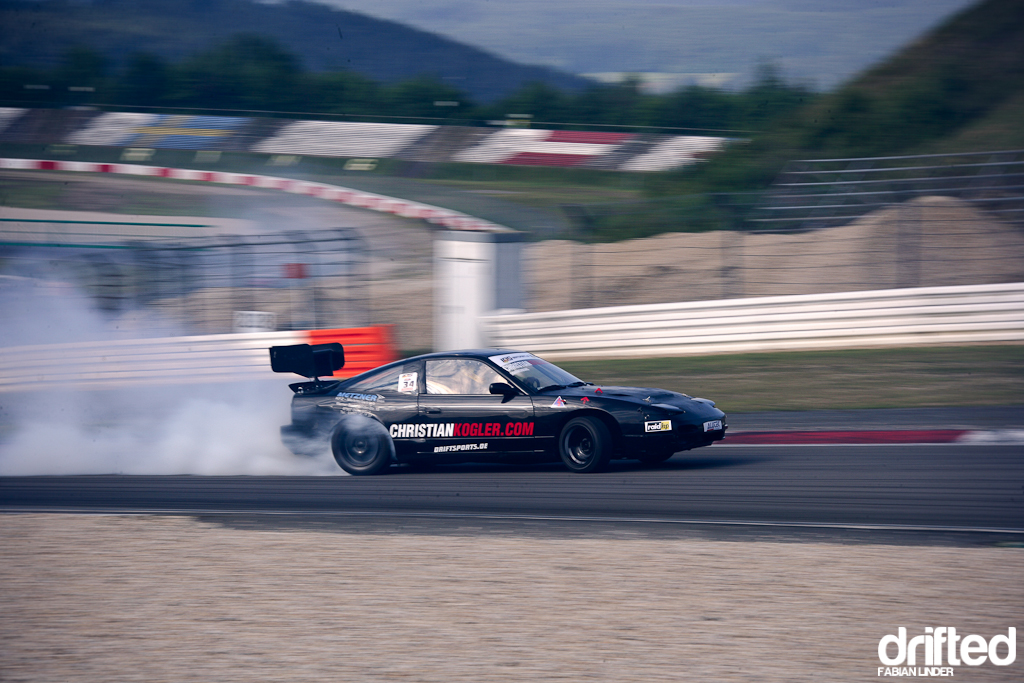 The second IDS race was held at the Nürburgring, Christian Kögler experimented with a huge removable wing on his S13.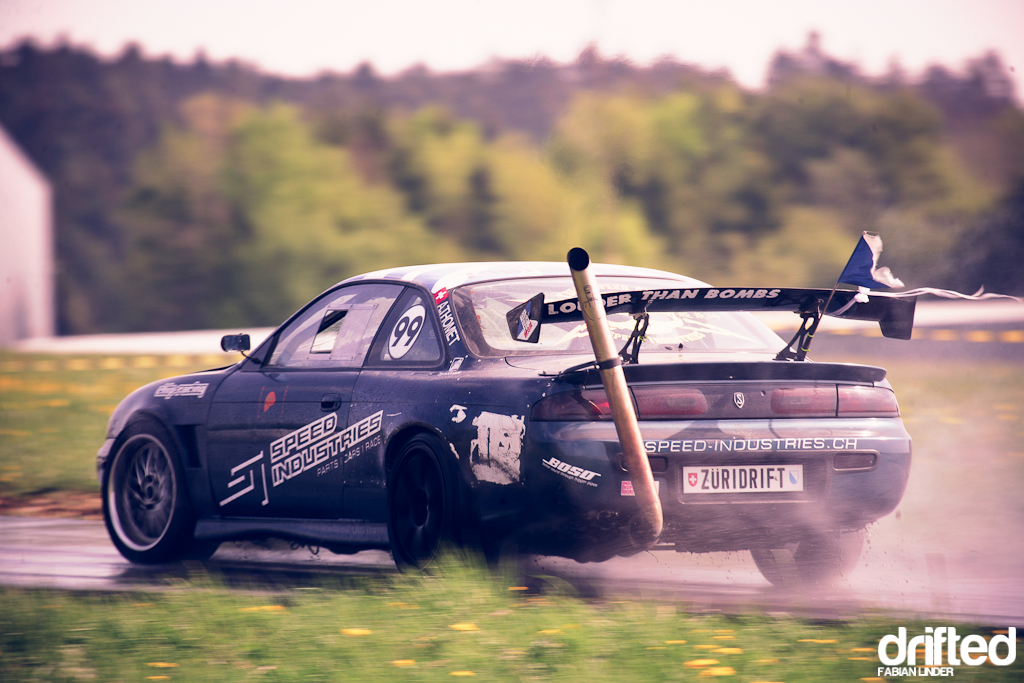 Alain Thomet from Speed Industries has installed a Boso-inspired exhaust on his racecar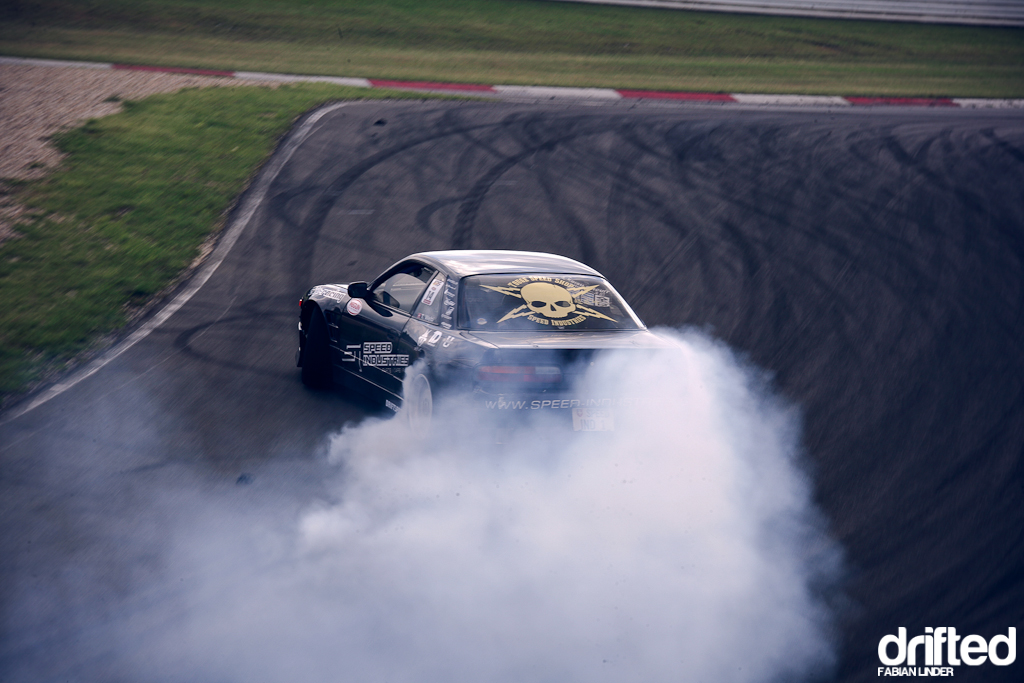 Yet another Touge skull followed by smoke!
The Tuningworld Bodensee has become one of the biggest tuning expos in europe, Team Falken were doing their Drift Show there.
The hot weather attracted a lot of people, so the drift show was always crowded.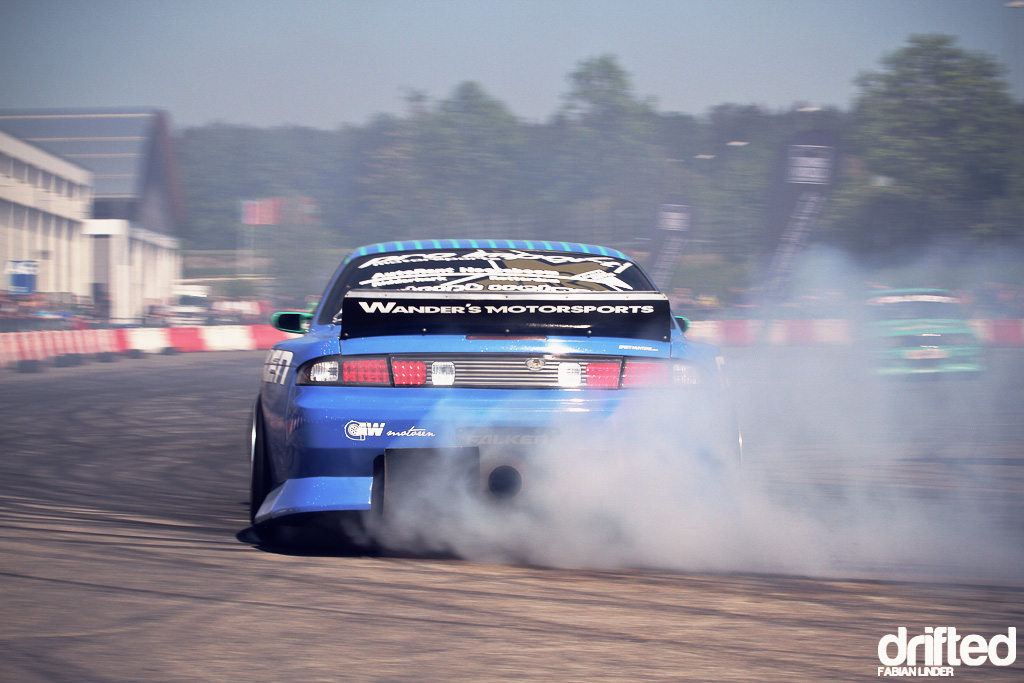 Lennards S14 with his centerpipe is just sick!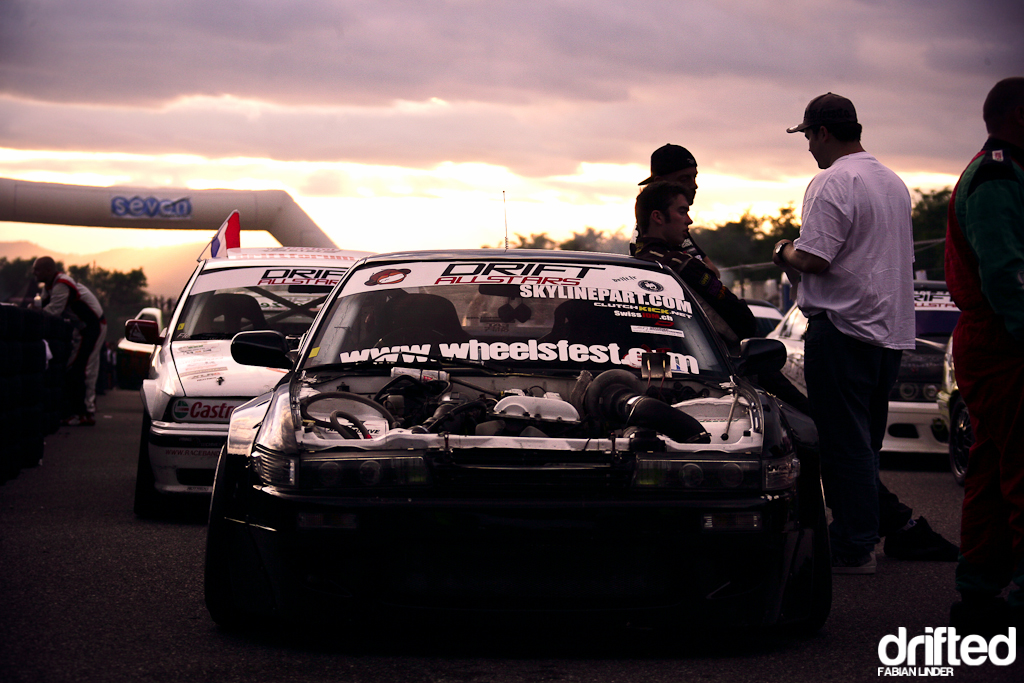 For me the event with the best atmosphere was the JDM Allstars Race in Anneau du Rhin, congratulations Nicolas and Niall for this event.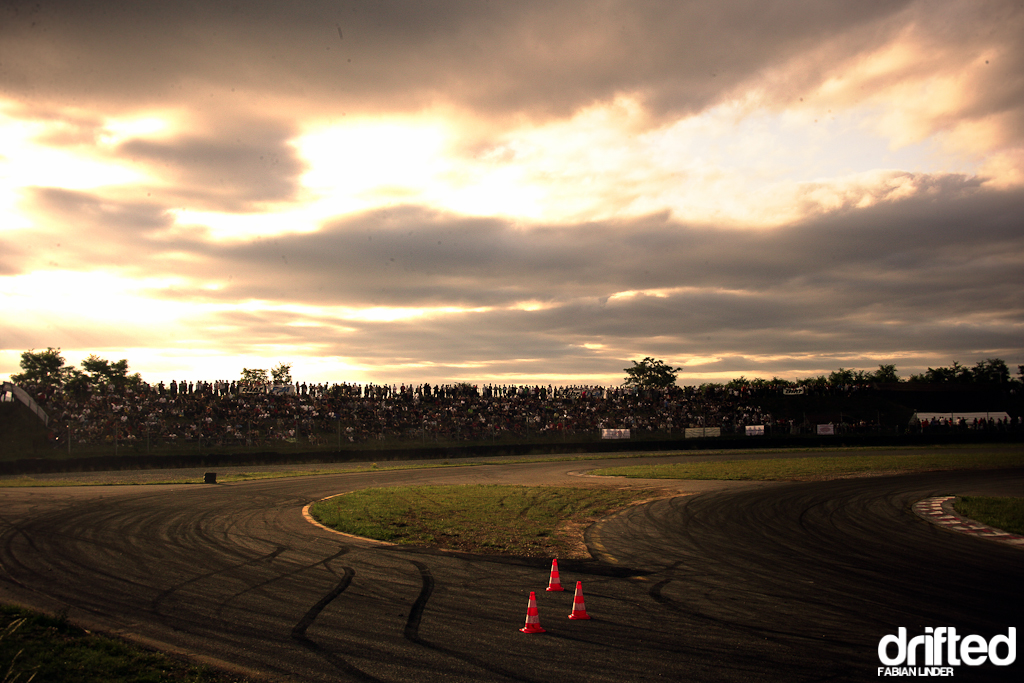 The event itself has been going for years, but this year the JDM Allstars brought in their major drivers and the weather God brought a lot of sun and a huge audience.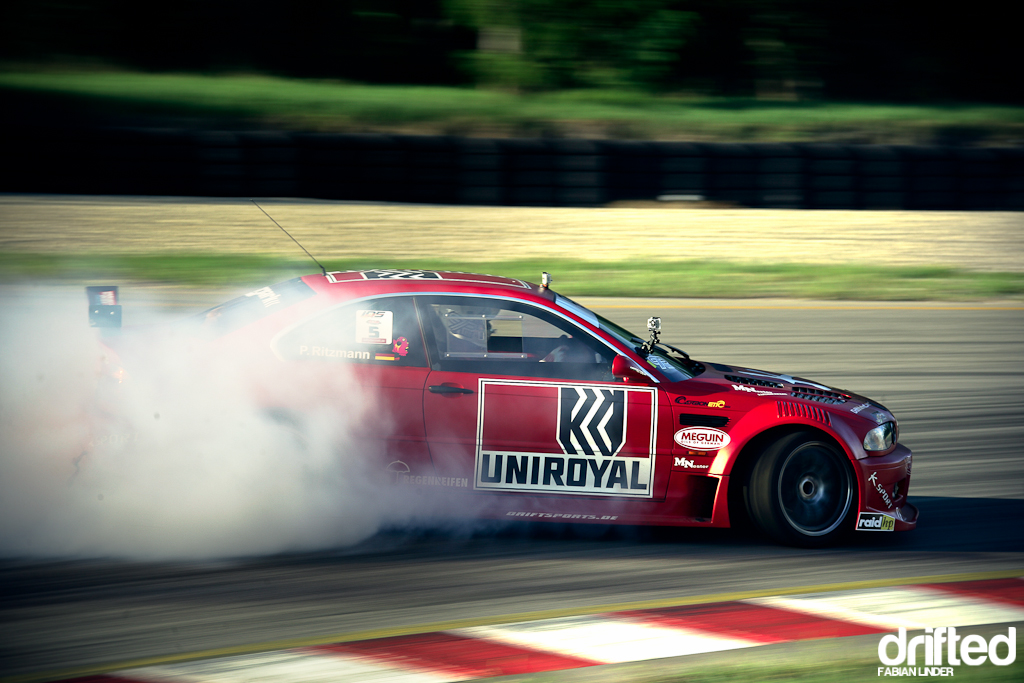 My mate Patrick Ritzmann gave pedal to the metal in his 2JZ E46, the 2011 season was not as good as expected, since he had a lot of electrical problems.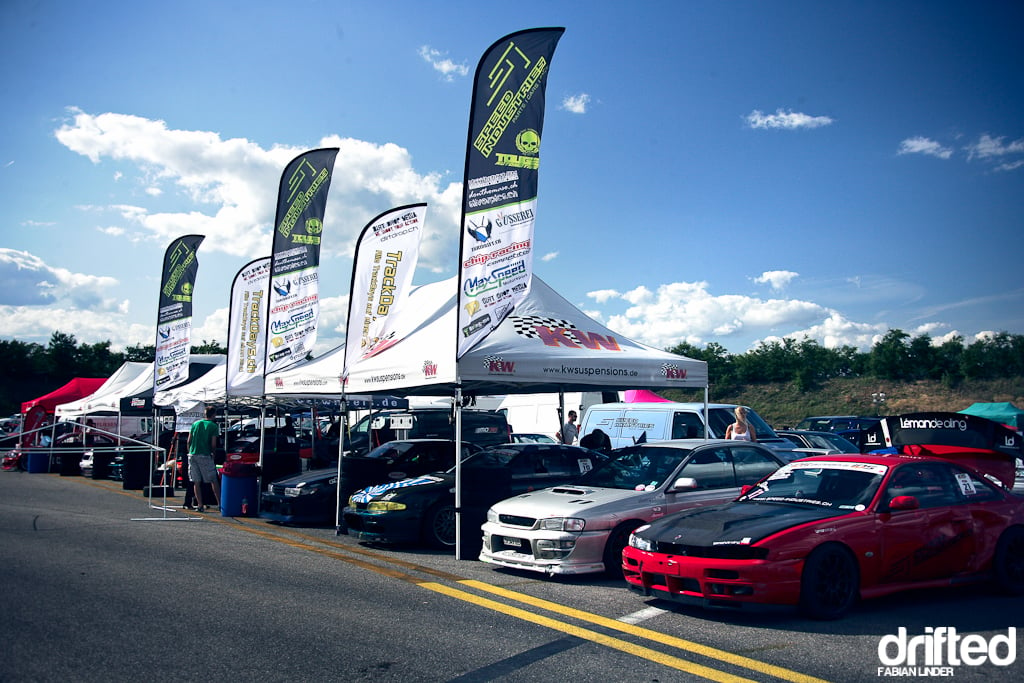 Speed Industries showed up with the whole crew, in the evening the pit lane were a party area.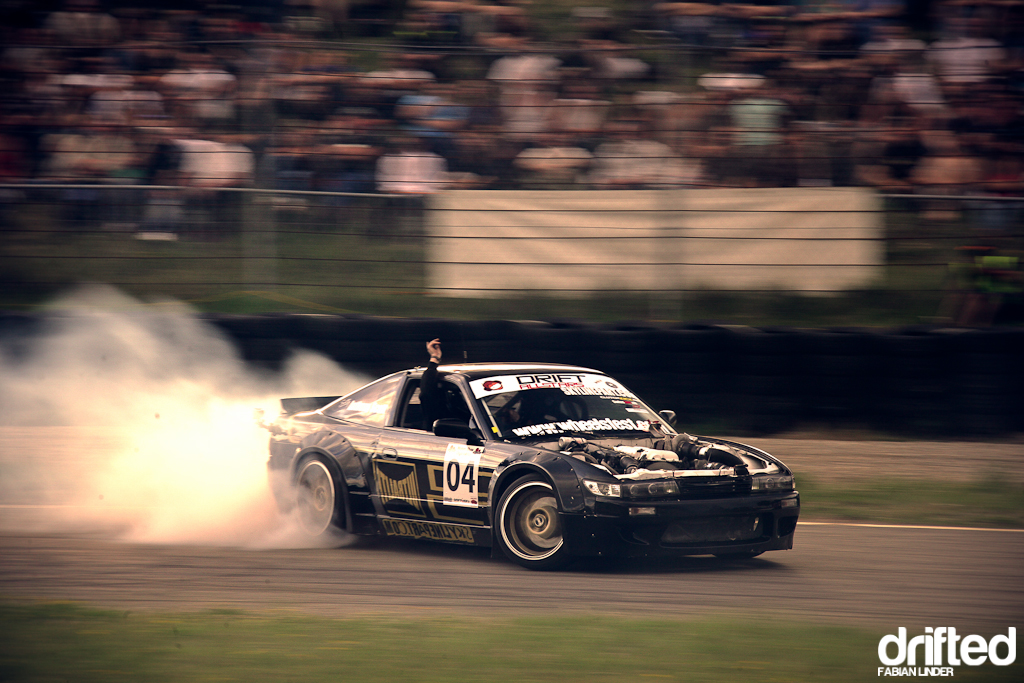 Anthony Scott and his Rocketbunny were crowd pleasers.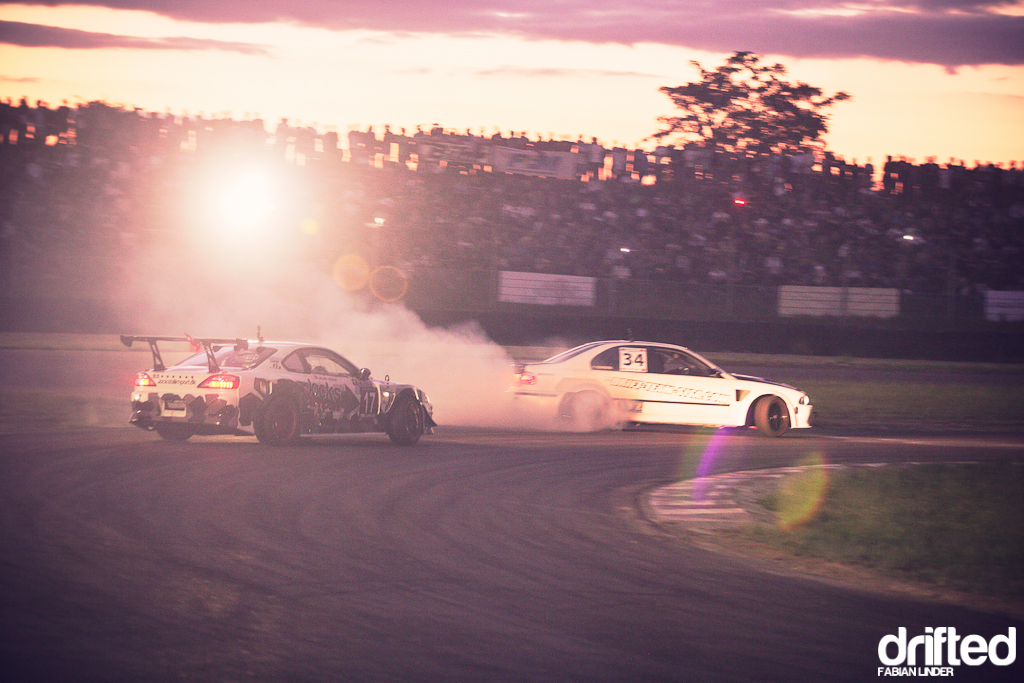 From dusk till dawn: After the sunset the battles heated up – here Team  Jocks Imports S15 from Denmark go up against the 700bhp SSJA Driftteam E39.
Swiss driver Benno Frieden and durch driver Paul Vlasblom had a hard fight, since they were almost equal, but Paul made a small mistake and went airborne.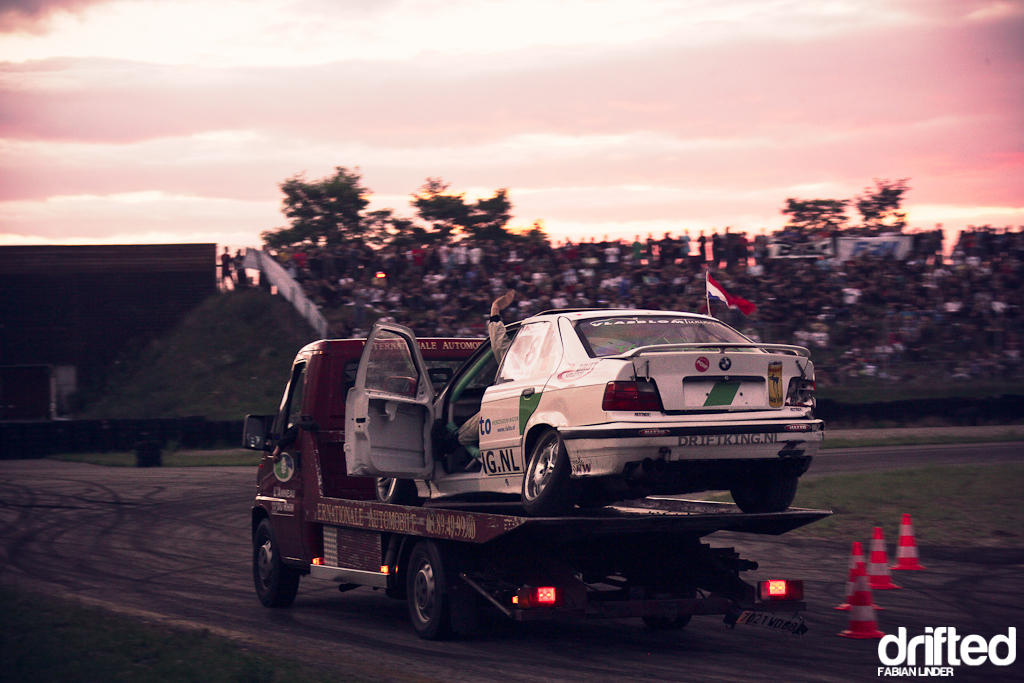 Paul was OK, according to his big grin, he had a lof of fun.
When Im in the infield of a track, Lisa is always around, together with all the other Camera-nerds (Bolo, Martin, Stefan, Alok, Markus … )
It´s great to have such good friends around.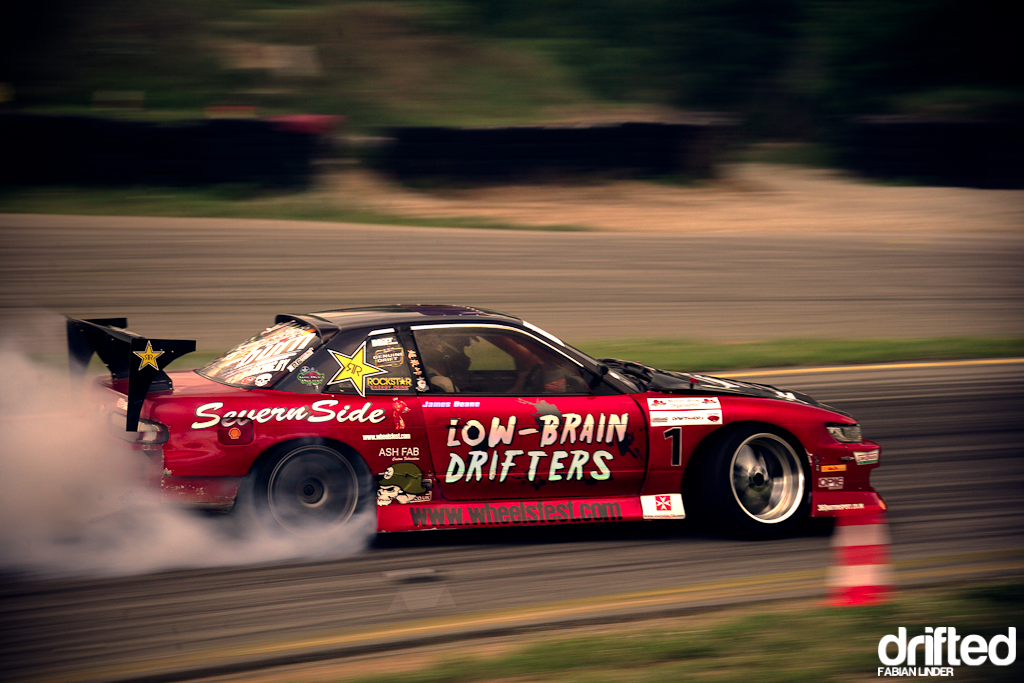 Low Brain Drifter James Deane won the JDM Allstars race in France.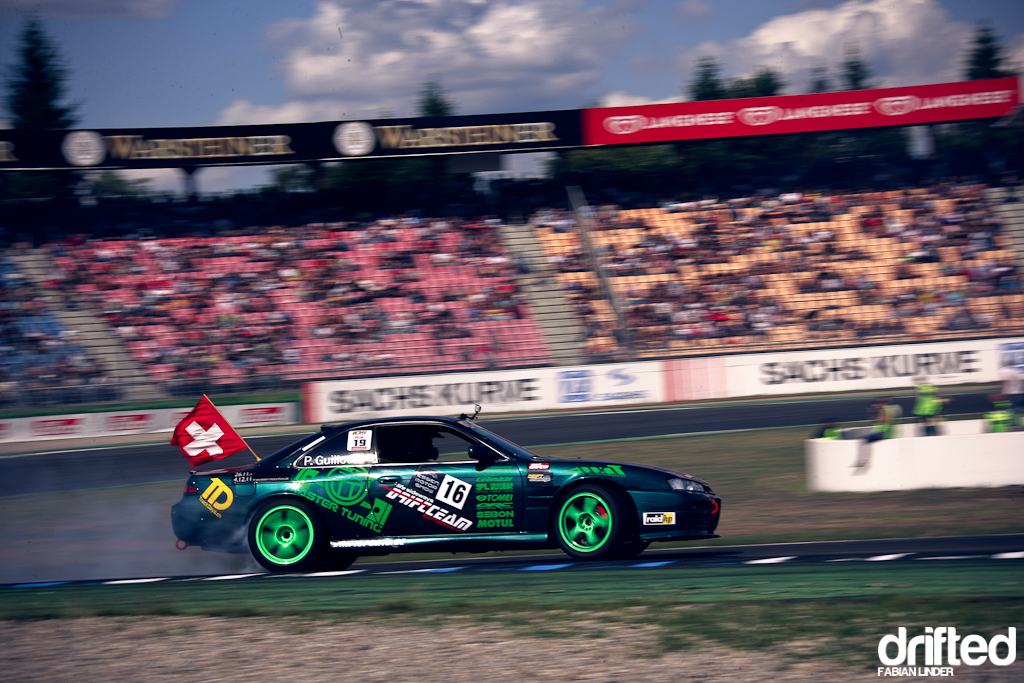 … the biggest surprise: Philippe Guillod, he proved that he has serious skills and took the third place in Anneau, with a car that has half asmuch horsepower than the others.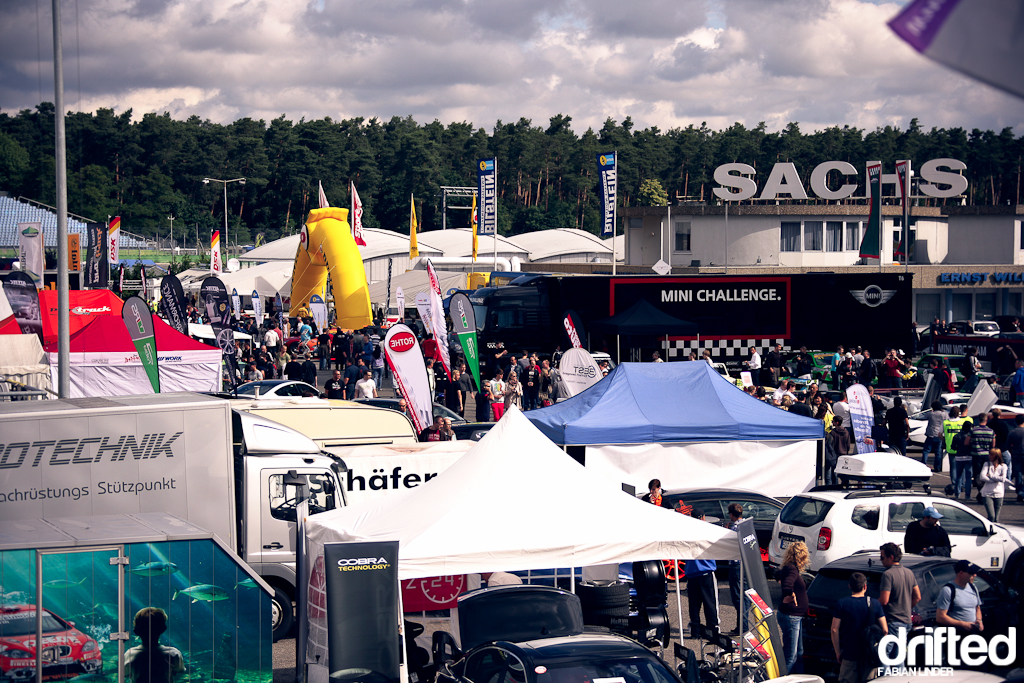 For 19 years the Sport Auto magazine hosts the "Tuner GP & Driftchallenge", it´s the inofficial championship between German tuners.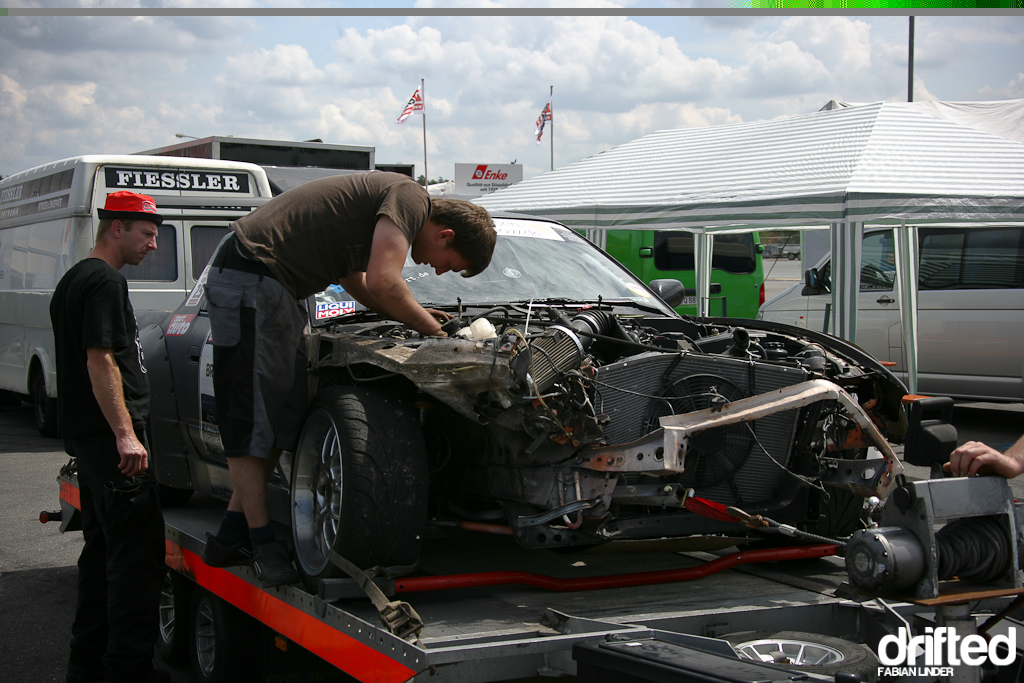 During the practice a French drifter missunderstood the course and hit the S13 pickup build by the driftbrothers (see above). They put all their money in this car, so they were really sad and lost the motivation to restore the car. An insane team work of almost all the german drifters helped them to get their car fixed, this incident showed how great the teamwork between the drift scene can be. Joe and Eli would like to thank all the people who helped them.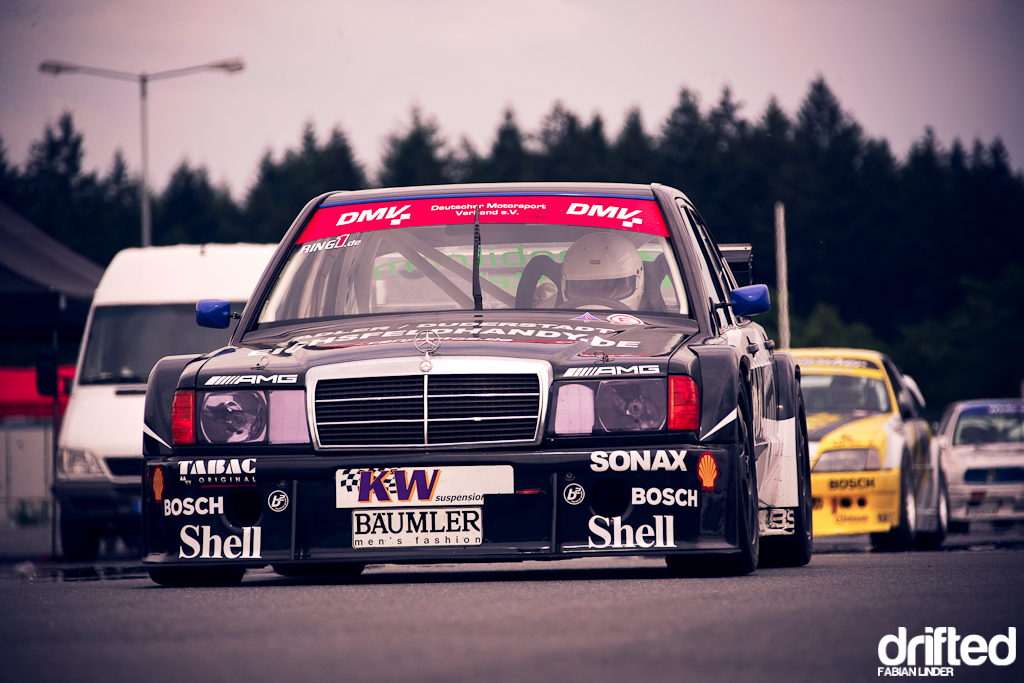 Its not only Tuning and Drifting, also historic racecars are invited to this event, like this 190E EVOII DTM racer from the 80´s.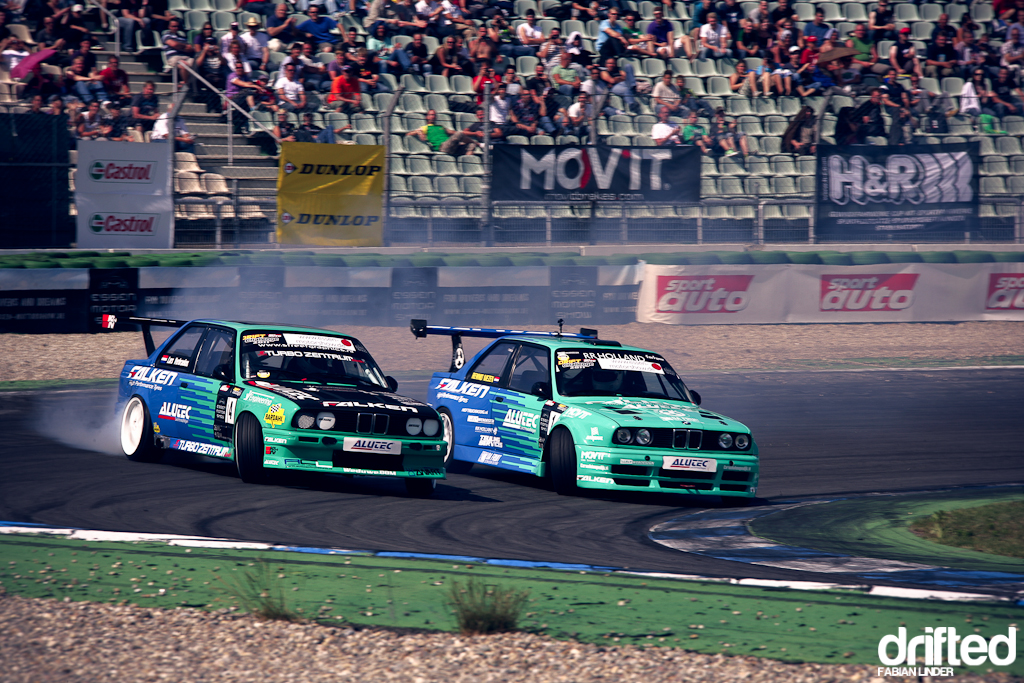 Team Falken where all around with Remmo and Lars.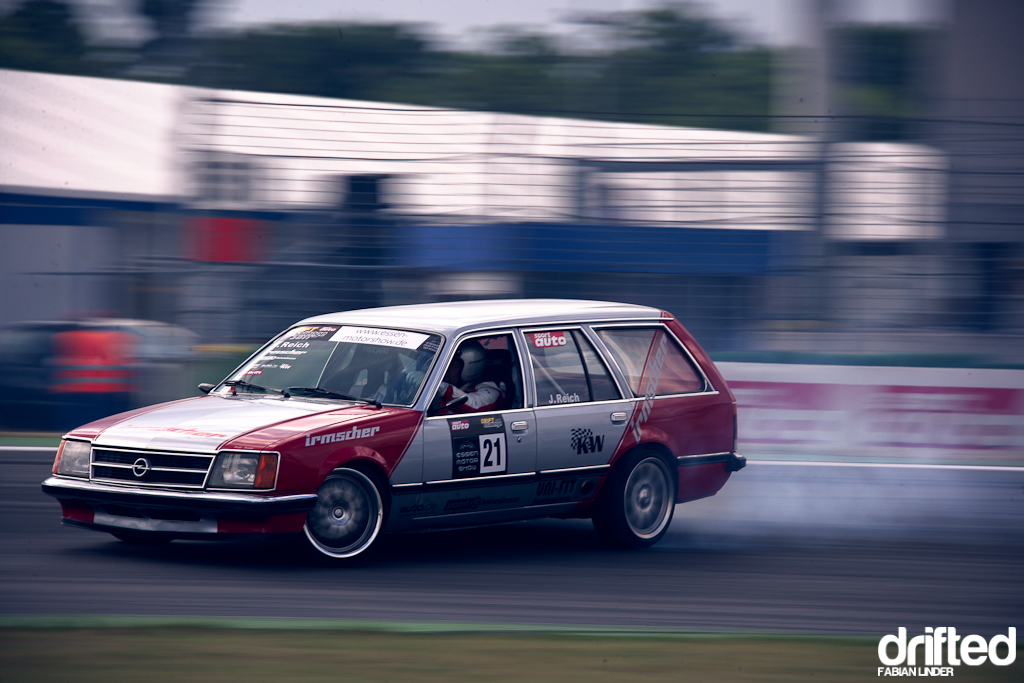 Pretty cool: Jochen Reich and his V8 Opel.
Remmo Niezen won the Driftchallenge.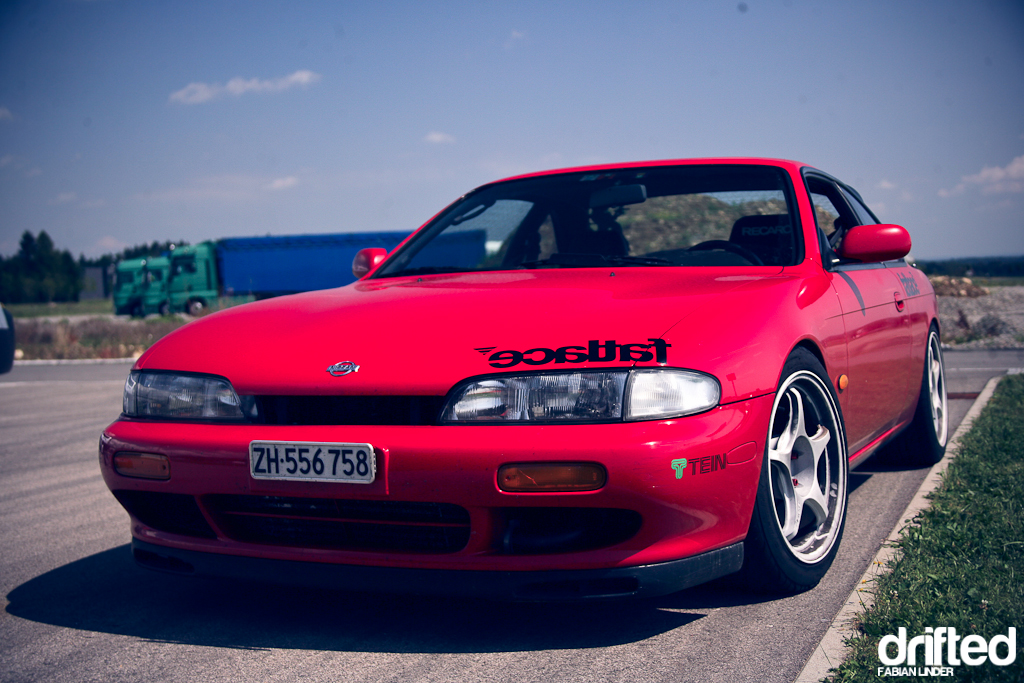 After all those crazy days on racetracks, I needed to calm down at another bunch of Drift-Schule training sessions.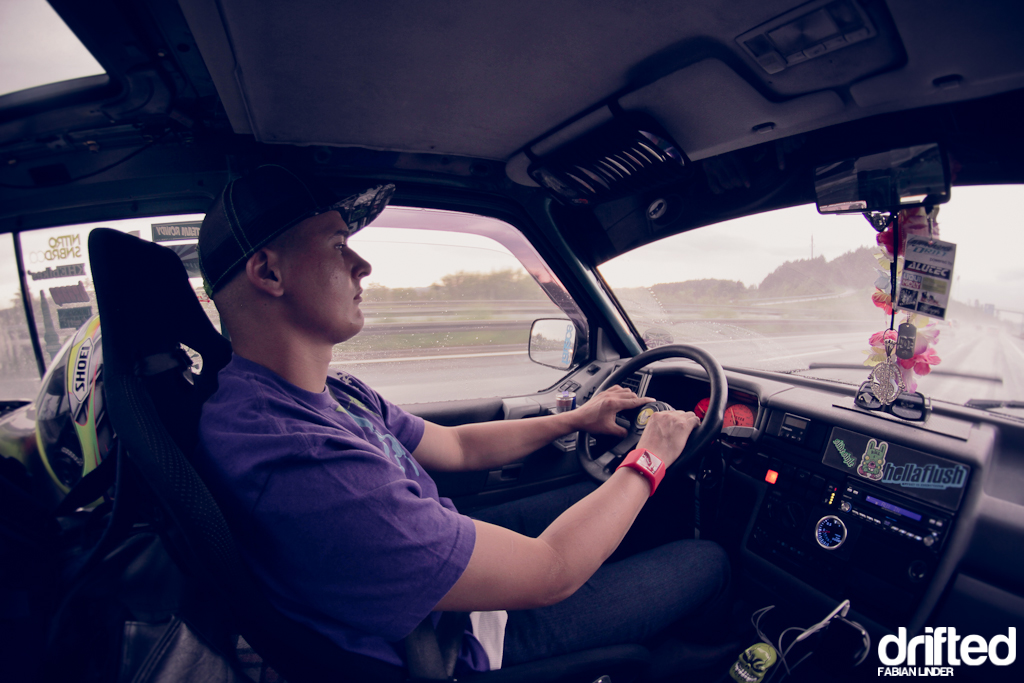 Pierre Tucholka a local drifter was invited to do some drift demo on one of Germanys biggest tuning events in Dresden. I accompanied him to our friends, my first trip to east Germany ever.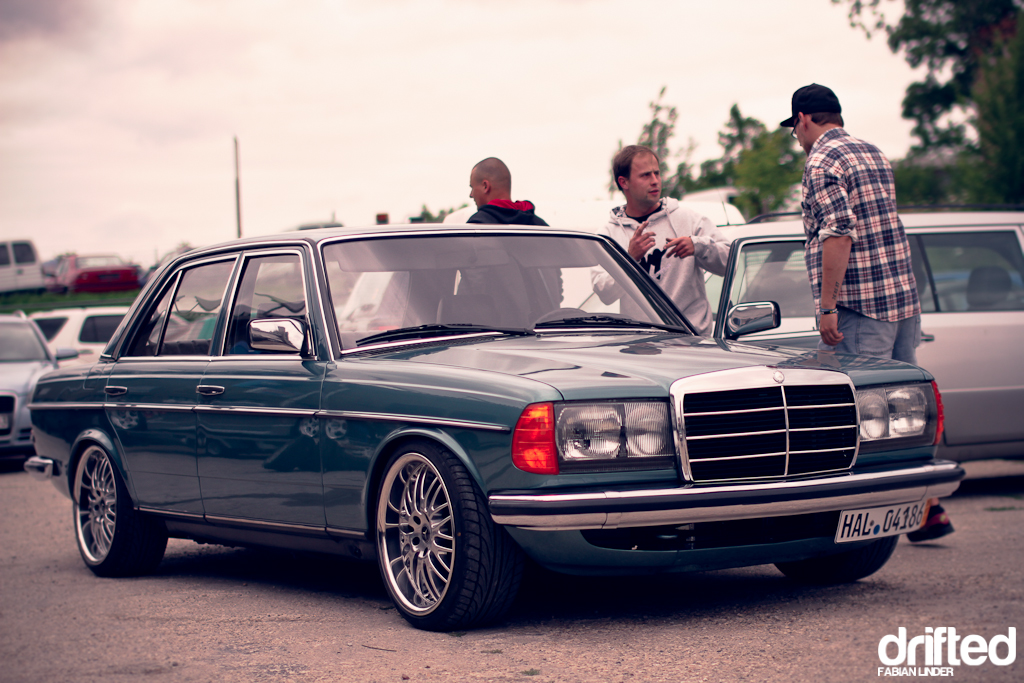 Mark Dittmar and Markus Bruhn, who organised the drift show were cruisin in this freakin´ cool W123.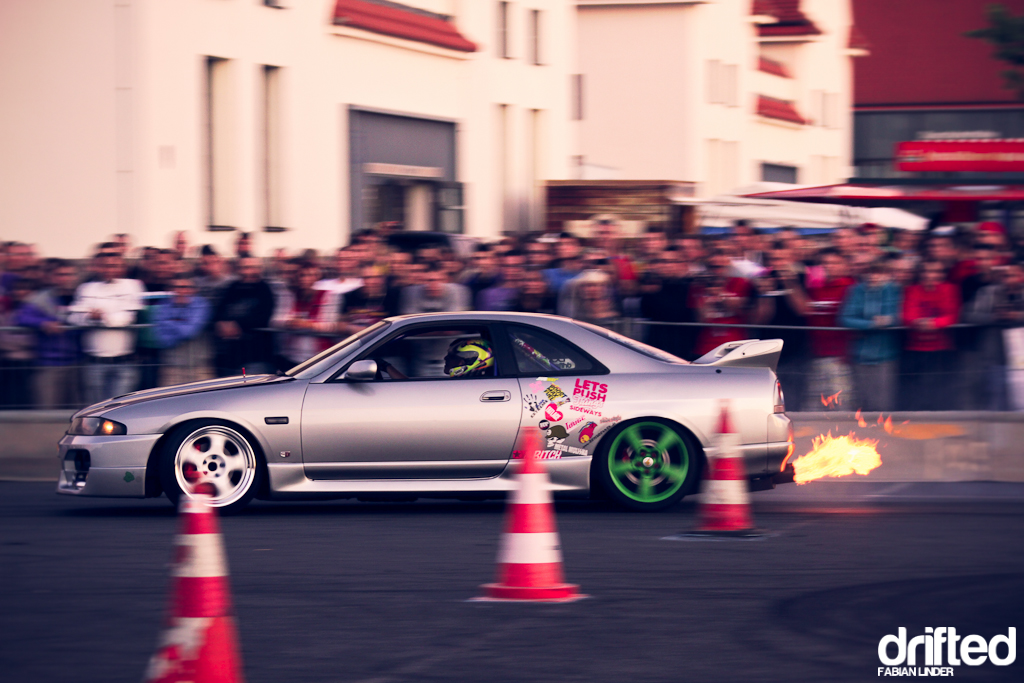 His flame spittin R33 caught a lot of attention.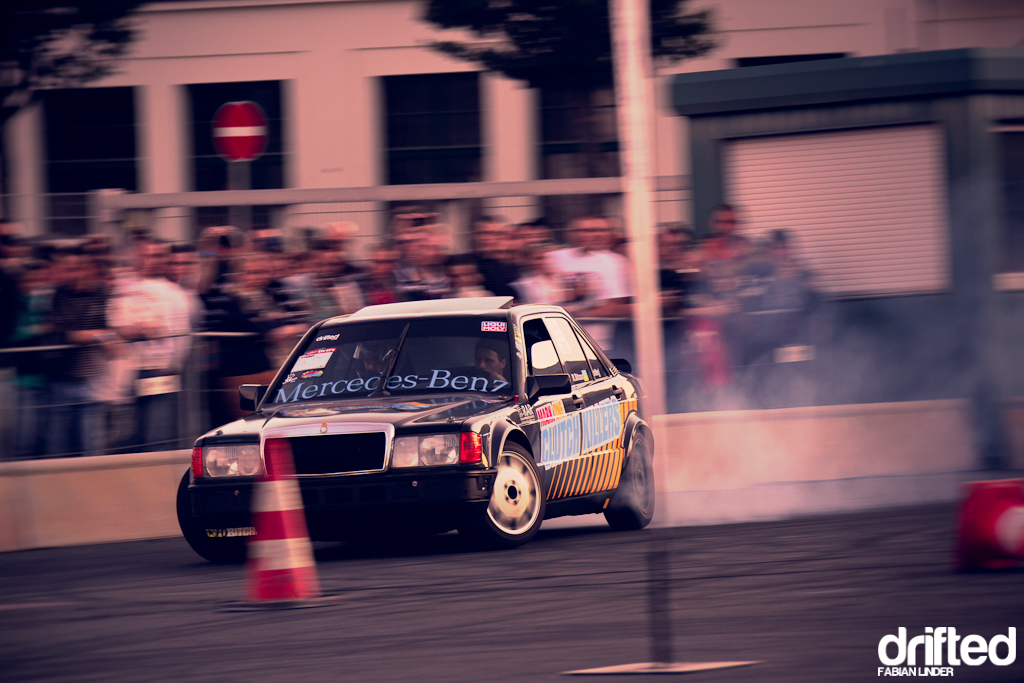 Mark and his 190E with 2.3l swap were also part of the show in Dresden, I like the Clutch Killers livery.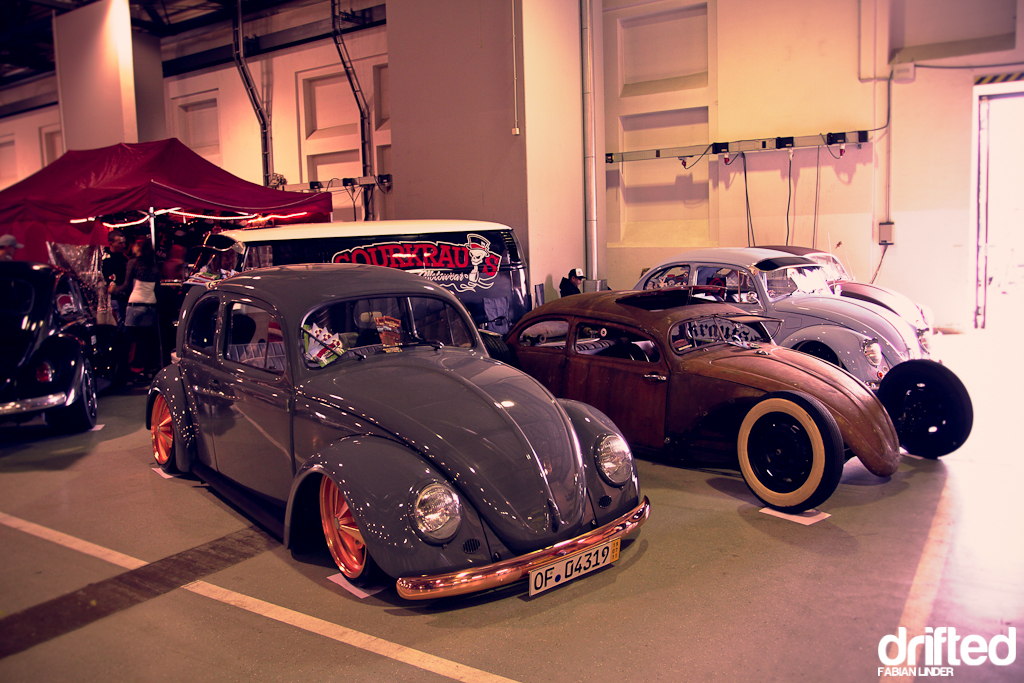 Inside the expo, some very cool Bugs gathered – our friend from Sourkrauts Clothing and their showcars.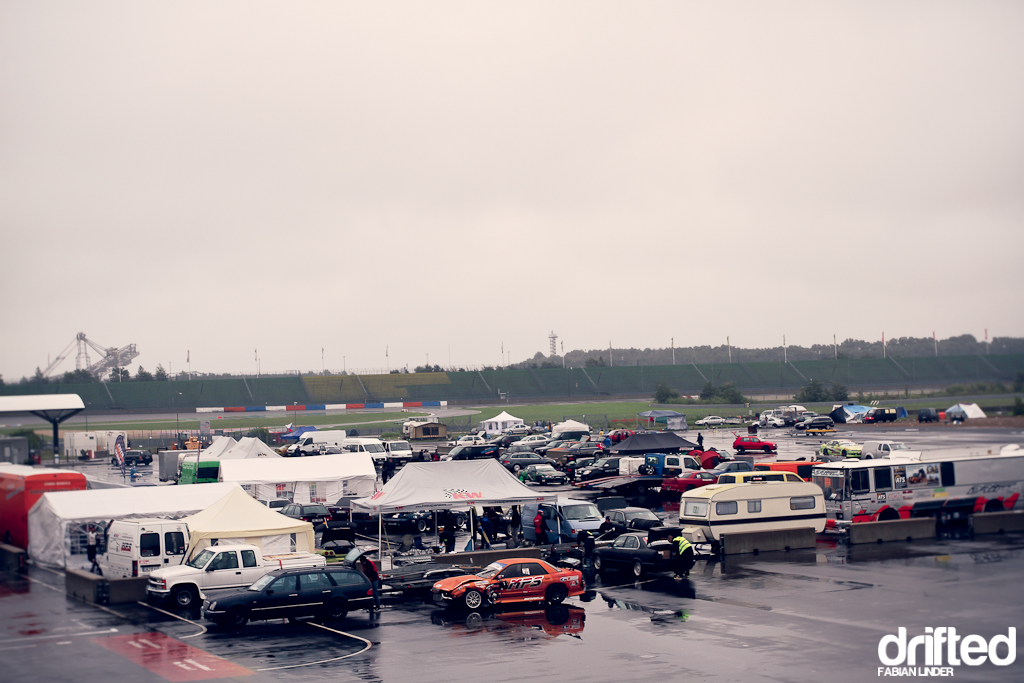 Just one week after beeing in Dresden, I found myself heading back to east Germany for the IDS Round 5 at the Eurospeedway Lausitz. It is Germanys biggest VW meeting, but after storm and rain for over three days, most of the 30.000 spectators left the site already on saturday. For me, this event was the rainiest ever – we came and we left in rain.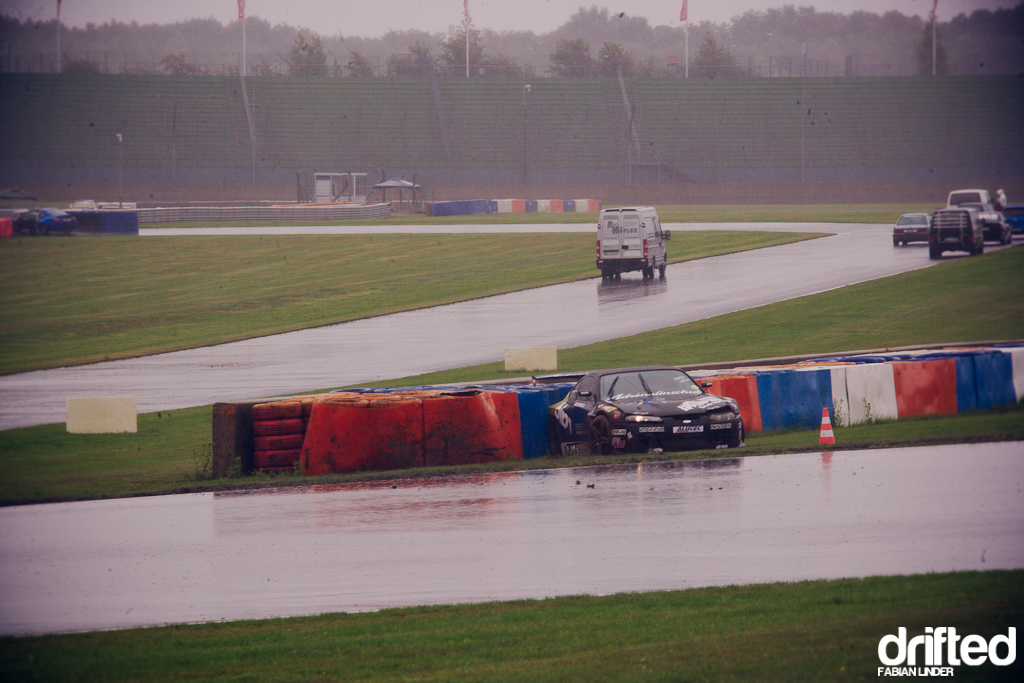 The drivers had their problems with the water on the track, Harald Müller from the Nissan driftteam lost control over his S15, like many others did.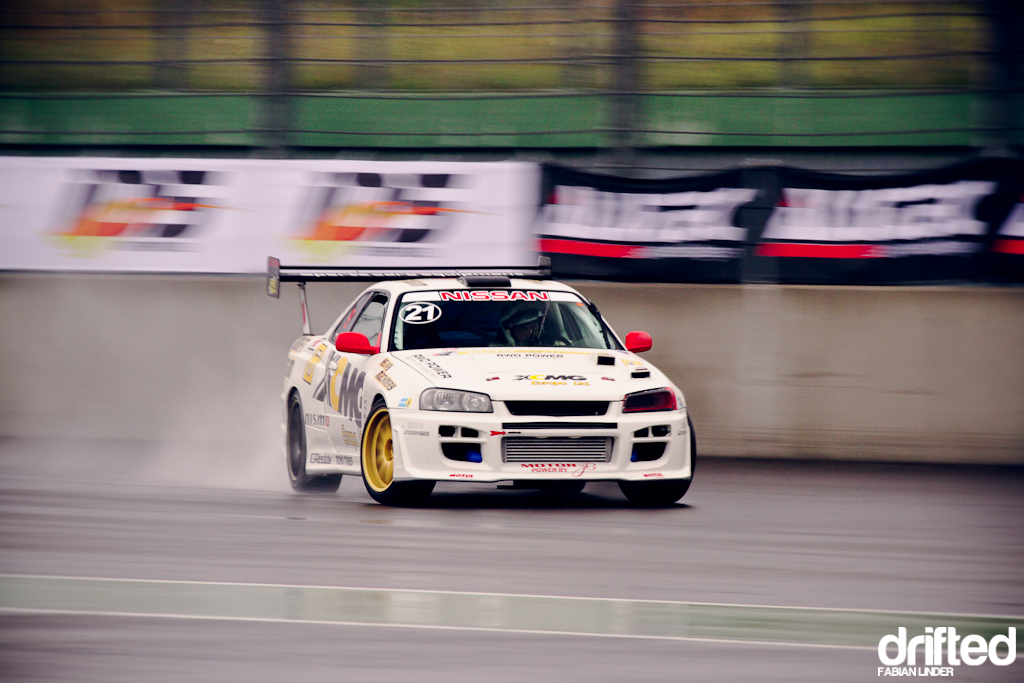 I was a bit sorry for the Czech drivers who visited our event, because they brought cool machines like this R34 with big wing.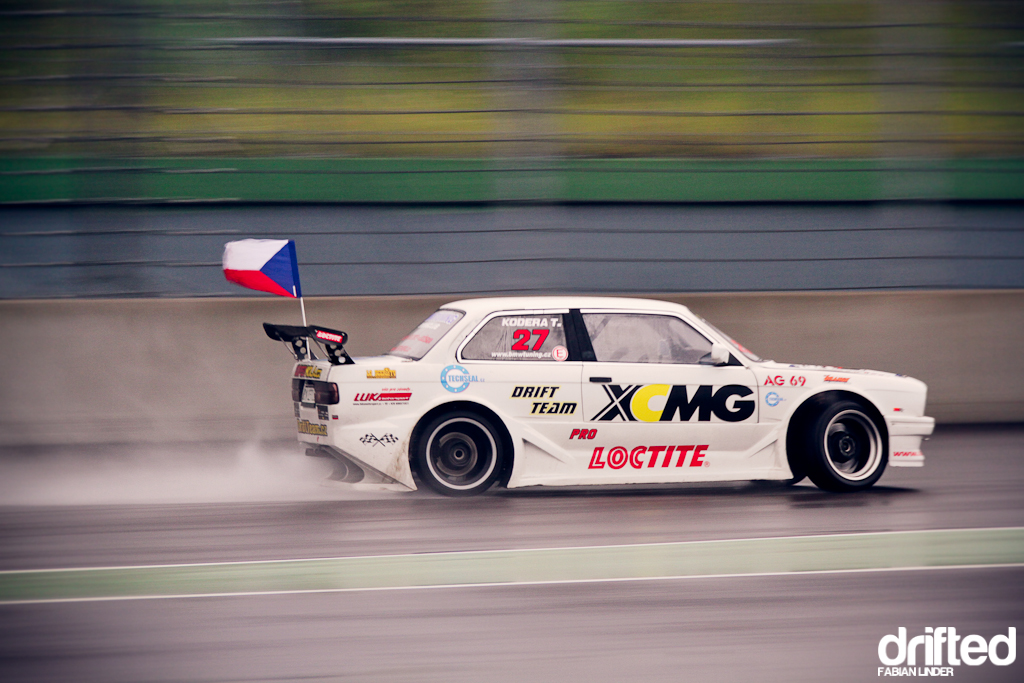 And this top chopped E30.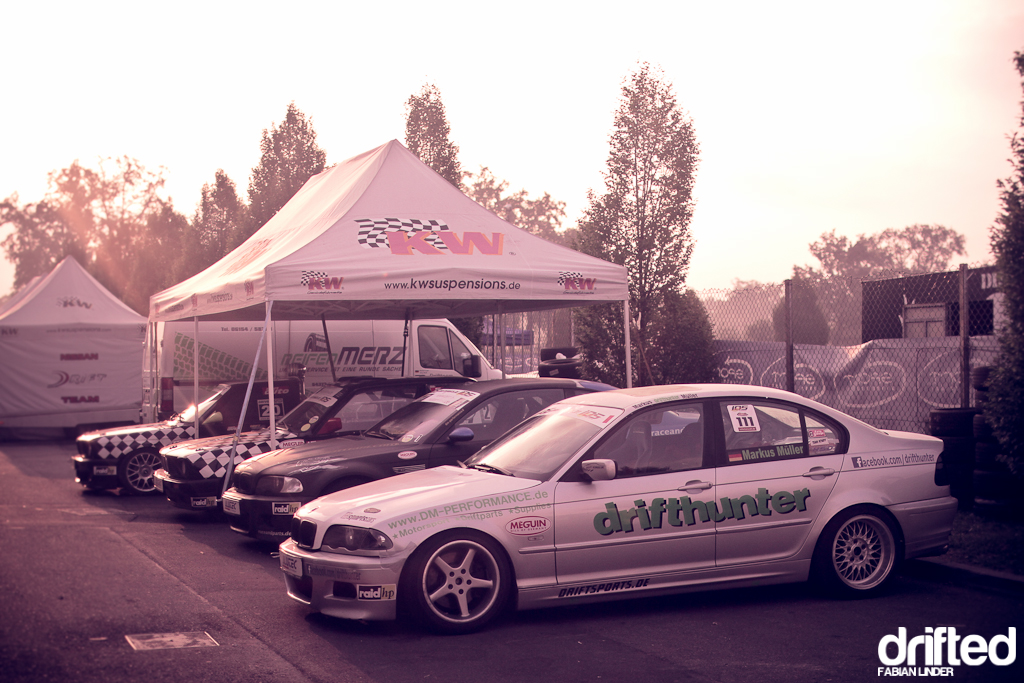 After the rain disaster at the Lausitz Eurospeedway, Round 6 was held in Monza Italy, the welcoming was already great!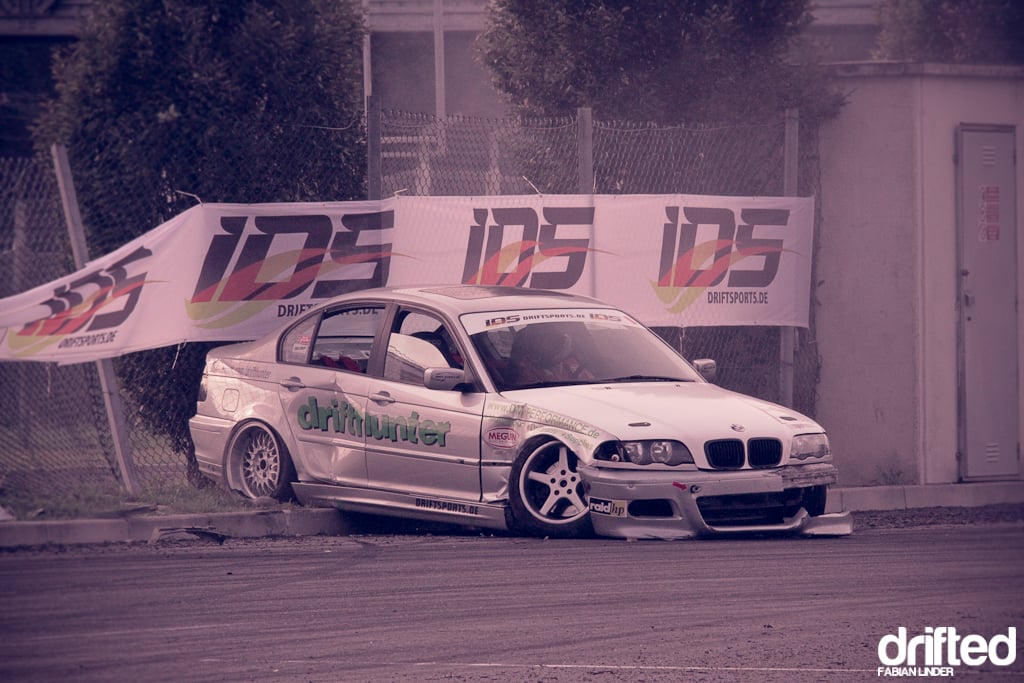 During the first 30 minutes of training Markus Müller, IDS Rookie and 2011 street class champion, was a bit to optimistic and slammed his E46 into the fence.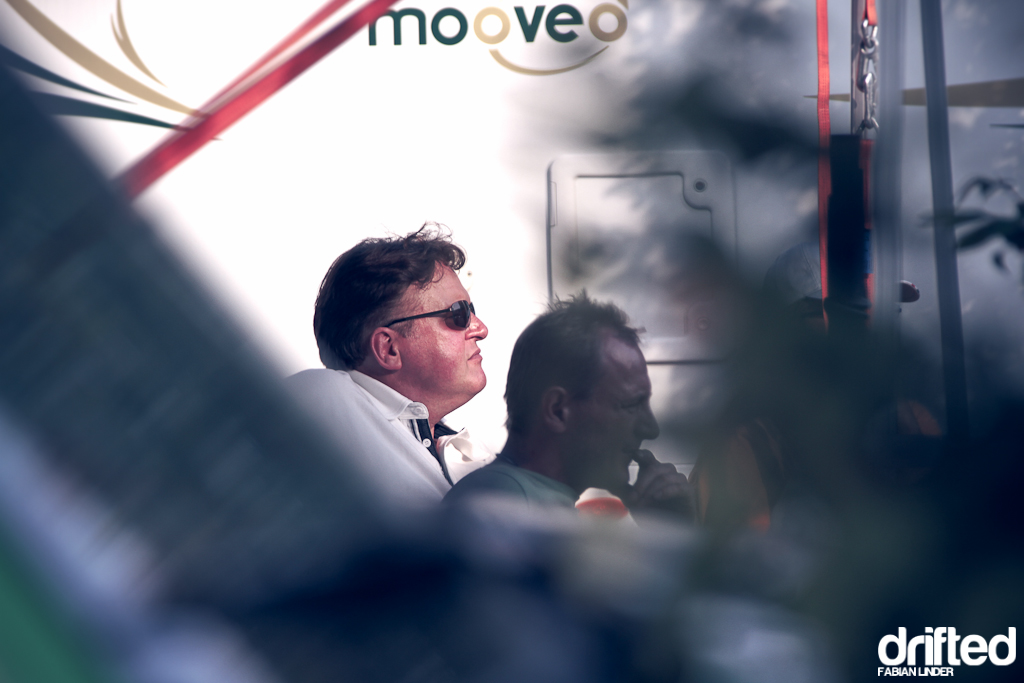 The Saturday in Monza was very warm and sunny, many spectators came, including this famous guy: Remmo Niezen – he passed his holidays in the region and couldn´t resist smelling some tire smoke!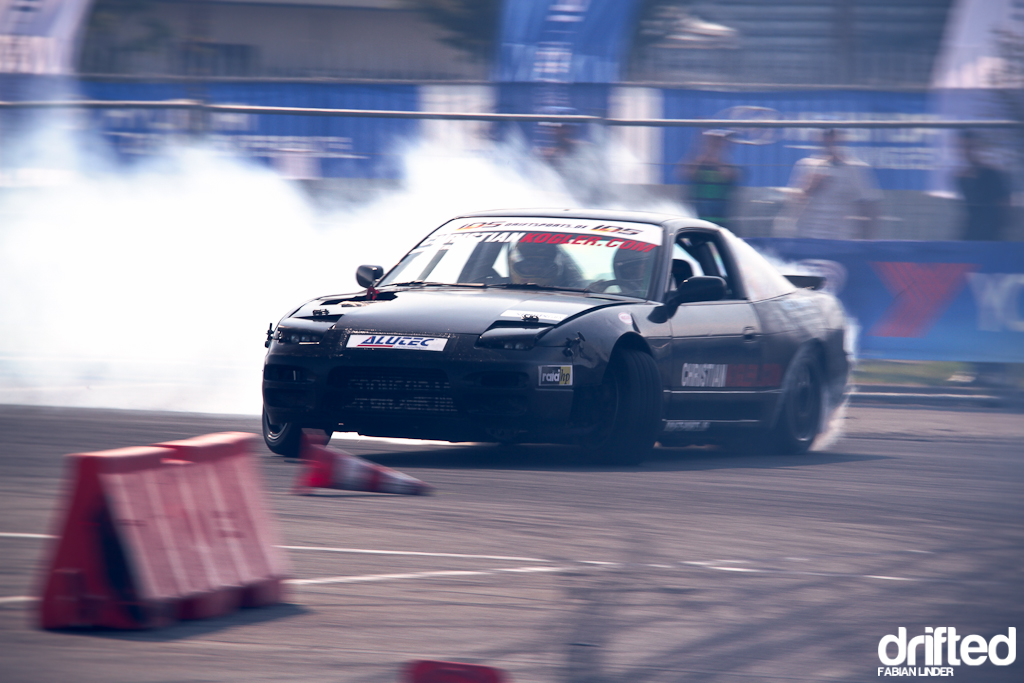 Chris Kögler is one of the hardest contestants in the IDS, his S13 with BMW V6 and turbocharger is capable of insane angles and for 2012 he modifies his Silvia to do even more.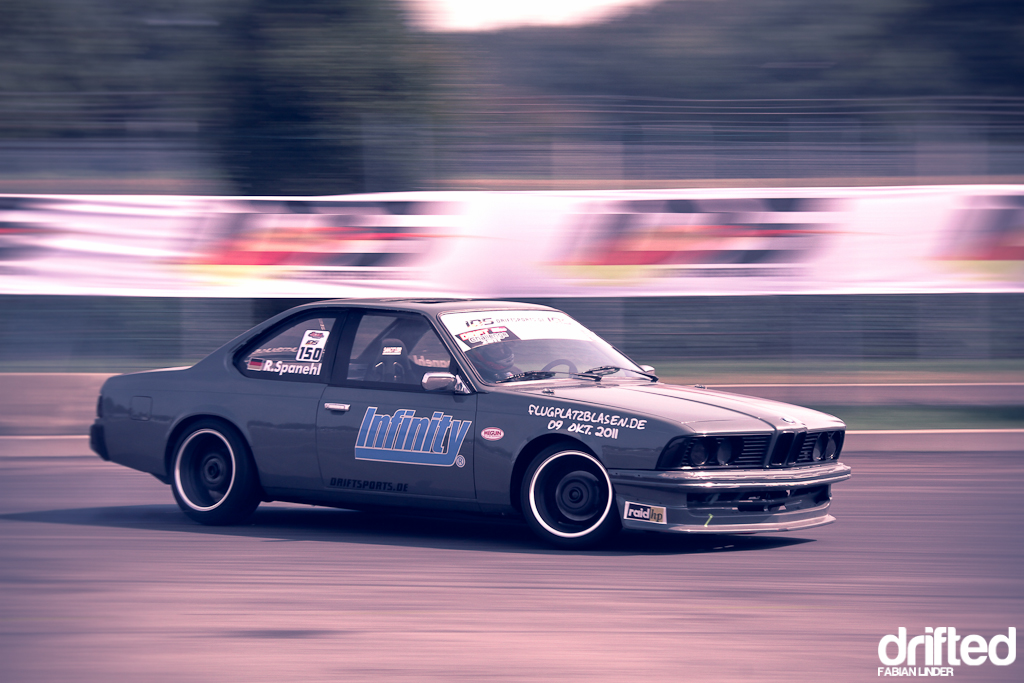 Evil looking and sounding: V8 powered 6 series competing in the street class.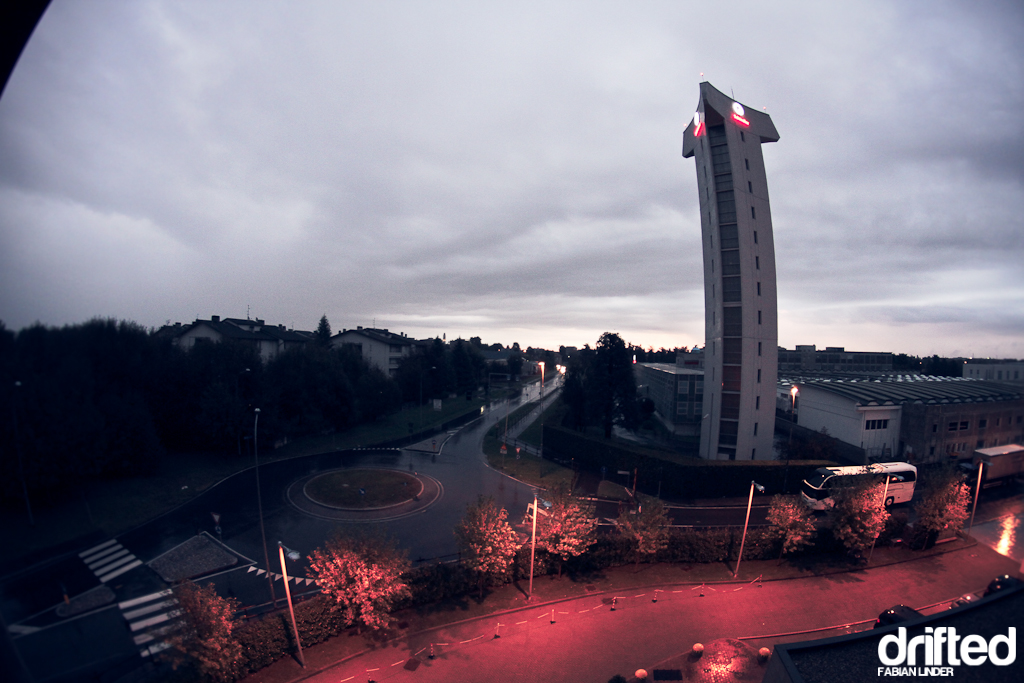 Sunday – 6:00AM – Monza – Hotelroom 402: I had a serious shock by looking out of the window: Rain in Italy!
Over night, an Italian monsoon hit the Monza region and flooded everything, including the track.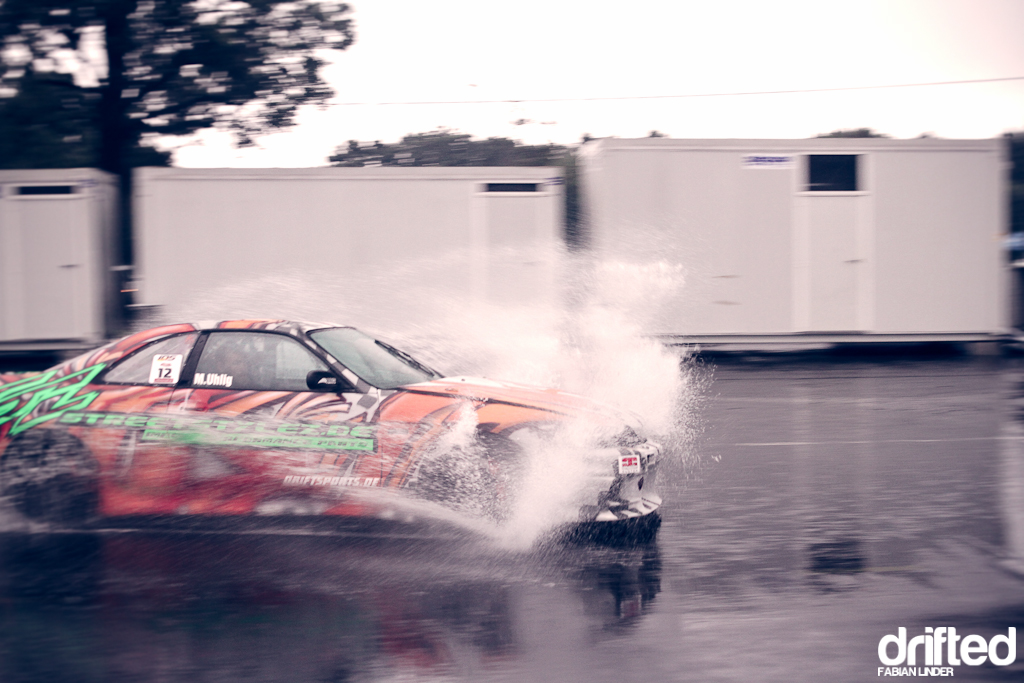 Some drivers enjoyed the rain – like Marcel Uhlig in his R33.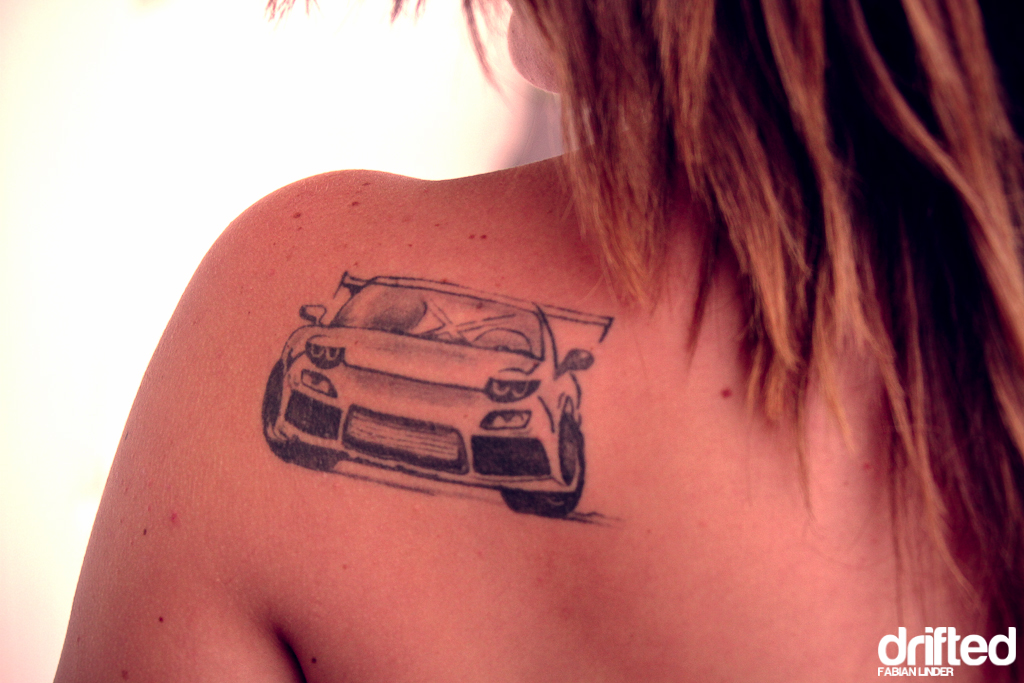 Stefania, part of the organisation D1 Stella showed me her tattoo – I bet a lot of you guys would love a FD3S tattoo on the shoulder of your girlfriend!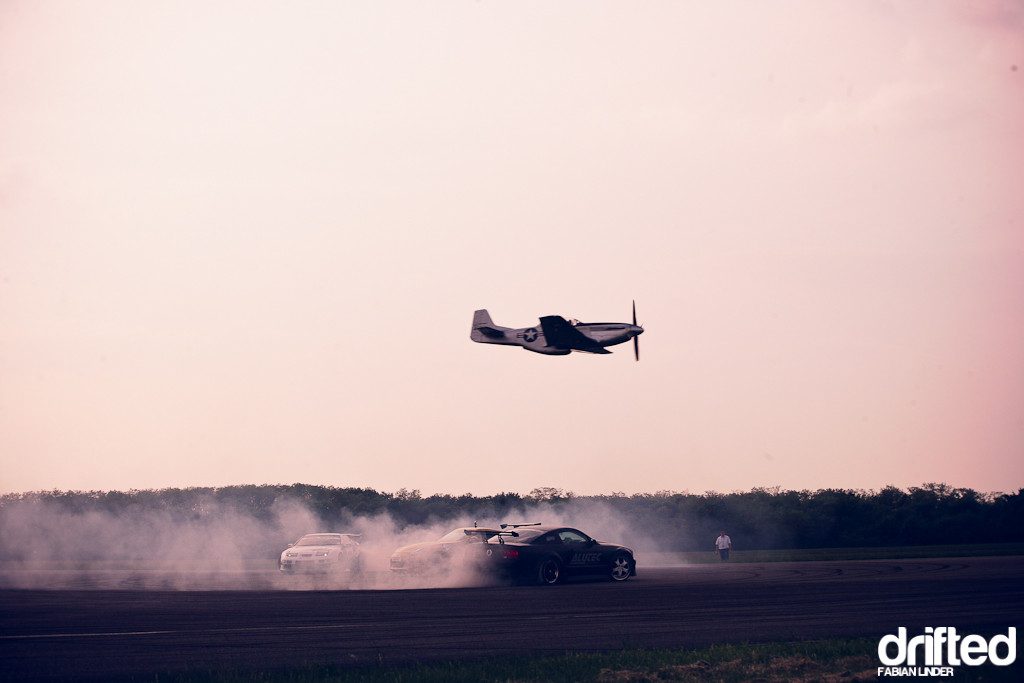 During my daily work in the media agency, drifitng didn´t let me go: We shot a commercial for a german wheel producer with two of our drifters and some warbirds!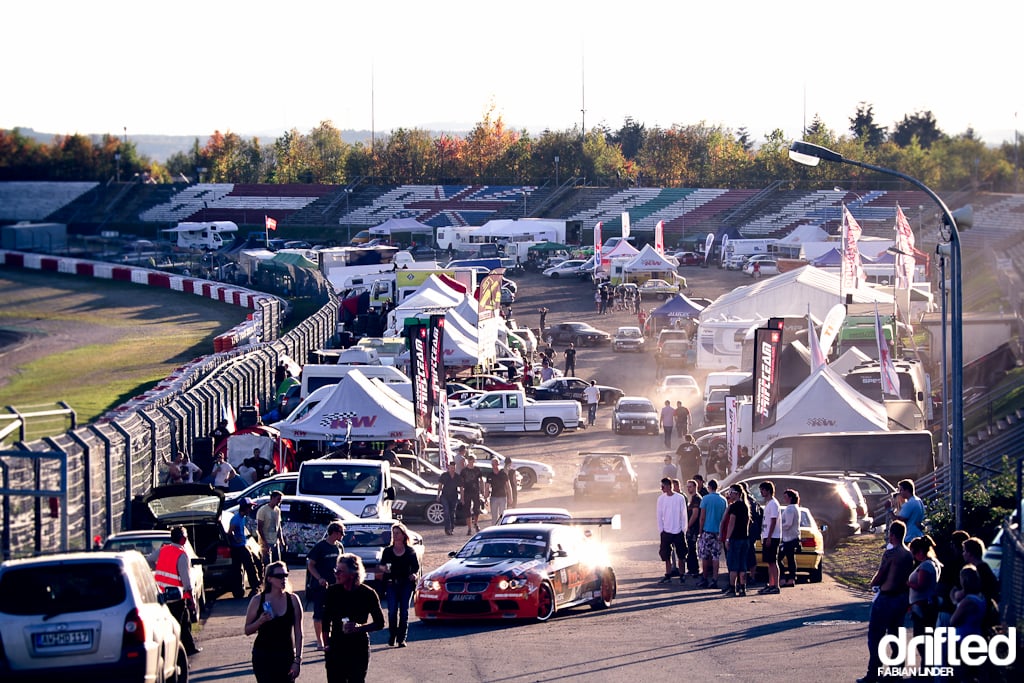 The big final 2011: The IDS European Drift Championship at the Nürburgring.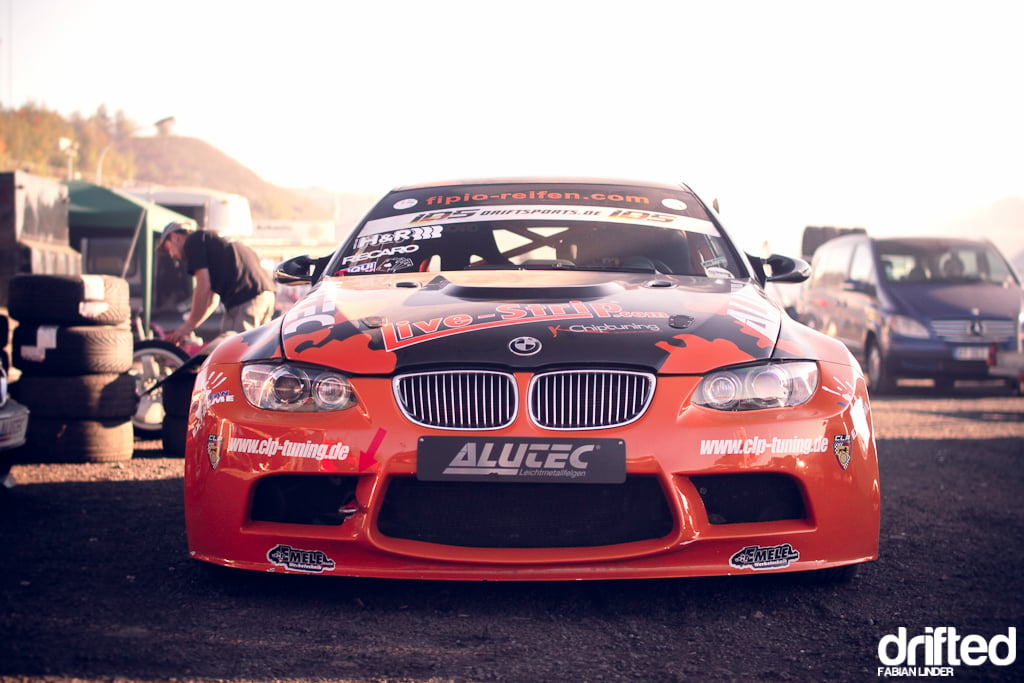 Many cool cars from all over Europe participated, like Alex Gräff with his E92 beast.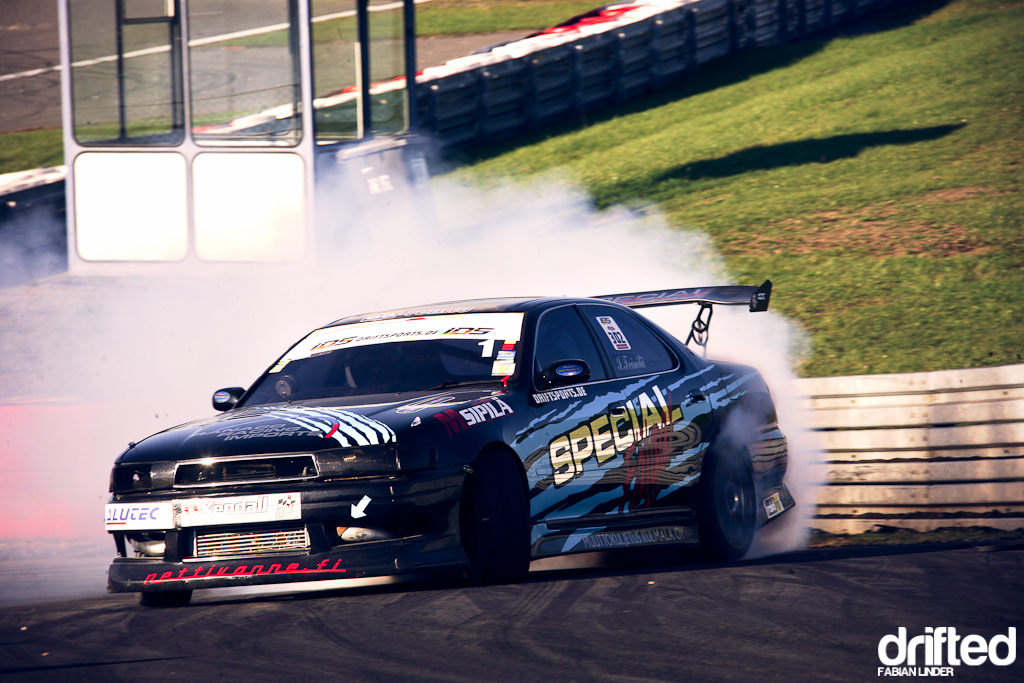 Insane Ismo from Finland in his Toyota Cresta.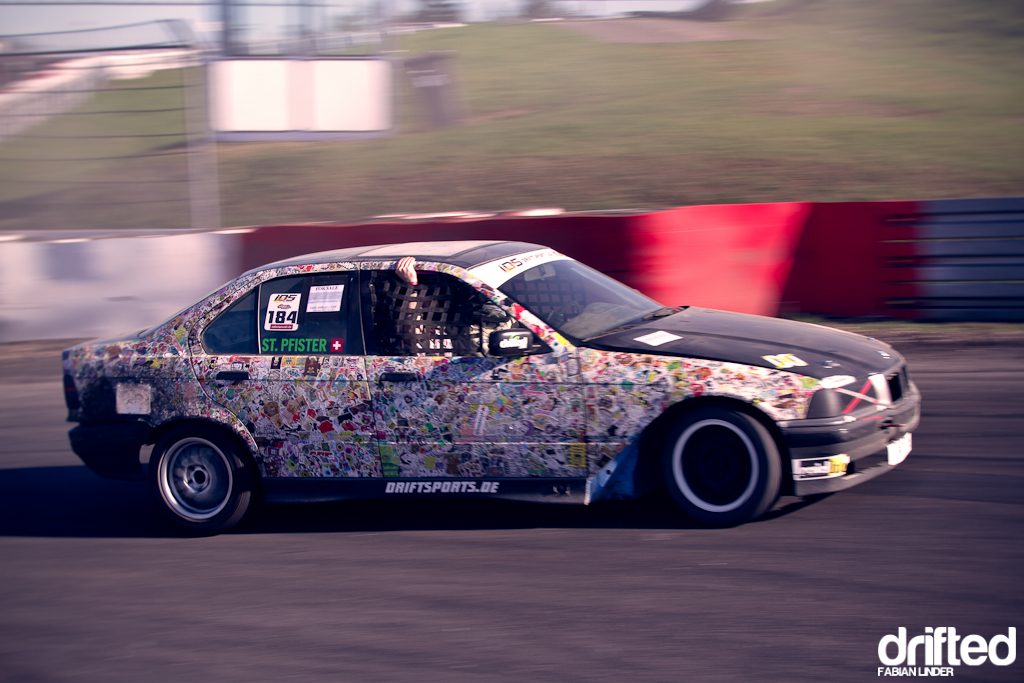 or this swiss E34 with discreet stickerbombing(!)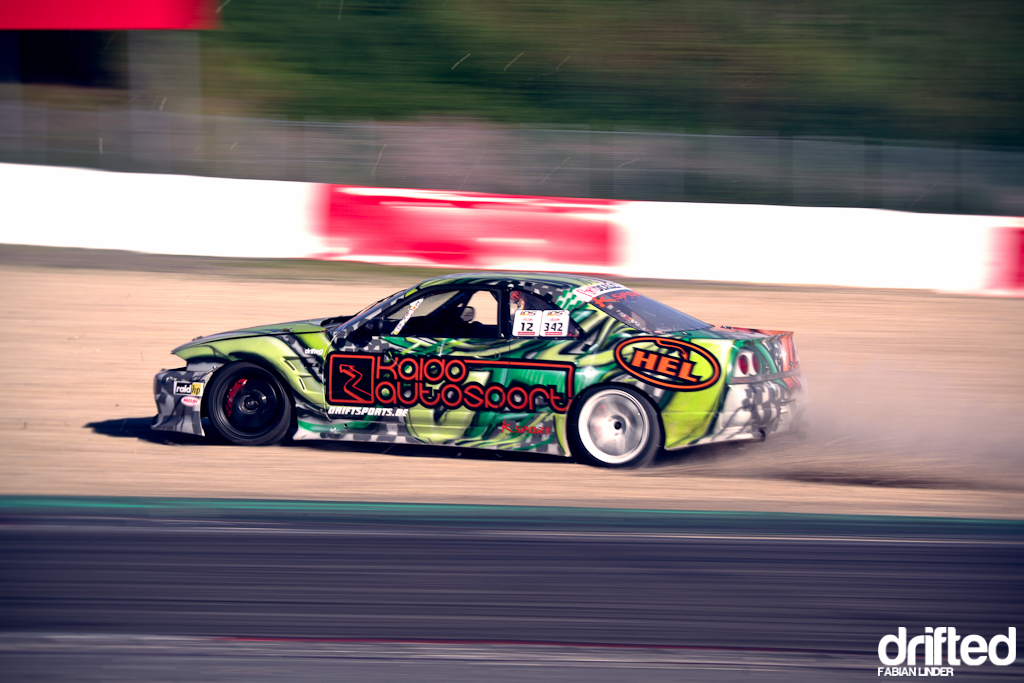 Marcel in his R33 had serious luck while entering the gravel with high speed.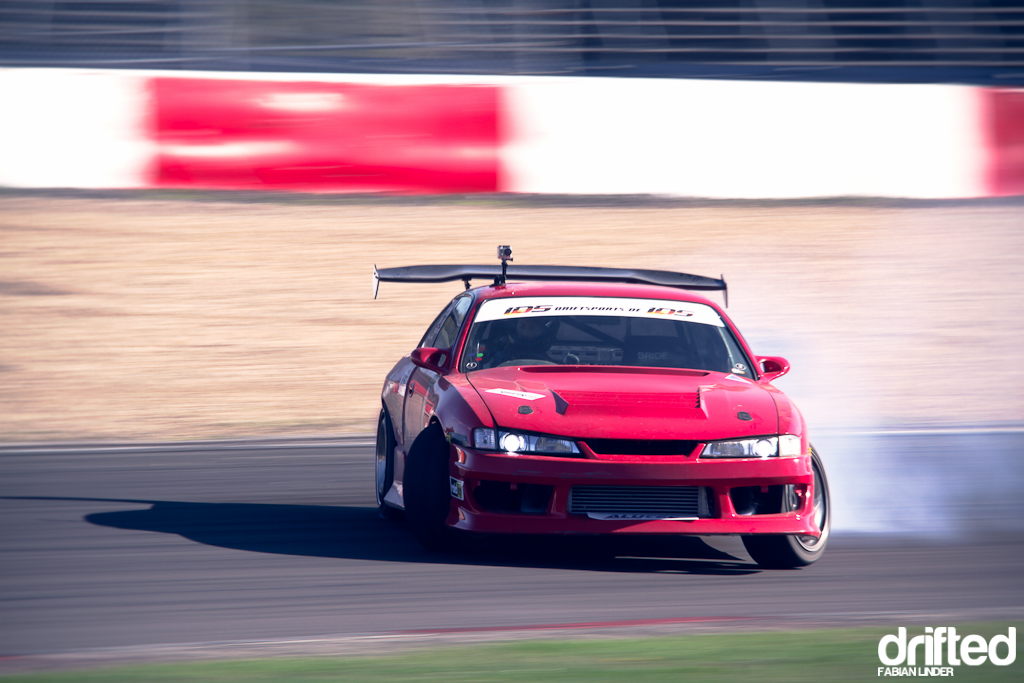 Nice S14A from Denmark competing in the street class.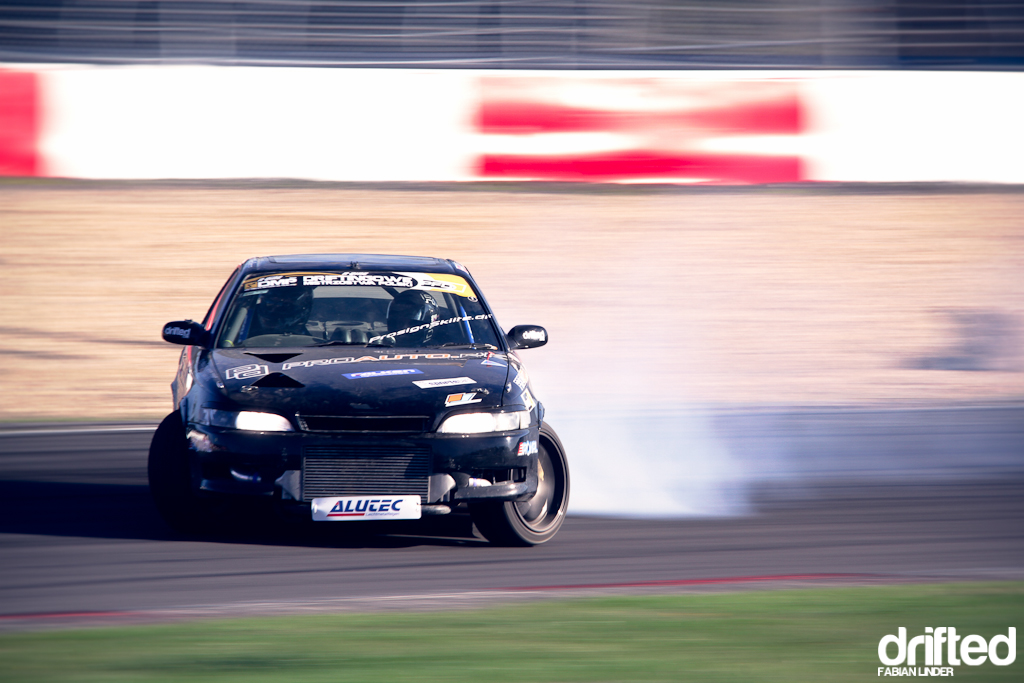 This guy is at least 3m tall and one of the bravest drifters around: Niels Becker from the Falken / Proauto Driftteam Denmark.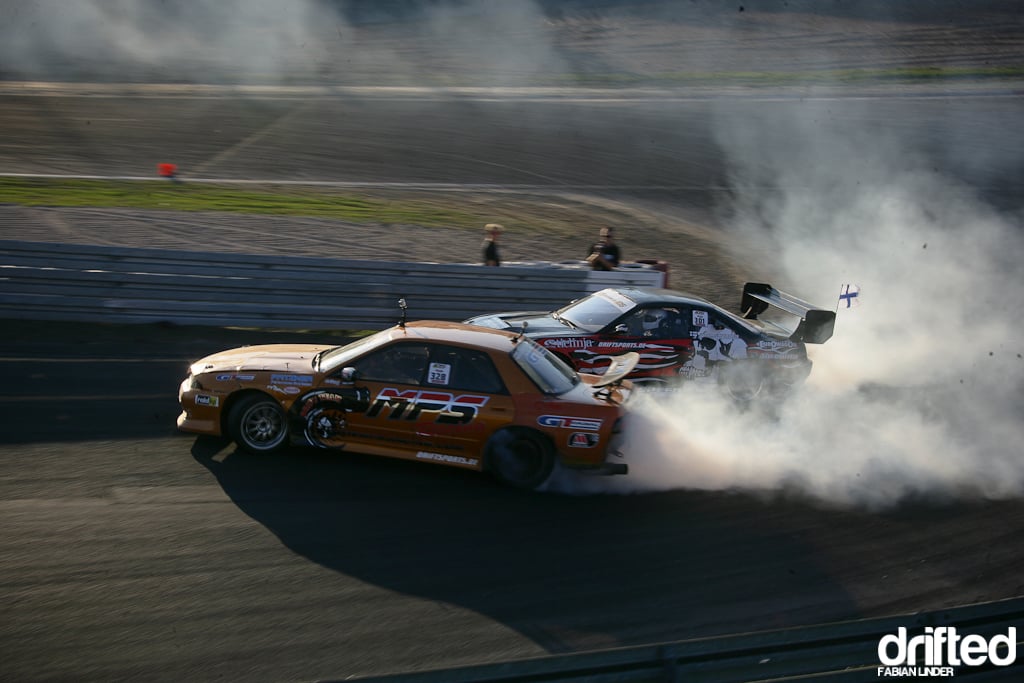 The breathtaking final: Philipp Stegeman versus Juha Rintanen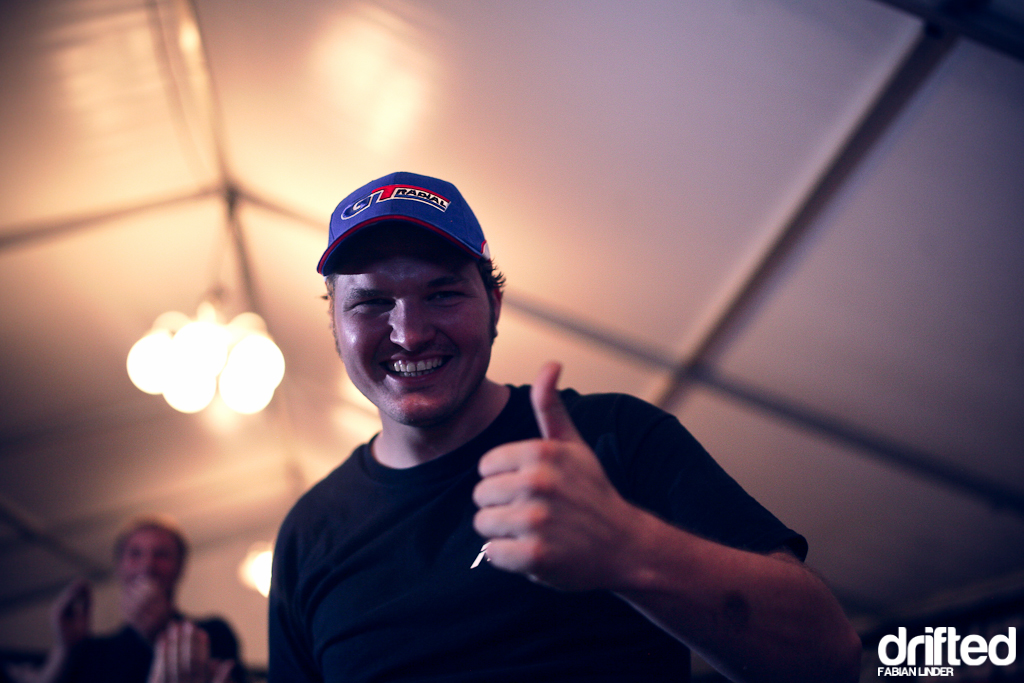 Philipp was speechless, since he didn´t expect to win.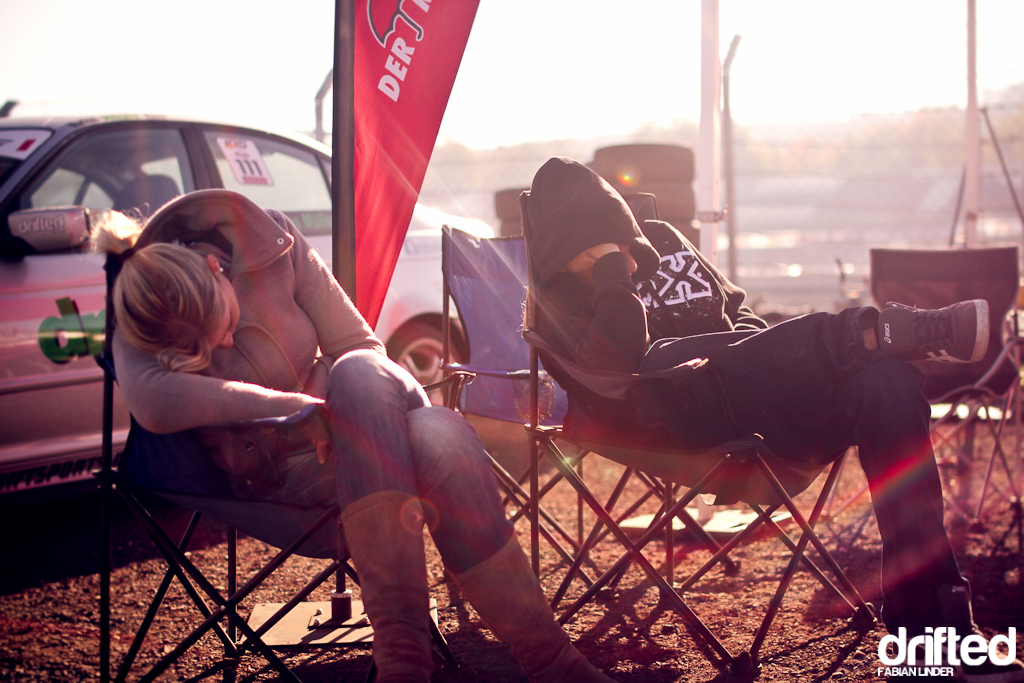 Most of the people were tired after the European Championship and went into their off-season, but not me: The final Drift-Schule practice was held in November.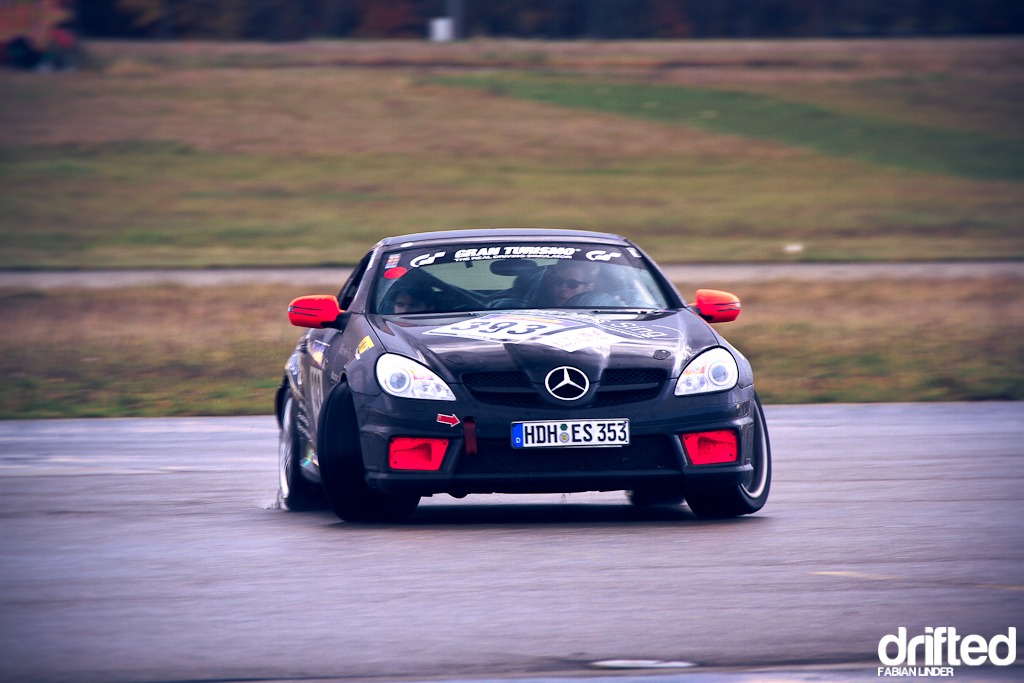 There I met Bertin Sing, another professional racedriver, the home of his SLK racecar is normally the Nordschleife, but it is capable of some sideways action. Hes also member of the infamous Team Rowdy…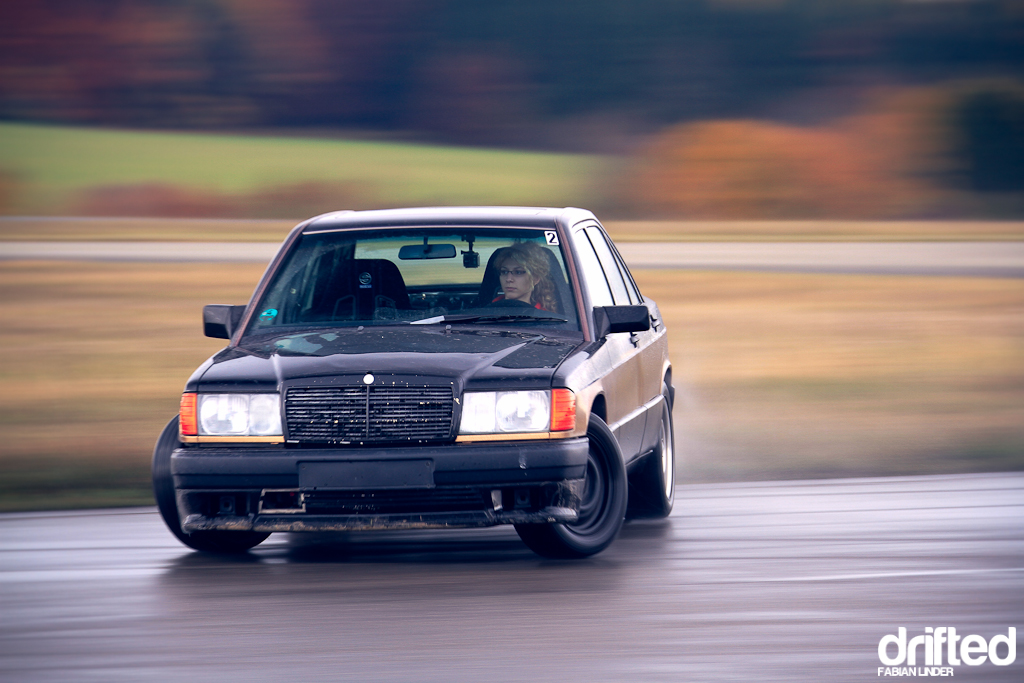 …even his girlfriend is drifting. For 2012 they are building a nice Mercedes-based driftmachine.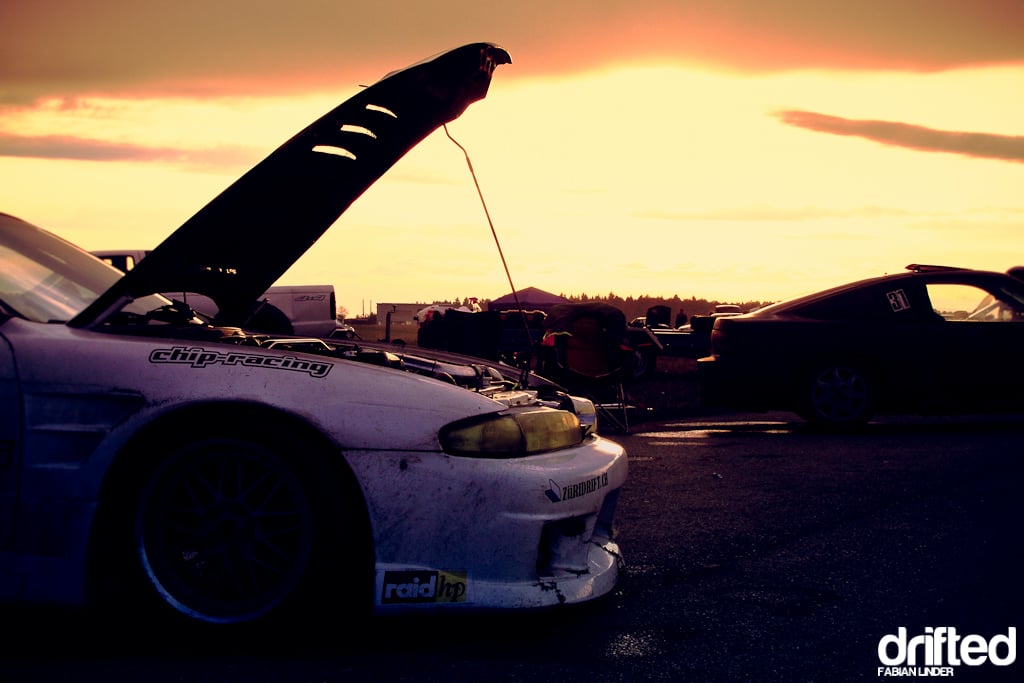 This was my year 2011, we´ll see what 2012 will bring…