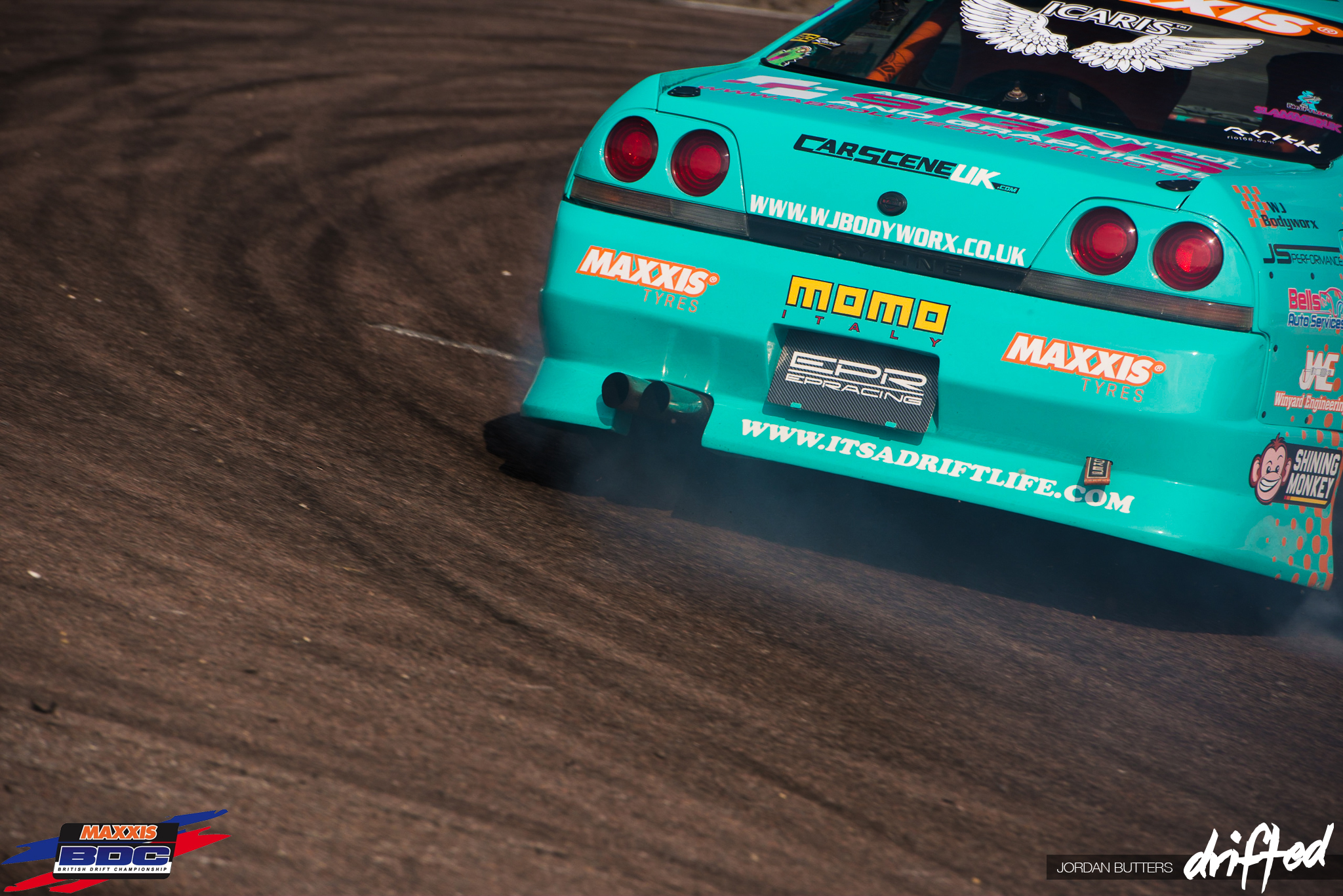 Stepping up your game. It's a common expression. In the world of competitive drifting, it not only refers to a marked improvement in driving skill, but also an increased effort in presentation. "Everyone has stepped their game up this year," is the exact phrase that I'd heard mumbled several times over by drivers in the build up to the 2014 season. The thing is, I've heard this same pre season chat for the past few years in succession, only to be met with disappointment upon seeing the grid on day one. Where I'd hoped to see an impressive array of highly-tuned, pristinely-presented metal, all I was greeted by was the same old shonky, matt-black BMWs and badly screwed-together Nissans. I am disappoint.
With this in mind I decided to pay a visit to a local squad who had impressed me with their appearance at the 2014 Autosport International show. In January, the It's a DRIFTlife team proudly displayed an immaculate R33 Skyline in an all-new livery (excuse the horrible lighting above!) that highlighted their new sponsor, Maxxis Tyres UK. After a quick chat they revealed that the plan was not one, but three R33s, all in a matching colourway with an LS-powered S14 to follow. Their schedule looks like this - conquer the Maxxis British Drift Championship, the huge King of Europe series, and then achieve world domination. In that order.
Strong promises, but as you can probably tell from the image above, they look to be delivering on them so far. Although very different in specification levels, the three matching cars present a professional image which has seen them net some top sponsors for the coming season.
Sadly the LS-powered S14 wasn't in a complete state during my visit, as you'll probably note from its absence. However, after spending some time with the team and seeing the S14 in part build - complete with the Holden LS block sitting patiently alongside it - it's clear that they very much mean business in this game.
The holy grail of sponsorship is somewhat of a viscous circle; sometimes you just have to take the leap and jump in to it. Companies don't want to be associated with a shonky Nissan that has bad paint and panels hanging off. You have to spend time, money, and effort to catch their eye. On the flip side that involves investment, which is tricky to manage without sponsorship in the first place, hence the difficult loop.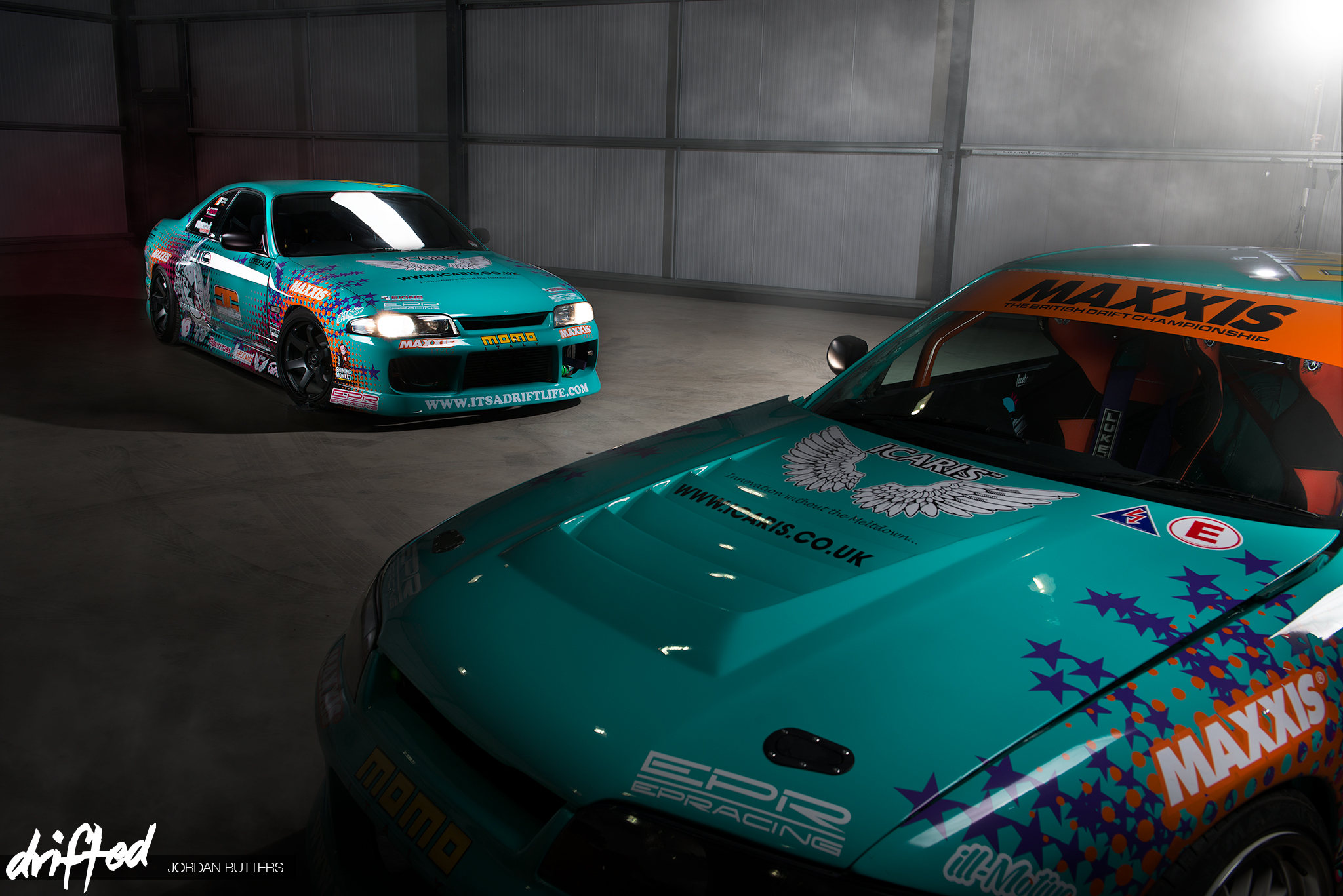 Having fielded a single car in the 2013 season, driver Christian Lewis and business partners Matt Jarvis and Alan Owen decided that the best way to push their new drift clothing brand 'It's a DRIFTlife' would be to make a big impact on the grid. The livery for Christian's R33 was overhauled, and Matt's road-going R33 (above) was clad in a similar outfit.
Although Matt's street-legal R33 above isn't as highly tuned as the competition cars, its lively exterior does the job exactly as intended, grabbing people's attention and completing the uniformity of the team. Still, the spec is respectable to a daily driver - around 320bhp is produced thanks to a Rising Sun stage 1 ECU, hybrid turbo, and a Goki intercooler.
BDC Super Pro driver Christian Lewis is enjoying his second consecutive year at the top flight level. The car above is the same R33 that he has piloted for the past few seasons (you may remember it from its striking ZILLA livery last year), but will now put out 380bhp, up marginally from the modest 350bhp of 2013. Keep in mind, this car is but a stop-gap until the uber-spec S14 is completed.
The RB25 engine in Christian's ride is still running on stock internals, but his boost requirements are provided by a Stage 3 Hybrid turbo with billet compressor wheel on 360° bearings. The whole setup is kept in check by a Nistune ECU. While the engine spec may seem seriously conservative for a top flight drift car, the footwork on Christian's machine has been extensively tweaked: an assortment of Japspeed, Driftworks, and custom parts give the car much needed steering lock and adjustability.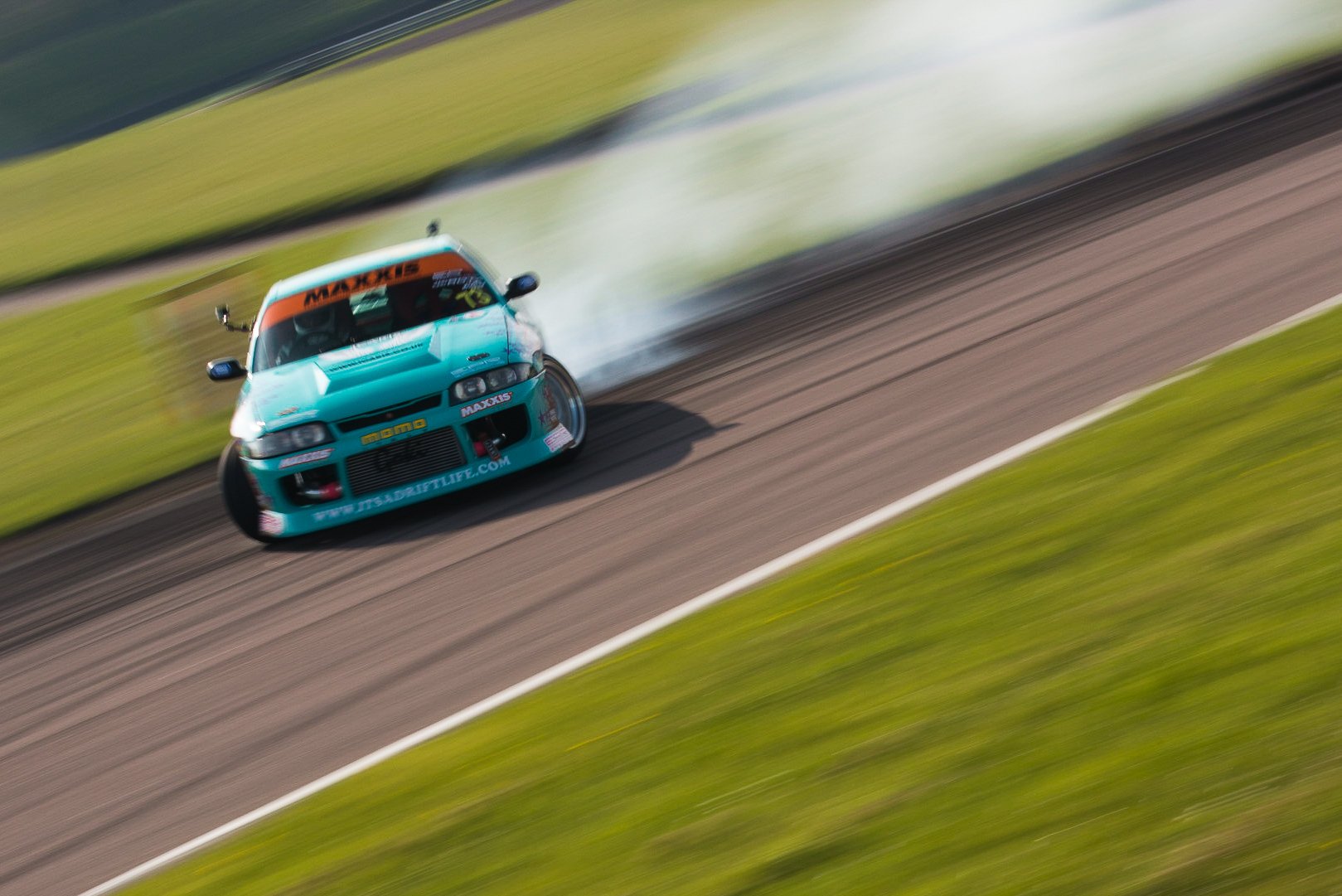 It certainly seems to have done the trick as Christian reached the top 16 at the opening round of this year's BDC championship before a coming-together with fellow Maxxis-sponsored driver Shane O'Sullivan (who eventually took second place) ended Christian's run of success.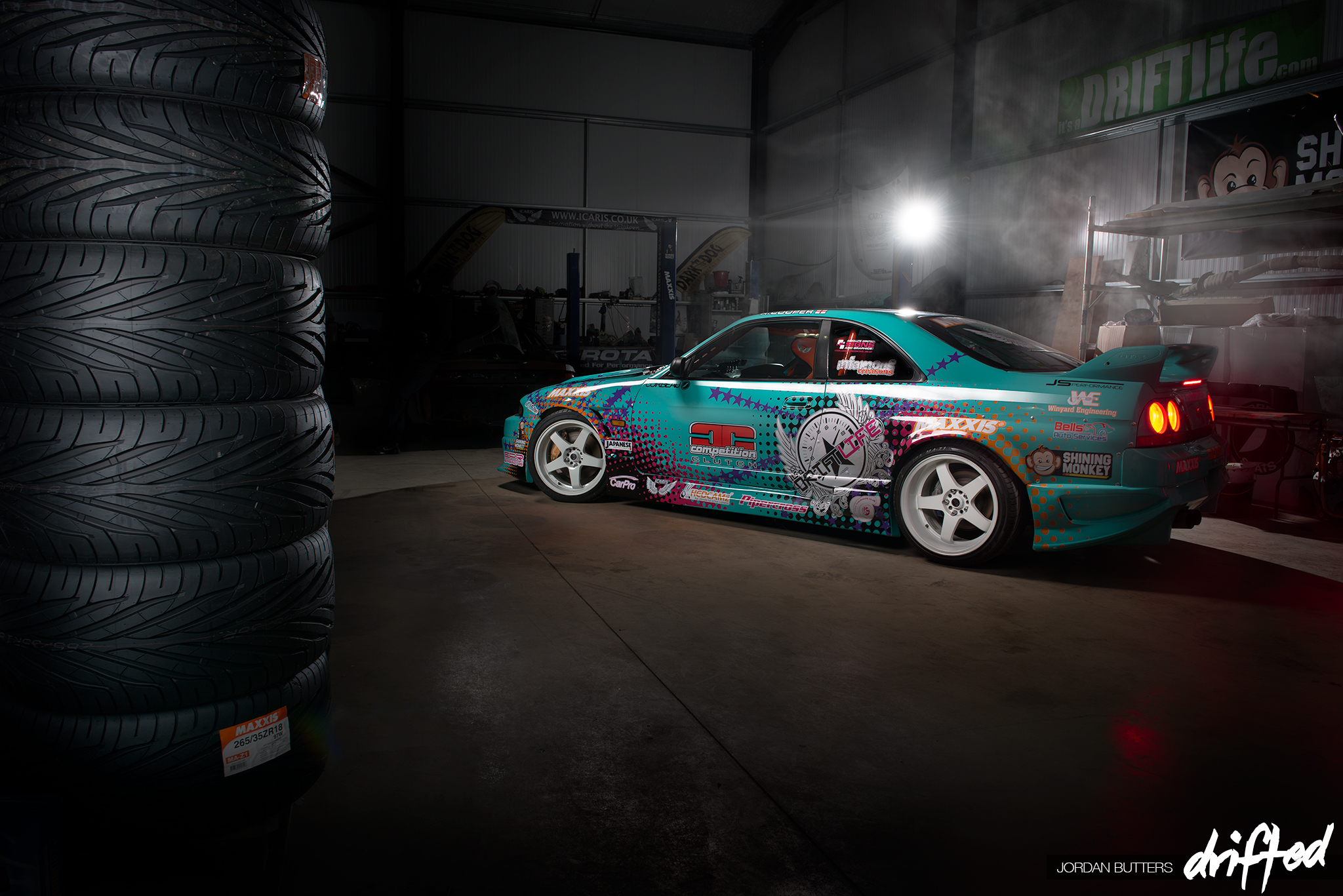 A third R33 was brought in to complete the trio, shown above, to be piloted by local driver Ryan Cooper in the BDC's Semi Pro class. Although the livery on Ryan's Skyline is identical, it's easily differentiated from its siblings by the lairy, swooping bodykit and GTR rear wing as opposed to Christian and Matt's more subtle aero and untouched boot-lids.
Under the bonnet sits a Garrett GT3076R turbo, which feeds the RB25 via a Greddy intake manifold. Nismo 740cc injectors and a custom fuel system put the explosive stuff in and the CP Forged pistons and rings, Manely rods and fully lightened and balanced crank go to work. A Link G4 standalone ECU brings the lot together and the result is 530bhp and 470ft/lb - more than enough to light up those Maxxis MA-Z1 Drift tyres!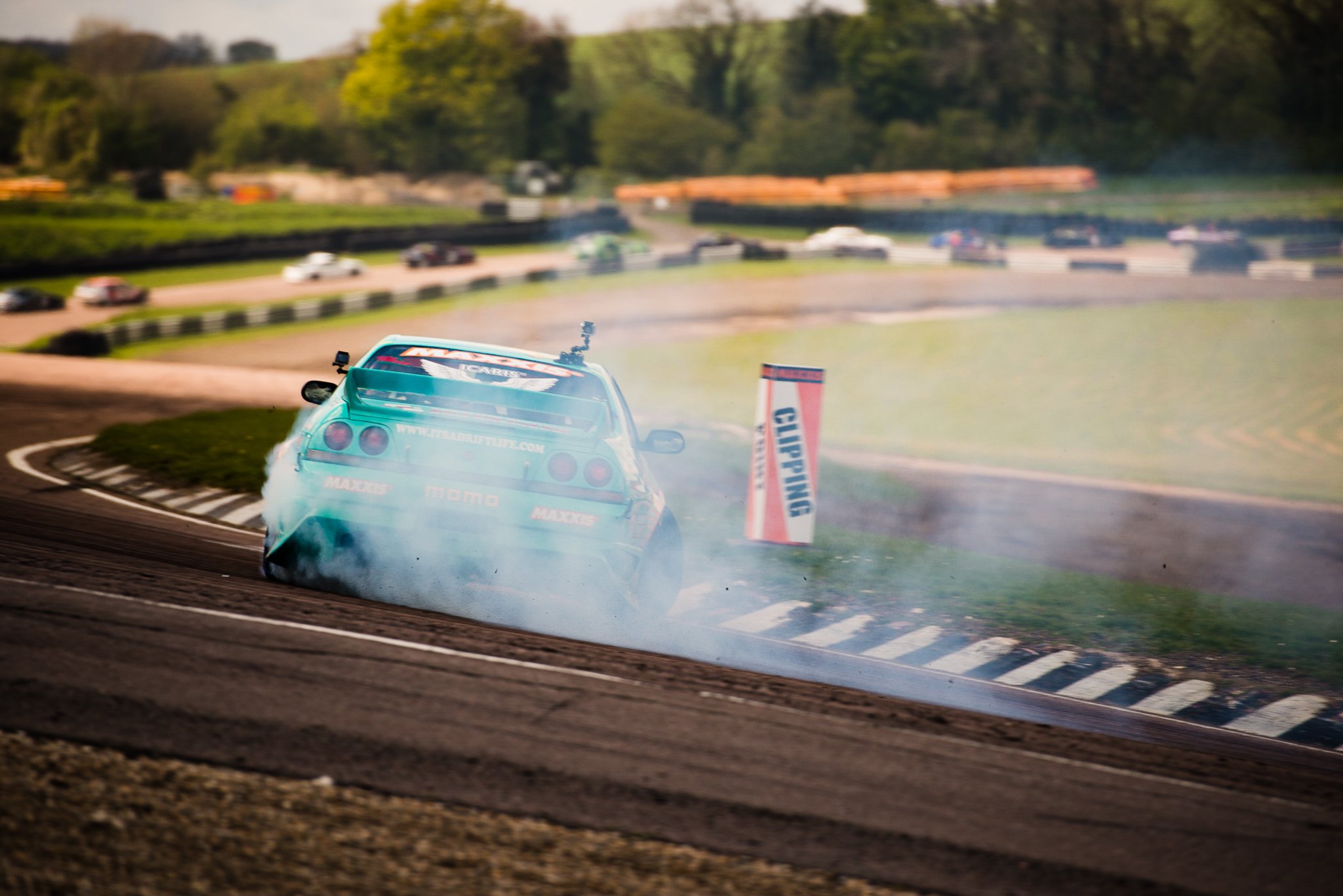 Sadly Ryan's success at round one didn't mirror Christian's, having failed to qualify for the finals. Still, it's early days and with a full calendar planned there's no end of seat time to improve.
With the first round in the bag it's all hands on deck at the It's a DRIFTlife workshop as the team races to get their LS-S14 ready for its first outing. Sadly that won't be in time for the opening round of King of Europe, on the 3-4th of May in Austria. Christian's R33 will get a holiday abroad for that one.
One thing's for sure - by taking a proactive approach and approaching competitive drifting in a professional manner the team are sure to enjoy success this year, whether on the track or in the media (or both!). Build pretty cars and pretty pictures are sure to follow. In today's highly visual world of social media and sharing that's almost as important to sponsors as silverware in the cabinet.
I, for one, wish them good luck, and hope that this approach becomes more widespread in the UK. Keep an eye on the It's a DRIFTlife Facebook Page to track their progress throughout the season, and thanks for reading all about it here on Drifted!
Words & images: Jordan Butters