Formula Drift Round 2, Atlanta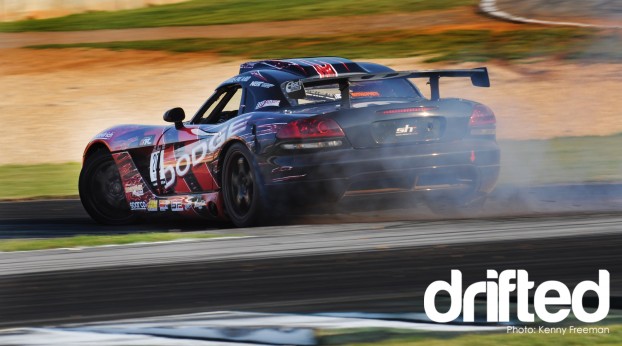 35 miles north of Atlanta there's a town called Braselton, Georgia. Road Atlanta, a world class 2.54-mile, 12-turn road course sits in the middle of this small town. On the 10th turn, Formula Drift drivers begin their battle to the winners podium. The track is set up with a horse shoe turn where drivers must hit 3 clipping points. This track is fast, difficult and drivers can lose all their momentum in a single turn. Around the horseshoe, smoke, dirt and tire fly into the crowd as drivers whip their cars down the hill, ending up back where they came.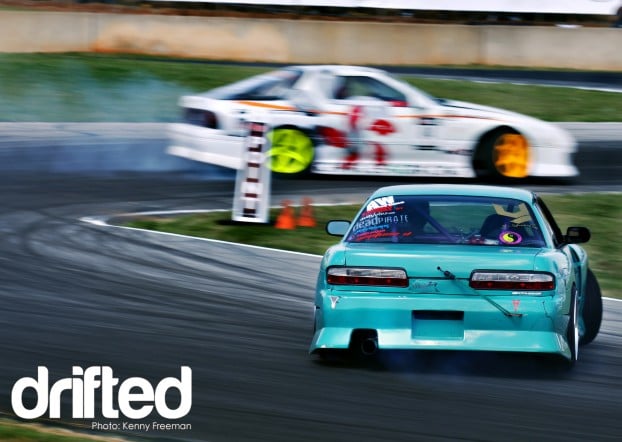 Chasing down Charles Kaki NG, Roland Gallagher, a new rookie to the 2010 season had some good clean runs.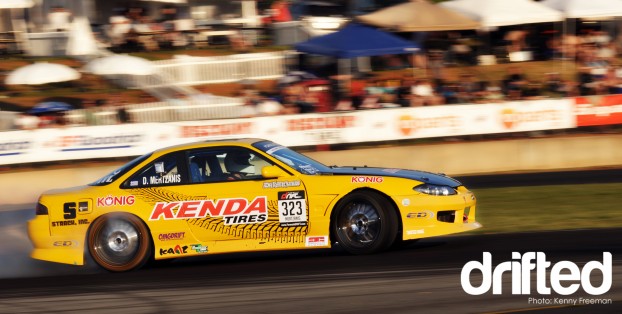 Dennis Mertzanis and his yellow S14 had a solid weekend. After his first practice run Friday, which covered the back of his car in dirt, Dennis pulled some clean and smooth runs.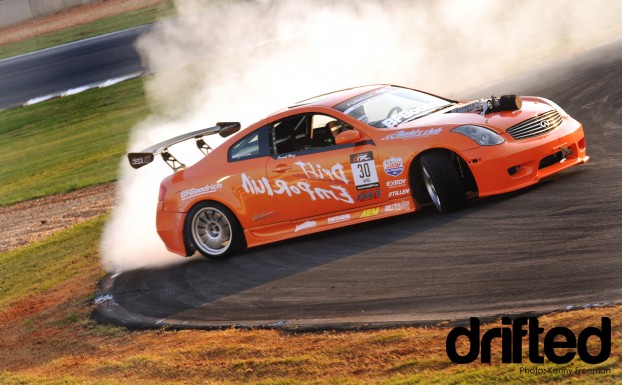 Drift Emporium's two supercharged G35s showed off an impressive line of smoke whilst the whining of the superchargers amazed the crowd. Drift Emporium put on a show, as they always do, bringing 4 cars with them to Road Atlanta, all of which entertained the crowd and judges. Michihiro Takatori, Forrest Wang and Jodin LeJeune all look set to have a great season.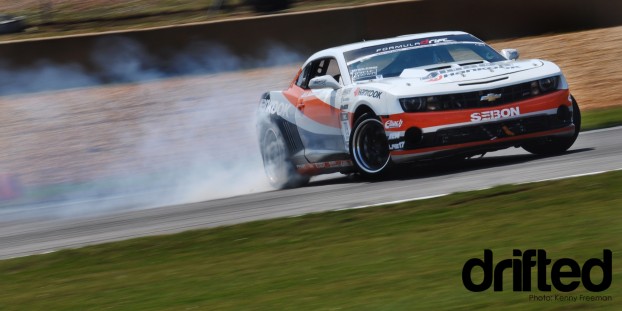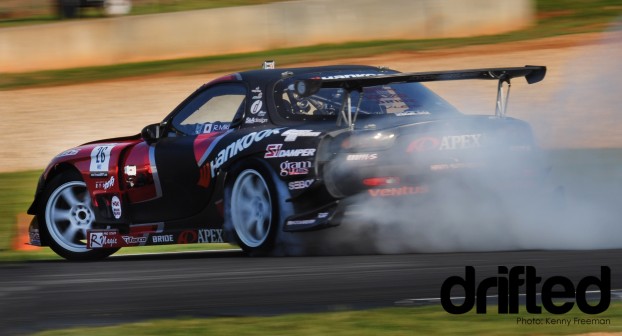 The Hankook tires had a great Road Atlanta experience, having Conrad Grunewald make it to the Great 8. Hankook drivers wouldn't stop putting on good, solid runs for the crowd.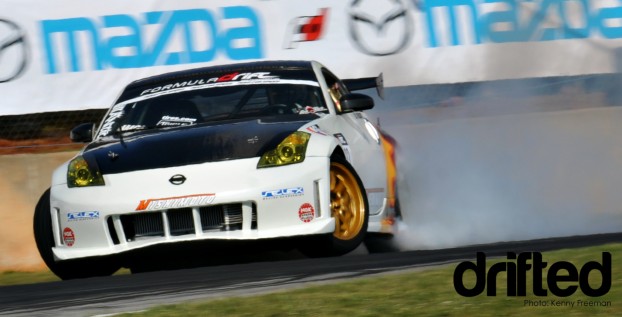 The battles heated up even on day one. Above, Sam Hubinette in the BFGoodrich Dodge Challenger holds onto Ross Petty in the Garage BOSO S15.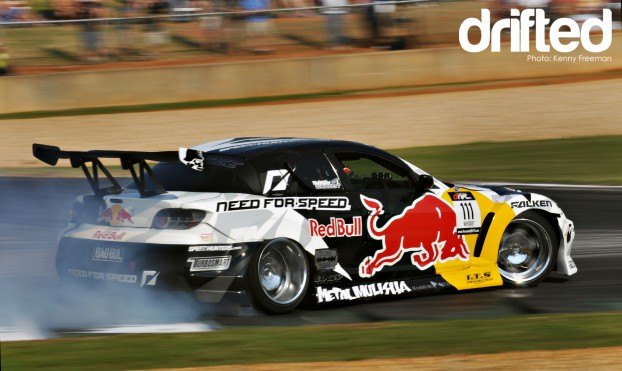 MADMIKE Whiddett driving the Redbull Rx8.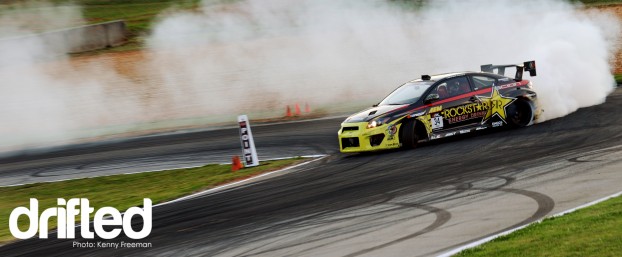 Tanner Foust and the Rockstar Scion TC plant a HUGE line into the horseshoe.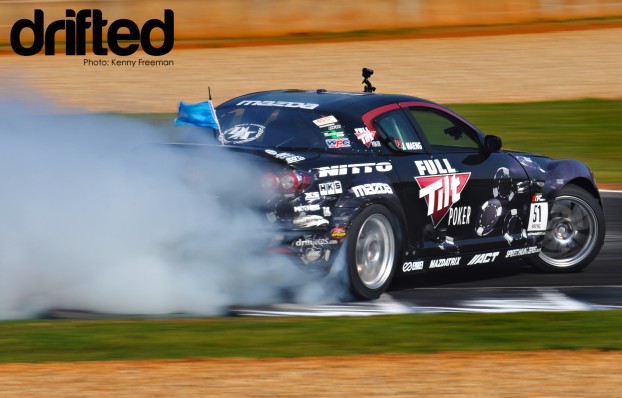 Joon Woo Maeng driving the Full Tilt Poker 2009 Mazda Rx-8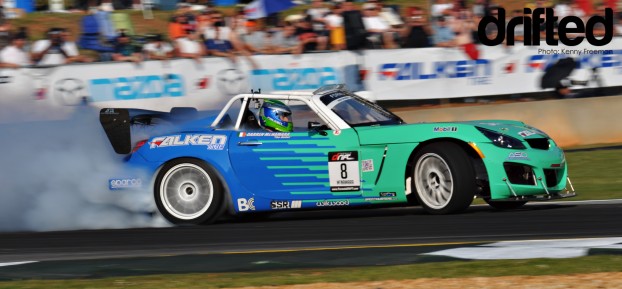 The Falken Tires team had a great weekend, with all 4 drivers making it to the top 32. Darren McNamara ,driving the Faulken Tire Saturn Sky, made it to the Great 8.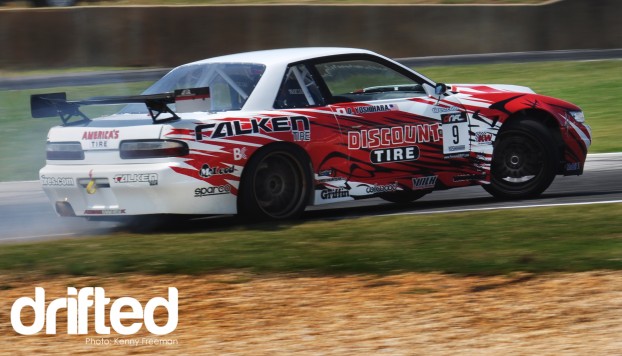 Above, Daijiro Yoshihara with his Falken tires and Discount Tire S13.
Daijiro and his crew pulled a 1st place at Road Atlanta, Formula Drift Round 2. This was his first win of the season and puts him in the championship running with Vaughn Gittin Jr.
As the weekend ended it left me wanting more. There is always next year, but hopefully I'll get the chance to go to the next round in Wall, New Jersey on June 4th-5th. Also make sure to check out the Pro-Am report too.
You can also check out my
Kenny Freeman