GRASSROOTS: Drifting Kept Fun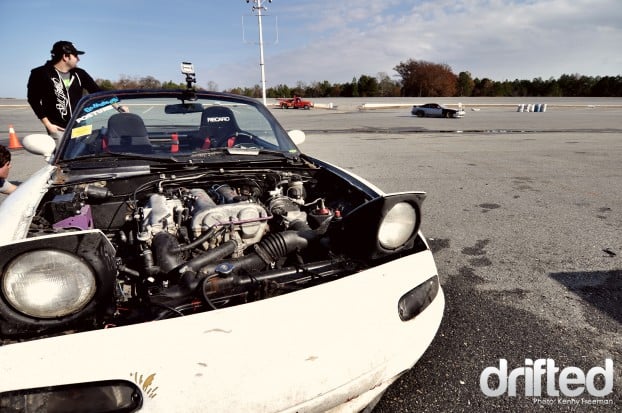 We're back at Cordele Ga, Watermelon Capital Speedway, but this time with the guys from Prime Auto. Waking up that morning only to find a gray haze coming through my window, I knew that it was going to be an interesting day and as I stepped out my front door only to find that the rain that the weatherman said wouldn't come…..came. So as I drove two hours away down 75 Southbound I was praying the rain would let up….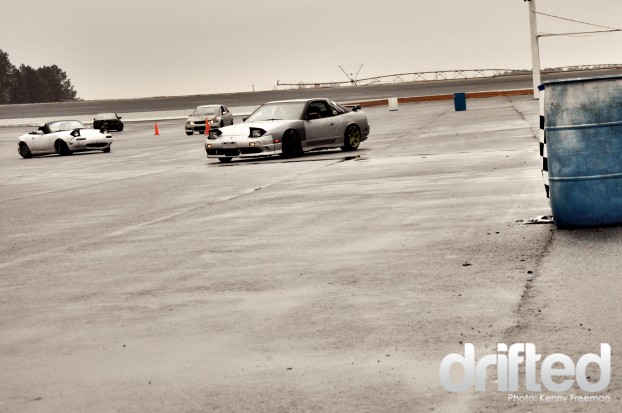 Driving up to the track all I could see is mud and tire marks deep enough to drown in. I trek on and get my lowered 1998 Blazer up the hill, sliding and throwing mud everywhere. I then top the hill and see that these guys are out in the pouring rain, sliding, splashing water everywhere and making a fool of themselves. I then see that it was worth the drive to Cordele because these guys don't stop at anything to do what they loved.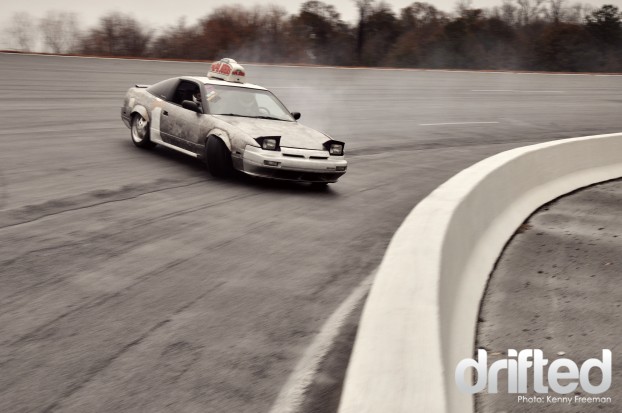 Miles Gunther was one of the guys that impressed me all day, when there wasn't anyone else to do a bank run, he would. His car is rough around the edges but his style and angle was phenomenal. This was the first time I saw this guy, actually the first time I saw a lot of these guys but the way they all just went out without any doubts that they could do it really impressed me.
This practice session brought out all kinds of new and exciting people. One of them was a guy I knew had a dope car but I never knew he drifted til I saw his car fly by my lens the first time this day. I don't know if you are in the same boat but his car to me is one of those cars that is so unique that every time I see if I just stare and have to take a picture. I think I have a picture of his car at every car show, car meet and now drift event I have ever seen him at. The name is Derek Wise… and this is his blue, caged Mazda Miata.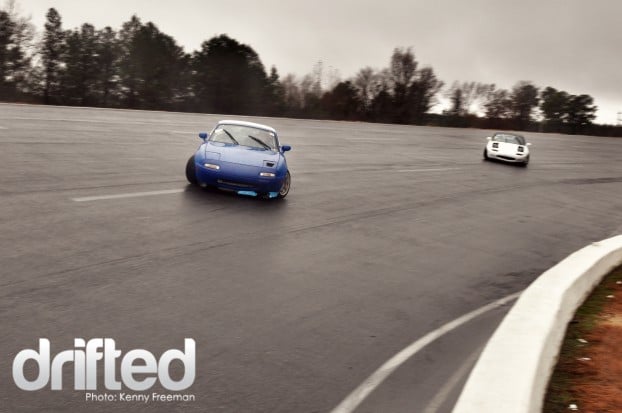 Matt Brueck with his White Mazda Miata is the guy that invited me out to this. With not knowing much about him and if it was a legit practice day, I still said that I would come. Thank God I did too.
Matt tore it up from the minute I was there. I don't think there was a time I didn't see Matt on the track, unless he was changing out his tires. It was amazing watching this car and Matt as he would rip, dent and beat his car to death.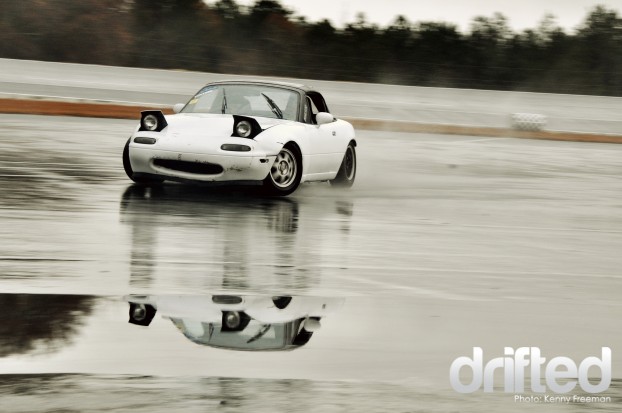 It wasn't from hitting things at all, it was just from having an insane entry speed for this track and hitting the lip of the dip in the track. Scrapping his bumper on the asphalt and hitting cones would be a norm for Matt this day.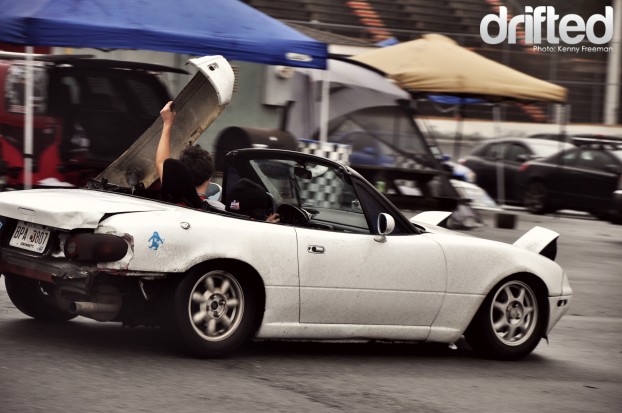 At one point ripping his rear bumper off and kept on truckin'.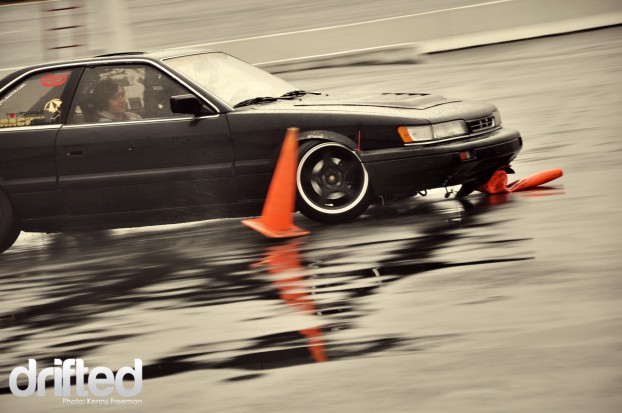 Poor Cone!!!!
Sebastian Suaza and his crazy hair tearing it up coming around the horse shoe. This is where most people would loose control on the track, not Seb.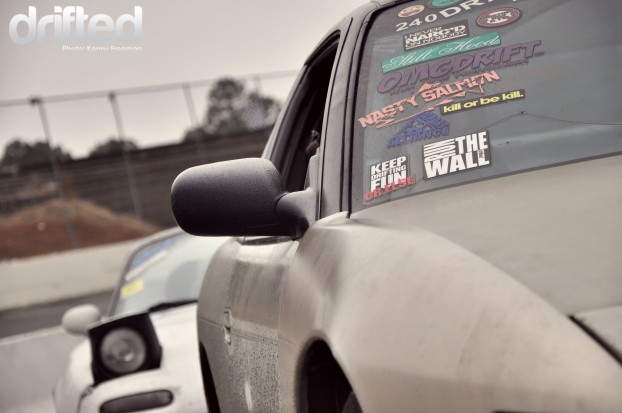 Always representing is Nicholas"Frisky Walrus" Hart. He has been one of the guys that strives to get in Drifted ever since I starting shooting. So now his hard worked has finally payed off and he just earned himself a new sponsorship, Congrats Nick. Look forward to the car feature on this guy soon.
Thanks to Prime Auto for letting me come out and shoot this amazing day. Also look for these guys at the event in March, Dirty South Drift Round 1-187 In Glendale that Drifted is sponsoring. Also Thanks to Gregg Brucell from S3 Magazine for the use of their Go Pro footage to use toward the video.
Also Check out my other work at:
And please go add me on Facebook. Thanks